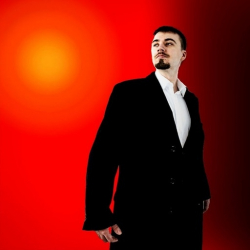 Latest posts by Stefan Stevanovic
(see all)
Despite his relaxed demeanor, Shota Aizawa is not someone you would trifle with. This powerful hero can instantly erase villains' abilities, which makes him ideal for apprehending dangerous individuals. Although a very capable fighter, he works as a class 1-A homeroom teacher.
His role in My Hero Academia is that of a mentor. However, Shota Aizawa doesn't shy away from battle and will help his students whenever they're in a pinch. In that sense, he resembles teachers such as Kakashi from Naruto, who have a very active role in the story.
In this Shota Aizawa guide, I will analyze the hero's behavior and abilities and share some interesting trivia.
Key Info Up Front
Shota Aizawa, otherwise known as Eraser Head, is a teacher for class 1-A homeroom. He first appears in episode 5 of the manga and anime, and since then, he has had an important role in the storyline.
Shota Aizawa's Personal Info
Shota Aizawa is a perfect choice for a teacher. Although he might seem like a relaxed, loose character, he takes students' education very seriously. So much so that he has expelled 154 students from U.A. High School during his tenure.
The pro hero enforces strict rules in order to get the best out of his students. Often, he relies on logic and common sense to instill knowledge. His tough love does not come from maliciousness but from a desire to prevent future accidents and the loss of allies.
You can best see his emotional side during the scene with his long-lost friend Shirakumo Oboro who was turned into Kurogiri, one of the manga's main antagonists. As Present Mic and Eraser Head try to get him back to his old self, Shota Aizawa bursts into tears showing his sensitive nature.
Shota Aizawa Appearance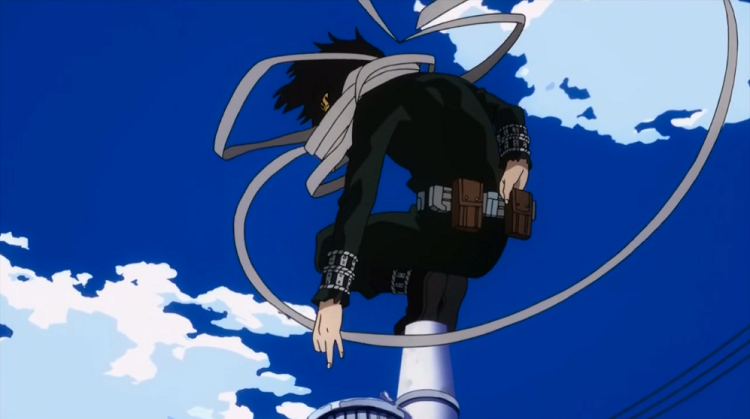 Although not buffed like most hero characters, Shota is very athletic, tall, and in good shape. One thing that stands out is his skin color; Eraser Head is very pale and constantly looks drowsy. There are some indications that this might have to do with his quirk. For example, he routinely takes eye drops, which might indicate that he needs a lot of focus to utilize his power.
The hero is rarely shaven unless he needs to appear in front of the press. Similarly, his eyes are often wandering around, emphasized by large black circles around them. He has long black hair that casually falls between his eyes and on the side of his head. The only time he looks fresh is during the combat as if he has a surge of energy.
On top of his physical appearance, Aizawa's outfit does a good job portraying the fatigued character. He wears a loose black outfit that covers him from the bottom to the top. His pants are tucked into the boots, and there is also a belt around his waist where he keeps the majority of his combat equipment.
However, the things that make this character look apart are the bandages and the sleeping bag. Shota Aizawa utilizes long bandages around his neck to apprehend villains.
There is a steel material within it that helps overpower even the strongest of foes. As for the sleeping bag, it seems as if the hero has the item with him at all times. Whenever he feels sleepy, he jumps into it, even if it's during a class.
Shota Aizawa's Appearances in Manga and Anime
Shota Aizawa was present from the beginning of the show. He was introduced in episode 5 of manga/anime, and his role would only grow as time went by. Initially, he was shown as a reluctant teacher who would prefer nothing more than to get into his sleeping bag and relax.
From a student's perspective, Eraser Head is not someone you would like to trifle with. Despite his meek appearance, his reputation precedes him, so the class is aware of his habit of expelling students. Regardless of the initial impression, Aizawa is soon depicted as a capable warrior and also a compassionate teacher.
U.S.J. Arc
U.S.J. or Unforeseen Simulation Joint Arc is the first time we can see Aizawa's powers in action. The arc starts when our protagonists go to an abandoned location to train their rescue skills. However, the drills were interrupted by villains who breached the U.A. defenses by teleporting directly to the facility.
For the first time, we can see Eraser Head's combat brilliance. He quickly assesses the situation ordering Thirteen to protect the students while he tackles the enemy onslaught by himself. Villains complain about All Might not being present, which tells Aizawa that they have carefully planned the attack and probably have U.A.'s itinerary.
Shota Aizawa orders Thirteen to escape with students while he attacks the enemy. Unfortunately, the retreating group is stopped by Kurogiri, a villain who can open warp gates.
He teleports students around the facility, forcing them to fend in smaller groups while simultaneously preventing their escape. This is when we discover that the villains are a part of a larger faction known as the League of Villains.
While students are battling all over the place, Shota is located in the central plaza, where he takes on the main villain Tomura. During the engagement, Aizawa is surprised by a monstrous genetic mutation known as Nomu, which would eventually shatter his skull and hand.
As the battle drags on, Tomura tries to disintegrate one of the students, the froglike Tsuyu. In the nick of time, Shota Aizawa blocks Toruma's quirk, saving the young student. All Might appears right after that, turning the tide of battle.
U.A. Sports Festival Arc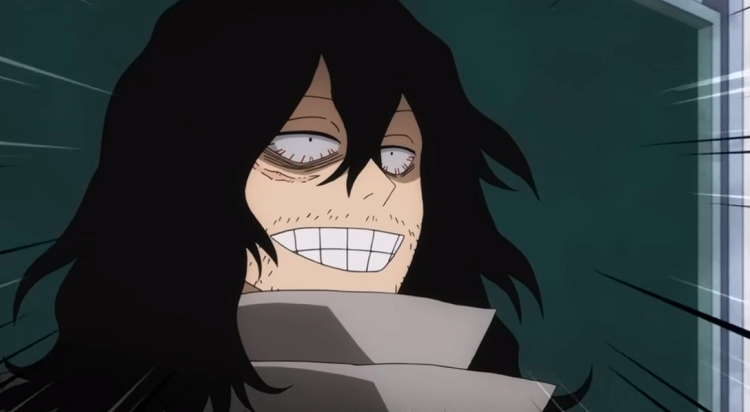 During the U.A. Sports Festival Arc, the students from various classes battle each other, showcasing their quirks and battle prowess to the world. This arc was very similar to battle tournaments that we've seen in the manga, such as Dragon Ball or Hunter X Hunter.
Shota Aizawa is barely featured during these episodes, being shown just a few times. One of the small bits I really liked was when Shota and Present Mic talked about Hitoshi's Brainwash ability. The student would eventually become Eraser Head's protégé, so this scene was a nice introduction to their relationship.
Finals Exams Arc
In this arc, students are placed in pairs and would have to battle together against teachers. The most intriguing part of this arc was when Midoriya and Bakugo were paired together and had to battle All Might.
As for Shota Aizawa, he was battling a team of Momo Yaoyorozu, who can materialize weapons and objects from her body, and Shoto Todoroki, who can control ice and fire. Shoto and Momo made a plan where Shoto would directly engage Aizawa while Momo escaped, which was one of the victory options.
The side that would attack first would have a decisive edge in this battle. Aizawa struck fast, incapacitating Todoroki and binding him to telephone wires. Momo initially escaped only to return and set free Todoroki. Eventually, the couple would overpower Aizawa by utilizing Momo's binding weapons.
Forest Training Camp Arc
During this arc, the whole 1-A class goes on a field trip into the woods, where they would be trained by Wild, Wild Pussycats group of heroes. At one point, students are instructed to go into the woods to continue their training. Unfortunately, their lessons were cut short by a sudden League of Villains attack.
For the majority of this arc, Aizawa is stuck at a forest facility together with Vlad King. After ordering Vlad King to remain at the compound and protect the students that were there, Shota decides to venture forth and gather everyone who was at that time in the woods.
One of the villains, Dabi, pops out of nowhere and engages Eraser Head preventing him from helping others.
After beating the opponent, Shota realizes that this was nothing more than a clone made by a villain called Twice. He quickly runs to the woods, understanding the severity of the situation. Although most students remain relatively unscathed, the League of Villains manages to accomplish their main goals, which is capturing Bakugo.
Shie Hassaikai Arc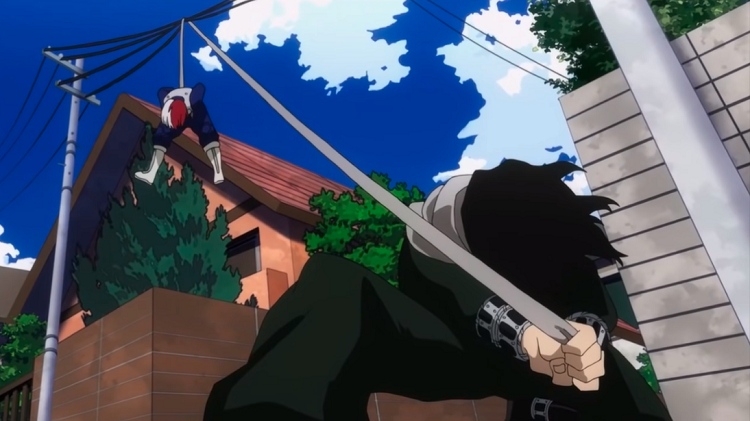 The time has come for students to take their studies to the next level. They receive practical tutoring from pro heroes, meant to prepare them for real-world situations. At this moment, we are introduced to a drug that can completely eliminate quirks, as well as the criminal organization behind the substance called Shie Hassaikai.
Eventually, our heroes discover that the main ingredient for this drug is the blood of a small girl called Eri. She is imprisoned by the yakuza clan, being forced to endure harsh experiments. After deciding they need to stop this threat and rescue the girl with incredible power, pro heroes perform a raid on Yakuza's headquarters.
But to rescue her, the heroes are forced to battle two powerful antagonists in Overhaul and Chronostasis. Shota is a part of the battle team and would eventually be captured by the villains. Overhaul is interested in quirk-manipulating abilities and sees value from Shota's Aizawa's Erasure.
After being released, Aizawa helps stifle Eri's quirk, which was spiraling out of control.
U.A. School Festival Arc, Joint Training Arc, and Endeavor Agency Arc
For the most part, these three Arcs focus on students' development of powers. Shota is mostly used as an introductory character, telling students (as well as readers) what will happen during the arc.
Paranormal Liberation War Arc
In many ways, this was a crucial arc for Shota Aizawa, completely changing his role within the universe. During the Paranormal Liberation War arc, the heroes battle an organization of the same name. This is also an important arc for the series' main villain, Tomura Shigaraki.
During the initial episodes, doctor Kyudai, All For One's previous assistant, would instill All For One power into Shigaraki, making him one of the most powerful entities within the My Hero Academia universe. After learning about Tomura's location, the heroes decide to strike first and raid Jaku General Hospital, which is where Nomus are also created.
Eraser Head is a part of the hospital raid team. He appears at the scene together with Present Mic, Endeavor, Crust, and a few other heroes.
At one point, the groups of heroes, including Midoriya, Bakugo, Gran Torino, and Eraser Head, would clash with Tomura. At that moment, Shigaraki realizes that his new All For One power can also be used to capture the One For All quirk.
At one point, Aizawa managed to wipe out Shigaraki's quirk. In a last-ditch effort to save himself, the villain manages to hit Eraser Head with a quirk destroying bullet. In an attempt to save his power, Shota amputates his own leg.
Due to pain, he had to release Erasure for a brief moment, which is when Shigaraki managed to blow away all the surrounding heroes who almost apprehended him. Swooping down on Aizawa, he managed to mangle one of his eyes, rendering Erasure useless for the rest of the fight.
Quirk and Abilities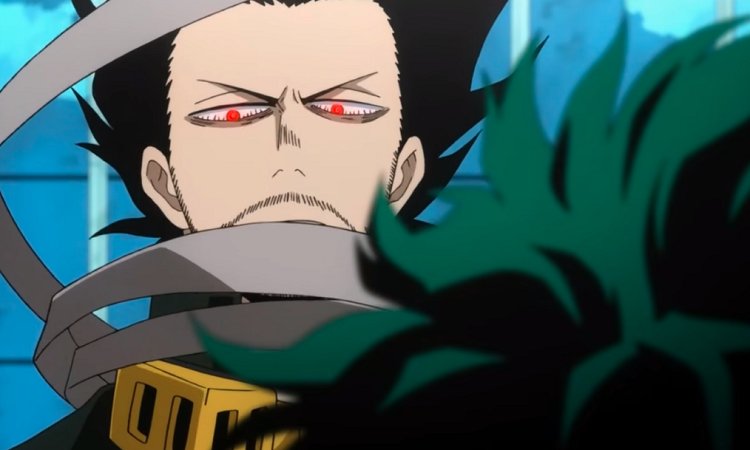 Quirk – Erasure
Erasure is a perfect quirk for capturing enemies. It prevents the opponent's abilities, which is especially great against villains who don't possess are not naturally strong. That way, Aizawa can easily apprehend them by simply overpowering them or by using his superior intellect.
As the story progresses, the Erasure's power has diminished significantly during the U.S.J. arc. Here, Shota suffered enormous injuries that left a permanent effect. He completely lost the power to use his quirk later on when he lost an eye during the Paranormal Liberation war.
Although this power sounds incredible, it does have lots of disadvantages. First off, Shota has to keep an eye on his target without blinking. This causes all sorts of issues for the hero, forcing him to constantly use eye drops. However, it is worth noting that the power persists if his eyes are open and the target has exited the sight range.
High Stamina, Strength, and Pain Resistance
The hero's high strength and endurance work well with his quirk. Shota Aizawa is very resilient and strong, allowing him to apprehend perpetrators after nullifying their abilities. On certain occasions, he had to rely on his strength to battle enemies when his quirk was out of commission.
There were several instances where Shota exhibited great physical characteristics. During the U.S.J. attack, he has shown the viewers that he is a very capable fighter even without relying on quirk. Eraser Head survived a shattered skull and arm and even managed to help one of the students. Lastly, he even managed to amputate his own arm after being struck by a quirk-destroying bullet.
Martial Arts Proficiency
To combine all these abilities together, Shota had to develop a fighting style that would allow him to apprehend opponents once they were immobilized. There are several instances in the show where we can see Aizawa as a very proficient martial arts expert. It took him 6 years to master this technique, and today, it is a very important part of his skin.
Among his peers, Shota Aizawa is regarded as a very skilled hero. Among others, he specializes in taking enemies down and breaking their arms and legs. We saw an example of this during his fight with Dabi when he broke the villain's arm. Even when injured and after losing a lot of stamina, he is still able to rely on these skills to take several enemies at once.
Equipment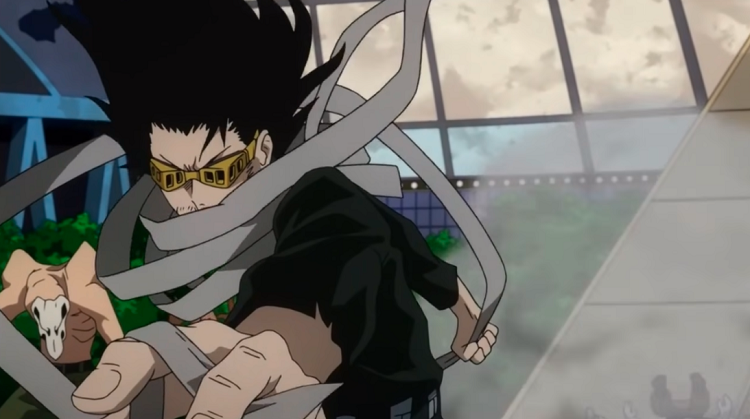 Like all heroes, Shota Aizawa relies on custom-made equipment to maximize quirk's potential. In a way, he wouldn't be able to utilize Erasure and subsequently apprehend villains if he didn't have access to these tools:
Scarf
Although initially presented as nothing more than a fashion object, Shota Aizawa's scarf is the most important part of his equipment. This piece is reinforced with flexible metallic alloy that can wrap around enemies and prevent them from moving.
It is an ideal object to combine with his quirk; once an enemy's ability has been disabled, he can simply overpower them, outskill them, and capture them with a scarf.
Caltrops
Caltrops are another weapon that is used to stifle opponents. We can best see the use of caltrops during his battle against Momo and Todoroki.
Once he captured Todoroki and suspended him in the air, he threw caltrops beneath him so that he would get injured if he managed to cut free. Caltrops can be used both offensively for reducing the enemy's mobility or defensively to prevent them from advancing towards Aizawa.
Goggles
Here is another item that plays an important part in Shota Aizawa's kit. He uses goggles to hide his eyes from enemies. This is important because he needs to look at them to connect with Erasure. In that regard, this is another object that gives Eraser Head time for the hero to maneuver the battlefield and gain an advantageous position.
Hunting knife
Although rarely shown, a hunting knife is another part of the hero's equipment. This weapon is simply amazing in the hands of a skilled combatant such as Shota Aizawa.
It further increases his adaptability on the battlefield and provides him with another option for defeating enemies. Although a lethal item, Eraser Head commonly uses it to break free from his own scarf and untangle.
Eye Drops
Although not as flashy as some other parts of the equipment, the hero's eye drops play a vital function. Given that he needs to look at an enemy continuously, his eyes are under a lot of strain. By using eye drops, it is easier to focus quirk.
Shota Aizawa's Strengths and Weaknesses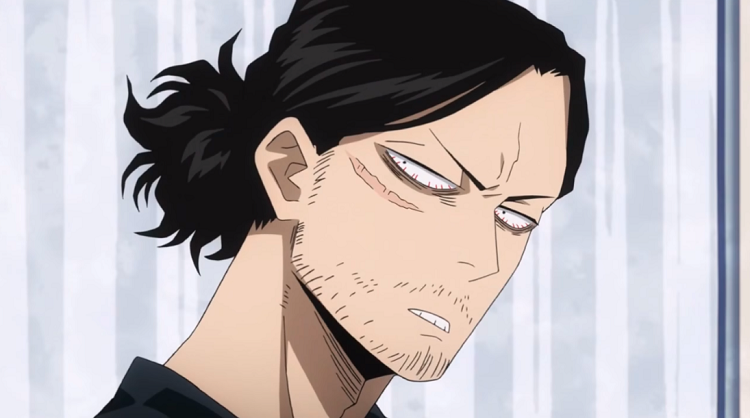 Although the hero honed his skills to adapt to just about any situation, Shota Aizawa has his fair share of weaknesses. In fact, as the story progresses, his quirk is ultimately rendered useless after losing an eye fighting Shigaraki.
Strengths
High level of adaptability; has several means of defeating enemies even if his quirk is disabled.
He is not as reliant on his quirk as some other heroes.
Several great physical traits that he can use at any time, coupled with martial arts prowess.
As long as he has a site of an enemy, he has a chance of winning.
Can tackle opponents that are too hard for other heroes. This is best seen during his fight with Shigaraki.
High intellect allows him a better analysis of a situation. Even if he cannot handle an opponent with his quirk, he can find a method to apprehend him, relying on other skills and equipment.
Erasure allows Shota Aizawa to go toe-to-toe against any opponent.
Weaknesses
Even if he manages to erase someone's ability from a distance, he still needs to come closer to defeat them putting him in a precarious position.
His quirk cannot help against mutants.
Shota Aizawa cannot blink while using his quirk (although the ability doesn't break if an enemy moves from the line of sight).
While incredible for this particular function, the ability has a very limited offensive potential.
The hero is very reliant on his equipment. So much so that he needs his full kit to fight properly.
Shota Aizawa will always struggle against opponents that have better physical traits or/and are more skilled in martial arts.
Shota Aizawa Trivia
Like many anime and manga teachers, Shota Aizawa received his fair share of airtime. Despite being a chill character, he has a very interesting life, something we learn more of as the story progresses. Here are some of the most interesting trivia regarding the hero.
Shota's Scarf
Most people who watched My Hero Academia probably wondered how Shota's scarf actually works. At times, it seems as if the object moves by itself. This isn't due to some intricate computer or mechanism. Instead, Shota can manipulate the scarf by using his tremendous strength but also the laws of physics to his advantage.
In fact, using the scarf has much more to do with gravity than anything else. Eventually, he would teach Hitoshi Shinso how to use the scarf so he could couple it with his Brainwashing quirk. If you think about it, taking Shinso under his wing makes a lot of sense. The two of them are even similar physically.
Shota's Sleeping Bag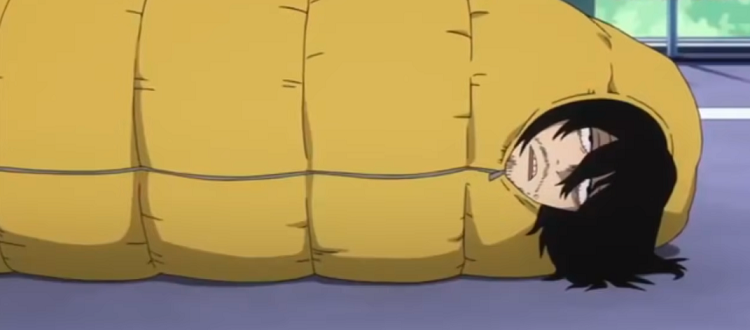 As I've previously mentioned, Shota's sleeping bag is an important part of the hero's character. This comfy item is quickly introduced in the story, which is why many people gain the impression that Shota is actually lazy and unmotivated. However, it's just the opposite.
The reason why Shota is constantly tired is that he takes on so many responsibilities. As we learn more about the hero, we realize that he doesn't care about the social norms, and when fatigued, he doesn't have a problem getting into his favorite sleeping bag and relaxing.
Deceiving Personality
Speaking of personality and social norms, the show's producers gave us a real twist with Shota. At first, he looked like a generic lazy character with not much to offer. Later on, we learned that this has to do with his minimalistic, relaxed persona. It took viewers a few episodes to become fond of the 1-A class teacher, and after some time, we learn how cool Shota actually is.
Picking his Name
The producers used the Eraser Head origin story as another way to showcase Aizawa's personality. When he had to choose a hero name, Shota was so complacent and disinterested, allowing his teammate, Present Mic, to choose it instead. He came up with Eraser Head, a name that Aizawa wasn't really fond of. As it turns out, the name stuck.
Expelling Students
Another thing that separates Shota Aizawa from generic anime teachers is the fact he frequently expels students. Although none of the 1-A characters are expelled during the show, there are several stories telling us that Shota has no problem throwing students from the Academia.
We are initially led to believe that this is due to maliciousness, but after a while, we realize that Shota Aizawa does this to protect the young, inexperienced heroes while simultaneously criticizing the school system. He believes that young children are quickly thrown into battle without the necessary preparation.
It is something that Shota is very vocal about whenever facing higher-ups. So, when he expels someone, he does so to make them tougher and prepare them for all the hardships they're about to face.
Eye Drops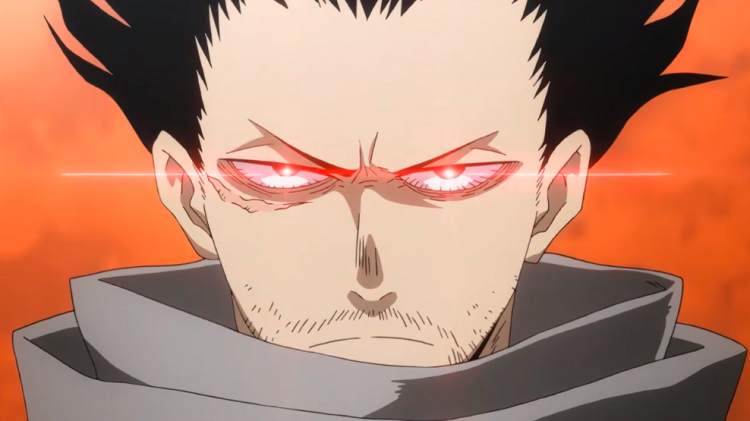 Eye drops work well for the storyline. First off, they are great for portraying Aizawa's seemingly lazy persona. When you take a look at the hero, with massive bags under his eyes, it makes sense that he would be using eye drops. This also goes well with the sleeping bag. However, the truth is completely different.
The substance is crucial for the hero's quirk but also analytical skills. As previously mentioned, Shota Aizawa can adapt to any situation on the battlefield, but in order to do so, he needs to pay close attention to every detail, which is where eye drops come into play. Of course, they are also important for looking at an enemy for a long time without blinking.
Reluctant Hero
Most heroes in the show are portrayed as eager participants. Guys like Bakugo and Midoriya have always wanted to become heroes, and, in a way, this is their life's calling. Aizawa is not like that. Growing up, he was very worried that he couldn't use his quirk properly. Erasure was much weaker than some of his friends' abilities, making him doubt himself.
Shota explained this to Oboro Shirakumo and Hizashi Yamada during the episode when he couldn't even save a stray cat. They told Shota that he could become a great hero just as long as he believed in himself. After that conversation, he started growing in confidence and would ultimately become the hero he is today.
Attachment to Oboro
A lot of what is happening to Shota Aizawa is related to his relationship with Oboro Shirakumo. They were members of a hero trio alongside Present Mic. Oboro was the most jovial of the three, and his youthful enthusiasms and exuberance often rubbed on the other two.
They were looking forward to a bright future, working as heroes, until one faithful encounter with villain Garvey. That day, Oboro and Aizawa were trying to evacuate the area. As Garvey was trashing the place, one of the nearby buildings started crumbling and falling.
In an attempt to stop the collapse and save everyone within, Oboro used his quirk Cloud to create a cushion that would slow the build's fall. Unfortunately, this left him open, causing a part of the facade to fall on him, thus instantly killing Oboro.
Not knowing that his friend had fallen, Shota pressed forward, eventually capturing Garvey. Only when he returned to search for Oboro had he realized what had transpired. The event permanently affected Aizawa, who became much more tentative going forward.
Shota's Goggles
During one of his first patrols, Oboro and Shota come across a villain that uses the smoke cloud as a weapon. Spraying the area with thick gas left Aizawa completely useless. The fact they couldn't take down even such a puny opponent came as a shocking revelation to everyone on the team.
Aizawa was especially affected by this event. Being such a great friend, Oboro pulled him aside and asked Eraser Head if there was something he could've done better. Realizing the problem and simultaneously trying to bolster his friend's confidence, Oboro gave Aizawa his goggles so that villains such as this would never escape again.
Friendship with Midnight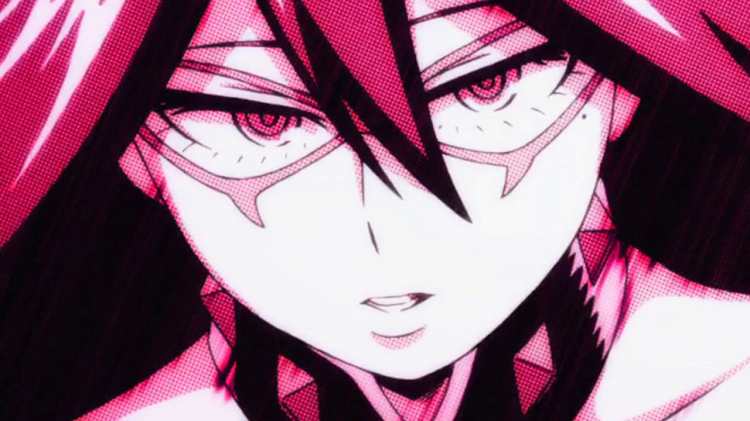 Oboro's death had a profound impact on Shota Aizawa. He became very secluded and wouldn't often push away people in his vicinity. From this point onward, the sole purpose of his work was to tackle as many villains as possible without involving other heroes.
At one point, he would encounter Midnight, an old friend who was also tutored by His Purple Highness, the same hero that took Shota and Oboro under their wings. Midnight confessed that she got a job as a U.A. teacher and tried to convince Eraser Head to become one as well.
Shook by everything that transpired in his past, now wanting to focus on capturing villains, Shota declines. Midnight took the initiative, nevertheless, and submitted Shota's application to the U.A.
Connecting with Outcasts
Despite not wanting to become a teacher, he does a great job tutoring young talent. You can see this on several occasions, not only with class 1-A but also with other students. Among others, he prefers working with outcasts that no one else wants to take under their wing.
For example, many pro heroes didn't want to tutor Shinso because of the dark aspect of his quirk. Eraser Head stepped up to the task of becoming a great mentor to this young talent. Similar can be said for Eri. Aside from being the best man for the job, as he can suppress Eri's quirk, Shota Aizawa decided to help the young girl because he was very worried about her state.
FAQs
Question: Why is Aizawa Always Tired?
Answer: To properly utilize his quirk and the rest of his skillset, Shota Aizawa needs a lot of energy. Unlike some other heroes within the My Hero Academia universe, Erasure quirk doesn't provide extra energy or power, so Shota needs to rely on his own fitness level and energy. As a result, he needs more rest than other heroes.
Question: Who is Aizawa Shota Dating?
Answer: Currently, he is not dating anyone. However, he is interested in Fukukado Emi, a heroine that first appeared in episode 20.
Question: Why do Aizawa's Scarf and Hair Float?
Answer: Whenever Eraser Head uses his quirk, the objects around him start floating, including his hair and scarf. Among others, this is a good way to tell if he is using Erasure at a specific moment.
Shota Aizawa Guide: Conclusion
Shota Aizawa is a hero that initially looked grumpy and reserved. As the My Hero Academia story unfolds, we learn more about this colorful character, all the trials, and tribulations that he faced in the past, as well as his powerful Erasure quirk.
This ability allows Aizawa to nullify anyone's power, giving him a fighting chance in almost any situation. He also utilizes a plethora of tools, and weapons, as well as high stamina and strength to capture enemies once he blocks their quirk.