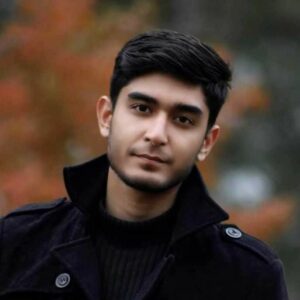 Latest posts by Asad Mehmood
(see all)
Jujutsu Kaisen is a Japanese manga series written and illustrated by Gege Akutami. It has been serialized in Shueisha's Weekly Shonen Jump since March 2018. It has 18 volumes to date, and it got adapted into anime as well, which aired from October 2020 to March 2021. 
The fictional world of Jujutsu Kaisen filled with Sorcerers and Curses attracted many fans. It became one of the best-selling manga of all time. The modern-day anime adaptation is a treat to watch for all the action-lovers, and the visuals are to die for.
The journey of a young athletic boy Yuji Itadori and his fight with the Curse that has taken over his body while escaping exorcism got fans hooked on it. Jujutsu Kaisen has not reached its conclusion, but the fans anticipate an epic end to their beloved series.
The journey of Jujutsu Kaisen is incomplete without the Merchandise it has to offer. The Merchandise adds extra flavor to your anime experience. Being a true fan, you have to have the complete Merchandise by yourself. Or at least you can try for it.
Here is a guide to help you make the best decision for yourself while buying the merch.
Jujutsu Kaisen Merch Guide: Bottom Line Up Front
Some of the everyday items that Jujutsu Kaisen Merchandise includes:
Apparel: Clothing items like T-shirts, hoodies, sweatshirts, jackets, and shoes are sold as Jujutsu Kaisen merchandise. These are available in various varieties.

Accessories:

Many accessories are made part of Jujutsu Kaisen Merchandise like backpacks, hats, glasses, mousepads, etc. 

Figurines And Toys:

The Jujutsu Kaisen Merchandise includes various figures and toys to choose from. Most of them are the must-haves from the collection.

Home Decor:

The jujutsu Kisen decorations are the best head-turning items to give character to your house. They are generally available as lamps, paintings, and wall-posters.
My Top Picks And Recommendations For The Best Jujutsu Kaisen Merch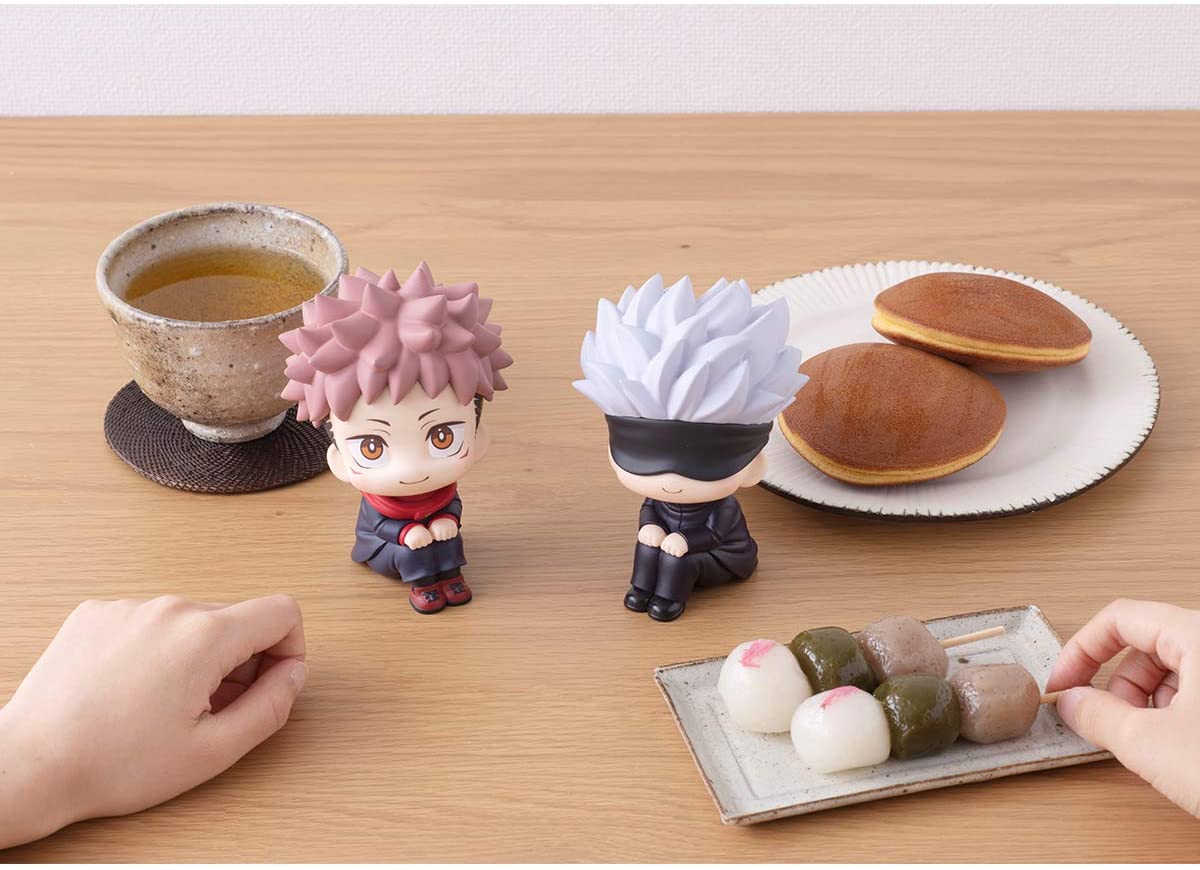 A list of my top picks and must-haves that I would recommend to Jujutsu Kaisen fans is given below:
Satoru Gojo Pullover Hoodie

Lot 5 Figurines Jujutsu Kaisen

3D LED lamp Megumi Fushiguro

TAMASHII NATIONS Satoru Gojo Jujutsu Kaisen, Bandai Spirits S.H.Figuarts

Jujutsu Kaisen- Yuji Itadori ARTFX J Figure

Yuji, Megumi, Nobara painting Jujutsu kaisen 
Yuji Itadori and Sukuna painting Jujutsu kaisen official merch

Jujutsu Kaisen Gojo & Megumi Best Friend Necklace Set

3D LED lamp Satoru Gojo Team

Toge Panda Maki Air pods Case

Jujutsu Kaisen Maki Zenin glasses

Satoru Gojo Trainers Jujutsu kaisen

Backpack Tokyo vs. Kyoto

Jujutsu Kaisen- Megumi Fushiguro Figure
Jujutsu Kaisen Merchandise, One Filled With Cursed Energy!
The best thing about this Merchandise is its diversity. It has everything for everyone. So whether you like heroes or are more of a villain lover kind of person, you won't be disappointed. The way the Merchandise replicates what is shown in the series and the level of accuracy and attention to detail is impeccable. I found it easier to get this merch as compared to others. It's readily available across the globe and will be at your doorstep in no time. 
General Items Offered By The Merchandise
Seeing your heroes on screens is one thing but having them physically with you is the best feeling for a true fan. It wouldn't have been fair for the Jujutsu Kaisen fans if the merch was not launched. So, here it is for all of you to grab and finish your journey. Here is a general listing:
Apparel
A wide variety of clothing items is a part of the merch. Be it shirts or t-shirts with your favorite character on them, hoodies, sweatshirts, jackets, and shoes, it has everything for everyone's liking.
Shirts And T-Shirts
T-shirts and shirts are the best-sellers among the other articles in Merchandise, for all the right reasons. Most of them have 3D engravings of all your favorite Jujutsu characters, and it's also readily available online and offline. However, I suggest you be careful of the pirated ones with torn-off paint and low-quality fabric as they would ruin your experience. Some popular ones are:
Megumi Fushiguro Wolf T-shirt in black color
Inumaki Yosh Toge T-shirt
Hoodies And Sweatshirts
Who doesn't love hoodies? No one. Jujutsu Kaisen merch has got you covered. Your favorite apparel with your favorite heroes printed on them is available to grab. These hoodies are great for the winter season. However, if you like to wear them throughout the year, don't worry; they are also made in fabrics that can be worn in warmer seasons. Their quality is excellent. Some of the best-sellers are:
Satoru Gojo Eye Sweatshirt with tie-dye print 

Sukuna Ryomen sweatshirt
Coats And Jackets
Jujutsu Kaisen merchandise has a wide variety of coats and jackets. Of course, denim jackets never go out of style, and this merch has got you covered in that department. Jujutsu Kaisen Denim Jacket with Sukuna Ryomen's face imprinted on it is an excellent pick for both men and women.
They are great for keeping you warm and making you look dashing and handsome. The bomber jackets are becoming the new favorite for everyone, and the customized ones will enhance your experience. 
Shoes And Footwear
Shoes are a staple, and customized hand-painted or printed sneakers are becoming trendy. They are made part of the Merchandise to please the younger fans and the adults. They have a unique and wide range of colors with intricate designs. They are available in different styles such as slip-on, vans, skaters, with sneakers being the favorites. For example, Minimalistic ones with Satoru's face on them are among my most used items.
Accessories
Cool and funky accessories are becoming statement pieces these days. Be it backpacks, keychains, mugs, wallets, or notebooks, the Jujutsu merchandise has everything for everyone's liking. Jewelry is also a part of it and is liked by girls and boys alike.
Backpacks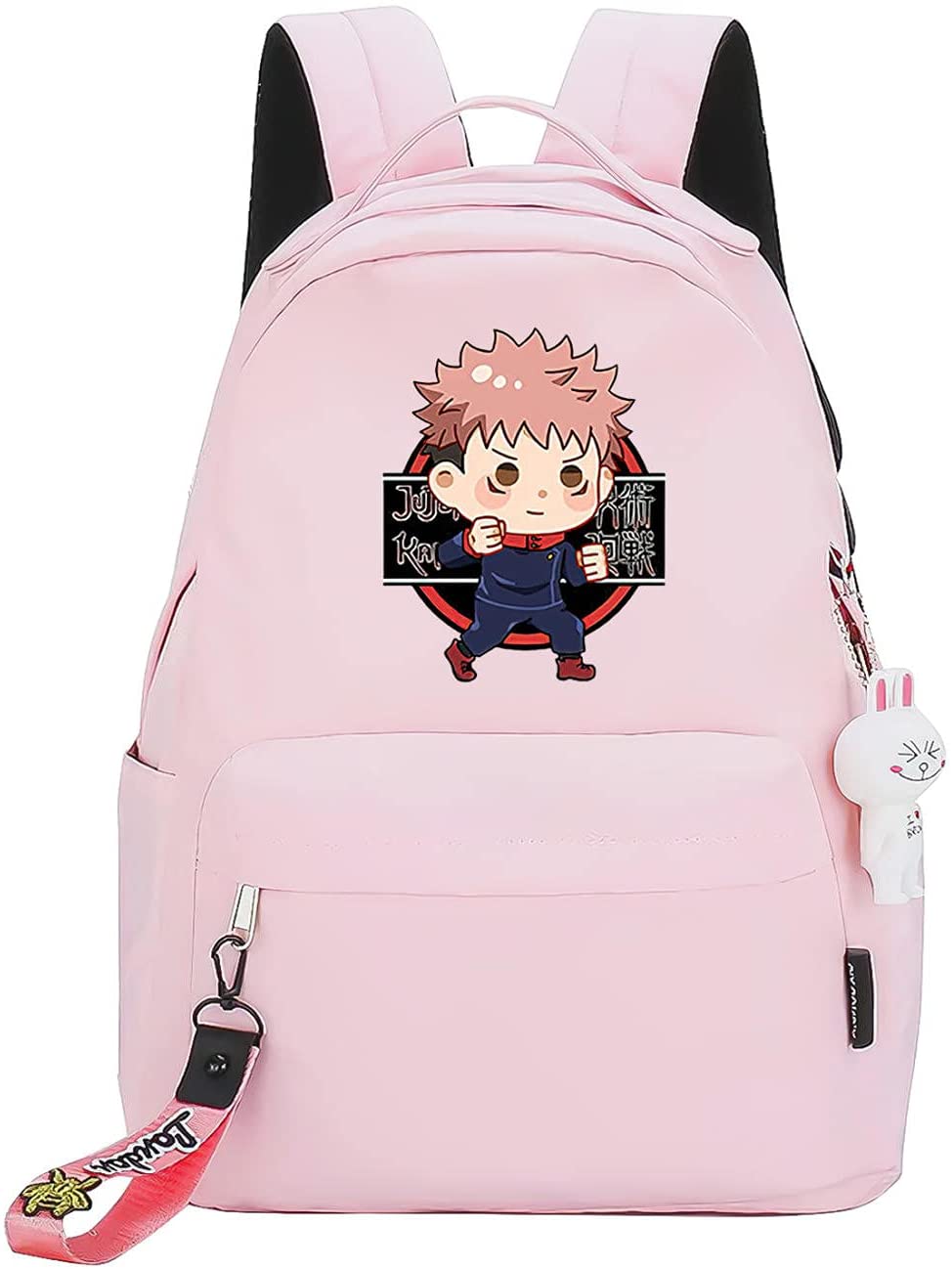 It won't be an exaggeration to say that backpacks are essential these days, and everyone loves flaunting them. They come in handy and are made of excellent and durable material. The printing on them has good quality but keep an eye out for the pirated ones with scratchable paint and torn-out material. Tokyo vs. Kyoto, one in the black color, is the best seller.
Glasses
Glasses make for a classy fashion accessory, and customized glasses in the shapes worn by characters of the series are also part of this merch. Maki Zenin's signature glasses are the best ones out there.
Hats And Caps
Hats are great for all seasons and add the final touches to your outfit. Different styles of hats, such as bucket hats and beanies with minimalistic engravings on them, are made part of the Jujutsu Merchandise. For example:
Exorcists' bucket hat, which features all 4 protagonists from Jujutsu Kaisen. 
Mousepads
Mousepads are necessary for a smooth PC experience, and customized ones with your favorite characters from Jujutsu Kaisen printed on them are available for you to grab. There are many options to choose from, but the one with Ryomen Sukuna's face is the most durable.
Toys And Figurines
Whenever the word merch comes up, the action figures are the first thing in our minds. Moreover, customized lamps, plushies, etc., are also included in this merch to enhance your experience and complete your journey.
Action Figures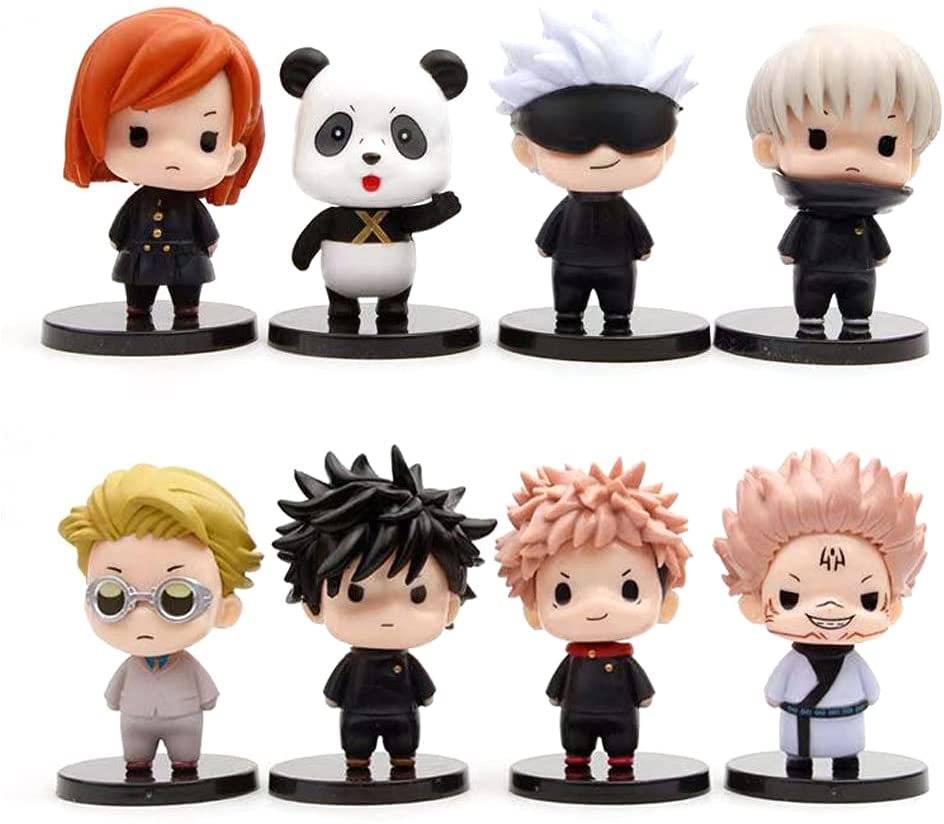 2D and 3D action figures of your favorite characters are available. However, I suggest you go for the 3D ones for a better experience. It might be harder for you to find the figures for less famous characters but keep on searching, and you might find them. Some of the examples are:
Megumi's action figure.

Satoru Gojo action figure
Home Decor
Home decor is an extended-term as almost anything can be considered a decoration piece. You may make Jujutsu Kaisen statement pieces and quirky artworks a part of your home to make it stand out. Different products offered by the Jujutsu merchandise like Posters, wallpapers, rugs, blankets, and lamps can add extra oomph character to your house.
Lamps And 3D Lamps
Flashy 3D LED lamps will be a great addition to your home. Intricate design lamps with excellent quality are waiting for you to grab. They give a different touch and feel to your room at night. Although they are of good quality, the downside is that they are fragile, so you have to be careful with them, or you might just lose the bucks you spent on them. For example:
3D LED lamp Gojo's Exorcist team featuring his 4 pupils

Megumi Fushiguro 3D LED lamp
Wall-Art, Paintings, And Posters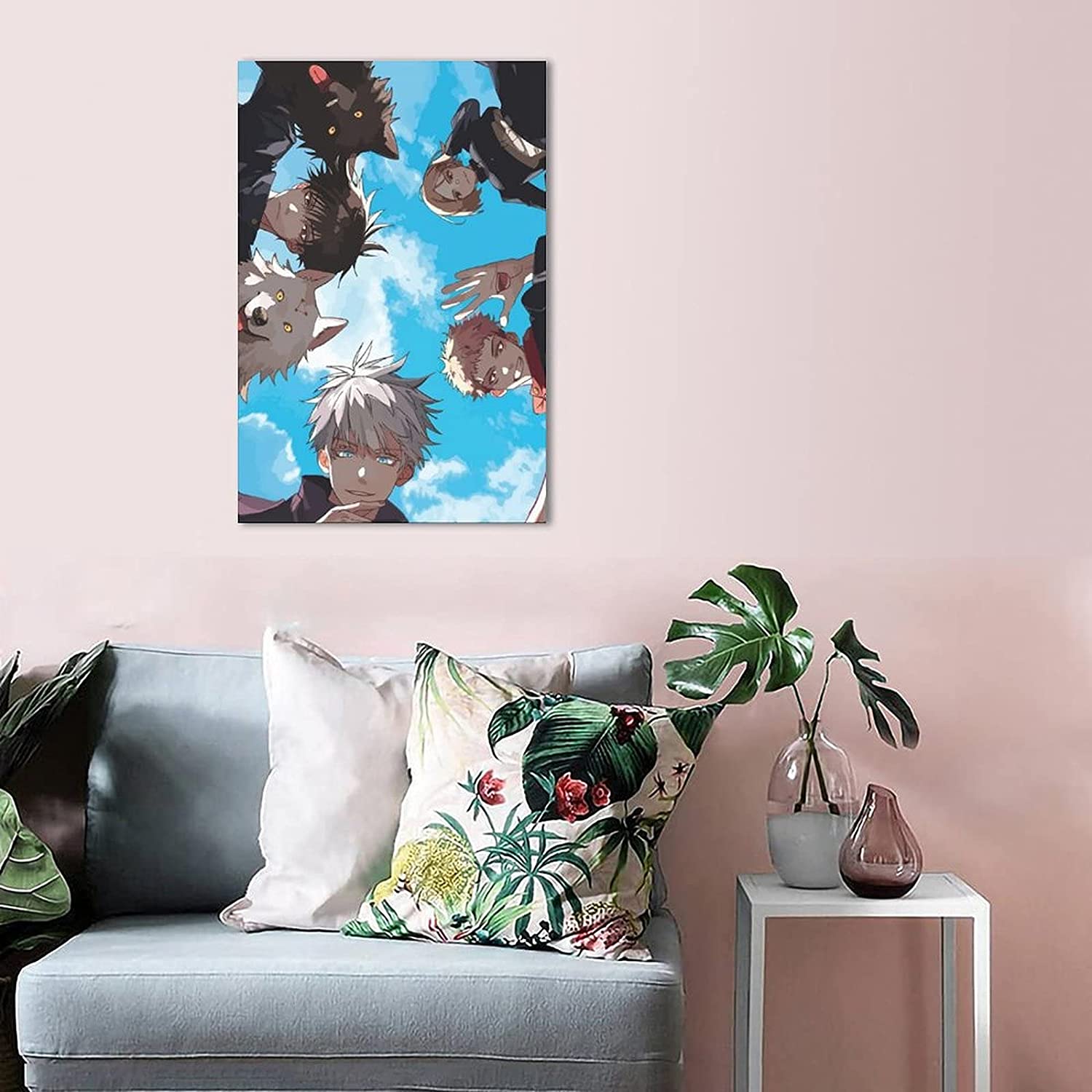 Wall-arts/paintings are another thing that you can add to your living space to make it attractive, appealing, and full of life. They are usually available in assorted pieces intended to be put together. Some of the common ones include:
Yuji Itadori and Ryomen Sukuna painting

Yuji, Megumi, Nobara painting
My Experience With JJK Merchandise
I have been an anime and manga lover for as long as I can remember. I learned many life lessons from them, and they were part of my whole childhood (and adulthood, of course). I grew up with these, and one of my hobbies was to gather all the collectibles and show them off to my friends(or literally anyone). So I was always on the lookout for the best and most worthy pieces. 
Jujutsu Kaisen is a new addition to my list of favorites, and I have not failed to buy the Merchandise it had to offer. They are indeed treasures well kept, and I can proudly say I am among the earliest Jujutsu merchandise collector. I will share what I learned with you to benefit you and make your experience as good and worthy as mine.
Buying Guide: Tips, Hacks, And Ideas!
The fans know what they want, but my job here is to assist you in making the best decision for yourself. So here is a list of things you need to keep in mind to get your favorites from the Merchandise.
Select A Reliable Source Of Purchase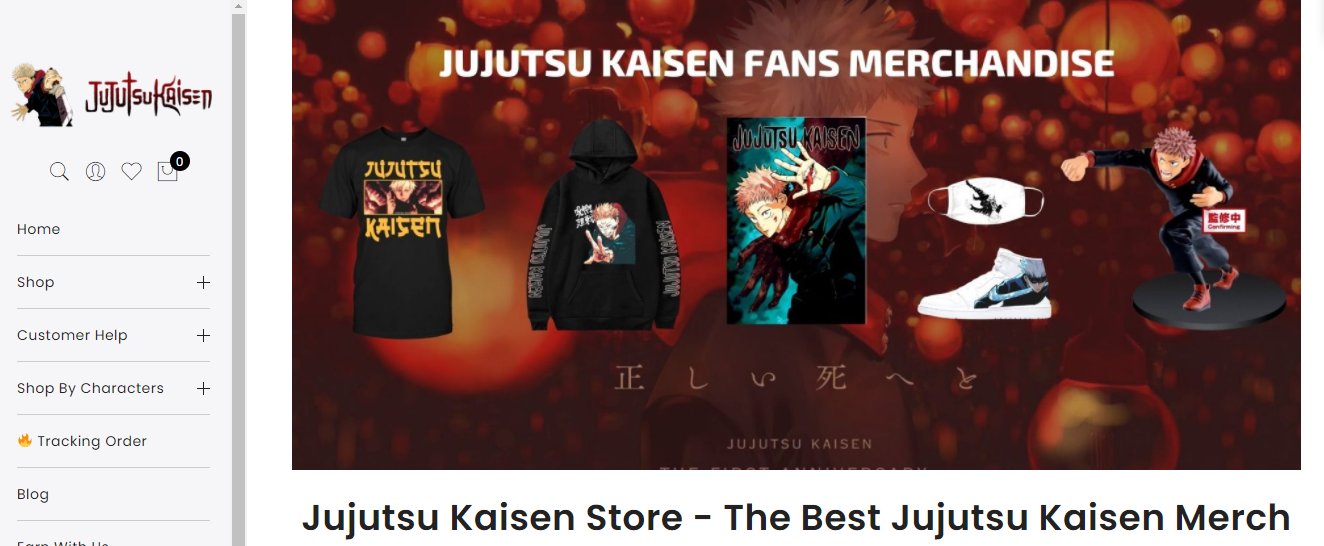 There are many online options for you to choose from. Still, one of the best and most trusted, in my view, is the "jujutsukaisen. store", where you can get the Merchandise of your favorite character. It has options for everyone. Of course, a wide variety of merch is always available on Amazon; however, its return/exchange policies are outstanding. 
Make A Budget
The Jujutsu merchandise is so appealing that you have a high risk of exceeding your budget. If you have a big budget, then good for you. Buy as many as you want. But if not, then make a budget first and purchase the items accordingly. Also, price comparison is an essential factor. Keep an eye out for the websites that offer reasonable prices (but don't compromise on quality).
A Better Buying Option
It's a widely known fact that the Merchandise made in Japan is of better quality, durable, and detailed. So make sure, if possible, to go for products made in Japan rather than those made in the West. 
Check Reviews Before Buying The Products
What's the first rule of online shopping? Checking the reviews before placing the order. You are going to do the same while ordering Jujutsu Kaisen Merchandise. Pick the articles with the highest number of reviews/ratings. Go through the reviews with images first and if you like what you see in the actual photos from the buyers, then place the order. 
Common Problems You Are Going To Face And Their Solutions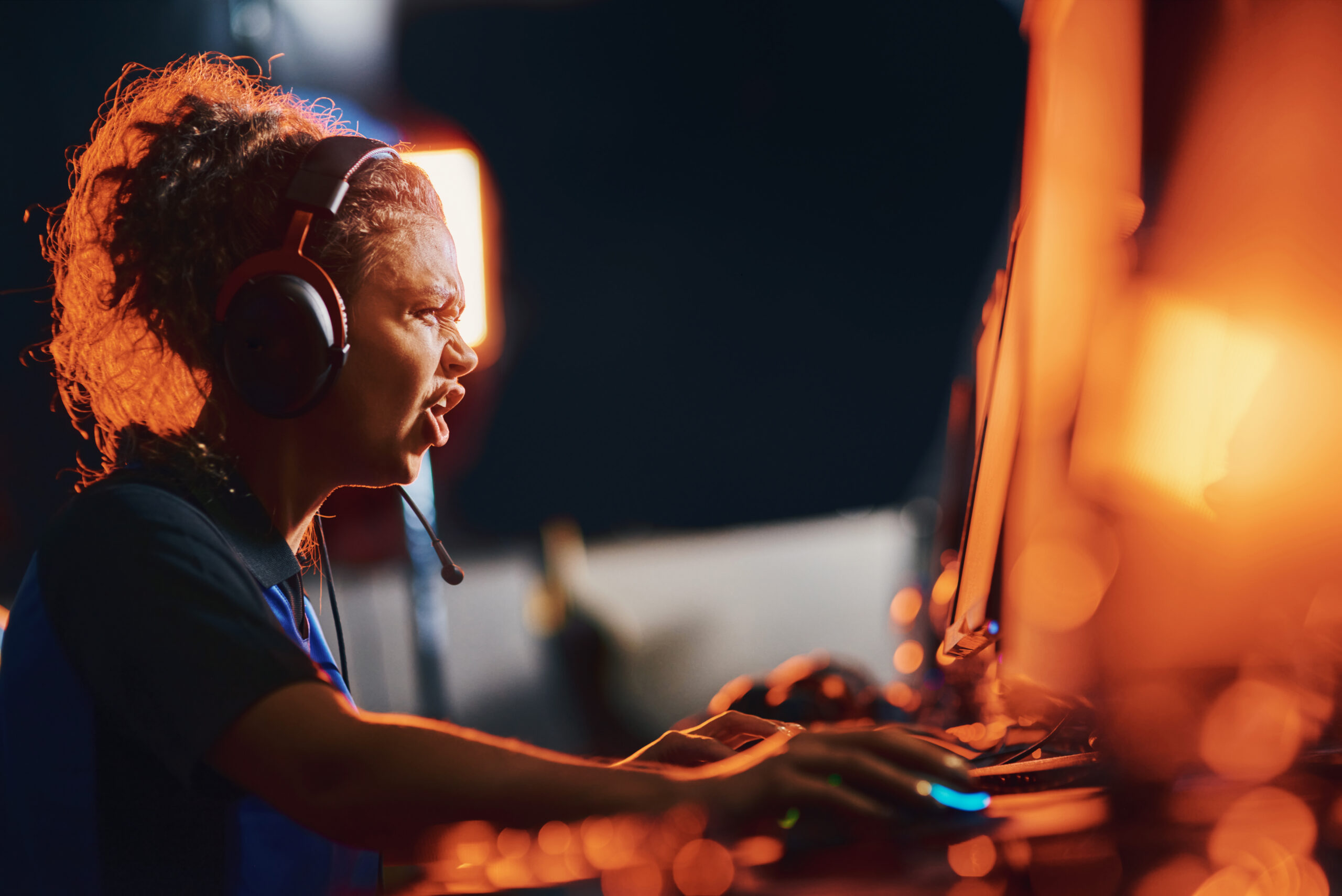 It's never easy to get what you love. Right? But I got you covered.
Your Favorite Products Being Out-Of-Stock!
One of the main problems the Jujutsu Kaisen fans face with the Merchandise is it being out-of-stock. If this happens to you, then don't lose patience or heart. Instead, follow the steps I suggest.
Message the seller to ask if the product will be restocked or not. Also, ask if it's discontinued by the manufacturer.

If you don't get a satisfactory answer from the seller, try looking for the products on another website.
Courier And Delivery Issues
You might be ordering from any part of the world with the seller being in the other. Therefore, the conveyance is sometimes the most significant issue while ordering. Ensure that the courier/delivery service the website uses is the local ones in your vicinity and is efficient. In this way, you can avoid any unwanted delay in your shopping and save the extra charges. 
Currency Issue
Another problem is that of conversion. For most Jujutsu Kaisen Merchandise, the American dollar is the medium of exchange. But the Merchandise might likely be sold in Euros, pound sterling, or Japanese yen. So make sure you calculate the pricing before purchasing and look out for the extra taxes you might be charged.
Sizing Issues Or Damaged Products
If you are lucky enough to get your hands on the merch, but it arrives damaged or not according to your expectations, don't worry.
Most of the sites have refund-return-exchange policies. So don't settle for anything until you get what you want. Often articles come in sizes that you didn't expect because images can be misleading. Don't forget to check the description thoroughly before placing the order.
My Top Picks And Recommendations!
Here are my top 14 recommendations for you to consider:
#1 Satoru Gojo Pullover Hoodie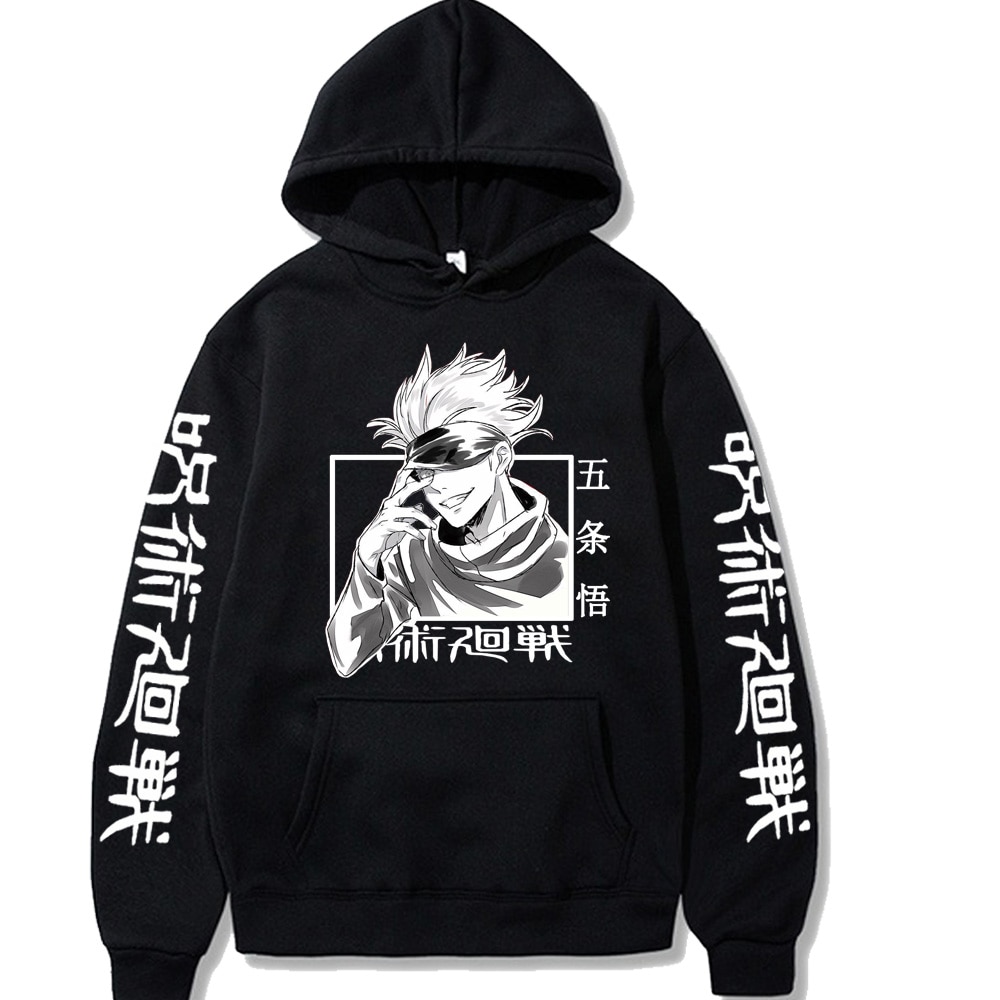 Satoru Gojo is undoubtedly one of the most popular characters from Jujutsu Kaisen. This pullover hoodie would make for a staple piece in your wardrobe, and the best part is that it is made of excellent quality. It is made of polyester and cotton, and it's more appropriate for the winter season. Sizing would not be an issue as it is available in sizes ranging from Small to 5XL. 
It is available in six colors. i.e., Black, grey, blue, white, pink, red, and yellow. It is priced at 34.95$, so it would not be an exaggeration to say it is economical.
#2 Lot 5 Figurines Jujutsu Kaisen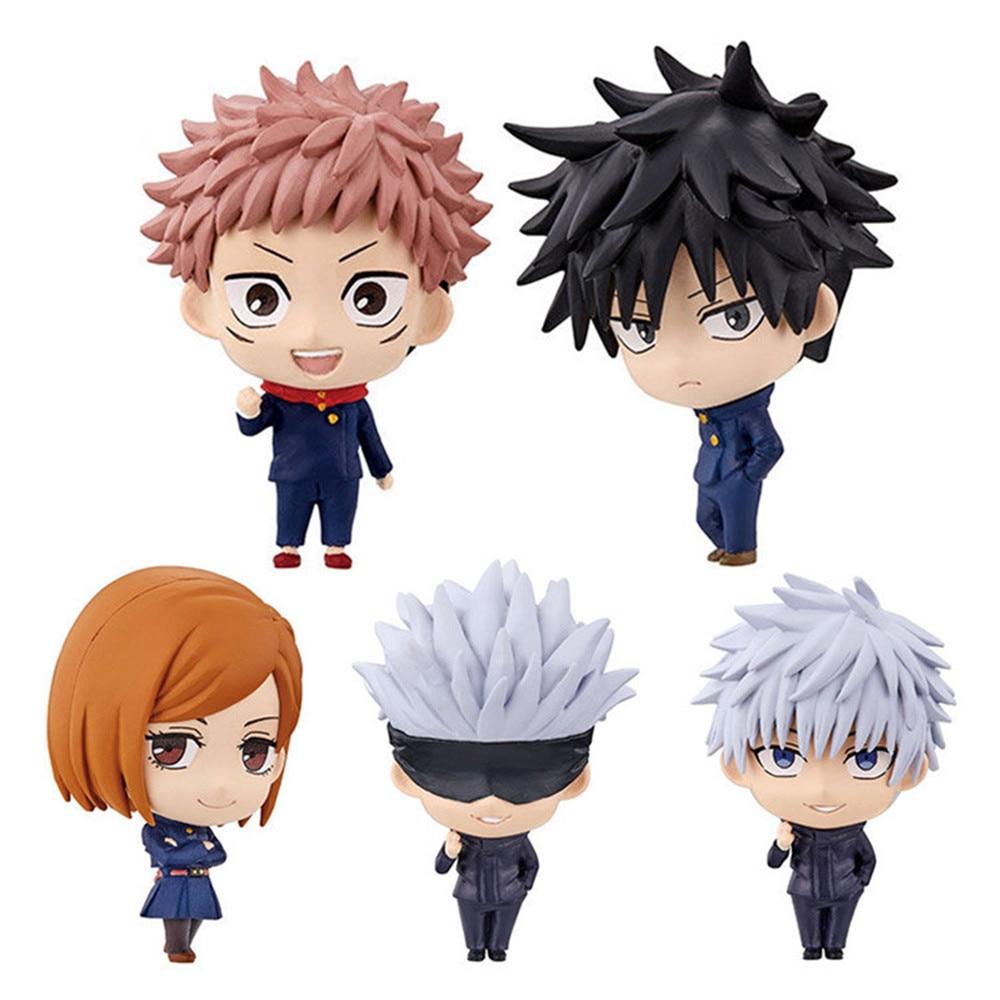 What's better than having an action figure of your favorite character? Well, five of them together. So find the heroes of Jujutsu Kaisen like Yuji Itadori, Megumi Fushiguro, Nobara Kugisaki, and Gojo Satoru and be ready to find Sukuna's fingers.
They are available in a set of 5, and each is 5cm tall. They are cute and beautifully made, but the downside is that they are way too small, so consider this fact before buying. However, if you are comfortable with the sizing, it would be a great addition to your collectibles. The best part is the pricing. You can get 5 action figures just in 34.90$
#3 3D LED lamp Megumi Fushiguro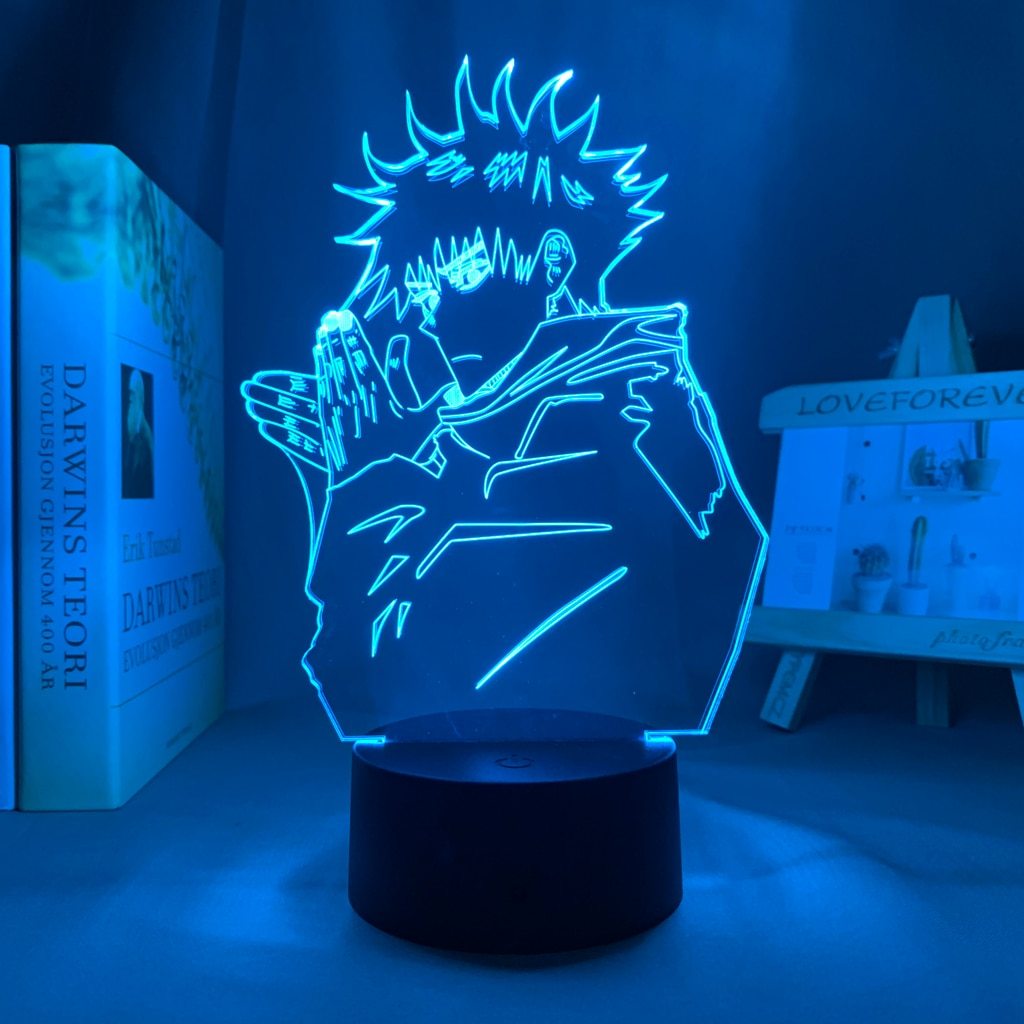 Megumi Fushiguro, a first-year student at Tokyo Jujutsu High with his stoic and calculating personality, became one of the favorites of series lovers. This 3D LED lamp will enhance the character of your room and will be an eye-catcher, but it will also keep reminding you of what Megumi stood for. He was a protector and believer of good. 
The LED lamp is available in two models, with the first model in 16 colors and the second one in 7 colors. It is of fantastic quality, and the detailing is impeccable. Even his facial expressions and his spiky hair are accurately depicted. It is remote-controlled. 
The first model is available for 24.90$ while the second one is 29.90$. 
#4 TAMASHII NATIONS Satoru Gojo Jujutsu Kaisen, Bandai Spirits S.H.Figuarts

Any Merchandise is incomplete without the action figures of its heroes (and villains). This Satoru Gojo action figure by Tamashii Nations is a must-have.
He is a superior grade Jujutsu sorcerer and a teacher at Tokyo Jujutsu High. He is known for his dramatic poses, and this range tried to cover all of them. It includes optional hands for replicating the "infinity." and also contains an un-blindfolded option head. 
It has four right, and two left optional hands, optional hand for the set pose, optional expression part, Optional head part, and a Blindfold. Its dimensions are 1.5 x 4 x 6.7 inches. It is available for 73.81$ on Amazon.
#5 Jujutsu Kaisen- Yuji Itadori ARTFX J Figure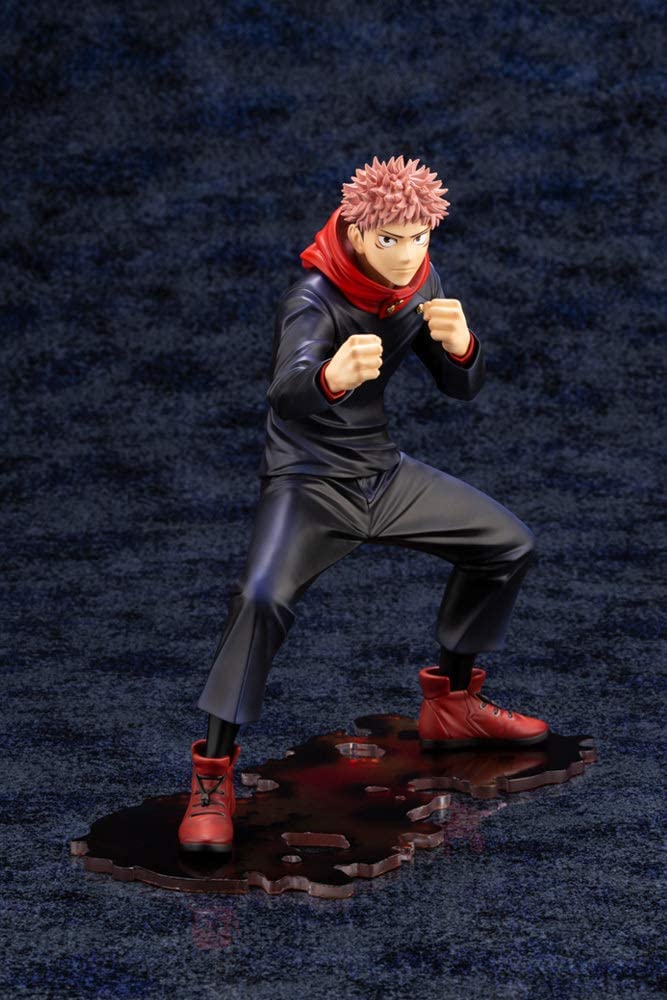 Yuji Itadori, the main protagonist in the series, and his love for athletics come to life with this action figure. It is manufactured by Kotobukiya, and the attention to detail is what caught my eye. His signature expertise in hand-to-hand combat is depicted in his powerful pose as he stands at the ready.
By attaching the effect parts, you can further recreate the atmosphere of Yuji Itadori in the battle. The best part is that the effect parts glow in blacklight, adding extra character to this figure. The design of the base has the character's signature colors that recreate the dark feel of the anime. 
The figure is easy to put together and includes a Bonus face part. It is approximately 7 inches tall. It is made of PVC ABS and is available for 129.99$. The downside, in my opinion, is the high pricing. Although the product is almost worth the money, it might be expensive for you, so keep that in mind.
#6 Yuji, Megumi, Nobara painting Jujutsu kaisen official merch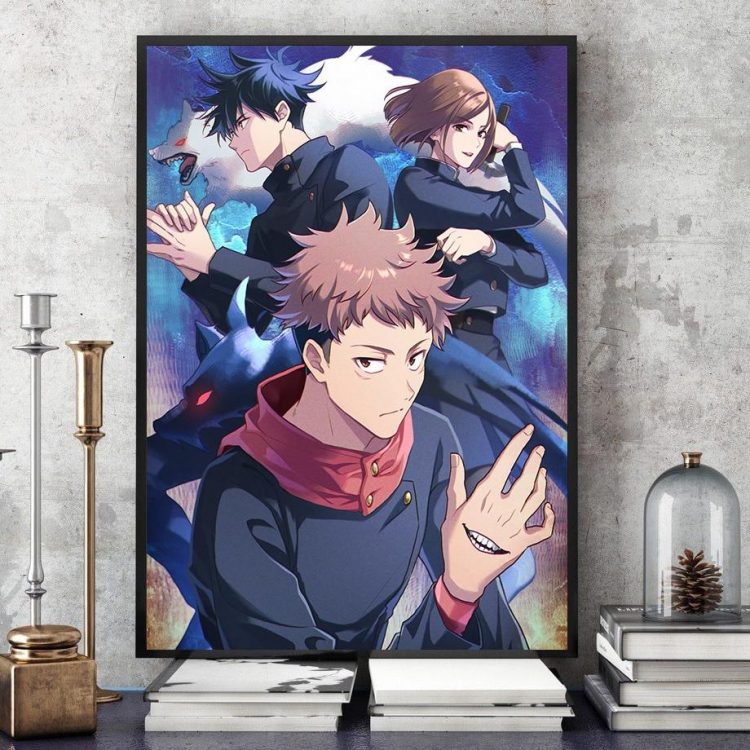 Paintings make for the best home decor or even gifts. Jujutsu Kaisen Official Merchandise has got you covered. This painting featuring Yuji, Megumi, and Nobara in their combat styles is truly a masterpiece. It is a head-turner and will give your room the final touches it needs. It depicts their friendship, and these heroes(and heroine) stood together to fight the Curses. You can gift this to any anime lover, and they will not be disappointed.
It is available in different dimensions and is priced accordingly, ranging from 24.90$ to 54.90$.
#7 Yuji Itadori and Sukuna painting Jujutsu kaisen official merch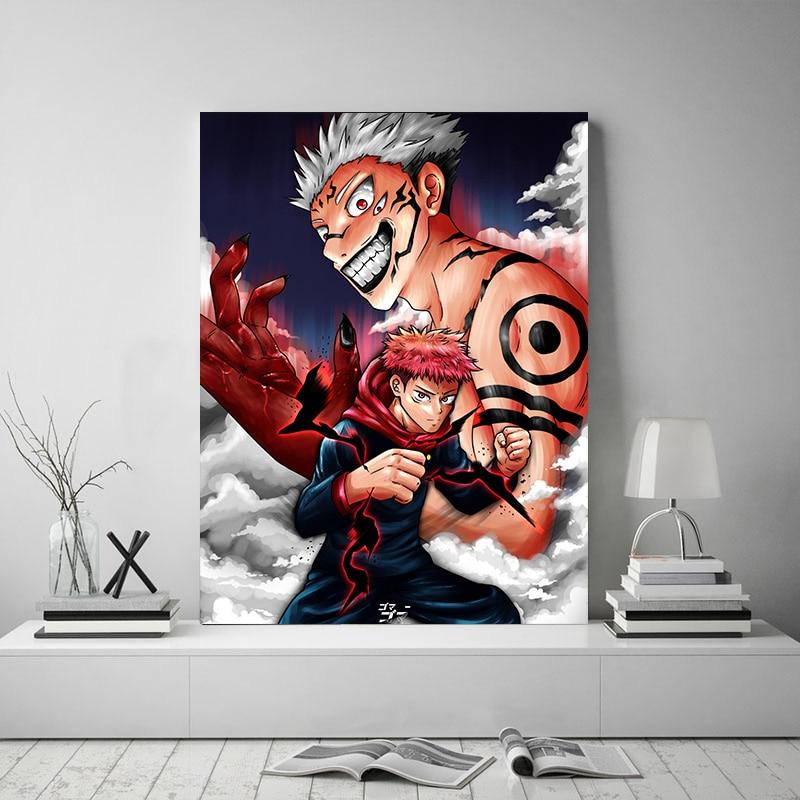 This painting featuring the Curse Sukuna and his host Yuji Itadori is among the tops of my favorites list. The way a young and innocent boy becomes trapped with a demon-like Sukuna and how he fights it is tragic and commendable at the same time. This truly displays Yuji Itadori ready for battle with Sukuna Ryomen sleeping inside him and waiting for the right moment to take control of his body. 
The color scheme is epic, and emotions are depicted to the finest. There is no such thing as too many paintings, so don't hesitate to splurge on the ones from Jujutsu Kaisen's official Merchandise. It is also available in different sizes, and the price varies accordingly (ranging from 29.90$ to 59.90$).
#8 Jujutsu Kaisen Gojo & Megumi Best Friend Necklace Set
An introvert and an extrovert make the best friendship duo, which was the case with Megumi and Gojo. This duo necklace set is an excellent idea. You can buy it and share it with your introverted best friend(or the extrovert one) to remind them that you have their back no matter how hard the times may get. 
This silver-tone necklace set features an enamel charm of Gojo Satoru on one and Megumi Fushiguro on the other. This is beautifully made, and the detailing is to die for. It even shows Gojo in his excited avatar with Megumi keeping his straight face. The reference is perfect. 
It has a long chain made of Alloy. It's 32 1/2″ long, and the chain is adjustable. It's available for 12.90$. Although it is excellent from the price point, the downside is that it is easily breakable since the chain is made of Alloy. So you have to be careful with that.
#9 3D LED lamp Satoru Gojo Team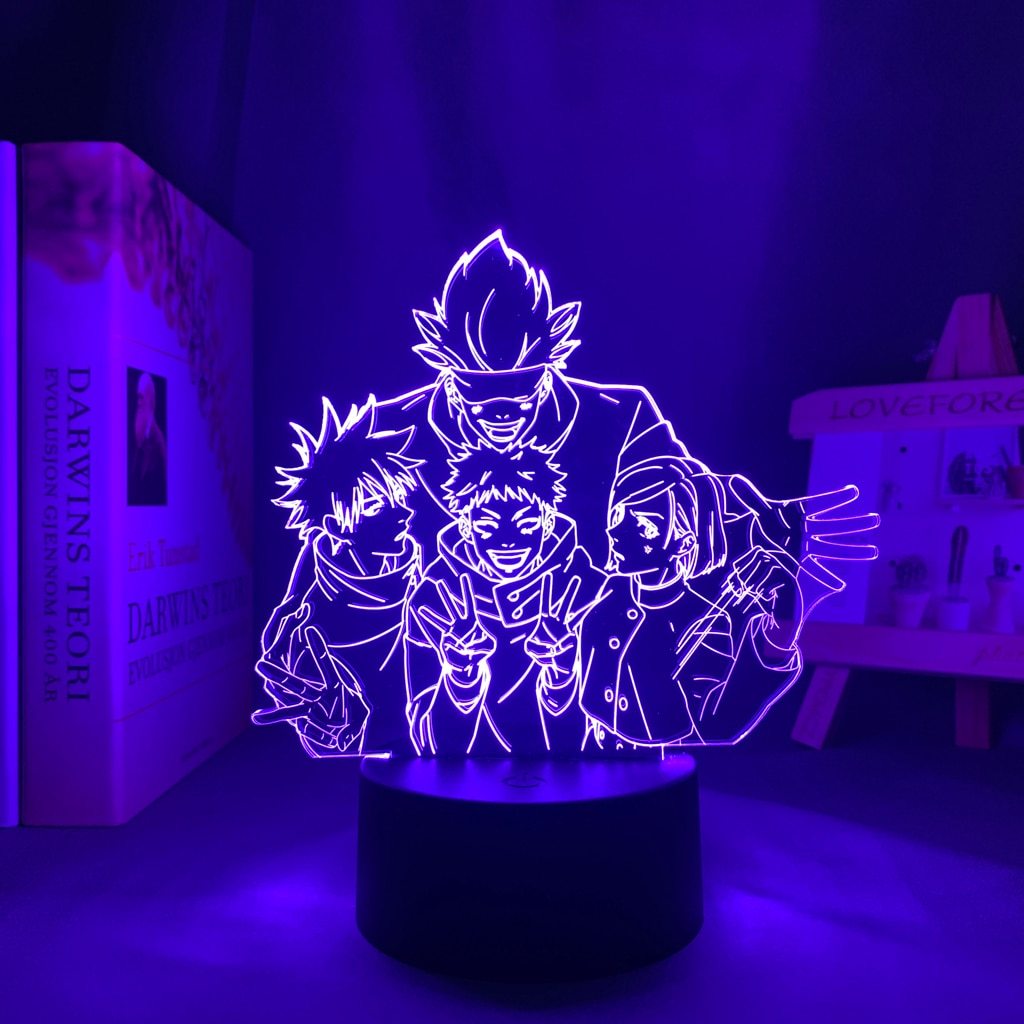 Satoru Gojo and his three pupils, Yuji, Megumi, and Nobara, make the best exorcist team in the city full of Curses. These 4 were great together and were the biggest supporter of Yuji against the exorcism he almost faced. They were the epitome of strength, each having its quirks and superpowers.
These 4 put together in the form of a 3D LED lamp are a great idea, and it will remind you how to stand together and face evil and that the strength lies in togetherness. Teamwork is the best work. And, of course, it will be a statement piece for your room.
It's available in 2 models, and the price varies accordingly. For example, the first model with 16 colors is priced at 29.90$ and the other with 7 colors at 24.90$. The only issue here is fragility, so you have to be careful. 
#10 Toge Panda Maki Air pods Case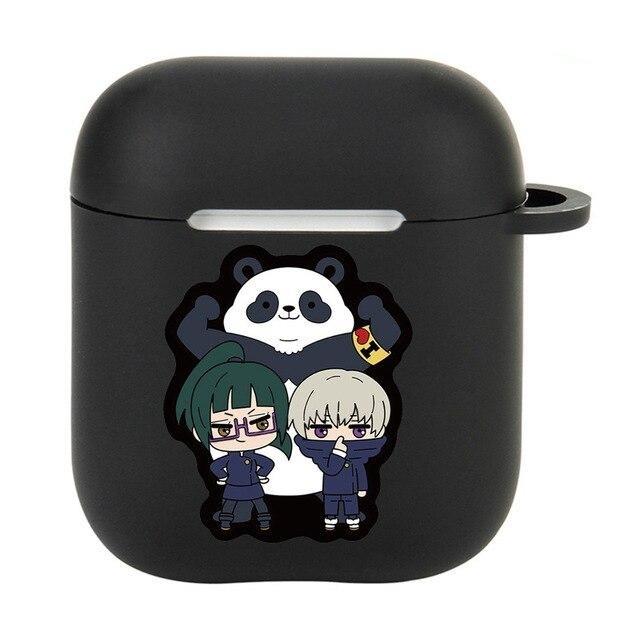 This Air pod case featuring Toge Inumaki, Maki Zenin, and Panda will be a cute addition to your collection. It features all three in its mini versions, and it's available in black color with paint on it and a silver opener. 
These three together will remind you of the fun they had and the bond they shared. Panda makes everything 10X Cuter, and it is available for a price tag of 14.90$.
#11 Jujutsu Kaisen Maki Zenin glasses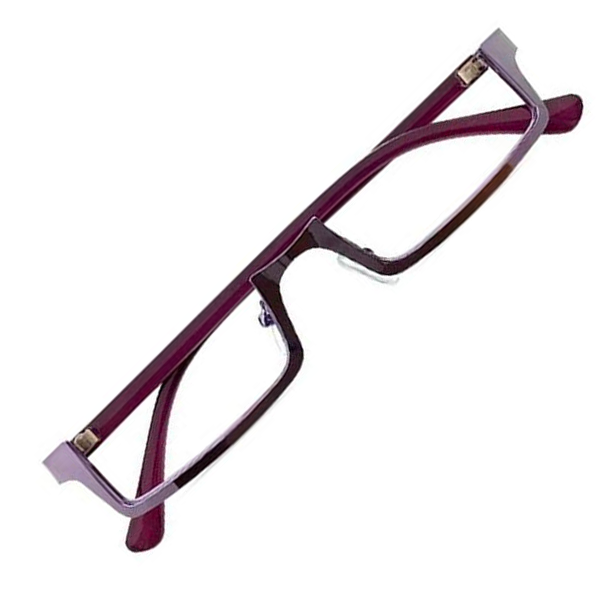 Maki Zenin, a non-sorcerer born in the family of Zenin and currently the second-year student at Tokyo Jujutsu High, is indeed my favorite character from the series. Due to being mistreated, she left her clan and aspired to be a jujutsu sorcerer to spite her family.
Her friendship with Toge and Panda is exemplary. She is an inspiration for first-year students, just as she will be an inspiration for you. Also, they look fantastic.
Her glasses are her signature style, and what's the point in having merch that does not include it. The purple detailing on these glasses from the merch is beautiful and stays close to the original Maki glasses. It is available for 17.90$. 
#12 Satoru Gojo Trainers Jujutsu kaisen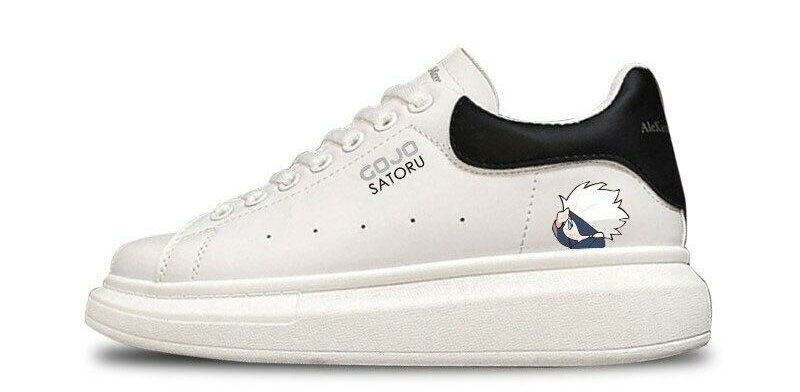 Who doesn't love a good pair of trainers? The customized ones are trending right now, and the Jujutsu Kaisen Merch has got plenty for you to choose from. These specific white trainers are among the best sellers. They are minimalistic with a small patch of Satoru's face on them and his name printed.
Buy them today, and you are in for some flexing. These shoes are available on the website for 89.90$. As they are available in different sizes, the problem may arise with the sizing, so you have to look out for that. Also, don't forget to buy Gojo Satoru cotton socks worth 14.90$ with them.
#13 Backpack Tokyo vs. Kyoto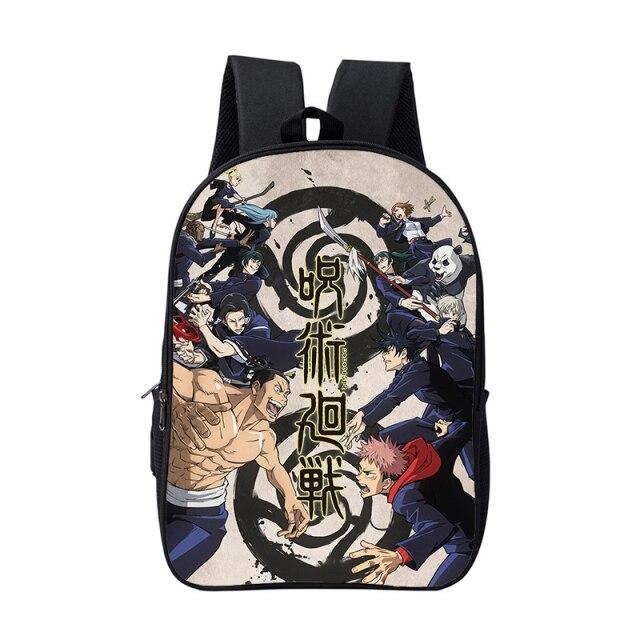 Backpacks never go out of style(or need). This Jujutsu Kaisen backpack featuring the exorcists of Kyoto school on the left and the exorcists of Tokyo High on the right depicts the rivalry between these two institutions. They constantly faced each other in the battles, and their fights were worth watching. If you are an action-lover, then this one is for you. 
It's available in black color for 39.90$. Sizing and space are average. However, one downside is that the painting might come off. So I suggest you keep it safe and don't use it too roughly.
#14 Jujutsu Kaisen – Megumi Fushiguro Figure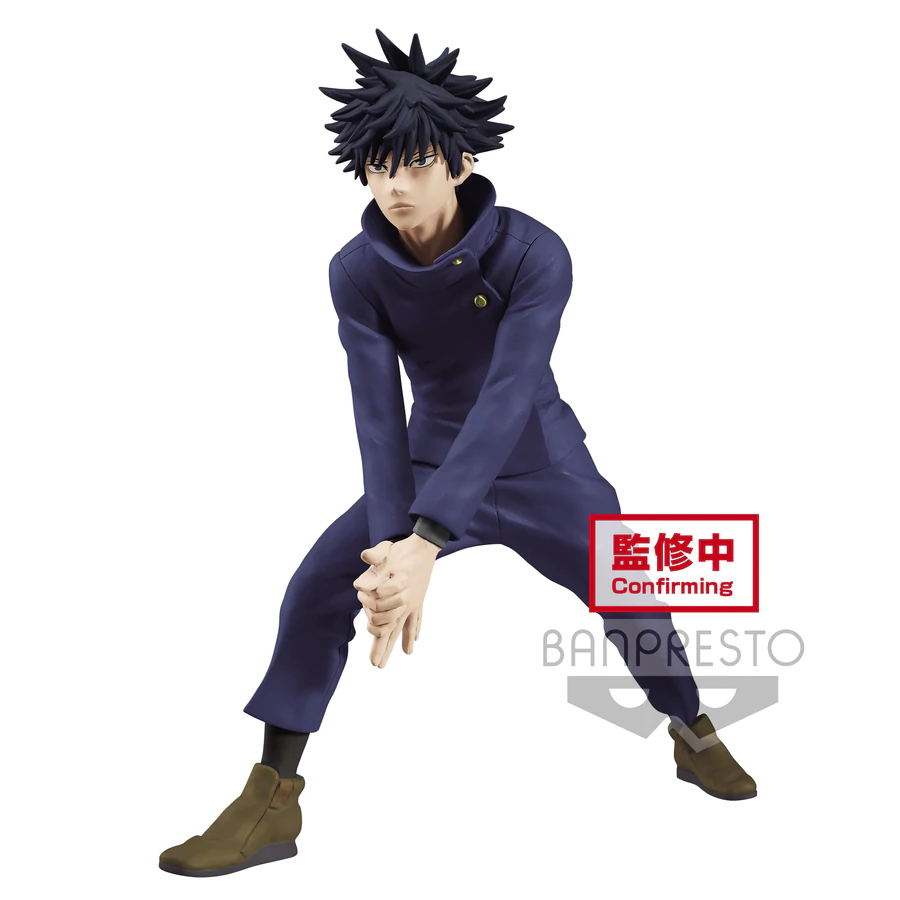 "If only more good people could receive fairness. I'll save people whether or not it's fair!"
This is what Megumi believed in. He was a savior and wanted to protect people at whatever costs. His action figure will remind you of his strength and motivate you to be protective of the people near you.
It's perfectly made, and the detailing is just beautiful. Even Megumi's spiky hair covers all his face, just like in the series. And his signature combat pose is correctly depicted. This figure will add that extra character to your Jujutsu Kaisen collection.
This figure is 6 inches tall and is made of PVC ABS. It is manufactured by Banpresto and is available on Crunchyroll for 21.59$. Due to its standing positing, it might be difficult for you to balance it. So be patient and careful with that. 
FAQs
Question: What are must haves from Jujutsu Kaisen merch if I am on a budget?
Answer: Suppose you want to buy the Merchandise but are on a budget. In that case, I suggest you go for action figures of your favorite characters, especially Yuji Itadori and Satoru Gojo. They are of excellent quality and worth the bucks. Also, Playing cards are one of my favorites.
Question: Is it recommended to buy all the Jujutsu Kaisen action figures in bulk?
Answer: I would not suggest ordering all action figures at once or in bulk. Instead, buy the must-haves first, and if you are satisfied with their quality, you can look for other ones. Also, go for the ones with maximum positive reviews.
Question: How much my budget for the Jujutsu Merch should be?
Answer: Your budget should depend on the number of items and the quality of products from Jujutsu Kaisen Merch you want. If you are looking for high-quality articles like action figures, it would be expensive. Instead, make a list of what you want the most, make price comparisons, and prepare your budget accordingly. It might be heartbreaking to kick an item out of your cart, but you will save money.
Best Jujutsu Kaisen Merch Guide: Summing Up
Jujutsu Kaisen Merchandise has everything for everyone. Its wholesome, inclusive, complete, and impeccable. All the characters very concisely portray the emotions attached to them, and all the visualizations are made real. The real-life experience it offers makes it stand out among all the other Merchandise available out there. 
The buyer knows what's best for them, but this guide will make your experience less tiring and more pleasing. Buy whatever is suited to your liking, and do not rush making the decision. As a Maki Zenin fan, her glasses from the Jujutsu Merchandise are my favorite.
They are well-built, and the detailing is impressive. Also, don't wait for your favorite articles from the Merchandise to go out of stock. Instead, place your order as soon as possible, and I guarantee you will not regret the bucks you spend on it. After all, it's all about completing the journey of being a Jujutsu Kaisen fan, right?
Recommended Reads: