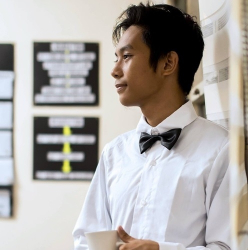 Latest posts by Arthur Monteclar
(see all)
Naruto is one of the many beloved anime series that deserves a spot in your collection. Aside from being a classical favorite, it has a lot of remarkable character and costume designs.
Seeing Naruto's Sage Mode design with his stylish cloak flapping in the wind and the summoning scroll on his back invokes a feeling in me that words cannot describe. Sasuke's costume design during The Last events shouts "mysterious ninja," which especially fits him (or maybe I love cloaks so much).
Even supporting characters like Shino during Part 1 or iconic villains like Madara with the Sage of Six Paths' power are beloved by many fans, including me.
If you are a Naruto fan, you indeed have someone in mind that comes to you when you think about great designs, and if you are looking to fill up the empty space on your shelf or desk, perhaps buying a statue or action figure of them is the solution to your needs.
This Best Naruto Statues guide will help you identify the best qualities of the Naruto franchise's statues and action figures. I have curated a list of my preferences of what I consider the best out there, but if you have a specific character in mind, this guide will still provide instructions on where and what to look out for.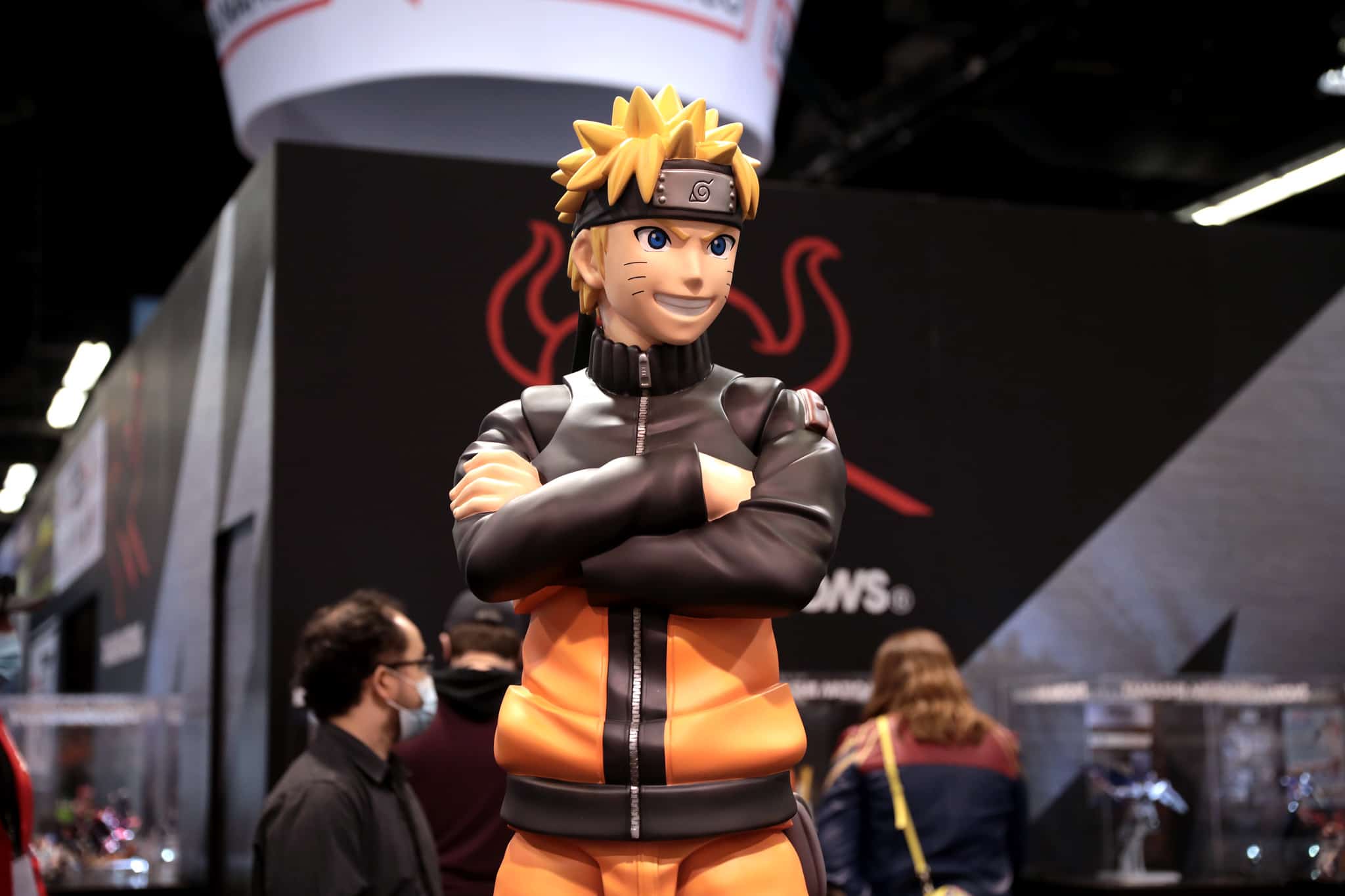 Bottom Line Up Front
This list contains the best statues from the Naruto series, and it's a mix of affordable yet fantastic statues and expensive limited-edition statues. All of them are great, but if I were to rank them into the best categories, I would rank them like so:
Best Budget – Uchiha Sasuke (G.E.M.) by MegaHouse
Best Design – Haruno Sakura (HQS+) by Tsume
Most Popular – Hatake Kakashi Anbu ver. (G.E.M.) by MegaHouse
Most Detailed – Senju Hashirama (HQS+) by Tsume
Largest Figure – Uchiha Madara (HQS+) by Tsume
Naruto Statues Buying Tips
Naruto is a top-rated franchise that even people not into manga and anime would know. Because of its fame, many products can be cheap or low-quality. While an affordable product is not necessarily wrong, some fans might want something that can last for many years.
I have scoured the internet many times while searching for my favorite merch, and Naruto is no exception. I have developed an eye for spotting a good one for someone like me. While not 100% accurate, these tips will help you search for your preferred Naruto statues and action figures.
Choose between Official or Unofficial Manufacturers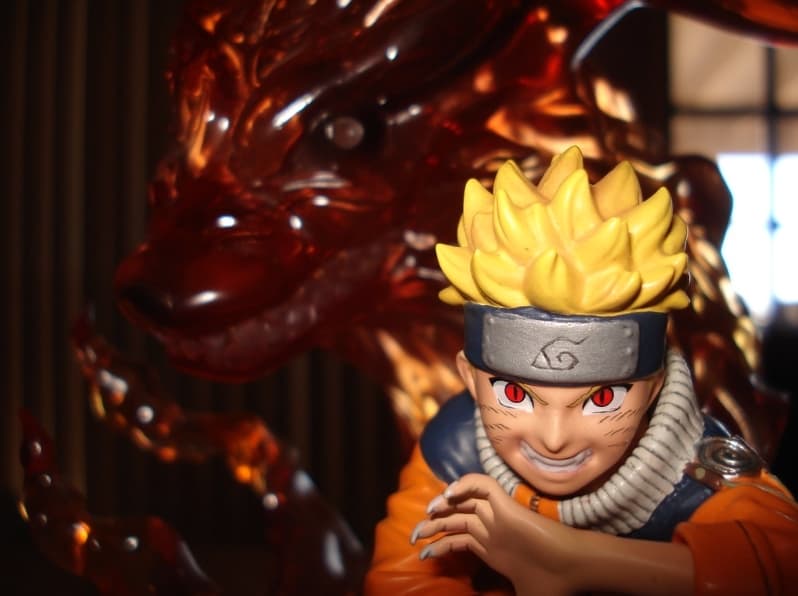 Choosing between official and unofficial merch can come down to your price range. Products from official manufacturers typically have higher prices than cheaper alternatives due to better material and licensing rights.
If you want to buy Naruto statues and action figures from official manufacturers, note the list below.
Tamashii Nations
Tsume
Oniri Creations
Bandai Spirits
MegaHouse
Iron Kite Studio
Ryu Studio
Infinity Studio
Still, not all unofficial merch is low quality; some produce statues using high-quality material, making them as expensive as official ones. Here are some unofficial manufacturers that put out great products:
MH Studio
Clouds Studio
Ofubito Resin Studios
Some of these manufacturers' products, especially the official ones, can take time to come by due to regional differences. For example, statues from Iron Kite Studio are primarily distributed in Japan, but you can find them from resellers on Amazon and eBay.
Be Wary of Resellers
Statue collecting can be an expensive hobby, so you may encounter scammers who will lie and cheat you. When you buy from resellers, always perform a background check. Look into their history; if they have no record of selling anything, you should approach them cautiously.
Many scammers will sell you counterfeit versions of your desired product. You may find yourself paying a lot of money only to end up with a fake statue made of cheap material.
You should meet the seller in person with a companion if you can. This way, you can verify for yourself the merchandise's authenticity. You should bring a friend with you for safety purposes.
Consider the Naruto Statue's Materials
As I mentioned, material plays a huge part in choosing your statue. A statue's brand is relevant if not for the quality of the materials they use. PVC is the most widely-used material in the anime figure manufacturing world. You can see it everywhere and may even find it in your collection.
The more detailed statues have resin, a sturdy material that allows minute features to pop off. However, resin statues are typically expensive, so be prepared to disperse some cash if you want resin.
I strongly advise you to avoid statues or action figures made from PMMA or PVC-L. They are weaker PVC versions, making your merch more susceptible to breaking.
Selection Criteria: How I Chose the Best Naruto Statues
Considering Naruto's wide cast, it's tough to choose which of its statues and action figures are the best among them. To narrow my selection, I listed down what I consider are the important qualities that the best Naruto statues must have.
Quality and license: a good figure, even if not from Naruto, should be sturdy enough for its price. The most common material top manufacturers use is typically PVC, which is sturdy enough. Of course, you must take extra care of your merchandise and not lean too much on its material quality.
Popularity and relevance: some Naruto statues will stand out from the rest for many reasons. For this list, I included statues of characters that are beloved by most fans. They are elements in the story that has a huge impact. This way, the list will cater to all fans, no matter their preferences.
Design and details: expert sculptors and designers from esteemed manufacturers craft the statues in this list. You can expect their designs to be fantastic and accurate to the character. You can also find extreme details when you look closer.
Top 10 Best Naruto Statues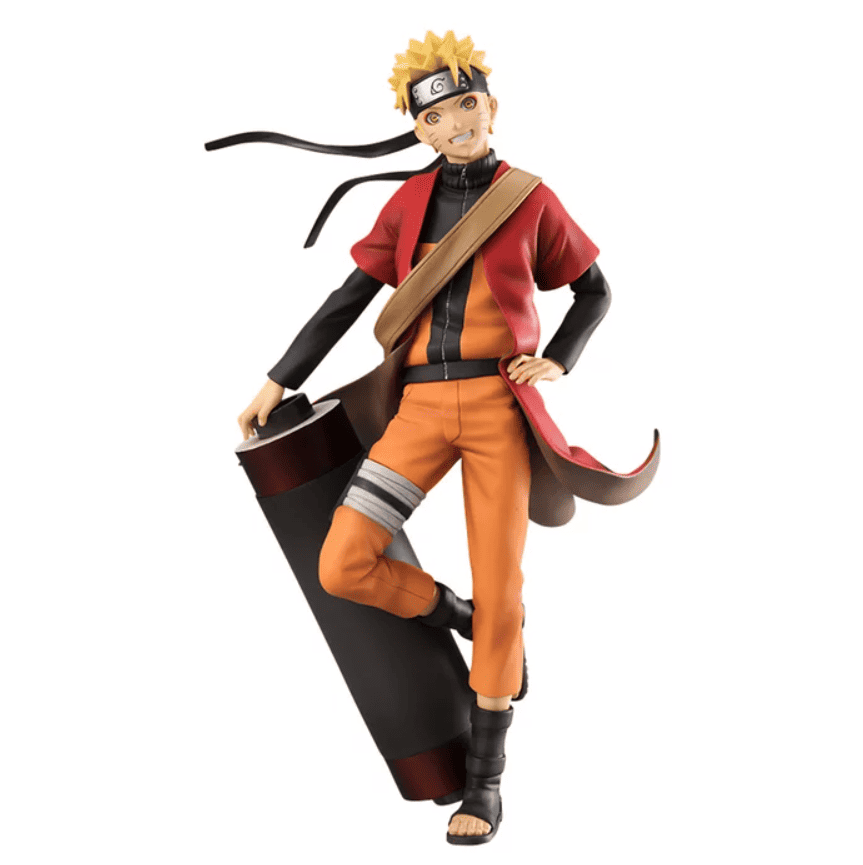 Alternatives
Starting with the titular character, this statue of Naruto's Sage Mode design looks fantastic; his pose and facial expression perfectly capture his cheeky nature. I love this costume because his red cloak and summoning scroll suit him incredibly well. I also love how his clothes, especially his headband, seem like they are flapping with the wind. Still, I think there are better poses for this attire. One with his arms crossed while the scroll is on his back would look badass.
It's about 19 cm. or 7.48 inches in height, so it would be a great display on your shelf. The statue comes with two heads you can switch from time to time.
Pros
It's easy to find and not too pricey.
It's manufactured using PVC and ABS, well-known sturdy materials.
Its paint job is clean and neat.
It's small enough for display on shelves and cupboards.
Cons
Its pose and design do not reflect the scene it's based in.
Its two alternative faces have similar expressions.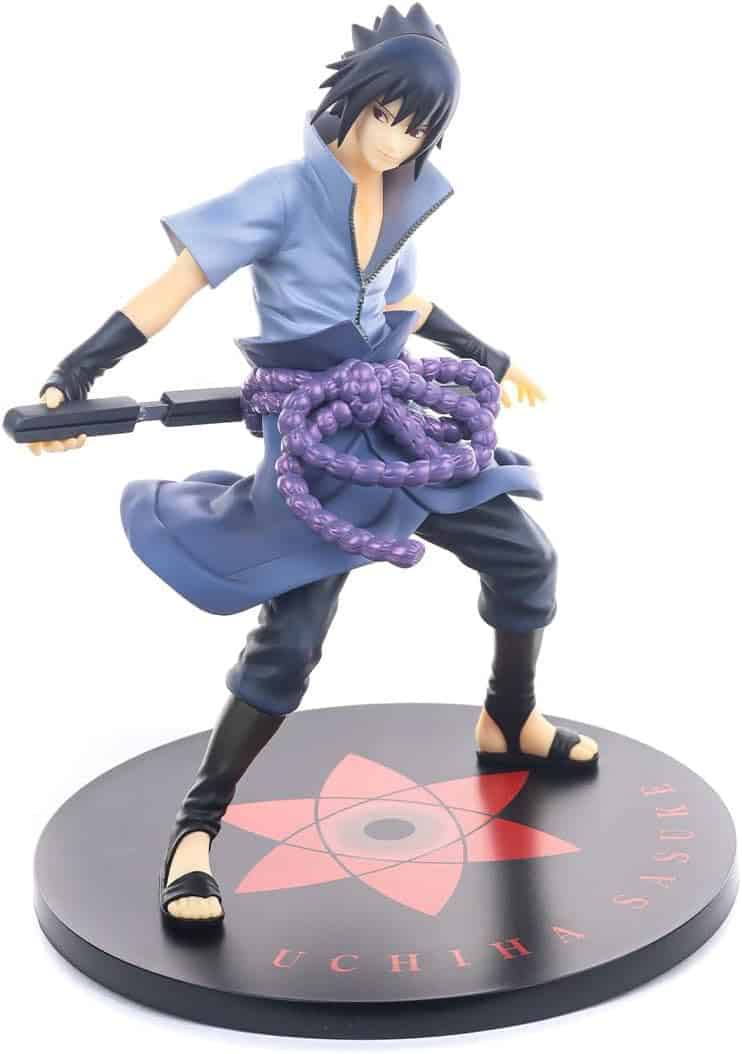 Alternative
This statue is another simple yet fantastic one from MegaHouse. Like the previous entry, this figure is from the G.E.M. series and was released in April 2014. It shows Sasuke Uchiha unsheathing his sword from behind him in a cautious yet ready pose for battle.
He is wearing his iconic design in part two, consisting of a grey collared shirt, the blue cloth around his waist, a large, purple obi belt made of rope, black pants, and sandals. I have Sasuke's World War version, and it looks splendid alongside this statue.
Sadly, knockoffs of this piece exist especially on Amazon and eBay. As of writing, Big Bad Toy Store and Walmart have stocks of this figure; the former sells them for 149 USD. The average price of this statue of Sasuke is around 10,000 Yen (or 80 USD).
Pros
It's manufactured using PVC and ABS.
It's an iconic look beloved by most fans.
Its pose makes it sturdy and less prone to falling.
It has three swappable faces with different eyes.
Cons
While PVC is good material, there are alternative statues of Sasuke made of resin.
His facial expressions are both almost identical apart from their eyes.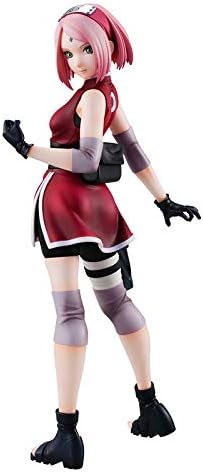 Alternative
To complete Team 7, this figure is of Haruno Sakura, produced by MegaHouse as part of the Naruto Gals series. It's made using PVC and ABS, like the previous entries. She wears her iconic outfit composed of a pink, sleeveless jacket, cloth elbow guards, black gloves, boots, and shorts.
In this statue, she is standing on her left leg while her right one is bending in the air. Her left arm is also raised as if she is about to wave. Her cute smile warms my heart and my display shelf. What bums me out on this piece, though, is her pose.
She looks adorable, but I would prefer a more badass approach and something more connected to her character. Plus, it can be hard to come by. Big Bad Toy Store and Sideshow only sell MegaHouse's DX Ver. 3 of Sakura. It's also a great alternative, though, if you are collecting the first two entries in this list, the DX Ver. 3 might stand out.
Pros
It's affordable and sturdy.
It's small enough to fit on shelves and cupboards.
It's manufactured using PVC and ABS.
Cons
It does not have swappable heads or faces to change her expression.
Its pose may make it susceptible to falling if not properly attached.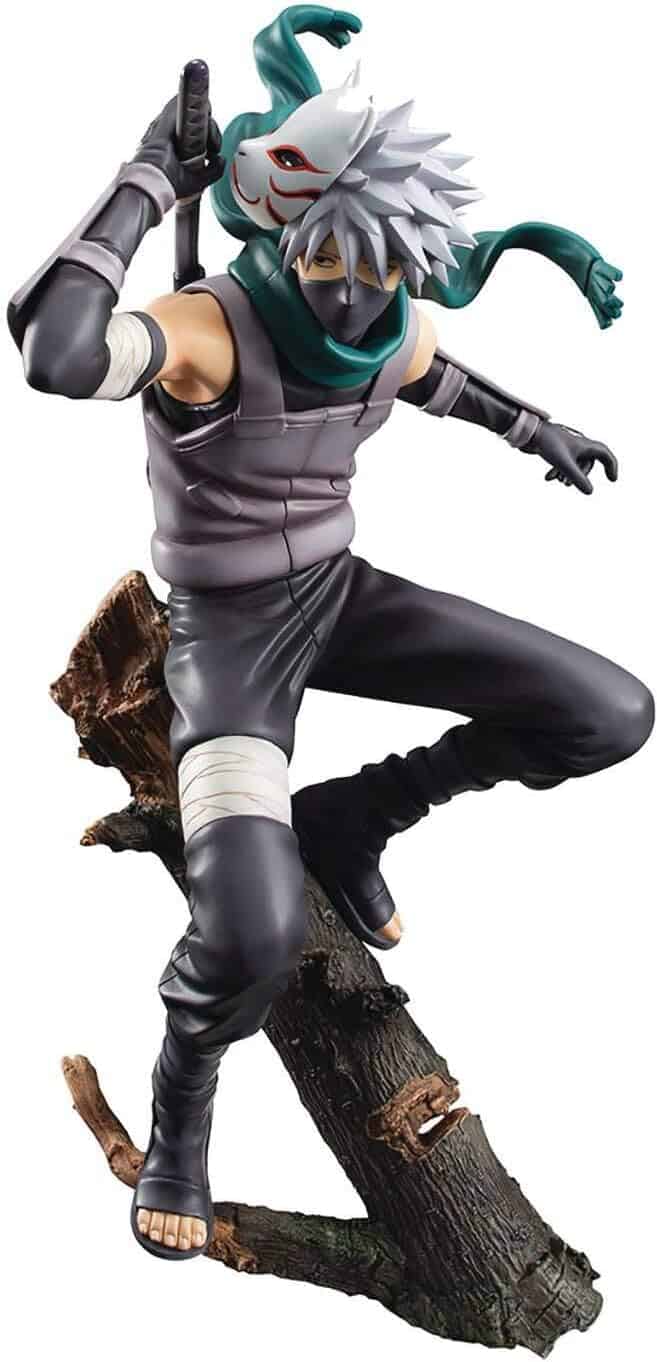 Alternative
Kakashi's cold demeanor and mysterious aura are what captivated me about his character in Naruto. He is the strict leader of Team 7, who taught them many things, including the importance of teamwork. As such, I think he deserves a spot on your shelf, and this figure is fantastic for displays and collections.
In this figure by MegaHouse in the G.E.M. Series, he is wearing his outfit when he was a part of the Anbu team. He poses slightly, kneeling on a log prop as he starts to unsheathe his sword from behind.
I am obsessed with how realistic the wood he is posing on is. The details are clean and crisp, though the wood may stand out if paired with other statues that do not have a similar theme.
This figure has two swappable heads; one has the fox mask on his head, while the other does not. The former has his left eye open, showing his Sharingan, while the latter has it closed. You can find this figure in the Big Bad Toy Store, Tokyo Otaku Mode, and Otaku HQ at varying prices of 90 to 110 USD.
Pros
MegaHouse manufactured it using PVC and ABS.
The figure and its props are fantastically painted.
The pose makes Kakashi look cool.
It has two swappable heads.
Cons
The swappable faces have minimal differences.
Counterfeits of this figure exist.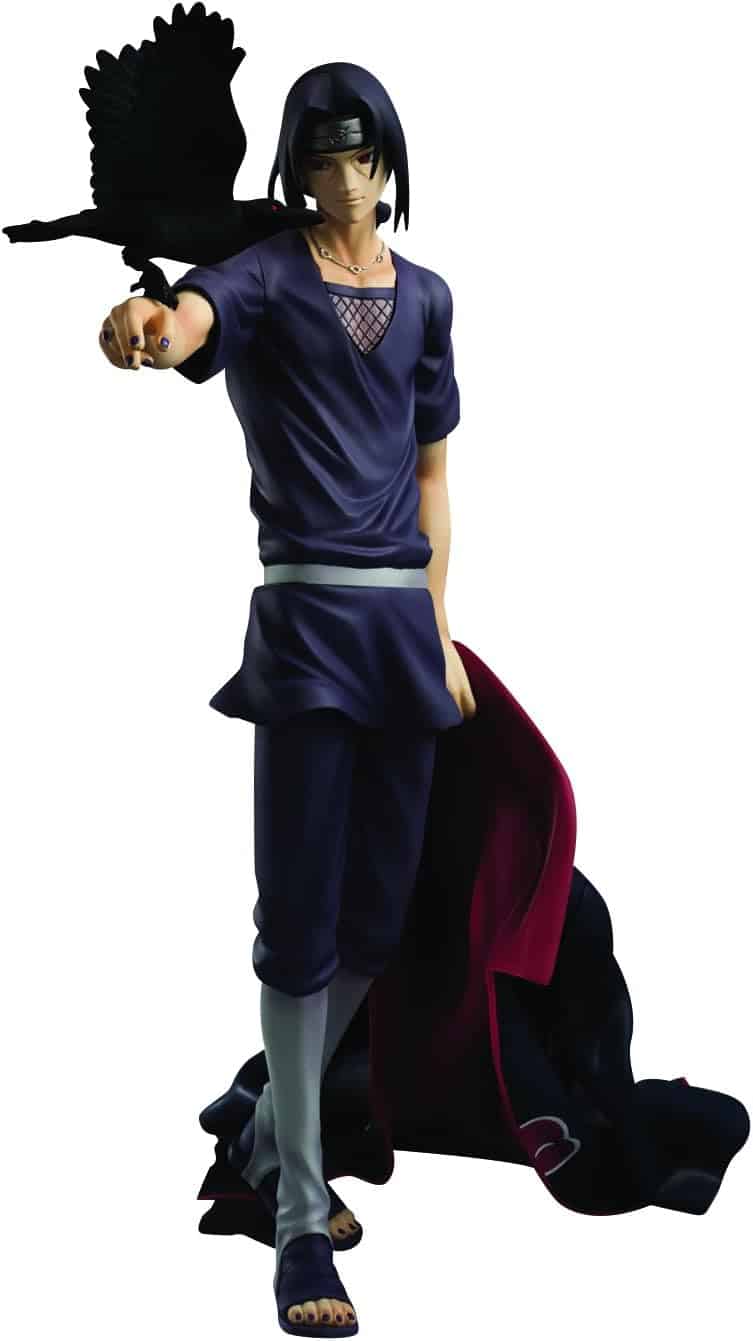 Sasuke's big brother, Itachi, also deserves some love in your collection for his importance and redemption. This figure is another incredible addition by MegaHouse as part of the G.E.M. Series. It shows him standing and extending his right arm to make his crow summon perch on it.
He is wearing his outfit during his time as part of the Akatsuki clan. However, he is not wearing his Akatsuki cloak. Instead, it's in his left hand as it reaches the floor. The stern expression on his face as he watches his summoned crow captures my eyes.
This statue works well with the Sasuke one from the same manufacturer. The base can take too much space as it did on my collection, so be wary. The MegaHobby site and Tokyo Otaku Mode have these figures. You can expect the price to be around 90 to 110 USD.
Pros
It's a 1/8 replica, perfect for cupboards and display shelves.
Itachi's pose looks cool.
Cons
It does not have swappable faces or heads.
It can be hard to find. You can find it easily in Japanese online stores, but you may pay an expensive shipping fee.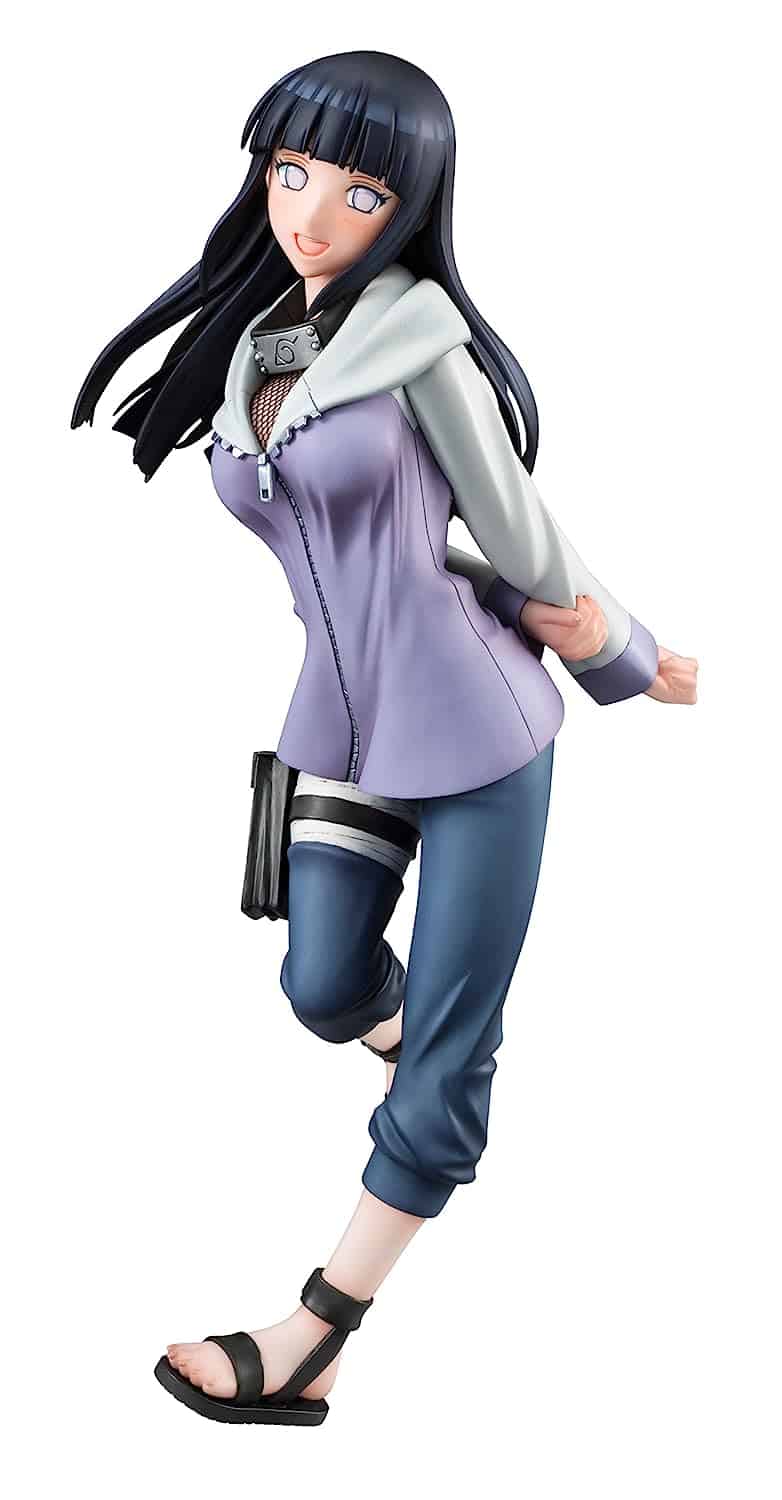 Hinata is another important figure in Naruto; despite her lack of self-confidence, she continuously strives to better herself, thanks to Naruto's determination. In the end, she eventually reached Naruto's heart. This figure is a simple one of her posing with her hands behind her back.
She is wearing her white and purple jacket and blue pants, and, like Sakura, she is standing on one leg while slightly bending the other. Her cute and heartwarming smile has won over my heart as it did Naruto. Weirdly, I have a similar issue with the Naruto statue; I think Hinata has other poses that make her look as awesome as she is on the show. Also, the angle of her left foot bothers me a bit.
This figure does not have swappable faces or props, but it's made of good material. A more detailed version exists, namely the Naruto Gals DX Ver. 3, but it's pricier. It looks better than this figure, but many have expressed concerns about assembly issues.
Pros
It's easy to find and made of sturdy material.
It's the same size as the previous entries.
It showcases her adorable face and pose.
Cons
It's expensive for its size and builds; its release price is around 70 to 90 USD, but the selling price as of writing is around 190 to 210 USD.
There are no swappable faces or props.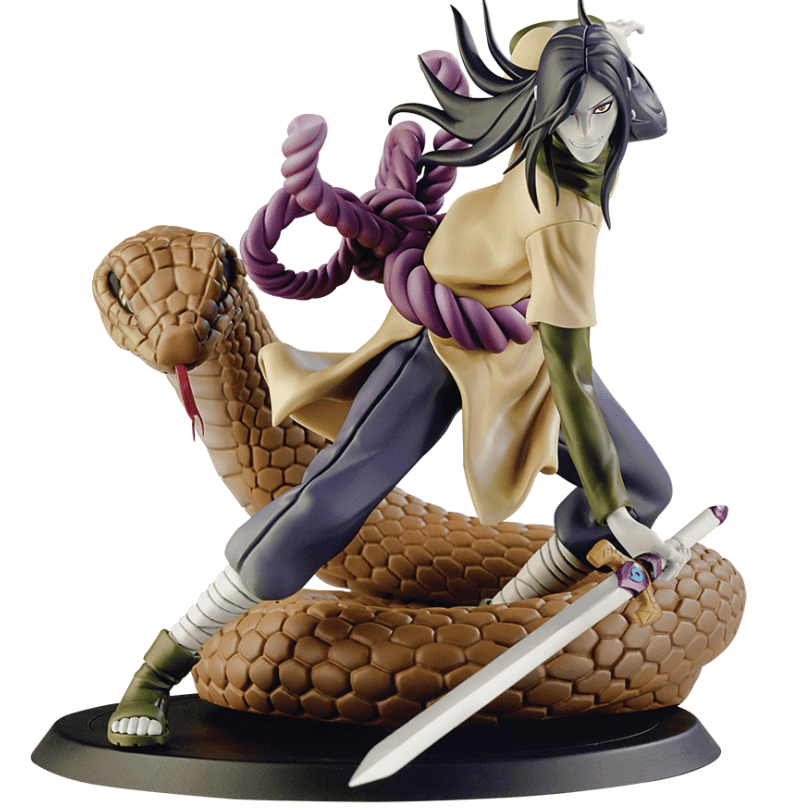 Orochimaru is an iconic and great villain in the series who deserves recognition, and this statue gives it the respect it deserves. Produced by Tsume for the X-Tra Series, it shows Orochimaru in a battle stance. In his right hand is his legendary sword Kusanagi.
The giant, brown snake circling him adds to his threatening aura. He is wearing his grey garbs and white tunic like in the series with a large, purple obi belt made of rope. I love the details of this statue that make Orochimaru seem evil like his pale skin, fangs, and snake eyes.
Like other Tsume products, I hate how there are only a few of these pieces in the market. Although it's not a limited-edition statue, it's not known whether or not Tsume is still producing this figure.
Pros
It perfectly showcases Orochimaru's themes and motifs.
It's easy to assemble.
Cons
Resellers may sell them at a much higher price.
It's possibly hard to find.
There are no swappable faces or heads.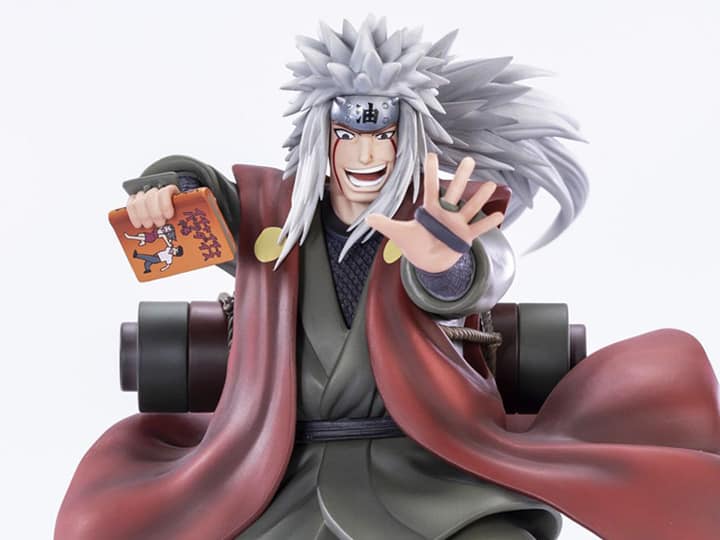 Alternative
Jiraiya is among the series' most beloved characters and (spoiler warning) his death is one of my top saddest scenes. He made a huge impact on Naruto's life and journey on becoming the seventh Hokage. Thus, I think he deserves a spot in this list, and Tsume did a great job representing him.
For this figure, Jiraiya is holding on his right hand one of the adult novels he wrote (i.e., an Icha Icha book). While I, like many others, am not a fan of the kind of humor it delivers, I still appreciate its inclusion since it speaks about his character.
Meanwhile, his left hand extends forward with his palm open. This pose is famously known as the kabuki pose, which Jiraiya regularly does as a dramatic self-introduction.
This figure of him dons his usual green kimono attire, the red haori, and the big scroll hanging on his back. Like always, he sports a smile on his face. You can find resellers on eBay, but be cautious of scams. Tsume typically does a reissue of their popular figures, so I am sure this one will get it.
Pros
The figure's pose is an iconic look for the character.
The paint job is well done, and its material is sturdy.
Cons
Tsume may have discontinued production, but you can still find new ones or used goods from resellers.
The figure's pose makes it susceptible to falling over.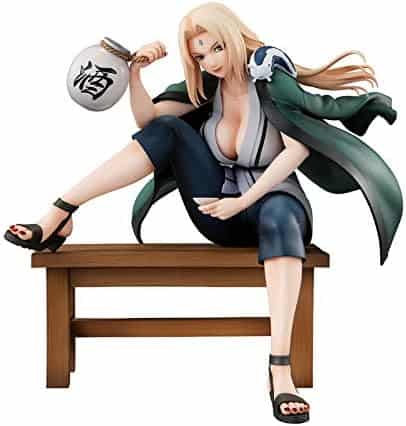 Alternatives
Another important figure that belongs in this list is Tsunade. She is the granddaughter of the first Hokage; thus, many people refer to her as a princess. She trained alongside Jiraiya and Orochimaru to become skilled ninjas. Later on, her skills made her a reputation as the best female ninja in the world.
For this ABS and PVC figure by MegaHouse, Tsunade is sitting on a wooden bench with her right foot atop. I think her slouched posture captures the side of her that is relaxed and aloof. She is holding a white bottle of sake by a tied rope on her right hand while having a small sake cup on her left hand.
I love how this statue is presented; the bench gives her a solid stance without the need for a base. I would have preferred a statue of her in a battle position, but this one is fun too.
She is wearing her usual attire with her green jacket on. A neat little detail in this figure is Tsunade's personal summon, Katsuyu, sitting on her left shoulder.
Pros
The figure is relatively new, and MegaHouse is rereleasing them.
Her relaxed posture and warm smile are a great look for Tsunade.
It requires minimal assembly.
Cons
Due to the rerelease, it might not be as valuable for resellers or investors.
The figure is not good for people who want Tsunade involved in a more action-packed scene.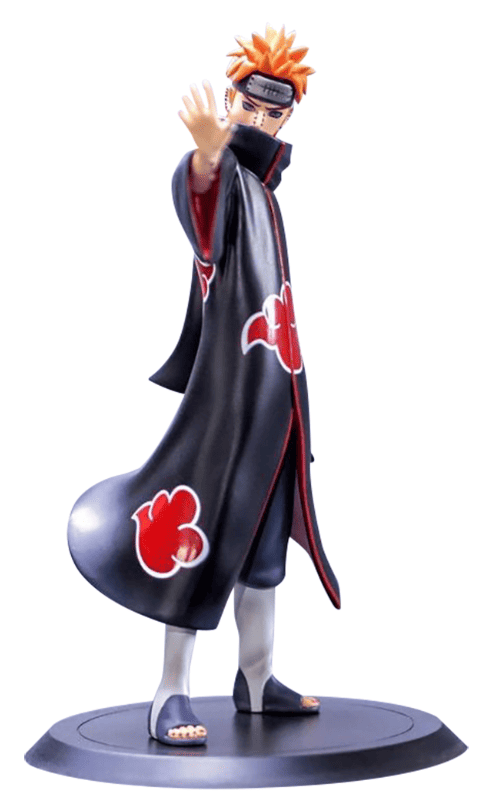 Naruto has a plethora of great villains, and one of them is Nagato, mostly known as Pain. He was one of the founding fathers of the Akatsuki. While most people think of them as criminals, they aim to make a better world. As you probably know, Nagato uses his friend's body, Yahiko, for his alias as Pain. So, this figure is that of Yahiko's body. He is standing with his right arm extended forward and palm open. In his left hand is a black receiver.
It blends well especially among statues posed for battle. One particular statue that looks good together with this one is of Naruto by Tsume from the same collection. Him reaching out his hand evokes a feeling in me that he wants to stop an incredibly powerful foe.
He sports the Akatsuki robe and, as part of the Six Paths of Pain, numerous black body piercings on the bridge of his nose. He has an angry expression in his eyes as he furrows his brows, which is loyal to his character.
Pros
It's not complicated to assemble.
Pain is a beloved and popular character, making this figure valuable.
His pose, alongside the material used, is sturdy.
Cons
Tsume may have stopped producing them, but you can find many resellers, and they may have a reissue of the figure soon.
The figure is not too customizable.
Honorable Mentions
I think this figure (and the rest of the limited one) deserves a spot on this list because of how cool it looks. It shows Naruto sitting on top of his toad summon, Gamakichi. Some parts, i.e., Gamakichi's feet, stick out from the base, but both of them look epic.
Haruno Sakura (HQS+) by Tsume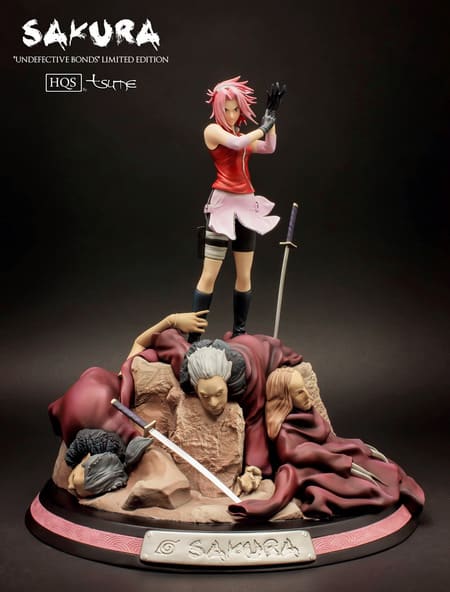 This statue of Sakura manufactured by Tsume for the HQS+ collection is astounding. It's based on the fight between her and Sasori during the Kazekage Rescue Mission arc. It shows her standing victoriously on rocky terrain while tightening her left glove.
On the ground are puppets in purple garb that she defeated, along with their katanas stuck on the ground. This badass scene is what I am looking for, but this piece is too limited. There are only a few of them around and I find it infuriating when I miss the small window of availability.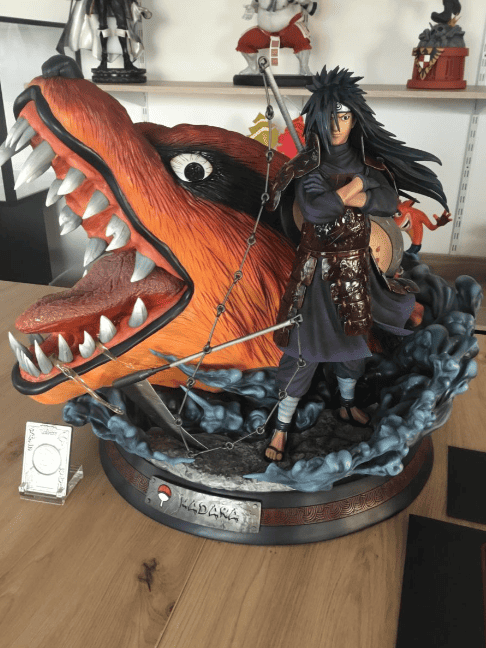 If you want something more epic in scale, then this statue of Uchiha Madara will undoubtedly satisfy you. Manufactured by Tsume for the HQS+ collection, it's a 1/4 replica; thus, it's more significant than most of the figures in this list.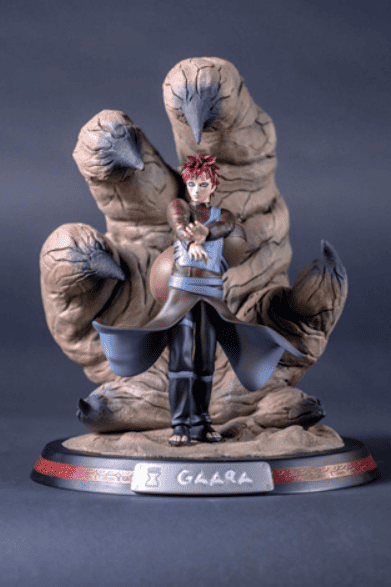 Gaara is an essential figure in the series because he is a jinchūriki like Naruto. Within him is the One-Tailed Shukaku, which grants him the ability to manipulate sand. This 1/8 statue beautifully captures him and his abilities. He is standing and putting his hands in front of him with his palms open. Behind him is a large hand that resembles Shukaku's claws, and it's made of sand. I love how the hand gives off a frightening vibe to Gaara.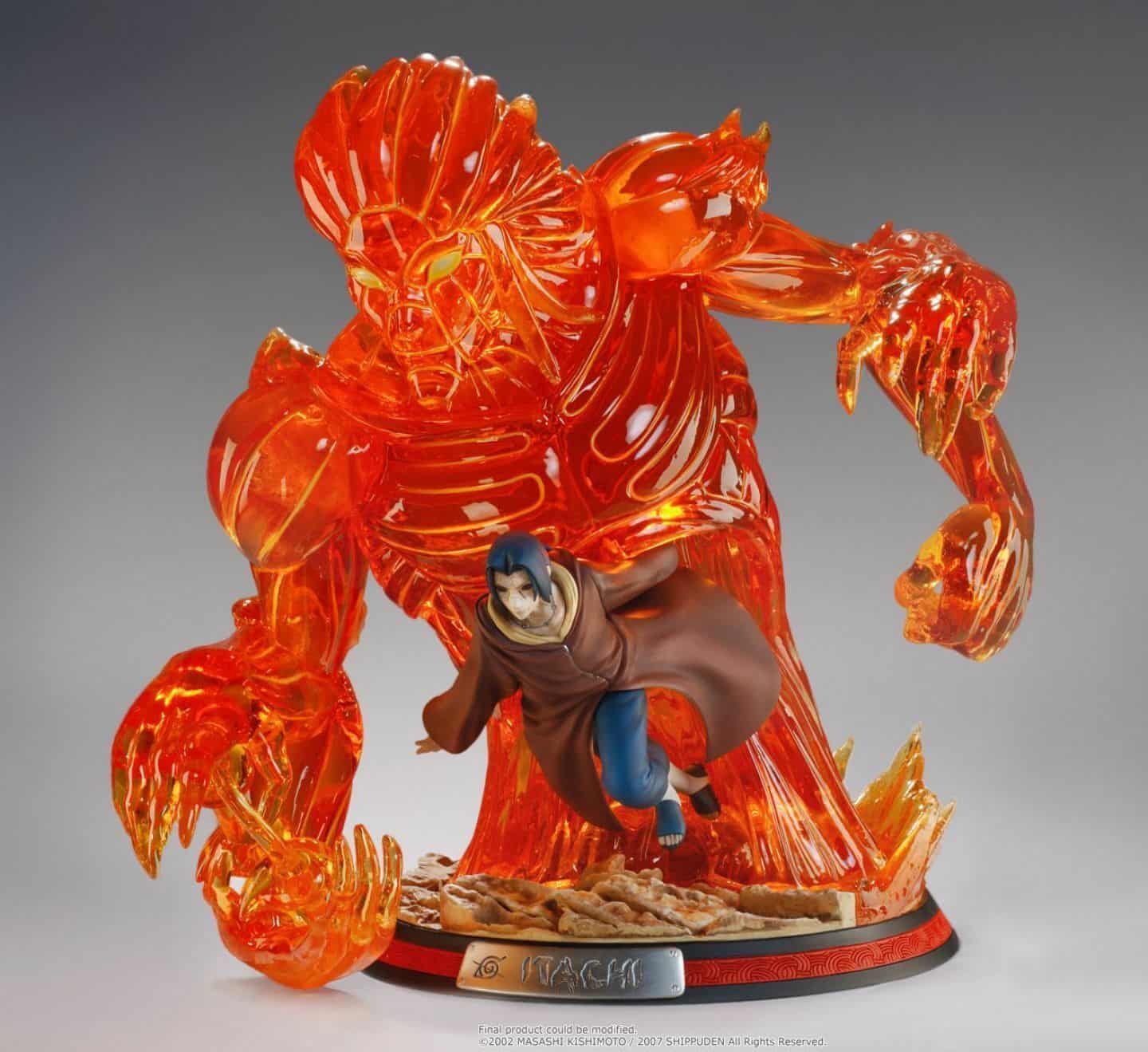 One of the most intense fights in the series is the battle between the Uchiha brothers and Kabuto Yakushi, and as such, it deserves proper love. Hence, this statue represents Itachi using Susanoo during the fight.
It's a 1/8 replica of Itachi dashing forward while his orange Susanoo follows him. This version of Itachi is reanimated; thus, his eyes in this figure are black, and his skin is cracked. His arms stick out from his base, which can be annoying if you have other statues and a limited space.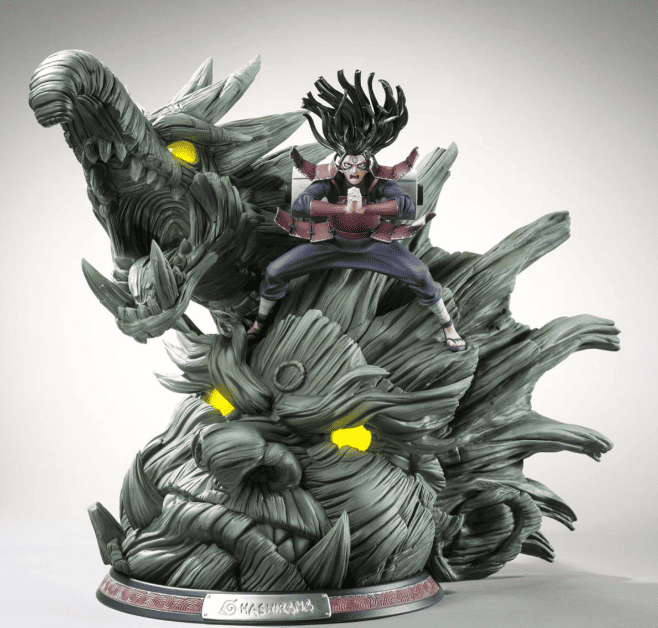 Madara's childhood friend and ultimate rival, Senju Hashirama, is the co-founder of Konoha Village. Because of their conflicting ideals, the two fought against each other, and their final battle would result in the Valley of the End. This statue represents Hashirama during the battle.
It shows him in Sage Mode on top of his wood golem while signing his hands to the symbol of the snake. The statue captures his hair and armor rising due to the immense energy and wind from releasing his chakra. A cool detail that captivated me is the golem behind the wooden dragon ready to strike.
Best Naruto Statues Guide: FAQs
Question: What is the biggest Naruto statue?
Answer: In terms of statue collecting, there are numerous figures that share the same largest scale of 1/4. From this list, the biggest Naruto statue is Uchiha Madara with Kurama by Tsume as part of the HQS+ collection. Other large statues include Hyuuga Hinata and Deidara from Iron Kite Studio.
Question: Where is the best place to buy Naruto statues?
Answer: I recommend buying from trusted shops that sell action figures like the Big Bad Toy Store, Sideshow, AmiAmi, and Tokyo Otaku Mode. Furthermore, I recommend buying products from manufacturers with a license.
Question: How should I choose my first Naruto statue?
Answer: If it's your first time buying a Naruto statue, I recommend you start with 1/8 or 1/10 scale statues first. The smaller the statue, the cheaper it tends to get. You should avoid buying limited-edition statues because you might regret spending a lot of cash for a hobby you might not enjoy.