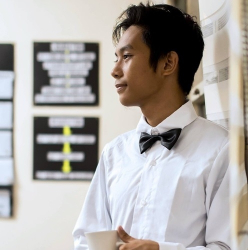 Latest posts by Arthur Monteclar
(see all)
Whenever I want to spruce up my living spaces, I always wonder what to add or change to my interior decor. The simple answer is posters! They add more character to any dreary dorm or even game den.
While you can choose any poster or art piece, you might want to show your love for your favorite anime shows like My Hero Academia on your walls! Many consider MHA the best anime there is, and I, for one, can attest that it deserves a spot in your room.
This powerhouse hit series offers so much more—an ensemble of relatable characters living up to their potential, awe-inspiring animation and OST, and memorable quotes plus superb storytelling! And because of its massive fan base, you'd quickly find an assortment of merch and posters to choose from!
In this blog, I will share my top nine favorite My Hero Academia posters. I also included tips and tricks for buying posters online and in-store.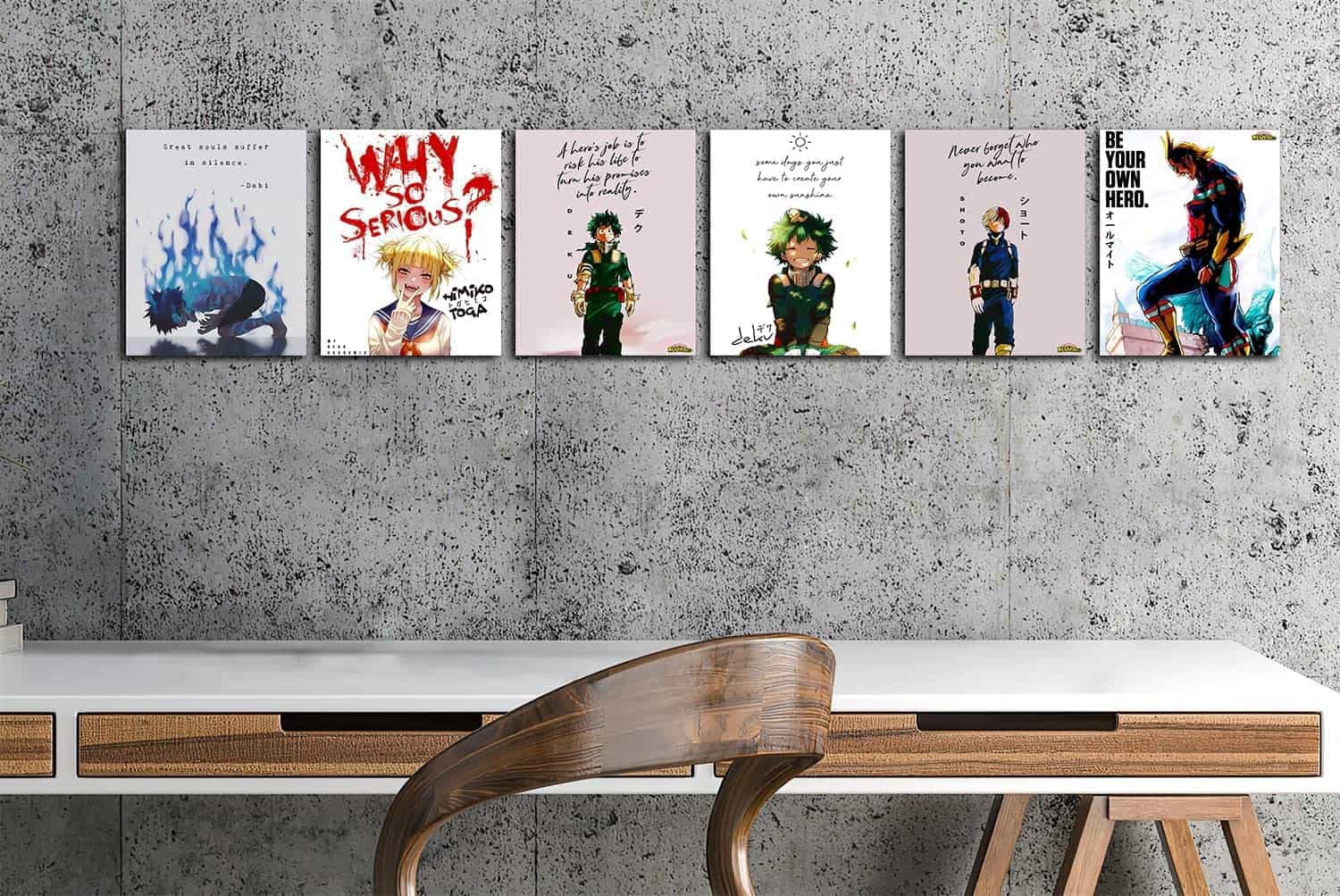 Bottomline Up Front
The best My Hero Academia posters are the ones that evoke a range of emotions while complementing well into your space. These posters can be as detailed, flashy, and eye-catching or as simple yet striking. In this guide, I creatively curate a mix of official art from the series and fan art from the MHA community.
The best among the top nine posters would be Shoto's Fire and Ice Portrait. It strikes a balance between having intricate details and having that "wow" factor the first time I saw it. Everything in this poster slaps—it envelopes the character's personality and makes it stand out.
What to Do Before Buying Your MHA Posters?
Check the Dimensions
I've always loved collecting anime posters, and I've realized one thing: collecting posters take up a lot of your space. That's why you must be intentional in buying one—or else they'll just accumulate dust in your cabinets, like some of my posters.
Always check the measurements when you're planning to buy MHA posters. When gifting one, it's also best to buy a smaller piece. This way, the recipient can easily find a space to place the poster without worrying about clutter or limited space.
Know What You Want
It's no secret that MHA posters come in dozens or even hundreds of options. You'll get easily overwhelmed when looking for a new poster. Worse is, you'd end up not buying any or buying everything all at once.
When looking for an MHA poster, have a specific design, attachment style, and material in mind. It's best to search for the pros and cons as well. I'd find that the best poster sizes are in A2 (23.4 inches x 33.1inches.) An A2-size poster isn't challenging to add to your space; it's also not too small for the artwork to be subdued in your room and not too big to take up the whole wall.
Let's talk about displaying your posters (aka. attachment styles.) If you're renting out, consider renter-friendly ways to hang or place the poster since most landlords prohibit drilling holes, nails, or screws. Important note: I'd typically avoid gluing any framed MHA posters since they tend to fall over easily.
Finally, on to the designs! MHA posters are literally everywhere online or even in your local stores. It's not hard to find one that you love, but if you just need to pick one, I have a fool-proof tip: always with a style that blends in with your room's aesthetic. This is the best way to make the poster stand out without clashing with your space's current design.
Be Privy to the Quality
Buying posters online is a disaster waiting to happen; they can be torn or crumpled during handling or delivery. That's why I prefer purchasing in a physical store; this way, I have more control over how the poster is packed.
However, many reputable shops, such as RedBubble, Displate, or Shop Trends, carefully pack posters in tube containers or even have framing options. This keeps your posters in pristine condition. Read the reviews, especially the low ratings; those are more reliable than the 5-star reviews.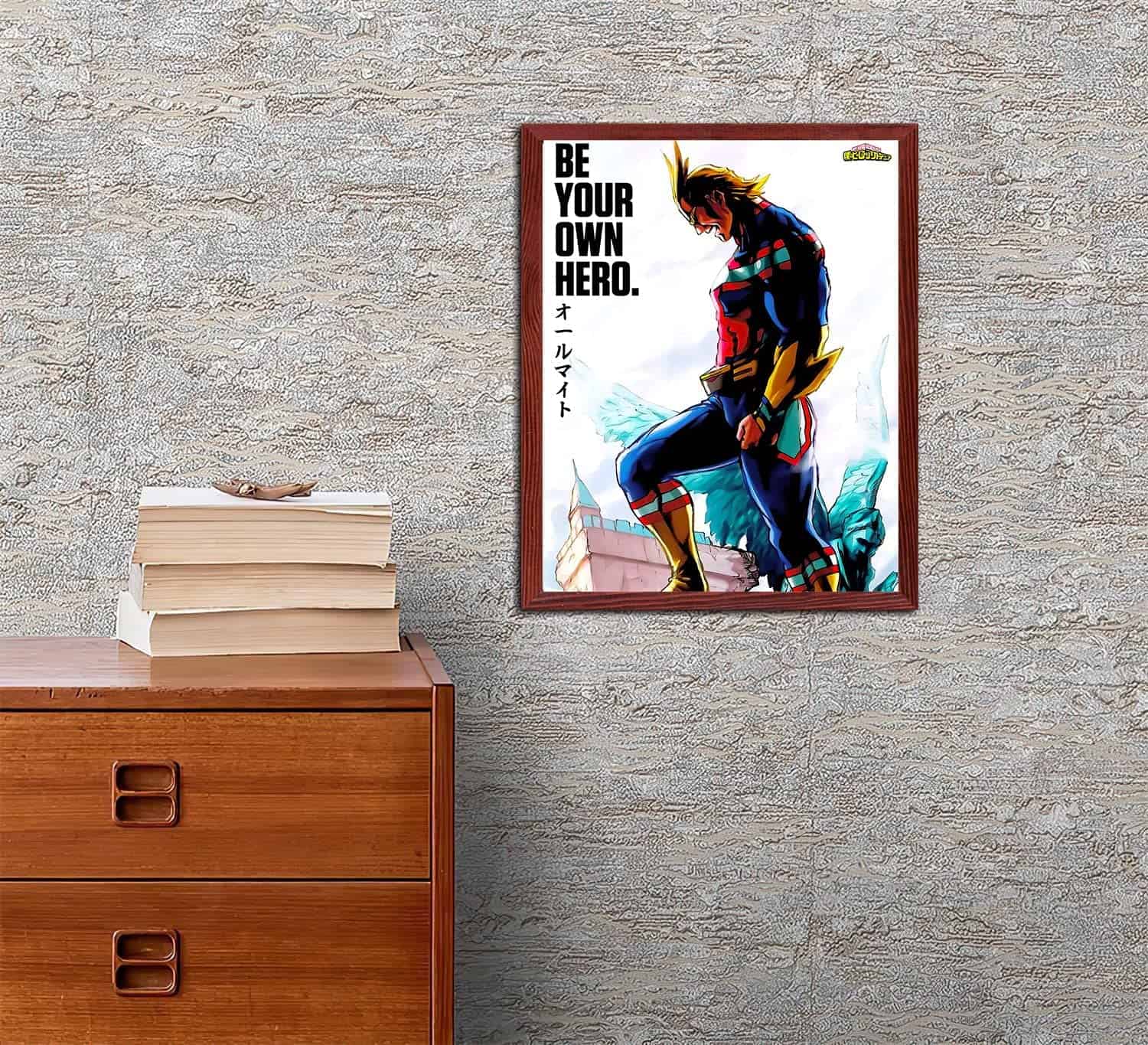 Selection Criteria: How I Choose My Top 9 MHA Poster Picks
My Hero Academia is one of the most popular shonen anime. Its popularity only means one thing: an overwhelming array of options! Picking the best MHA poster is entirely an experience. To help you out in this buying process, here's how I pick and choose my top favorites.
Overall Design and Impact
I always look at the details and the bigger picture. How did this poster make me feel? Does it exude a positive vibe? Do I want to keep seeing it on my walls?
If yes, then I'd buy it. I also like to strike a balance between visually pleasing yet neat designs. Typically, I tend to choose MHA posters that are filled with colors. On some occasions, I'd also love to have monotone designs for more subtle decor.
Print and Paper Quality
I want my posters to last long despite minimal maintenance. That's why I'm particularly keen on choosing posters with UV-resistant, fade-proof ink prints. More than that, I also check the canvas or paper quality—how thick it is and what material it is made of.
This can be easy when buying in stores. However, shopping for posters online can be challenging. Always check the reviews, especially the negative ones, when purchasing online.
Complementing the Room's Interiors
Aside from geeking out and showing my love for anime, I love to display posters. They give life to my room, but that doesn't mean I buy every poster I like. I'm actually quite picky; I tend to match the poster to my room's aesthetic. I want to avoid any clash of colors that might make my posters an eyesore.
Every poster in this list is perfectly curated with the information you'll need, from the size, framing options, paper finishes, and prices to help you in your purchase.
My Top 9 My Hero Academia Posters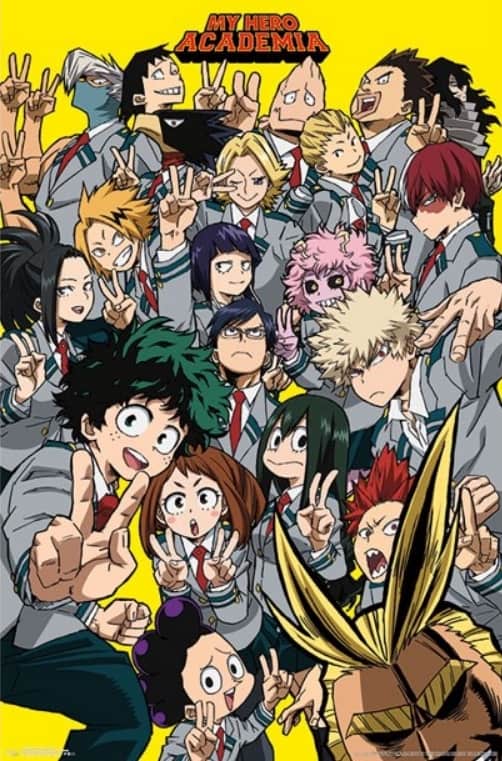 First on the list is this MHA Selfie Poster. I love this because it highlights the ensemble of characters in the show. While the show focuses on Deku and Bakugo's rivalry, it's also jam-packed with some of the best characters I've seen in an anime! You'll really look forward to their character arc and story, too, and seeing them all in one poster just feels surreal!
Having most of the Heroes from Class 1A in one frame definitely sets the tone of your room. It boosts your confidence that you can take on any problem with all your might. More than the design, what I love most about this poster is having tons of options—you get to pick between different materials in the perfect size. It's also authentic, officially licensed artwork.
Design: The poster is printed on FSC-Certified Gloss Poster paper. It only has one size but comes in different paper materials. The prints come with a 5mm white border to assist in framing.
Brand: The poster is designed by Trends International.
Where to buy: walmart.com
Pros
It's designed with high-quality, vibrant colors on premium paper.
It's authentic and officially licensed.
The size is perfect for any room.
Cons
There are no framing options available in the shop. You can check out shoptrends.com for more size and framing options.
The vivid colors might not be great for a minimalist room.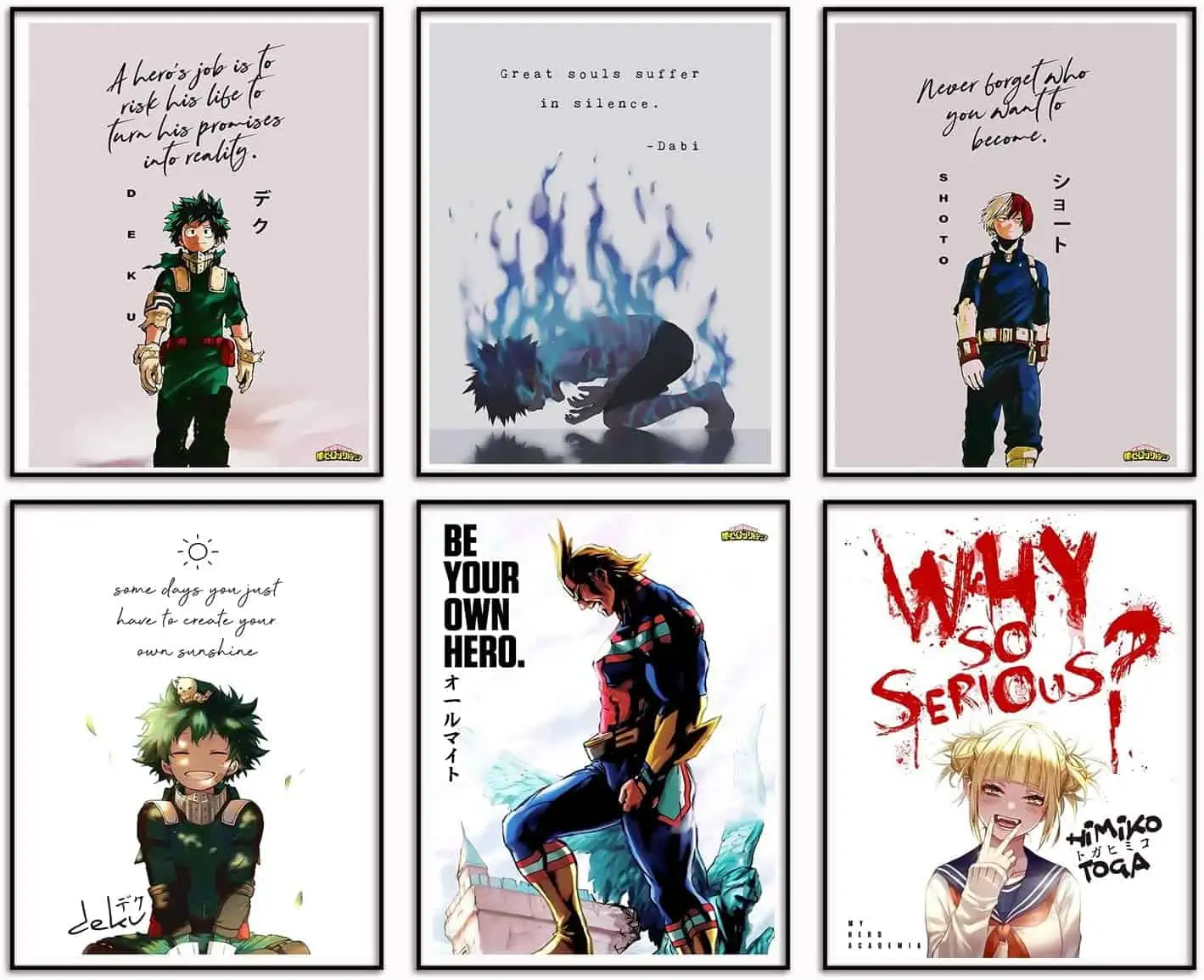 I love character posters, and this set of 6 MHA characters hit the spot! The five characters, Dabi, Deku, All Might, Shoto, and Kiroshimi, featured in the posters, are among my favorite characters. The white background makes the colors and details in the poster stand out.
This photo doesn't even give justice to how beautiful the artwork is. The quotes on the white background significantly personify the character's attitude and motivation. There's no doubt that this Selfie Poster can brighten up your room.
It comes in two sizes waterproof and fade-resistant canvas. With its sizes, you can easily find a modern frame and hang it on your room's empty walls.
Design: The posters are printed on a ready-to-frame canvas. No specific mention of a white border margin to assist in framing.
Brand: The posters are designed and sold by JFBSSART.
Where to buy: amazon.com
Price: It comes in a complete set of 6 unframed prints in the following sizes:
8×10 inches – $15.99
11×14 inches – $21.99
Pros
It's among the cheapest posters, considering it's a 6-in-1 set.
The size options don't overwhelm 8any space—definitely suitable for most rooms.
You get six posters in one purchase.
It has a neat and minimalist vibe, something I prefer in my posters.
Cons
It's not authentic or officially licensed.
You cannot buy one design; everything comes in a package of six posters.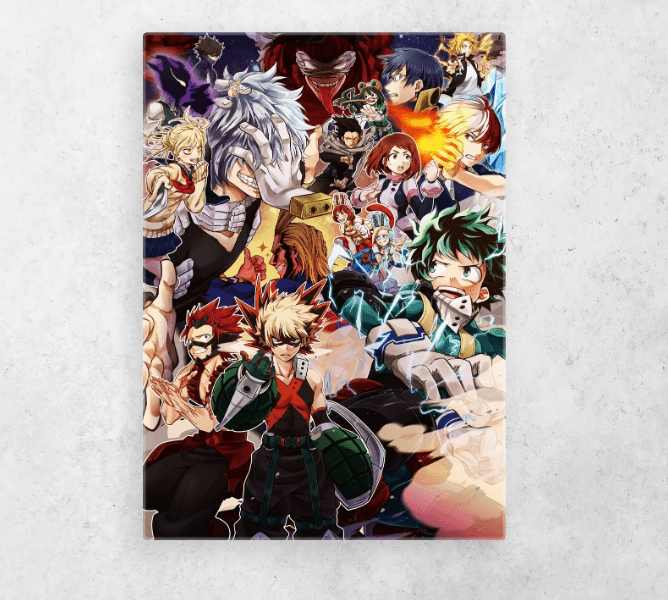 My Hero Academia's overarching conflict centers on the league of villains and Class 1A heroes from UA High School. This poster screams that and more! It's perfect for fans who appreciate the clash between the heroes and villains.
Interestingly, Deku isn't the main focus of the poster, but Bakugo—he is one of my favorite characters in the entire series. The expressions on the faces between the league of villains and Class 1-A make the whole poster stand out. Beyond that, the beaming colors and contrasting juxtaposition of the characters in the poster are a bomb! The way it plays on angles and propositions on the character is intriguing.
Design: It is made from a high-quality metal sheet printed with fade-resistant ink. It comes in different sizes and framing options, all in the same material.
Brand: The poster is created and sold by One Piece Space.
Where to buy: displate.com
Adding wood or graphite frames varies in cost depending on the poster size; it typically ranges from $9 to $52.
Pros
It's made from high-quality metal print, truly unique to any regular canvas or gloss paper.
It comes in several sizes, finishes, and framing options.
The design will match any room's aesthetic.
Cons
It is costly; one poster can cost roughly two or three more official posters.
It isn't an authentic or official poster but from an independent creator.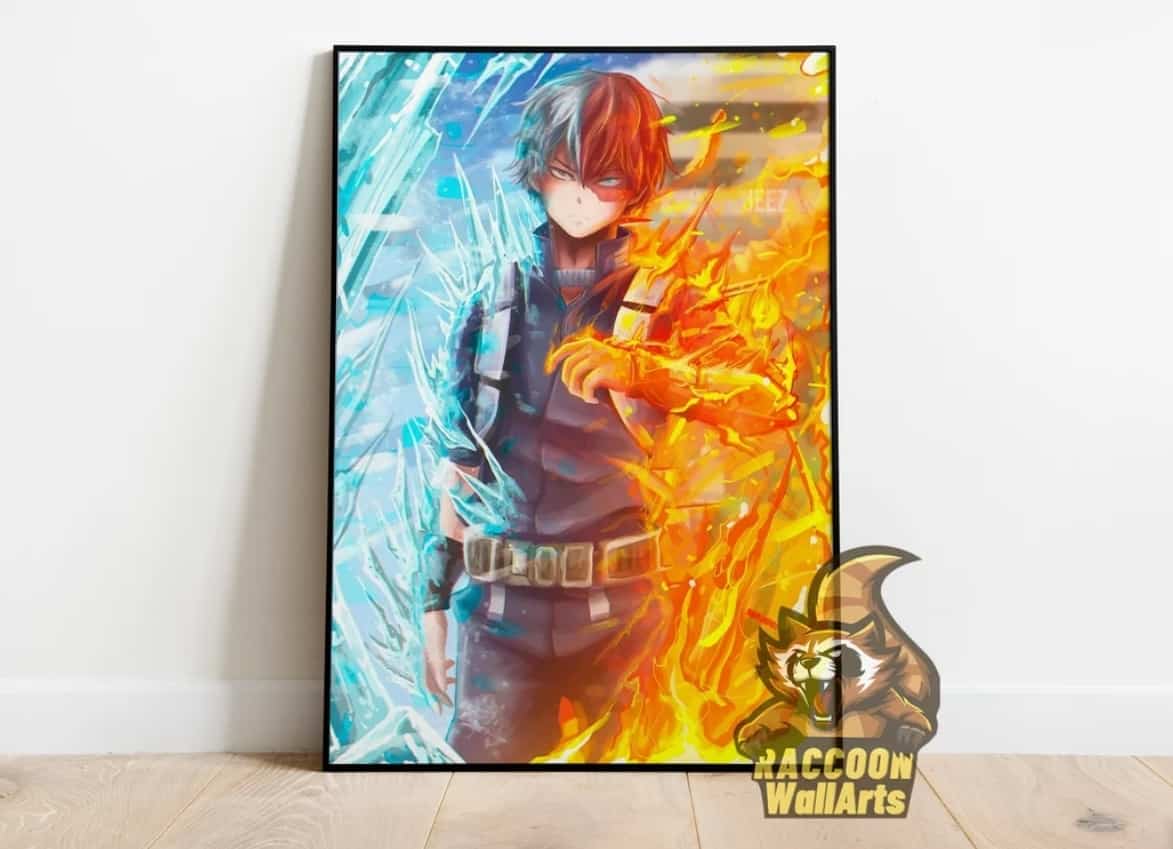 In the entire Class-1A from UA High, Shoto has the best backstory. While he has this hot-and-cold personality, he warms up to you the longer you watch the anime. In fact, he is my favorite character—I love his character design, and his quirk is just as interesting as his personality.
His quirk also explores the internal conflict in his experience throughout the series. His family life is among the central points of the plot, giving him a lot of exposure.
This poster screams power and intimidation! I love the piercing stare and the domineering stance as he showcases the contrast of his quirk—fire and ice. The details in this artwork highlight Shoto's intensity and confidence to wield his quirk. For all those reasons, this is part of my top 3 favorite My Hero Academia posters!
Design: The poster is printed on a white 300 GSM fine art archival paper.
Brand: The poster is sold by RaccoonWallArt.
Where to buy: etsy.com
Framed prints are carefully handled and prepared in sturdy boxes for shipping and delivery. At the same time, unframed prints are stored and rolled in a durable cardboard tube.
Pros
Fast shipping time and delivery only take 2 to 4 business days. (Free shipping in the US)
You get freebies if you buy two or more posters.
Prints are made from the highest quality paper in vibrant colors and high-definition images.
Cons
Relatively expensive as compared to other posters on the market
Slight difference in color from the actual item.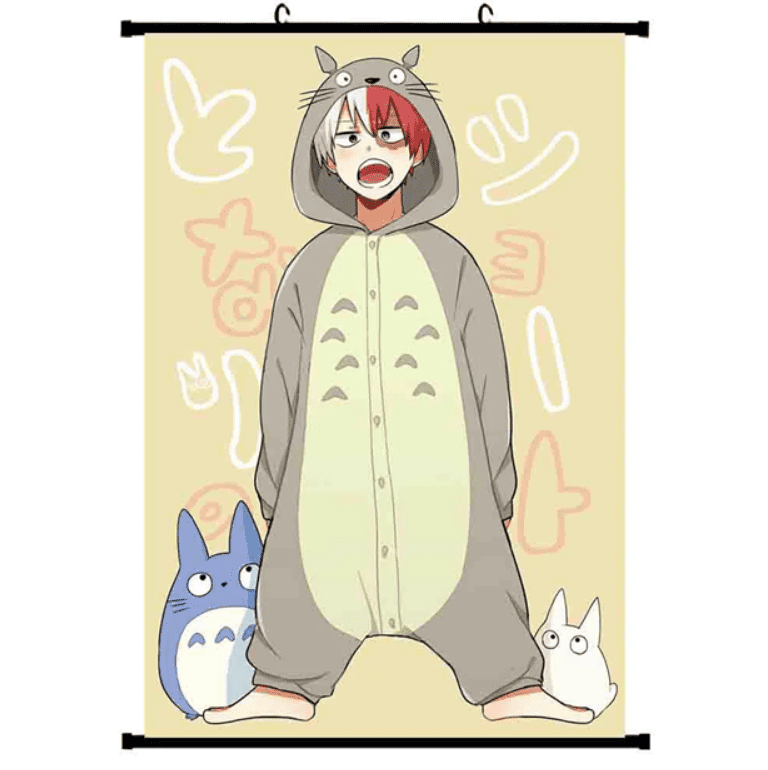 Most fans love Shoto for his obvious good looks, but his character is more than a pretty face. While he usually portrays himself as calm and collected, he can be goofy sometimes! That's what I love about this poster design.
We rarely see him act funny and out of character, yet in this poster, he looks so kawaii in a Totoro-inspired onesie. It has a solid visual impact despite its simplistic design. I love how it can blend well in any room because of its light and bright colors.
This poster is made of high-quality canvas, so you can guarantee it's made to last. The print won't easily fade or discolor—indeed, the perfect gift for your anime-loving friends! It comes with two reels and hooks for easy storage and hanging.
Design: It is printed on a poster canvas.
Brand: The poster is sold by Kaboer.
Where to buy: walmart.com
Pros
It is incredibly affordable.
The simple yet interesting design combo screams kawaii.
It is ready to frame and comes with reels and hooks.
Cons
It is pretty tiny compared to other MHA posters.
Slight difference in color from the actual item.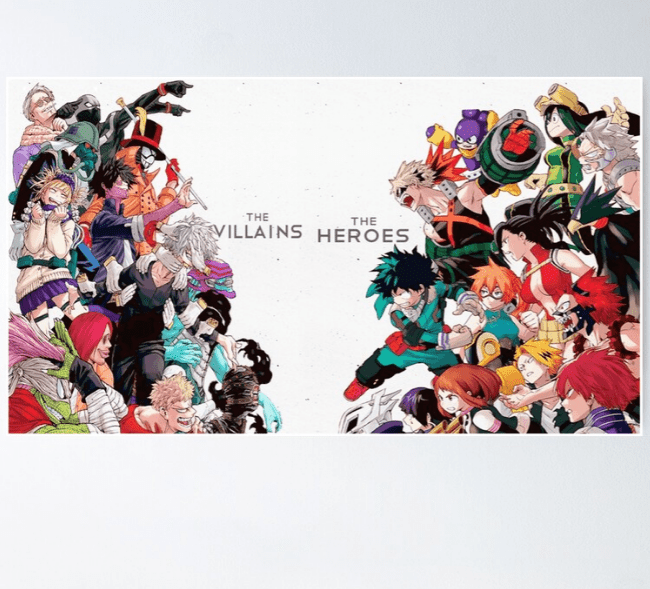 It's no surprise that My Hero Academia is filled with action-packed fight scenes. This poster arguably presents an impressive display of the heroes and villains—it gives off the Yin-Yang vibe!
The poster highlights their exciting quirks and presents them in a way that you can't take your eyes off the artwork. I love the plain white background as it makes the art instantly pop while keeping it minimalist and clean. If you have friends who love the hero-villain clash, this is a perfect poster for them!
I particularly love the poster's landscape orientation; it takes up the space of any dull, empty wall sprucing up your interior's aesthetic.
Design: It is printed on a 185 GSM semi-gloss poster paper.
Brand: The poster is sold on RedBubble by Debneel.
Where to buy: redbubble.com
Pros
It features an ensemble of characters, including the least popular villains and heroes.
It's printed on high-quality canvas with a 5mm white border for framing.
You can choose between several custom sizes.
Cons
There's a noticeable difference in color from the actual design.
It doesn't come with any framing option.
The glossy finish reflects light and distorts color and perspective due to flaring.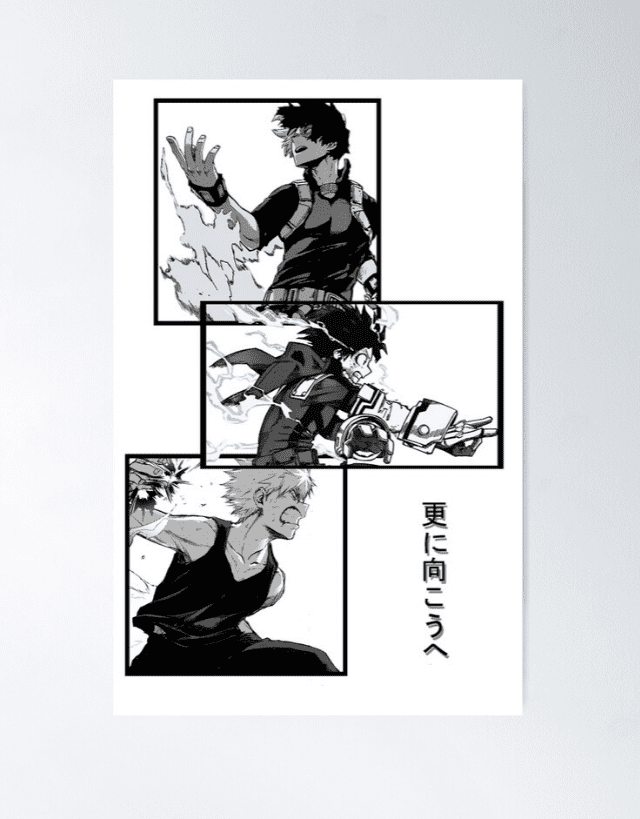 Bakugo, Deku, and Shoto are definitely among the most popular characters in My Hero Academia—and that's for a good reason. The contrast in their background and quirks are just as fascinating to watch as their fight scenes. You'll have a different fascination for each Hero and their character development.
It's fitting to pick this 3-in-1 design set as part of my Top 9 MHA posters. The black-and-white details and peculiar orientation of the characters make the poster stand out despite the lack of color. At a glance, it looks unassuming and simple yet oozing with personality.
Design: It is printed on a 185 GSM semi-gloss poster paper.
Brand: The poster is sold on RedBubble by CaitlinDesigns.
Where to buy: redbubble.com
Pros
Its clean, minimalist design doesn't clash with any colors in your space,
It comes with a 5mm white border for framing.
There are different size options to choose from.
Cons
It doesn't come with any framing option.
Paper easily wrinkles if mishandled.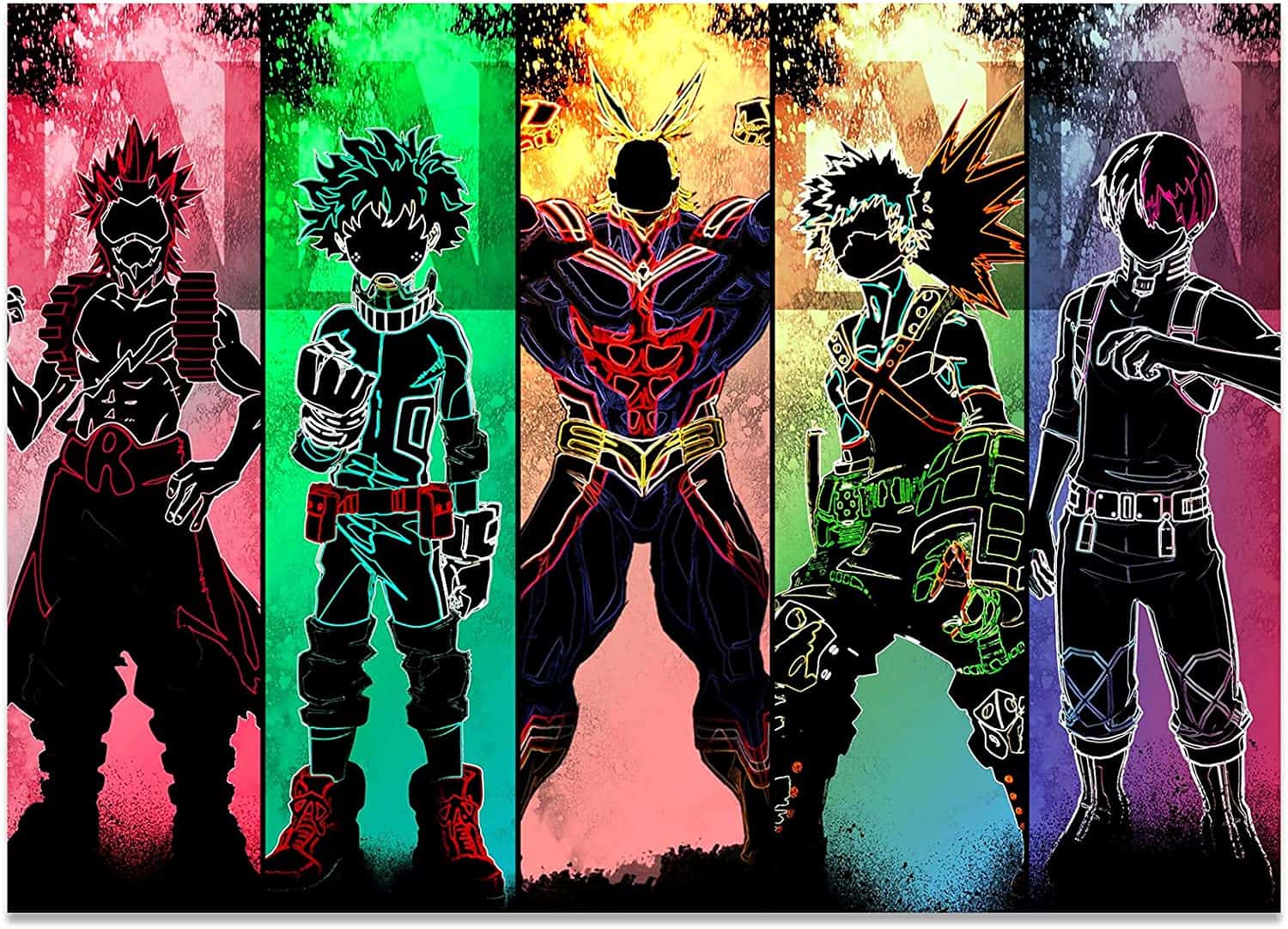 The design is epic! All Might with Deku, Shoto, Bakugo, and Kirishima in one poster screams beautiful. It all makes sense how the artist highlights the OG main characters of the story. With its eye-catching design and colors, you'll stare at it for hours. I'm drawn to how the colors are thoughtfully assigned since they're fitting for every character.
More than anything, the landscape orientation of the poster adds to its appeal. You'll see their hero(anti-hero) stance—a masterful chef's kiss of an art! The poster is made from high-quality canvas with an inch of the white border to aid in framing. From handling to delivery, you can guarantee that the poster will arrive without scratches and folds.
Design: It is printed on a waterproof, UV-resistant canvas. You can choose between in an unframed or framed poster.
Brand: The poster is sold on Amazon by KAIWALK.
Where to buy: amazon.com
Pros
True to claim, colors are vibrant.
It comes with a 5mm white border for framing.
You can choose between unframed and framed options
Cons
The smaller sizes might not fill your empty spaces.
Relatively expensive considering size to price ratio.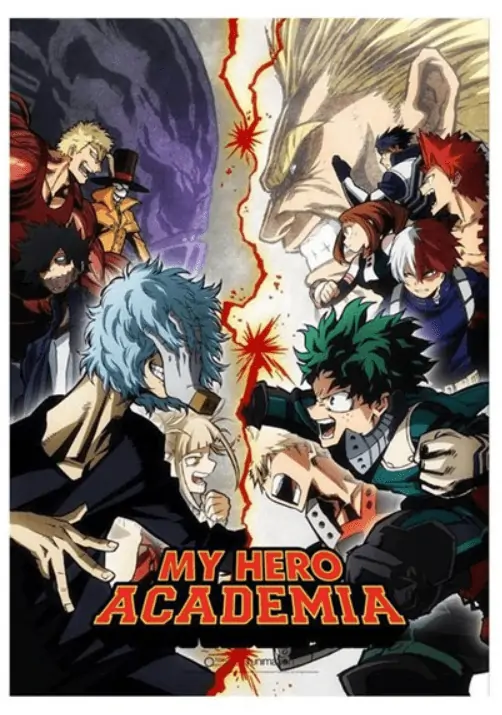 While some fans think that Season 3 of MHA is a bit lackluster compared to Season 2, the character development, plus the clash between the heroes and villains, adds to the intrigue. There's a grueling slow burn and an interesting introduction of new students. This poster offers a sneak peek at that and more!
What I love about the design is the clear distinction between the villains and heroes; it looks very dynamic and action-packed. While it feels cluttered, it piques your interest and makes you feel different emotions.
Design: It is printed on coated paper.
Brand: The poster is sold at Walmart by Riapawel.
Where to buy: walmart.com
Pros
The design is an official poster from MHA's S3.
The size fits perfectly in any space.
Cons
Only one size option (42 x 30 cm)
No available framing.
Shoto & Deku – MHA Hope-Inspired Poster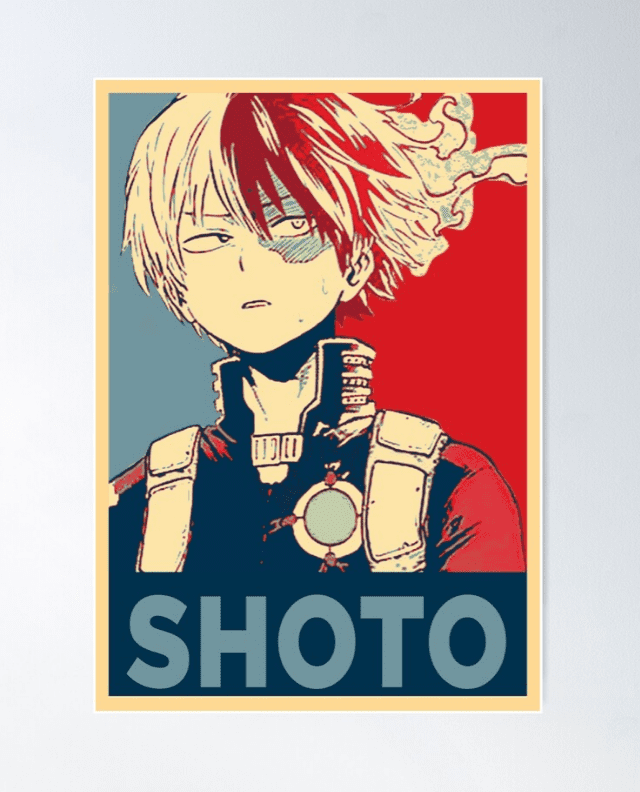 While browsing through RedBubble, I stumbled upon this design by Eznovax. It's very reminiscent of the former US President Obama's HOPE portrait. Shepard Fairey, a street artist, and activist, originally created Obama's poster. The "HOPE" poster immediately became part of mainstream pop culture—it even inspired some of the most popular characters in anime, like MHA.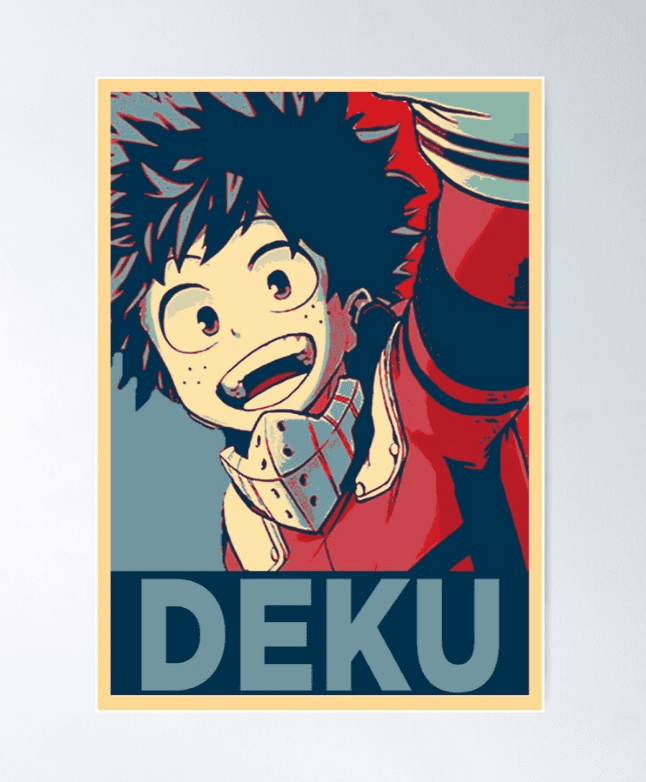 I love the color combinations and the subtle details in the artwork. Eznovax, the artist who took inspiration from the HOPE poster, has captured what the art previously conveyed. Deku and Shoto are among the two characters I consider "hope bearers." They are more than just heroes fighting the league of villains.
Design: It is printed on 185 GSM semi-gloss poster paper.
Brand: The poster is sold on RedBubble by Eznovax.
Where to buy: redbubble.com
Pros
The concept and design make the poster pop.
It comes with a 5mm white border to assist in framing.
You can pick between three different sizes.
Cons
There is no available framing option
It only comes in a semi-gloss finish.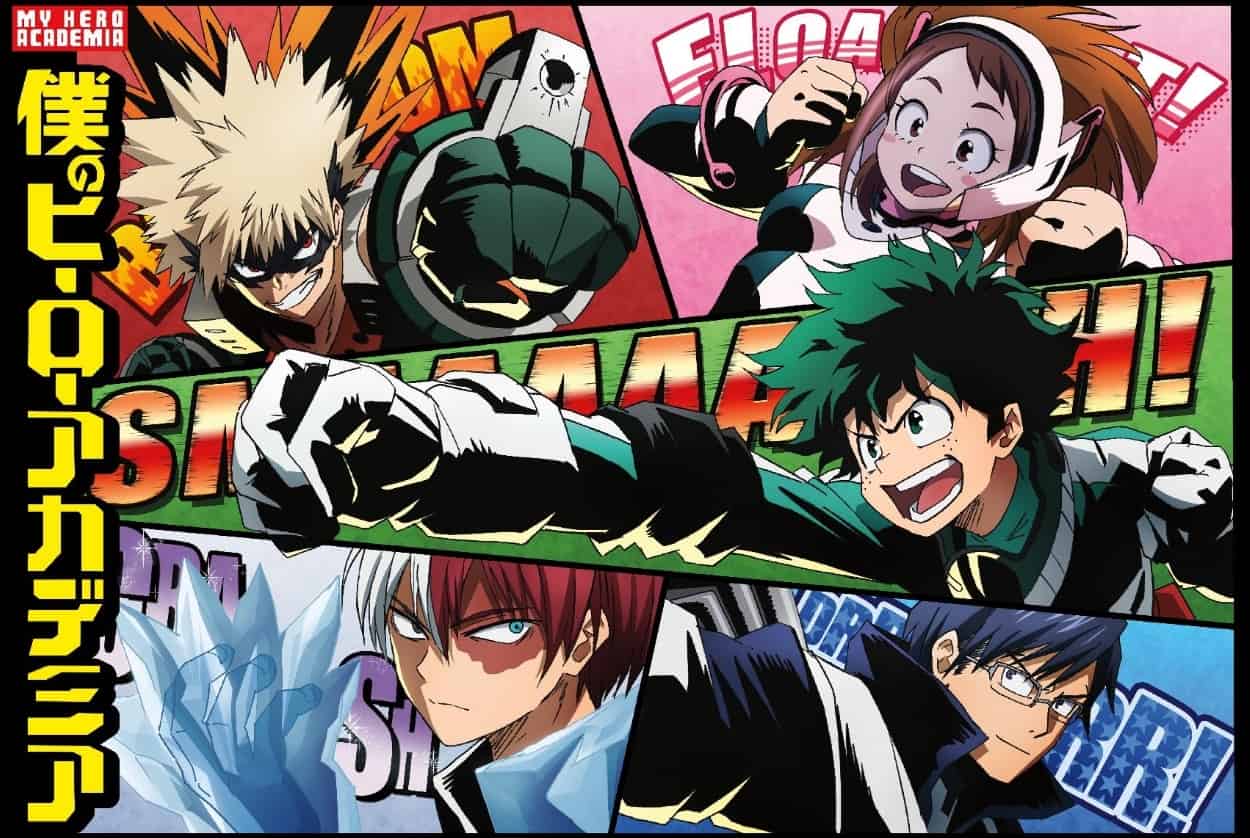 Landscape posters are rarely appreciated for their odd composition. However, this poster design screams epic! I love how the artist turns every character's "trademark" pose into a wholesome comic strip design.
Each hero's physical expression and stern appearance give you a glimpse of their battle-ready stare. The colors don't clash and are pretty easy on the eyes. That's why they'd fit well in any room.
Design: It is printed on a high-quality poster with a premium satin finish.
Brand: The poster is sold at Walmart by Trends International.
Where to buy: walmart.com
Pros
You can pick between unframed and framed options.
It's authentic and officially licensed artwork.
It comes in two size options.
Cons
Quite expensive for its size
The pop of colors might not blend well in a monochrome or minimalist room.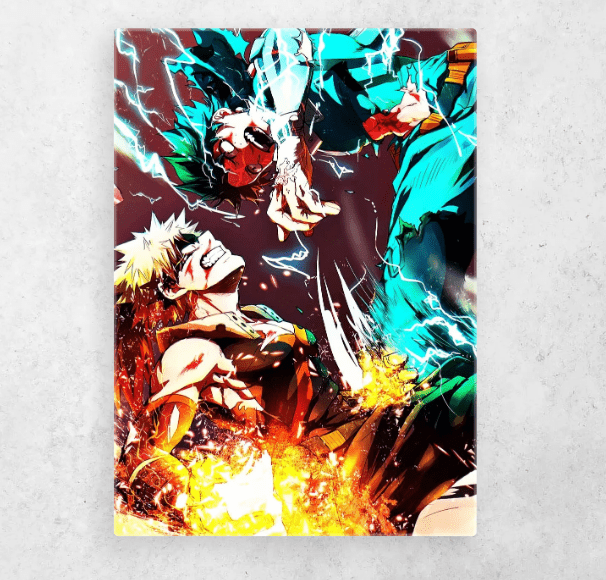 Displate is truly the home of the best metal posters. This Bakugo-Deku fight poster is a testament to their quality. One Piece Space has knocked it out of the park with vibrant colors, intricate details, and menacing poses.
The art is full of bright yet fearsome colors, creating an exciting contrast that I love. With three sizes and four frames to choose from, the customizability of the poster stands out!
Design: It is printed on a metal sheet.
Brand: The poster is sold on Displate by One Piece Space.
Where to buy: displate.com
Pros
The ability to customize the poster's size, finish and frame is a huge plus.
It's made to last.
Cons
Quite expensive for a poster
The estimated time of shipping and delivery is relatively long.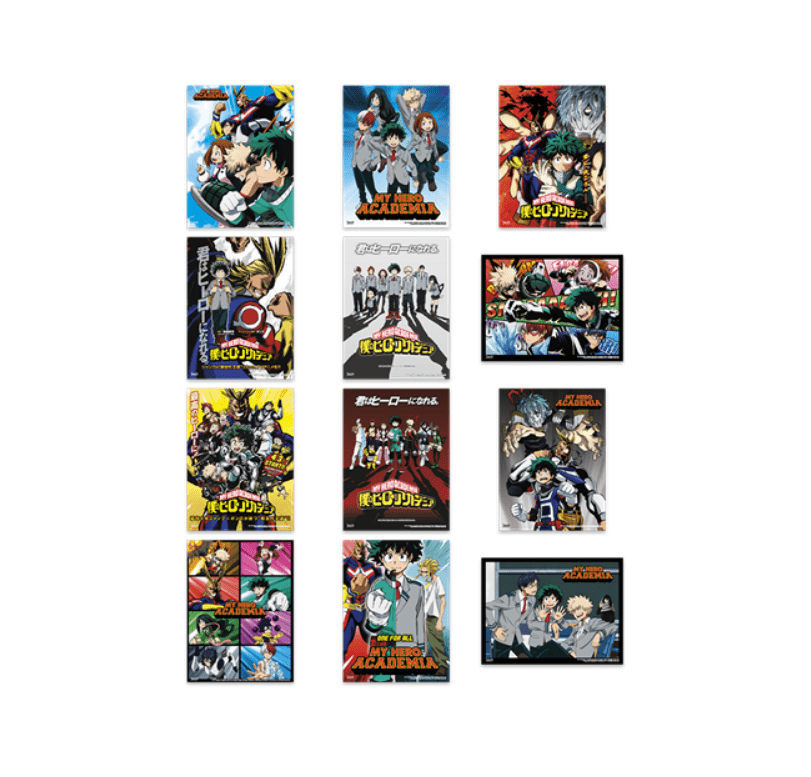 Do you want to fill your empty walls with My Hero Academia wall art? This 12-Pack MHA mini poster is perfect for you! While they're quite small, they can quickly turn any dull space into a fascinating wall piece. The best part is these posters are ready to hang on your walls with pushpins or poster mounts.
You're getting a bang for your buck with this poster pack! Every design is unique; it features some of the popular characters and scenes in the show. Don't hesitate to buy this item, especially if you're on a tight budget.
Design: It is printed on premium poster paper using high-quality ink.
Brand: The poster is sold on ShopTrends.
Where to buy: shoptrends.com
Pros
You get 12 unique posters in a pack.
The item is highly affordable.
Cons
The size of the poster is relatively smaller than other posters.
It doesn't come with any option for customization.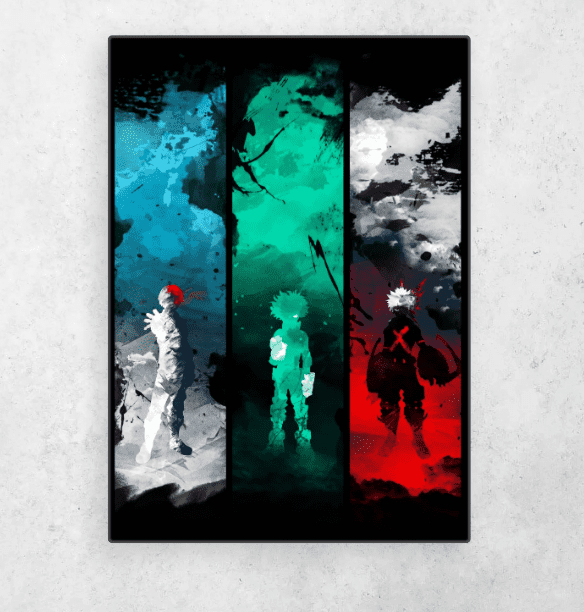 This is another remarkable metal poster from Displate! Artist Illona Hibernis' unique style shines throughout this piece.
The hero trio looks rather sinister and powerful in this artwork. I love the play with colors! If you're a new fan, you'd hardly recognize the characters. However, the mix of different hues and shades helps set the poster's tone. Everything matches so nicely; the color, design, and composition are pleasing on the eyes.
Design: It is printed on a magnet-mounted metal sheet.
Brand: The poster is sold on Displate by Ilona Hibernis, an independent creator.
Where to buy: displate.com
Pros
It comes in three size options.
You can choose between gloss or matte finish.
Cons
The smallest size you can get is 45 x 32 cm.
The glossy finish distorts poster quality.
FAQs
Question: Where can you buy the best MHA Posters?
Answer: If you're keen on buying online, you can check out posters from RedBubble and Displate. Most of their products are carefully crafted and designed to make your spending worth it.
Question: What is the ideal MHA Poster size?
Answer: This depends on your own space. However, the size of A2 (16.5 in x 23.4 in) works great for most rooms. It fits just right and won't dominate the entire space.
Question: How can I keep my MHA poster looking pristine?
Answer: Here are some ways to preserve your poster:
• Avoid using tape, as this might damage your posters. Check for different attachment or hanging options.
• Frame them to prevent any folds and creasing.
• Keep your posters clean but do not use any abrasive solution on their surface.
Wrapping Up: Which Ones Are Your Favorite MHA Posters?
Unarguably, My Hero Academia continues to be the most popular anime of our time! You can find tons of merch available online, but I've only included nine in this list. Do you have any favorites? Well, my favorite posters would be Shoto's Fire and Ice Portrait and the Selfie Wall.