Latest posts by Cody Perez
(see all)
Some of the most underrated merch items you can find are stickers. The versatility of these items is unbelievable, even if they aren't as flashy or intriguing as some other items like posters, shirts, and shoes.
However, for fantastic manga and anime series like Naruto, stickers can be pivotal to turning many of your normal items into a shinobi wonderland. To help you out with this, here is our best Naruto stickers guide for everything you need to know.
I appreciate that anime stickers can be used on anything and everything, though you probably should be careful. Backpacks, handmade posters, books, binders, folders, shoes, cars, and so much more can benefit from stickers. I adore that they can turn anything into a sign of your passion for a particular series.
Hopefully, this best Naruto stickers guide will help you with the best items you need to know about to help you spruce up your life and items.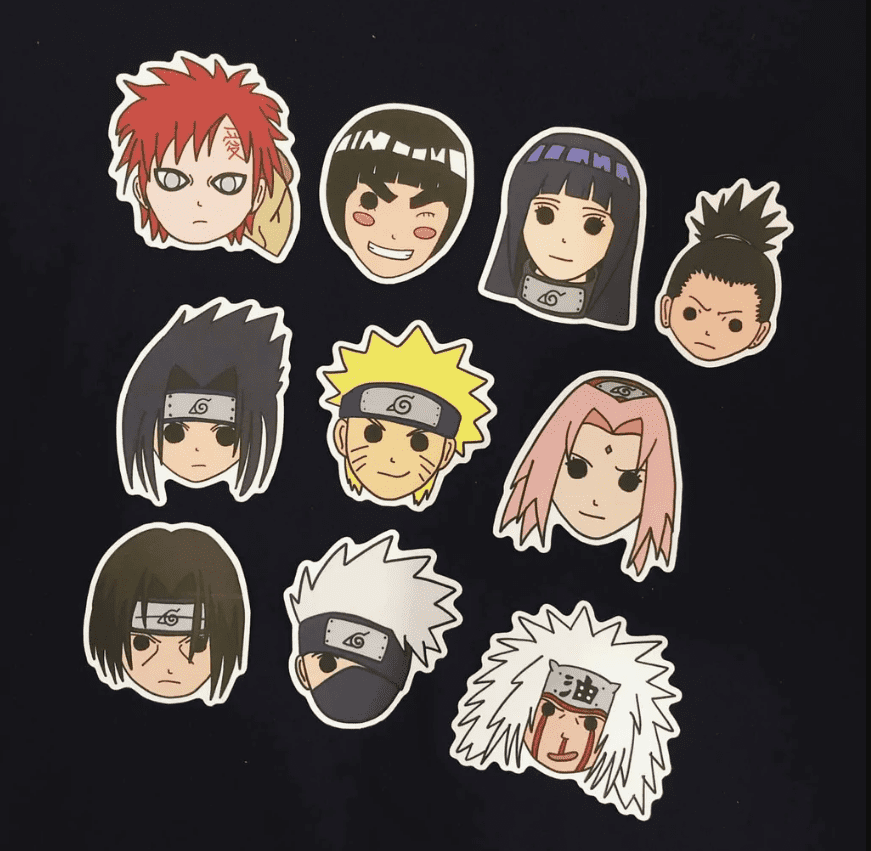 Bottom Line Up Front
The best Naruto stickers are the ones that take full advantage of the smaller space they usually have. Focusing on the best characters, they have the best possible artwork that makes do with what they have. In general, they are also usually a nice blend of value so you can pick these up in a set or for a typically low price.
One example of this is the very best Naruto sticker you can get, the 50-piece set of Naruto waterproof stickers. I appreciate how you get your bang for your buck here plus some of the best characters and designs around. Plus, it's waterproof, so it may last longer than some stickers.
My Top Picks at a Glance
While below, you'll find the 15 best Naruto stickers that you need to know about, I know that some of my friends reading this are in a hurry to get to decorating their various items. If that's you and you want to go ahead and know what's most worth your time and money, here are the top five items that you need to check out:
Buying Tips
When it comes to stickers, this is one of the stranger merch items you can get. Unlike some of the others out there that are so expensive, stickers can usually be pretty cheap. As such, I have a mostly different set of tips for you when you get ready to buy some for yourself:
Check as many sites as possible. Stickers are usually made by fan artists, with a few official ones here and there, so you want to do your research. The quality and price will vary considerably among the various sites like Amazon, Etsy, eBay, and so on.
Prioritize the sets over single stickers, especially if your budget is tight. Value is much more valuable when it comes to stickers since you can get dozens of your favorite characters in a single set. Unless you adore a particular sticker, sets will likely be more pleasing in this case.
Custom stickers do exist. Some sites will offer you the chance to make your own stickers using images you might find from artists and the like. They won't be the cheapest options, but they're there if you want the full say on what your items look like.

Selection Criteria
When coming up with the best Naruto stickers listed below, these are the selection criteria that I used. Note that it is a bit different than when it comes to other similar merch items.
Characters: More than anywhere else, characters are the most important part when it comes to stickers. You can't rely on key art or environments as much, which is why the characters have to be chosen well.
Designs: The quality of the designs has to be fantastic, too. That's always a necessary part of any item.
Art Style: In terms of design, art is the gateway to that design. Does the sticker stick to the standard Naruto anime style? Or does it try something different and succeed? Either way, impressive art style helps to make the best stand out.
Size: I tried to keep this list flexible with stickers of varying sizes. There are small ones for fans of decorating smaller items and larger ones for cars and the like. Bonus points for collections that have both.
Variety: Variety is the spice of life and the same goes for stickers. Having a mix of different characters or styles helps to make a sticker set more appealing to a wider set of people, which increases its chances of appearing here.
Amount: In the same vein, the amount of stickers you get matters, too.  I tried to provide variety and include collections with dozens of stickers that you can use to decorate all over your items and even individual ones that show why they are worth spending several dollars on it alone.
Originality: When it comes to stickers, the chances are that you'll be buying some fan-made stickers. As such, they have to do something intriguing with the designs, style, and characters to make the purchase worth the price.
Value: Your money is important to us. Sometimes you want some merch items, but your budget is a little tight. In that case, I wanted to ensure that value is a crucial part of this list. It certainly doesn't mean everything, but I definitely included a wide range of stickers that are helpful for all sorts of budgets out there.
Best Naruto Stickers List
These are the best 15 Naruto stickers around. It wasn't easy to come up with this list, given how many stickers are based on the massive, long-running manga and anime series, but I was able to narrow it down to these more than a dozen sticker sets that you need to consider.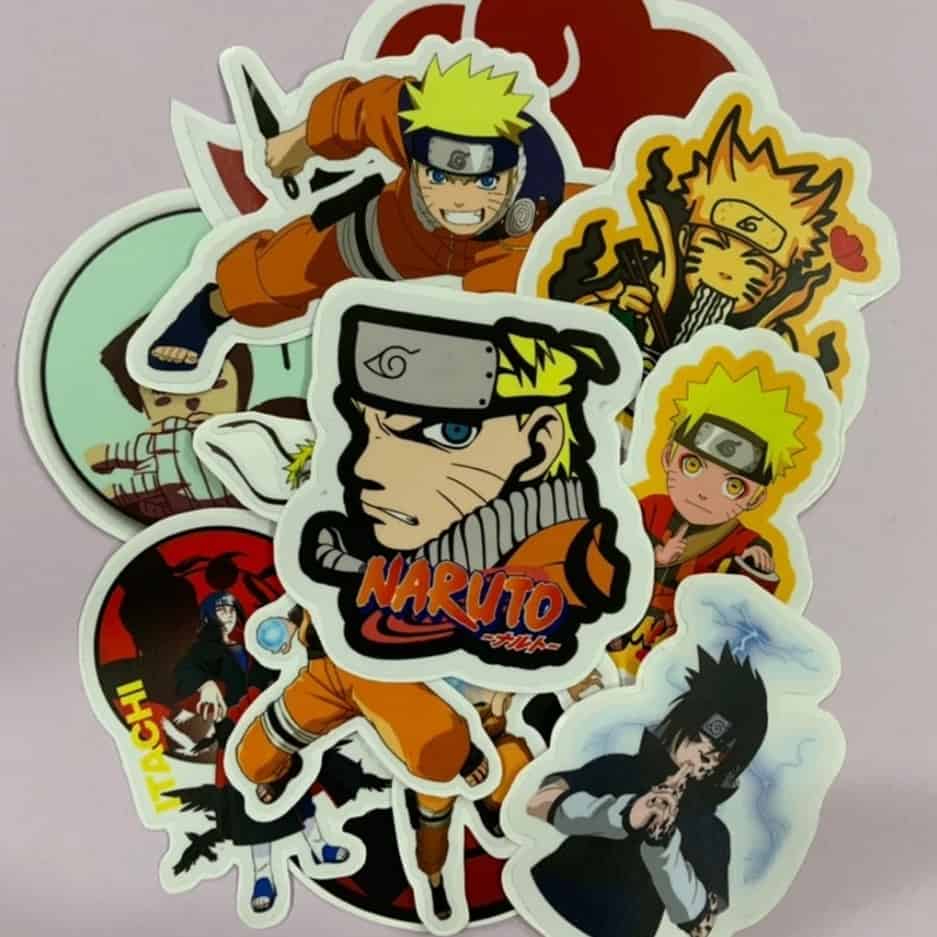 Let's start out this list with one of the most one-tone but also lovely sets of stickers around. Sure, there are plenty of characters in the Naruto series, but what if you only care about the one true soon-to-be next Hokage himself, Naruto Uzumaki?
Well, then, this set is likely the one for you. Almost all of the stickers here, minus one or two for Sasuke and the like, focus entirely on Naruto himself.
This allows you to get some wildly different stickers like young Naruto, angry older Naruto, the Rasengan attack, and so much more. True Naruto fans who want that singular sticker collection are in the right place with this.
Pros
For the Naruto fans who only want to have stickers for the main character
Reasonably priced even with the delivery fee included
You get to see so many aspects and ages of Naruto, from fighting to smiling
There are some bonus non-Naruto stickers thrown in as well
Cons
If you don't adore Naruto as a character, this sticker set is not for you in the slightest.
A couple of the stickers are a bit odd and not too great-looking, especially the large one featuring the Naruto logo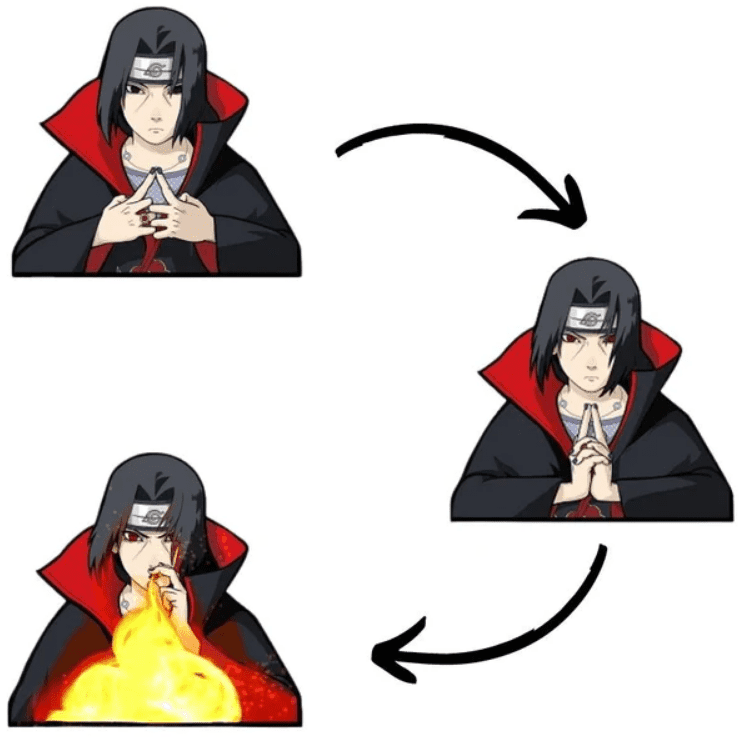 For the most part, stickers are roughly the same idea of peeling the back off and attaching it to whatever surface you want. Sometimes you'll get shiny ones or massive stickers, but nothing too special or unique. However, then there are truly magnificent stickers like the motion ones.
Though pricey for a single sticker, this Itachi one is worth it for fans of the infamous older brother of Sasuke. It has three stages to it, letting you see Itachi casting his fire ninjutsu from various angles. There are other motion stickers available in this listing, too, but I prefer this shiny and detailed look for Itachi.
Pros
Itachi fans rejoice!
Being a motion sticker means that it has its own transformation sequences, like the characters in the series.
The three phases of Itachi are simple but highly detailed
Cons
There arguably could have been more done with the three different Itachi phases
Itachi's facial expressions stay roughly the same throughout all three versions
When not on sale, this is quite expensive.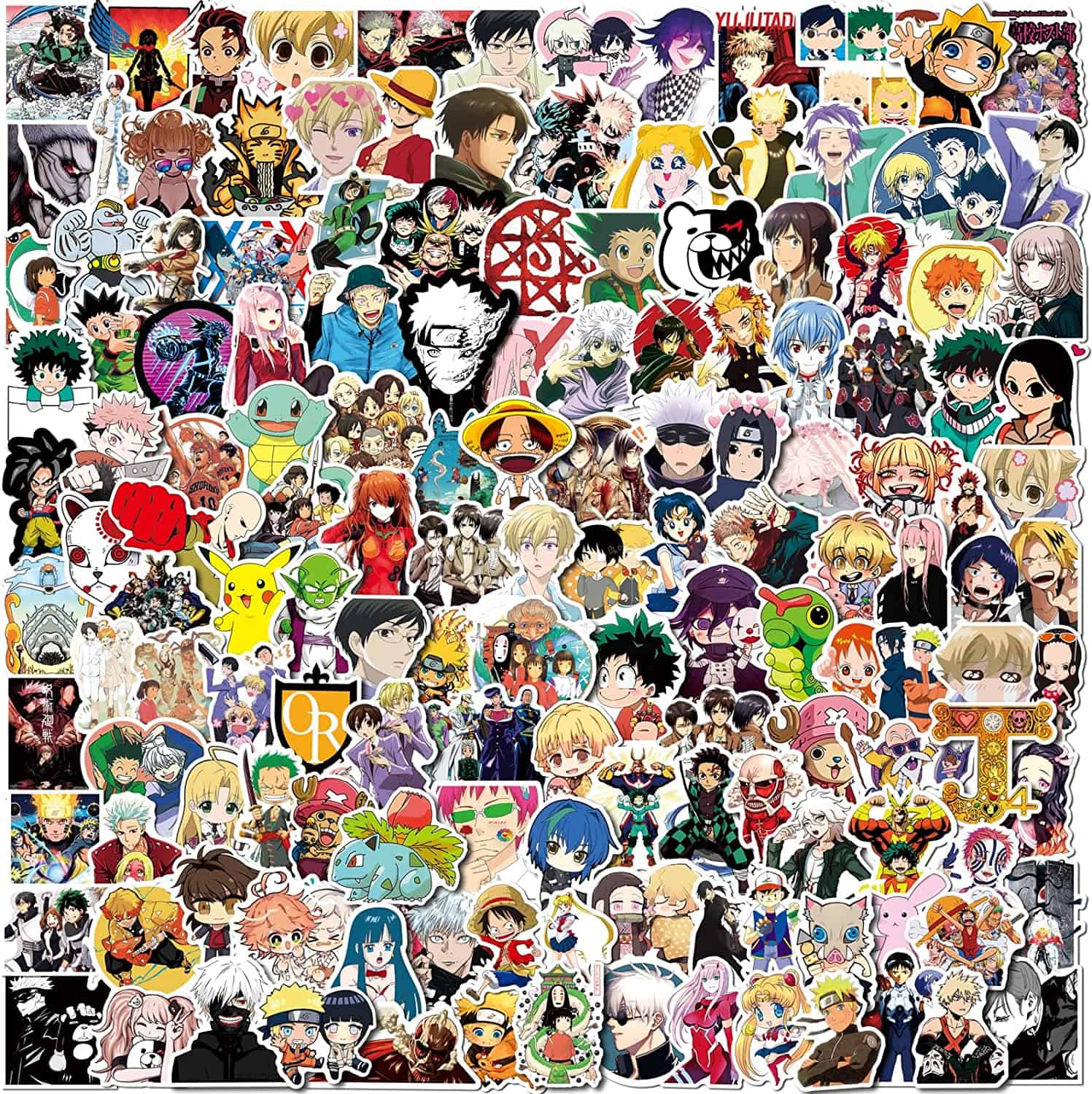 It's hard to go wrong with a whopping 200 different stickers in a single collection like this one for roughly $10 USD. That is a considerable bargain price that will certainly get your sticker collection started for only a handful of dollars. However, the problem here is that this set isn't just Naruto-themed.
For some anime fans, that won't be a problem, but strictly Naruto stans should look elsewhere. But suppose you love Naruto and other anime series like Jujutsu Kaisen, Demon Slayer, Hunter x Hunter, and many more. In that case, you're in the right place with a massive collection of some of the best characters across all of anime. Plus, plenty of Naruto stickers, too.
Pros
A wonderful massive collection celebrating all of anime for a low price
Naruto fans shouldn't worry, as there are plenty of Naruto-themed stickers here, too, including a brilliant black and white one.
Other amazing series are also represented, like Pokemon, The Seven Deadly Sins, and My Hero Academia.
Cons
If you want just Naruto stickers, this collection won't do.
All of these stickers are very small, likely due to the cheap price
The distribution of stickers for each series is seemingly quite uneven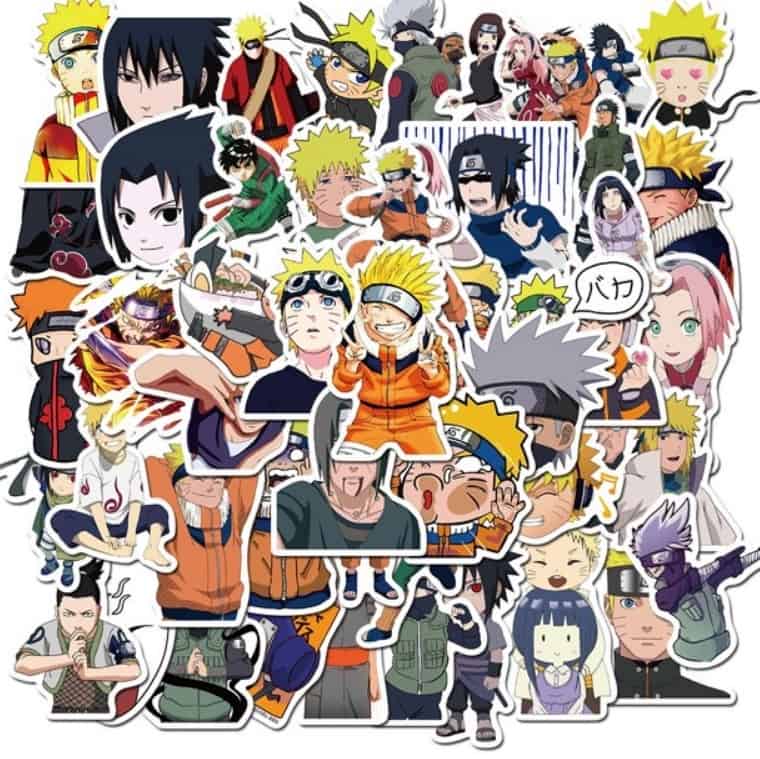 Part of my issue with some of the stickers on this list is that they are so darn tiny. That's fine for putting them on items like notebooks and water bottles, but what about the larger stickers you want to make more apparent on your backpack or whatever?
That is where this 50-piece set comes into play, with almost entirely medium-sized and more stickers contained in it. They are some of my favorite designs, too, with iconic imagery of moments from the series and glorious depictions of characters like Naruto, Sasuke, Sakura, Kakashi, and Itachi. Plus, you get the bonus that these are all waterproof, too.
Pros
50 of the most iconic and well-designed Naruto-themed stickers around
These stickers are larger than most of the tiny ones in collections, making them useful for a variety of scenarios
They're waterproof, so feel free to throw them on anything and everything that might go outside, including your backpack.
Cons
They seem larger than most stickers, so there could be some smaller items that these won't work on
While most of the stickers are some of the best on this list, there are certainly some filler stickers I can see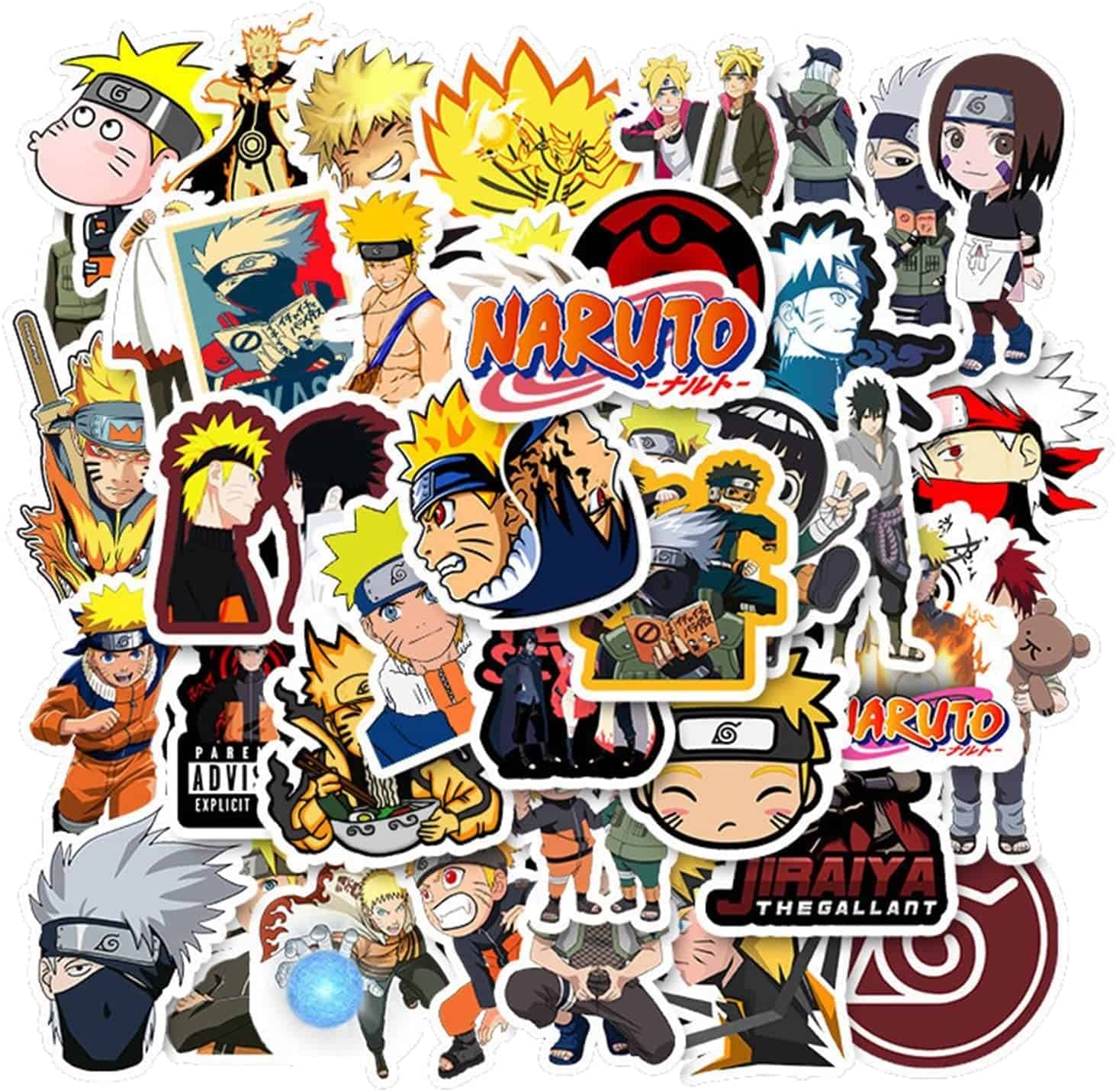 I know that many of you, my friends, own yourselves a car and would like to deck it out in some Naruto love. This is one way to spruce up your vehicle and make it personalized to your tastes. This 54-piece set includes some larger, more intriguing looks at characters like Naruto, Kakashi, and Jiraiya.
The bonus part is that these are all strictly vinyl car stickers that are meant to attach to the window or metal on your vehicle. This also means they are sturdier than most and capable of withstanding some of the wind and rain that comes through.
Plus, while many of the stickers on this list work better for students and kids, these car stickers are terrific for teenagers and adults with cars.
Pros
You get 54 wonderfully designed stickers that are nicely sized
All of these stickers work well on any sort of car or other motorized vehicle, letting you customize how you like
They are vinyl and heavy-duty, meaning they should last through wind, rain, and other conditions
These are surprisingly cheap given how hefty and flexible these stickers are and how many you get
Cons
It seems that these work best for around three months, and then they fall off quite a bit
You'll need to change these out often (though at least you get 54 pieces)
There seems to be much of a focus mainly on Naruto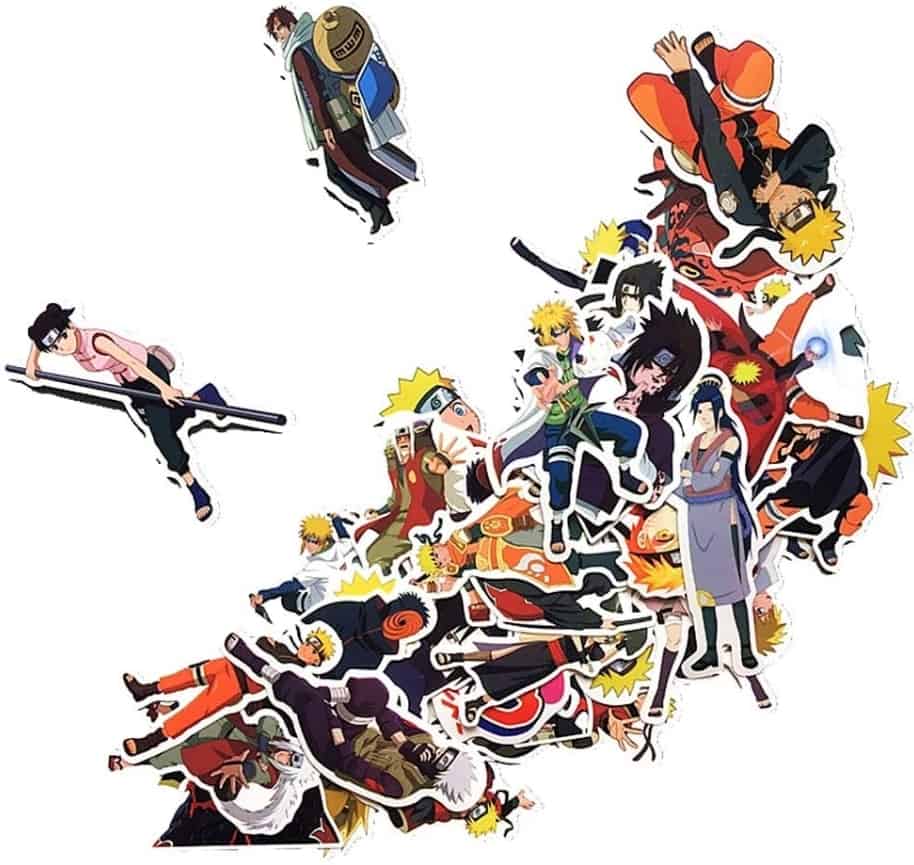 This time around, we have another collection of Naruto stickers. This time, it comes from Walmart, which should hopefully mean that you get some solid refund and return policies, and there are 63 stickers in total. The random number of stickers aside, it appears like this is an evenly distributed set of stickers that focus on various characters like Sasuke, Itachi, Naruto's parents, and more.
I appreciate that this set isn't too Naruto-forward and that it shows some love to the other characters around. However, I will say that I am not a huge fan of the thick white border around nearly all of the stickers, which is a waste of space and distracting. At least you get a massive sticker of the iconic Naruto logo.
Pros
These stickers show lots of love to characters outside of just Naruto himself.
You get a massive sticker recreation of the beloved Naruto anime logo
63 stickers, from Walmart no less, for about $12 is quite nice
Cons
The thick white border around all of the stickers isn't my favorite and is quite distracting
There are more than a few filler stickers that I can see just from a cursory glance at this collection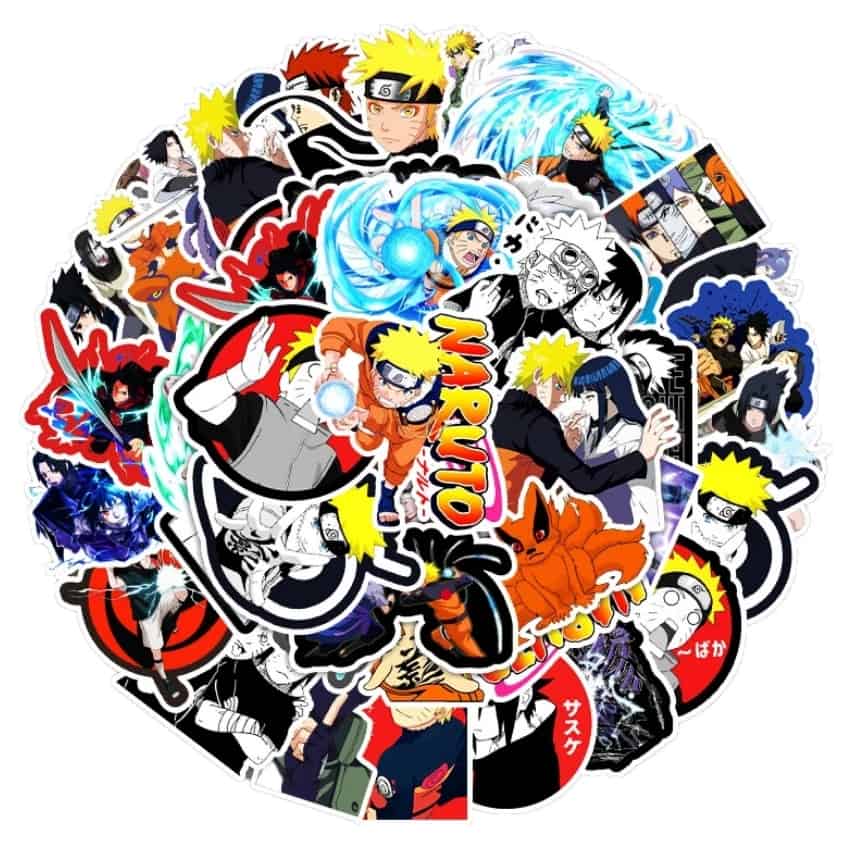 If you're looking for one of the most diverse sets of Naruto stickers, look no further than this one. Unlike other sets, it doesn't focus on a single type or size of stickers but, instead, offers many different options for fans. You get smaller stickers featuring the Naruto logo, Sakura in her Team Kakashi gear, and more that would work well on a water bottle or binder.
On the other hand, you also receive some excellent medium-sized stickers of Gaara's face, Naruto using the Rasengan technique, and more that would look great on a backpack or even a vehicle. And then there is the crowning jewel of the massive extra-large Itachi Uchiha sticker in the middle of the collection, showing off his menacing face in his complete set of Akatsuki garb.
Pros
The most versatile set of Naruto stickers
You get 54 small, medium, and even large stickers
They are great for everything from backpacks to skateboards to bikes to even cars
The Itachi sticker, in particular, is extraordinary and massive
Cons
There is another issue with thick white borders here on most of the stickers
If you have a singular purpose for your Naruto stickers, this set might be too varied for you
I'm a little thrown off by the fact that the title says there are 50 stickers, but the description says 54, so be wary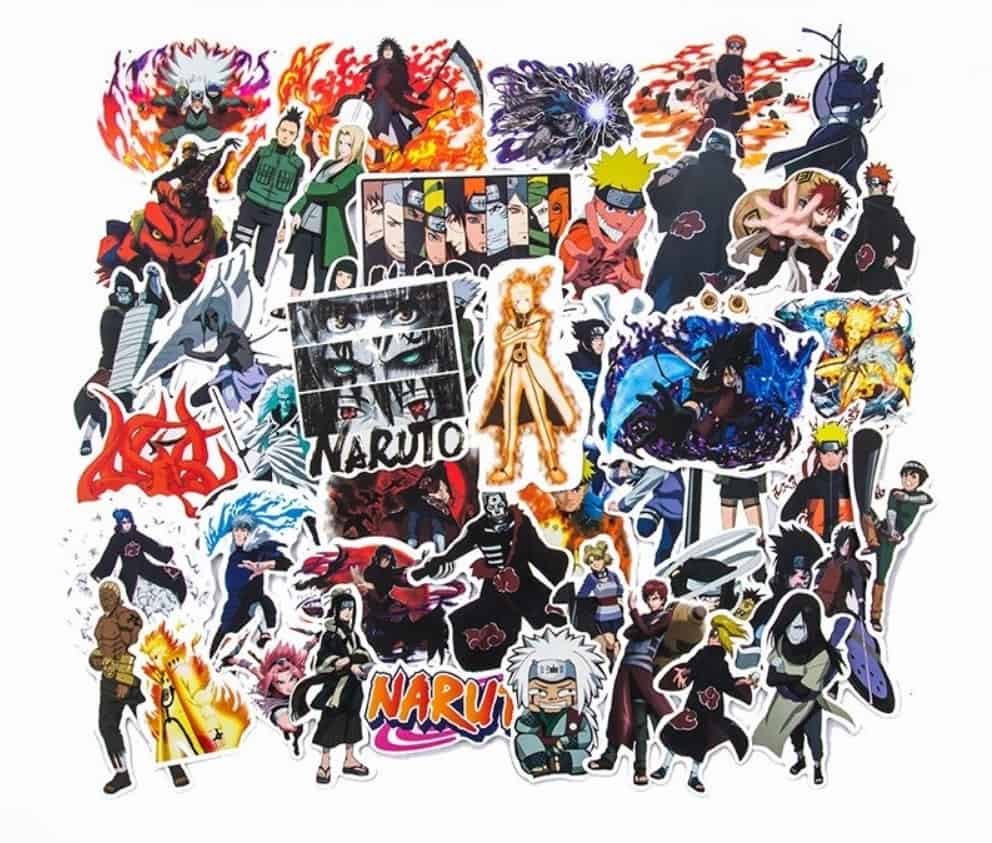 There is something to be said about having some say in how many Naruto stickers you get, which is the case for this particular set. AliExpress lets you pick between three groups of either 10, 30, or 50 pieces of Naruto-themed stickers for your collection.
I see some excellent options like Naruto in his Kurama Chakra form, an almost poster-like framing of the Akatsuki members in one sticker, and a haunting wall art-style black and white sticker. These stickers look gorgeous, but the problem is that they are randomly chosen for you. That is why it's best to grab the 50 set to be safe; plus, it'll only cost you around $14 or so at the max price, even with shipping included.
Pros
This set includes some of the best stickers I've ever seen, like the gorgeous poster-style ones
You can choose how many stickers you want in your collection, which is unique
These sticker collections are extremely reasonably priced, even with shipping included
Cons
You have no idea what stickers you'll get as they are, unfortunately, randomly chosen for you
They vary significantly in quality, which is a problem given the RNG nature, with some of the best stickers I've seen and also some of the worst
There looks to be a heavy emphasis on villain characters, which may not be for everyone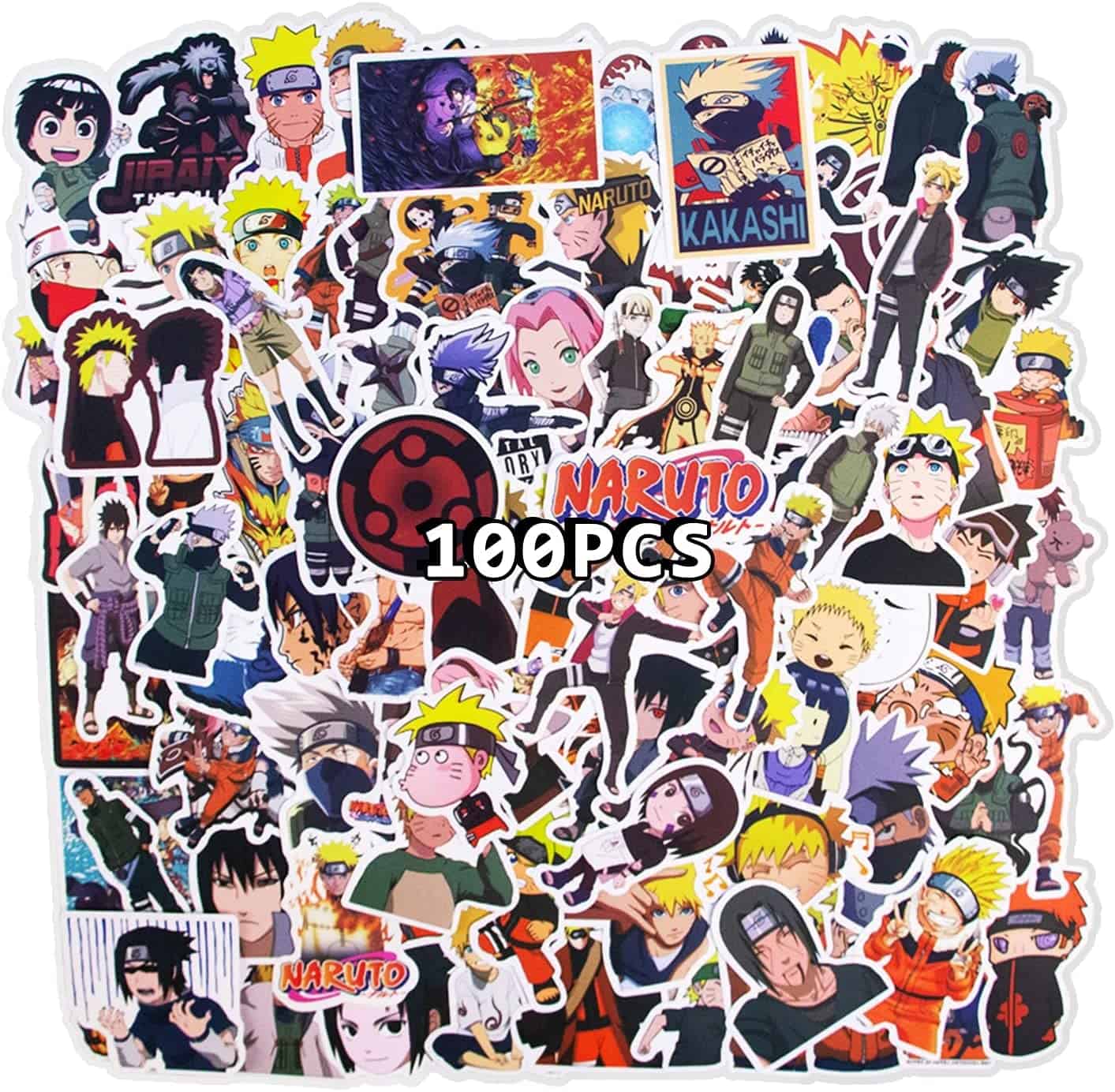 You may be reading this and are looking forward to getting as many Naruto stickers at once as you possibly can. Perhaps you want to make a sticker collection or just have plenty of options for all of the various items you own. No matter your reasoning, this collection is one of the best for starting a brand-new Naruto sticker collection.
You get a whopping 100 different stickers for about 10 cents each, which is an unbelievably good deal. But the best part is that the stickers themselves appear to be worth far more than that price. I see some glorious stickers like the classic eye symbols, Kakashi in a propaganda-style poster, and even some Boruto stickers. This is especially unique given the lack of Boruto love in the sticker department.
Pros
This is the best starter Naruto sticker set for collectors and fans
There are many different types of stickers, ranging from fan art ones to logos to memorable moments
Boruto even gets some love in this sticker set
Cons
The massive set also means varying bits of quality, with some duds and filler stickers here and there
These stickers appear to mainly be the same more diminutive size, which might be restrictive for some fans
These are only single-use stickers (which is likely why you get so many)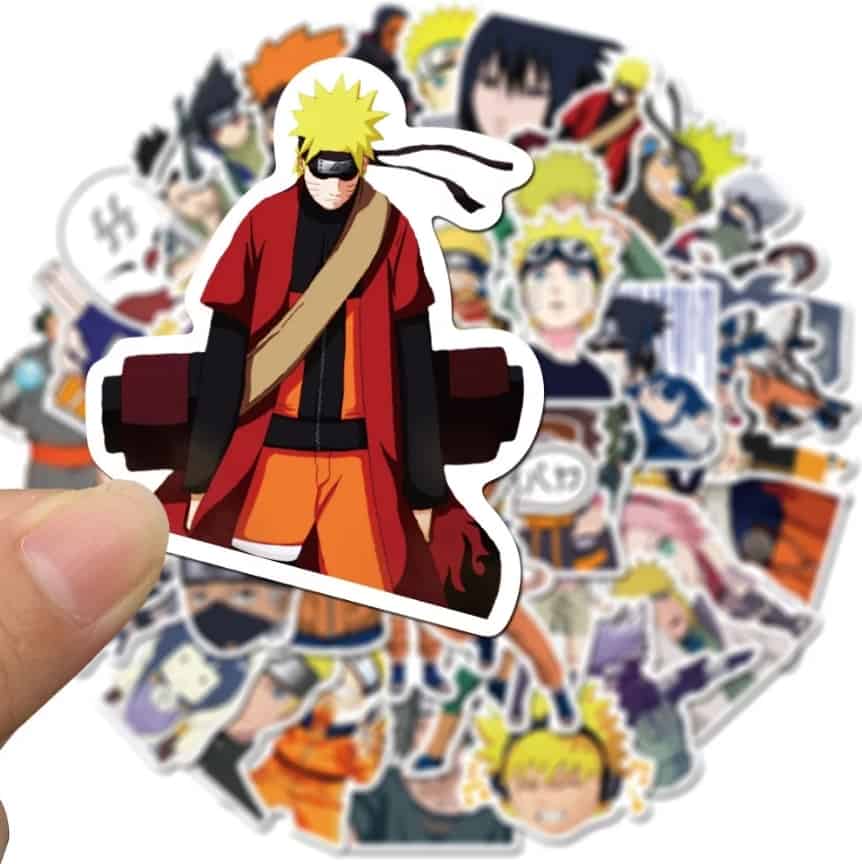 Walmart is back at it again with yet another set of stickers, all of which are waterproof and removable. That latter part is what I want to hone in on since the problem with stickers is the fact that they aren't generally reusable, especially for this low of a price.
But this is the case with all the stickers in this set, including the phenomenal featured sticker of an older Naruto depressed and heartbroken. The art for this particular sticker is so incredible and emotional that you need to check it out.
Pros
You get not just waterproof stickers but reusable ones!
The featured large sticker of older Naruto is depressing and heart-wrenching.
There is a lot of love for Naruto in this set
Cons
Those who prefer other Naruto characters may be disappointed by the intense focus on the main character
This is another set that seemingly has varying levels of quality when it comes to its designs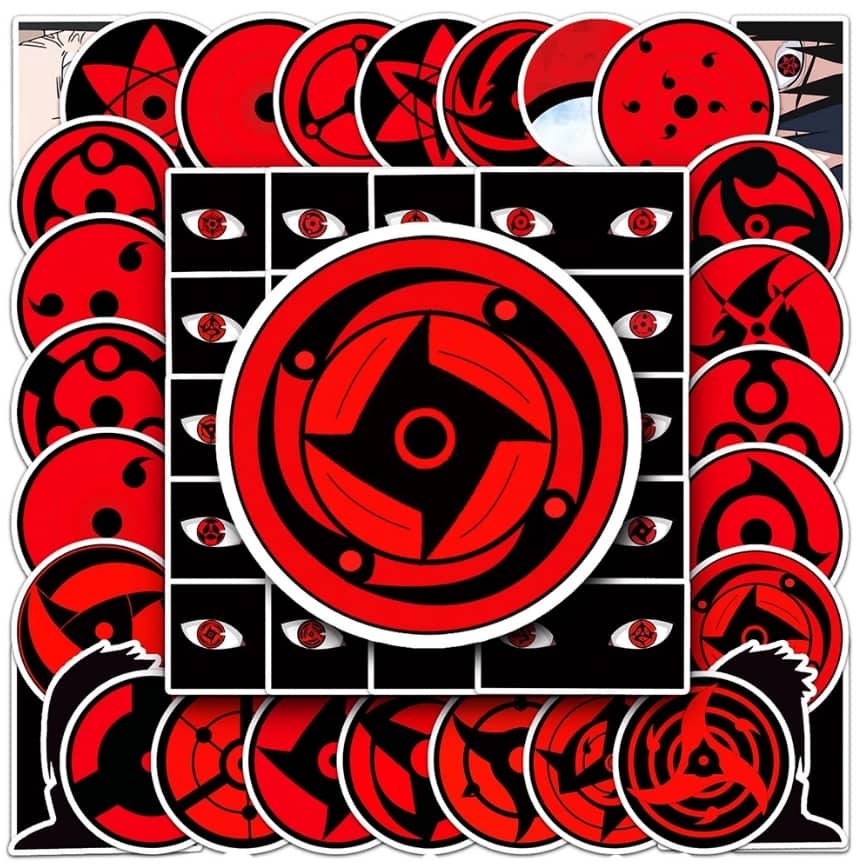 There is something haunting about this particular collection of stickers that focuses entirely on the Sharingan and other eye symbols that the shinobi have in Naruto. These eye patterns are some of the best parts of the ninjutsu that classic characters like Sasuke have, and they are recreated so nicely here.
But, at the same time, there is the argument that this is a rather one-note set that only includes these red and black eye patterns, and that's it. Sure, they are all so intricately detailed, but you lack the variety of some of the other sets. However, if you love decking your stuff in eye patterns, this collection will likely keep you busy with replacements for years to come.
Pros
Fans of the various Naruto eye symbols will adore this set
The red and black color scheme ensures that your stickered items will always go well together
You get to pick if you want 10, 30, or 50 of these stickers
Cons
This collection is entirely one-note. If you're looking for more variety, look elsewhere
All of these red and black eyes together can be rather creepy for some fans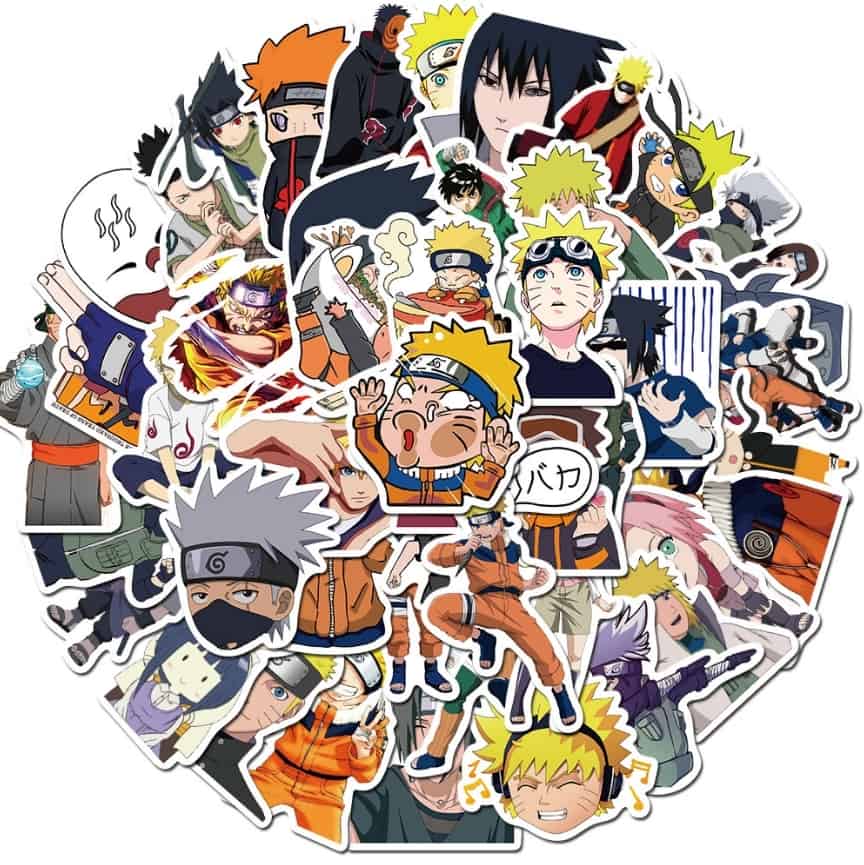 For those who want larger Naruto stickers that would go well on your skateboard and other bigger items, look no further. You get 50 pieces in this set, including lots of Naruto eating ramen and getting in trouble, plus some other goofy designs. The designs themselves aren't too standout here, other than the ridiculous nature, but there is something to love about the larger sizes of these stickers.
Pros
The Naruto stickers here are generally rather goofy and hilarious
These are larger stickers designed for skateboards and other big items
They are reusable
Cons
If you want more serious stickers, look elsewhere.
These designs are fun but don't do anything too special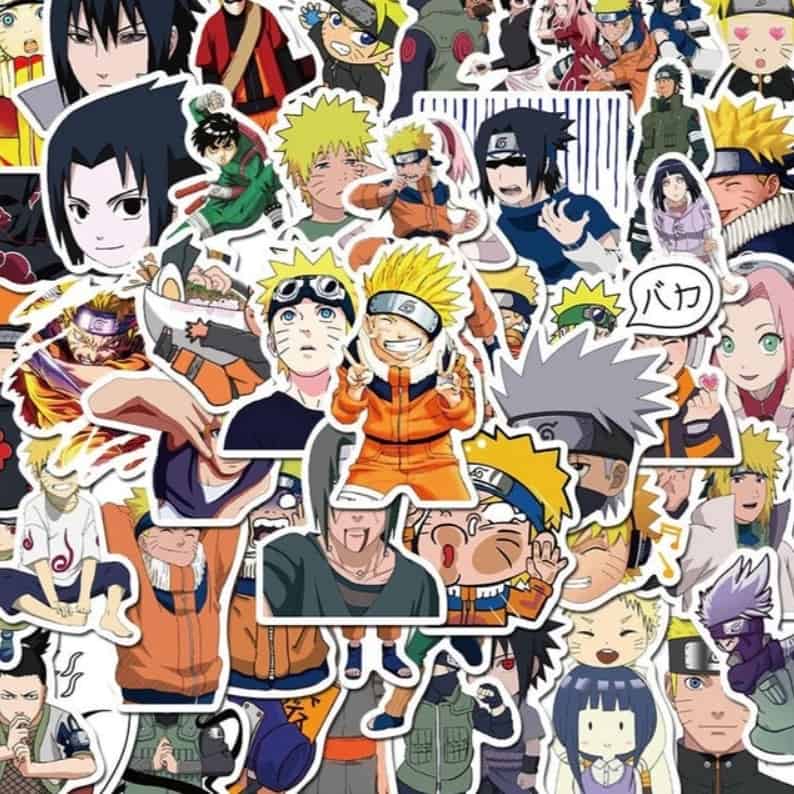 The automobile fans out there should be happy to know that this entire set of stickers is explicitly made for cars. The designs are primarily recycled ones of previous sets, including even the last entry on this list, but the emphasis on car usage notes that these will likely be larger and stronger than the average sticker.
Pros
These stickers are made just for cars
They contain some of the goofy and beloved designs seen in other sticker sets
You get to pick if you want 50 or 100 pieces
Cons
When not on sale (it is currently), this set is arguably not worth the total price for the 50 pieces and possibly also the 100 pieces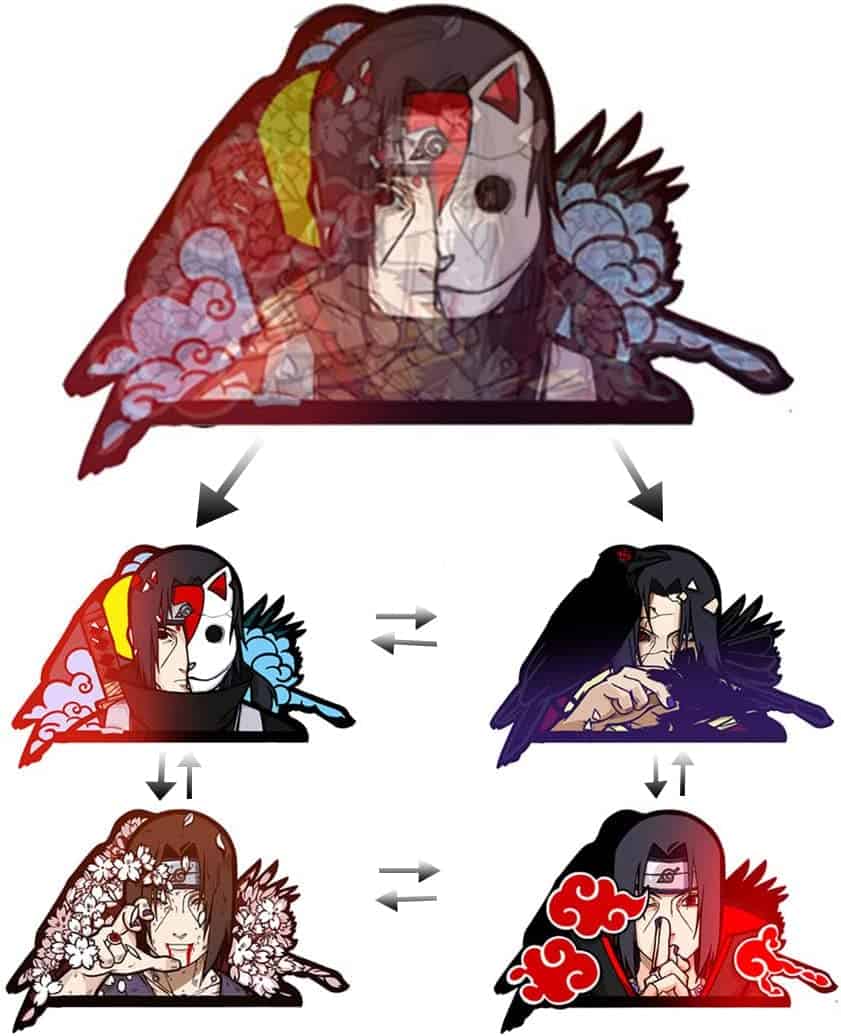 Motion stickers are always going to amaze me, and this Naruto Kurama Chakra form one is gorgeous. You have the base Naruto plus two other stunning forms it can turn into. It all depends on the angle you see it at, making it perfect for cars. The best part is that it's only around $10 at full price.
Pros
Reasonably priced for a high-quality motion sticker
You get three beautiful forms of Naruto with a twist
Perfect for car fans who want this to be the star of their vehicle's look
Cons
It can be hard to justify paying the same price for one sticker as you would 50 elsewhere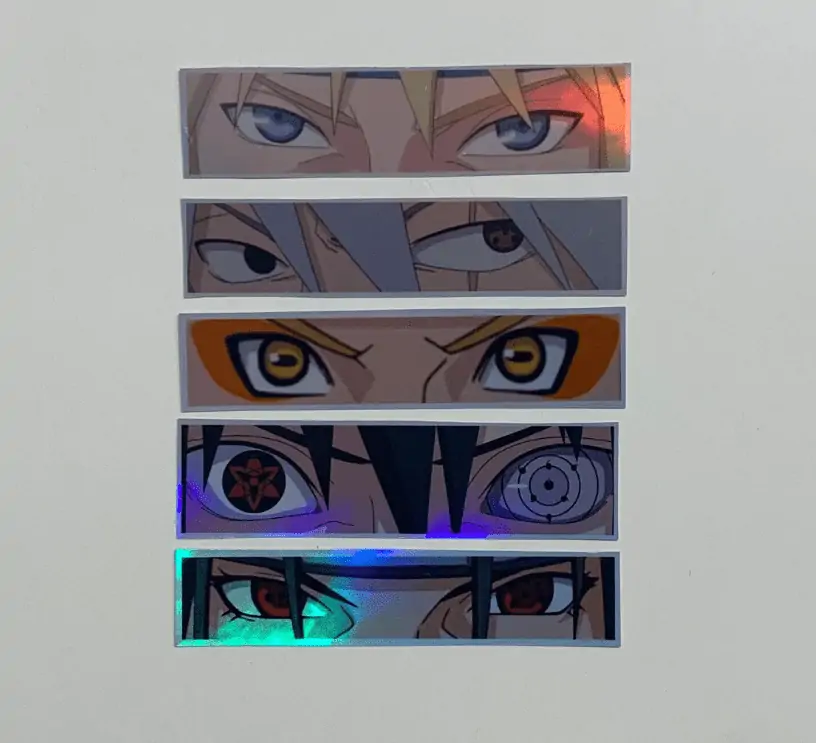 I know that many people prefer the shiny nature of holographic stickers, so I would like to present this set to you. You get five glistening stickers that look straight out of a kaleidoscope. They include the facial shots of five of the main characters from the series. Though the actual designs are quite simple, I can't stop staring at the holographic material.
Pros
Holographic stickers always look so impressive
You get five of the best Naruto characters
Sasuke particularly looks the best of the bunch
Cons
There is a severe lack of expected characters like Sakura
The stickers focus mainly on the eyes, which is disappointing.
FAQs
Question: Are there Naruto holographic stickers?
Answer: Yes, there are all sorts of stickers, including the Naruto holographic stickers. These are a bit rarer and harder to find. Just expect that you may have to pay more than for most standard stickers.
Question: Are there Naruto stickers for phones?
Answer: Yes, most stickers out there that are smaller sizes are perfect for phones and cases. This is one of the most recommended places for you to place your stickers since it is one of the items you use all the time wherever you go.
Question: Is there a Naruto logo sticker?
Answer: There are a couple of Naruto logo stickers that exist. Some of them use the flavor text for the title but in a unique font style. However, there are also some that use a more symbolic logo in place of text for a sticker.
What Naruto Merch You Need Next
At the end of the day, your money is limited. If you only had a single sticker or set that you could purchase, well, the best that money can buy, in my opinion, is the 50-piece set of waterproof Naruto stickers. There is something to be said about the waterproof bonus of these stickers, but the real star here is the terrific designs. These are some of the best and most varied designs on this list, showcasing much of what makes Naruto so grand.
However, stickers are only a single part of the Naruto merch experience. It's nice and all to decorate your backpack or car with stickers, but it doesn't stop there. If you want to elevate and take your merch experience to the next level, you need to check out the best overall Naruto merch that money can buy. These include art, clothing, jewelry, and so much that you can get right now.