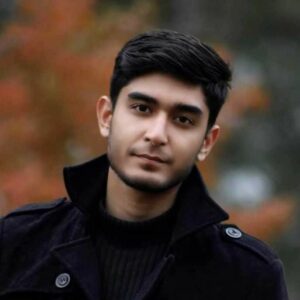 Latest posts by Asad Mehmood
(see all)
5 years, 23 volumes, and 206 chapters. That's all it took Koyoharu Gotouge to etch their name in the history of anime and fiction. In 2021, Demon Slayer became the 9th Best-Selling Manga of all time, while it secured 59th position as the highest-grossing media franchise in history.
I first read Gotouge's work during the Summer Vacation of 2015 when I was looking for some short manga to read and came across their one-shot called Kagarigari.
It was an excellent concept, but sadly there was no continuation. At the time, I was watching series like Naruto and One Piece, which had infinitely deeper character developments and mature story plots. After that, my vacation ended, and I returned to my boarding school. That was the last I would read anything from them for years.
A couple of years later, I came across Demon Slayer, and I got so excited to find out it was Gotouge's work. It felt like the continuation I desired, and man, was it a masterpiece. It built upon the concept's strengths while improving upon the story-telling of Kagarigari. I love the new art style they developed, and it perfectly suits the adventures of Tanjiro and the group.
I'm a collector and love collecting official and fan-made merch from franchises I adore. Animes, seasons, games, novels, you name it, and Demon Slayer is no exception. Its achievements on the global scale are a testament to the variety, quality, and demand of its merch. 9.5 billion USD in revenue and still counting, I don't think its popularity needs more words.
I'm writing this merch guide to help fellow fans and collectors with their purchasing experience by sharing my buying tips, experience, and hacks. I hope this guide proves helpful and enables you to make a solid deal. Now without further ado, let's dive into the content.
The Best Demon Slayer Merch Guide: Bottom Line Upfront
There's a large variety of items in the Demon Slayer merch collection. While the official merch collection progresses slowly, talented fans worldwide have kept enriching it with unique products.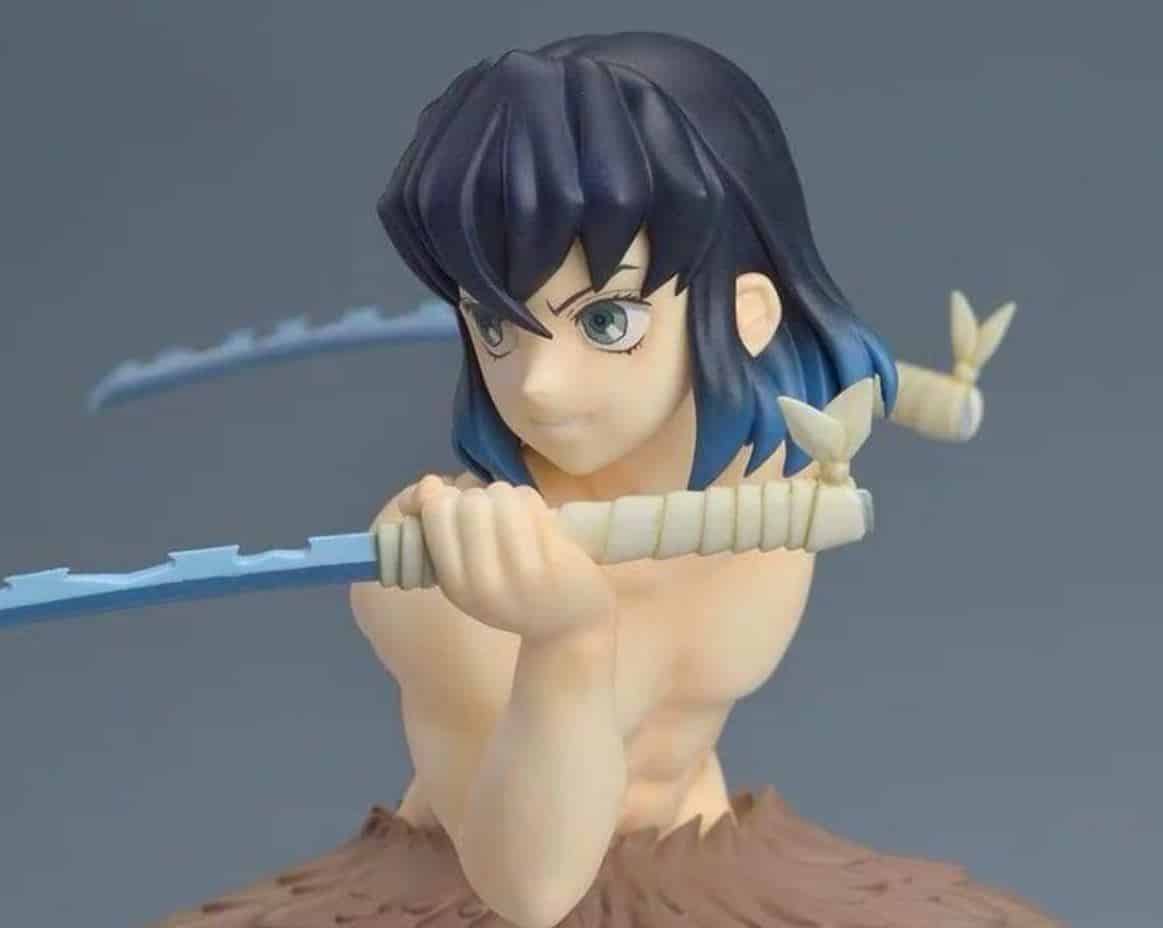 List Of My Top 10 Demon Slayer Merch Recommendations
What Kind Of Items Can You Find In The Demon Slayer Merchandise
Being the 59th highest-grossing media franchise in history, Demon Slayer offers a massive range of merchandise for fans and collectors to feast their eyes upon. From apparel to home decor, you can find everything in the collection.
This variety can also prove daunting when shopping for something to get from your favorite anime. Here's a classification of things you can expect to find when shopping for Demon slayer merch.
Category #1: Apparel
The series has a massive fan base and provides an extensive clothing collection. T-shirts, hoodies, socks, and sweaters barely scratch the surface of wearables you can find in this collection. All these well-made clothes have your beloved characters and inspired designs. Grab one to express your love for the series fashionably.
T-Shirts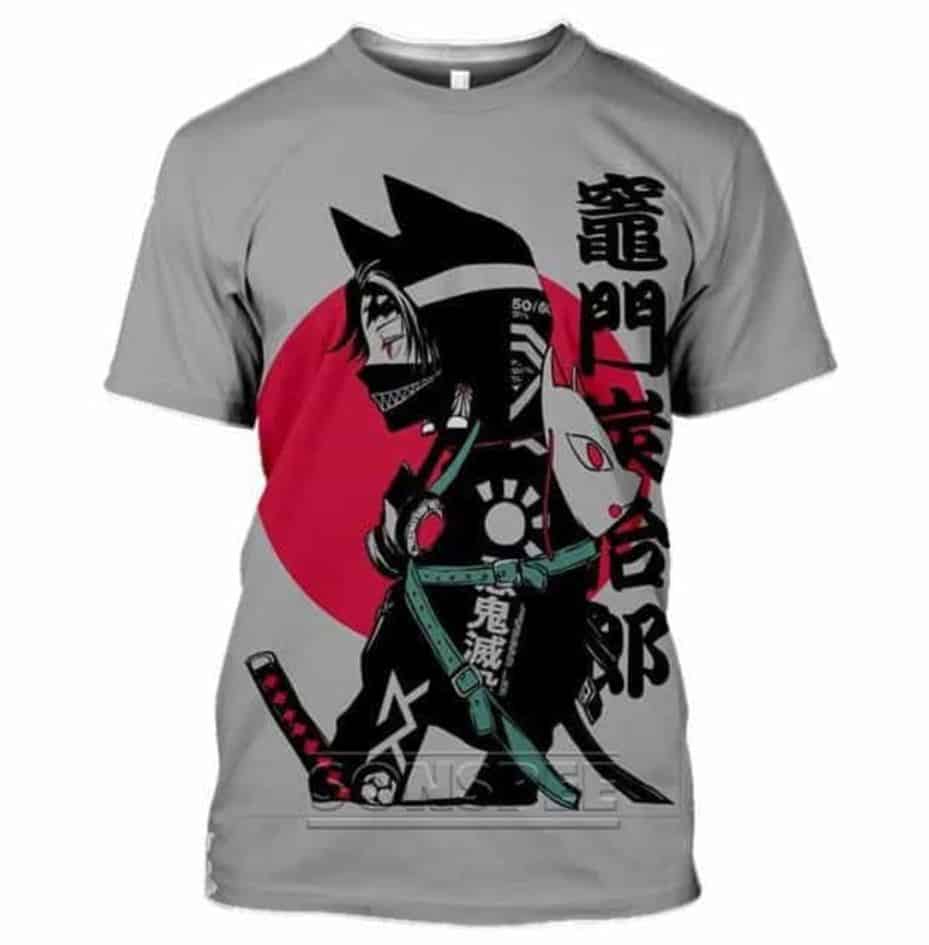 Most Demon Slayer T-Shirts feature striking designs with a center, half, or full print of famous characters. It is ideal to purchase from reputable sellers to ensure the fabric and print quality are impeccable. Generally, you usually get what you pay for, so the price tag is one way of judging if a product is of premium quality.
However, be wary of scammers and fraudulent sellers who are always hunting for rookie buyers to take advantage of them. Besides, it's always good to look for sales and discounted opportunities to take advantage of yourself. I would recommend the Tanjiro Blood Moon T-shirt, Demon Slayer Kanji T-shirt, and Inosuke Breath of The Beast T-shirt to calm the roaring masked boar inside you.
Haoris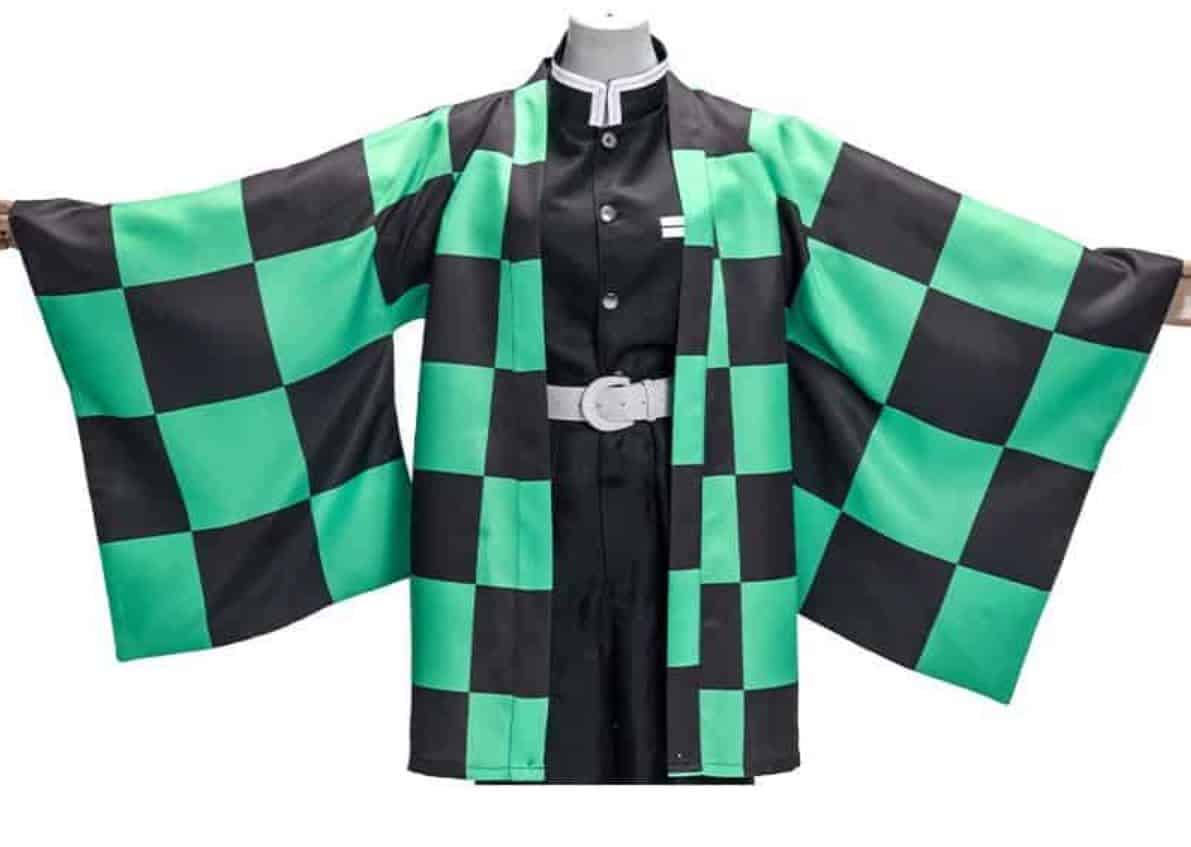 Think about Japan, think about Demon Slayer, think about high-ranking fighters, and think about their clothing. What comes to mind? If the answer isn't those long-sleeved loose jackets that every captain in the history of anime has worn, then sadly, you are reading the wrong guide, my friend.
Owning a cool haori is the dream of every anime/manga fan in the world, and that's something I'm willing to bet my pride as an Otaku on. They keep you cool under the Sun and keep you warm in chilly Winters. But most importantly, they are essential for bringing out the hidden anime protagonist's potential from within you.
Demon Slayer merchandise offers a fantastic range of character-themed and series-inspired Haoris for fans, collectors, and cosplayers. Besides Tanjiro's Checkered Haori, Kyojuro's Flaming Hashira-Class Haori is unarguably one of the top picks.
Swimming Trunks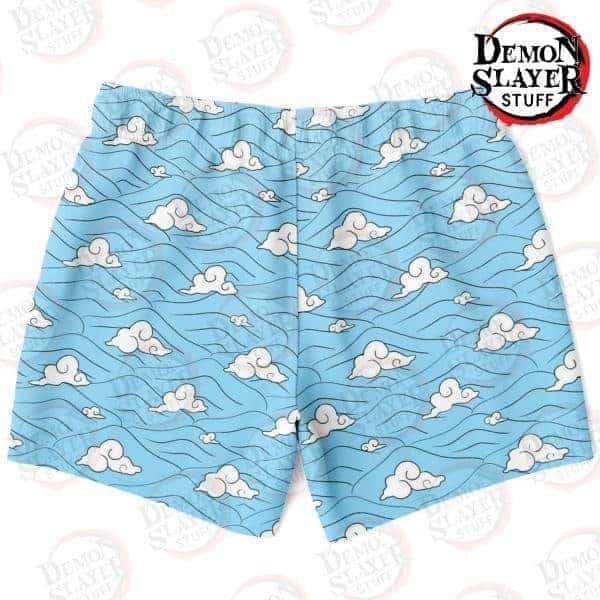 All of us are guilty of online class presentations and business meetings that we gave while secretly wearing swimming trunks under the table. If you said no, then you are lying. Demon Slayer merch offers a fun collection of swimming trunks for fans to choose from. Keeping this one short, I would recommend Urokodaki Swimming Trunks for anyone looking for a breezy pair of good-quality trunks.
Category #2: Figures And Toys
Action Figures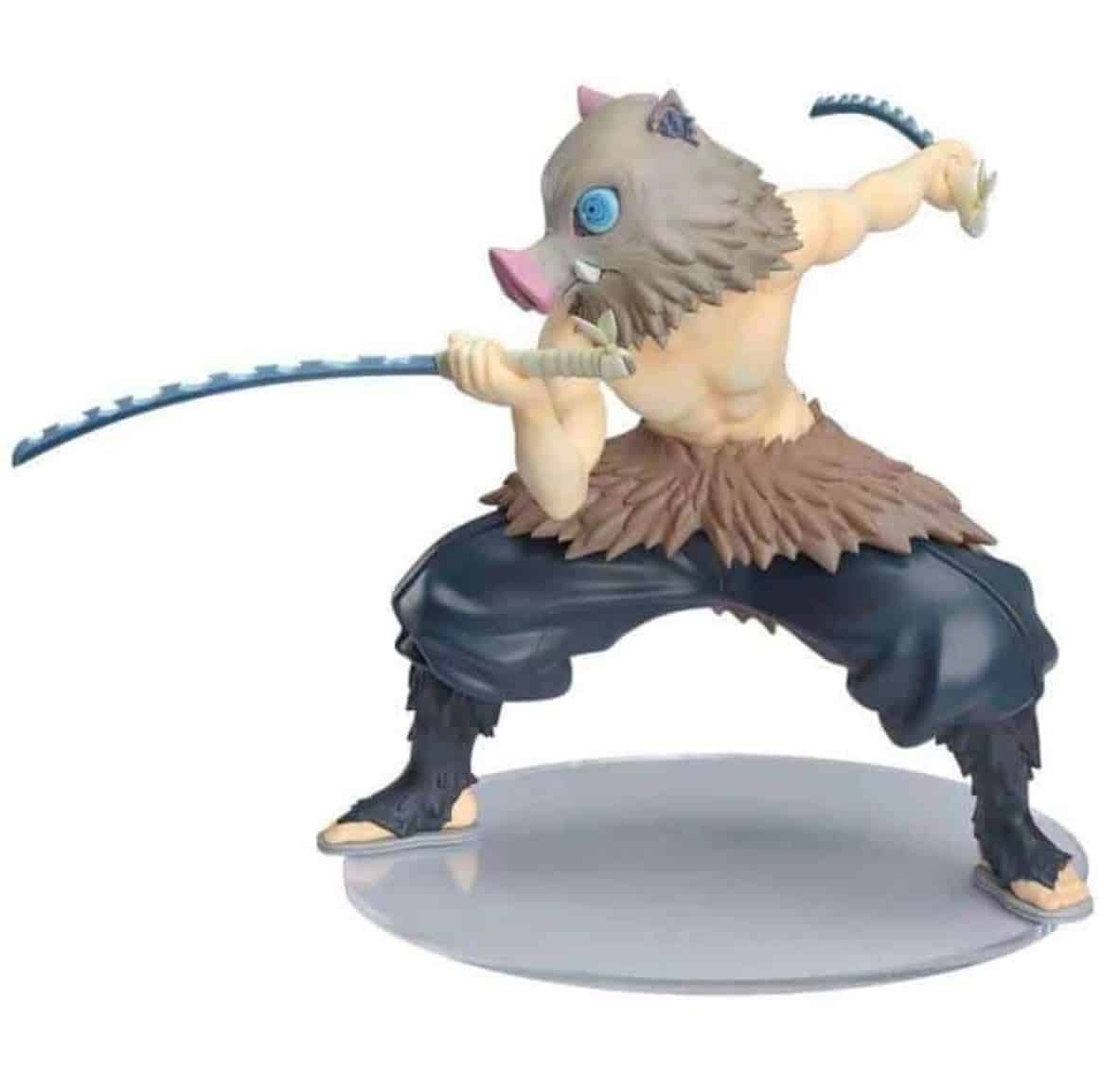 Who doesn't love keeping their memory fresh about the enchanting and entertaining moments the Demon Slayer series has given them.
Action figures undoubtedly have this feature. Every time I look at them, a flashback of the character and their unique personality comes rushing to my brain. The well-designed and highly detailed action figures are indeed a delight to have. 
Moreover, repositioning them to recreate some intense moments from the series fills any fan's heart with joy. One of my recommendations is the Inosuke Action Figure. This figure's design gives the vibe of a bold and loud character that will keep a whisk of liveliness in your room.
Funko Pops!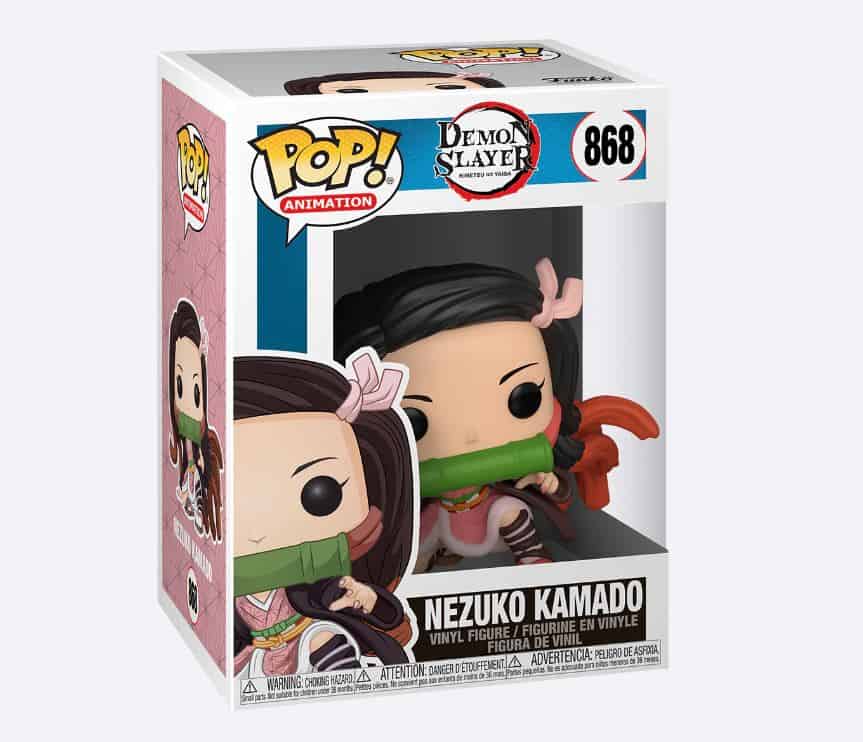 Funko Pops! are a fun way of decorating your work desk and display shelves. It is not a surprise that Funko collaborated with Demon Slayer to create one of the world's cutest and most dashing ranges of Pops!. Fans are welcomed to choose from a respectable range of 18 adorable Pops!
I would urge all to check out the Nezuko Kamado Pop!. Carrying the iconic expressionless face of Funko Pops!, this Pop! figure captures the character's adorable vibe to its maximum.
Category #3: Accessories
Phone Cases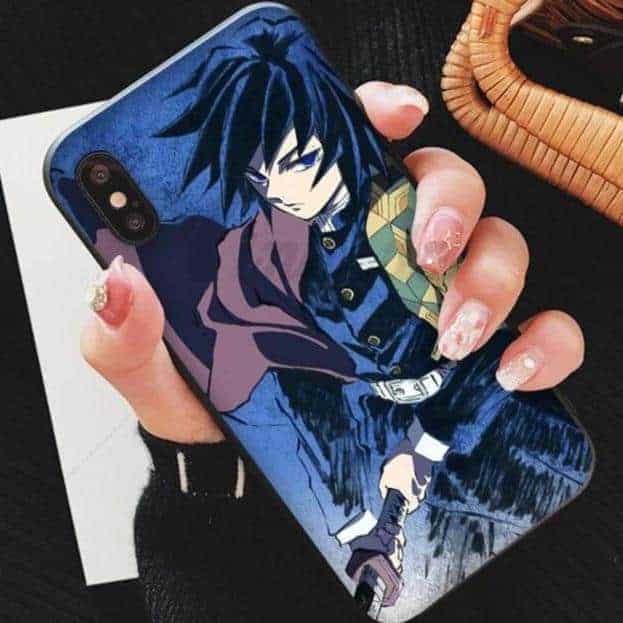 Today phones have become a necessity in our daily lives, so having them protected with a case is really important. However, dull phone cases can ruin your phone's clean design and premium vibes. The only option is to get a phone case that adds to that look, and what other way is there than with a phone case featuring your favorite demon slayer.
The firm will and beautiful prints of your favorite characters will make you care more for your phone. Some of my favorite picks for this category are the Giyu phone case and the custom-made Zenitsu Sheathing of Blade phone case.
Custom Bowls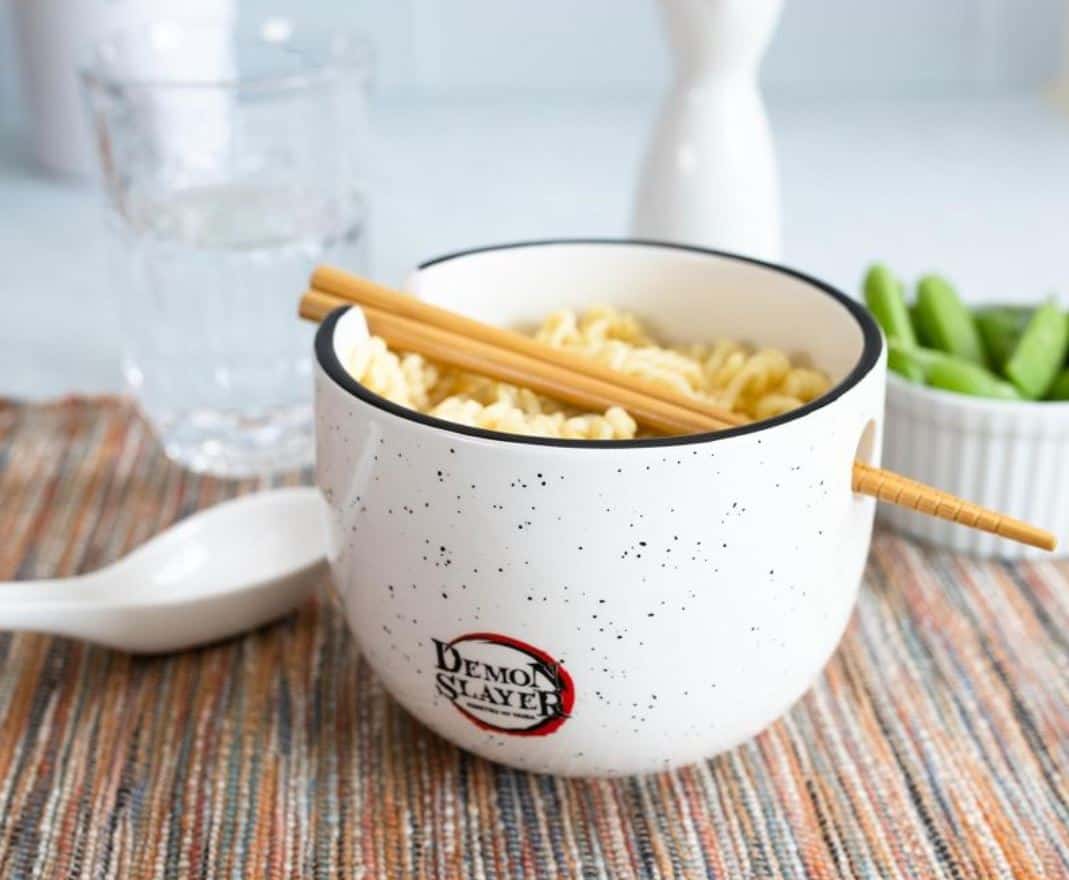 Having a meal in a custom-made bowl feels like you are sitting along with your favorite characters enjoying their meal. Demon Slayer merchandise has a variety of popular custom bowls like the Official Demon Slayer ramen bowls by Just Funky.
Watches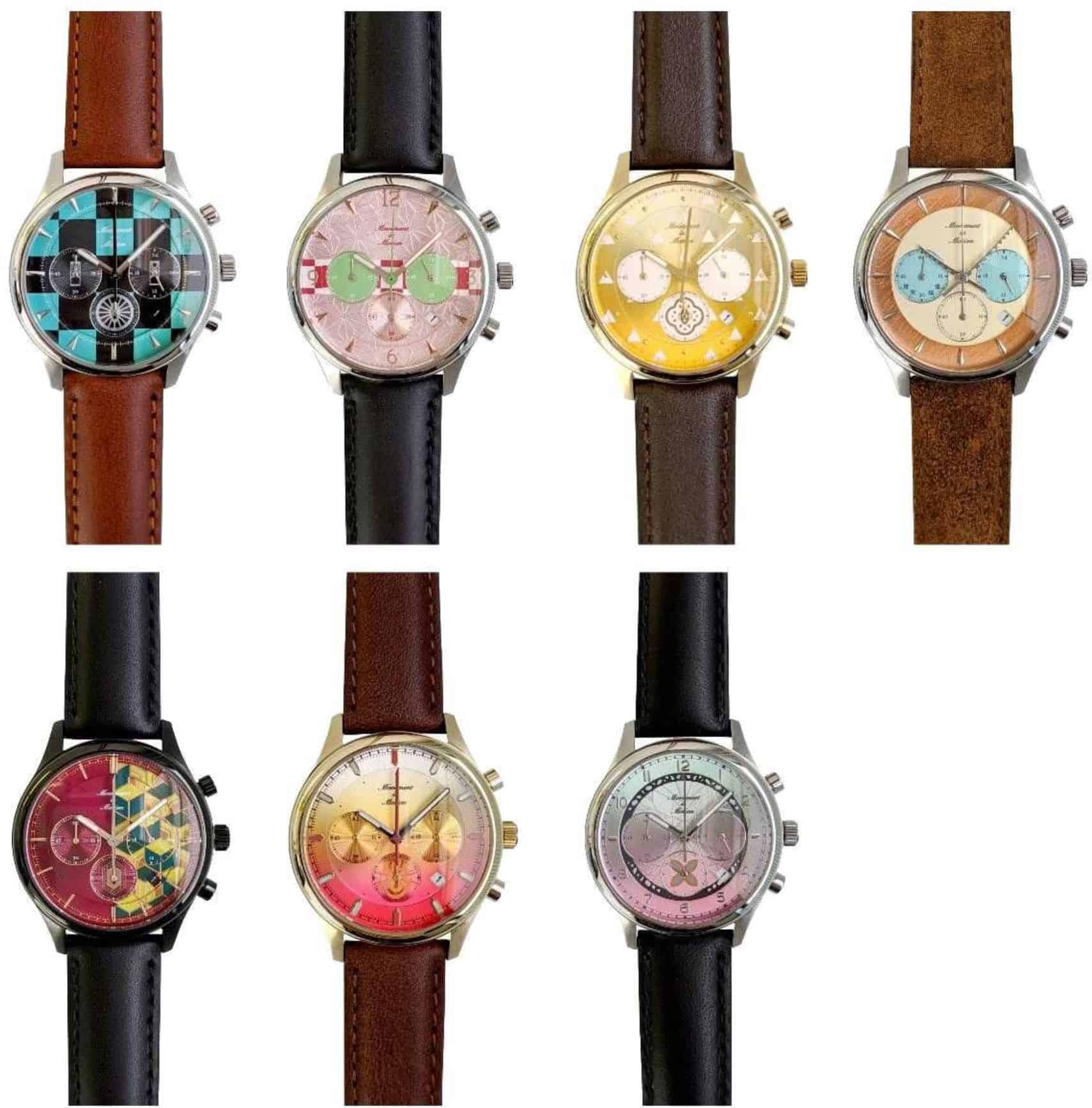 There is an incredible variety of Demon Slayer watches offered by its merchandise. One of the popular options available right now is the Kimetsu No Yaiba x Tictac collaboration watch. This will make you look fabulous wherever you go, so don't miss it!
Category #4: Home Decor
Wall Posters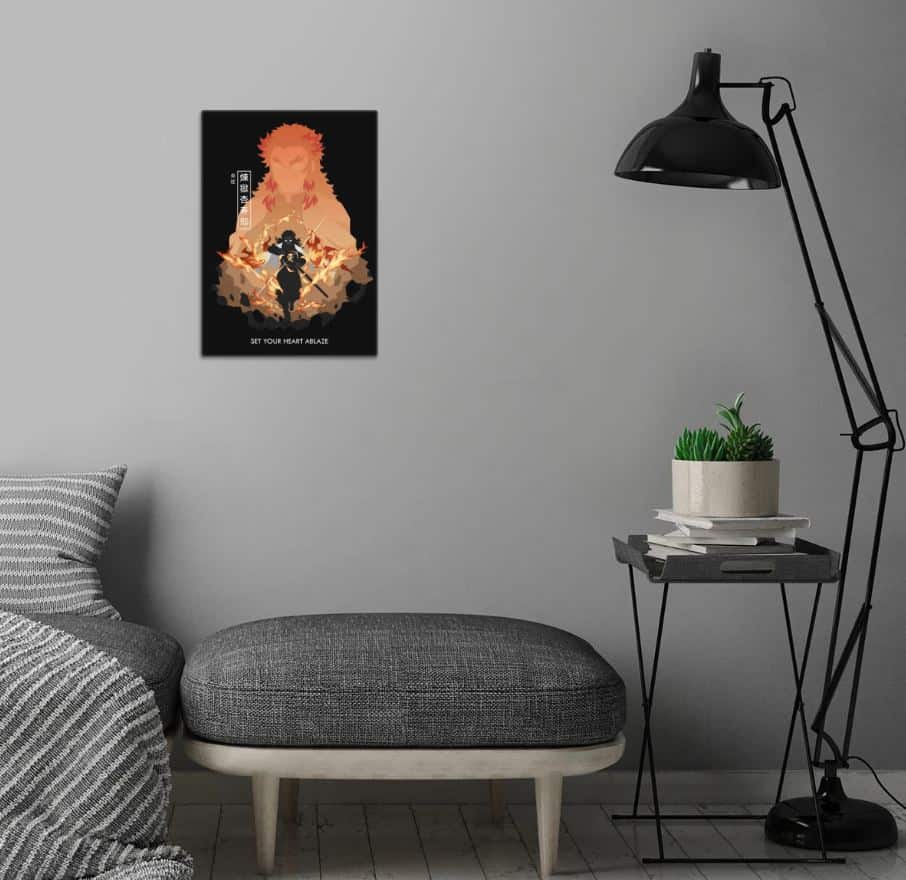 Demon Slayer wall poster is an excellent way to incorporate some life into your otherwise bland walls. These posters come in various sizes, shapes, and forms. Yeah, just like the good ol' Pokemons. Some good quality and popular options, in my eyes, include the Demon Slayer Kyojiro Rengoku Desplate Metal Poster and the Custom Mugen Train Poster.
3D Lamps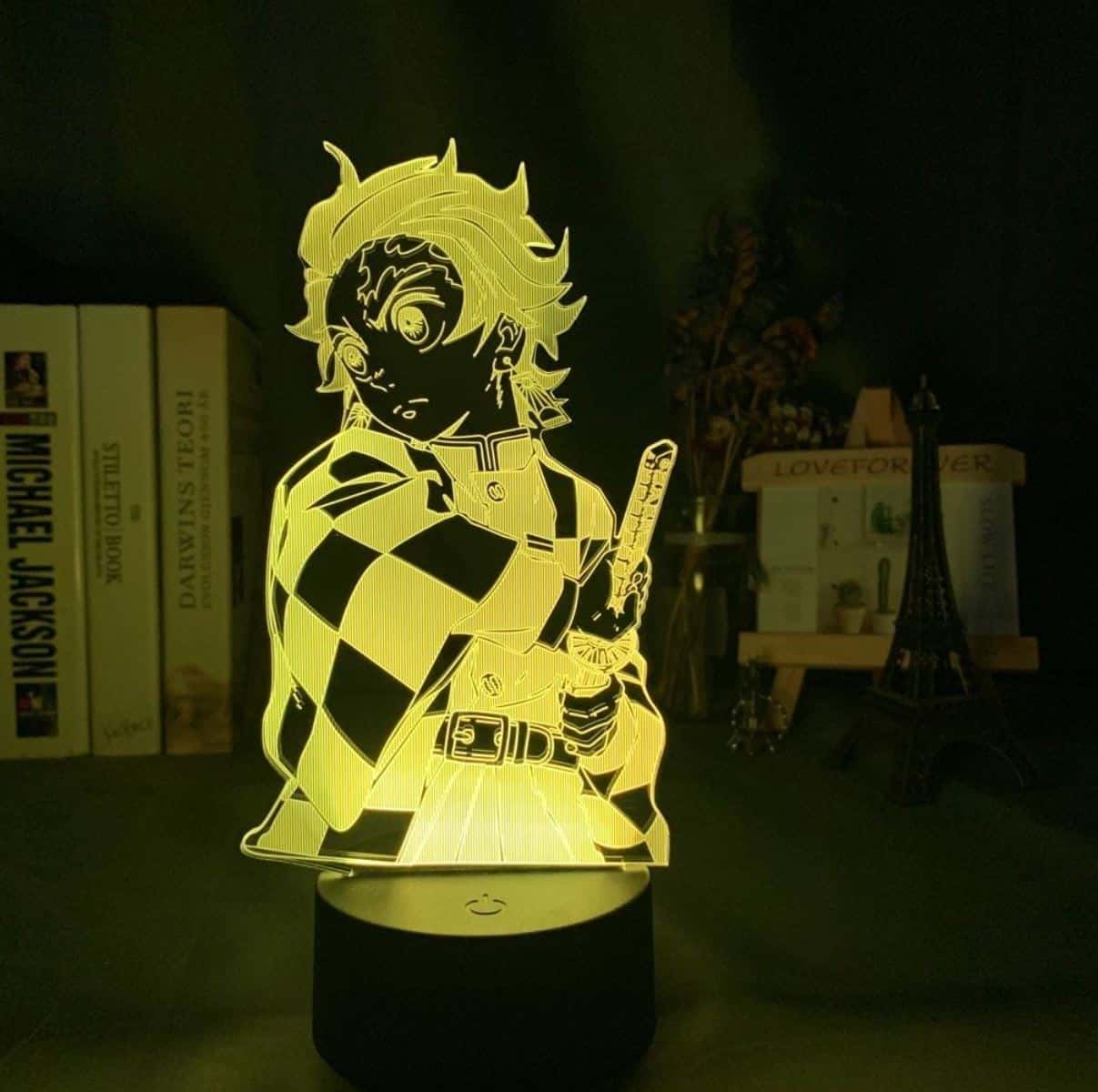 Demon Slayer-themed 3D lamps are something that most fans wish for. Whether it's the beautifully green glowing Kamado Tanjiro 3D lamp or the adorable pink-colored Nezuko 3D lamp, these lamps will never cease to satisfy and amaze you. Of course, you can use the provided remote to change their colors at will! Moreover, you can also find custom lamps to give a more personal touch to your collection.
Best Buying Tips To Keep In Mind While Buying Demon Slayer Merchandise
Even if you are an experienced collector or a new fan, these tips will surely make your trip to the market or online scrolling much more manageable. Use this as a checklist, if you may.
Reach Out To A Dependable Seller
It is a real shame how we must always live in fear of being scammed online when shopping for our favorite merch. Having fun and buying things without being scared of getting scammed has become really hard. So, to save time and money, you should look for a trusted seller who will provide you with the merch you are looking for. 
I have always returned to a few online marketplaces in my long-time of collecting quality Demon Slayer merchandise. Amazon and DemonSlayer-World. Their customer service is just what a shy and speculating person like me needs. Moreover, most sellers there are trustworthy so getting the merch you want is usually pretty simple.
Decide The Amount You Prefer To Spend
For all the fans who decided to keep within a specific budget, carefully categorize the merchandise you will buy according to their pricing and the quality they provide at that price. Price is always a deciding factor while purchasing the perfect merchandise to add to your collection. 
To keep yourself informed about the prices, carefully scroll through different marketplaces to find an estimated value of the budget you need to have.
Analyze Customer Reviews
Fans from all over the globe buy popular merchandise to fill their empty hearts. If you want to have an inventory of excellent quality in your hands, don't forget to consider the reviews and feedback left behind by other buyers. It will help you understand the worth of the merch you are buying and give you an idea of the seller. 
After skimming through the reviews, I suggest looking at the seller's rating. You don't want to take any chances, do you?
My Top 10 Best Demon Slayer Collectibles
Following are my top 10 recommendations from this extensive collection of Demon Slayer merchandise:
#01 Demon Slayer Hoodie Tanjiro, Nezuko, Zenitsu, And Inosuke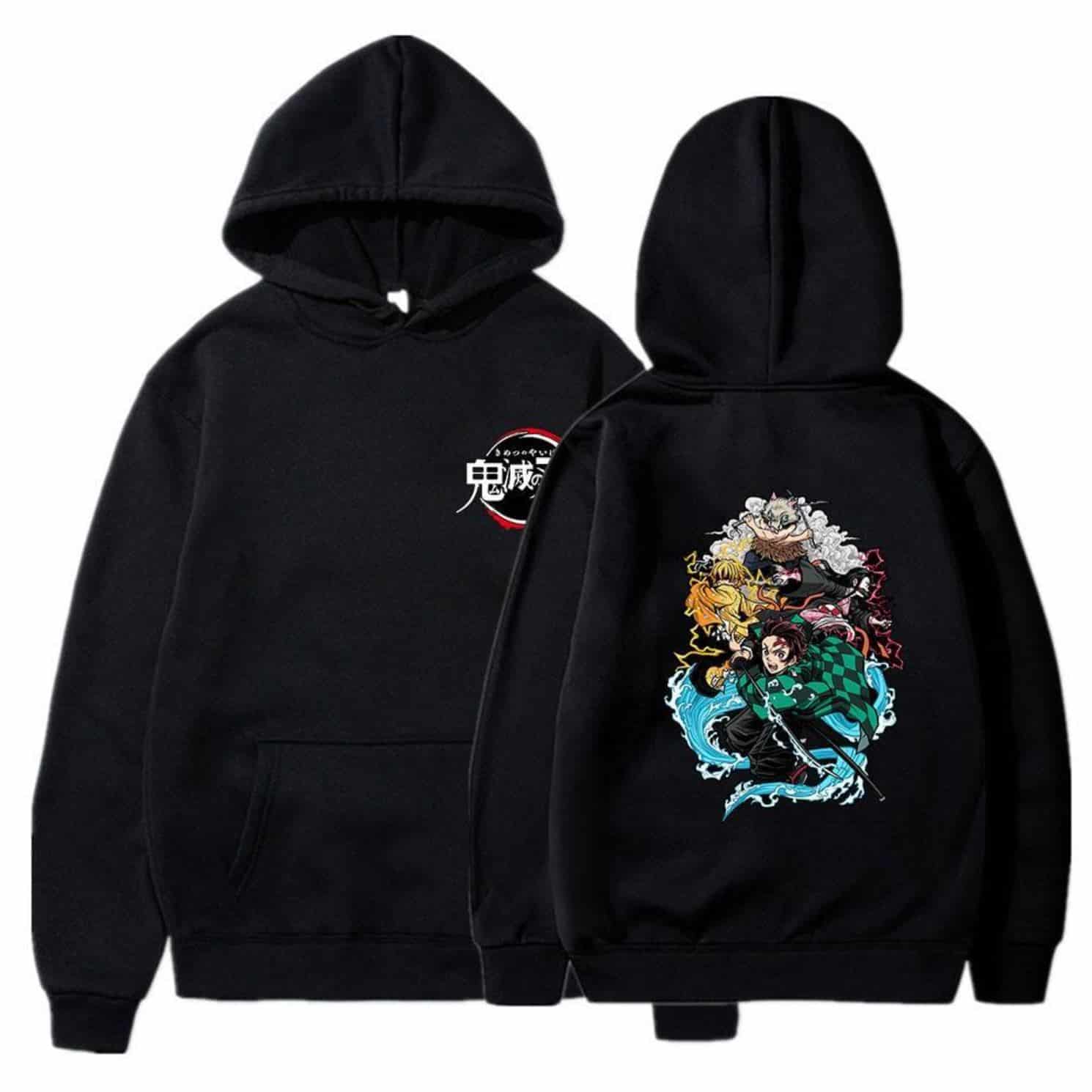 Description:
Most of the hoodies are reliable with better quality and provide a sense of comfort to anyone who wears them. However, reliability is not the only factor that should be looked at when buying a Hoodie.
This Demon Slayer Characters Hoodie will provide you with the uniqueness you never knew you wanted. The poly-cotton fabric will help you fight the intense cold. Moreover, the warm and caring friendship between Tanjiro, Nezuko, Zenitsu, and Inosuke will also warm your heart. 
I believe the characters are printed with excellent quality and accuracy, making the hoodie a delight to wear. Furthermore, the hoodie is available from XS to 4Xl, so no fan is left out. The price tag is also fitting for a demon slayer lover.
Pros:
Delicate, comfortable feeling fabric.

Delivery to your doorstep.
Cons:
Available in only generic colors.
#02 Zenitsu Agatsuma T-Shirt Kimetsu No Yaiba Merch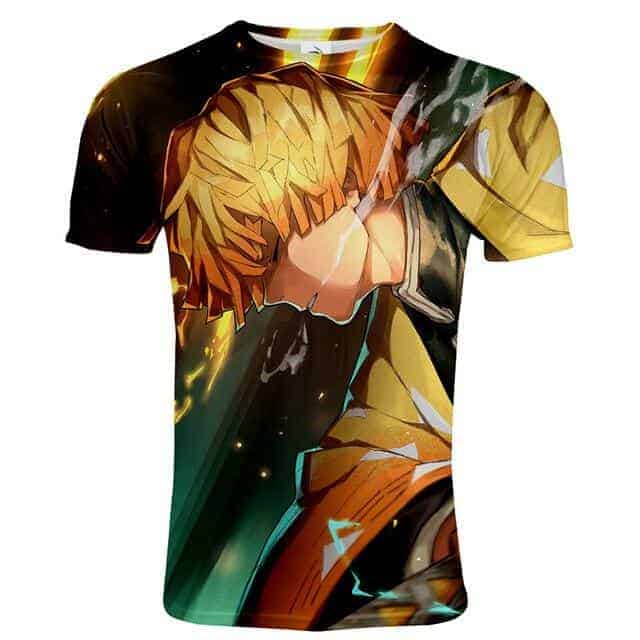 Description:
This T-shirt is a fantastic addition to the vast merch available. The shirt is made with mixed cotton and polyester, becoming a delight to wear in mild heat. Furthermore, the flashy printing of Zenitsu Agatsuma makes me remember his impressive stand against the first demon he encountered. 
It also makes me feel the passion for bringing justice against any wrong act. The shirt has a variety of sizes ranging from S to XXXL. Although it is a fantastic option, I would suggest looking at your pocket as the price tag of 30$ for a T-shirt seems a bit expensive to me.
Pros:
Soft, comfortable fabric.

Unique and flashy design.
Cons:
Available in limited stock.
#03 Demon Slayer Figure Shinobu Kocho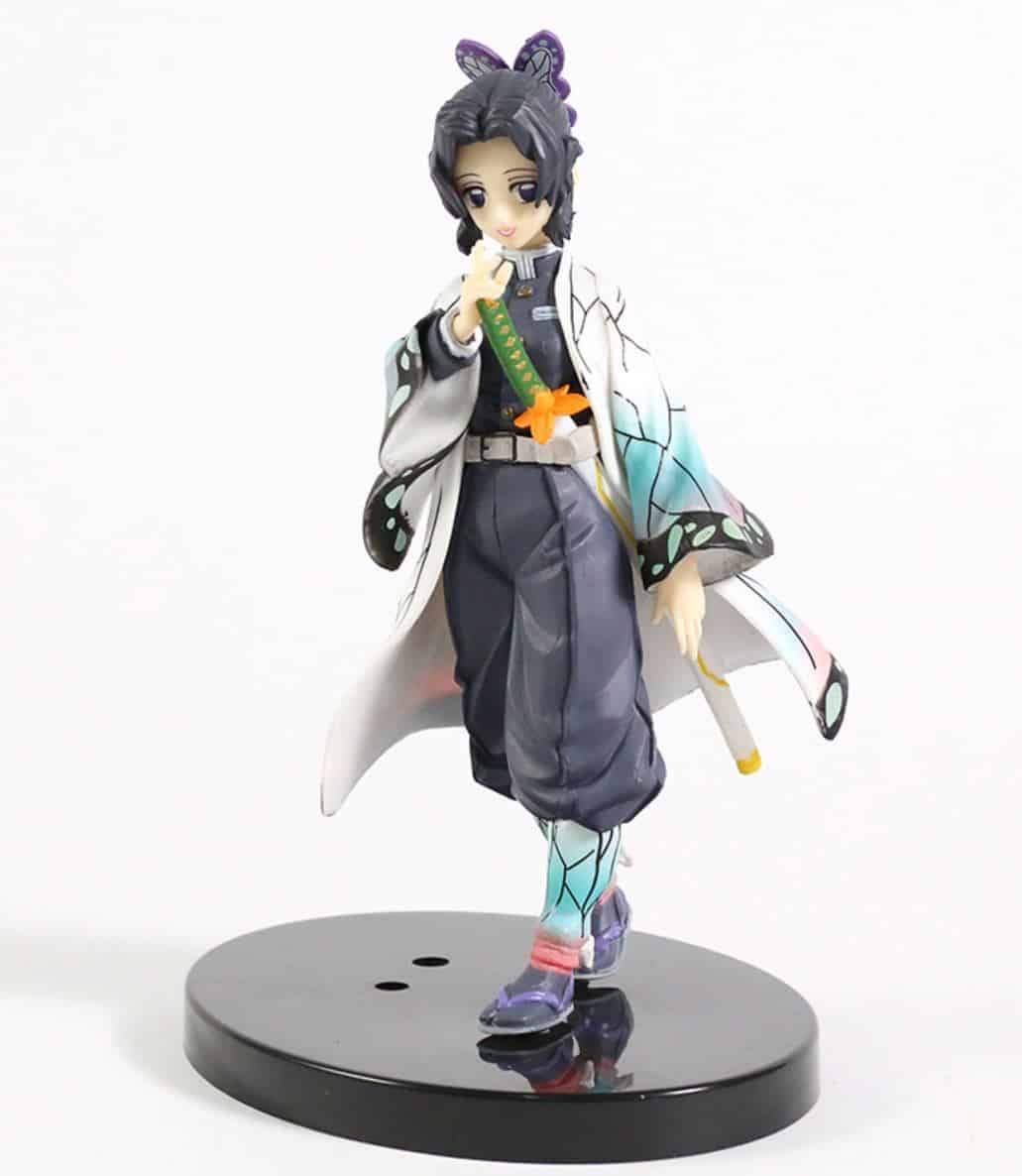 Description:
Figures are one of the most elegant ways to express your love for this beautiful series. What is better than buying a figure of a Hashira to express your allegiance with the Demon Slayer Corps. 
The figure is beautifully crafted to show the insect Hashira in her full glory. The stylish stance she takes to show her elegance is beautifully engraved in this figure. The figure is of the ideal 18 cm size to be placed in any room effortlessly. The premium PVC also justifies its costly price tag.
Pros:
Made with premium PVC.

Suitable to give to the kids.
Cons:
Not a budget-friendly option for fans on a budget.
#04 Kimetsu No Yaiba Tanjiro Green Trucker Hat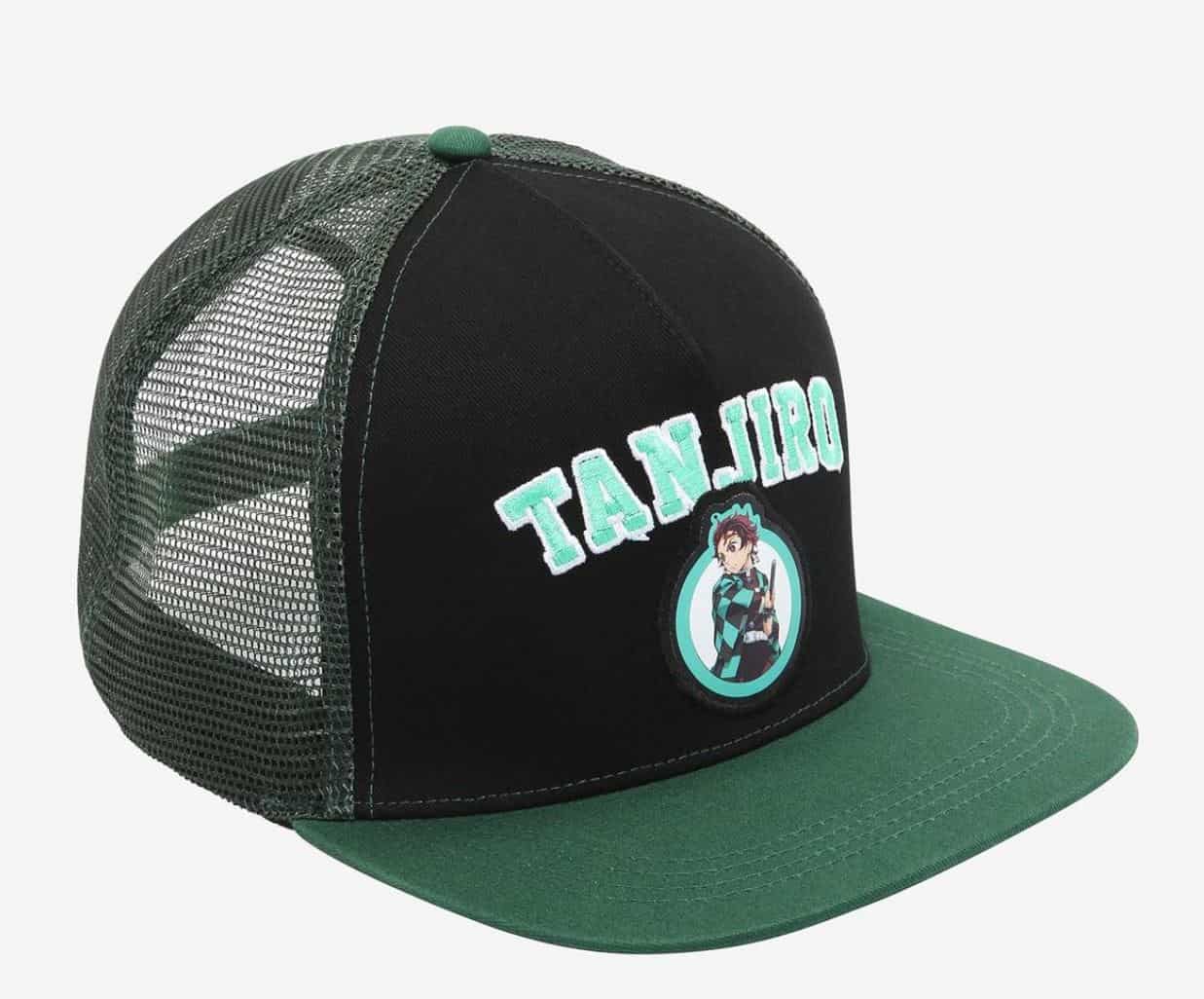 Description:
This Tanjiro Trucker Hat is an excellent option, and the preferred green color gives a sense of comfort to the fans who are in love with Tanjiro. Moreover, this hat is made with soft adjustable cotton. The material makes it an excellent choice for protection against the heat and to keep your head from getting too sweaty on a sunny day. 
Pros:
Soft adjustable fabric.

Simple and adorable design.
Cons:
Not available in physical stores.
#05 Demon Slayer: Watercolor Ramen Bowl With Chopsticks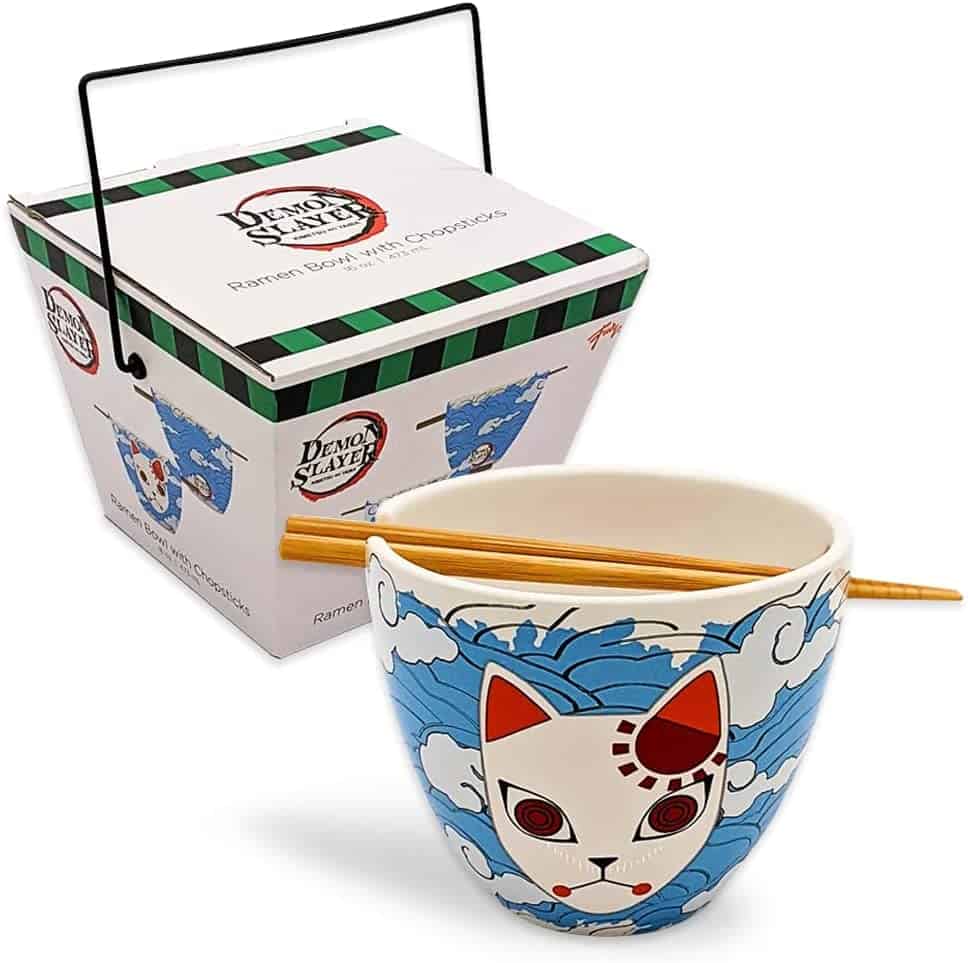 Description:
Every Shonen fan loves ramen and shares this trait with their favorite heroes. A warm bowl of ramen can bring a bright smile to anyone's face. Are you feeling hungry?
Grab some ramen in this Giyu-themed Japanese Ramen Bowl. This bowl will fill any Demon Slayer fan's stomach with its well-thought-out design and quality ceramic. Moreover, Giyu's water fox mask display is an excellent nod to the water hashira. 
The printing is also well done and won't get worn out soon. Your ramen will feel much more delicious as it will be a blast to eat in this bowl. However, this bowl is quite pricey for a fan on a budget.
Pros:
Easy to wash.

Printing won't weather off easily.
Cons:
Too expensive for just a ramen bowl. And I'm saying this as a ramen lover.
#06 Demon Slayer: Nezuko Mini Backpack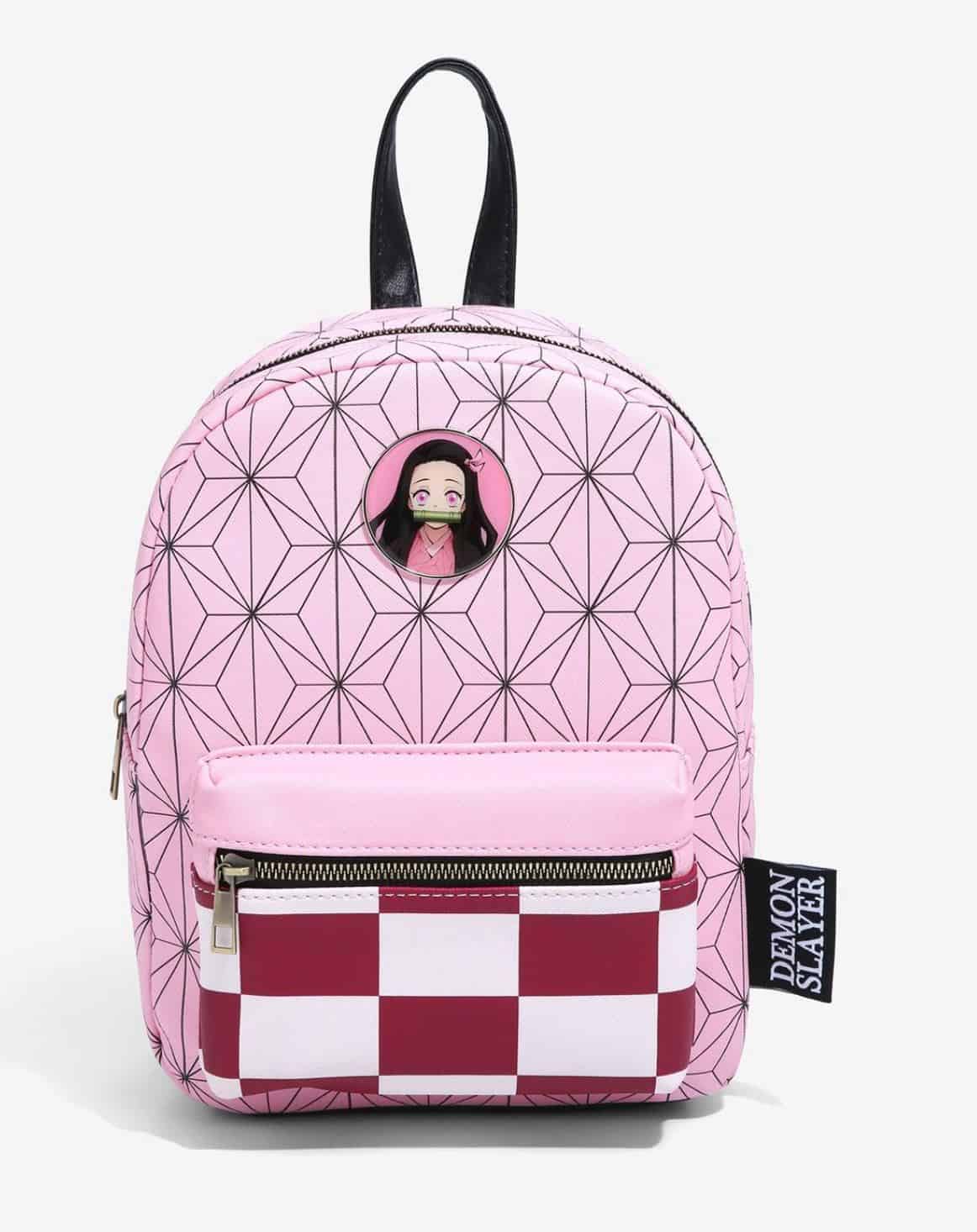 Description:
This adorable mini backpack on presale is worth waiting for. Having a bag with such a pretty face of Nezuko will make any Demon Slayer fan fall in love with the backpack. Moreover, while the backpack can't carry heavy loads, it is well-suitable for young kids. 
It is also presentable to any fan and will surely be the center of the conversation. Furthermore, it's the perfect gift for someone close to you, especially if it is a girl. The cute half-demon is one of the most popular anime characters of all time.
Pros:
Made with quality polyurethane.

Adjustable Straps.
Cons:
The stitching might start to loosen up with time.
#07 Funko Demon Slayer Giyu Tomioka Pop Figure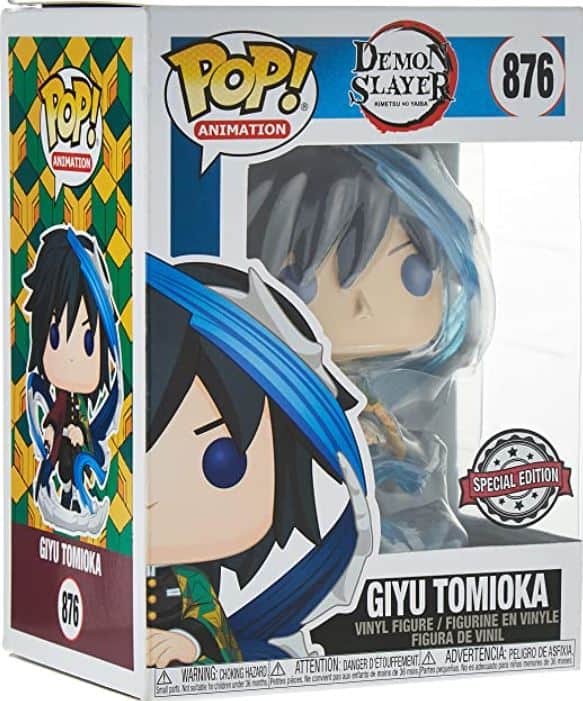 Description:
Giyu Tomioka, the water Hashira with his impressive skills and cool attitude, has gained a massive fan base. This Funko Pop!, even though adorable, accurately shows Giyu's remarkable skills and presence. The water waves surrounding him perfectly frame his tranquil yet lethal presence with which he disposes of demons. This piece is my favorite Demon Slayer Funko Pop! from the collection.
Pros:
A budget-friendly option for Demon Slayer fanatics.

A beautiful display of the Water-breathing technique.
Cons: 
It's best to get it while you can. I believe this will soon be out of stock for good, like many other popular vaulted Funko Pops!
#08 ABYstyle – Demon Slayer – Mug-320 ml – Pillars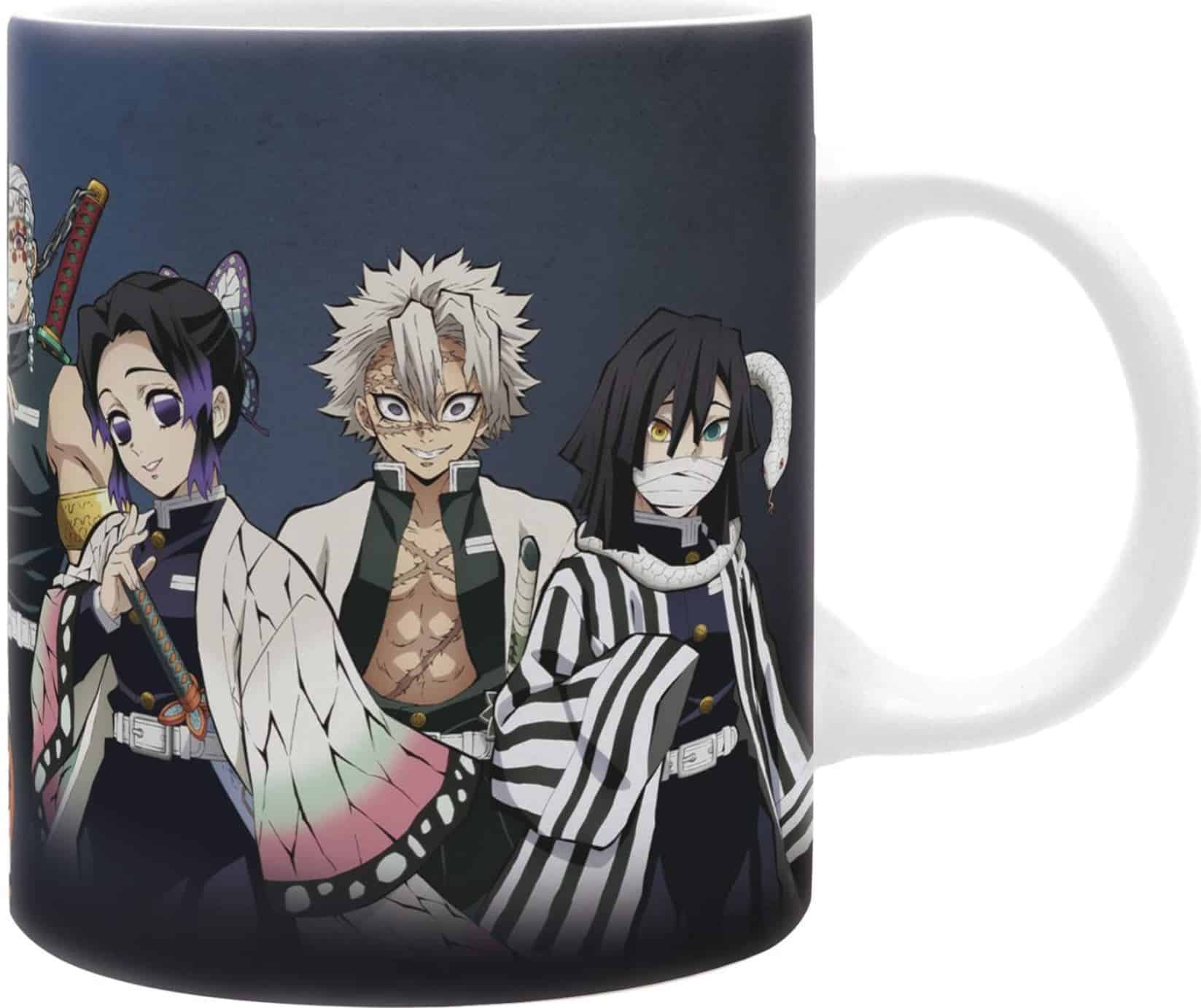 Description:
I'm a big fan of collecting coffee mugs; however, I often use them for other beverages. To me, fashionable mugs act as unique home decor pieces and conversation starters whenever I have them on display on the kitchen shelf or my desk.
This mug's design features all the hashira from the series giving it a mesmerizing look that takes you back to epic moments associated with every single one. From Giyu's introduction and Kyojuro's death to Uzui's epic battle in the entertainment district, the design brings everything back to the memory. This 320 ml mug is a must-have for any Demon Slayer fan.
Pros:
Dish-washer safe.

Made of ceramic, so it will keep your mug hot.
Cons:
The printing on the mug may vary from the pictures.
#09 Demon Slayer Kimetsu No Yaiba Mugen Train Wall Poster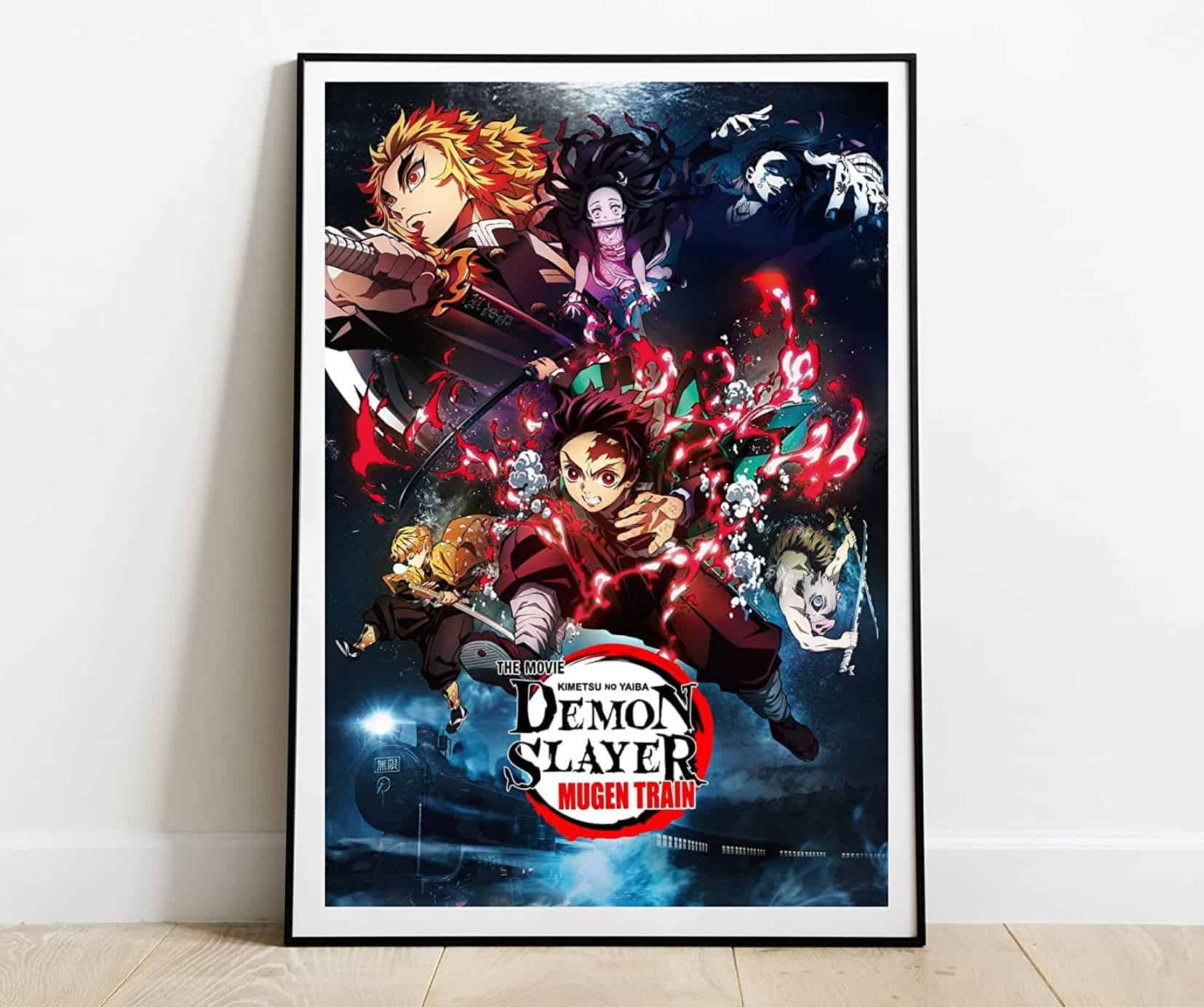 Description:
The Mugen Train Arc even brought real men to tears. Going on a journey with the flame Hashira was a thrilling ride from the start to the very end. This wall poster has the perfect art to show what goes through the whole arc. From the villain to our young heroes, every character presented in one artwork is a treat to own.
Furthermore, what's even more incredible is the printing on the poster. As it is a premium quality eco-friendly product, it won't fade away anytime soon. And when it does, it won't cause any harm to the environment. 
Pros:
Great gift idea.

It can be customized.
Cons:
Unsafe from UV light.
#10 Demon Slayer Zenitsu Concentration Breathing Phone Case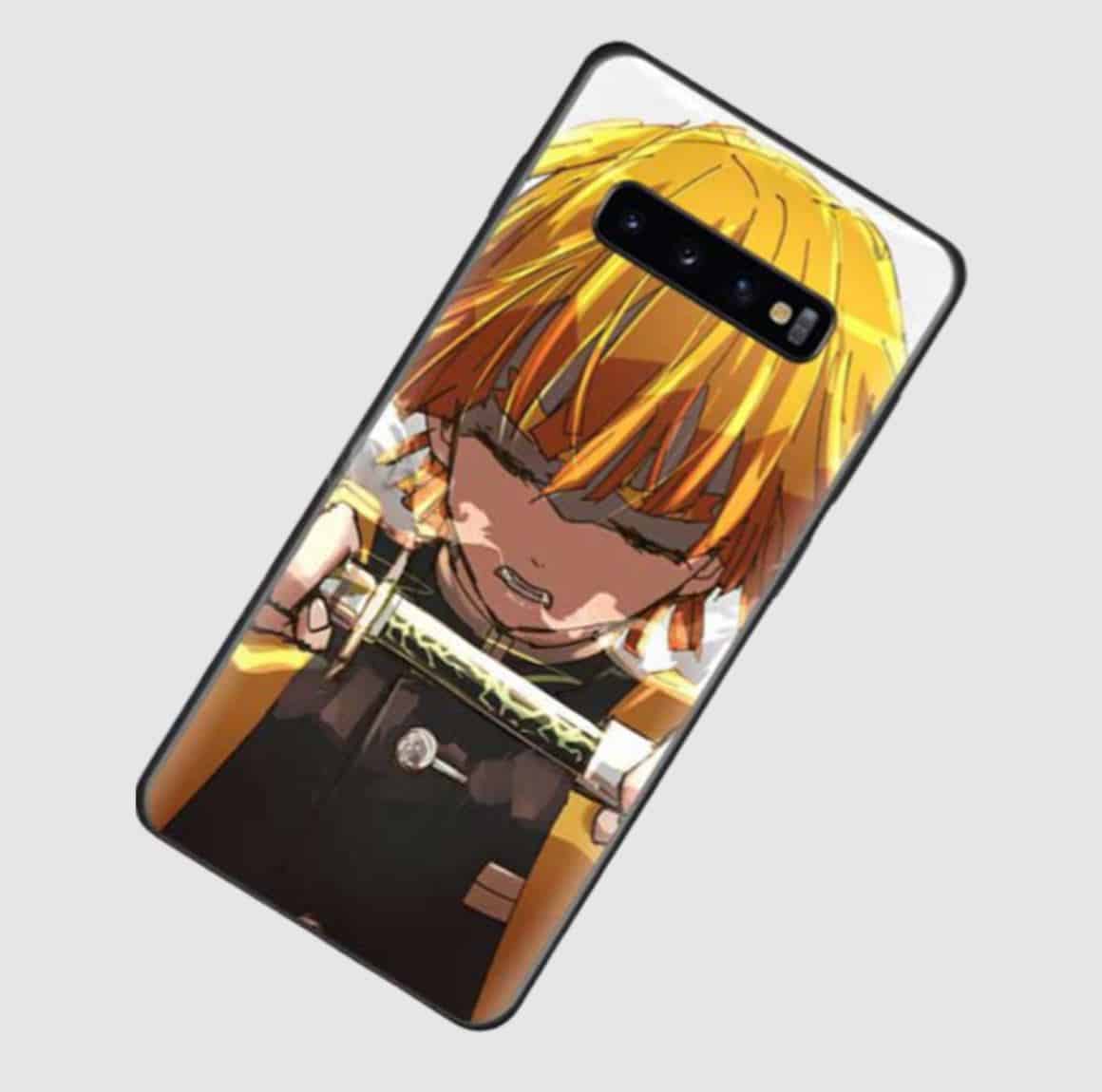 Description:
While there are many great options to choose from regarding Demon Slayer-themed phone cases, I chose this one for the sheer epicness of Zenitsu's fighting style. One form, a billion ways to kill; that's the way I like to describe him.
This Zenitsu Concentration Breathing Phone Case shows Zenitsu in his sleepwalking demon slayer GOD mode with perfect concentration breathing. The moment still brings a nerdy smile to my face. This case is perfect for sending chills to even the strongest of demons. This will protect your phone with lightning powers. The anti-fingerprint material and high-quality TPU will also save you from the headache of smudges.
Pros:
Officially licensed merchandise.

Anti-fingerprinting case.

30-day money-back return policy!
Cons:
I don't see this design in phones besides Samsun and iPhones.
FAQs
Question: What is the best website to buy good quality Demon Slayer merchandise?
Answer: Online Shopping Store has become a vast marketplace nowadays. However, although many websites look appealing, they are not trustworthy. In my opinion, Amazon is the best option for your Demon Slayer merchandise.
Its reliable service is something that not many websites offer. The best thing is that you will find both official and unofficial merch there.
Question: Is the Demon Slayer merchandise in Japan cheaper than in other regions?
Answer: Yes, in a way. As Japan is the country of origin of the Demon Slayer series, many manufacturers produce its merchandise at competitive rates. So the merchandise, if bought directly from Japan, is much cheaper. 
However, shipping costs from Japan and other taxes generally increase their overall price. Therefore, if you live outside Japan, going for the Japanese Demon Slayer might be more expensive than the locally manufactured products.
Question: Are there any customizable options available for the Demon Slayer merch posters and wall hangings?
Answer: Demon Slayer provides a wide variety of wall posters for your liking. Yes, these wall posters also include customizable posters or wall hangings. You just have to give the seller the instructions, and you are all set.
The Best Demon Slayer Merch Guide: Summing Up
Overall, being a mainstream series, Demon Slayer has an extensive collection of merchandise and a massive fan base who wants to buy it. Furthermore, this merchandise will only increase in scale and has something for everyone. 
However, don't blindly step into this challenging journey as there are as many scammers as honest retailers online. Buying from a dependable seller and considering customer reviews are some tips that will help a Demon Slayer merch hunter to face this long journey head-on. 
My favorite product from the Demon Slayer merchandise is the Zenitsu Agatsuma T-shirt. Although Zenitsu is a scaredy-cat right now, he will become an awesome Hashira someday. Happy shopping!
Recommended Reads: