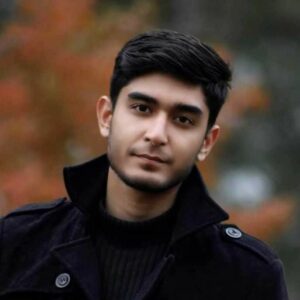 Latest posts by Asad Mehmood
(see all)
"I can't develop feelings. That's how most idiots screw up." – Light Yagami.
After first watching the series in 2012, I began collecting every bit of Death Note merch I could get my hands on. And with time and a lot of my savings, I could buy most of the Death Note collectibles. And amongst these collectibles, what drew me most towards the series was Death Note Funko Pops.
At first glance, you may think the storyline and dark persona may not resonate with Funko Pops. That's where you're wrong. These Death Note Funko Pop have a unique art style, making them stand out in my Death Note collection.
And the lack of detail on these figures makes their murky and mysterious persona a little more palatable. And who am I kidding? They are some of the most adorable pieces of merch I have seen. 
Well, if you're in the market for buying Death Note Funko Pops, this Funko Pop guide will help you. In the following passages, I will not only be sharing my tips and trick for buying Death Note Funko Pop. But also mention my top picks in this category. So go sit at your study table and grab your nearest death note because this will be a killing spree!
The Best Death Note Funko Pop Guide: Bottom Lines Up Front
Although the Death Note Funko Pop collection offers a couple of options, my favorite is the L cake piece Funko Pop. As the name applies, it is L eating a small piece of cake. It reminds me of his habit of eating many sweets and sends me down into giggles whenever I remember his tasteless but amusing jokes.
It also makes me cry, reminding me of how well-executed his story was. I never cease to be amazed at how these emotions could be packed in such a small container. Following are some more of my picks that you should add to your bucket list:
My Top 6 Death Note Funko Pops At A Glance
An Avid Online Shopper's Buying Guide: Tips, Tricks, And Advice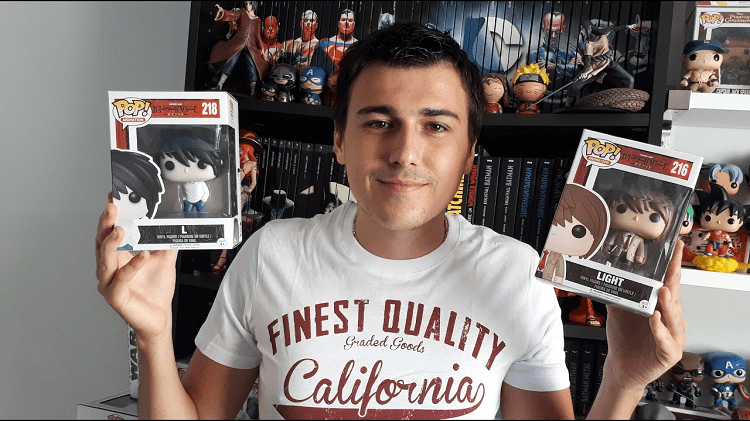 With my years of experience with Death Note Funko Pop and seeing my collection of these figures, I would be lying if I said it was easy.
I made many mistakes and problems while hunting these figures and have learned some workarounds that can make your journey much easier. So, follow me down this rabbit hole and keep an eye out for any juicy tips that may be headed your way:  
Avoiding Unlegit Or Fake-Looking Market Places
When I first started to buy Death Note Funko Pop online, the most common problem I faced was finding fake and unlicensed stores. And I admit that their huge discounts and offers aren't easy to resist.
But remember my words; those are not as good as they sound. Most of these unlicensed stores offer poor service, and the build quality of the Funko Pop is also not good.
But that is if you receive your Funko Pop, as many fake stores provide no guarantee. And so, despite the high prices of many licensed stores, I still recommend them due to the quality and service they provide. Some authorized and well-known markets I prefer are Amazon and Walmart.
Buying Used Or Preowned Funko Pop
When it comes to a budget, most of us are pretty restricted. Finding myself in the same shoes, I decided to buy preowned Light and Ryuk Funko Pops. And if you don't mind minor scratches on your figurines, going the pre-owned route for your Death Note, Funko Pops, can be a great option.
As these are collectible, you can find many resellers for them on eBay. And most of these are in mint condition, anywhere from 30-40% cheaper than their new counterparts. However, I would advise you to find a prominent supplier to enjoy a smooth and hassle-free experience. 
Buying Funko Pop From Retail Shops
With the ease that many online marketplaces offer, many Gen Zers may not know of this option. But in my opinion, this is still the best way of buying Death Note Funko Pops. The reason being, with retail shops, you know what you're getting. 
With the surge of online shopping, many sellers post misleading images on their listings. This can be easily mistaken for something very high quality and can be nothing like the actual pictures. With retail shops, you don't have to worry about all this, and you can just focus on what is essential, i.e., buying your hero, be it L, Light, or Ryuk. 
My Death Note Funko Pop Top Picks Selection Criteria
While there are many things you should keep in mind when buying Death Note Funko Pop, below are my main criteria for selecting these Death Note Funko Pops.
Its popularity amongst Death Note fans.

Availability in online and retail marketplaces.

Overall build quality.

Grasping the character's original vibe.
Official Death Note Funko Pop! Picks
With only four Pops Available, the Death Note Funko Pops merchandise is pretty limited, to say the least. Still, this scarcity adds to the value of each piece and makes them prized collectibles for the fans of the 2006 series.
All four Pops from the collection are passionately explained, classified, and linked to online sellers. If you are planning to get your hands on one, make sure to give it a thorough read.
#01 Pop! Death Note – Ryuk Anime Series # 217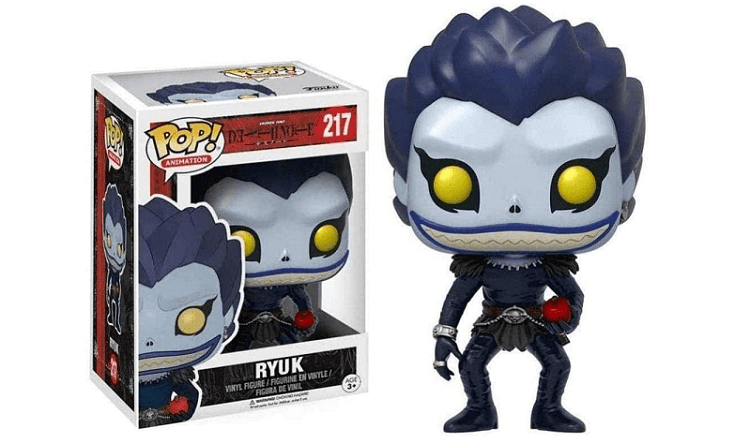 Regarding Death Note Funko Pops, very few are as unique as this Ryuk figure. And what makes it all the more special is the funny but sinister personality it portrays. As a fan of the series, I had many questions about Shinigami's and their origins.
But as these were never answered in the series, the closest thing I found out was Ryuks Funko Pop. Its wild smile and blue hair answered many of my questions, and I would stare at it for hours, trying to figure out Ryuks true intentions. Still, even the Funko Pop wasn't ready to reveal anything. 
This figure does remind me of how Light and Ryuk were united and how their departure only ended with one dead. And the included apple was just another piece that makes this Funko Pop more immersive. It takes me back to when Ryuk would beg Light to give him an apple. This, in turn, brings his childish persona, which especially resonates with this Funko Pop.
The attention to detail of this Funko Pop is also uncanny, which always leaves me amazed seeing it on my study table. Its Polyvinyl build makes it non-toxic, so I wasn't too worried when one of my younger brothers started to chew on it. But that incident did leave my Ryuk figure with a little less face paint. 
Its 3.75-inch height and lightweight were also a plus point. That made it easy for me to manage and move around in my showcase, even sometimes sneaking it into my school. The relatively low price wasn't too heavy on my small budget, making it one of my best purchases ever.
Pros
Relatively low price, not too heavy on the pocket.

Excellent visuals, true to the series.

Soft-touch finish and a good quality Vinyl build.
Cons
The finish can easily be scuffed or scratched. 
#02 Funko Pop! Animation: Death Note – Light Yagami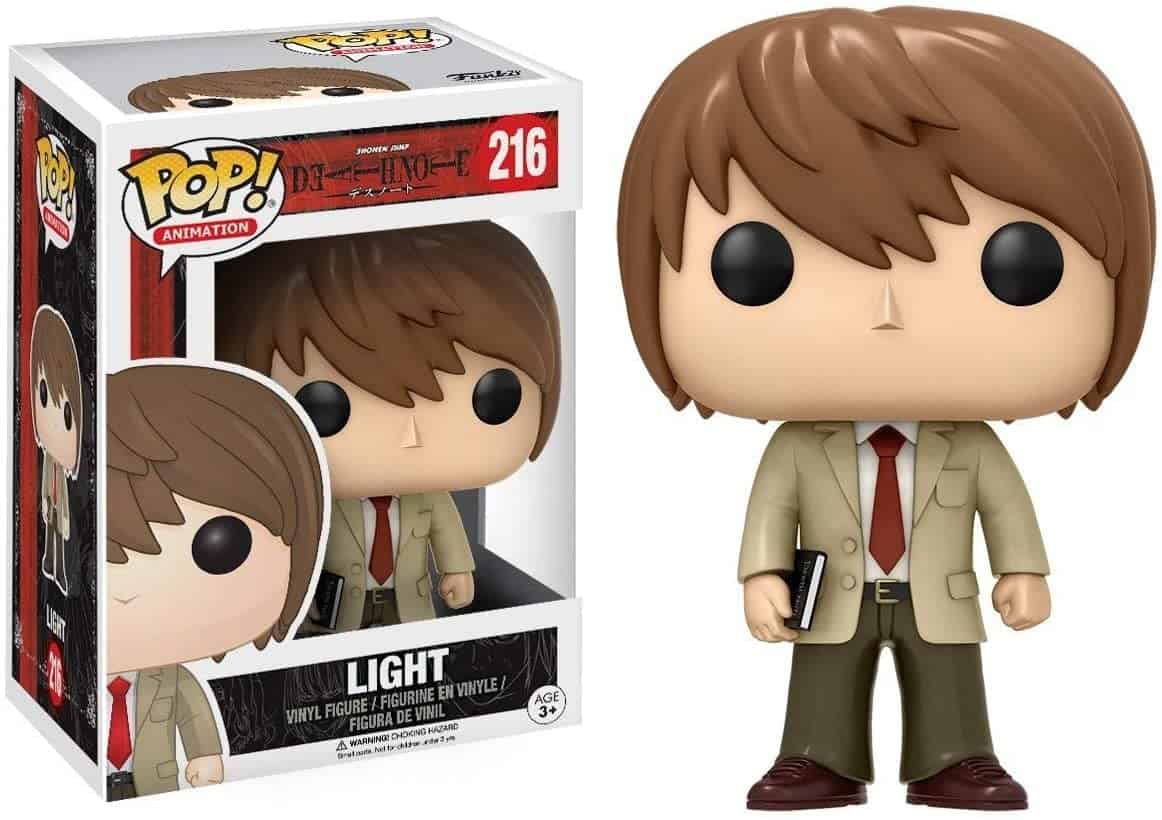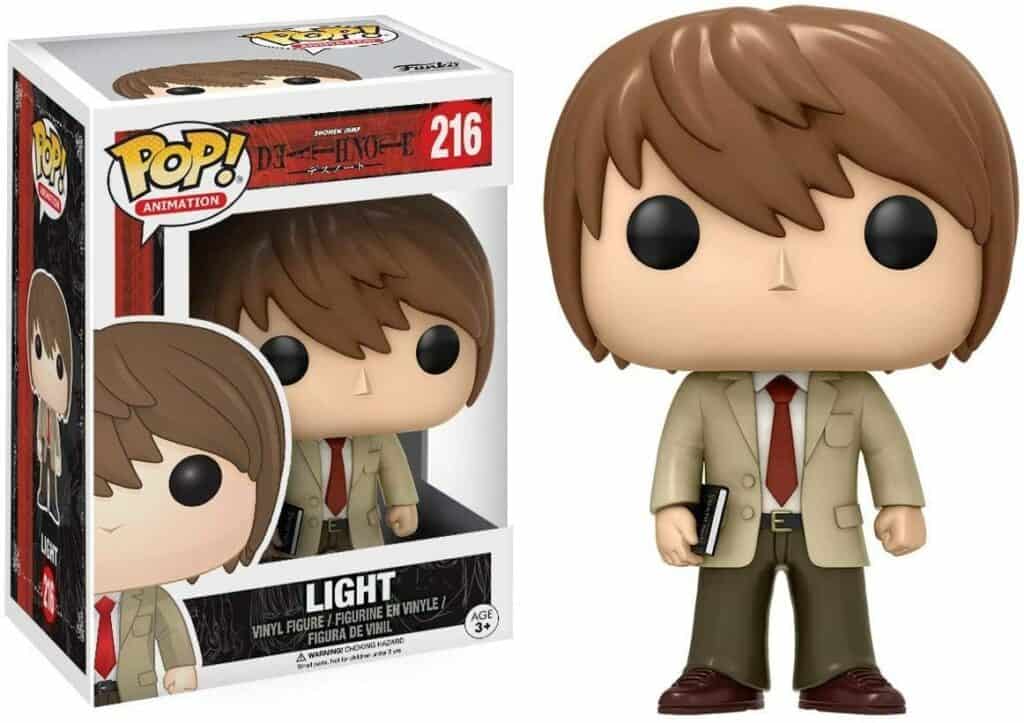 Would somebody even call it a Death Note Funko Pop collection without the main character Light Yagami in it? Light possesses one of the most unpredictable but clear objectives. And the resolve he carries makes this Funko Pop all the more enjoyable. 
Watching the series, I was always amazed at how intriguing and well-thought-out the plans Light would come up with were. And having the same great mind in a small package like Funko Pop was a dream come true. But let me break some bad news, this Funko Pop is not easy to find. And as it is vaulted, most resellers sell it at extremely high prices.
But the hefty price is almost worth it, especially after the attention to detail it captures. It comes in Light's uniform, which he wears throughout the series. And even his pale brown hair is perfectly seized in this Funko Pop. The messiness on the hair reminds me of the times when Light was overwhelmed and made minor blunders. But his stance gives it a more confident look, assuring me that Light will come through what happens. 
Its large black eyes also make up a perfect combo as it allowed me to peek into his dark and gloomy mind. But don't stare at it for too long; it may just convince you to join him in his reign of terror. 
Although this Funko Pop lacks a mouth, let me say that it would not even need it, having the Death Note beside him. The book is bonded to the figure, so I wouldn't recommend trying to take it out of his hands. Believe me, I have tried. The finish on the Funko is also excellent. Still, it is vulnerable to sunlight, as the paint on my Funko Pop was almost flaked away when it was in the out for too long.
Pros
Outstanding attention to detail.

A perfect depiction of Light Yagami for all his fans.
Cons
It comes in a very high price bracket.
#03 Funko Pop Death Note – L with a Cake Vinyl Figure #219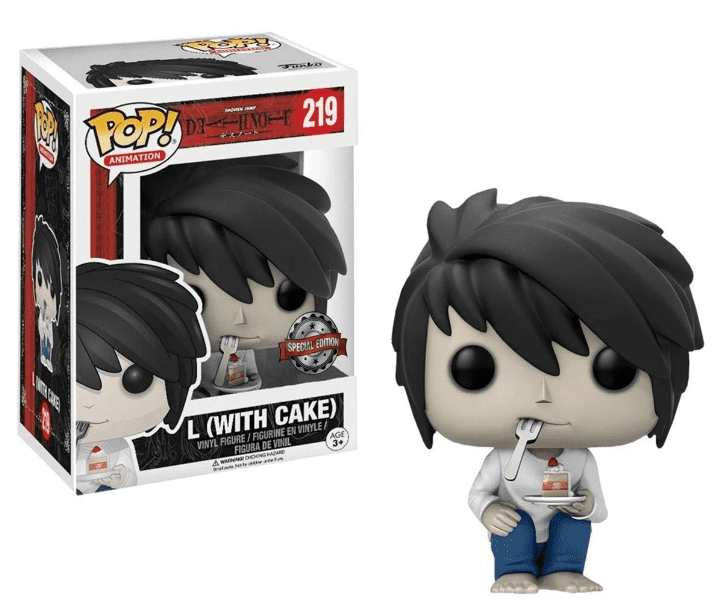 Now let's talk about my favorite piece of Death Note Funko Pop. The one Funko Pop I would recommend to almost every Death Note Fan out there is no other than the L with a piece of cake, Funko Pop.
Many figurines portray L's character in his cold and bland nature. But very few can do justice to his loving and funny side like this Funko Pop. It features L sitting in a rather peculiar stance, something quite familiar with fans of Death Note. And while doing that, he is eating a piece of cake. Who would not want a sugar rush while finding Kira!
This overall look of the Funko Pop reminds me of his love for sweets. In addition, it also has a certain charm that can quickly enlighten many Death Note collections. And I can talk with experience that it is also a conversation starter amongst Death Note fans.
I remember bringing some friends to my room to show off my marvelous Funko Pop collection. And let's just say this Funko Pop was the first one they asked me to unbox, which I obviously didn't. 
Another thing, I was amazed by this Funko Pop's detail to the cake that even a charry on the top, adding something unique to the mix. This Pop also comes with free shipping, so you don't have to worry about adding it to the final cost.
The build of this L Funko Pop is also relatively lovely. But I think the finish could have been a little more precise and better, especially considering its high price.
The exterior paint started to deteriorate and flaked off as time went on, especially at its feet and fork. So, if you plan to keep your Funko Pop for longer, I recommend giving it a primer coating. It helps with the flaking issue and gives the figure a more shiny finish.
Pros
An uncanny look to actual L.

It comes with free shipping.
Cons
The finish flakes off with time at certain parts.

High prices can be challenging to manage on a tight budget.
#04 Funko Pop! Animation: Death Note L Standing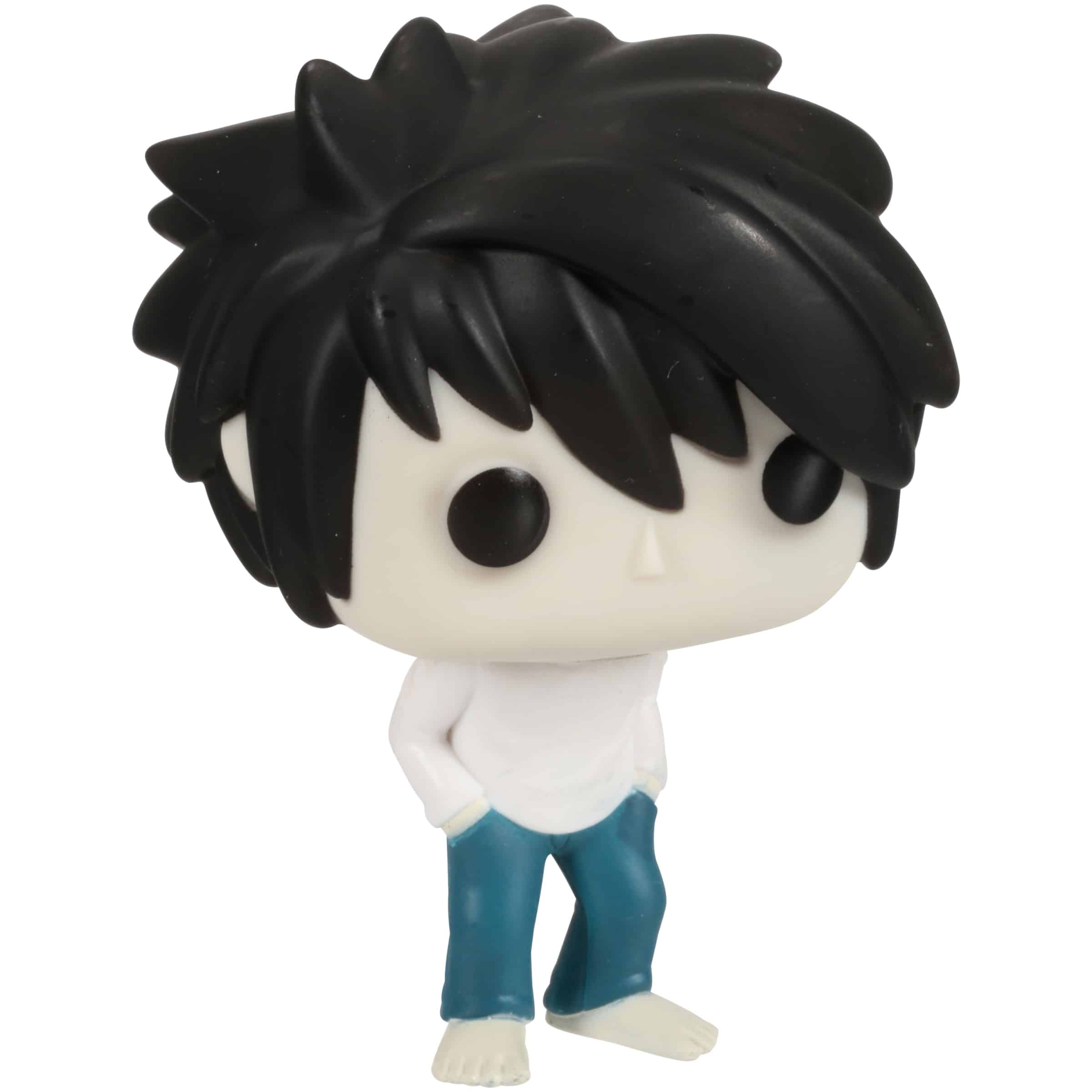 L had a contrary perception among Death Note fans. He may have just started as a villain in the plot, but I quickly admired him through his dedication and honor. From the first look, L possessed a somewhat disheveled and languid appearance, which led me to believe he would just be a pawn in Light's grand plan. 
But as the story progressed and L's intelligence and deduction skills started to unfold, I couldn't find a better competitor to Light. From its lucid appearance to its lack of expressions, these are some perks that make this L Funko Pop unique. Giving it the love and admiration it deserves. 
The figure is seen standing relatively calmly, reminding me of his well-collected personality. And the hands in the pocket are another thing that makes the figure much more intimidating.
In this Funko Pop, L is wearing his bland and blank attire, a nod to his expressionless demeanor. And the messy hair makes it all the more faithful to the series. I would wipe out this collectible during parties and pretend to be L. And just like this Funko Pop, I would just act cool and calm. 
Its 0.25-pound lightweight and 3.75-inch height make it a toy to play with. However, the paint on the figure is relatively rough, a bummer, especially after paying more than $150 for it. Still, it does come with reasonably good packaging and provides free shipping, which helped chip away some of the cost, or that's what I like to think.
Pros
Light and compact design.

Good Quality box and packaging.
Cons
Very high price.

Rough finish, especially at edges.
Custom Death Note Funko Pops!
Usually, when a Funko Pop! collection has limited figures from the official sources, the fan base rises and adds to the empire. However, this is not the case with Death Note, perhaps due to the show's much more serious and stern theme. Regardless of everything, as a collector, it is always ideal to have a few more options when looking to expand your collection.
I scored the internet for days but couldn't find one pre-made purchasable custom Death Note Funko Pop! What a shame. Still, I didn't lose hope and finally came across these two unique designs, which can be shared with Custom Funko Pop! makers to reproduce for yourself even though not available for purchase. And I know just the shop for that!
Take a look at the options below to spark your creativity and head straight to the custom Pop! makers to turn them into adorable realities.
#01 Funko Pop Death Note Custom Light Yagami With Red Eyes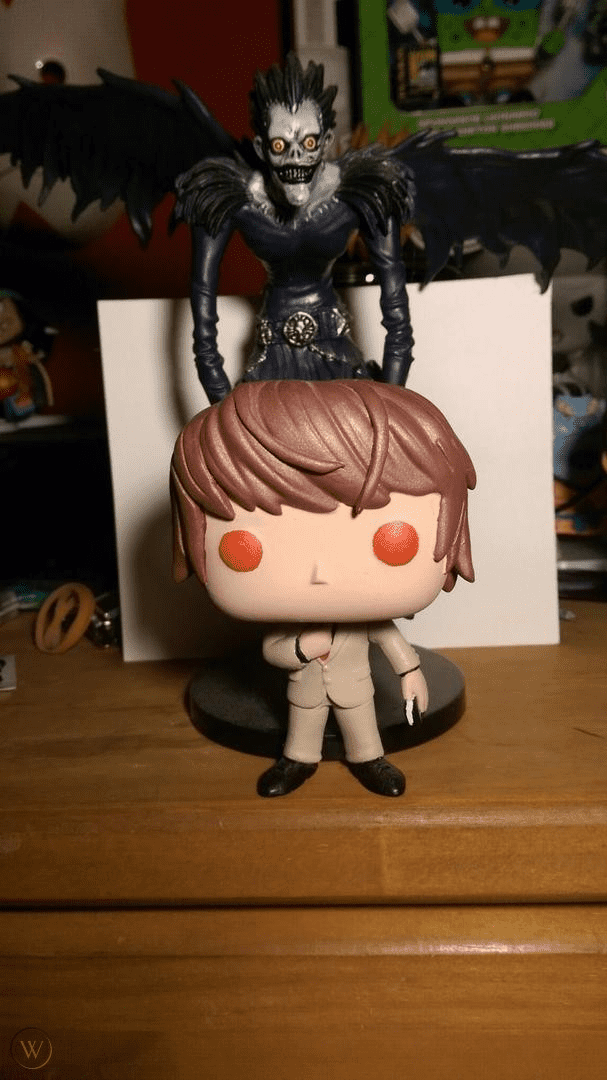 Are you bored of the same old Light Yagami Funko Pops and want something unique and elegant in your collection? I may just have the best thing for you. Introducing this custom-made Light Yagami in a beige suit and a stare that could peak in your inner soul.
It features large red eyes and a relatively smug look that brings fear into his foes. And the addition of a full beige suit was also different from his usual attire.
This version of Light Yagami reminds me of his proud and ignorant personality. A thing he picked after learning the secrets of the Death Note. The well-combed and groomed hair gives this Funko Pop a more sophisticated look. Making it less of a toy but an entire-blown piece of art. 
We can also see it holding a custom Death Note in its left hand, reminding me how it became a crucial part of his life. Where he cant even leave it for one second, something perfectly replicated by this Funko Pops tight grip. And the overall build quality brings just another hint of perfection to Light's already overwhelming presence.
I also really like this figure's custom design, which you can easily customize and order through this service. You can share its picture, and that's it. The service will make and paint the Funko Pop for you and deliver it to your doorstep. 
And the rates they offer are also pretty competitive. For example, for this Light Yagami custom design, I paid around $110, which is way cheaper than what you would be paying for an official licensed Death Note Funko Pop.
Another perk attached to its custom nature is that you're not stuck with one design and can easily tweak small things according to your liking. Keep in mind Light won't prefer that!
Pros
Custom design, easy to tweak.

High build quality.

Relatively cheaper than official licensed Death Note Funko Pop.
Cons
A bit of a hustle for fans not familiar with custom Funko Pops.
#02 Light Yagami Custom Tuxedo Funko Pop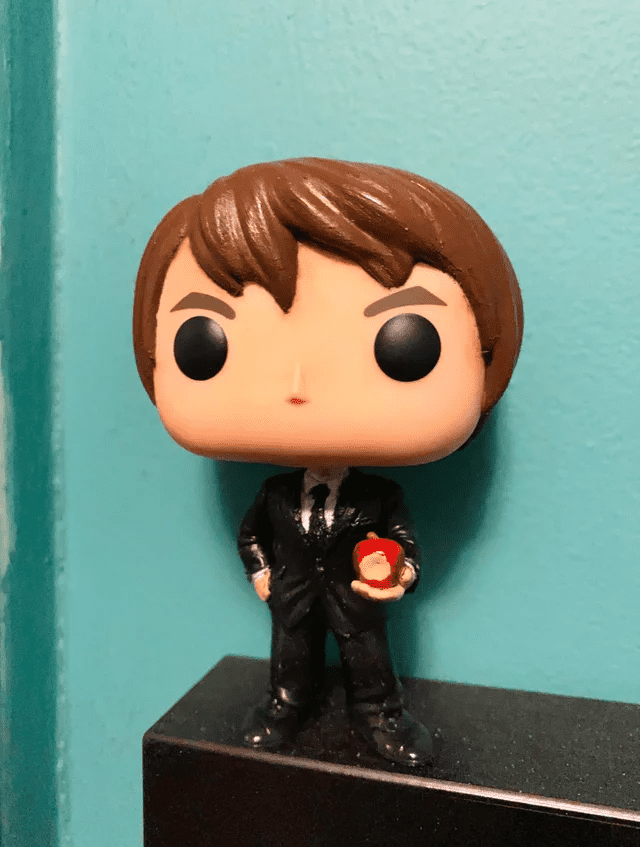 This is another Custom Death Note Funko Pop piece that caught my eye. This figure features Light Yagami in a more formal and gentlemanly look, with a black Tuxedo and well-combed hair. This helps give Light a certain level of attractiveness that makes it all the more likable.
Throughout the series, we see Light as more of a villain; this is even more prominent with this Funko Pop. Everything amalgamates into a dark aura, from his large black eyes to the minor facial expression details. That is very difficult to ignore, even from a distance.
The glossy finish gives the Funko Pop a certain spark, bringing it to life. And the bitten apple in his hand brings up many questions. Is Ryuk present in the picture, or has Light curbed into Ryuks love for apples? Or does it have something to do with Steve Jobs? I think these are some questions we might never find answers to.
But due to the handpainted nature, the finish on your Funko Pop may vary depending on the custom Funko service you use. I recommend this service provided by Brian, experts at recreating custom Funko Pop designs. You just have to share a png image of your chosen design, and he will recreate it for you. The final rates, of course, depend on the amount of detail you want.
Pros
Quick delivery.

Light and easy to store.
Cons
Does not offer a fixed price, depending on the details you want.

Expensive delivery charges.
FAQs
Question: Why are Death Note Funko Pops so Expensive?
Answer: The official Death Note Funko Pops are pretty expensive because these are vaulted figures. This means these aren't manufactured anymore, due to which many resellers sell them at higher than MSRP rates. These were also manufactured in insufficient quantities, and thus, this increases their rarity, making them even more expensive.
Question: Are Death Note Funko Pop Suitable for Children?
Answer: As Death Note Funko Pop's tends to be very vibrant and colorful, many kids and teens will find them very appealing. And their soft-touch finish also avoids any sharp edges, so it's safe for kids. Although they don't feature small, removable parts. But due to their small and compact design, they can still pose a choking hazard for kids under 3.
Question: Are all Death Note Characters Available as Funko Pops?
Answer: No! Only a few characters were lucky enough to be made into Funko Pops. These characters include Light, L, and Ryuk. Although due to its massive and talented fanbase, you can also find custom-made Funko Pops. You can buy them on eBay or design your own through a third-party manufacturer.
The Best Death Note Funko Pop Guide: Wrapping Up
Death Note is one of the best-written stories in its genre. It hints toward the problems of modern society and allows for a makeshift vent from its sorrows. Funko Pops' unique visuals and designs give the relatively dark story a hint of joy and happiness.
But deep inside, they still possess the same lucid background Takeshi Obata intended for the series. Overall, Death Note Funko pop is a great way to satisfy your dream of owning characters from the series.
My favorite pop in this list has to be the Funko Pop Death Note – L with a Cake Vinyl Figure #219. It is a very adorable take on one of the most serious characters in the series. The cake reminds me of his love for sweets, while his stance also takes me back to his tasteless humor. But still, the black eyes are an excellent appreciation of his dedication to his craft.
But if you're a fan of a more traditional and joyful-looking Funko Pop, there are many in this guide, so check them out. Hope this guide has introduced you to something new, which will surely make your buying experience more streamlined. Now, I'm signing off to enter some names in my Death No- I mean to do my essay.