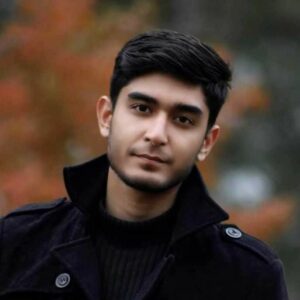 Latest posts by Asad Mehmood
(see all)
My Hero Academia is a Japanese superhero manga series written by Kohei Horikoshi. Weekly Shonen Jump has been serializing the series since 2014. All of its chapters are collected into 33 tankobon volumes as of February 2022. A lot of spin-off manga, such as My Hero Academia: Smash!!, My Hero Academia: Vigilantes and My Hero Academia: Team-Up Mission also exist.
This series calls back to some classic superman stories, avengers, and punch man. So, if you are a Superhero lover and wish to see the same type of characters with a little more fun in their tales, My Hero Academia is worth it.
It all begins with a baby in a hospital with strange abilities. Soon such occurrences begin to usher throughout the world as 80% of people possess superhero abilities, called quirks. It is a combined story of heroes and villains. Being a superhero is a full-time duty for which schools are there to train. It is as fun as it sounds, and the hype is well-deserved. It is full of drama, and the lead characters in the series are written well and executed to perfection. 
The series' vastness and popularity led to the development of its merchandise, and it's a treat for the My Hero Academia fans. It's inclusive and impeccable and will make it challenging to choose which one is the best for you. Here is the guide to help you make the best decision for yourself while buying the merchandise.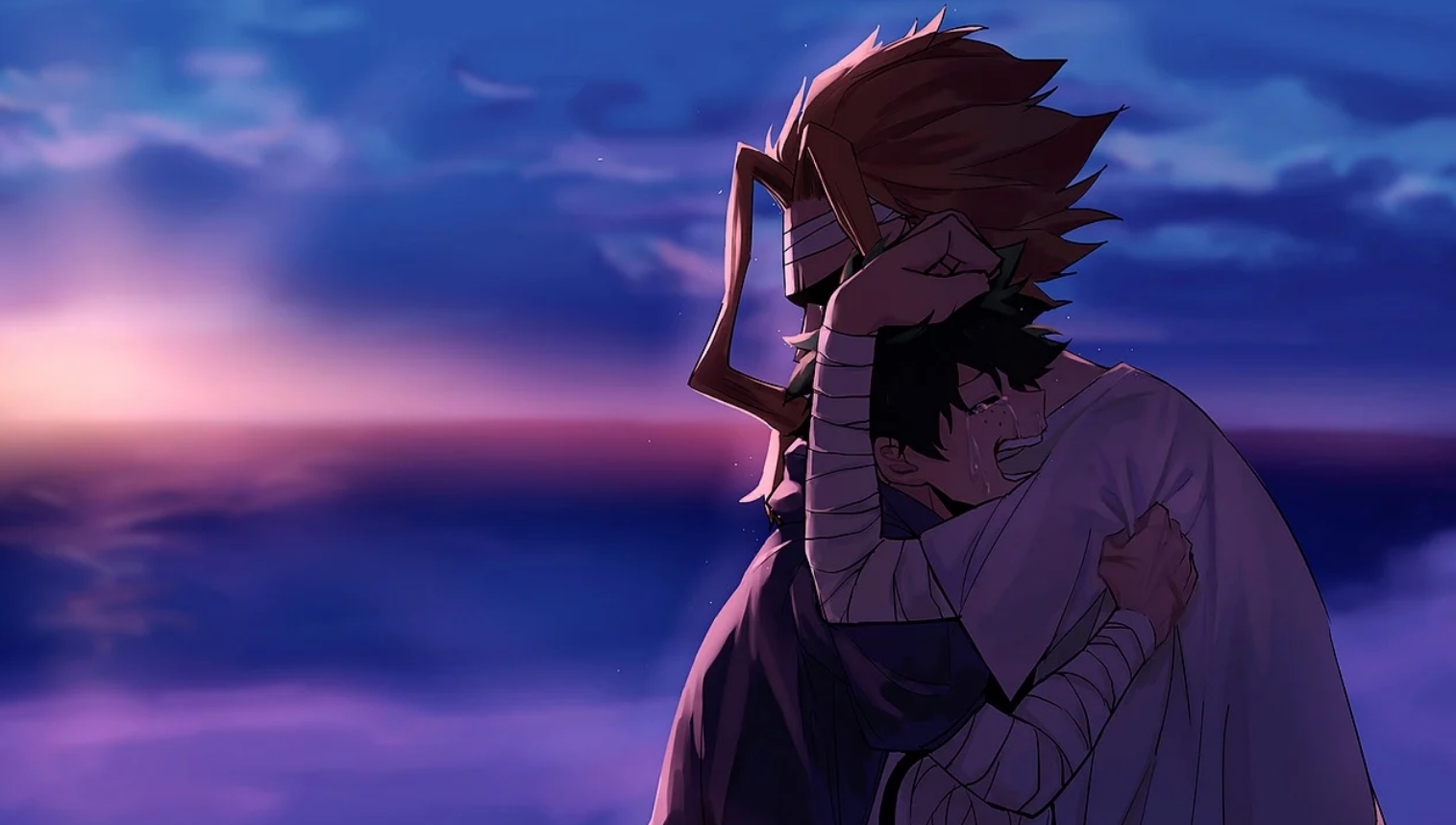 My Hero Academia Merch Guide: Bottom Line Upfront
Best My Hero Merchandise has some stunning items for your everyday use. They are from different categories, and I have enlisted them here so that you guys can know what they are! My Hero Academia merchandise brings:
Apparel:

Clothing items like T-shirts, hoodies, crop tops, pajama pants, crew socks, and shoes are sold as My Hero Academia merchandise. These are available in various varieties. 

Accessories:

Phone cases, face masks, wristwatches, keychains, and stationery items are sold as My Hero Academia Merchandise products. The collection is a must-have for series lovers.

Decorations:

The decorations sold as My Hero Academia merchandise include Handmade paintings, tapestries, fabric wall posters with frames, magical peel and stick wall decals, and wall hangings. 

Action Figures:

The merch has an array of figurines, including Funko Pops, and they are a must-have from the collection. 
My Top Picks At A Glance
I have enlisted products of my choice from My Hero Academia Merchandise: 
FunKo POP! My Hero Academia Deku GITD Figure

My Hero Academia Hitoshi Shinso T-Shirt

My Hero Academia Anime Cartoon Mini Backpack 

Deku Suit up Adjustable Snapback Hat

Todoroki Collectible Figure

My Hero Academia Notebook

My Hero Academia Socks Crew Costume Cosplay Izuku Deku Midoriya

My Hero Academia Anime SD Katsuki Bakugo PVC Keychain

My Hero Academia Hoodie Sweatshirt

My Hero Academia Split Heroes and Villains T-shirt 

My Hero Academia Key Art Fabric Poster UA Academy 

My Hero Academia Katsuki Bakugou Skill Jordan Sneakers

My Hero Academia All Might PVC Action Figure

My Hero Academia UA High School Mini Backpack

2021 New My Hero Academy Phone Case
My Hero Academia Merchandise Is PLUS ULTRA!
My Hero Academia is ahead of time; it's exciting, thrilling, funny, and considerably likable. I wanted to buy its merchandise as soon as I was introduced to the series. These products are designed around the story, scenes, characters, and plot. The best part is the merchandise's diversity, strengthening a fan's connection with the series.
This eclectic merchandise brings you several items for your everyday use. Starting from clothing items to kitchenware, it has everything for everyone. What makes it really apart is the inclusiveness of characters, messages, and action scenes within offered items.
The attention to detail is commendable, and they are beautifully crafted and portray the characters as inspiring. It encourages love for humanity which makes My Hero Merchandise stand out.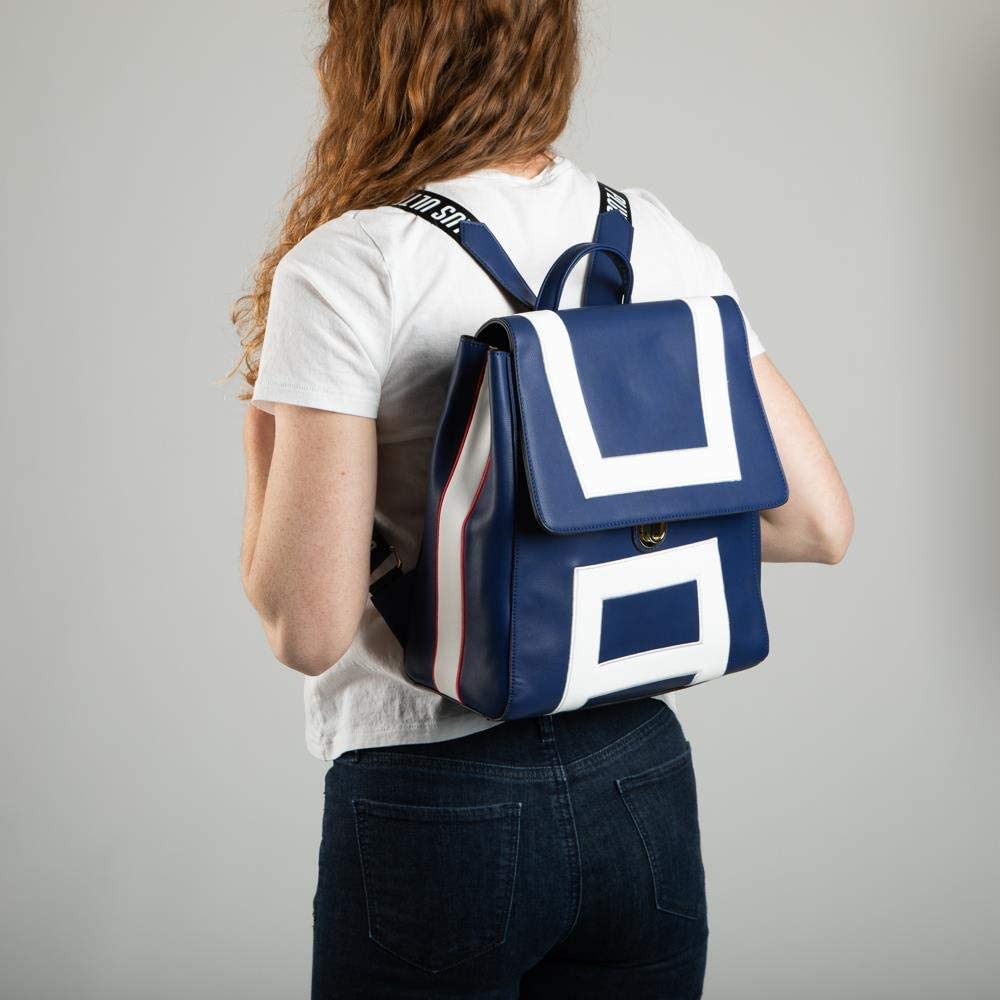 What Can You Expect to Find in the MHA Merch Collection?
The merch has inspiring items that portray series' comedy, action, melodrama, fun, and phenomenal characters. So let us have a look at these attractively manufactured wonderful art pieces. The general listings from merch are given below:
Apparel
My Hero Academia includes clothing items that serve as a sign of intimacy for series fans. These clothing items are specially designed for the series. They have My Hero Academia Characters printed on them, who are all-time favorites for fans of the series. They include T-Shirts, Hoodies, Crop Tops, Pajama Pants, Crew Socks, and Shoes.
T-Shirts
This merchandise has a variety of T-shirts with 3D prints on them. These prints are captivating and bring T-shirts among the top-selling items of the My Hero Academia merchandise. I would recommend you be careful when you purchase so that you don't get any poor-quality shirts with torn-off print and low-class fabric. Some of the popular T-shirts from merch are:
My Hero Academia Izuku unisex T-shirt

My Hero Academia Izuku Midoriya Casual Cosplay t-Shirt

Great Eastern Entertainment Hero Academia-Shigraki T-shirt.
Pajama Pants
Who doesn't love pajama pants? They are easy to wear as one can wear them while sleeping, going out on regular days, jogging, and even lounging. Some comfortable pajama pants from merch include:
All Might Deku Sleep Lounge Pajama Pants

My Hero Academia Satin Pajama Pants
Crew Socks
Irritated by the length of loafer socks? Or feel uneasy wearing socks? Well! I don't like them either. Crew Socks are a perfect answer to anyone dealing with such confusion because they hit right around the mid to upper calf. Neither too short to stay at the ankles nor too long to go past the knees. Some crew socks available in the merch include:
My Hero Academia Embroidered Athletic Crew Socks

My Hero Academia Chibi Anime Crew Socks 
Wall Art
My Hero Academia Merchandise Wall Art includes handmade paintings, tapestries, magical peels, stick wall decals, and wall hangings. Most of them have characters from the series printed on them.
Wall Hanging Tapestry
This merchandise offers a trendy decor that series fans can get hands-on and design the walls of their rooms and living areas. They are well-knit and serve as an illustrated insulation for your homes but look pleasing to series fans. My favorite one in the merch is:
My Hero Academia Style Wall Hanging Tapestry

Action Figures
These action figures portray actual scenes from the series, bringing a flashback of memories. The story, action, humor, characters, and essence of the series revive in my mind as I look upon them. These action figures will make you feel as if those countless heroes and villains are in front of you. Most popular action figures offered by the My Hero Academia include Funko Pops and statues.
Funko Pops
What do you need to know about them? The details of shading and praise-worthy portrayal of Izuku and Bakugo. Each of them has numerous points of articulation which will make you fall in love with the unique positions they possess. I always fantasize about these figures. Some examples include:
McFarlane Deku and Bakugo Funko

My Hero Academia – Tsuyu Collectible Figure
Accessories
My Hero Academia merchandise accessories include unique Boku phone cases, face masks, wristwatches, and several startling gift sets. In addition, they have sketches of characters from the series and quirk impressions. The accessories such as Postcards, button pins, and jewelry designed concerning the series are also an excellent part of this merchandise.
Watches
Not only adults but baby boomers love watches too. They do not only serve the purpose of telling you time but always add a charm to your personality. Watch is an accessory that is neither too flaunting nor too dull to be ignored. Some of the examples are
Some of the models are My Hero Academia MHA Black Wristwatch

My Hero Academia Deku Bakugo Shoto Leisure Strap Watches Braided Watch
Keychains
Are you a keychain lover like me? I have a collection of keychains. As a series fan, it was obligatory to have My Hero Merch Keychains. They are decent ones conveying messages from the series or those with characters. Some key chains from the merch are listed below:
My Hero Academia Tokoyami PVC Keychain

My Hero Academia Anime SD Katsuki Bakugo PVC Keychain
Face Masks
Face masks don't only look good but are crucial after Covid has emerged. They save you from health issues and add a charm to your personality. A person wearing a mask looks fantastic, only if you make the right choice! As a series fan, I had to have trendy face masks from Best My Hero merch. You must also grab these and make them a part of your daily routine.
All Might Mask

Hi! Himiko Toga Here! Mask

Stationery Items
The My Hero Academia merchandise offers notebooks, pocket dictionaries, school bags, and pouches in stationery items. They are specially designed for school and college-going fans and have attractive designs.
Notebooks
They are frequently used to note-down work. Notebooks with series characters printed on the cover are a treat to My Hero Academia fan. I have grabbed several notebooks from the merch, and if you are a series fan, they are a must-have for you because you will enjoy writing on them. The ones I have to include:
Plus, Ultra Spiral Notebook (The one I have bought for my daily college note-down work).

Boku No Hero Academia Spiral Notebook
Bag Packs
I think we all love to flaunt backpacks, but apart from this, they are essential for you. They are used to putting things and carrying them on the go. The print they have is of good quality but make sure to be safe from pirated ones as their design will chip off or the material might weaken over time. Some backpacks from the merch are given below:
Roffatide Anime My Hero Academia Backpack Canvas Dots Backpack Green Backpack Printed Bookbag

My Hero Academia Backpack Lightweight Nylon Back Pack Printed Street College Bag Daypack Pink
Beddings
Beddings are our comfort zone. It would be a treat for series fans to have soft beddings with good quality My Hero Academia prints. The merch has cover sets, one-piece bed sheets, and pillow covers. My Hero Academia Tomura Shigraki Plush Cushion is my all-time favorite.
Kitchenware
My Hero Academia merch leaves you nowhere. It has multicolored glass sets which can be used for drinking water. Oh, the best part! When my friend's dad asked me to give him a glass of water, I filled this glass and handed it over to him. It really made me feel different than using an ordinary glass. Maybe I got attached to Izuku's selfless support. The merch even has some mugs and cups. My favorite one is:
My Hero Academia Heat Change Coffee Mug
My Experience with My Hero Academia Merchandise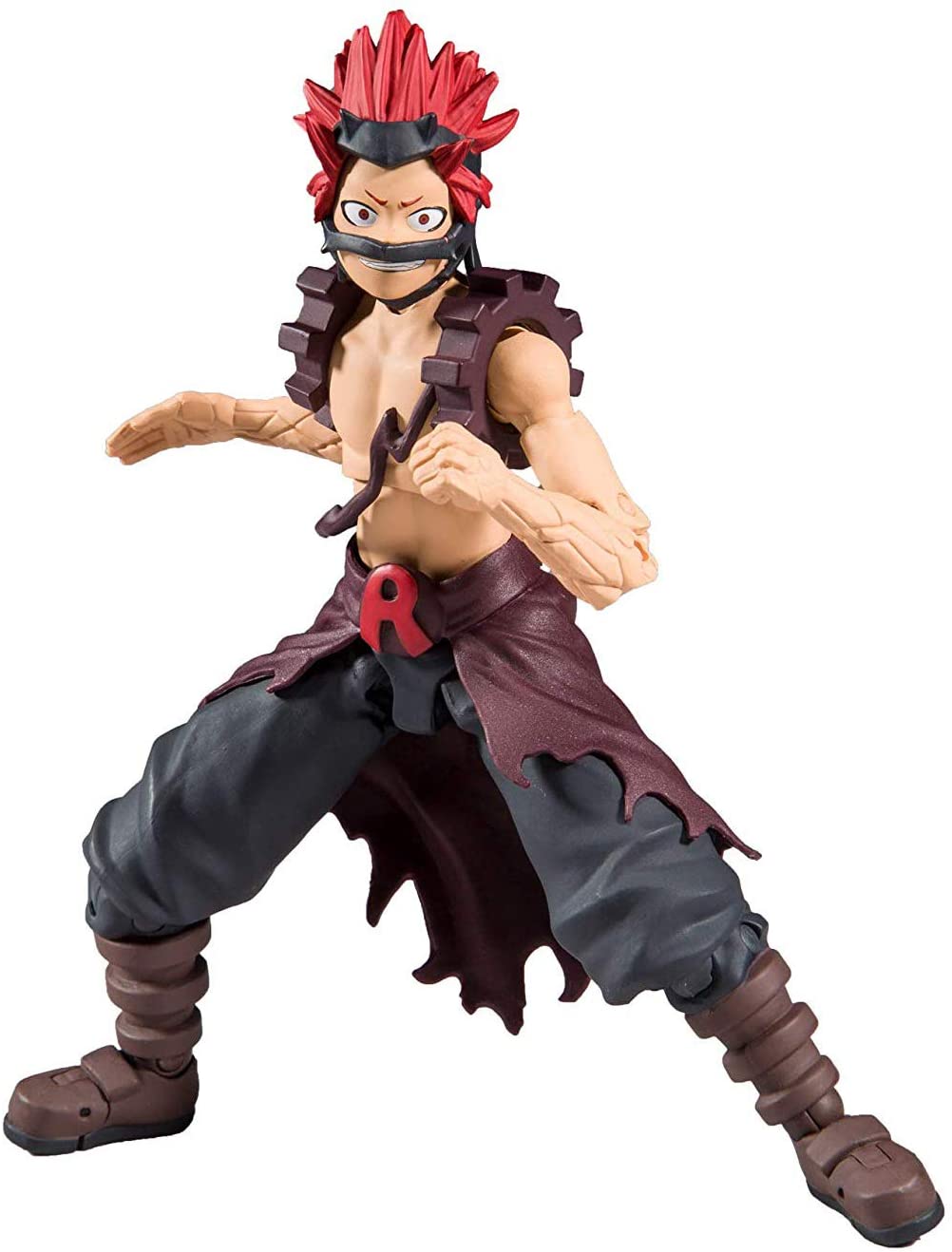 I love the comedy, adventures, action, and heart-warming storyline the series offer. It's not only fun reading or watching, but I have learned how to be helpful and humane. I have been trying to practice these values since I started this series. My love for the series made it my passion to collect many of them and exhibit them. I loved telling my friends about my purchases, especially the Todoroki figure from the merchandise.
Let me share my purchasing experience so that it might benefit you and you can have an experience even better than mine.
MHA Merch Buying Guide: Tips and Tricks
The series fans know what they want from the merchandise, but I have some tips to improve your buying experience. Let's have a look over these tips and tricks:
A Reliable Supplier
It is obligatory to find a reliable source of purchase if you don't want to indulge in any bad experience. From my experience, the most reliable source is Amazon. You can get My Hero merch items, and it has options for fans of every age, different genders, and unique choices. Their return/exchange policies are also trustworthy.
Prepare A Budget
The series merchandise is engaging! However, there is a chance that you may exceed your budget. If you have a big budget, buy as much as you want. But if you have a limited budget, categorize your purchases. First, go for the items you love the most and then descend depending on your likeness.
Price comparison is key to making good purchases while staying on budget. Search different websites and look for the most reasonable prices but make sure that there is no compromise on quality.
Look For Customer Reviews
The seller always tries to leave a good impression of the product he is selling to the audience. So, let me tell you a trick which will give you a good buying experience.
First, check customer reviews before placing an order from any site. Try to choose an article with the highest number of reviews. The ratings suggest how much a product is loved and praised by customers. Look At Product Photos Given by The Seller and only buy if you are satisfied with the customer reviews.
Common Problems And Their Solutions
It's never easy to get what you love without any difficulties. Right? I have gone through some problems while buying merch products, and I have listed down some solutions for them. I am sharing them with you so that you don't face those problems while buying.
Unavailability of Products
It means that the products you want to buy are out of stock. I am a My Hero Academia fan and have gone through this problem which means you guys might face a similar difficulty but no worries! Just follow the steps given below, and you can save yourself the trouble:
Message the seller to inquire if the product hasn't been discontinued or if it would be restocked.

If the supplier's response isn't good, try to look for another website. I am sure you will find a responsible supplier.
Delivery Issues
One might order products from any part of the world. You might choose a product with a supplier in another country and conveyance becomes the biggest problem. How will you achieve a smooth conveyance process? Confused? Let me help you!
Make sure that the delivery service which the supplier chooses is the one nearest to you. Of course, a local courier service is a must but make sure it is equally efficient. This is how you can grab your order without any unaccounted delay.
Bad Quality Product
If you managed to grab the items of choice from merch but unfortunately the quality of products arrived isn't according to expectations or if they are damaged, don't worry. Go for a quick replacement or refund, and don't settle for anything not worthy of the price paid.
Sizing Issues
It is possible that you ordered a product in a particular size and it doesn't fit you. This may happen because images on the site were misleading. To avoid any such issue, thoroughly check the description before placing an order.
Currency Issues
It is a commonly observed issue with My Hero Merchandise. For most articles, its medium of exchange is the American dollar. However, the merchandise can also be sold in Japanese Yen, Pounds, or Sterling. So before placing an order, make sure that you make the correct currency calculations so that you are aware of additional taxes.
My Top Picks for the Best My Hero Academia Merchandise
Here are My top picks for the best My Hero Academia merchandise. These are based on affordability, availability, and the PLUS ULTRA factor! I have included a little something for everyone, from cute Funko Pops! and cool posters to fashionable wearables and phone cases.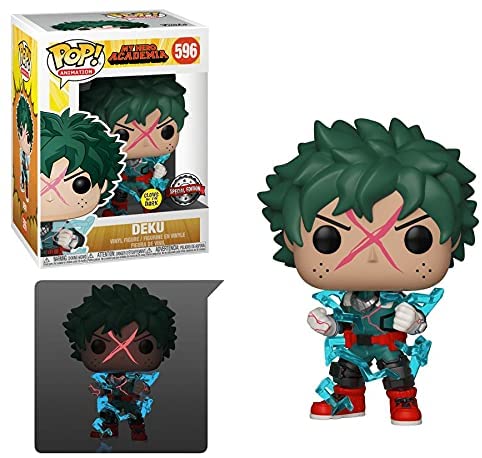 Izuku was constantly bullied by Katsuki for not being good at anything before he had superpowers and was called Deku. He is my favorite character in the series.
What's better than having a Funko Pop of your favorite one. It reminds me of his devotion and struggles to get something he didn't have. It is manufactured by Funko and is made up of vinyl. It weighs 0.14 pounds and is available for $9.96. I specifically love it because it glows when it is dark!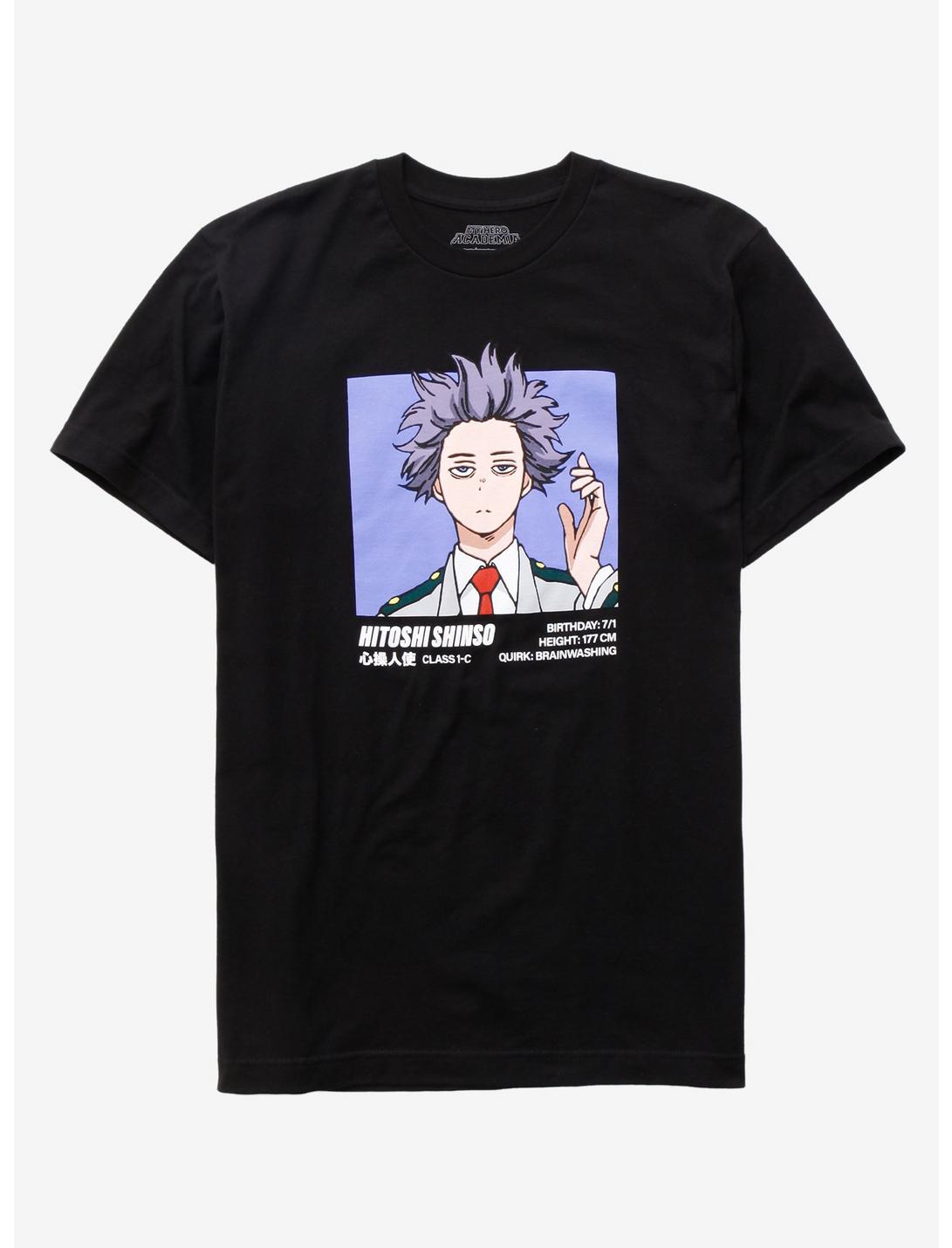 This black T-shirt has Shinsho printed on it. It reminds me of his brainwashing quirk. So never let anybody brainwash you! I love wearing T-shirts, and this one is closest to my heart. It is made up of pure cotton and is recommended to be washed in cold water. If you wash it with hot water, you are more likely to weather off its print and damage its quality. It costs between $18.32 to $21.52.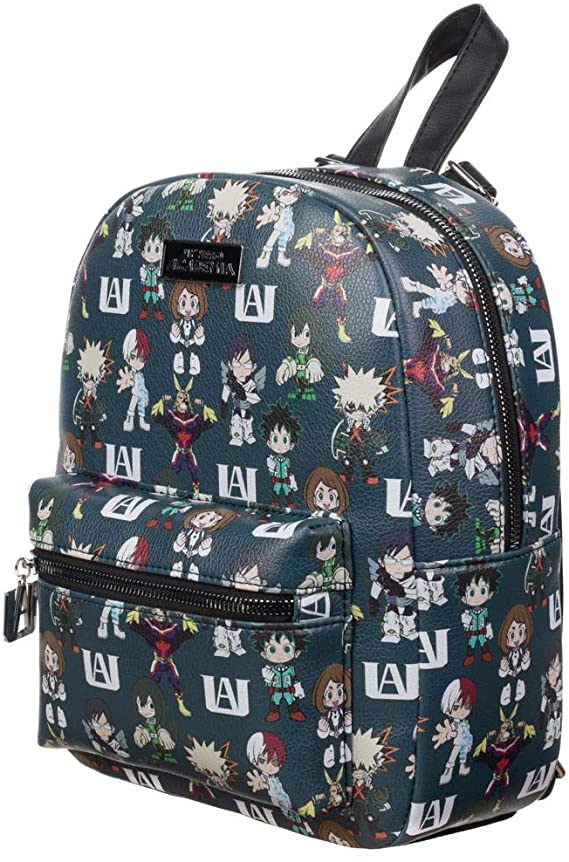 It has a bright and bold outlook because of the series of characters printed on it. I guess it's a perfect gift for series lovers. It takes me back into the world of superpowers. This bag measures 11"H × 8.5"W × 4"D and is made of polyurethane leather, PU.
Looking at the bag reminds me of all the characters and their quirks. I am taken to a world of superpowers where humanity is practiced.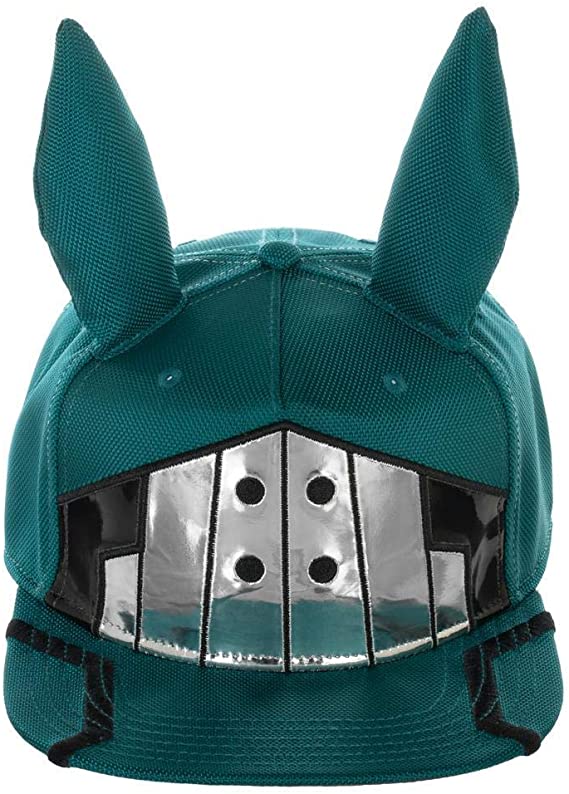 This comfortable snapback hat finds a perfect fit on your head. The design? It is inspired by my favorite character Deku who is a superhero lover. He was a weak child who never gave up on his grand dreams. This hat is the most adorable gift from merch for a series fan. I found it comfortable because it is made up of polyester that feels soft to wear. Also, it is durable. I have been using this hat for a year, and it is still new.
Though it is pleasing to look at and fantastic to wear, the con I found was its recommended wash, i.e., handwash only, as it is not convenient for most of us.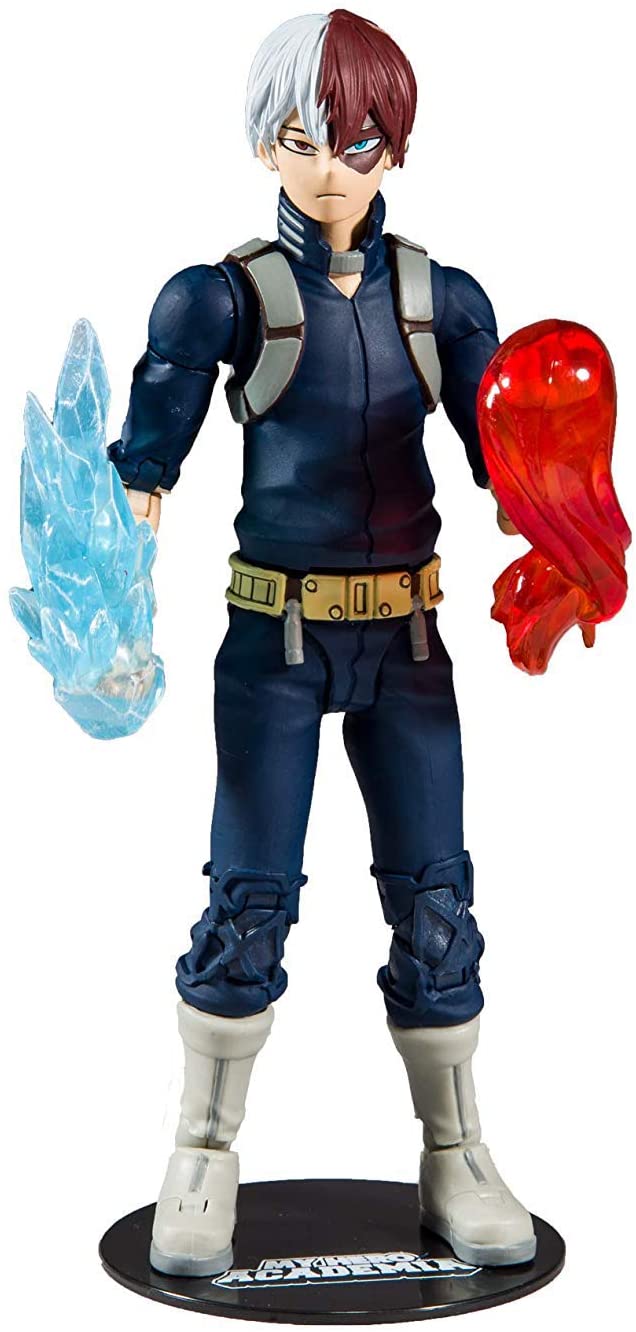 I am a series fan who is always looking for some good quality collectibles from the merch. This is to strengthen my connection with the series. It reminds me of Torodoki's half cold and half hot body and takes me back to the scenes where he shoots flames or freezes things.
He was the fourth student in class 1-A and was created by Horikoshi. Todoroki's collectible figure is manufactured by ABYstyle and measures 12″ tall. I have placed this figure on my study table and always enjoy looking at its action pose.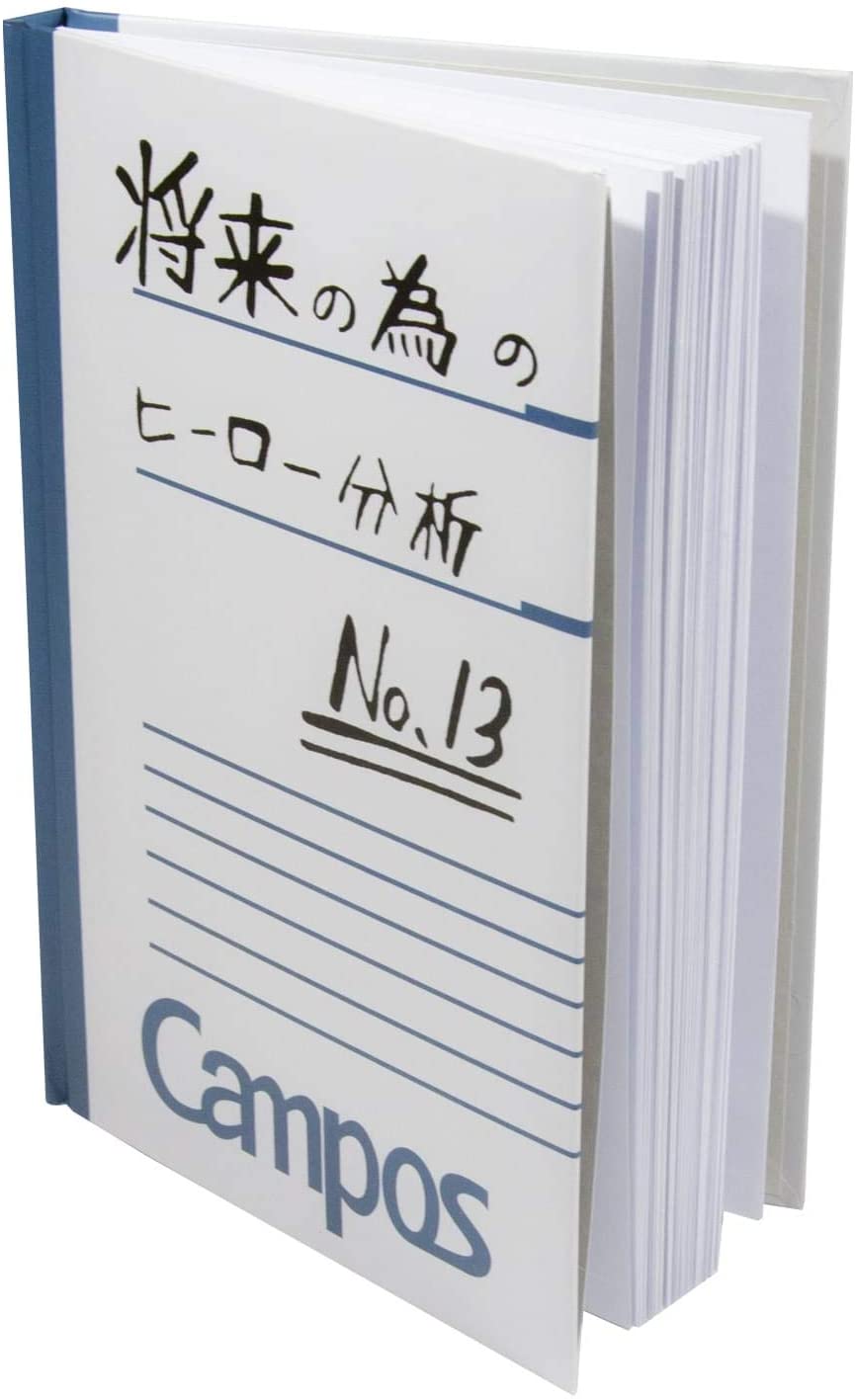 This is a funky notebook with an excellent design. Its hardcover is printed on both sides, reading Japanese text "13" on the front and "All Might" on the back. It reminds me of All Might's commendable personality and the bright smile he always posed. This notebook is an excellent addition to the merch because it is perfect for taking notes and possesses a convenient size.
Additionally, it has an elastic band that is featured to close the book with ease. I bought one and gifted it to my sister on her birthday as she is also a My Hero Academia fan.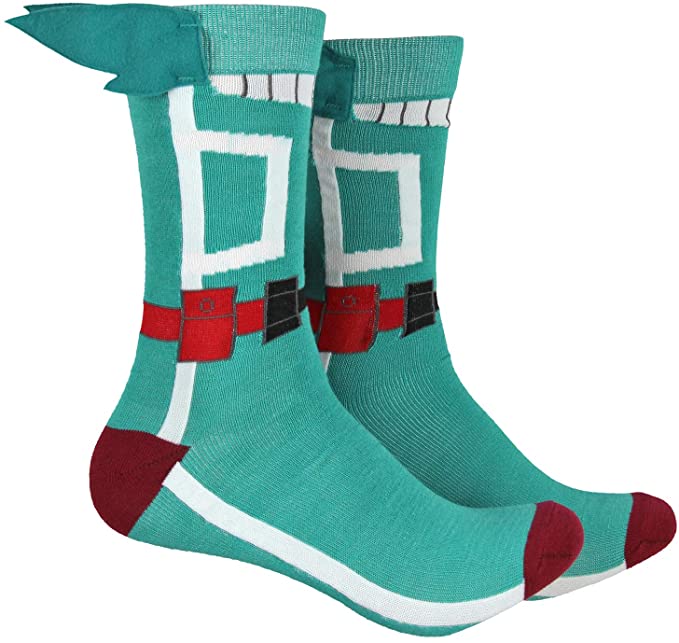 I am a series fan and in love with the Deku, so these crew socks are cordial to my emotions. They are made up of 98% polyester and 2% spandex, making them soft and comfy.
Are you a My Hero Academia diehard fan just like me? Who do you love the most in the series, Katsuki, Ochaco, Eijiro, Shoto, or Deku? Well! Don't wait to get these socks if you adore Deku. So, when you wear them, you don't feel low and can kick to get those quirks. This crew costume fits a sock size 10-13 and shoe size 8-12.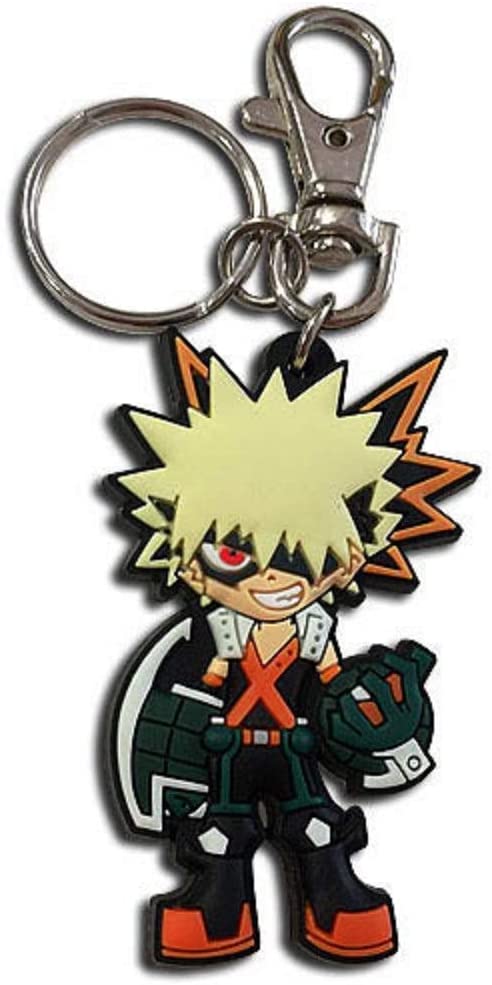 This keychain is of excellent quality, and its imprinting is beautiful. It is manufactured by Great Eastern Entertainment and weighs 0.81 ounces. It is 2.25 inches tall. I like his spiky blonde hair in the series, which is artistically designed in the keychain, which takes me back to Bakugo's quirk of explosions.
Though he was rude to Izuku, his overall persona makes me like him. His inclusion in the merch makes it look more attractive. You should have Katsuki Bakugo PVC Keychain if you are a series lover.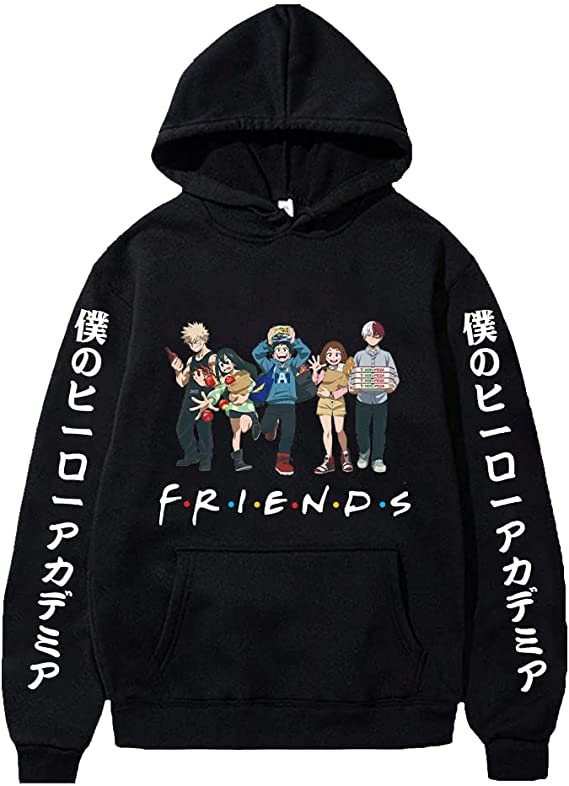 Who doesn't love hoodies? Well! I guess hoodies are the most fabulous attire for winters. But being a My Hero Academia fan, I had to have this hoodie sweatshirt in the color Mha3. It costs $23.90 and is made up of polyester. I must recommend that you guys check the size chart before ordering the hoodie. Order one which suits your height so that you don't end up with an oversized hoodie.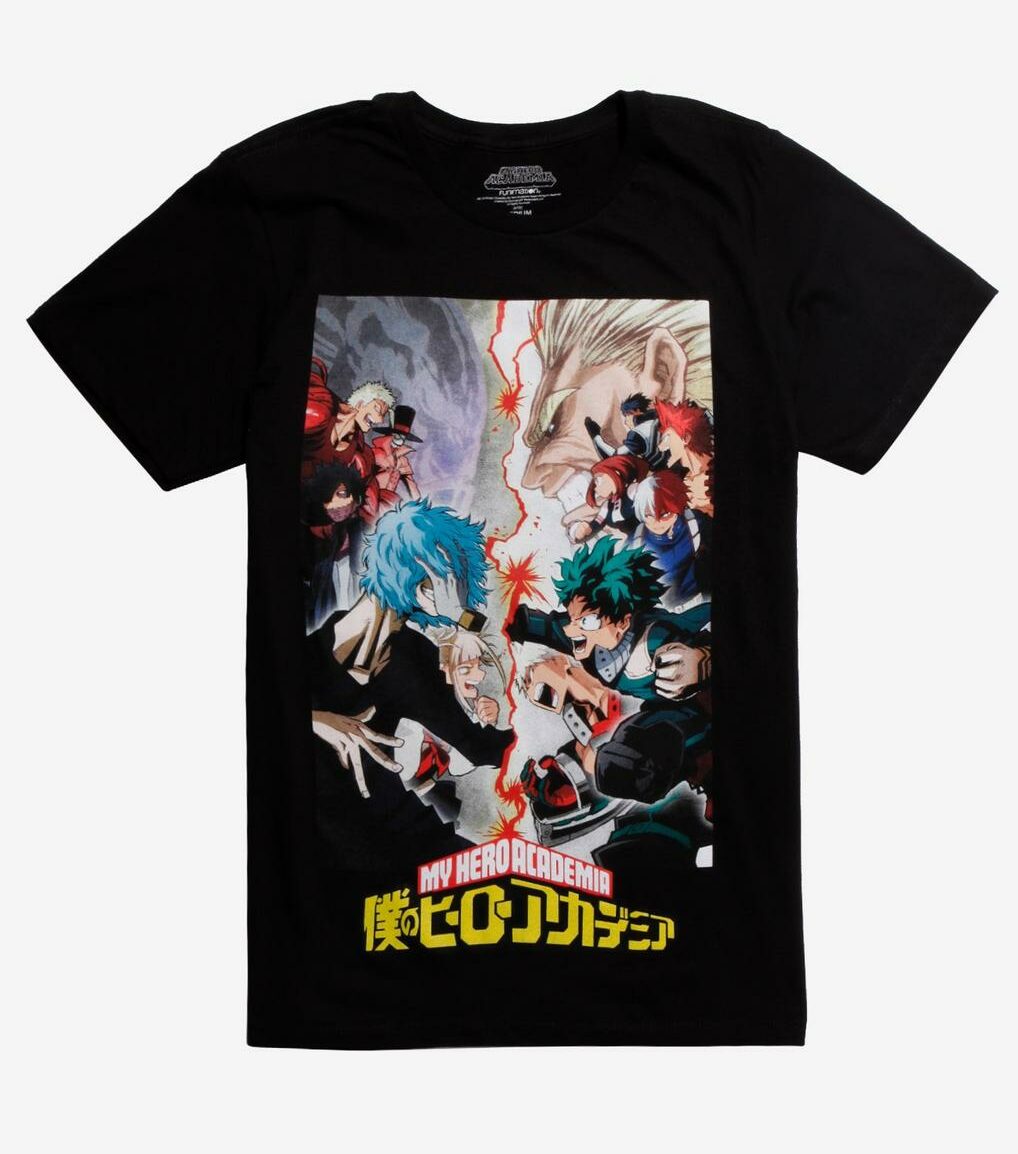 This is a hot inclusion in merchandise and comes in black color. The print on it is of a super showdown. It reminds me of students at UA academy and how All Might gave Deku All For One.
It takes me back to the tension prevailing among all heroes at UA academy and the rising villains. Being a series fan, I love this shirt from the merchandise. It is made of cotton and costs $16.72-$19.92. I think it's a bit costly for a shirt, so keep your budget in mind.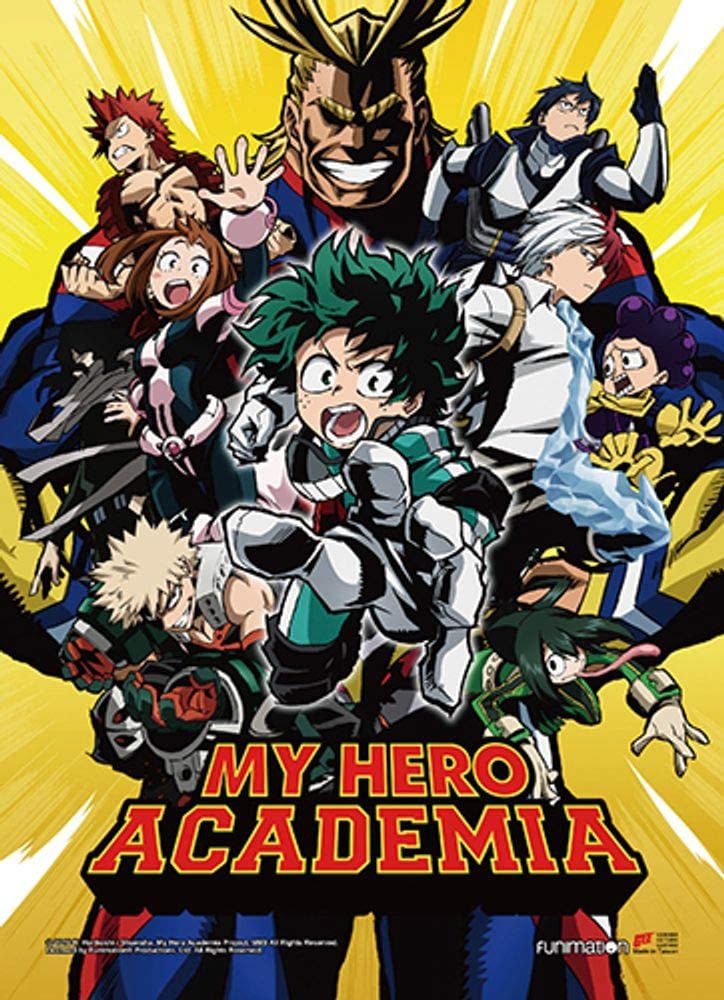 It is a product of Great Eastern Entertainment and is a perfect gift for series lovers. It is 11.7 x 2.8 x 1.9 inches and weighs 5 ounces.
The best thing about this poster is its moderate weight and size, which makes it easy to hang it on any small corner wall of your house. And yeah! It has a hanging system, so this is something series fans should buy and relive the heroic era of UA academy.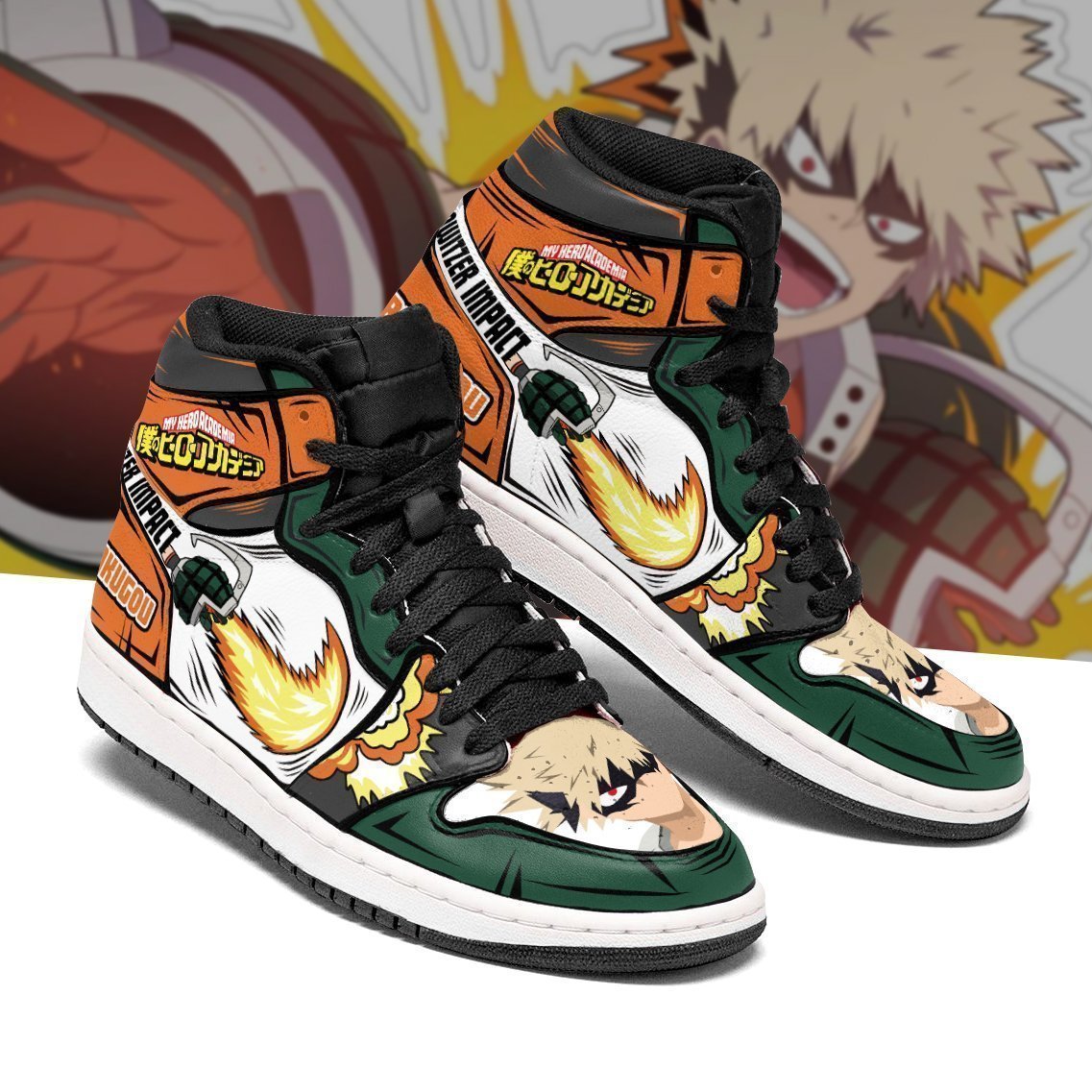 These are my most terrific purchase from the merch. I love wearing sneakers, but Katsuki Bakugou's sneakers remind me of how Katsuki bullied Deku for not having quirks. They are durable and comfortable to wear, and Microfiber leather and rubber sole traction are responsible for their durability. However, they were a bit expensive and cost around 100 USD.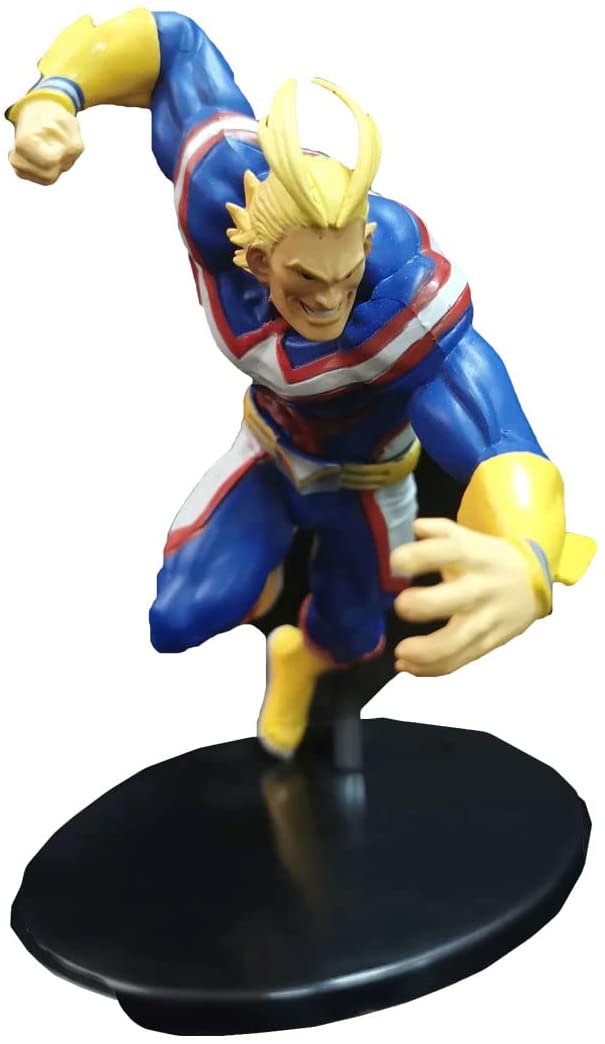 I am inspired by All Might because of his selflessness and positivity. He is, without any doubt, among my favorite characters from the series. His action figure is made up of PVC, costs $32.99, and is 7 inches in size. It is always there sitting in my lounge, spreading the positive aura around the home.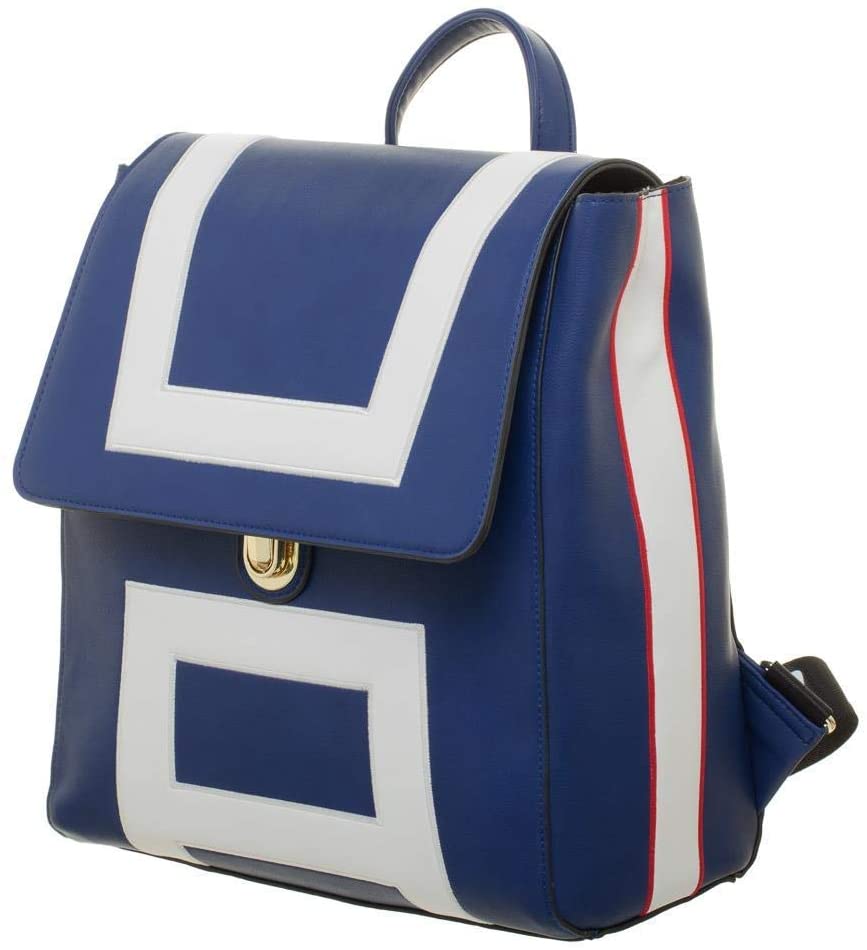 I bought this backpack when I was in my college. It is manufactured by Bioworld and has a wonderful design. If you are a diehard fan of My Hero Academia, you should have this backpack. Its dimensions are 11.25 x 5.25 x 11.75 inches. This mini backpack can be used as a zipper closure to secure valuables. It is made up of leather and is, therefore, durable.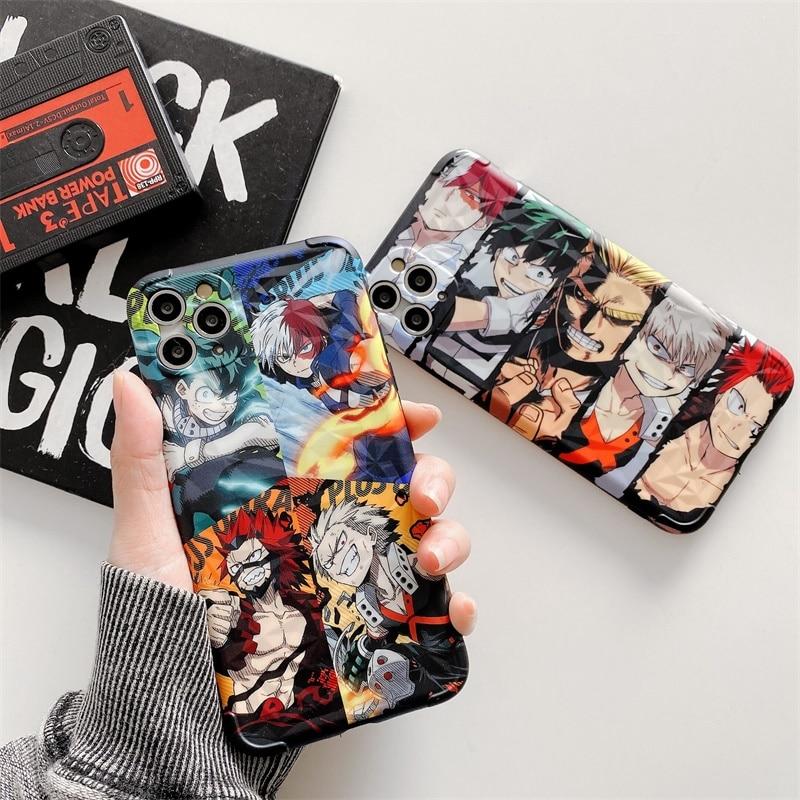 This attractively designed phone case costs $14.95. It is made up of hard plastic and prevents scratches. I ordered this customized phone case for my phone and loved it. You can order it in the color you like. So, why wait to design your phone with a trendy phone cover with characters from the series if you are a series fan! I am sure you will even want to collect more of them if you are a diehard series fan.
FAQs
Question: What are some must-haves from merch if I am on a budget?
Answer: If you are on a budget, go for the products that best meet your need. I suggest you buy the My Hero Academia Hoodie Sweatshirt and My Hero Academia Fabric Poster of UA Academy. They are of excellent quality and worth spending the bucks.
Question: Does My Hero Academia Merch offer Customized Posters or Wall Hangings?
Answer: It cannot be said for sure, but the posters and wall hangings that I have come across do not offer customization. However, this merch has a variety of posters and other wall hangings with inspirational messages and heroic characters. Villains from the series are painted or printed on them, so one may choose from them.
Question: Is it recommended to buy merch T-shirts in bulk for summers?
Answer: No, I will not suggest you this. Instead, buy one or two T-shirts from the merch and see if the quality satisfies you. Then, wear them for a while and after that think about whether you want some more of them.
Best My Hero Academia Merch Guide: Conclusion
My Hero Academia merchandise is wholesome and inclusive. It has everything for everyone. I must say that nothing and no one is left behind. My love for the series compelled me to buy its epic and adventurous merchandise.
All the merchandise products relate to exciting stories or characters from the series. The real-life experience it offers is commendable. This article explores some products from the merchandise to get to know what it has brought for you.
My personal favorite is entry number 9, My Hero Academia Hoodie sweatshirt. The sweatshirt is comfortable to wear and is suitable for its quality, but make sure to check the size chart before placing an order.
As a buyer, you know what suits you the most, but I hope my experience and guidance will help you make this experience more pleasing. As a series fan, you should never wait to complete your journey and take it to a stage a true fan is at. I wish you luck, friends!
Recommended Reads: