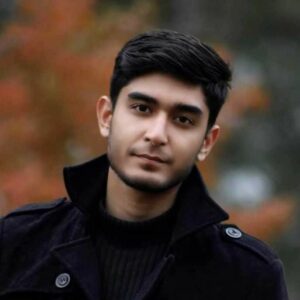 Latest posts by Asad Mehmood
(see all)
Naruto was a Shonen jump manga that was serialized from 1999 to 2014. Adapted into an anime, many anime watchers grew up with Naruto. The journey of the young Naruto trying to find recognition from his peers is a story that captured the hearts of everyone. Many Naruto fans felt a great sense of loss when the series ended. A series that they had attached to for so long reached its conclusion.
The series gave us a lot of good moments. The ever-growing characters and the nail-biting story are two of its great features. For the joy we got from the series, we need some memorabilia. In other words, we need Naruto merchandise.
But Naruto merchandise has a lot of options. The diversity is considerable. Here is a guide to help you with the merch you need to keep your eyes out for. 
Bottom Line Up Front: A Quick Preview
Before we move on, here is a preview of the guide and a quick list of all my recommendations that I have shared in this guide.
The Naruto franchise is among the largest franchises in the Anime and Manga industry. Given its popularity, there is a lot of variety in the Naruto merchandise. These items include but are not limited to the following:
Clothing
The Naruto Clothing merchandise includes a variety of apparel ranging from Tops and Tees to Shoes and hoodies. These often feature designs inspired by the characters and quotes from the series.
Jewelry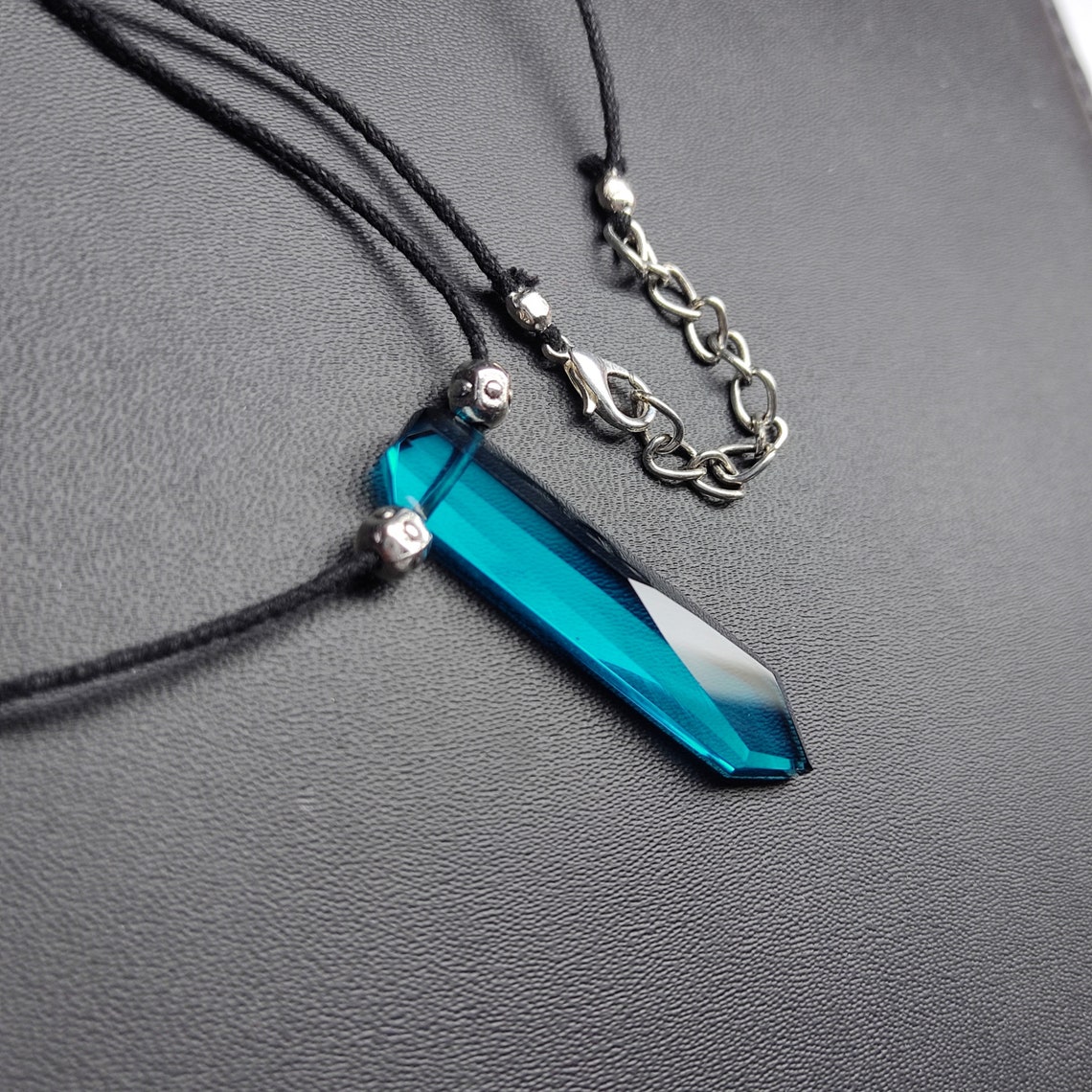 The Naruto Jewelry merchandise includes a wide range of Naruto-inspired accessories like rings, bracelets, and necklaces, often replicating designs of similar items worn by popular characters in the series like Itachi, Kakashi, Sasuke, and Naruto himself.
Toys and Collectibles
The Naruto Toys merchandise includes a phenomenal variety of Naruto figures, figurines, plushies, Funko Pops!, games, and a lot of other series-inspired toys including swords, kunai, shurikens, etc.
Home Decor
The Naruto Home Decor merchandise includes posters, paintings, item displays, 3D lamps, etc.
For this guide, I could not hold back and end up with 20 solid recommendations that you would love to own.
Naruto Shippuden Jacket/Hoodie
Naruto Pint Glass and Coaster
Kakashi Hatake Action Figure
Akatsuki Ring Set
Naruto Sage Mode Figure
Funko Pop! Naruto Vs. Sasuke Exclusive Anime Moments
Sasuke and Itachi Susanoo
Snapback Cap – Black & Orange – Konoha
Funko Pop – Orochimaru
Farewell Konoha Shoes
Nyanto! Sakura Haruno Figure
Sasuke Uchiha – He Who Bears All Hatred- Action Figure:
Might Guy Figure
Naruto Pendant (The One Tsunade Gave Him)
Kunai Box Sets – Metal engraved Kunai
Akatsuki Zip Sweat
Naruto Rasen-Shuriken 3D Lamp
Hidden Leaf Ramen Bowl
Japanese Handmade Wooden Geta Clogs for Men with Socks
Sharingan Contacts
If you want to check out more of Naruto merchandise, then make sure to check out my Naruto Funko Pops! Guide after reading this.
The Tale of Naruto Uzumaki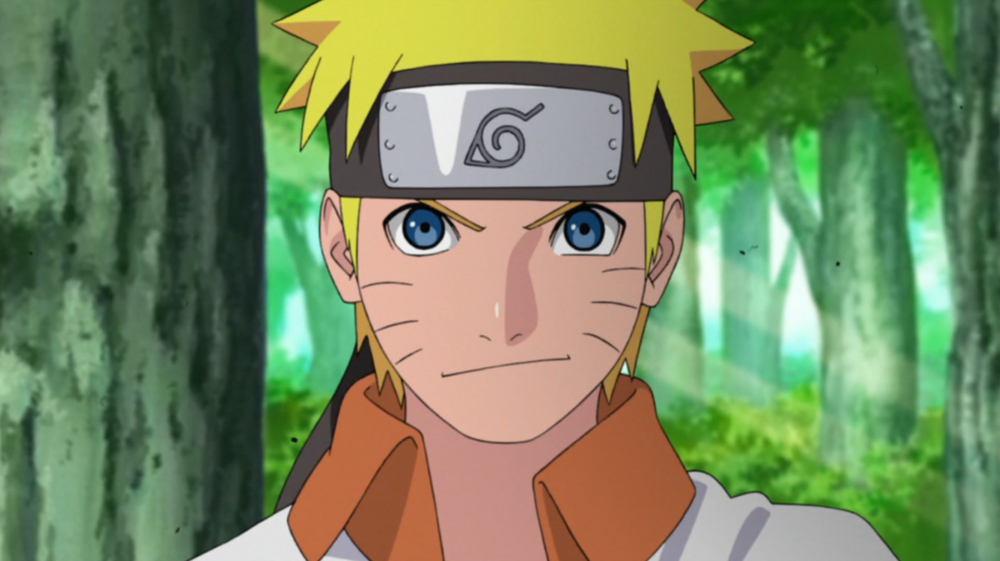 Naruto was a manga/anime series written and illustrated by Masashi Kishimoto. The series found acclaim both with Japanese and worldwide audiences. With the import of anime to millions of children worldwide, Naruto became a gateway for many into the realm of Japanese animation. 
The story of Naruto is set in a fictional Ninja world where the world is divided into villages. One day the Nine-Tailed fox attacks the Hidden Leaf Village. The Hokage seals the fox inside an infant to stop the Nine-Tail Fox. The infant's name is Naruto.
But the nine-tail fox had killed considerable people during its rampage. Therefore, Naruto is shunned by the villagers for being a container of the fox. Naruto is discriminated against and wants to become respectable, somewhat recognized by the villagers. The series marks his journey to attain his goal of becoming the Hokage and gaining recognition through his status.
General Items Offered by The Merchandise
You can find a whole variety of items. The merchandise is produced that there is a little something for everyone. You can get flashy by popping out clothing, figures, and even utensils. But some clothing apparel makes you not stand out. Here is a general listing:
Clothing
You can find different kinds of clothing. Every clothing item has the producer's own creative mark. So, you will see a lot of variety. The clothing includes shirts, t-shirts, hoodies, jackets, and shoes.
1. Shirts and T-Shirts
Most Naruto merchandise shirts have a 3D engraving of the characters. Others are more artistic. From convenience stores to flea markets, the shirts can be found anywhere. One has to be careful of pirated materials. They are low quality, and the in-print is easily worn down.
2. Hoodies
Hoodies are excellent apparel to wear for winter seasons. But you might find some slim clothing for summers. Naruto hoodies have the dandiest designs. They can be adapted to any fashion style and give your personality a unique touch. 
3. Jackets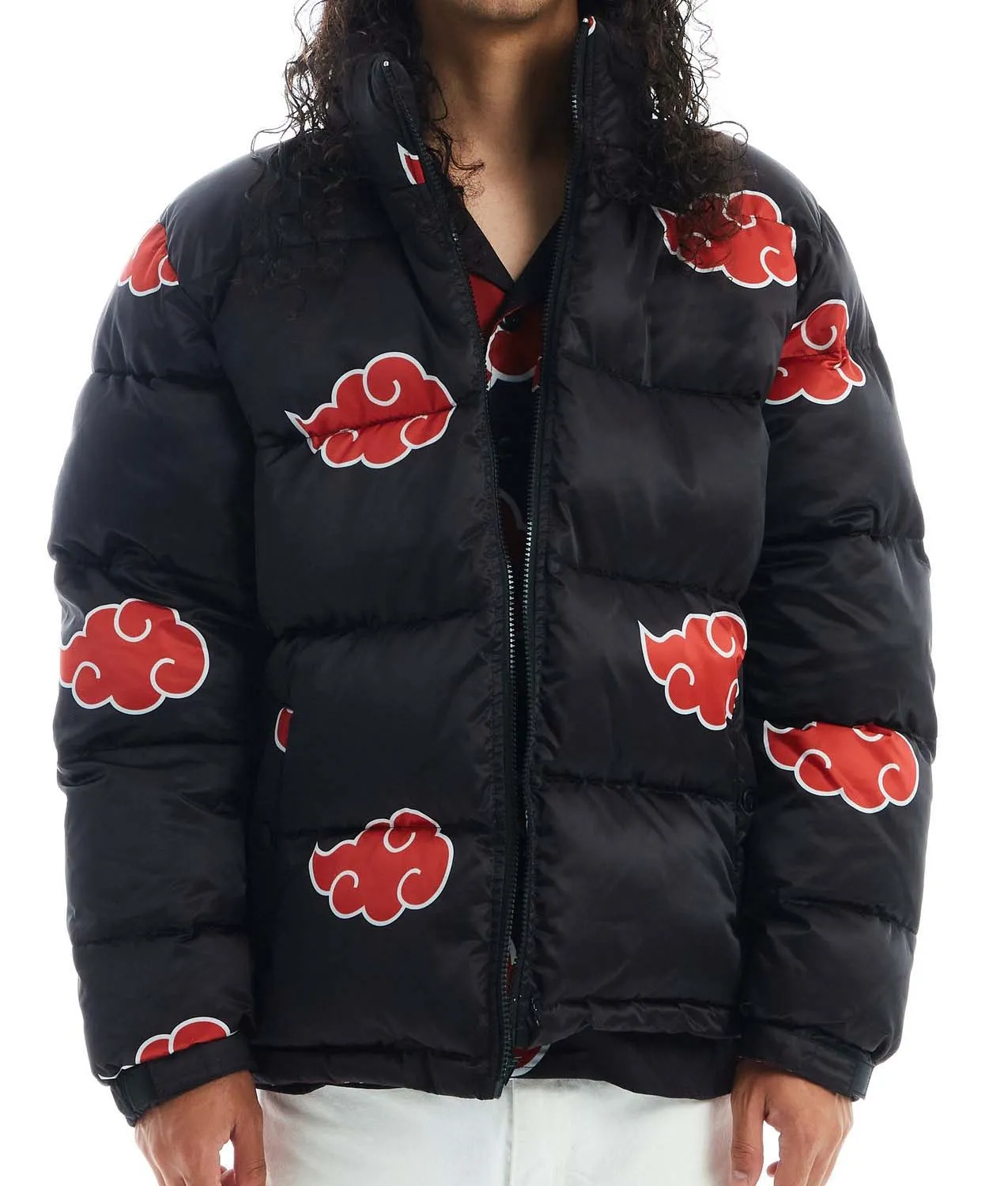 The merchandise has two kinds of jackets: casual jackets and bomber jackets. Bomber jackets were initially made for pilots. Now, the jackets are made for Naruto fans. Both types of jackets are excellent for keeping you warm and making you look dashing. 
4. Shoes
Naruto shoes have unique designs. Some have characters, others have village symbols drawn on them. The shoes may also have a unique color from the show. Either vans or sneakers are primarily used as merchandise because the targeted demographic are kids and young adults. 
Jewelry
The Naruto jewelry comes in different styles and can suit a fashionable style that you are comfortable with. They may be rings, bracelets, and necklaces.
1. Rings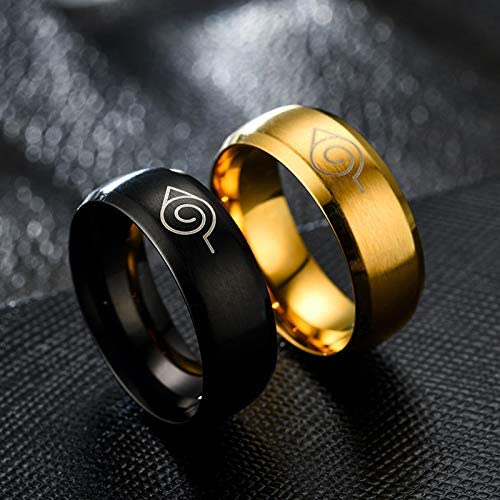 Some might feel ashamed of buying rings. They think rings are for youngsters only. But recently, many millennials have seen wearing rings. The trend will increase in the future, which means people will need uniqueness. If you are a Naruto fan, you already have that uniqueness with Akatsuki and village symbol rings.
2. Bracelets
Like rings, bracelets have their own swagger. Chain bracelets, Name bracelets, bead bracelets; there is a wide variety you can choose from.
3. Necklaces
In the series, Naruto's necklace is the most prominent. Other than his necklace, there are different shaped pendants. The pendants may have the face of a character. Or they may incorporate some other element from the show creatively. 
Toys and Collectibles
Depending on the brand, figures show a lot of variety. They may be action figures with intricate details, or they may be toys.
1. Action figures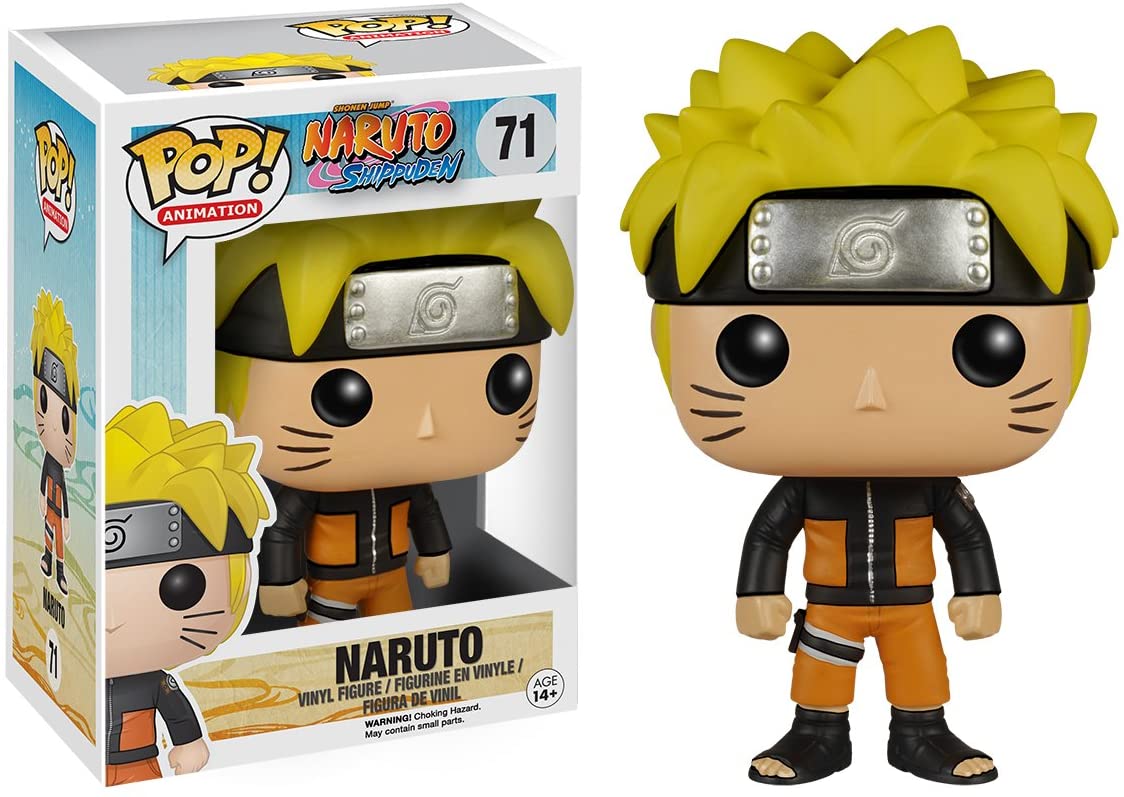 Action figures themselves come into two types. One is movable from their joints and the other immovable. The immovable figures are only used as adornments. The movables are often used for playing and have many parts.
All action figures come in a variety of shapes and sizes. There can be as many figures as they are characters. Although, the less famous character figures are harder to find.
Home Décor
The home décor is peculiarly vast as anything can be classified as a decoration. What is meant here are kunai displays, art posters or portraits, and specialized 3D lamps.
1. Kunai Displays
The Kunai is native to the Japanese Ninja. They serve as excellent displaying objects to add a little culture to our living rooms. Naruto has a variety of customized Kunai. They are also readily available in most shops.
2. Art Posters and Portraits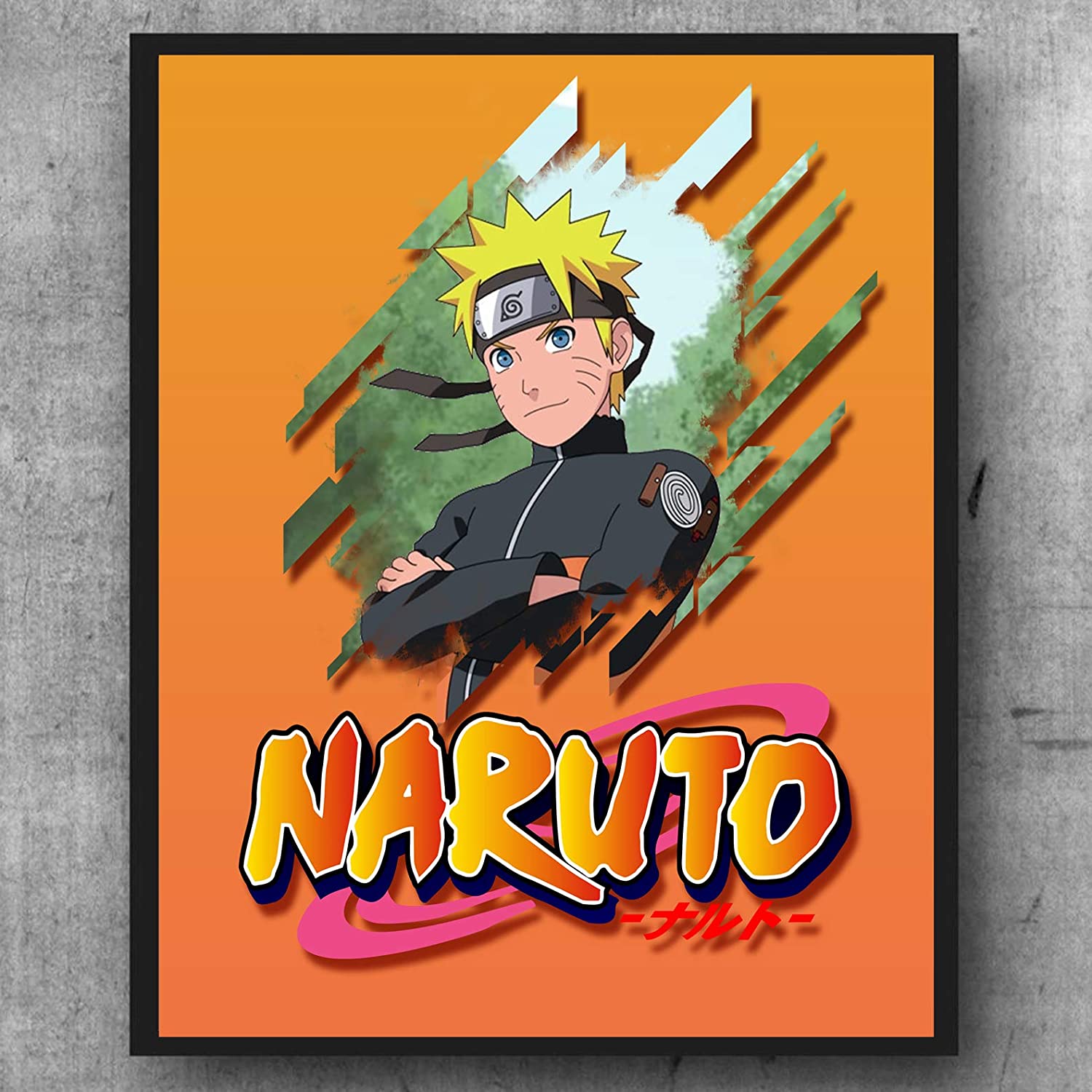 To make your walls more beautiful, you can put posters and portraits. They come in a variety of sizes. Most of the artwork is done on paper. The paper sticks are easy to walls. In my experience, street artists have the best work.
3. Specialized 3D Lamps
To give your room a different feel at night, buy these lamps. The lamps are usually attached to figures, so you hit two birds with one stone. They are also relatively cheap. The only problem is their fragility. So, one has to be careful with them.
What Makes Naruto Merchandise So Unique and Popular
The merchandise that we recommend is diverse. It symbolizes the crucial moments or developments of the characters. The images that became imprinted in our minds are difficult to replicate. Merchandise producers give their best to do so. And this guide tries to highlight these items best.
I personally had more ease with buying Naruto merchandise. Due to its popularity across the globe, you can find it with convenience. The courier services can also deliver the merchandise to your part of the world. The Naruto figures have also brought uniqueness to my home that others do not have.
What Does Naruto Mean for A True Fan?
I have been watching anime and reading manga all my life. I learned a lot of life lessons from anime. It would not be an overstatement to say that anime has raised me. One anime that I always keep close to my heart is Naruto.
Naruto might not be my favorite anime now, but I shall always cherish it. This is why I have always been on the lookout to buy great stuff. I have learned a lot through my experience. And now, I want to share that knowledge with you.
Buying Tips: Stuff to Keep an Eye Out For
The article will attempt to be comprehensive. But there are still some things to look for.
A Better Buying Option
One thing is to buy from Japan. The Merchandise in Japan is way better than the merchandise made in the West. The Japanese ones are more detailed. They are also more durable. 
A Reliable Source of Purchase
Trusted websites also have a better collection. Use these sites, so you have multiple options to choose your item from. For example, Amazon is a website that is considered trusted. You should also whether the merchandise is officially licensed or not.
Choose What Suits You the Best
Naruto has a diverse set of characters with each their own background. A person can relate to any one of them. When you like a lot of characters, it becomes a problem to settle on one. You should think about which character's color pallets suit you best in such a case. 
Balance the Books
The most important thing to keep in mind is your budget. You can buy a lot if you have a big budget. But most people do not. Before ordering items, you have to see which are within your range, compare multiple sites, and make the final purchase.
Common Problems and Their Solutions
New customers to merchandise buying always run into some trouble. Some of them are enlisted below
Means of Carriage
One trouble is related to the conveyance of the product ordered. Different courier services have different modes of operation. Therefore, some services are efficient while others take a lot of time and money. Before ordering an item, see whether the website uses your local couriers. In this way, you can avoid any unaccounted delay in your shopping.
Currency Issue
Another is the problem of conversion. You might be ordering from any part of the globe. It is understood that the dollar is the primary medium of exchange. But sometimes, the merchandise might be sold in Euros or Pound Sterling. So, keep in mind the currency. Also, be aware of taxes that apply, if any. 
Indecisiveness
Lastly, there is a problem of indecisiveness. You might get paralyzed because of the variety. You might not have the budget to buy everything or the space to keep it in. It is recommended not to buy until you are sure it is what you want. 
Top 20 Recommendations
With that in mind, here are some of my recommendations that you should consider:
#1 Naruto Shippuden Jacket/Hoodie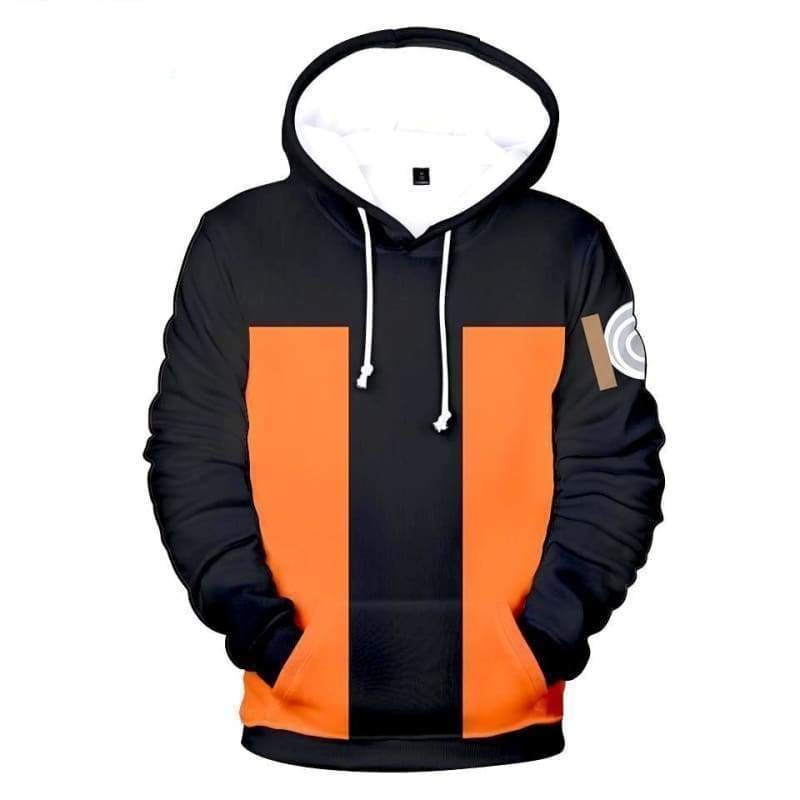 If you are a Naruto fan, then you definitely need this jacket. Its design is simple and does not stand out much. It is what people call minimalistic. The jacket is made of Modal Cotton, Spandex, and Polyester. It also has a hood that can be tightened with a drawstring. A Kangaroo Pocket is also present.
Although the site recommends comfortable wear in all seasons, we suggest limiting it to cold weather. 
The jacket comes in nine sizes. It has a price of about $44.87.
#2 Naruto Pint Glass and Coaster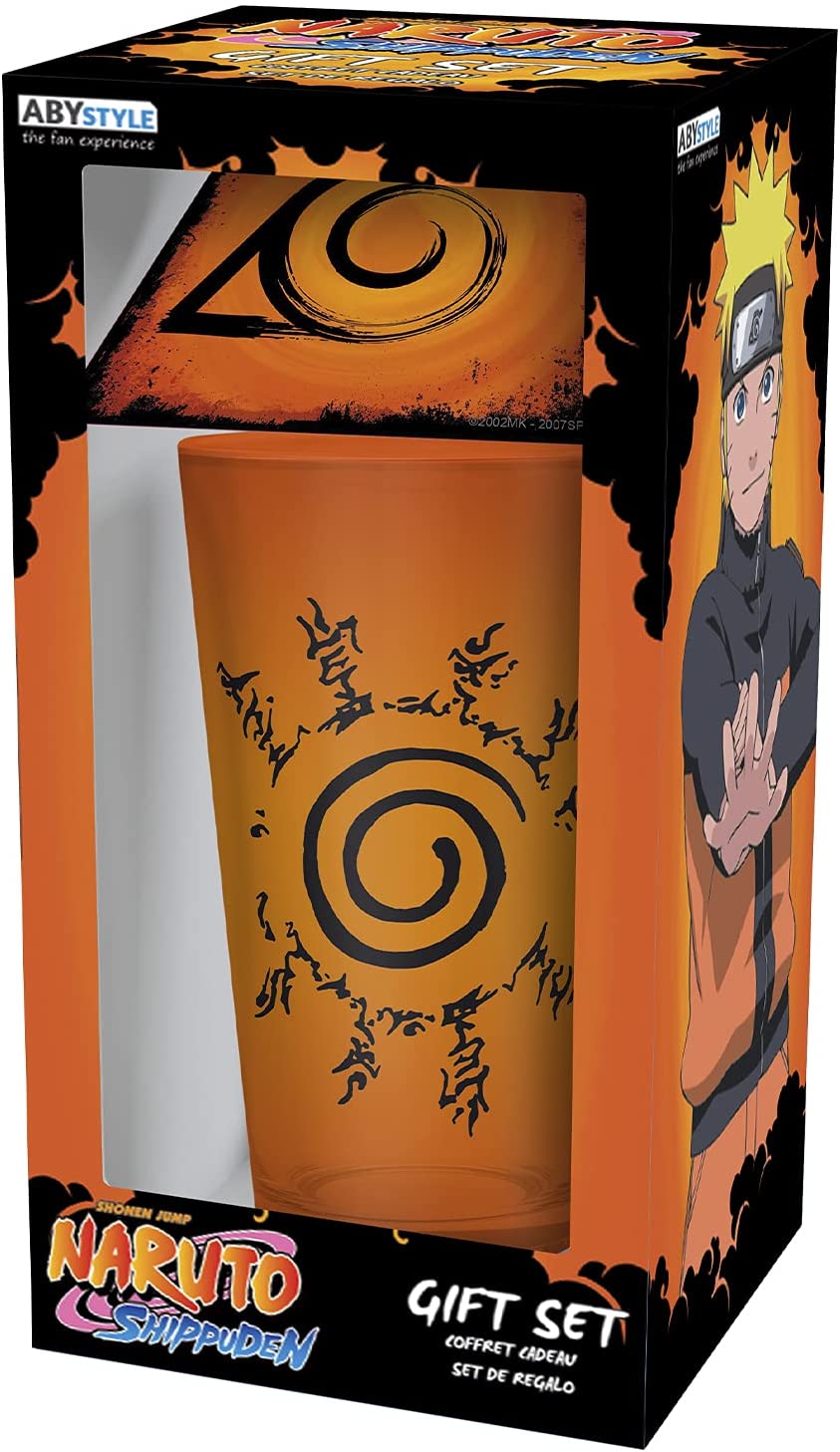 The Pint Glass and the Coaster Gift Set can be an excellent addition to your daily use items. If you are not a Naruto fan yourself, you can gift this to a friend. The Pint Glass and Coaster come together. It is also official. The glasses come in two different styles. One has the Hidden Leaf Symbol etched on it. The Uzumaki Seal emblem is on the other. The color of the glasses is orange. 
The item is somewhat heavy, weighing about 1.1 pounds. But the weight is only indicative of its high quality. The coaster is made of cork, and the Pint Glass is of good quality glass. 
The price tag is to keep a watchful eye. It is around $20.
#3 Kakashi Hatake Action Figure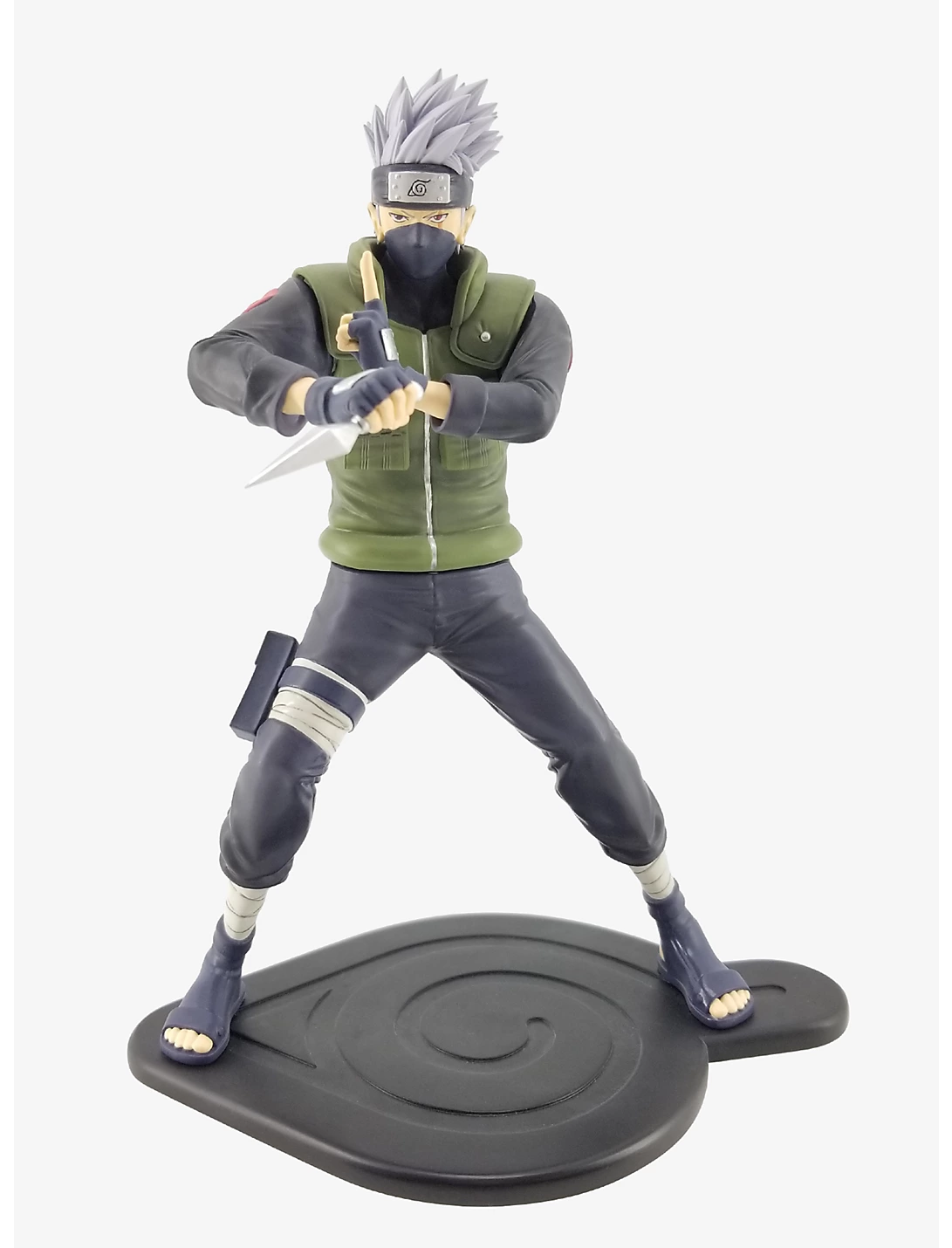 What is a merchandise recommendation without an action figure? Kakashi is one of the most beloved characters in the series. A mentor to the protagonist, Kakashi also becomes the Hokage at the end. He is the most popular character, polls-wise.
The action figure has Kakashi ready for battle with his Kunai out and his Sharingan ready. It is made of Polyvinyl Chloride and stands at 9.5 inches, and has a width of 6.25 inches. The figure is erect on a Hidden Leaf symbol-shaped stand.
The figure can look good on a shelf or on your office desk. The price of the figure is $26.32, which is reasonable.
#4 Akatsuki Ring Set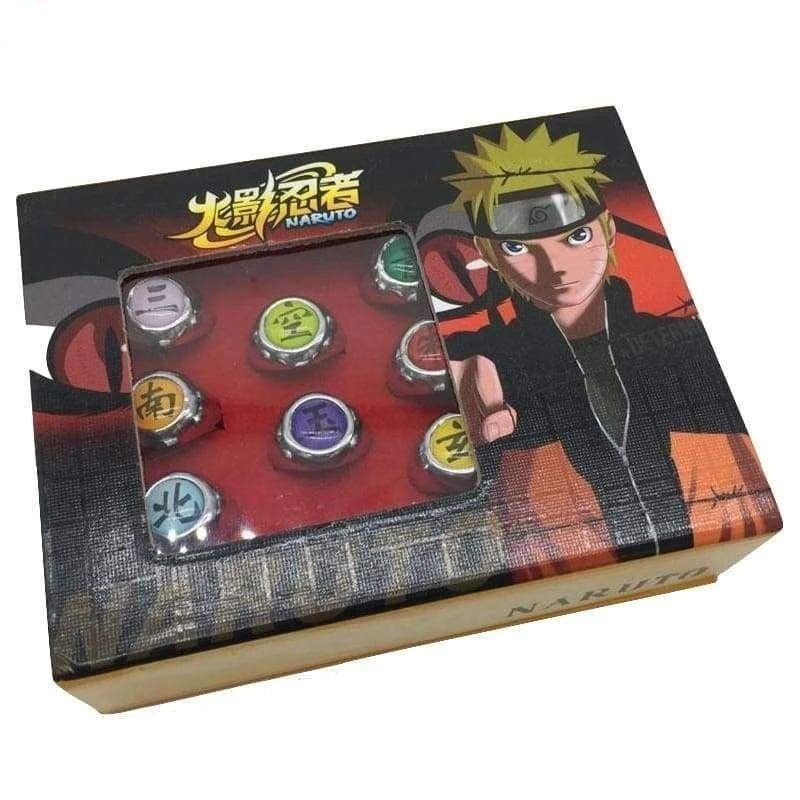 An overlooked element by most when buying Naruto merchandise are the Akatsuki Ring Set. The rings are made of high-purity zinc alloy. If you think you will have an issue with the fit, the size is universal. The details are impeccable.
Although it is a whole ring-set, it is recommended that you buy individual rings which suit you. Since they come in different colors, they can go with a variety of your wardrobes. You can get them at a reasonable price of $44.87, as well.
#5 Naruto Sage Mode Figure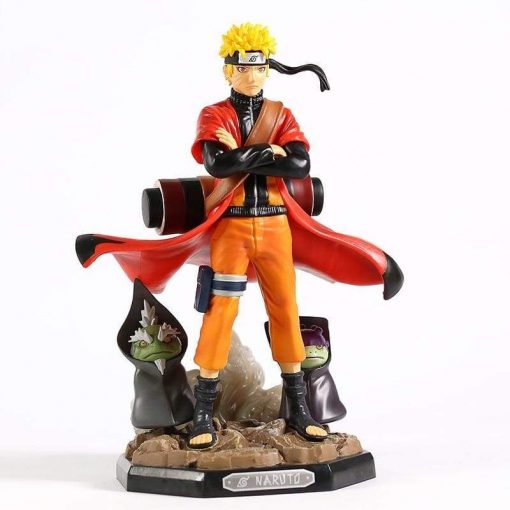 A limited-edition Naruto Sage Mode figure. 
It depicts Naruto when he arrives to have one of the biggest fights in the series against the Pain. The fight had an emotional attachment as well as Naruto had to defeat the killer of his master. Excellent addition to the figure is the two toad elders.
The figure is made with precision. Its dimensions stand at 22cm. The price is steep, but that is expected from a high-quality figure. It is valued at around $89.97.
#6 Funko Pop! Naruto Vs. Sasuke Exclusive Anime Moments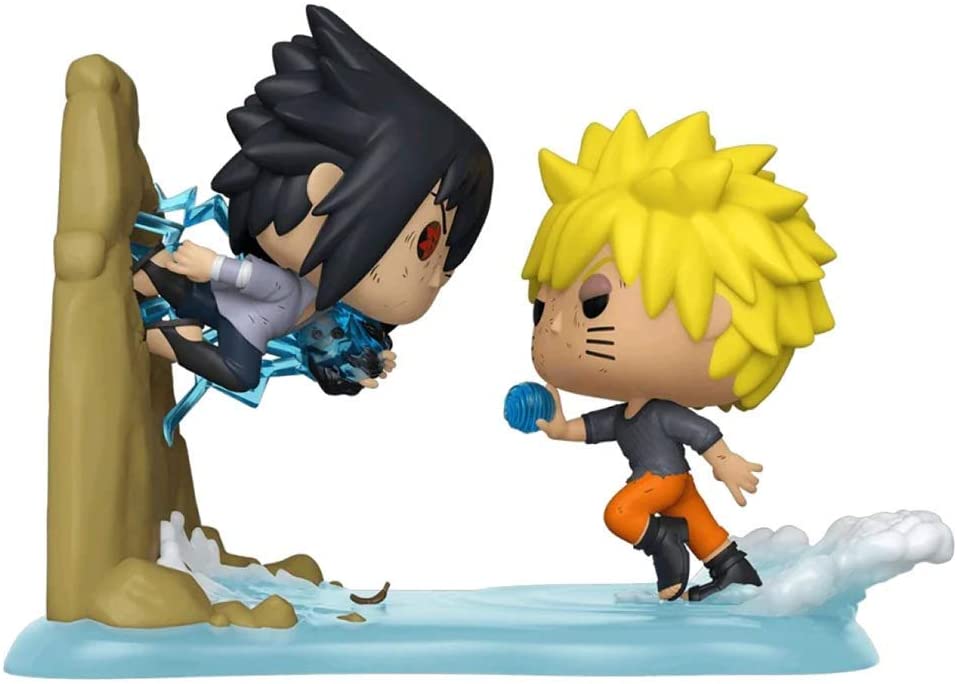 The series ended with our two beloved characters duking it out for their philosophies. It was not just a fight. It was a moment that everything led Naruto towards. Saying it was one of the best fights in anime would not be an overstatement. 
The Funko Pop figures are chibi versions of the product. The item weighs about 1.56 pounds. Its dimensions are 7.48 inches in length, 10.04 inches in height, and 5.91 inches in height. 
The figure would be a great addition to your collection. Every time you see it, you will remember all the good and terrible Naruto went through to reach the moment in front of you. The figure's price is around $20, making it a reasonable buy.
#7 Sasuke and Itachi Susanoo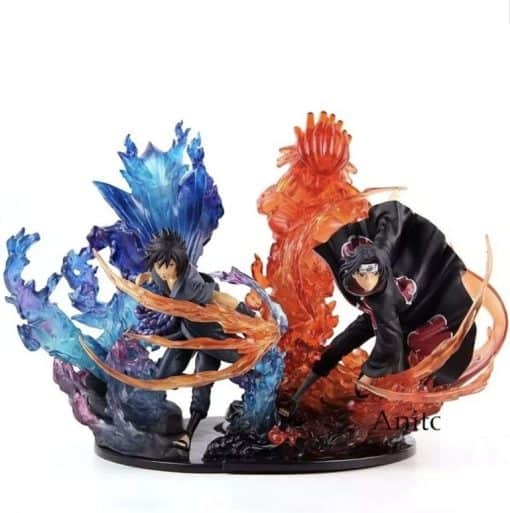 The story of the two Uchiha brothers is epic. In the beginning, Sasuke is consumed by revenge and wants only to kill Itachi. But as Itachi's motives are revealed, Sasuke changes his mind. He forges his own mind about what to do in the future. The moment where both the brothers fight with Susanoo is epic.
The figure has both Itachi and Sasuke looking forward. The dimensions of the figure are around 10 inches. Both the figures are separated. But they can be joined together. But the price of the figure is high. It is around $80, but from some retailers, it is $120. It is essential to explore your options before buying this one.
#8 Snapback Cap – Black & Orange – Konoha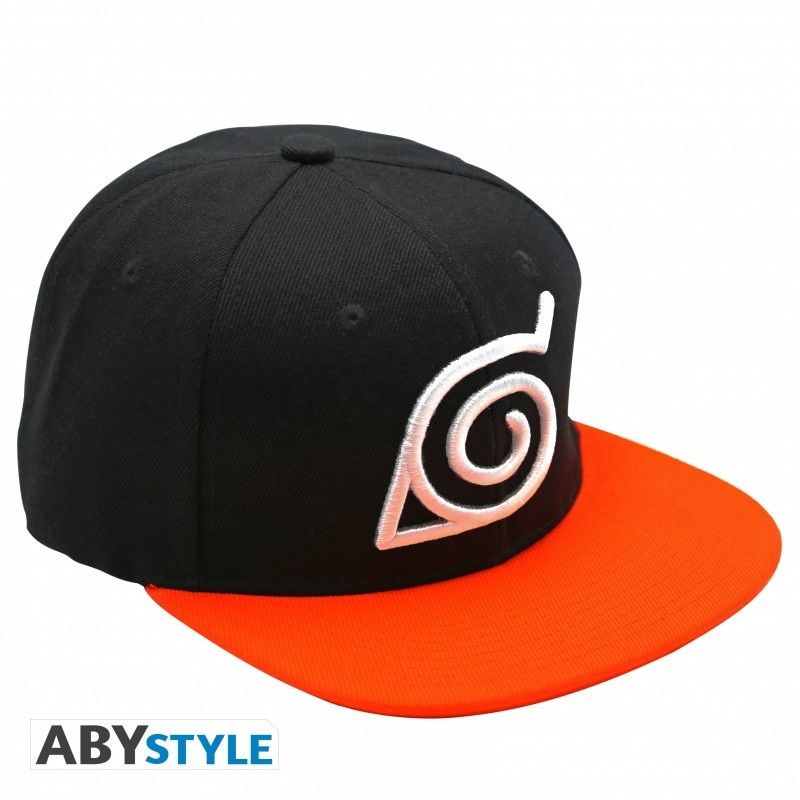 Some fashion styles adopt the use of the cap. The people who usually wear Caps should definitely consider this. The Hidden Leaf symbol at the front gives an attractive aura around it. You might think the orange color might stand out, but it does not when mixed with black. The cap would look excellent with dark-shaded colors. Light-shaded colors would make it stand out more. 
The cap is worth 15 euros. But when it is converted into dollars, it is worth $17.It is not cheap but can serve as an additional flavor to your wardrobe.
#9 Funko Pop – Orochimaru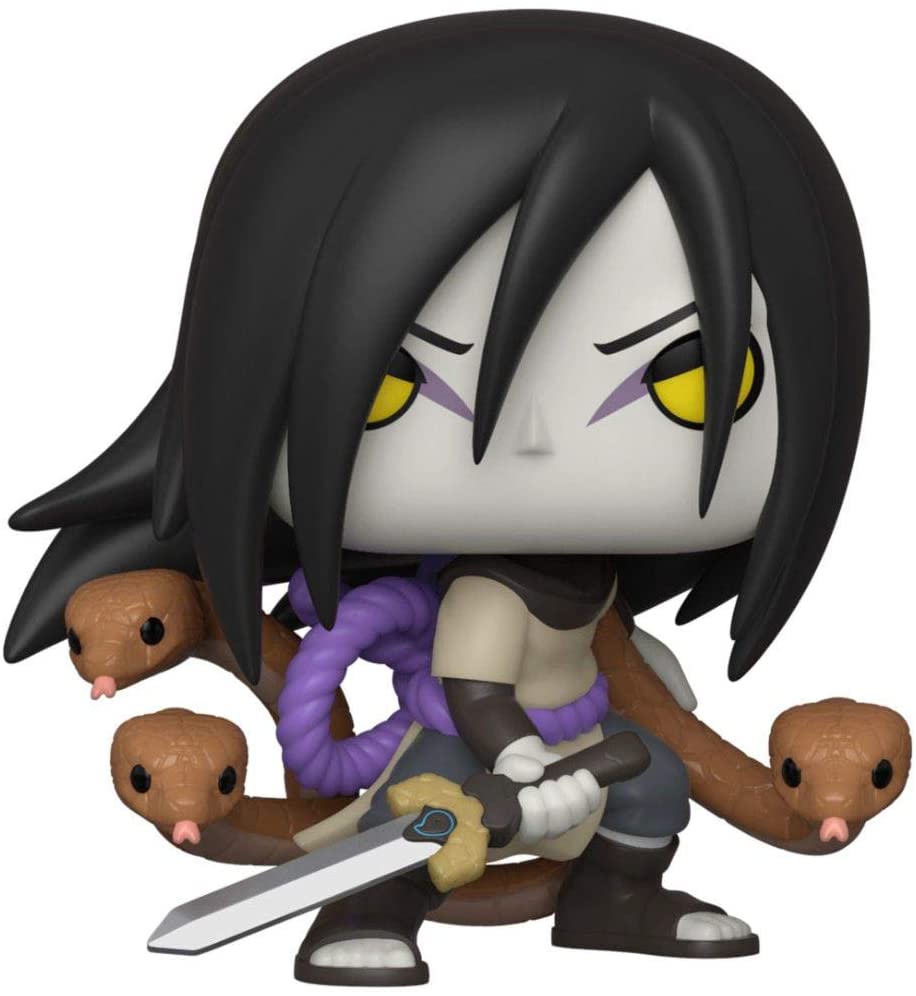 Orochimaru is a creepy villain. The mysterious aura around him and the difficulty in figuring out his motives make him a dread. Even as a viewer, I felt something unnatural about Orochimaru. But Funko Pop's figure makes him look adorable.
Naruto has a huge fanbase. Of course, there are going to be people that are going to relate to Orochimaru. But they might not want to show the creepy side of him. Funko Pop offers an excellent solution to the problem through this figure.
The vinyl figure is only 2.5 inches tall. Orochimaru can be seen holding a dagger in his hand. The figure also has snakes coming in from behind him. The figure is worth $20.99.
#10 Farewell Konoha Shoes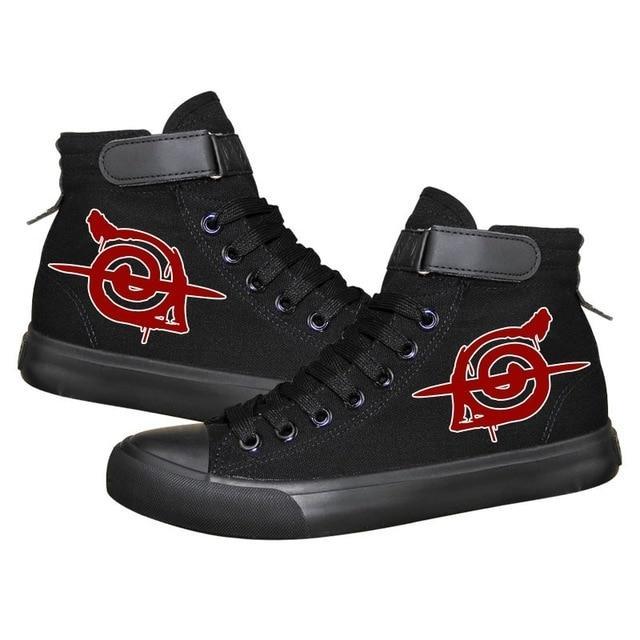 Whenever a ninja joins the Akatsuki, he draws a line on the village symbol. Itachi did it. Sasuke also did it after leaving to train with Orochimaru. The lined out Hidden Leaf symbol represents the rebellious spirit of the Uchiha clan.
You can now also get this rebellious spirit in comfortable-looking shoes. The shows are black while the symbol is dripping red. They are made of polyester. Ten sizes for the shoes are available. However, the biggest downside to the shoes is their price. Their price is $90. 
#11 Nyanto! Sakura Haruno Figure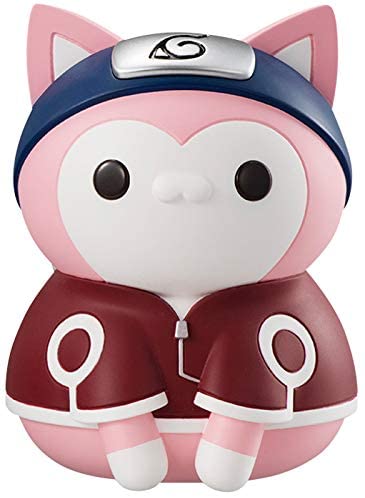 It is a universal fact that cats are cute. Nyanto figures combine the adorable features of a cat and your beloved character. Here, Sakura is a pink-colored figurine. It is dressed in a red qipao with forehead protection. The figure is made of plastic and is about 4 inches tall. Even if someone is not into Naruto, they will like it as a decoration. The figure can be given as a gift as well.
At the time of writing, the figure's price is $24.43. The payment methods include payment in installments. Usually, the figure is valued at around $34.90.
#12 Sasuke Uchiha – He Who Bears All Hatred- Action Figure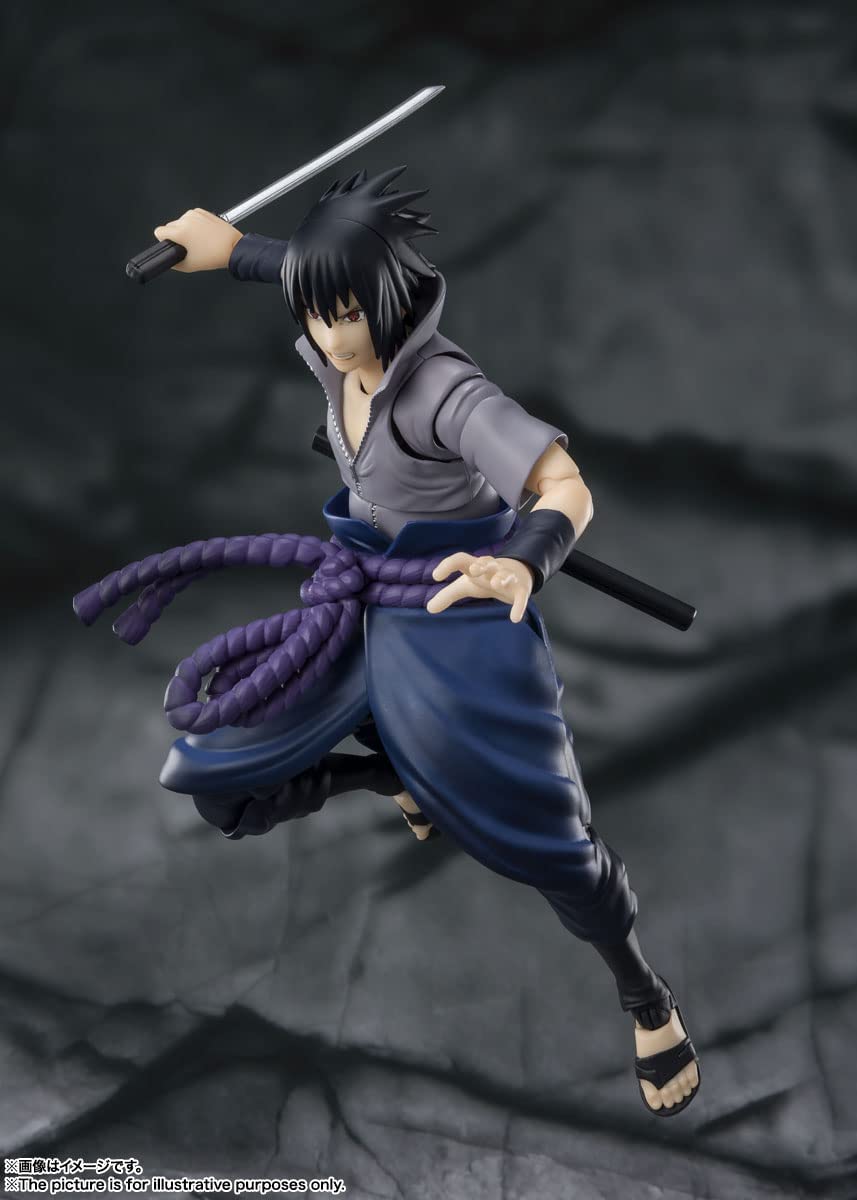 Tamashii Nations presents a Sasuke Uchiha action figure. A lot of figures are used as decorations. But there should be some figures that one should use to play. With new joint technology, the Sasuke Uchiha can do a lot of actions.
The figure's features include three optional expressions, five optional hands, a sword, and a Chidori. Its dimensions in inches are 1×4.5×5.9. Fair warning, the action figure is a choking hazard. If you have kids around, the figure is not recommended. The numerous little pieces can be easily misplaced and end in the wrong hands.
The figure's price is around $60 at the time of writing. But it has not been released. You can pre-order it now and get the actual figure on November 15, 2022.
#13 Might Guy Figure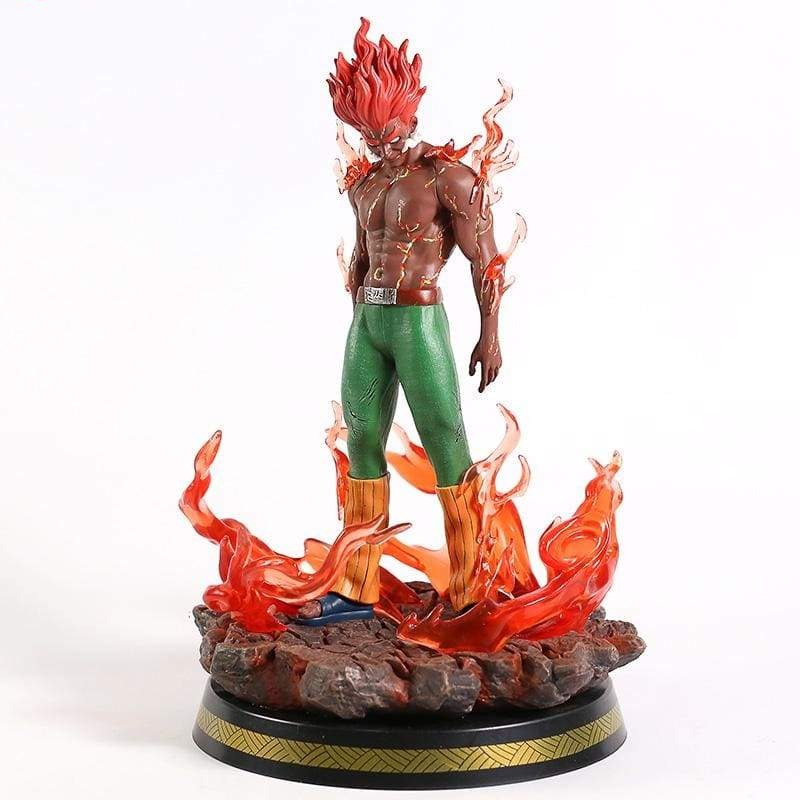 "You are right. All efforts are pointless…if you do not believe in yourself."
This is an iconic quote by the manly Might Guy. He is a walking inspiration, always willing to go the extra mile and give it his all. The figure is precisely designed of when Guy opens all his gates to the detriment of his life. His whole body seems to be on fire, but he looks pretty awesome.
The figure is made of Premium PVC. Its dimensions are around 11-12.5 inches. It can look good on any shelf but is a decoration for your room. To fire yourself up every morning, at home or at work, you NEED this figure. It is a limited edition, so you need to get your hands on this as soon as possible. Its value will be $90, give or take.
#14 Naruto Pendant (The One Tsunade Gave Him)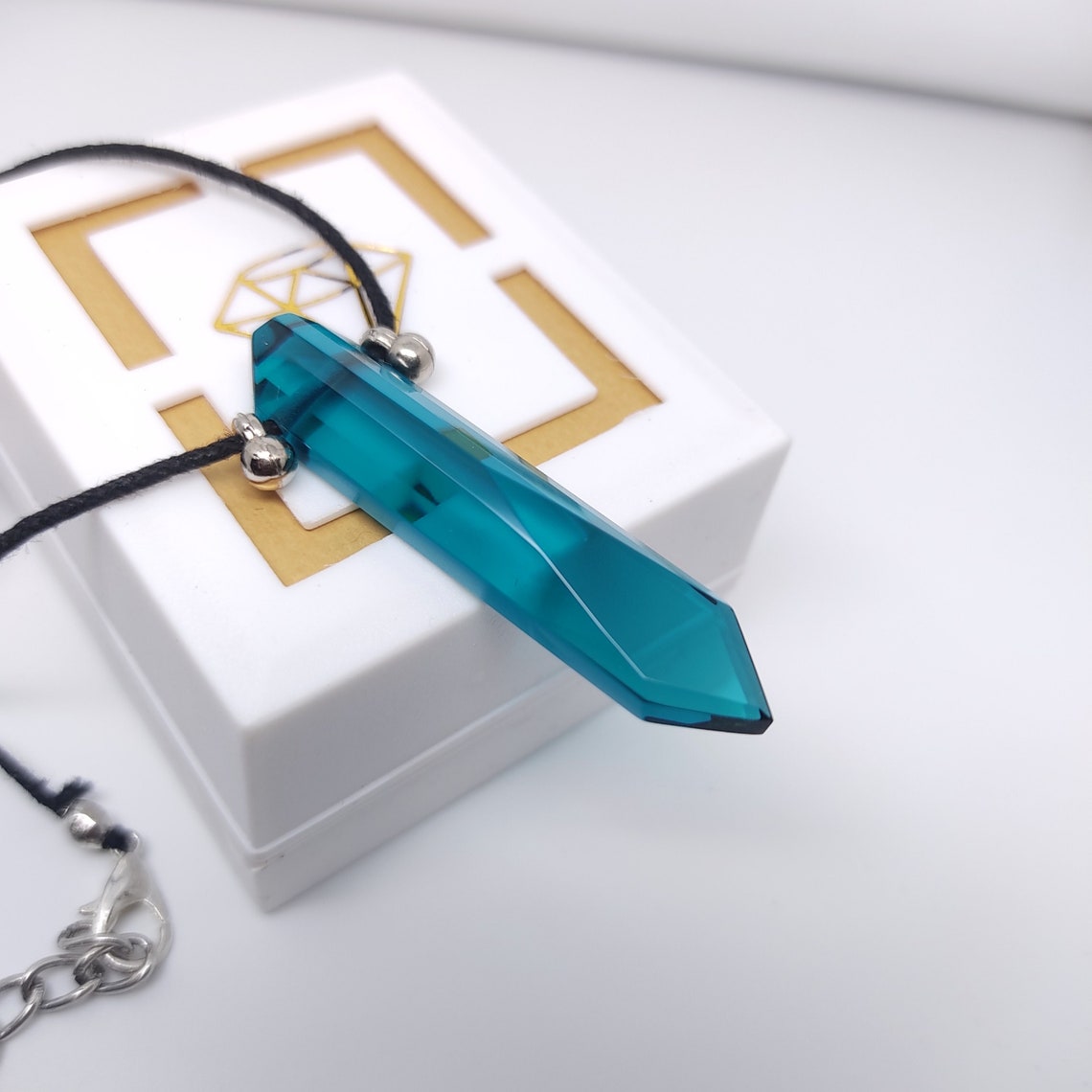 Naruto's dream is to become the Hokage. But becoming the Hokage is no easy feat. You have to complete a very long and arduous journey to reach that status. So, getting that pendant from Tsunade symbolized recognition that he was on the right path.
But now you can have that pendant as well. It is a handmade item that uses glass for the gemstone. The string of the necklace is 18 inches long. The merch itself can be customized if the producers are contacted.
The unisex pendant costs around $10.99. But it sells fast. So, one has to keep an eye out for the time if they are to buy this.
#15 Kunai Box Sets – Metal engraved Kunai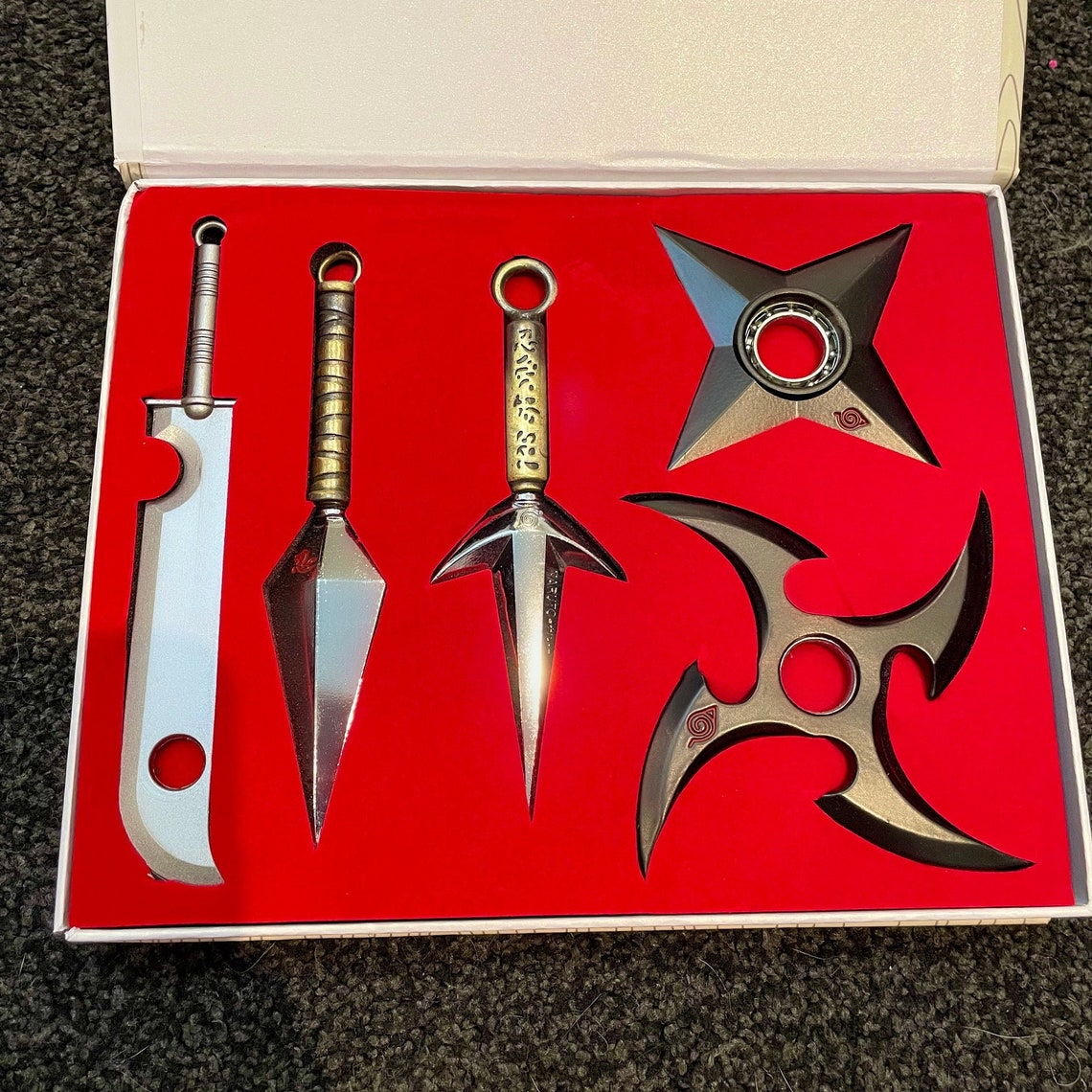 Kunai and shuriken are essential weapons in the world of Naruto. The quick draw and the ability to throw it from afar make them attractive weapons. But there are varieties to them as well.
The box set contains three different types of Kunai and two different kinds of shuriken. One is the standard Kunai and the standard shuriken used by every ninja. Then we have Zabuza's sword-shaped like a kunai, along with the Kunai of the Fourth Hokage. For the other shuriken, the box has it in the shape of Naruto's Rasen-Shuriken. Each is engraved.
Every object is made with zinc allow, and its size and length vary between 4.92 inches and 7.08 inches. The kunai set is to be kept away from children. They can be used as gifts or for cosplaying purposes. At the time of writing, the total price of the box set is around $73.48.
#16 Akatsuki Zip Sweat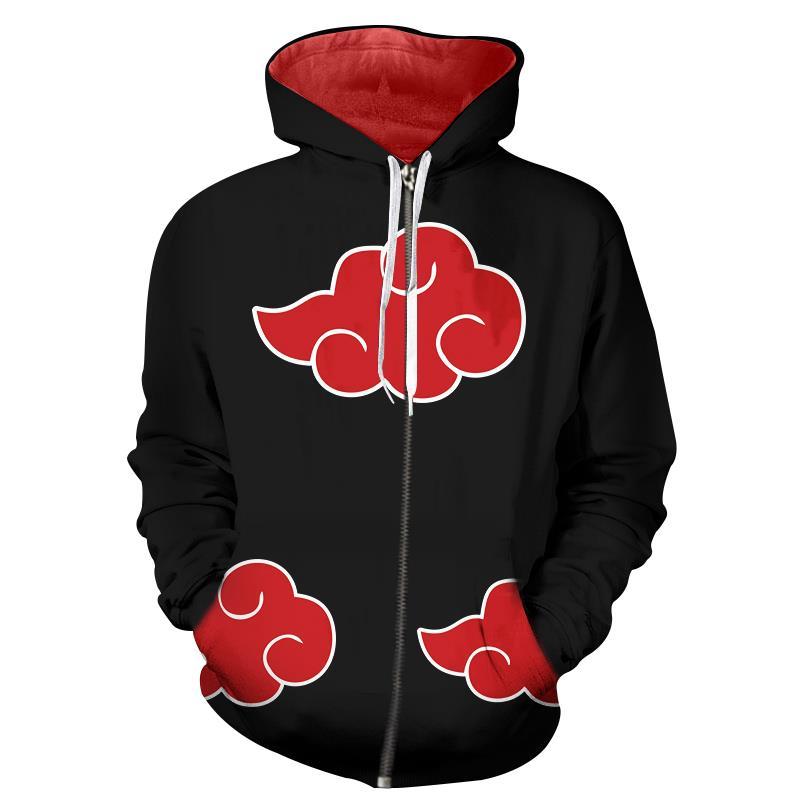 The Akatsuki design emanates its own vibe. The red clouds on the black background give an ominous feeling. And it looks excellent on the sweatshirt!
The sweatshirt can be worn all year in any kind of climate. It is made of polyester and organic cotton with extra long fibers. The designs on the sweatshirt have been made from 3D digital printing. It has 5 sizes and is adjustable as well.
The Akatsuki Zip sweatshirt has a price of $40. The black design will add variety to your wardrobe.
#17 Naruto Rasen-Shuriken 3D Lamp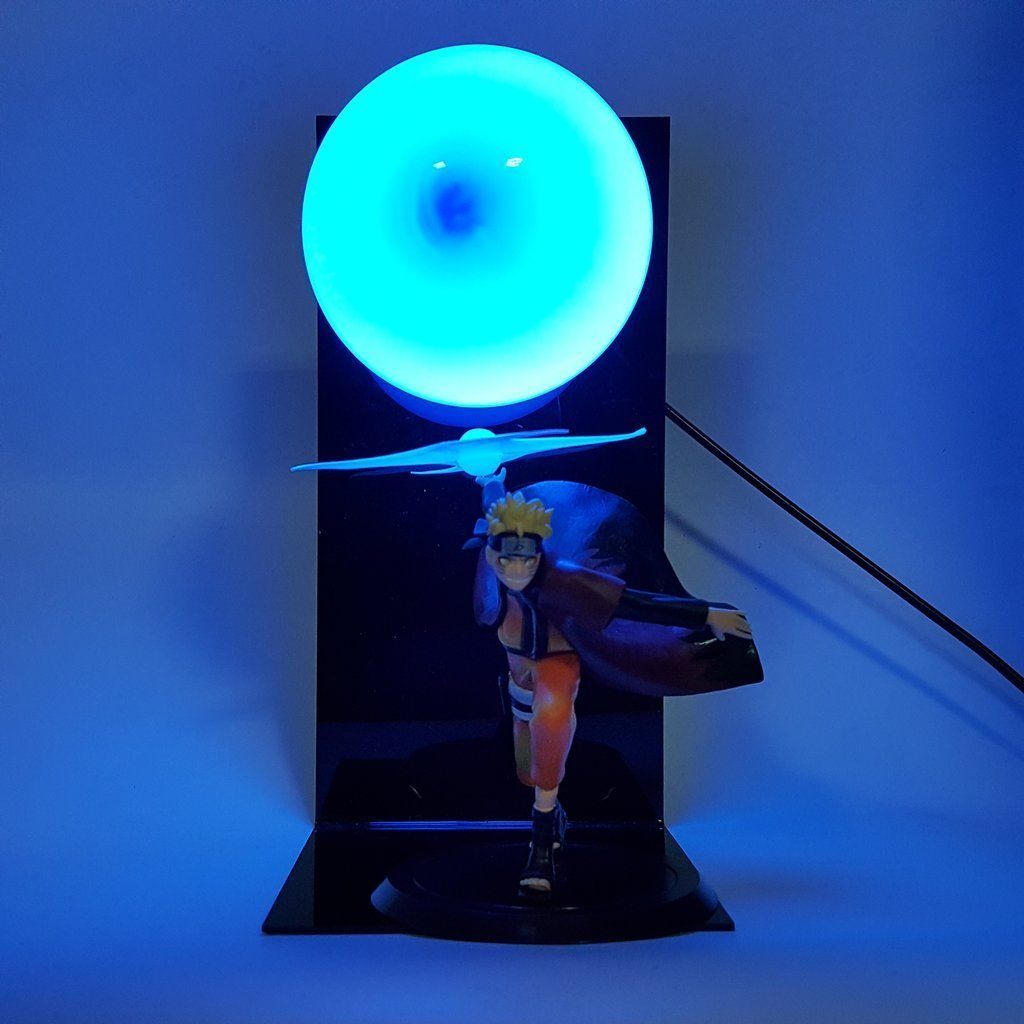 After meeting up with the rogue Sasuke, Naruto felt the need to become stronger. His training resulted in him learning the Rasen-Shuriken. The technique developed by Naruto had destructive power that put fear in his enemy hearts.
Now you can have that same power as a lamp. The 3D lamp is a detailed figure of Naruto holding a Rasen-Shuriken. At the top of the Rasen-Shuriken is a blue orb. This orb functions as a source of light to dispel the darkness of your room.
The lamp can be an excellent gift to Naruto fans. The 7-inch-tall figure comes with a European Adapter. At the time of writing, its price is $79, but usually, it is around $100.
#18 Hidden Leaf Ramen Bowl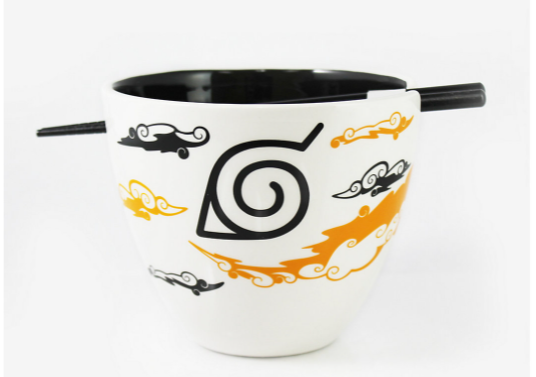 Naruto's favorite food is ramen. Because he does not have any parents to stop him, he eats ramen every chance he gets. There is a pretty good chance that most fans developed a liking for ramen because of Naruto. 
But you need a bowl to eat ramen. Presenting the Hidden Leaf bowl. It is ceramic and comes with two black chopsticks. The bowl has pretty designs drawn across its surface, meaning it can also be used as a decoration piece.
Relatively inexpensive, the bowl is worth $18.90.
#19 Japanese Handmade Wooden Geta Clogs for Men with Socks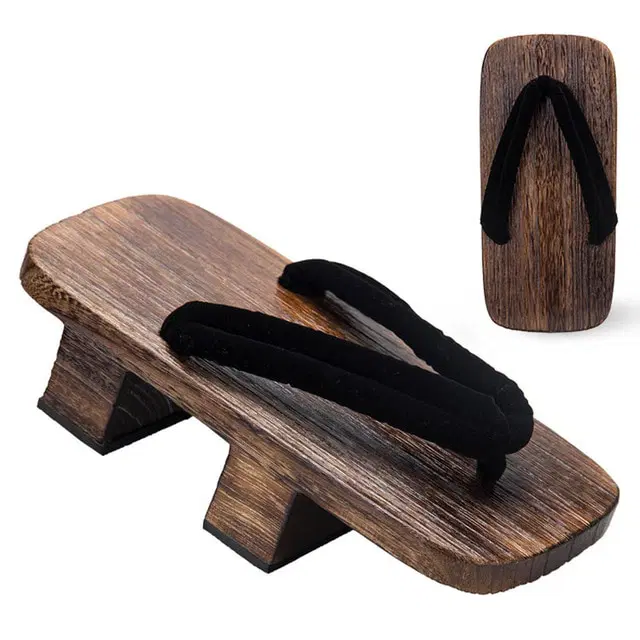 Jiraiya is seen wearing geta clogs. They are a kind of sandal that is made of wood. Although traditional Japanese used to wear this, it is hardly seen in the youth. But now, you can get the same clogs for cosplay purposes. Even if you do not want to wear them for your cosplay, you can casually rock them at home. 
Before buying the clogs, look out whether your feet are comfortable with them or not. Some people feel pain between their toes. Getta Clogs are also a bit uncomfortable. They come in three different sizes. They also come in different designs so choose which you like the best. Their price is around $29.95.
#20 Sharingan Contacts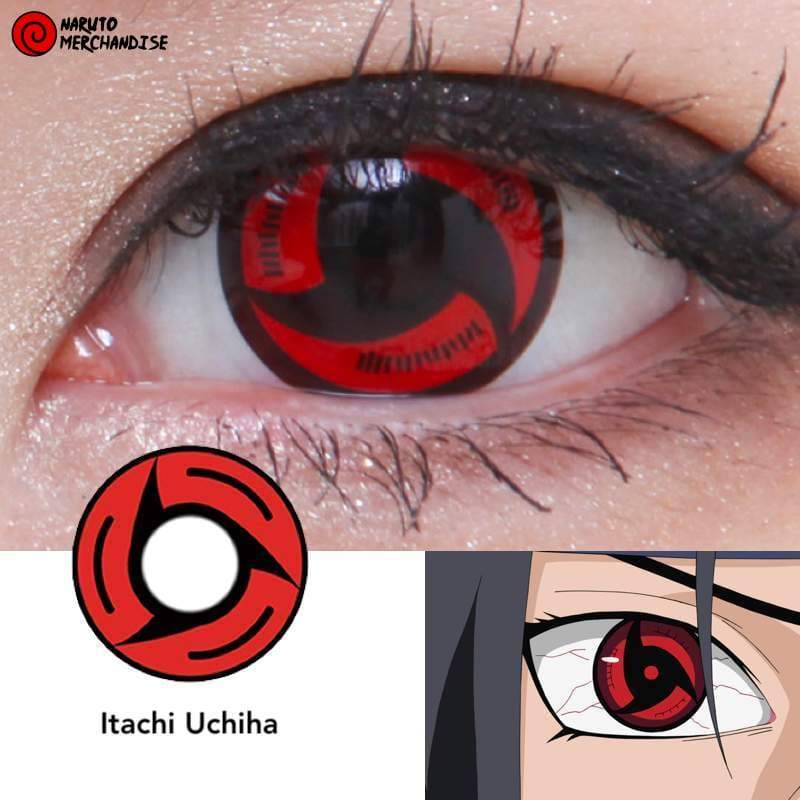 Growing up watching Naruto, you always want to do the Sharingan with the patented screechy noise. Contact lenses can finally allow you to do the Sharingan.
There are four Sharingans that you can do:
All of these lenses are easy to put on. Medical-grade PHEMA is used to make the lenses. The only issue is that the lenses are prone to be dislodged. However, these are primarily for cosplay purposes.
A pair of these cost about $30. Do consult a doctor before putting them on.
FAQs
Question: What should I do if an item I like is not available?
Answer: Do not worry. Usually, the item gets re-stocked. Where you have to be concerned is with limited editions. And some limited-edition merchandise sells very fast. Furthermore, check out other websites. You might find it there.
Question: How much should your budget be?
Answer: Your budget should be around as much as you want to buy. If you desire to buy more high-quality merchandise, then that will, of course, be expensive. Decide what you want to buy beforehand and make your budget afterward.
Question: How can I determine whether something is high-quality?
Answer: The best option is to go to the review section. The review section highlights details of the quality of the courier service and the merchandise. It is a bit tiring, but at least you will know that you are not buying something faulty.
Best Naruto Merch Guide: Final Note

If you are a first-timer, buying merchandise can be difficult. You might get overwhelmed by the variety of options. For this, you need a guide to help you navigate the shores of merchandise. Most of the time, people are aware of what they need to buy. You can decide that beforehand. Even if something new catches your eye, compare the item with others on your list and buy which you think will suit you more.
Naruto is close to the hearts of millions of fans. It has a lot of variety. You can buy clothes to make you look good, or you can buy figures to remind you of all the breathtaking moments of the show. In short, there are a lot of options. They are not only for yourself as well. You can also gift the merchandise to your friends and spread your Nindo, your Ninja Way.
With all that said, if I had to choose just one item from the whole Naruto merchandise that I could have for the rest of my life, then it would be the recommendation #6 Funko Pop! Naruto Vs. Sasuke Exclusive Anime Moments.
This single pop for me is the materialization of the most epic moment in the whole series and reminds you of all the battles the duo had in God's Valley throughout the series. From the time when Sasuke left the village to the time when he finally returned after the war, this Pop! reminds you of that all.
Hope you like it, make sure to check out my Naruto Funko Pops! Guide to learn about the other great figures from the series as well. Till next time, have fun and keep enjoying your collection!
Read More: