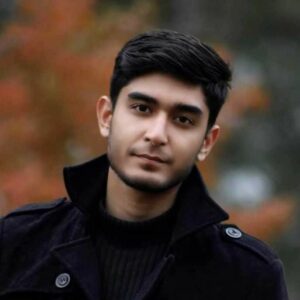 Latest posts by Asad Mehmood
(see all)
"The human who uses this note can neither go to Heaven nor Hell."
I am sure these words in chapter two of the Death Note manga intrigued you to follow the series, as they did to me. Its story with an endless series of cliffhangers has made a great spot in the hearts of its fandom.
Death Note is a manga series written by Tsugumi Ohba. Takeshi Obata illustrated the series in Shueisha's manga magazine Weekly Shōnen Jump. The manga was serialized for almost two and a half years, from December 2003 to May 2006, and spreads over 108 chapters. After the series was over, these chapters were compiled into 12 volumes. 
Due to its enormous success, the series had many adaptations into video games, anime, animated movies, and live-action movies. Soon after the manga finished, the anime universe saw one of the most suspenseful adaptations ever created. The original manga production consisted of 37 episodes aired between 2006-2007. Various studios made the series into three live-action movies and a live-action television drama. 
Within ten years of its first serialization, the Death Note manga sold 30 million copies. We don't usually see a horror story featured in a Shonen Jump. Its mysterious and thrilling tale led its way to many accolades. After a year of its final production, it was declared the 10th best manga of all time by the Cultural Ministry of Japan.
It received the Eagle Award for being the best-voted manga by UK fans in 2008. It was also declared the 3rd best-selling manga in North America in 2009. 
This guide will focus on the merchandise that the Death Note series offers and how you can make your experience the best out of it.
Bottom Line Up Front
Death Note is among those very few series that even if a person has not watched it, he would have heard about it at some moment in his life. This series has quite a strong plotline. The readers are always taken aback by the mélange of the human world and Shinigamis.
This one of its kind, a dark-fantasy-thriller, offers a wide variety of merchandise. Each product develops a strong bond with its collector. Here are some of the everyday products that you will mostly come across.
Clothing Items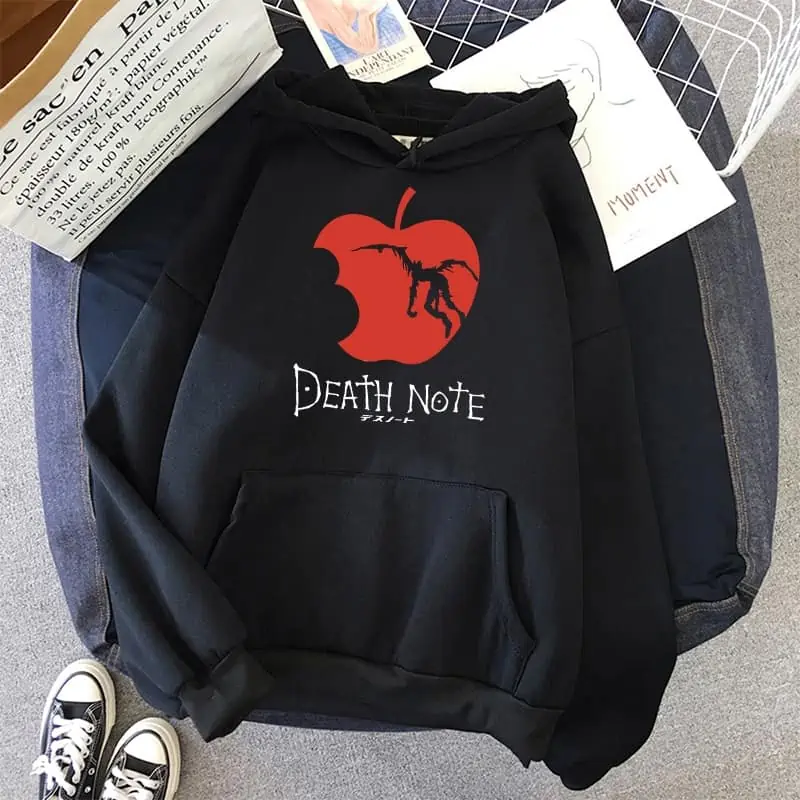 These items include:
Hoodies
Shirts
Leggings with character prints or famous quotes
Home Decor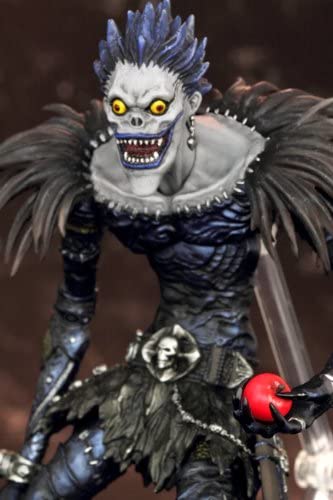 Home decor based on the Death Note series include:
A wide variety of items ranging from Ryuk posters to L wall art.

Shinigamis' figurines to Light Funko Pop.

Death Note stickers and lamps.
Household Items
Death Note Merch includes items that are part of our daily lives. A list of products such as throw blankets, floor pillows, floor mats, and throw pillows is popular. Besides that, rugs, coasters, mugs, and aprons have different Death Notes characters printed on them as well. Some household items are also available with Death Notes Rules written on them.
Accessories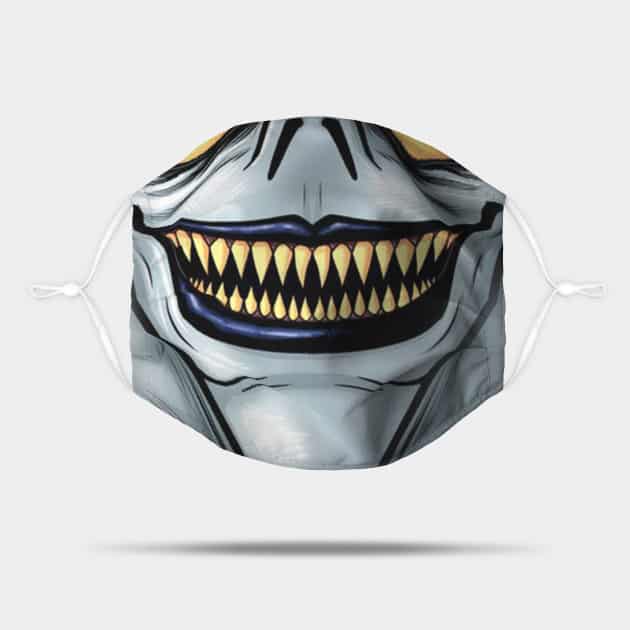 The merchandise has an array of accessories to offer. You can have a customized Death Note Phone or laptop cover, Shinigami facemasks, L and Ryuk keychains. Plus, pocket watches based on the Death Note, and the most famous journals and notebooks look precisely like the Death Note.
Death Note Merch Top Picks Quick List
Out of all these items, allow me to enlist my top 15 recommendations:
#1 Death Note Leather Journal

#2 Death Note Keychain Bundle

#3 Ryuk Figure

#4 Light and Ryuk Lamp

#5 Light Yagami Funko Pop

#6 Red Apple Laptop Cover

#7 Death note Coasters

#8 Mello Phone cover

#9 Ryuk Floor Pillow Cover

#10 Misa Pin

#11 Ryuk Throw Blanket

#12 Kira Classic T-Shirt

#13 L Snapback Cap

#14 Death Note Kira and L Magic Mugs

#15 Death Note Rug
Before we dig into the details of the best merchandise out there, let us just take a quick look at the plot of the series to refreshen our memories.
The Storyline of the Death Note Series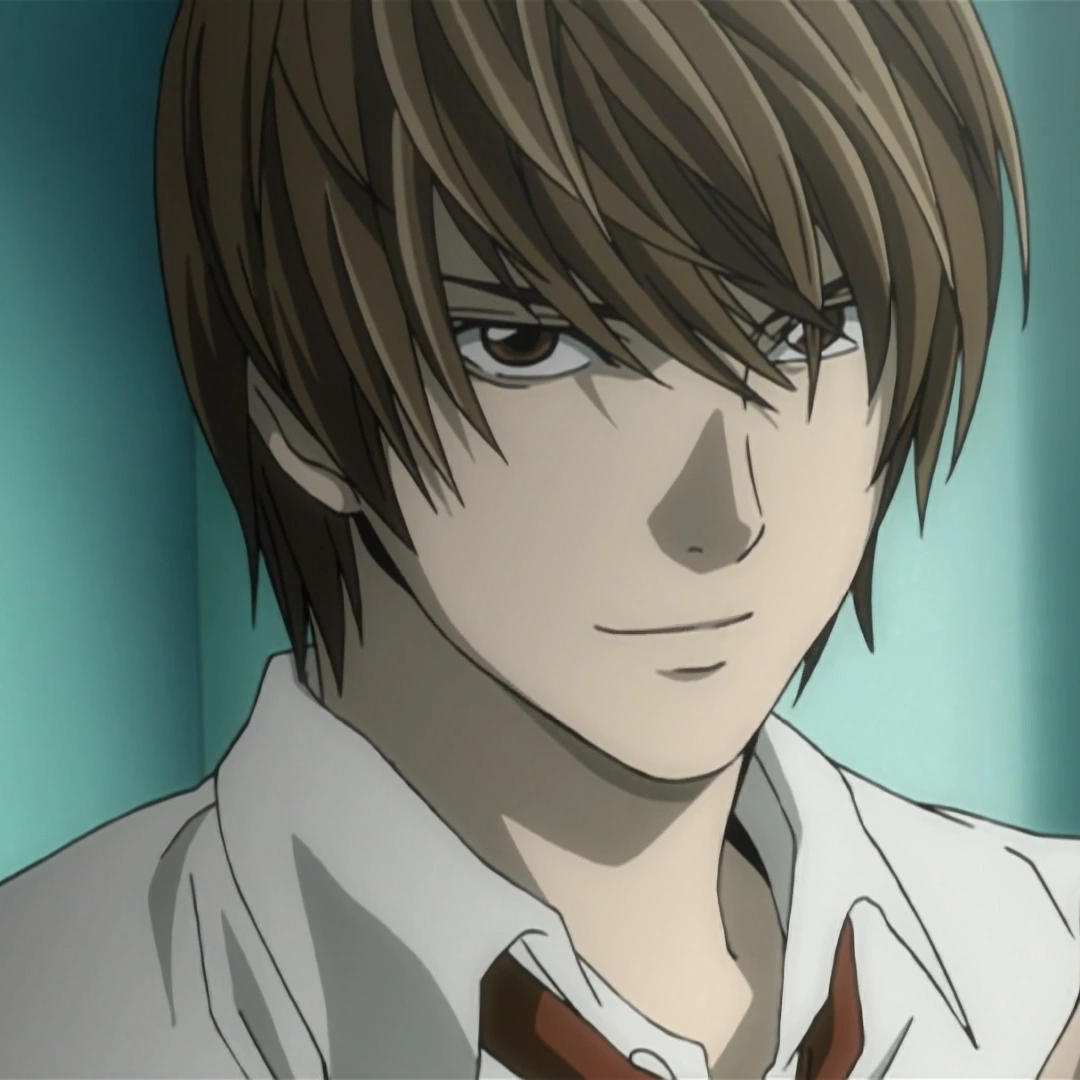 Light is a high school student whose life changes when he finds a mysterious black notebook called the Death Note dropped by a Shinigami. He is a spiritual creature often termed a god of death, named Ryuk, the original owner of the Death Note. Death Note gives Light the ability to kill anyone he wants. Light sets himself on a mission to make the world a better place by killing all the criminals of the world. 
The public adores this killer and gives him the name Kira. In hopes of catching this Kira, Interpol hires a detective named L. L tracks Kira down to Kanto Japan and deducts that Kira can kill people with just a face and a name. He challenges Kira that he will catch him in the name of justice.
Light's ego got demolished by this act and swore to kill L. L infers that Kira has access to inside information of the investigation, so he deploys FBI agents to monitor everyone working the case. Light kills them all using the death note. L marks Light as his prime suspect with the evidence collected from these killings. As light graduates and goes to university, L does the same to keep a close eye on Light. He asks Light to help him catch Kira, to which he agrees. 
Misa Amane, a Pop Idol obsessed with Kira, receives a second Death Note from a Shinigami named Rem. Misa cuts a deal with Rem and gains the Shinigami's eyes. These eyes let her know the person's name just by looking at them.
To gain attention from Kira, Misa commits indiscriminate murders. She finds out that Light is Kira and insists him to be her boyfriend, to which he agrees so that he can use her Shinigami eyes to find L's real name and kill him.
L, on his suspicion, arrests Misa. Rem asks Light to save her from L. To save Misa and have his name cleared from L's suspicion, Light renounces his ownership of the Death Note along with its memories and passes it down to a businessman named Higuchi.
Light and L wholeheartedly join the hunt for Kira and determine that Haguchi is Kira and arrest him. Upon touching the Death Note, Light regains his memories. Light kills Higuchi and becomes the owner again. He then asks Rim to kill L to save Mesa, which he does and turns to sand.
Light gives Mikami, a die-hard fan of Kira, his Death Note four years later. Near, a kid raised to be a successor of L finds the connection between the killings and Mikami and replaces Mikami's death note with a fake one. Light and the Anti-Kira force arrive at a warehouse where Near is waiting with his SPK team. Light awaits Mikami to write down the names of all his adversaries present there.
After nothing happens, Light goes crazy, revealing his identity. He gets shot multiple times and tries to escape, but Ryuk writes his name down, resulting in his death.
What Makes The Death Note Merchandise So Unique?
The Death Note merchandise portrays a unique affiliation with the characters. The nexus of the story, though a dark fantasy, has deeply touched the hearts of its readers.
The plot questions the moral dilemma of the reader, and their nature is always split between what should be correct and what should be wrong. A mix of morality, obligation, power, righteousness, commitment, and wittiness is evident in the series.
The emotions portrayed through its merchandise are constantly changing, and a collector can sometimes not assess the feelings the product implies. All this is what makes this merchandise so unique. The constant conflict between righteousness and wickedness has the Death Note fan longing for almost every product offered by this merchandise.
My Interaction With The Merchandise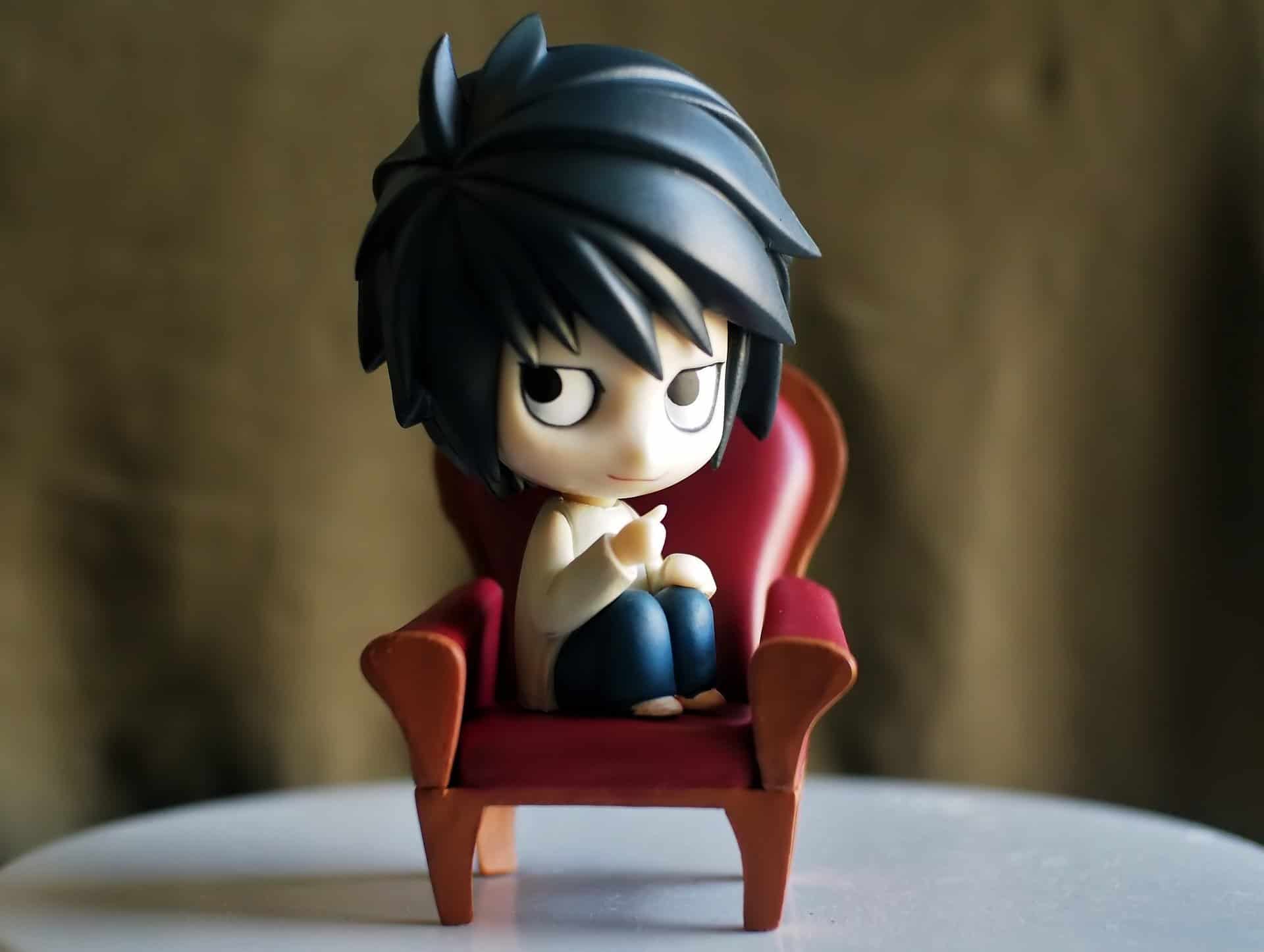 The Death Note series had a profound impact on my thinking. After I finished reading its manga, I started to question the moral values portrayed in the series and how these values were justified. I have to admit that it took me quite some time to get out of this oblivion of deciding who was right in the story.
As I could not decide who the story's hero was, I started digging deep into every character. The more I delved deep, the more they made sense, and I concluded that everyone was right!
After reaching this conclusion, I became a fan of every character, which led me to collect their merchandise. Like most other fans, I started with products based on L, but as soon as I had his merch, I started missing Light, which led me to hunt for his merchandise. This chain of reaction did not stop there, and now I have Death Note merchandise on L, Kira, Ryuk, Mello, and Near.
The Main Character And The Related Merchandise Of The Death Note Series
As each main character of the series has a growing fandom, let's look at the everyday products based on these characters.
Light Yagami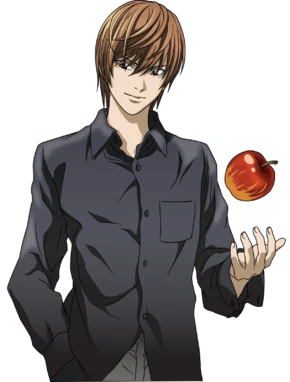 Light Yagami, aka Kira, was the main protagonist when the series started. He stumbled on Death Note when he was going home from high school.
After reading the instructions, he tried it and confirmed that the rules were proper. He pledged to restore the balance of this world by getting rid of the criminals. As the story progressed, Light became more possessed with becoming god, and he started to kill anyone who would stand in his way. 
Light is the most debatable character among Death Note fandom. Different fans have different views about him, and some lovers even put uncanny justifications for his every action. His heroic approach based on evil deeds makes almost every Death Note fan go for his merchandise.
Related Products: Some of the products you will find on Light Yagami include Light Funko Pops and figures. His demonic laughter posters, "eating potato chips shirts," hoodies, and phone covers. 
Ryuk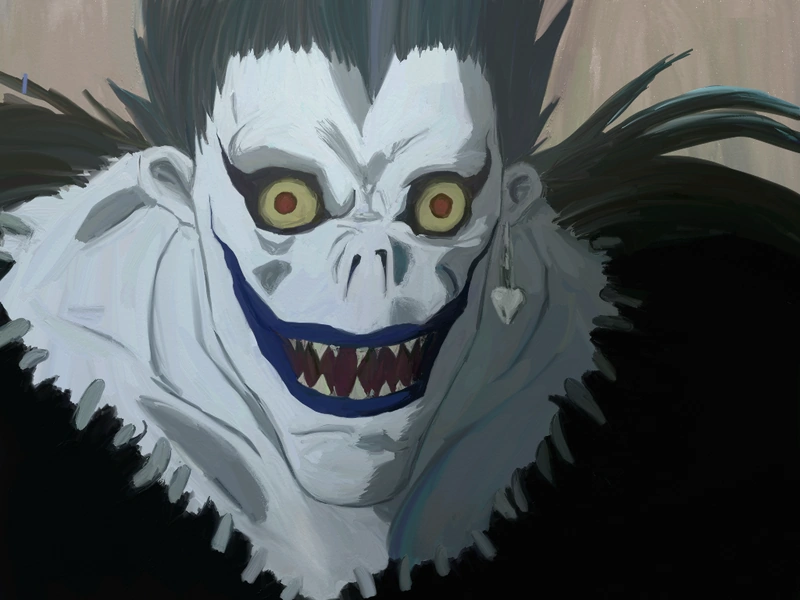 Ryuk is a god of death, a Shinigami who hails from the Shinigami realm. After getting bored in his domain, he decided to spend some time in the human world. He stole the Death Note of another Shinigami and dropped it into the human world, which Light Yagami found. Like any other Shinigami, Ryuk is visible only to be the person who possesses that Death Note.
Although Ryuk does not have a significant role in the storyline, he is one of the series's most famous characters. Because he is an immortal creature, Ryuk's merchandise offers a sense of might and power.
Related Products: The merchandise on Ryuk is the most developed merchandise of the Death Note series. Some of the everyday products on Ryuk that you can easily find in the market include Ryuk figures, Ryuk laptop covers, Ryuk stickers, and Ryuk's chibi stickers.
L Lawliet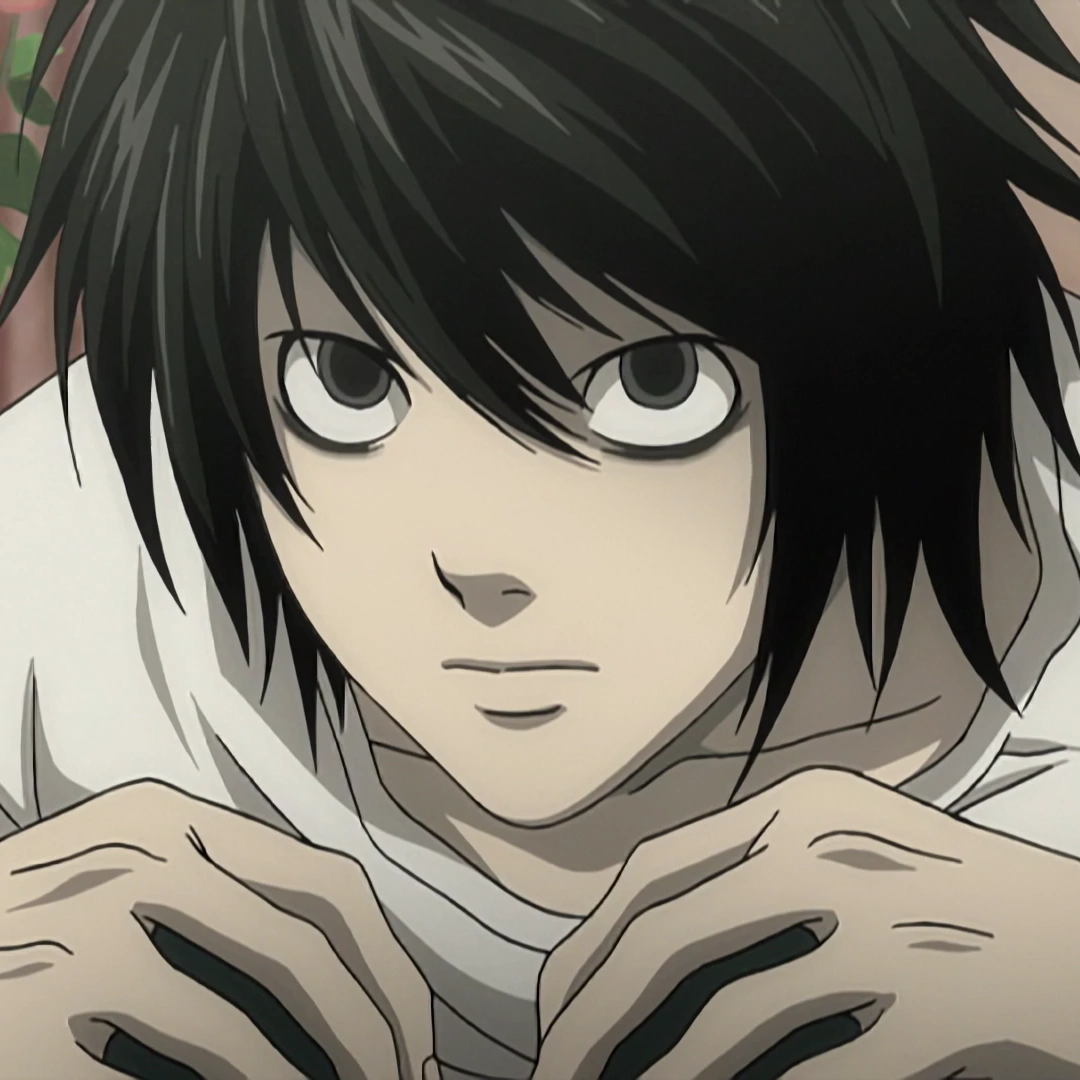 L is the character whose death sent a wave of sadness among the Death Note fans. When Light Yagami became an antagonist, L replaced him and arose to be the new hero of the series. Being the most capable detective of the world, L took it upon himself to reveal the identity of Kira. However, he met an anticipated death at the hands of his suspect, Light Yagami.
Because of his deductive abilities and wittiness, L is quite revered among the Death Note fans. Albeit he has a queer lifestyle and unconventional approach toward things, his character is a pure manifestation of intelligence and brilliance. 
Related Products: As L is quite famous among Death Note fandom, many products are available in the market that show the queer style of L. Some everyday products you can purchase include L's stickers, differently styled L's initial keychains, L's figurines, L plushies, L phone covers, and posters. 
Misa Amane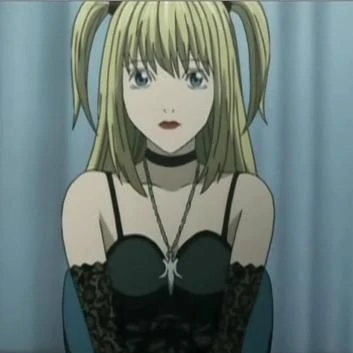 Misa Amane is the true example of love and devotion in the series. Although a famous and gorgeous model, she was a staunch admirer of a commoner, Light Yagami. Her infatuation for Light developed when she knew that he was Kira. She was so devoted to Light that she did not think twice when she made a deal with Rem, a Shinigami, for Shinigami eyes, which reduced her age by a further half.
The character of Misa is an emblem of love and loyalty. She always put Light before herself and did everything he asked her to do without giving it a second thought. That's why many fans, especially girls, are closely attached to her character. 
Related Products: Misa Anime, a solid and devoted female character of the series, is quite famous among girls. Girls can be seen chiefly opting for Misa facemasks, Misa printed pillows, Misa leggings, a variety of Misa-focused wall arts, and Misa pins. 
Mello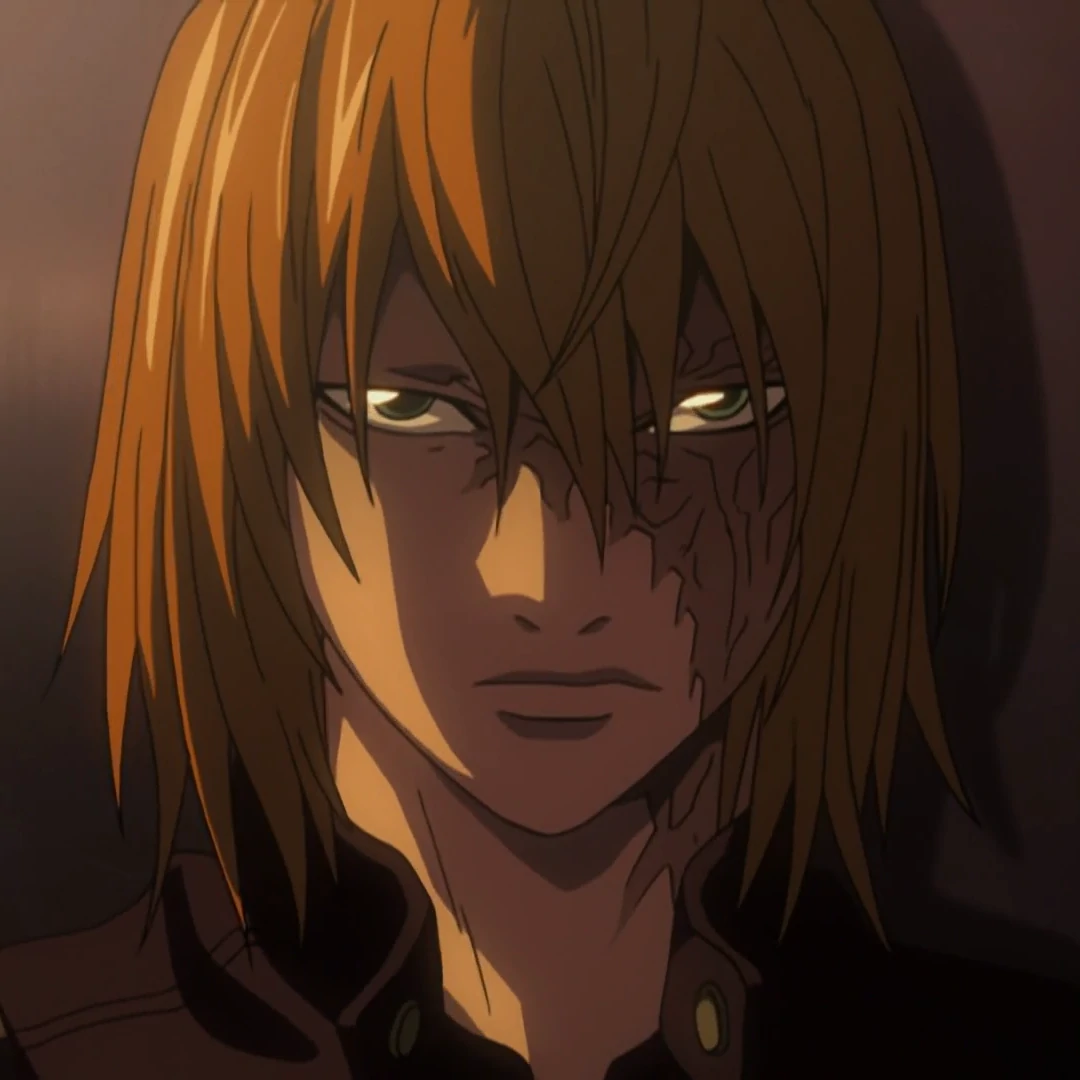 Mello, an orphan at the Wammy's House, was the aspiring candidate for L. After the death of L, Mello was to work with Near, but his differences made him reject the offer. He moved to catch Kira on his own. In an attempt to kidnap the spokesperson of Kira, Mello lost his life.
Mello's role was quite limited in the series. But his out-of-the-box thinking led Near to reveal the location of the actual Death Note. Although seemingly arrogant and cynical, Mello's character played a crucial role in apprehending Kira.
His anticipated selfless sacrifice developed a strong fan following after his death. Many reserve and mature fans of the Death Note series prefer Mello's merchandise over all others.
Related Products: Despite his limited appearance in the series, Mello's merchandise is quite famous among Death Note fans. The most popular items among the fans include Mello phone covers, Mello hoodies, Mello mugs, Mello wall posters, and face masks.
Best Buying Tips
Before you embark on the journey of collecting your favorite products, let's talk about some of the things that would come in handy if you keep them in mind:
When Purchasing From A Retail Shop
If you come across any of your favorite products in a convenience store or a retail shop, don't think twice to go for it. Often, we feel that the store might be offering at a higher price, and you are likely to get it at a reasonable price on some online website. You will not!
There is a possibility that some online merchant might be selling it at a lower price. Still, you would not be sure of its quality and availability. As they say, "A bird in the hand is worth two in the bush"
While Making An Online Purchase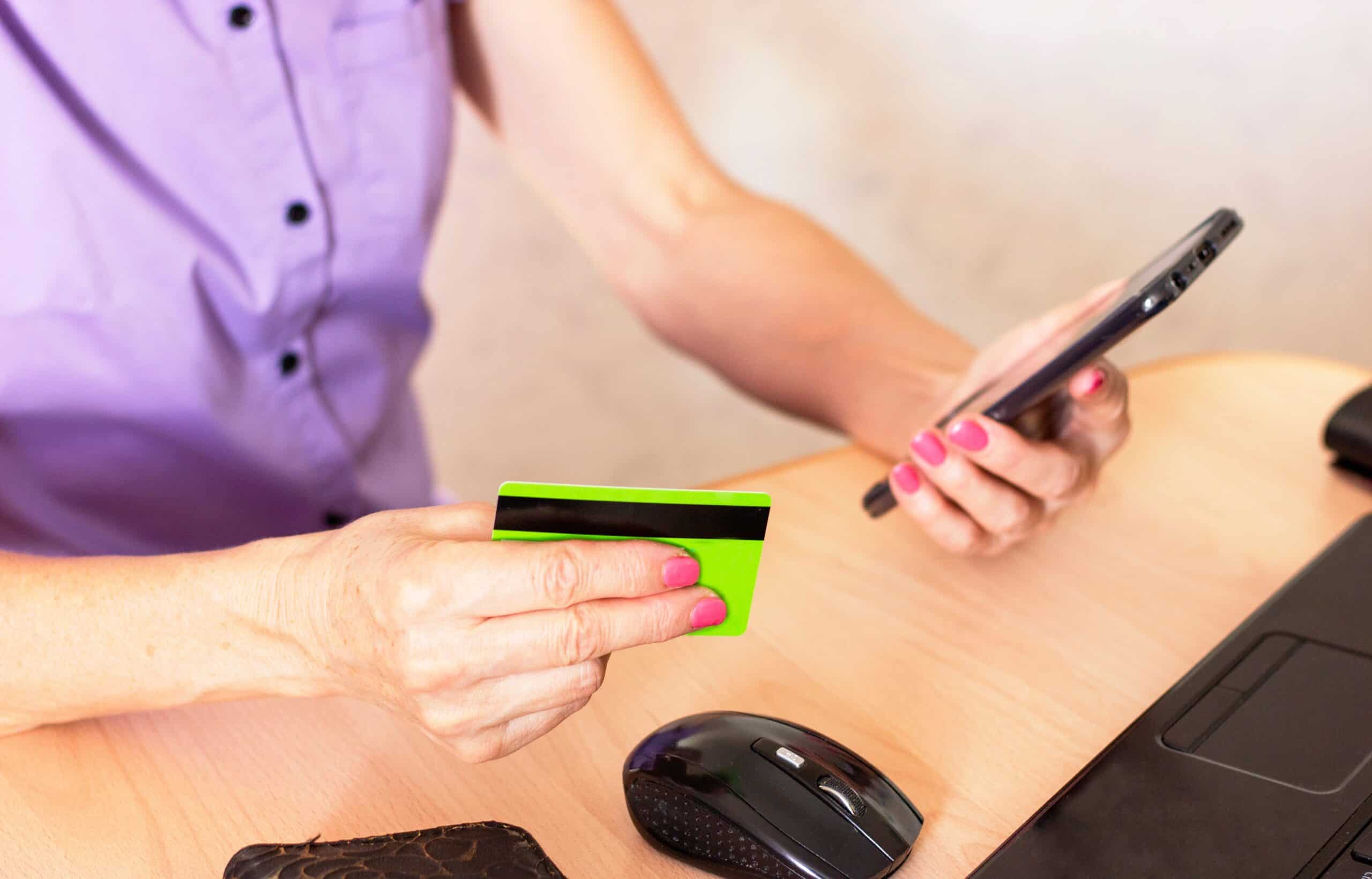 Well, I have a different suggestion for purchasing from online sources. Instead of going with the first result that pops up on your app or browser, try surfing the internet a bit to know about other available options. 
As vendors are always competing, they are more likely to offer a reasonable rate for online shopping. They do so to attract more customers and develop their clientele. I know it is heartbreaking to see another vendor selling the same product at a lower price after you have placed your order.
"Patience Attracts Happiness; It Brings Near That Which Is Far."
Have you ever wondered why your packages arrive late every time or why every online service sucks? The answer is, they don't! We are unable to wait patiently for our item to arrive. When we place an order, our eyes get stuck on the clock. Every passing minute feels like an hour. All the answers to this anathema lead to one solution; take a chill pill and relax.
The delivery process is not a simple step. If you look into processing a single order, you will be in awe. It is better to give these processes some time. Any uncertain and unanticipated situation may arise, causing a delay in delivery, and worrying and anxiously waiting will not help in any way. Therefore, the best thing to do is to be patient and wait.
Top 15 Best Products of Death Note Merchandise
#1 Death Note Leather Journal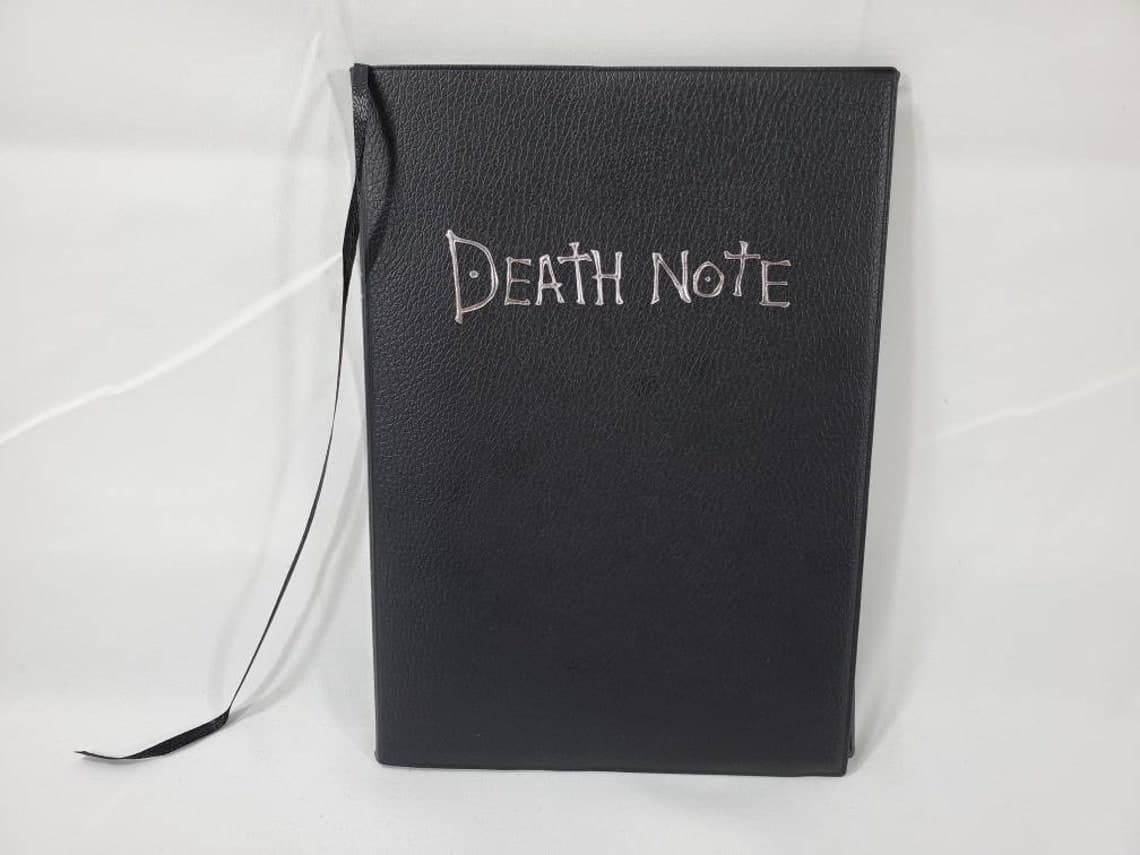 Without any doubt, any Death Note fan would long for their Death Note. Well, we cannot have Shinigamis dropping their Death Notes, but we can have this marvelous embodiment of the Death Note from the series.
The Death Note Leather Journal is made up of pure leather. The best thing about this journal is that it is handmade. It has all the Death Note rules written on its front pages, so you would not have any problem in the case you do not know. Following the rules are the lined pages, just like the series. This journal also comes with a bookmark to help you keep track of where you left. 
#2 Death Note Keychain Bundle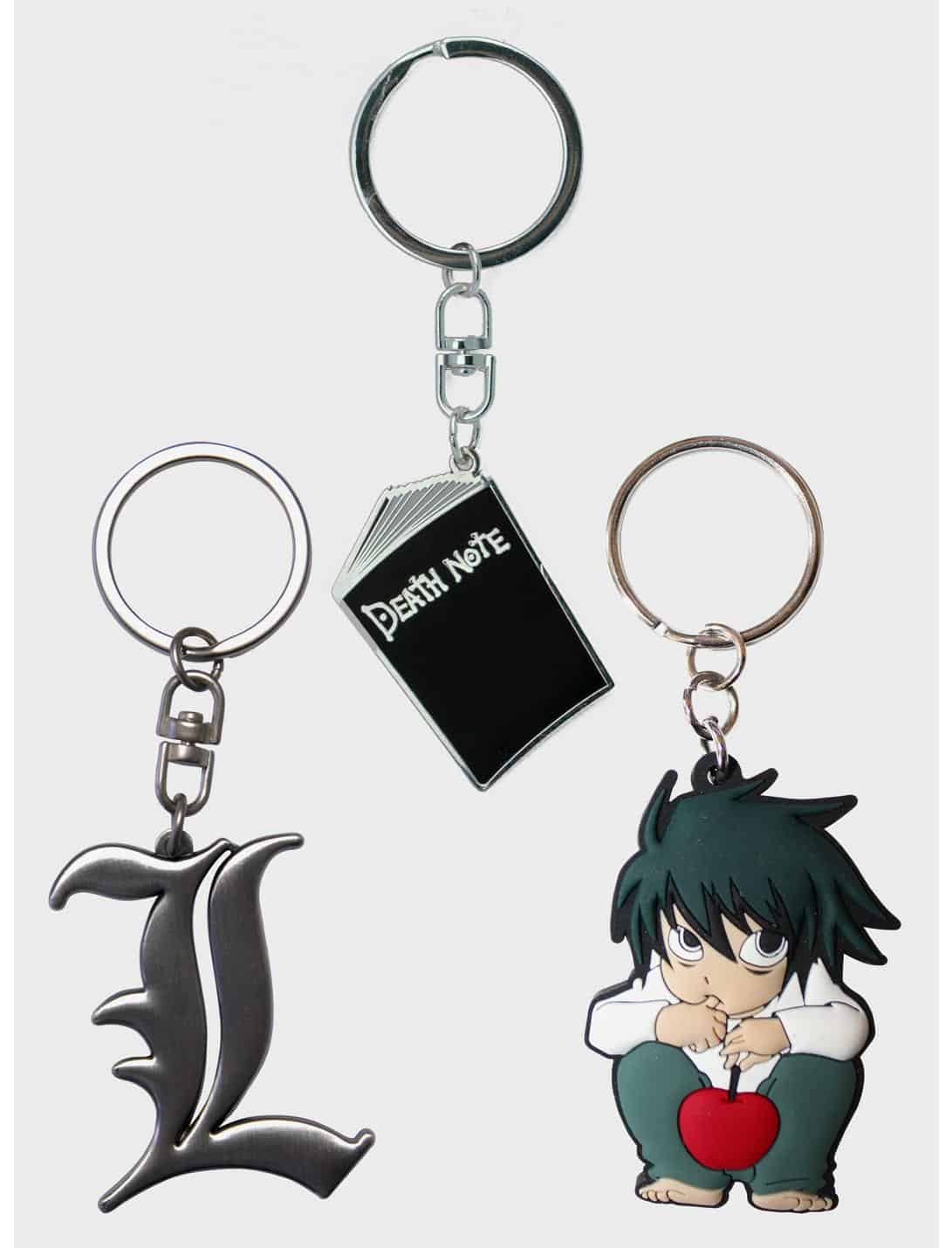 If you are a Death Note fan who wants to have all the memorabilia on its favorite characters, you do not want to miss this deal. 
This Keychain Bundle offers all of the three most fascinating things of the series: The L symbol, L himself, and, of course, the Death Note. These export quality keychains are made up of PVC and Metal. With a 3D design and smooth edges, these keychains are a perfect fit for your schoolbags or keyrings.
#3 Ryuk Figure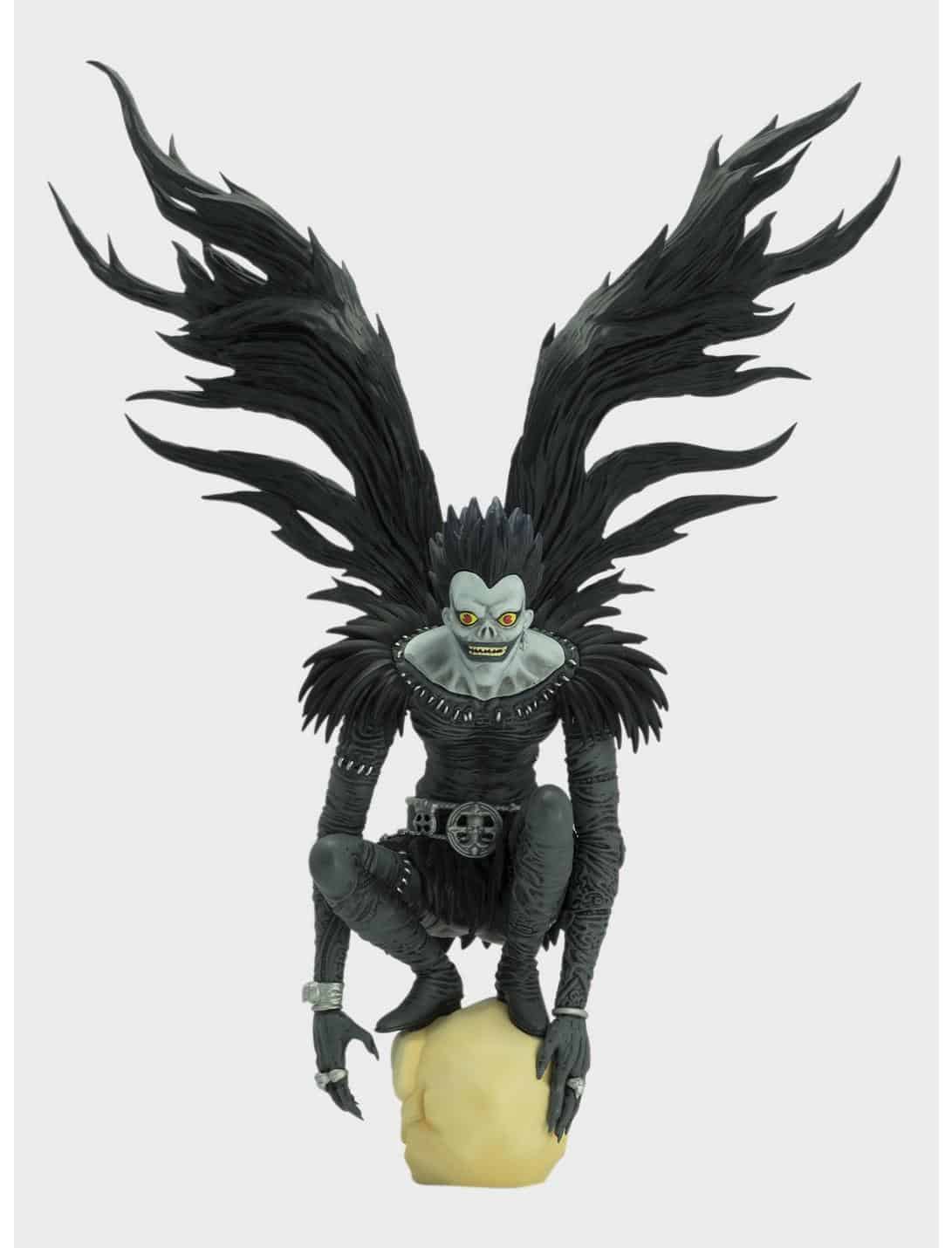 One of the most sought-after products of the merchandise is Ryuk's figure. Most Death Note fans obsess over the god of death. And a fan can undoubtedly feel the Shinigami's energy flowing through them when they are in the vicinity of its figure.
The Ryuk figure is made up of PVC. The paint used is high quality, and time does not fade away. Unlike other minor figures, this Ryuk figure, sitting on a skull, is considerably tall, approximately 12 inches. However, this figure does not come at a low price, and you have to spend almost USD 70 if you want to get your hands on it. 
#4 Light and Ryuk Lamp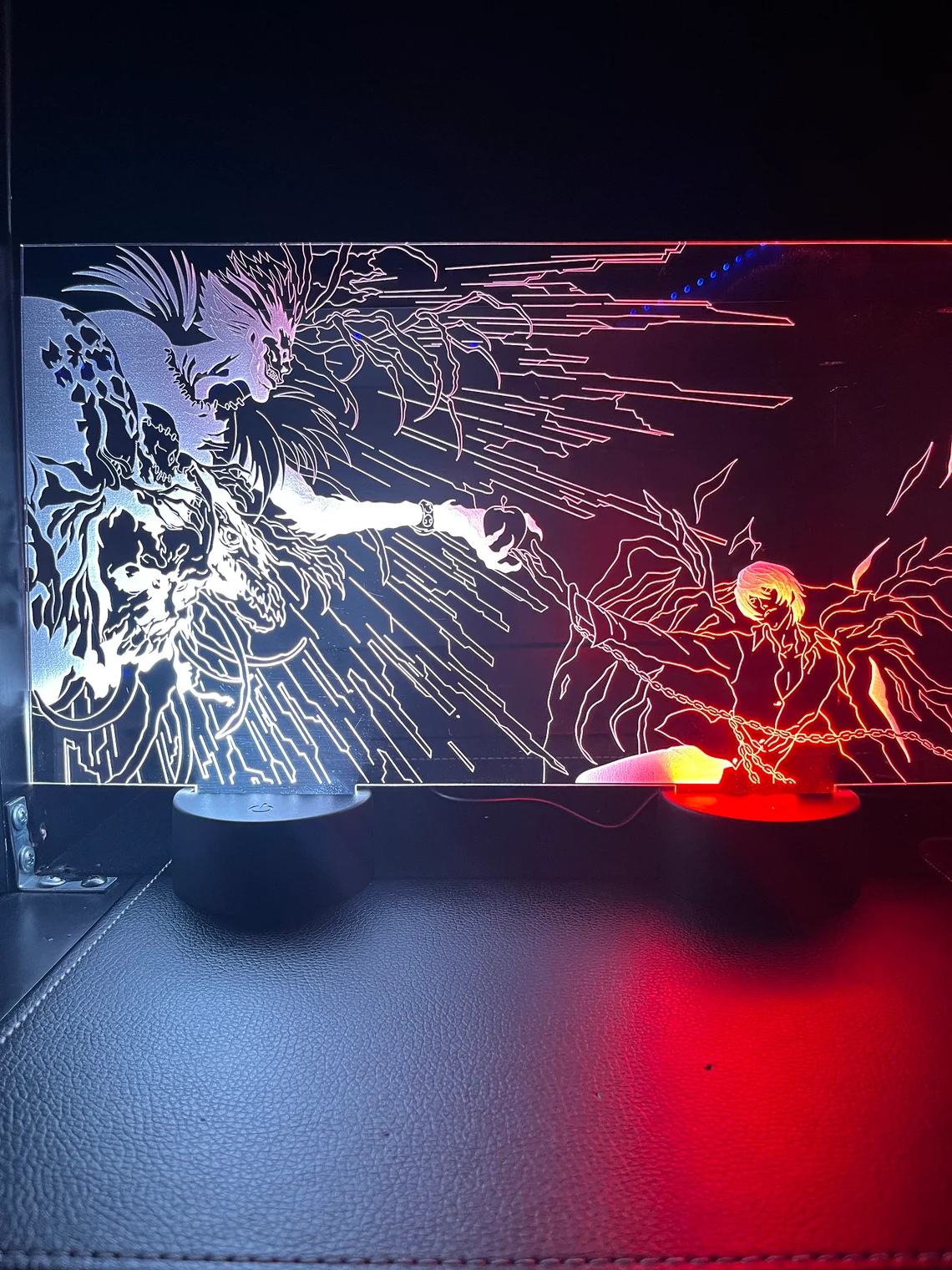 One of the series's most captivating products is this Light and Ryuk Lamp. This lamp features Ryuk receiving an apple from Light Yagami. But the way this scene is inscribed on the plastic screen looks close to the famous fresco painting, Creazione di Adamo by Michelangelo. 
This lamp, though seemingly simple, offers a combination of colors. One of the best things about this lamp is that it is remotely controlled, it doesn't even need much electric power for running, and it is operable even on three AAA-size batteries.
It also costs around USD 70, but its built quality and multiple lightning options justify its price.
#5 Light Yagami Funko Pop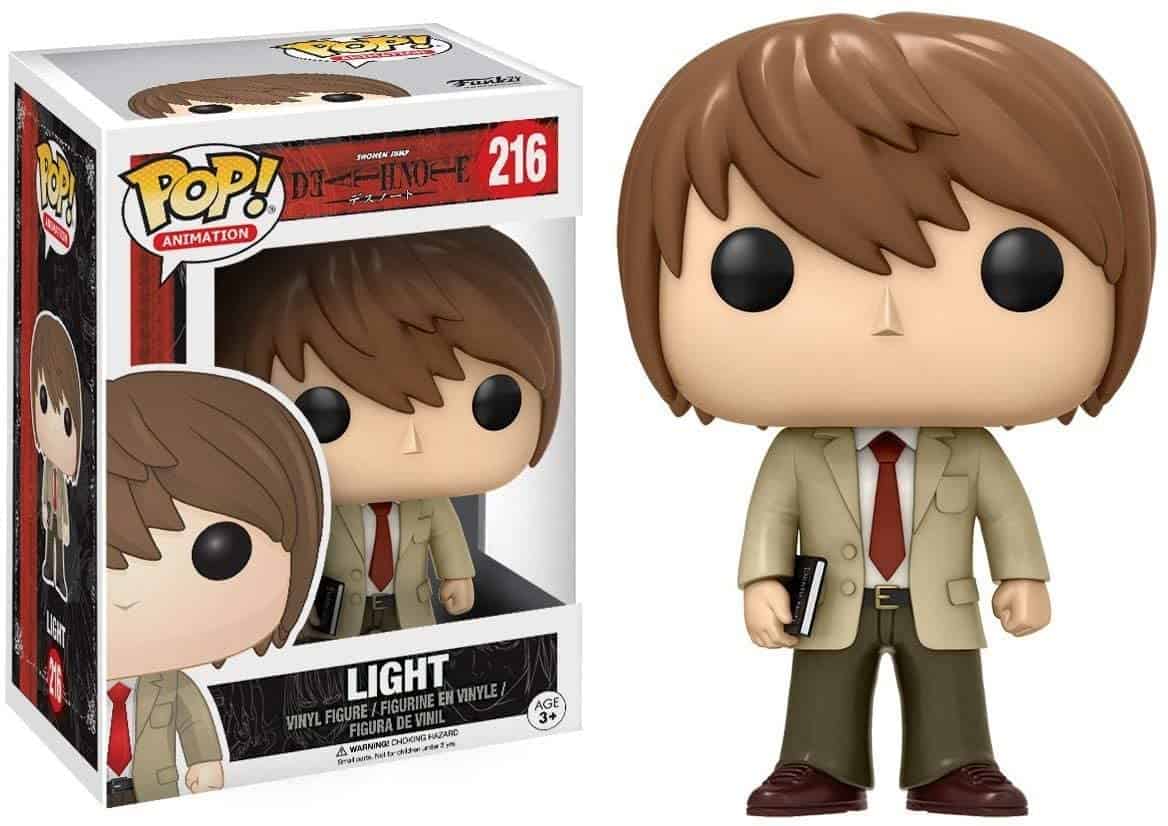 If you are a collector of the Death Note merchandise, you might not want to overlook Light Yagami Funko Pop. Funko Pops, being the first option of almost every merchandise collector, are readily available in retail stores and online. However, Light Yagami Funko Pop is chiefly open on online platforms.
This Light Yagami Funko Pop is, like other Funko Pops, made up of vinyl. It is 3.75 inches tall, making it suitable for almost every location.
#6 Red Apple Laptop Cover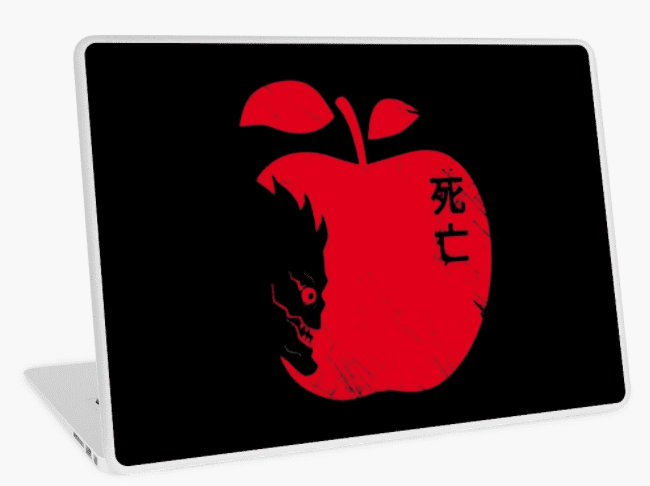 I have to admit when I first looked at Ryuk in the series, his illustration terrified me. With a demonic smirk on his face, dark and broad wings, a fearsome and tall body with red eyes, indeed, he is one of the eeriest characters ever portrayed. However, when he appeared dying for sweet apples, it made me breathe a sigh of relief.
This Death Note Laptop Cover is made from vinyl and comes with a gloss finish on the outside. It sticks tightly to the surface of the laptop. And the best thing about this laptop cover is that it is resistant to most of the scratches we encounter in our daily lives. It comes in different sizes, making it suitable for almost every laptop.
#7 Death Note Coasters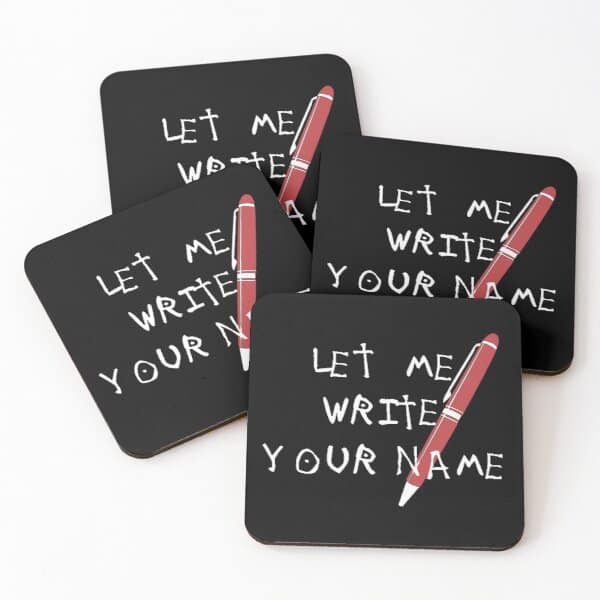 The actual enthusiast of a series collects the memorabilia based on their favorite characters and introduces the merchandise in their household. One of such products is Death Note Coasters.
These coasters are available in a set of four at a reasonable price of around USD 14. Each coaster is even in shape, offering 4 inches width and length. Its back is made up of cork, making it safe to use over scratch amenable surfaces. Its glossy finish upfront with "Let me write your name" gives it a classy look. You can use it like any other coaster when using any kind of glasses or mugs.
#8 Mello Phone Cover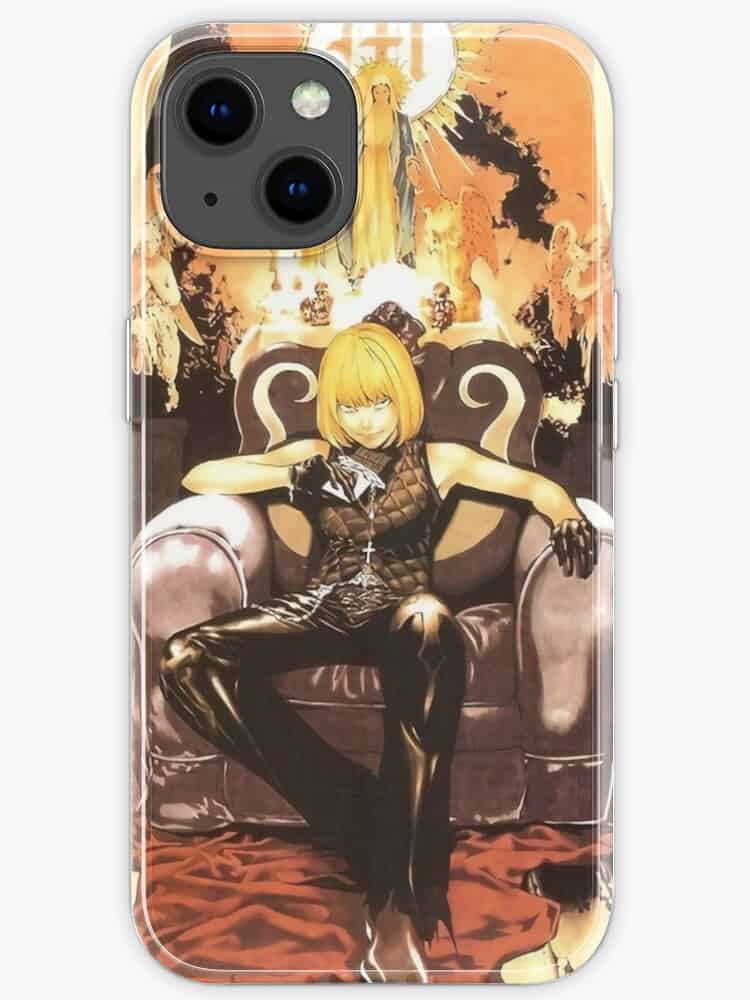 Mello was a narcissist and a cynic who wanted to get his hands on the Death Note. However, he made a place in the hearts of Death Note fans when he sacrificed his life just to expose the real Death Note used by the second Kira. The merchandise based on Mello is not that developed but is still sought after by his die-hard fans.
Mello Phone Case portrays the peculiar style of Mello. Sitting on his couch, he looks no less than a king. This phone cover offers durability and flexibility, and the colors imprinted are also long-lasting. It is almost 1.6 mm thick, making it a sound shock absorbent. It is also available in different phone models and sizes.
#9 Ryuk Floor Pillow Cover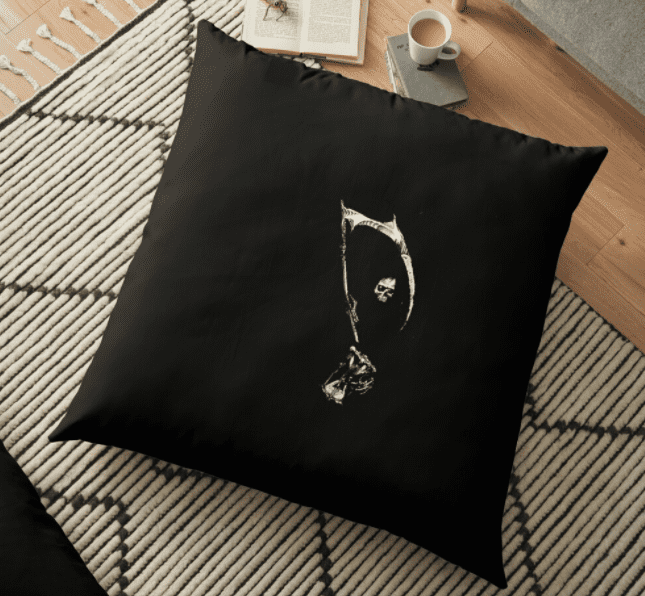 Suppose you are looking for a comfortable sitting and would like to take a break from sitting on a chair or couch. In that case, you might want to consider buying a floor pillow in a Ryuk Floor Pillow Cover.
This pillow cover not only adds a great aesthetic sense to your space but also offers complacency by having a Shinigami close to you. The pillow cover is made of high-quality spun polyester, and its 3-feet size makes it provide considerable sitting space. One of the best things about this pillow cover is its zipper sewn inward, giving it a smooth and clean texture.
#10 Misa Pin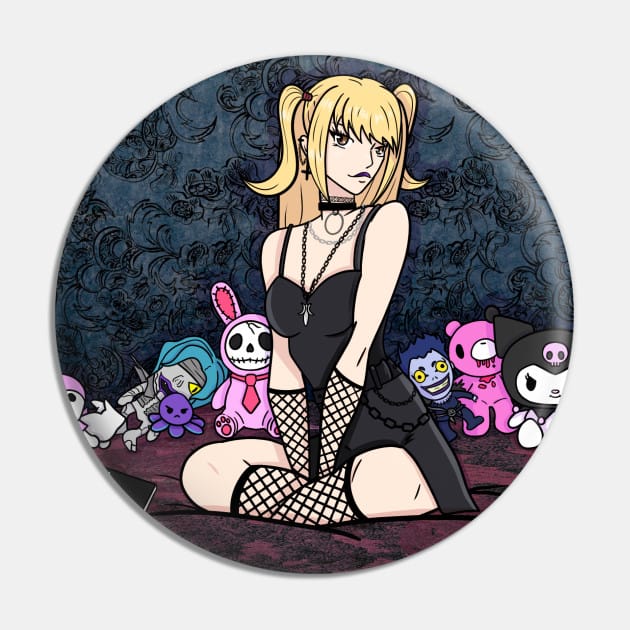 Misa, a symbol of devotion and love, is the most famous character of the Death Note series among girls. Despite her fame and beauty, she chooses to remain subservient to the Kira, Light Yagami.
Misa Pin is one of the most affordable products offered by the merchandise. This pin provides a UV-resistant glossy finish with a price tag of around USD 2.75. You can wear it on your shirts as a brooch or pinned to your scarves to make them look fancier. 
#11 Ryuk Throw Blanket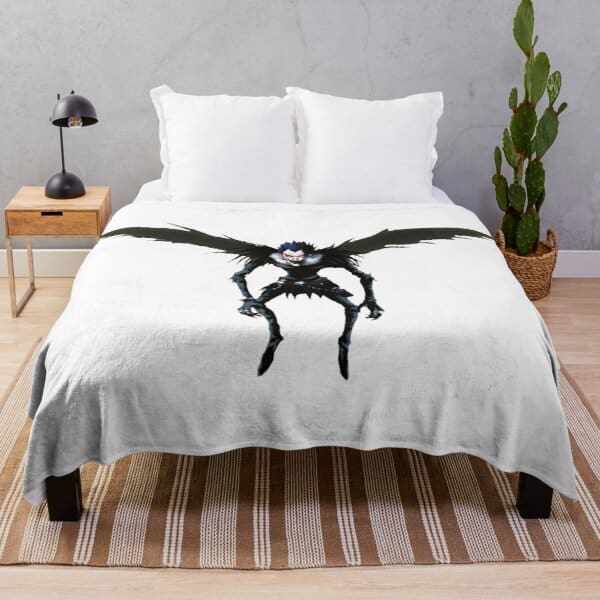 If you need something cozy yet comfortable and flexible, you might want to try this Ryuk Throw Blanket.
This blanket offers a flying Ryuk imprinted on it. Its 100 % polyester fleece composition makes it a good option for cold seasons, while its 80×60″ size enables its use as a blanket or draping around oneself. The best thing about this throw blanket is its high-quality ink printing which allows the blanket to be washable in a machine without fearing losing its color. 
#12 Kira Classic T-Shirt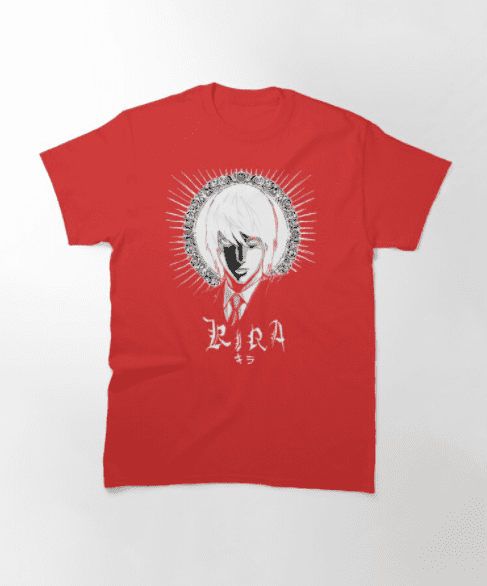 The most common item of every merchandise includes T-shirts. Out of all the other T-shirts that exist out there on Death Note, I would recommend this Kira imprinted T-shirt.
The Kira Classic T-Shirt has a Light Yagami black and white picture imprinted, with "Kira" written at its bottom. This T-shirt is available for both men and women, and its size ranges from S to 5X. This shirt also offers a variety of colors to choose from and has excellent durability because of its double-sided hem.
#13 L Snapback Cap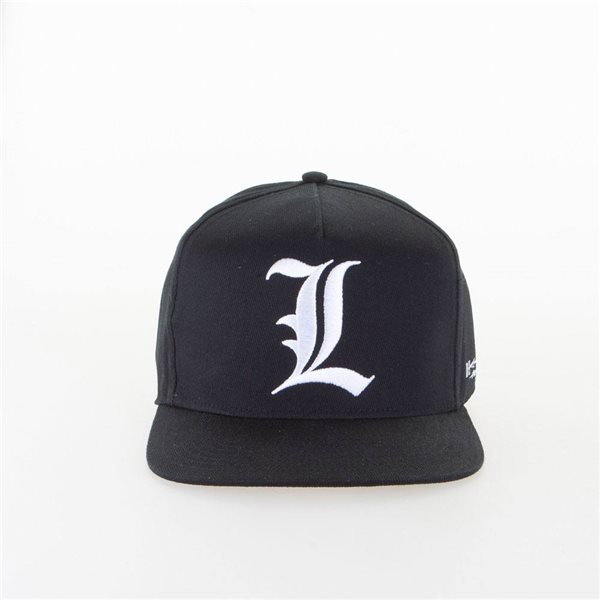 Anyone who likes L Lawliet is also a fan of his initial. Lawliet only displayed his initial "L" during meetings before revealing his identity to the Anti-Kira team.
This "L" symbol is well-received among Death Notes fans. The Death Note merchandise's most straightforward yet nostalgic product is this L Snapback Cap. This cap is free-size and has a big letter "L" sewn in white. This cap is 100% cotton material and provides good airflow and great sweat-absorbing qualities.
#14 Death Note Kira and L Magic Mugs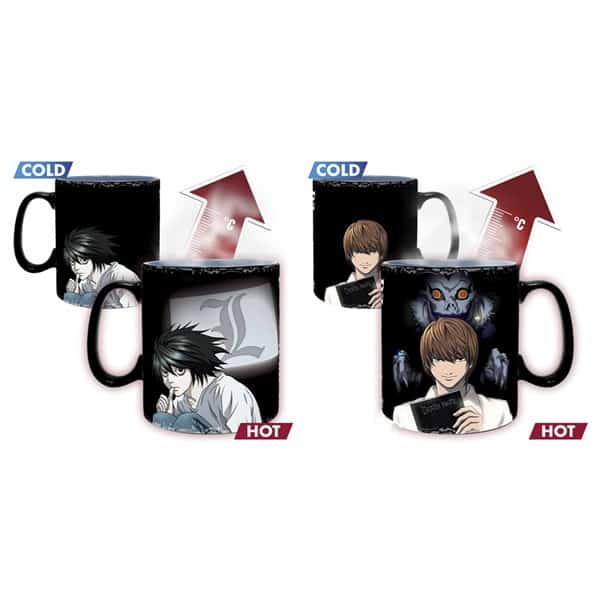 These mugs are among the most fascinating and liked products offered by the merchandise. This mug has a standard size and can contain a considerable portion of any liquid.
The Death Note Kira and L Magic Mugs have a high paint quality with a glossy finish. The most peculiar feature about this mug is that it changes its surface painting depending upon the heated liquid poured into it. The one with Kira adds Ryuk in the background when it gets heated; the other mug with the L character imprinted on it unveils the "L" symbol at the backdrop of L. 
#15 Death Note Rug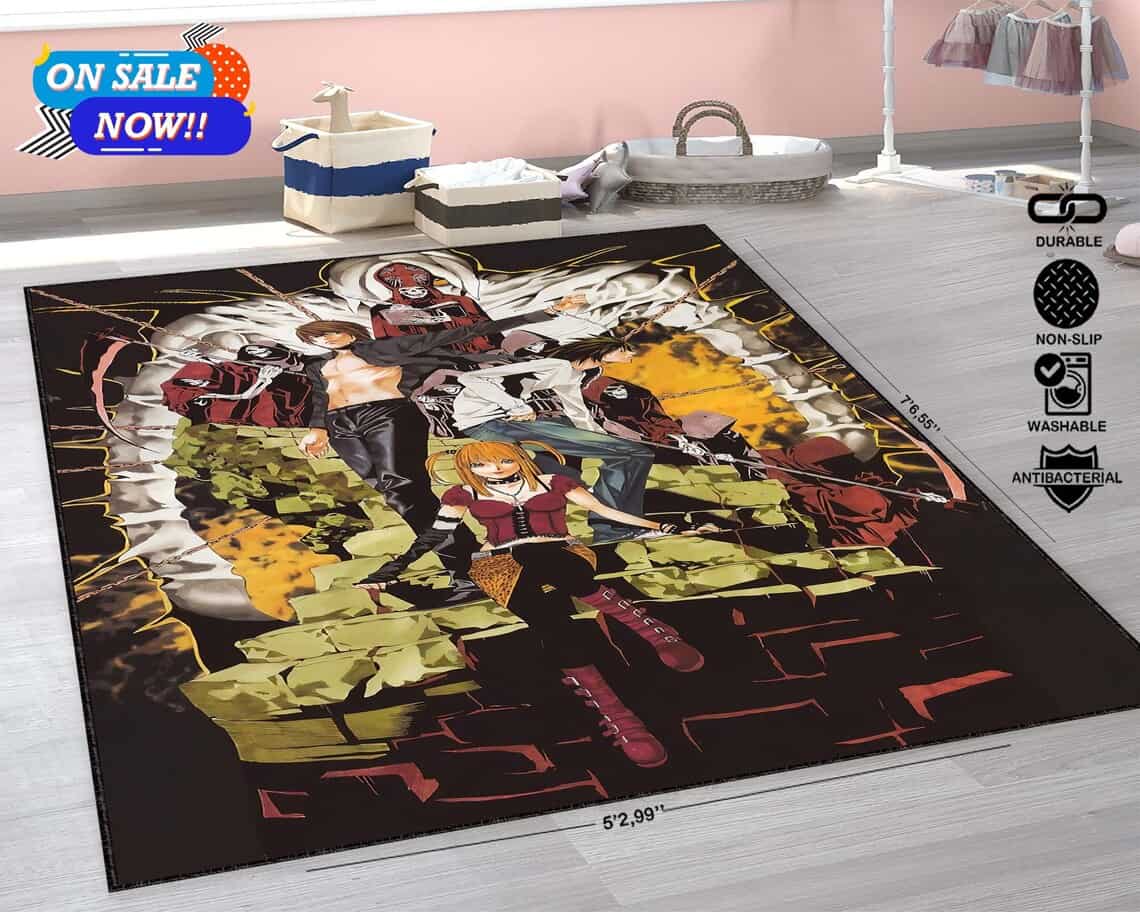 If you are a die-hard fan of the whole series, nothing will give you more pleasure than watching every character altogether. This Death Note Rug portrays the images of Light Yagami, Misa Amena, Ryuk, and L.
This Death Note Rug seems nothing short of renaissance art. A Shinigami wearing a pope's hat and writing in his Death Note, with the other Shinigamis holding scythes, is a solid depiction of art. Light Yagami is cuffed to the chains and adds a new subservience perspective to one's desires. With a robust color scheme, this rug is 6×4′, and its washable character makes it easy to handle and keep clean.
FAQs
Question: Is it ok if I buy Death Note unlicensed products?
Answer: A simple answer to this question is licensed products of Death Note merchandise are minimal. Most of the available products in the market are fan-made or unlicensed, and there is no wrong in buying those products.
Question: How would I know that the seller is selling the product to me at a higher price?
Answer: You can never be sure if the seller is selling the product to you at a higher price unless you have a market date. As most Death Note products are unlicensed, their prices are not regulated by an authority. All you can do is search for the same effects on different sites and compare their prices before finally placing an order.
Question: Will it offend somebody if I gift them a Shinigami-based product?
Answer: Not at all. Though Shinigamis are portrayed as the gods of death, they are not the real gods of death after all. They are just like any other character of the series. Nevertheless, if you gift an item based on Shinigami to a Death Note fan, they will be more than happy.
Best Death Note Merch Guide: Final Thoughts
You don't come across a series like Death Note very often, and it is a series that questions moral standards. That is why it has been about 15 years since the manga was completed, and its fan still has vivid memories of the series. 
Like other famous serials, Death Note also noticed a striking development of its merchandise. The merchandise soon became famous when it was launched, and the series has had fans yearning for these products since it was introduced.
The Death Note merchandise offers an array of products. Some of the most common effects include hoodies, shirts, leggings, throw blankets, floor pillows, floor mats, throw pillows, rugs, bathroom drapes, coasters, mugs, aprons, posters, wall arts, figurines, Funko Pops, keychains, stickers, pocket watches, journals and notebooks, and lamps.
My favorite merchandise out there includes the Kira and L Magic Mugs. This set of mugs has a unique feature: when they are poured with hot liquids, they show a hidden Ryuk and L. That is what makes them "magical."
Before you go shopping for any of these products, there are some tips that you have to keep in your mind: Do not hesitate to buy from a retail or convenience store; compare prices when making an online purchase; wait patiently for your package to arrive. If you keep these tips in your mind, I am pretty sure you will save yourself a lot of unwanted trouble. Happy Shopping!