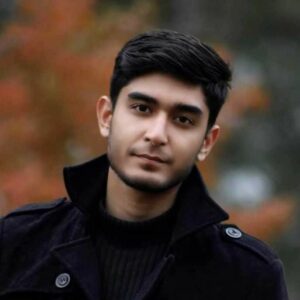 Latest posts by Asad Mehmood
(see all)
This series is filled with moments where a single word can have an unspeakable impact. Even if you are not a hardcore fan of the series, this iconic word is something you must have heard of.
Cowboy Bebop is a phenomenal series. Even decades since its initial airing, Cowboy Bebop is a stepping stone for many new series. Its depressing yet fulfilling plot has everything that intrigued me and other fans alike. The vast range of merch on the market echoes the series' popularity. And I'm as guilty as any other of boasting about my collection as a fan.
I never shy away from proclaiming my love for my merch collection. This beautiful merch collection is something not to be overlooked. And I made sure every last friend of mine knew about my collection. After all, what are friends for!
However, I faced many problems getting this extensive collection. So, through this Cowboy Bebop merchandise guide, I want to provide my fellow otakus with my personal experiences so they may have an easy journey. Hold on to your guns as we have some bounty hunting to do!
Bottom Line Up Front: My Top Cowboy Bebop Merch Picks
1. Clothing Merchandise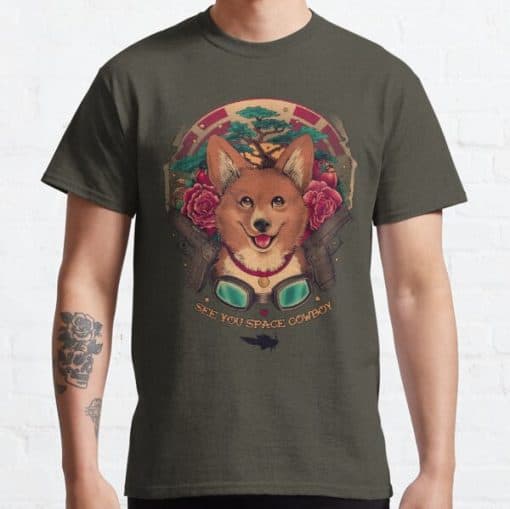 There is something for everyone here. The merch offers everything from comfy Faye Valintine T-shirts to Cowboy Bebop Hoodies. No fan is left empty-handed. My favorite pick for this category is the Cowboy Bebop Ein – See You Space Cowboy Classic T-Shirt.
2. Accessories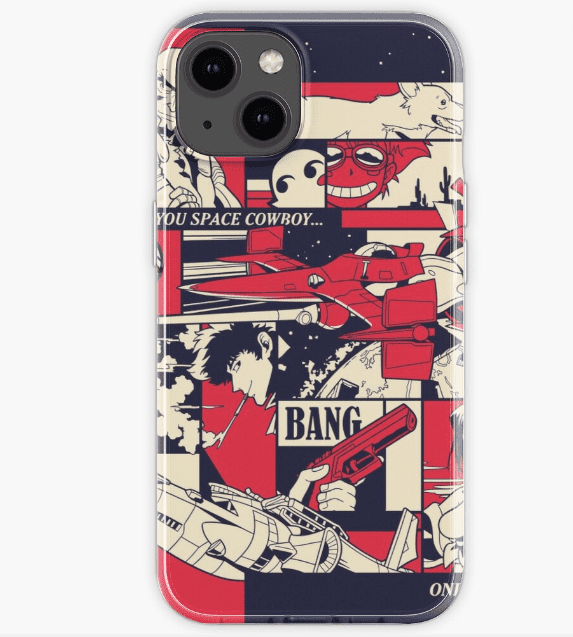 The Cowboy Bebop accessories include Cowboy Bebop character-inspired keychains, phone cases, stickers, and facemasks. My favorite pick for this category is the Cowboy Bebop Pattern iPhone Case.
3. Home Decorations
If you want to add some space cowboy color to your life, then look no further than Cowboy Bebop-themed wall arts, posters, 3D lamps, mugs, and throw blankets. My favorite pick for this category is the Cowboy Bebop Spike 3D Lamp.
4. Toys and Figurines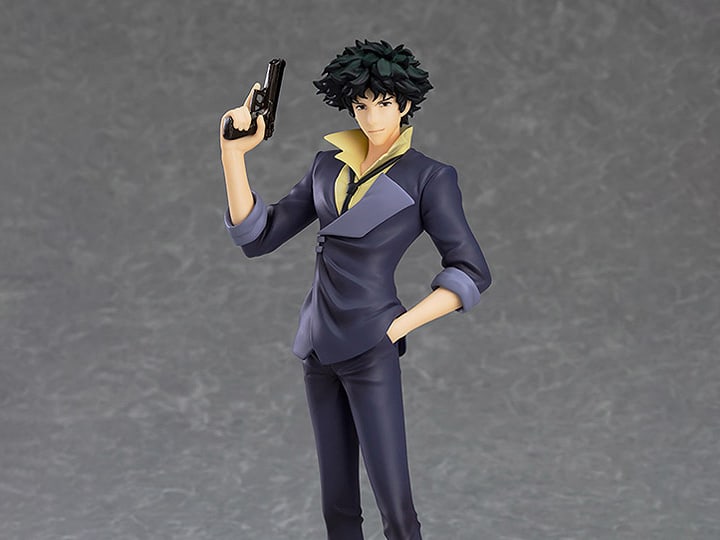 Whether you like the infamous protagonist Spike or the beautiful but naughty Faye, Cowboy Bebop merchandise has a wide variety of figures and toys for all its fans. My favorite pick for this category is the Spike Spiegel Figure.
An Expert's Buying Guide: Tips, Tricks, And Advice
Every fan has a good idea about what he wants to add to his collection. However, it's the experience that truly matters. So, let's take a look over these tips which will make your buying experience much better:
A Dependable Seller
Having to go through some bad experiences while buying your favorite merchandise will ruin your day. From my experience, it's essential to reach out to a reliable seller who is deemed trustworthy.
Moreover, in my opinion, Amazon is a very reliable marketplace with many reliable sellers and various products to provide you with the product you need. Besides that, I recommend gearanime.com and cowboybebop.store to get Cowboy bebop exclusive merch. At the same time, marketplaces like redbubble are ideal for custom fanmade picks.
Prepare A Budget
Cowboy Bebop merchandise is diverse and engaging. Not a moment passes when something catches the eye. However, if you don't have the bucks to spend and are not ready to take on the job of bounty hunting, preparing a budget can be your next best option.
Look at the price of the products and pay accordingly. This will help you keep your budget in check and help you get the products you want.
Check The Customer Reviews
Trying to find the correct item in this diverse market can be daunting. So, to have a direction to get you the product, you need to look at the reviews. It will give you a good idea of what you're getting into. Moreover, it will save you from getting scammed by sellers who don't provide the right photos of the products. 
Official And Fanmade Cowboy Bebop Merchandise
Cowboy Bebop is a renowned classic series with a unique aesthetic not found in any other series. This captivating and pleasing aesthetic can also be found in the series-wide list of available merchandise.
Being a classic series, Cowboy Bebop had an excellent time gradually gaining a fan base interested in its merchandise. So, to satisfy these fans, Cowboy Bebop provides a wide variety of merchandise.
1. Apparel
Apparel is the best type of merch you can get when it comes to expressing your love for a franchise. From "See-You-Space" themed caps and T-shirts to Cowboy Bebop-themed trousers and sneakers, you can adorn yourself to prove your membership of the Bebop. 
Cowboy Bebop has a massive and diverse fanbase of talented creators and devoted collectors. You will find yourself in the middle of an enormous pile of choices regarding Coyboy Bebop-themed apparel. That's why I have categorized and shared some of my top picks for all kinds of Cowboy Bebop apparel.
T-Shirts
Firstly, we have Cowboy Bebop T-shirts. T-shirts are one of the most common types of apparel collected by fans. I mean, everyone has one, and we all love them. I'm writing this guide while wearing one, and I bet 90 percent of you reading are in one too.
Cotton is the material you will be looking for. Being the most popular choice of top T-shirts must be soft, durable, and most of all, breathable. Besides that, new emerging brands for waterproof T-shirts also check the list. I tried my best to find customizable waterproof T-shirts, but sadly we Space Cowboys will have to do without them.
Each member of the Bebop brings a unique story with them, making them so likable and relatable. You can love dogs and not want to miss Ein, you can be a Spike fan like me and like his style all over your T-shirt, or you can help yourself to some beautiful Faye shirts. 
To paint yourself in the same classical aesthetic as the Bebops, you must opt for the clearest and most expressive designs, and that's what my list brings to you. I have included something from Jet fans to Swordfish II racers, so make sure to take a look at all of them.
Coats And Jackets
While I enjoy the rain and bright sunny days of Spring and Summer, I like the cool and cozy fashion of Fall and Winter more. Coats and jackets come out of the closet, and new designs come out for sale on the markets. I won't be wrong if I say that we all love ourselves a warm yet stylish jacket.
Space is cold, and the Bebop crew themselves are often wearing a coat or a jacket. Cowboy Bebop merchandise features numerous coat and jacket designs to cater to this desire of the massive fanbase. 
Sweatshirts And Hoodies
Hoodies and sweatshirts are a must-have for every Cowboy Bebop fan. While coats and jackets make for some classy outer space fashion, hoodies and sweatshirts are the more comfy option when you are not on the hunt. I know I have said this for T-shirts already, but hoodies are one of the most sought-after types of apparel in the entire Cowboy world.
Luckily, when it comes to Cowboy Bebop sweatshirts and hoodies, it means that there are many designs and fonts to choose from. To help you pick the cream of the crop, here are some of the most popular and well-thought Cowboy Bebop sweatshirt and hoodie designs.
Caps And Beanies
While the Bebop crew often doesn't wear any prominent headgear, it doesn't mean we can't wear them either. In fact, hats are one of the most popular space cowboy headgears. You can see them throughout the series from bars full of bounty hunters and casinos with cowboys on missions.
There are some excellent choices in this category for Cowboy Bebop fans. However, this time it was hard to find a large variety. If you are a hat guy, then feel free to check out my top picks. I love the Ein Big Face Beanie; it's just a cute addition to the collection and makes me feel warm and intelligent like the data dog.
Shoes And Slides
With our torso covered with fashion, we must now talk about our feet' armor. When I think about Cowboy Bebop and boots, the first thing that comes to mind is Jett and his iconic gait from sessions 9 and 10. Watch this, and you will know what I mean.
For some reason, the animation looks so clean and smooth there, which speaks for this show's greatness. More than 2 decades old, yet still amazing to watch! 
While I found many cosplays, sadly, I didn't find a single set with mention-worthy shoes that matched Jetts. Still, the Cowboy Bebop merch collection has a fantastic selection of shoes and slides. These are often custom-made and offer premium foot support and durability.
The cool designs and comfy soles make these sneakers a fit for anyone. The best part is that the top-selling shoes are available in various sizes for youngsters and adults alike. 
2. Accessories
The Cowboy Bebop Accessories Merch Collection includes many articles, from Spike-themed keychains to Radical Ed's phone cases and Bebop's facemasks.
We all love to own that something that we take everywhere to show our love for our favorite shows. For me, it is my Spike Metal Keychain which I use to keep my house and car keys safe. Look around, and I'm sure you will find something that can also become your Space Cowboy symbol.
Keychains
I don't have that bunch anymore, but back in college, I used to have a heavy bunch of keys with me. My keyring kept getting larger and larger, and by the end of the year, I remember I had more than 50 keys on me.
How did that happen? All my friends somehow trusted me with their spare dorm and locker keys. It was a trend to give your buddy a spare in case you lose yours, and I happened to be that buddy for everyone. I'm sure it just became a joke at some point, and they all started to give me random keys to keep. 
I just keep my car and house keys paired with the Cowboy Bebop Spike Spiegel Metal Key Chain. It's an excellent option, and I would recommend it to everyone. It has a decent yet comfortable weight that keeps you assured about having your keys in your pocket. Moreover, it's a relatively cheaper option, so you don't have to worry about being short on Woolong.
Phone Cases
I feel like nowadays every good phone is available in just three or four colors and I don't know about you, but that's not good enough for me. I look for options and unique designs, not plain squared boxes. (Yes, I'm looking at you, iPhone) While I do appreciate simplicity, I would love to have a fashionable look for my phone.
Cowboy Bebop Phone cases are the perfect solution for me. Slick designs, sturdy cases, and solid prints; these checks all the boxes on the list of everything I look for in a phone case. My favorite from the bunch is the See You Later, Space Cowboy. Samsung Galaxy Soft Case.
Face Masks
COVID-19 has changed humankind forever. It has transformed us into cool anime characters inspired by Kakashi, Kaneki, and every other hot and mysterious masked anime guy. Besides, it has made us all accustomed to making weird faces in public.
Before you challenge me on any of that, let me help you with some fantastic options from the Cowboy Bebop facemasks collection. I found something for everyone, from geeky Ed fans to cool Jet fans. My personal favorite is the Original Lineart Cowboy Bebop Abbey Road Mask. I just love the aesthetics and that the whole crew is on there.
3. Home Decorations
Home Decor is such a diverse category. You can include everything from wall arts, posters, and canvas to kitchenware, beddings, rugs, and lamps. That's why I feel it is the perfect category to showcase the massive variety Cowboy Bebop merch offers. Make sure to check out the notable picks from the Others subcategory below.
Wall Posters And Wall Arts
The dull walls of your home need some color, and what better way than to put some Cowboy Bebop posters on them. Wall arts and posters are a great way to give your room some much-needed personality. I'm sure Bebop's crew will keep you happy with nostalgic memories and moments from the show. 
Throw Blankets
Our beds are one of our most visited places. Here's a not-so-fun fact about humans, we spend about one-third of our life either sleeping or attempting to do so. That's more than 33 years of our lives!!! We spend almost half our lives in beds! 
Most of us aren't lucky enough to own a space carrier like Bebop, but we sure can dream big. As a massive fan, it is ideal for me to get some "See You Space, Cowboy" Throw blankets to adorn my bed and goodnight sleeps.
3D Lamps
I work mostly from home and appreciate cool and practical desk pieces. Funko Pops!, nifty gadgets, and 3D lamps are my holy grail of conversation starters on a desk. Luckily for me, Cowboy Bebop merch offers an extensive range of bright color-changing 3D lamps.
While I love Ed's geeky yet fun nature, my favorite piece from this selection is the "Bang" Spike Final Moment 3D Lamp. I believe I don't have to explain why. That beauty of that moment speaks for itself!
4. Others
Of course, there are hundreds of thousands of unique products in the Cowboy Bebop merch that doesn't go in a specific category.
If I were to mention every Cowboy Bebop merch out there, this article would go on infinitely. Still, I feel this guide would have been incomplete without mentioning some of these great picks. From cool Tote bags to classy wristwatches, give this selection a chance and bet you won't be disappointed.
5. Toys And Figurines
Finally, we have the Toys and Figurines category. This is the one that every hardcore anime collector comes here for. Well, you are in luck, my friend.
I have compiled a list of some of the most sought-after action figures, statues, and Funko Pops! from the Cowboy Bebop merch collection. Plus, I have also included buying links where you can find some great deals for graded and authentic figurines.
Cowboy Bebop action figures are extremely popular among the community. That's why it's hard to find some of them for sale. Most often, they are out of stock or ridiculously high-priced. Still, I have scoured the internet for hours and went to the 10th page of Google and Reddit to dig up all these fantastic options for you.
Action Figures
Action Figures are undoubtedly one of the most entertaining ways to revive all the fantastic moments of the series. All the Cowboy Bebop character figures are well designed and display the characters in style. 
Funko Pops
Funko Pops! is undoubtedly one of the most famous toy collections in the world. Simple yet captivating, Funko Pops! is cute and cool at the same time. They are widely sought after and collected; some vaulted ones go for hundreds if not thousands of US dollars.
Like every iconic title, Funko Pops have also paid their due respect to Cowboy Bebop and its crew. With 8 exclusive figurines, the Cowboy Bebop Funko Pop! collection includes some great picks. My favorite from the bunch is the number 723 Animation Battle of Fallen Angels Vinyl Figure, commemorating the iconic anime moments featuring Spike and Vicious.
Funko Pops Cowboy Bebop Figures Checklist and Buying Links
FAQs
Question: Which store is the best to buy Cowboy Bebop merchandise that fans will love?
Answer: Many websites like Amazon, Walmart, etc., provide Cowboy Bebop merchandise. However, the Cowboy Bebop merchandise store is a website dedicated solely to Cowboy Bebop merch. So, it has a wide variety of products from which the fans can select. Not to mention it provides reliable deliveries. So if you are not too fond of scrolling through different websites, you can definitely check out the Cowboy Bebop merch store.
Question: Is Cowboy Bebop merchandise still readily available?
Answer: Cowboy Bebop is now a classic series. However, due to its engaging story, it is a fan favorite worldwide. Even though many years have passed, Cowboy Bebop's popularity has not decreased. Many fans look forward to buying new merchandise. So, looking at how popular the series is and going through websites like Amazon. Yes, Cowboy Bebop merchandise is still readily available for the fans to buy.
Question: What are some must-have Cowboy Bebop merch if I am on a budget?
Answer: The items available in the merchandise are gorgeous and engaging. However, if you are on a budget, you should not lose sight of what you truly need. Go for the item you desire. I suggest you go for the Cowboy Bebop Spike Metal Keychain or the Cowboy Bebop orange logo classic mug to fulfill your desire. 
The Best Cowboy Bebop Merch Guide: Wrapping Up
Cowboy Bebop is a fantastic classic series. With its engaging story and art style, many fans always want to buy some merchandise to keep them connected with the series. Cowboy Bebop merchandise has something for everyone. Even with my extensive collection, I get intrigued by how awesome the merch is and how well it displays incredible scenes from the series.
This article has some great options to offer from this vast engaging merchandise. But my favorite has to be these Spike Spiegel Custom Shoes. You can't go wrong with these. They have a comfortable feel whenever I wear them, and no job feels tiring on the feet due to their excellent rubber sole. 
Let's say you're not a fan of shoes. In that case, there are many other options in this article you can try out. Remember, whenever buying merchandise, be cautious about your pocket and prepare a budget. Always look for a reliable seller and check the reviews. I hope this article makes your buying experience better. I'll catch you on the next hunt!