Latest posts by Cody Perez
(see all)
One of the trendier items in recent years has been Croc charms. Whether you love or hate the shoes, there is no denying how massive these shoes are. If you're one of the many people who love Crocs and anime at the same time, you're in the right place.
It turns out that anime Croc charms are becoming quite the popular place for merch fans these days. To this point, I have come up with the best Naruto Croc charms for my fellow Naruto fans out there.
Whether you are a newer Naruto fan who jumped on merch board in the last decade or someone who's been around for many years since the beginning, you're in the right place. I have done the work for you and found the Croc charms that you need to know about as a Naruto fan like myself, whether you love manga or anime, or both.
To be clear, I've been there looking for the best Naruto and other anime Croc charms. Several of my family members adore wearing Crocs and charms on them, so I've already navigated the efforts of finding and buying the best ones before, which you can find below.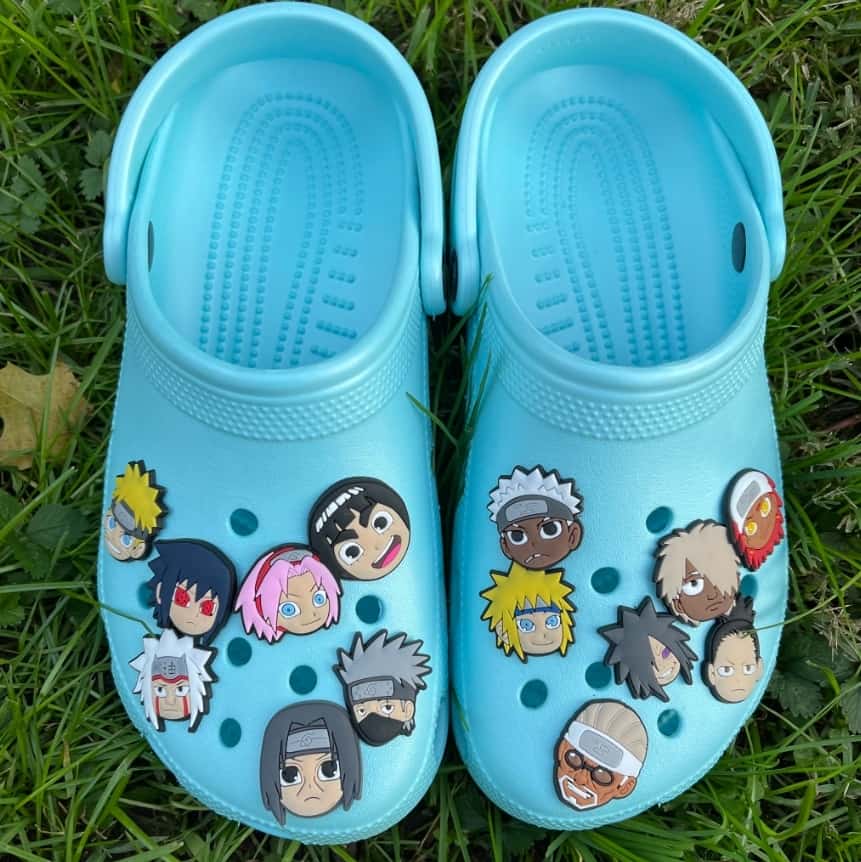 Bottom Line Up Front
The best Naruto Croc charms are the ones that take full advantage of the small size of the merch items. They show off some of the best characters from the Naruto series and give them the charm and quality they deserve. My favorite of the Naruto Croc charms has to be the 40-piece set of nothing but Naruto characters.
It is the best in showing off one of the best characters in the entire Naruto manga and anime series. The adorable looks for every character are a great fit for fans who love to wear Crocs all the time.
My Top Picks at a Glance
I get it; you have school, work, and all the various activities you're doing where you are showing off your Crocs love. You don't have much time to research and find the various Naruto-themed Croc charms that are the best for your lifestyle and preferences. Thankfully, I have your back in this regard with the top four on this list below for my friends in a hurry.
Buying Tips
Before you ever jump in there and start purchasing some Naruto Croc charms online, there are some tips that I've learned over the years from buying Croc charms for some family members that you need to know about. This can help you to get the most out of your Crocs, charms, and the wallet on you.
Don't buy the first Croc charms you fall in love with. Sure, there are some great ones out there but always research as much as possible. It's the worst thing in the world when you buy something only to find another set of items soon after that you like more.
That said, Croc charms are rather inexpensive compared to other merch items for Naruto. In this way, it is possible to buy a lot more than you would. So, if you are torn between things, feel free to save up and buy both.
Make your Crocs your own. There is a fair bit of room on each shoe for charms so don't feel limited to only one or two. Even if Kakashi next to Orochimaru doesn't make sense, you do you. Show everyone who you love in the series and who you are.
Look for value when you can. Some sites will have sales on charms at times of the year, like the holiday season, while others have collections that give some excellent value for your money. These can extend your wallet considerably and let you buy more charms in the long run.

Selection Criteria
When it came to selecting these best Naruto Croc charms, there were a few key pointers that I kept in mind. Here's what I used to come up with this list that can hopefully help you come up with your own charms to buy:
Design: To be clear, the unique part about Croc charms is the fact that the charms are pretty small. You don't have a lot of wiggle room on what you can do with the design, so the charms have to make the most of the space they have.
Quality: Like any merch item, quality is at the peak of what matters the most. If the quality of the item isn't excellent, there is no reason for you to buy it.
Characters: This doesn't matter as much as the first two selection criteria, but characters do still matter. If you are picking some random characters from Naruto, and trust me, there are a lot; it may not be impactful as the more crucial people.
Value: Again, value is a huge part when it comes to Croc charms. These are smaller items, so they are supposed to be cheaper. If they are too expensive, it defeats their purpose. Also, I appreciate when you get packs of charms that let you immediately tweak out your Crocs.
Best Naruto Croc Charms List
There are 10 packs of the best Naruto Croc charms that I picked for this list using the criteria above. If you want to immediately show up with a complete set of charms on both of your Crocs (and maybe even have some backups), you're in the right place with these 10. They are in no particular order, of course. Let's take a look!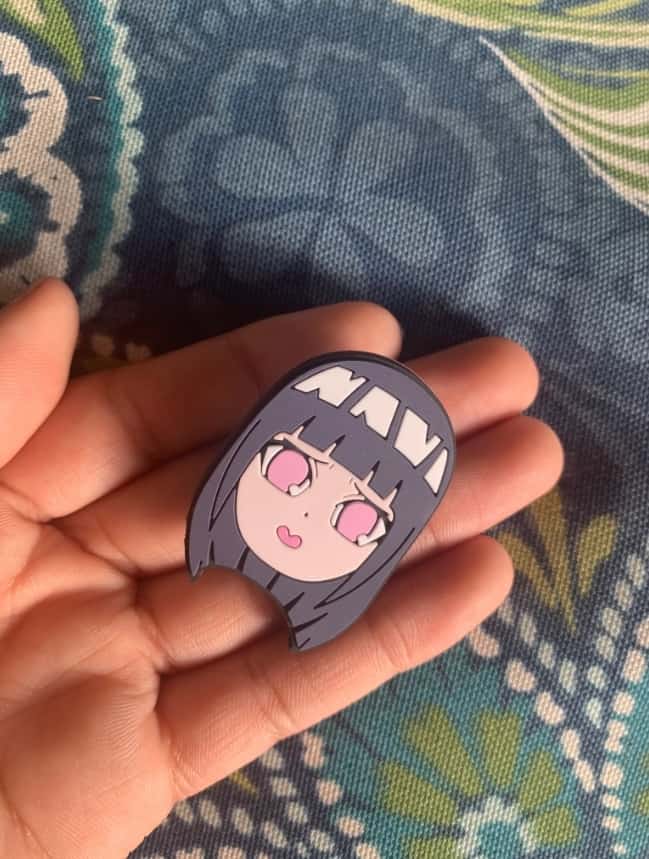 We are starting off this list with a true banger. What I should note is that value is crucial here, and many of the items on this list come with multiple Croc charms in a single package. However, there is something to be said about the beauty of a hand-drawn, detailed custom Croc charm.
That is what I love about the work that Naya's Madness was able to do with their charms, including this gorgeous Hinata one. My favorite of the single charms on this list, it captures the look of older Hinata in wonderful fashion. She has long hair, anime-style massive eyes, and more.
What helps this stand out are the little touches here and there that the artist came up with, like the shiny hair she has, the jumbo pink eyes, and her heart-shaped mouth. Its size seems relatively large compared to some Croc charms, but it's hard to tell, which may be a benefit for some fans, too.
Pros
It captures the beauty of adult Hinata in perfect fashion
The extra details throughout are extraordinary
I especially love how the shiny hair, pink eyes, and heart mouth go so well together
Cons
Unlike some of the other Croc charms on this list, you're only getting a single one right here
Those who like Sakura, instead, may want to look elsewhere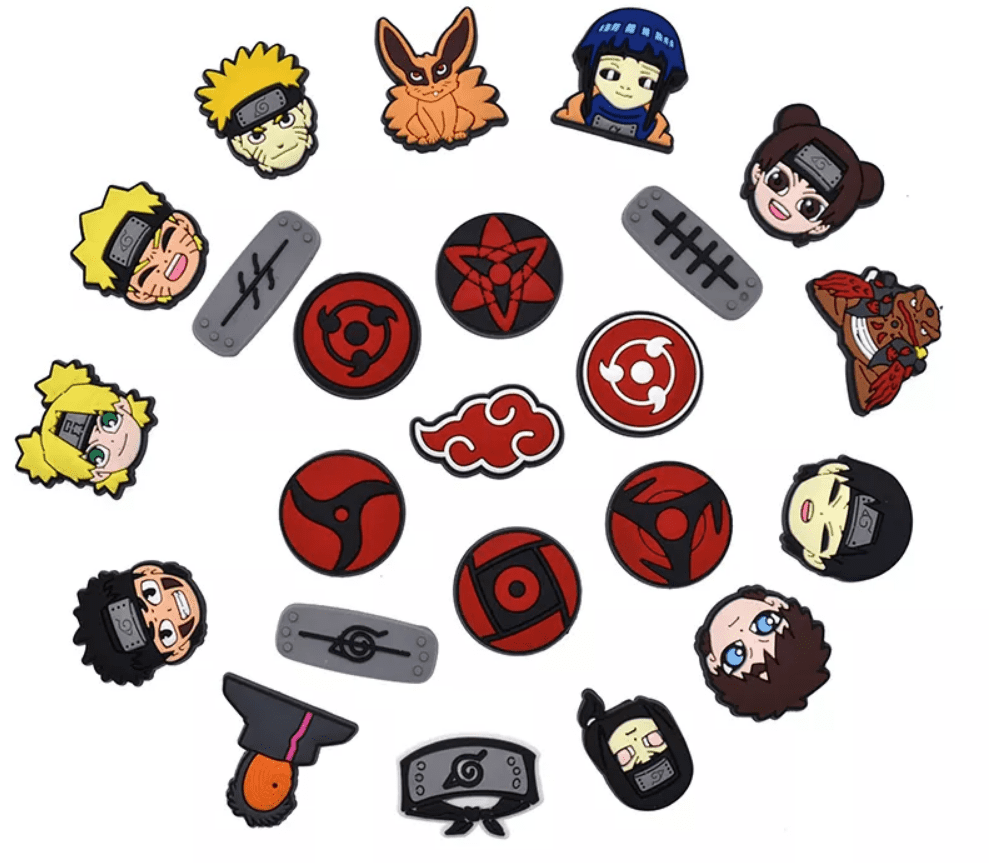 Alibaba is a site that I often recommend on here for the cheap, usually easy-to-get items that it sells. However, this is one of the more unique situations with these Naruto Croc charms. Sure, they are surprisingly inexpensive at only a few cents per charm, but that isn't the real draw here.
The best part about ordering here is that you can contact the supplier and customize your order. At the bare minimum, you have to purchase at least ten charms, but they can be whatever you want them to be. What sucks with some of the packages below is that they might contain a few charms you're not interested in.
That isn't the case here, as you can mix and match solid charms together however you like. Love Naruto? Make a family collection of him, his parents, Kurama, Hinata, and more. Want all of the eye symbols? Go ahead and just order those. It's entirely up to you.
Pros
Customers have the option to customize their order with only the pieces they like
Even with these custom orders, the price of the individual pieces is still only a few cents each.
Despite the low cost and freeform ordering, the charms are surprisingly well-designed.
Cons
The choices for these charms are limited compared to other sets on this list.
There are some surprising missing characters here, like Sasuke and Kakashi, which may be disappointing for some fans.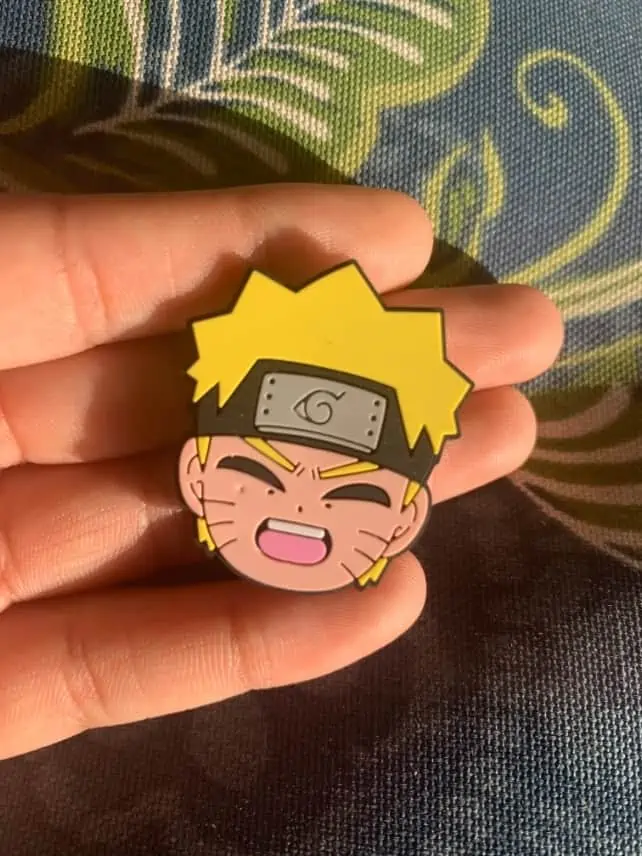 Moving back to Naya's Madness for a moment, this Naruto charm features the older Shippuden version of the protagonist in a single Croc charm form. This is another case where I recommend this particular item to those who are massive Naruto fans, specifically.
You get one of the best looks for the anime hero on this entire list, as he has an infectious smile that is wide open and full of joy. You see so much of his signature positivity on his eyes and whiskers, too. This is an authentic look for the character that also feels unique and expertly crafted. While I prefer the Hinata one more, this piece is no slouch, either.
Pros
The best-looking single Naruto charm on this list
The expert-level detail is on full display
This charm captures the joyous nature of Naruto in extraordinary form
Cons
You can see some of the handmade nature of this charm in the weird freckles on Naruto's face and his lackluster headband
This isn't for those looking to grab a ton of Croc charms at once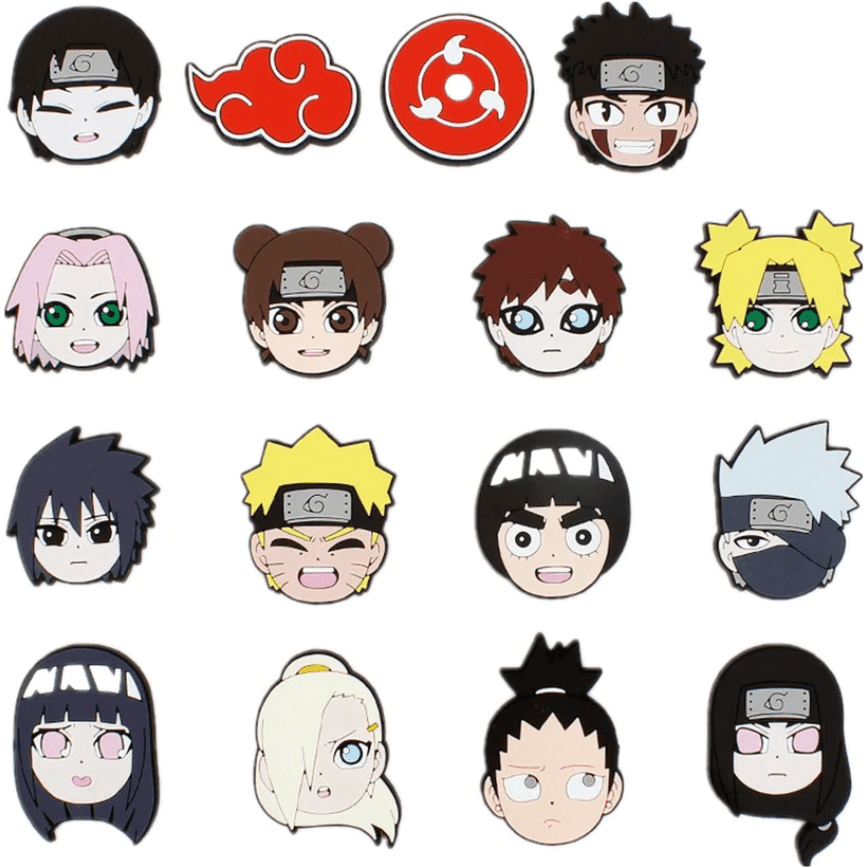 There is something to be said about the charm (get it?) of Croc charms designed by a fan artist who adores the Naruto series. Such is seemingly the case with this next charm that focuses on the fan-favorite character, Rock Lee.
In this case, we have an older Naruto Shippuden version of Rock Lee once more (sorry, pre-time skip fans). It's a reasonably large charm at three centimeters by three centimeters, which is welcome since you get to appreciate the full extent of this art.
You have the head of Rock Lee with his shining hair and large eyes. I never even noticed this before, but you can only see his bottom eyelashes, so thanks, Croc charm, I guess? His eyes are wide and his pupils small, giving this a ridiculous look overall that I somewhat like, oddly enough.
Pros
Rock Lee has never looked goofier (in a good way)
It's a fairly larger-than-average Croc charm
$2 USD isn't that bad for a single charm
Cons
This might be a little weird and whacky for some Rock Lee fans
There is a case to be made about the pre-time jump Rock Lee being the better choice for this charm
You're only getting a single charm, which won't fill out your collection that quickly.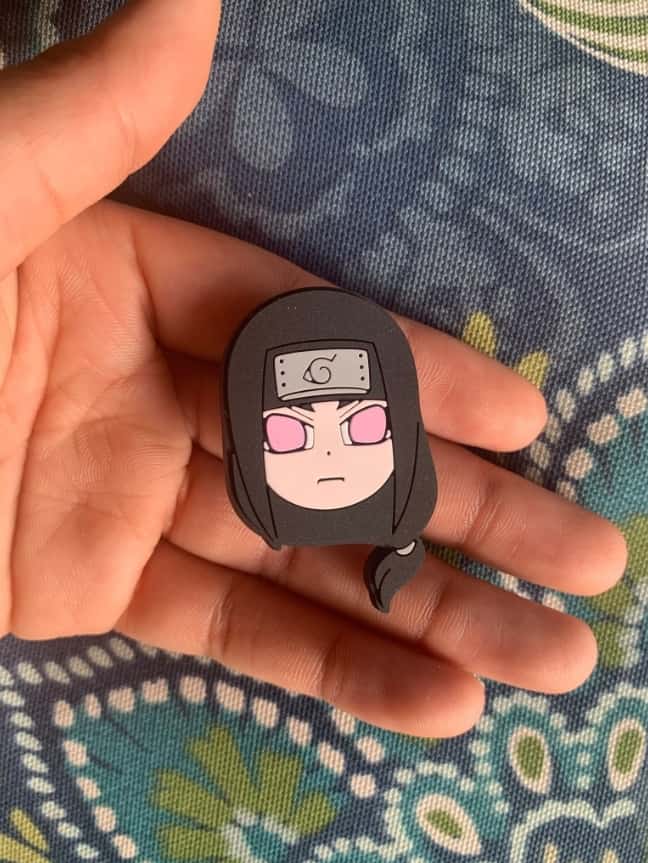 The final single Croc charm you'll find on this list is a leap in a way. Neji Hyuga, the cousin of Hinata, isn't one of the primary characters in the Naruto series by a long shot. That said, he has a breadth of fans from across the series, including myself.
That is part of the reason I included this next charm, but the other half of it is the fact that this is one of the best single Croc charm designs you'll find on the internet. In fact, it's only beaten by his own cousin, Hinata, who just so happened to have a better overall look.
There are some similarities between the two, too, like the large anime-style pink eyes and long flowing dark hair. But I appreciate the moody distinctions here like his muted hair color and serious face that shows just how different he is from his cousin at the same time.
Pros
This is for the true Neji fans out there
Rivals the Hinata charm with his detailed serious tone and muted look
Cons
It lacks the flair of some of the other charms, which may be a turn-off for some.
Neji isn't precisely one of the primary characters in the series
Again, you're only getting a single charm here.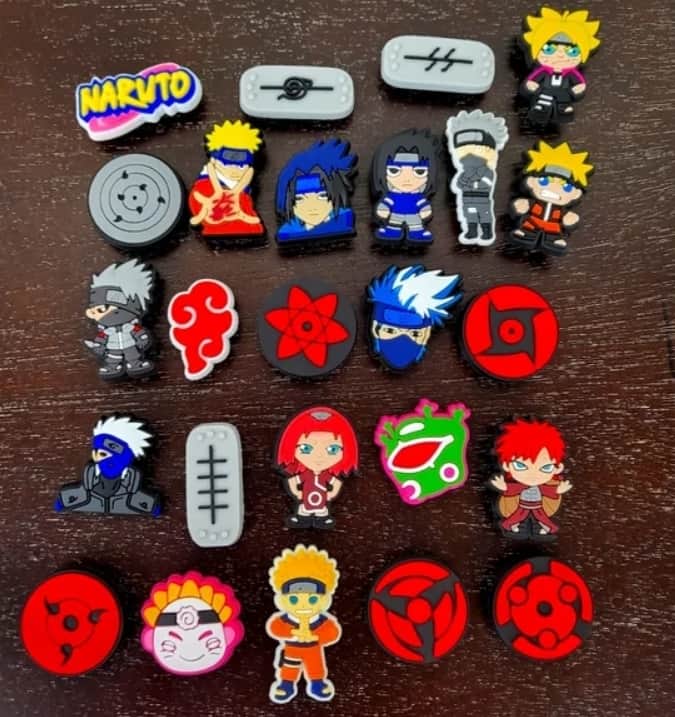 There is something to be said about the value you can get on the internet from buying some of the Croc charms in bulk. For the fans who want to cover their Crocs entirely in nothing but Naruto characters, you're in the right place.
This one comes with 25 pieces that net out to less than one dollar USD per item. This is a quick way to instantly have an entire collection of Naruto charms you can swap in and out of your shoes at will. Admittedly, some of these charms have some clear quality issues that make it obvious why the single pieces above are far superior on an individual level.
Though there are a few duds in the collection, there are still some that I love that make the set worth it, like the gorgeous blue-stylized Kakashi charm, the battle pose Gaara, and the original Naruto anime logo one.
Pros
You get 25 pieces that net out to less than a dollar each
There are some fantastic individual pieces here, like Kakashi and the symbols
Cons
You can clearly see the quality drop with some of the pieces that are filler items at best
There are much cheaper sets out there with more items, so it doesn't have the best value possible.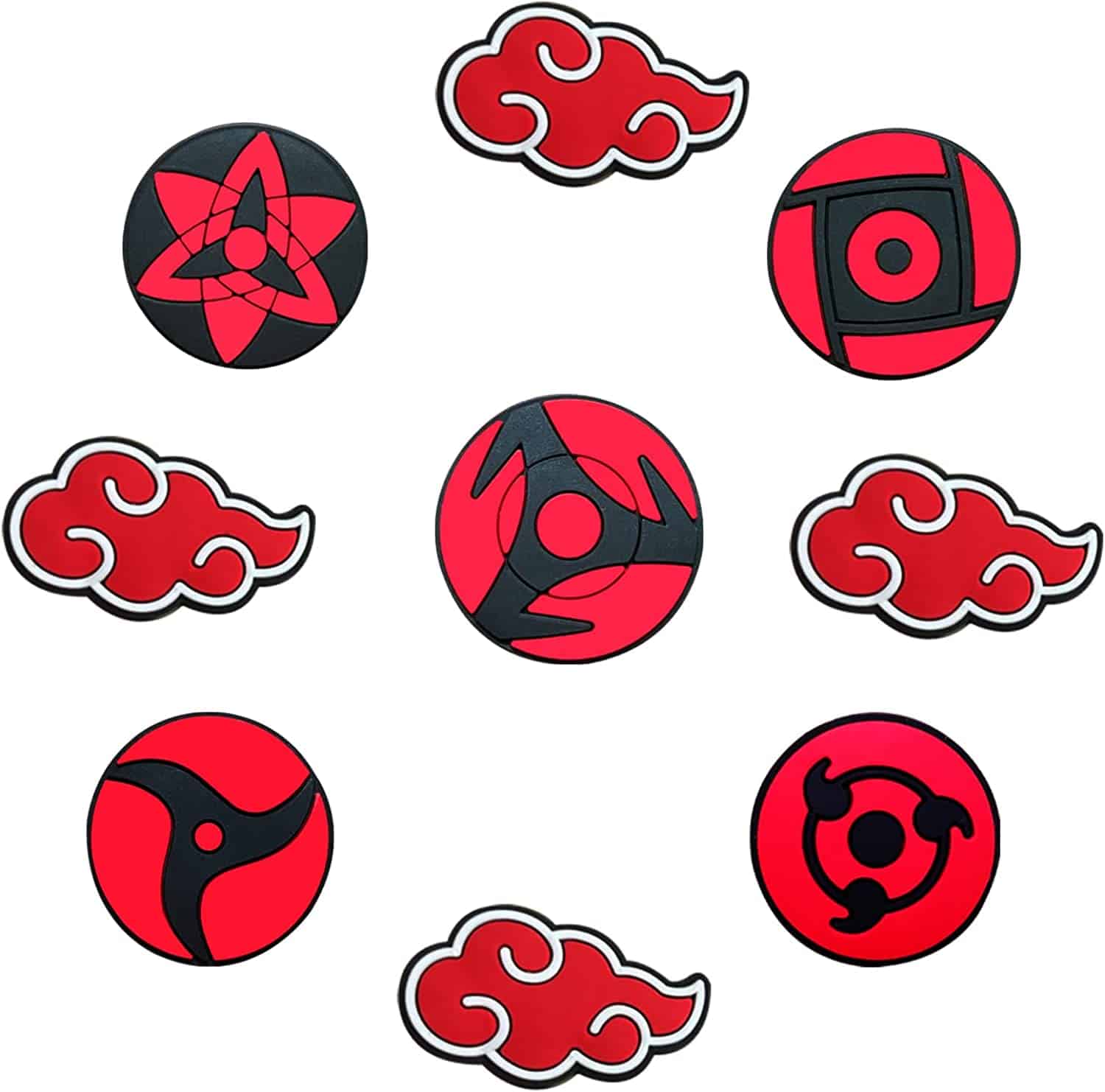 Moving on to the better value and better-designed sets, we have one of the most stylized collections of Naruto charms out there. I know the fans that like to wear the Sharingan shirts and all that, which don't make it immediately apparent to non-anime fans what they are representing.
If that's you, you definitely need to consider these Naruto symbols. These charms are nothing but the classic Naruto cloud, Rinnegan, Sharingan, and all of the other various eye symbols that the series is so famous for. But the best part about all of these isn't the fact that it keeps the Naruto love close to its chest.
Instead, it's the fact that you'll always have a steady set of matching symbols at all times. They all use a mix of white, red, and black, so your color scheme is always going to be on point for your shoes. This is something that can't be said for any other set on this list.
Pros
No filler here, as it features nothing but various Naruto symbols and eye patterns that many fans adore
The red and black pattern means that all of your charms will always match
There are bold designs and borders, making for some of the sharpest charms around
Cons
The harsh white, red, and black pattern for these may be too one note for some
The set only includes nine pieces, so you won't be able to fill up both shoes evenly with this set alone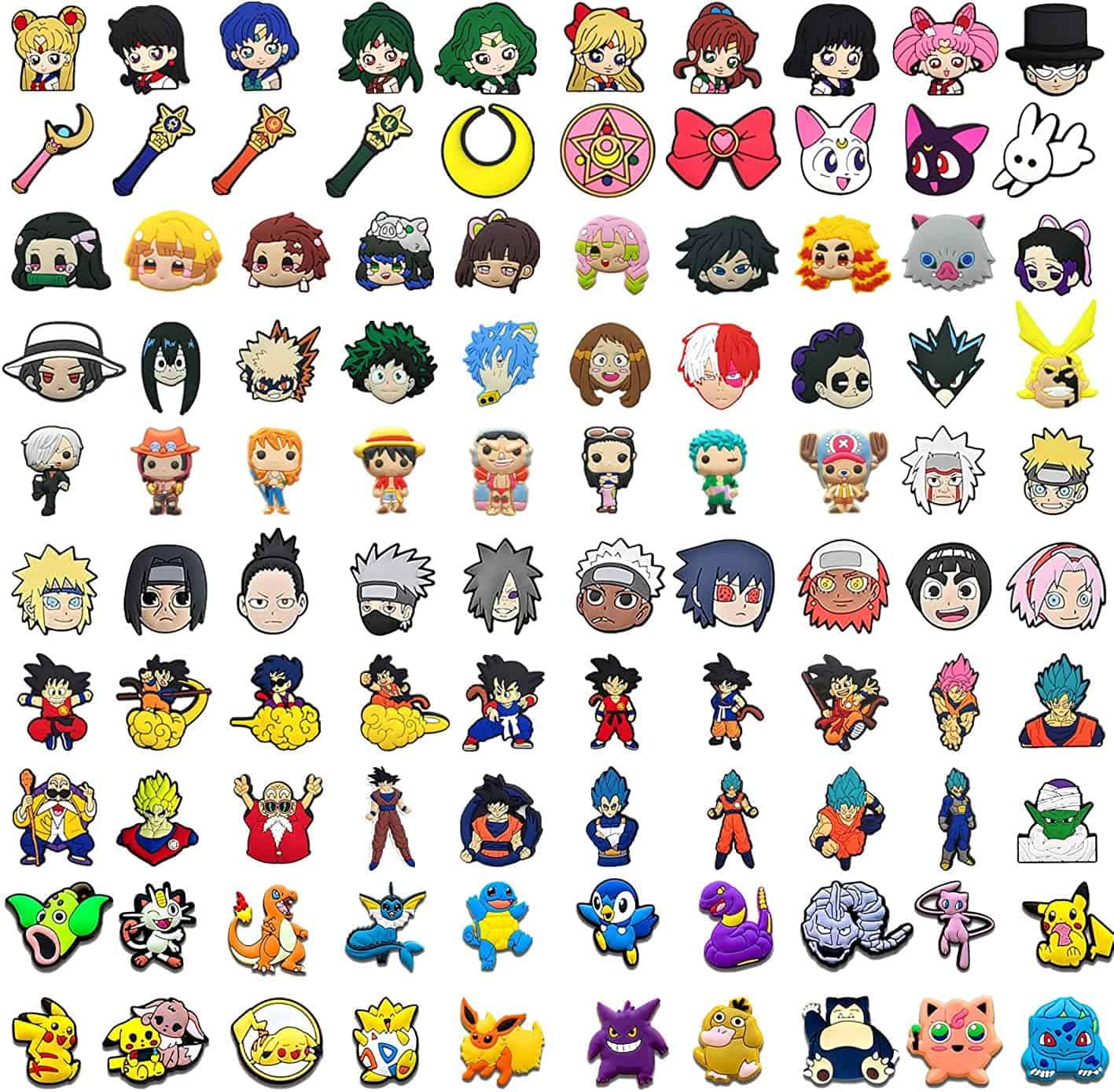 Do you like saving money and feeling like you're truly getting the most out of your wallet? Then look no further, as this 100-piece collection of anime-themed Croc charms will be the one for you. I should note that this doesn't include only Naruto characters in the set, which may be a bummer for some.
However, if you love Naruto and other anime series at the same time, you'll be able to get the most out of your Crocs with these. You'll be able to mix and match characters like Goku from Dragon Ball and Kakashi one day, then Naruto and Deku from My Hero Academia the next.
The customization options are impressive here, letting you show off your love for various beloved anime series. Don't worry; the Naruto love is solid, too, with about 12 of the charms being dedicated to characters like Sasuke, Sakura, Jiraiya, and many more.
Pros
The best possible starter collection for fans of Naruto and other anime series
The Naruto love isn't for show, with 12 pieces dedicated just to it
The customization options are unbelievable, letting you mix your favorite anime characters from across series together
The absolute best bang for your buck on this list
Cons
Those who don't like series other than Naruto should look elsewhere
The distribution of these pieces isn't even, including a lot more Pokemon and Sailor Moon charms than anything else
The quality varies here. While the Naruto charms are solid, the odd chibi-style Demon Slayer heads aren't up to snuff.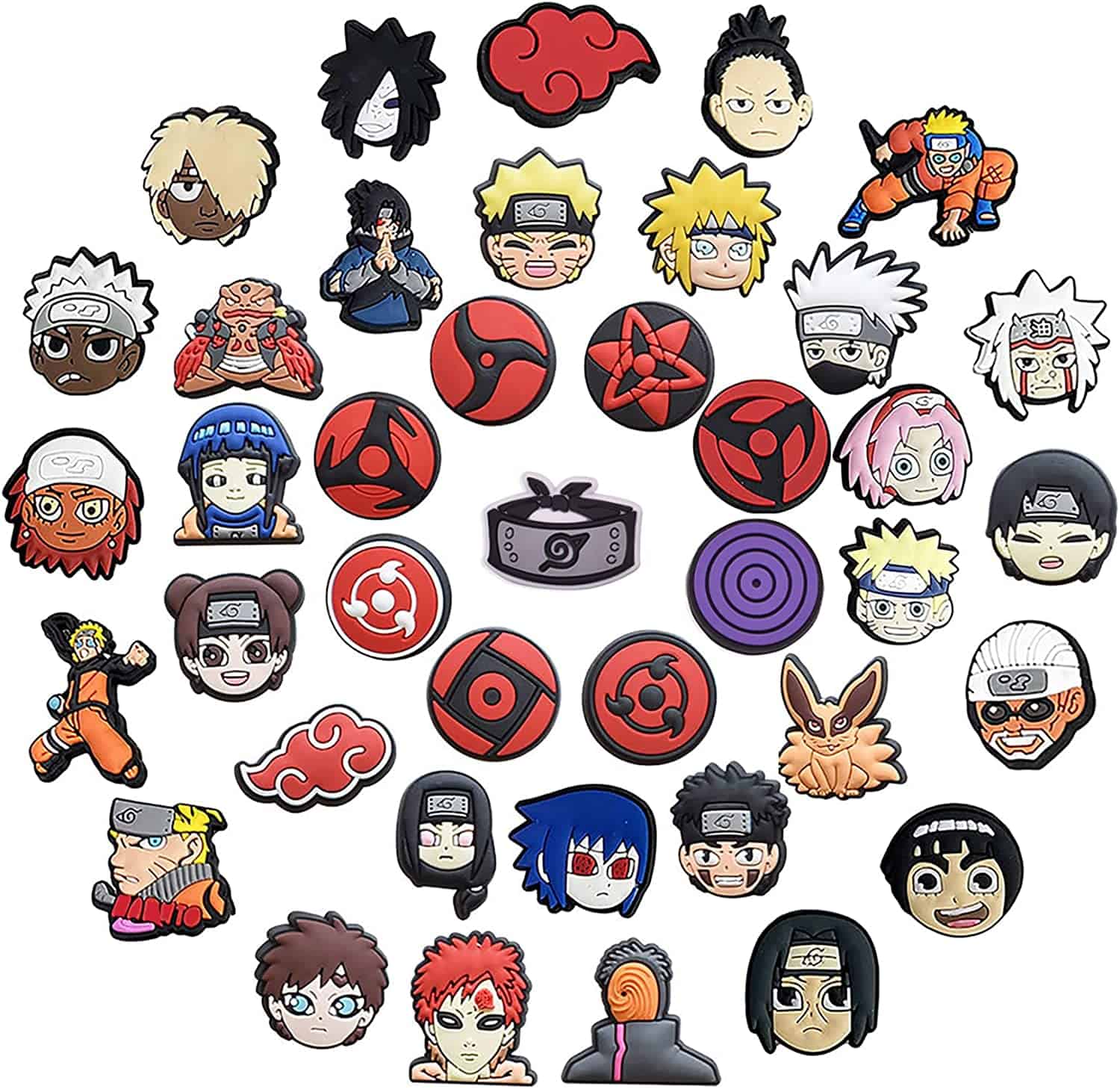 When it comes to the primary purpose of this guide — collecting tons of Naruto charms — no set does it better than this group right here. For about $13 (sometimes there are sales right when I'm writing, oddly enough), you get 40 pieces.
Sure, it isn't the best value around, but you get the benefit of 40 pieces of nothing but excellently designed Naruto charms. There is no other series here, which gives this collection room to breathe and show some love to characters you wouldn't usually see in a Croc charm Naruto set.
You get some of the most random side characters like Killer Bee and Tobi, plus all of the expected fan favorites at the same time. You get some of the eye symbols, too, letting you make your own collections using just this set alone. One day, you might want to rep the Uzumaki family, while another day might be for Team Kakashi. The options are impressive with this set.
Pros
The single best collection of solely Naruto charms you'll find
Excellent bang for your buck
The designs are almost all fantastic
Forty pieces mean you get a mix of the most popular characters and some of the most random, too.
Cons
Some of the choices for characters like Sasuke and kid Hinata stick out in a bad way
There are, strangely enough, some still missing popular characters like Pain and Itachi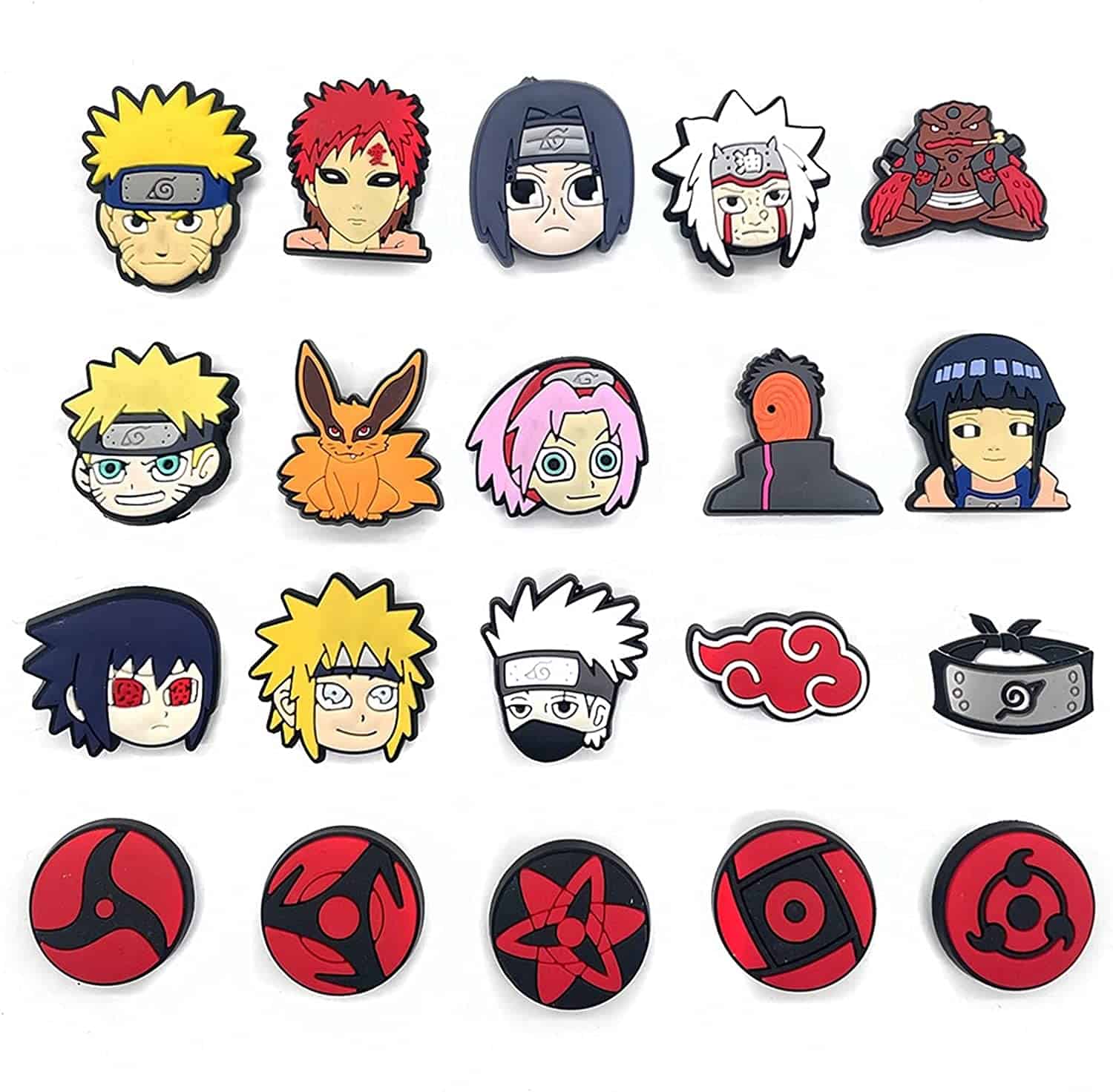 This is about as straightforward as it gets. For roughly 50 cents each, you get 20 pieces of 3D-stylized Naruto charms together in one collection. The smaller number of characters means you only get the most popular ones around, like Team Kakashi, Hinata, Kurama, and so on.
While I will say that it's odd that the set wastes too many slots on symbols and the headband, that gives you some intriguing options for matching together Sasuke with his eye symbol and so on. While cheap, some of the designs are utterly fantastic, like the Gaara and Shippuden Naruto version.
But then, at the same time, you have some designs that I can't help but bust out laughing when I see them like the horrifying Sakura charm and the pitiful look for Hinata.
Pros
This set includes almost nothing but the most popular characters from the Naruto series.
Some of the charms are terrifically designed
The individual price per charm is solid
Cons
While some charms look fantastic, others are some of the worst I've seen for Naruto charms.
It shows almost no love for the classic Naruto villains
Too much of the set is filled with eye patterns and symbols
FAQs
Question: How many Jibbitz can Crocs hold?
Answer: How many Jibbitz your Crocs can hold will vary from shoe to shoe. In general, most Jibbitz is roughly the same size on the back, letting you use the Croc charms on any. But at most, Crocs will be able to hold about 13 Jibbitz each for a total of 26. Now, whether or not you want that many charms on a single shoe are another story.
Question: What are the charms that go in Crocs called?
Answer: The charms that go into Crocs are generally just called Croc charms or Jibbitz. The latter is based on the brand name of the charm company that makes the popular and best ones. However, there are many other brands and even some independent sellers who make these Croc charms, so use whatever name you want.
Question: Do Croc charms fit all Crocs?
Answer: From what I can tell, all Croc charms will fit all of the Croc sizes out there. Even if you are an adult and share your Croc charms with your kids or vice versa, they should fit on them. The Croc holes remain the same no matter the shoe size. You might have fewer holes on smaller shoes.
Best Naruto Croc Charms: What Naruto Gear You Need Next
This list is far from the end of your journey of equipping yourself with the best Naruto gear around. When you're ready to buy some Croc charms, I recommend grabbing the 40-piece set of Naruto charms from Amazon. For beginners who want to represent solely that on their shoes, this is the best way to immediately pad out your collection with tons of charms at once.
But that is only the beginning of your Naruto gear. If you want to show off your love for the Naruto series beyond just your shoes, you'll want to find out more about the other types of Naruto merch items. You can wear clothing items, jewelry, and more to complete your Naruto outfit.