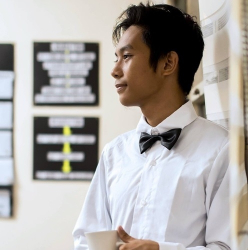 Latest posts by Arthur Monteclar
(see all)
Attack on Titan is one of the most popular shonen anime series of all time, and it's no surprise why! It has the recipe for a perfectly captivating show—the mysterious post-apocalyptic themes, the existence of the Titans, the fight scenes, and of course, the characters' backstories! You'd easily binge-watch this show if you wanted to! 
Aside from the show's epic storytelling, fans are also invested in building a growing collection of Attack on Titan merch. Posters, stickers, shirts, and figures are ideally the most common merch items you can easily collect. But have you thought of AoT-inspired tattoos? 
An AoT-inspired tattoo is the best way for you and many die-hard fans who want to immortalize their favorite anime. That's why I've rounded up some of the best tattoos. Don't worry; this comprehensive list covers simple, minimalist designs to intricate masterpieces. 
Looking for inspiration for your very first AoT ink? Scroll on the best Attack on Titan tattoo ideas!  
Bottomline Up Front
Finding the best AoT tattoo can be a fun challenge! You'll find yourself in a rabbit hole, looking at hundreds of designs you'd want tattooed on your body—and while that sounds like a good problem, I know you want to find the perfect AoT-inspired tattoo! That's why I've got you covered. 
I've made this guide to help you find inspo for your next (perhaps, first) tattoo! My favorite among the tattoo designs on this list is Simon K Bell's creations; read on, and you'll know why! 
Getting an AoT Tattoo: Things to Consider 
Finding the perfect tattoo design might be on top of your mind. However, there are several factors to consider. Getting yourself inked is a big commitment; you must be sure about everything. Before you get yourself an AoT tattoo, here are some things you need to consider: 
Style and design
Having a personal connection with your tattoo makes it more meaningful. While most of my friends have frivolous, spur-of-the-moment tattoos, a good story behind the style and design of your tattoos makes it way cooler.
Always choose a design that you'll love—do your research and check which design speaks to you. Aside from that, ask yourself where you want a minimalist linework or a colored tat.
When it comes to Attack on Titan, you'd quickly find yourself scrolling through dozens of tattoos both in color or blackwork design. If you want a more subtle tattoo, I suggest going for blackwork—it's an ideal option to showcase the show's dark, post-apocalyptic themes.
However, an entire sleeve of colored AoT-inspired tattoos will undoubtedly be a topic of conversation. Always remember that choosing a design and style boils down to your personal preference and, of course, your pain tolerance! A complete tattoo is better than any half-assed unfinished one. 
Placement
Whether it's your first or nth tattoo, knowing where you want the new ink plays an essential role in your whole tattoo experience. The pain level of your tattoo significantly depends on its placement. The wrists, arms, lower legs, and just above the elbows are the most popular spots to get inked. These spots tend to heal quicker than the rest of your body. 
You can also pick a spot that's more intimate and hidden away. Perhaps, it could be somewhere like the back of your neck, inner wrist, nape, or behind the ear. Since they're not as visible to others, these tattoos can be more meaningful and personal. 
Are you still confused about where to place your AoT-inspired tattoo? You can always ask your tattoo artist. Stenciling your chosen design to your desired placement and size can make a difference. This way, you can see your design come to life without worrying about the odd placement. 
Remember, don't settle for anything less. At the end of the day, it's up to you to decide on the tattoo's perfect placement. 
Tattoo Shop and Artist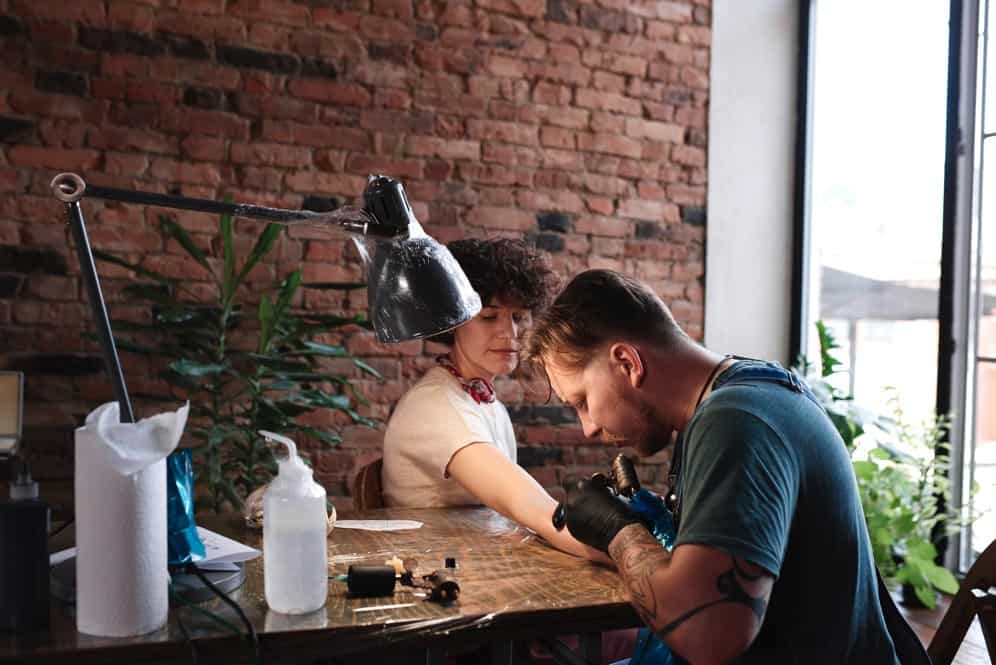 Last but not least, you need to find a tattoo shop and artist that caters to your needs. Knowing an artist you can trust is so crucial. After all, you need to stay still for hours and endure the process, which is already stressful enough. It's not entirely difficult to find a tattoo shop given that there are hundreds available with just a Google search. 
It now boils down to whether or not that shop understands your desired style. It's best to go for a tattooist with an excellent grasp of the material. This is where the problem lies; some shops aren't too familiar with AoT despite it being too popular in the anime scene. 
I've been thinking of getting an AoT tattoo myself, but I get too particular in the selection process—as any first-timer should. Don't rush it. Take your time, and you'd eventually find yourself in the chair getting inked with your desired design by the right artist. 
Selection Criteria
With thousands, or even millions, of AoT tattoos over the internet, it's easy to get overwhelmed by various inspirations. That's why it's important we get some sort of criteria to trim down our options. Here's how I pick and choose my top favorite AoT tats: 
Uniquely Interesting Design
When it comes to tattoos, I go for a talking piece—something that intrigues anyone who looks at it. While choosing the designs on this list, I asked myself: why did anyone choose such to be inked? Does it fit the AoT theme? What makes that tattoo attractive?
I always prefer tats that tell a story and strike a balance between being cool and subtle. However, I know some of you are maximalists and proud AoT fans. So, I've included some sections focusing on both styles. 
Overall Details 
Tattoos are all about the bigger picture! I hate to admit it, but nobody notices one odd shading mistake in your tattoo. This only means that some tattoos listed might not be 100% perfect, but they're spectacular. You won't even notice a mistake if there is any! 
AoT-inspired, Cohesive Art 
I'm all for subtle tattoos, but this list shies away from that! I want this list to scream Attack on Titan and all it stands for. Everything I've collated in this list—simple and elaborate designs—will really speak to your AoT heart! 
Colorful, Intricate AoT Tattoo Designs  
If you are looking to get a medium-size or large tattoo, colored tattoos are a great option! Always remember the golden rule: the bigger the tattoo, the better the color appeal. This will provide more intensity, brightness, and better visual appeal over smaller designs. 
Going for colored tattoos is best if you want to make a bold statement. Large, colored tattoos allow for more freedom and creativity to highlight the beauty of your source material.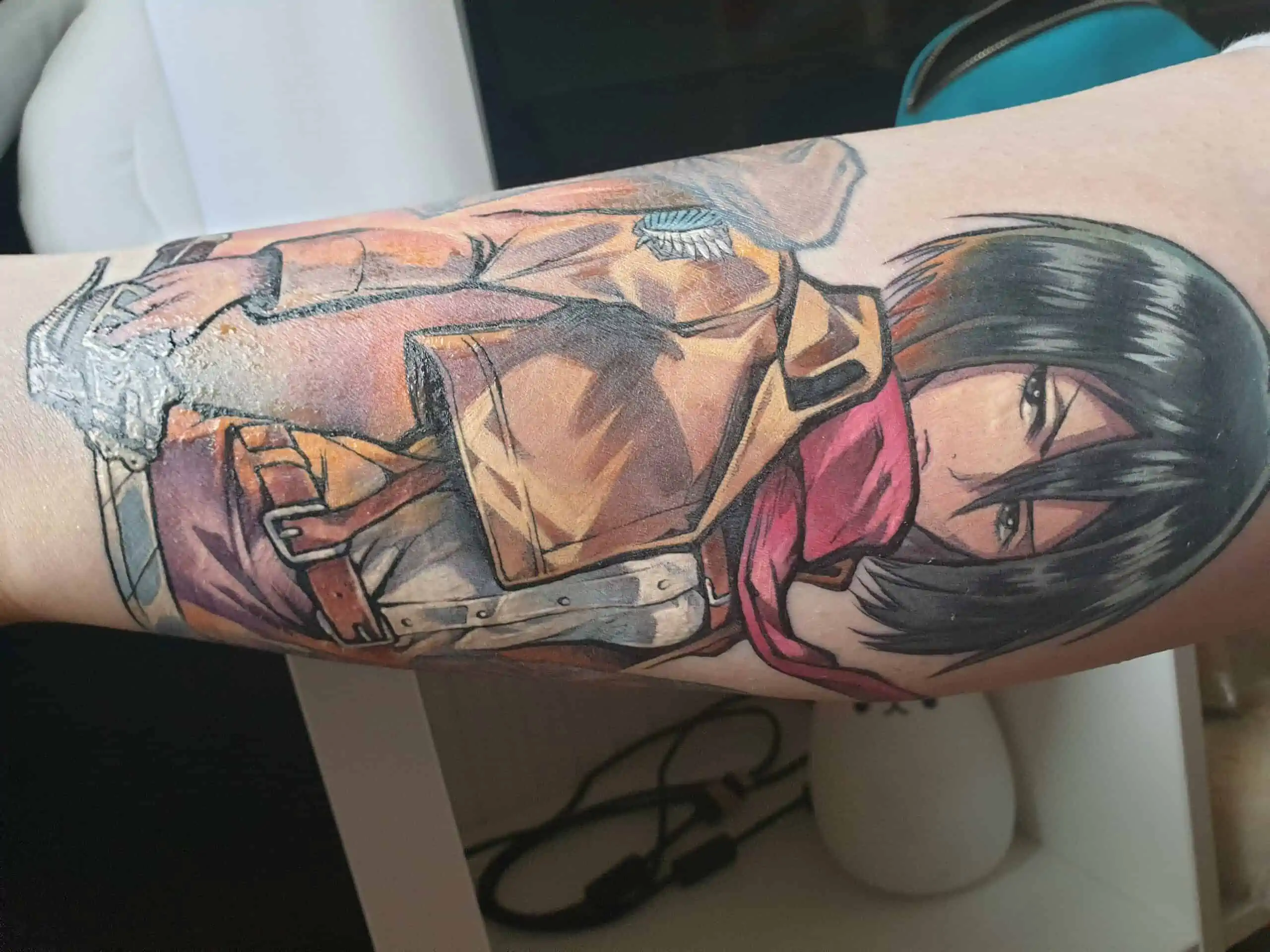 Number one on the list is Mikasa. Do I need to say more? Mikasa is a crowd favorite. I love the dynamic relationship between Mikasa, Eren, and Armin. Her cold yet caring personality truly captivates you. Mikasa's facial expression embodies strength and resilience.
This tattoo personifies that and more! Her deathly stare and side eye just gives you the chills. I also love how her iconic red scarf flares in the air, just like in the anime. The rich colors on this tattoo, coupled with the creative shading, makes you really wonder if this was a printed picture or done on the skin, and that's absolutely marvelous. 
Simon K Bell is also famous for inking and giving life to animated characters, such as Goku, Totoro, and other AoT characters—so he definitely understood the assignment. 
Check out his IG now!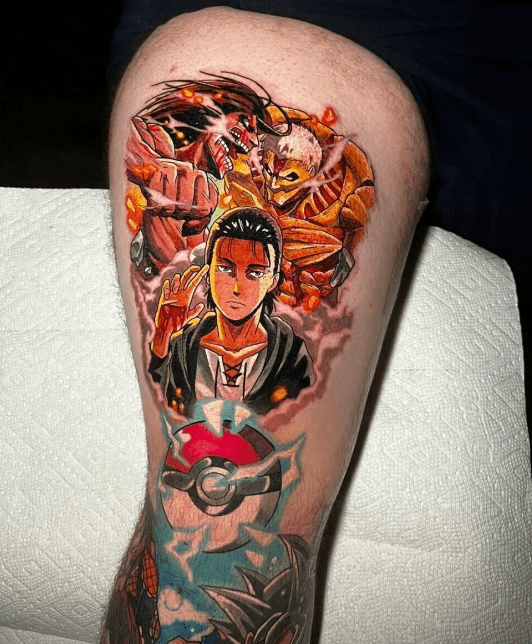 The Armored Titan is one of the first Titan Powers we've seen in the franchise. The character is iconic in itself, but his fight scene with Eren's Attack Titan cemented his presence in the show! Since then, I couldn't forget the first time I saw the arc "Clash of the Titans." It's a well-thought-out masterpiece.  
This tattoo captures that! The iconic battle behind Eren's character provides the same intensity we previously saw in the anime. Aside from that, I love how the tattoo design makes everything pop! It doesn't look flat—every detail is conspicuously designed to add to the tat's overall vibe. 
Bronson is definitely a master of colored tattoos! Want to check out his work? Visit his IG @bronbronink.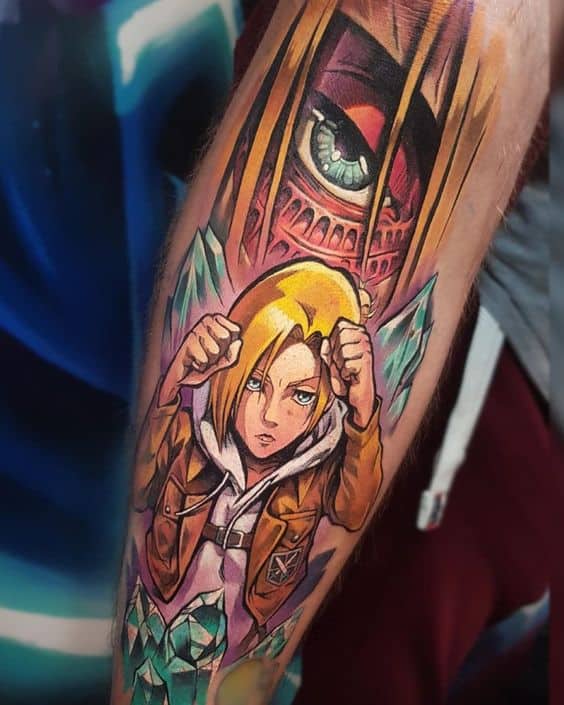 The Female Titan might not have made a lot of appearances in the show, considering she froze herself in Season 2. However, her role and powers are OP! She might not be as powerful as the other Titan Powers, but her versatility is lauded! She's one of the smartest, quick thinkers, making the show more exciting with her every appearance. 
That's why I scoured the internet to find the best rendition of both her transformation and Titan holder, Annie Leonhart. I found myself scrolling through Simon K Bell's tattoo work. When I say that Simon K Bell knows his material, I'm dead serious! This tattoo is another one of his masterpieces! 
How could I make an AoT tattoo suggestion without adding the most iconic rooftop fight scene to the list? Last on the colored AoT tattoo list is this creative depiction of all the rooftop fight scenes in Paradis. I had to put this due to the sheer amount of detail and work poured into this tattoo. 
The back tattoo highlights the OG trio, Mikasa, Eren, and Armin, fighting against three Titan Powers, the Armored Titan, Attack Titan, and Female Titan. At first glance, you'd hardly notice that Eren appears twice as the Attack Titan and as himself in the tattoo. Regardless of whether this was a deliberate choice or a mistake, the tattoo is still epic!
Blackwork AoT Tattoo Designs 
Colored tattoos might not be your cup of tea, and you prefer blackwork designs. No judgment here! After all, it's wise to choose blackwork designs since they tend to last longer than colored tattoos. The ink rarely fades over time, unlike colored tats, which may require regular touch-ups. Blackwork tattoos are for guys and gals who want low-maintenance designs! 
Discovering Titans on the Wall proved my long-standing theory about the Titans. I could clearly remember how my friends and I would debate about hardening and its practical uses in the AoT universe. Watching this episode was equally shocking and satisfying. That's why this is easily one of my favorite blackwork AoT tattoos! 
The Titan on the Wall was extremely popular; several tattooists have their own rendition of this remarkable scene. However, I loved Jeff's version the most. It's easy on the eyes, and the linework hits the spot; it looks surprisingly neat yet terrifying! 
You can check more of Jeff's artwork here. 
"The eyes, Chico…they never lie." – Scarface. 
This tattoo design truly speaks to the famous quote. I love the detail and juxtaposition of such artwork. If you're not a fan of Neon Genesis Evangelion, you'd easily think that the girl is from AoT as well.
Interestingly, this eye panel design is versatile design; you can easily replace it with your favorite characters' eyes. You can change it with Mikasa's cold stare or Levi's piercing glare. There are literally endless options for you to explore.  
Wings of Freedom played a massive role in the series. It's Mainly because its the emblem and the logo of the Scouting Legion—the faction headed by Erwin Smith, where Levi and the OG trio belonged; it's easily one of the most common AoT tattoo ideas, yet this version is uniquely interesting. 
What's not to love about it? The detail is fantastic! I love the creative play on images of the Nine Titan Powers and their holders. I've seen nothing like it, which only means that having this as your inspo makes your tat one of a kind. 
If you are looking for a design that really highlights your manga-loving side, this tattoo design is the best choice! This design is more of a concept to follow than a hard suggestion.
It's a rollercoaster of emotion to see different panels of Levi before his death. While I was expecting Levi to die, I didn't expect him to wither away. This tattoo by Aki just encapsulates my feelings while watching the scene. You can pick any scene from the franchise, but nothing beats the emotions and artistry packed in this scene. 
Find DiabloArt. Aki's spectacular designs and tattoo works on IG.
Minimalist AoT Tattoo Design
Unsurprisingly, minimalist designs are most favored by new tattoo enthusiasts. These tats do look great despite being subtle. The design calls for clean, finely drawn linework, character outlines, or even text/font.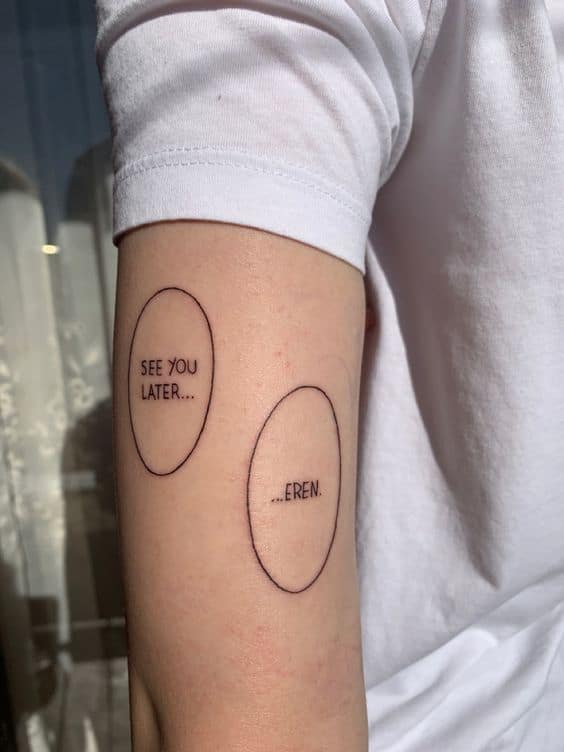 Fine-line tattoos are among the most difficult ones to make. Despite looking simple, there's just no way to hide the imperfection or mistake. If a circle is odd or crooked, it will obviously show. 
However, I love minimalist tattoos! They're subtle and clean yet appealing to stare at. This tattoo indeed is one of them. The conversation bubble's clean and sharp lines are everything. It is uploaded by xXr. Unfortunately, the artist wasn't credited in this photo! It would have been nice to see their work. 
The best part of this design is VERSATILITY! You can tweak it with another AoT quote besides Mikasa's last words to Eren. Attack on Titan is filled with some of the most emotional and poignant quotes. You'd easily find a favorite.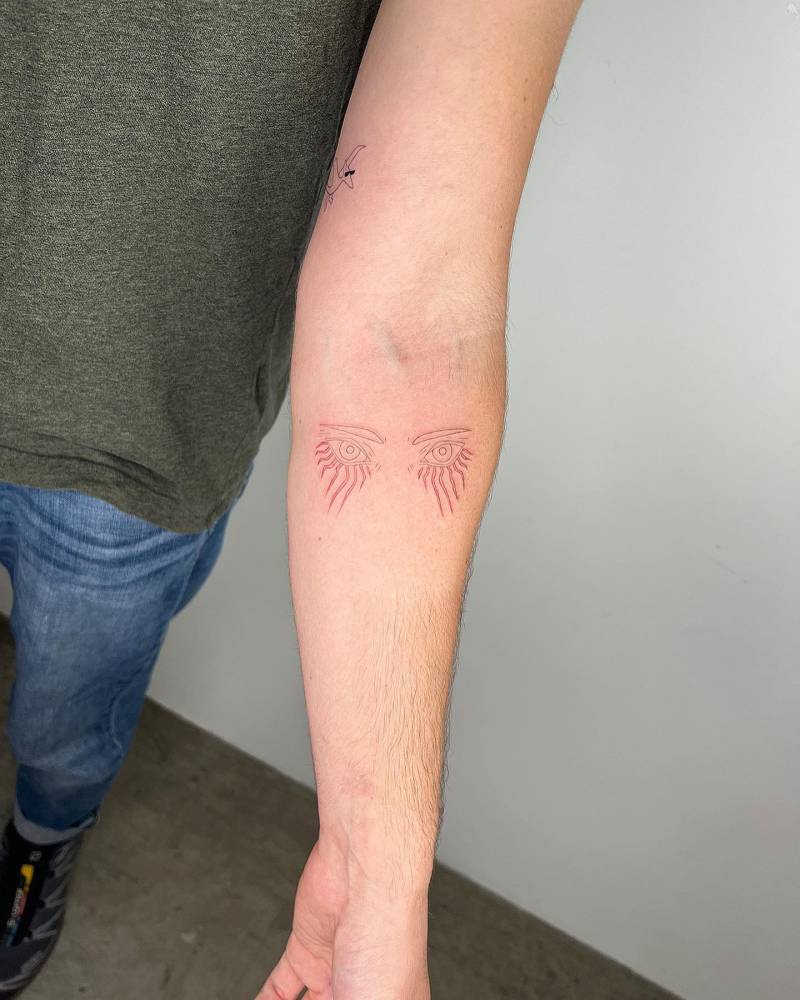 I see a lot of line art tattoos for "Eren's eyes" using black ink. However, this tattoo design deviates from the norm. The ultra-fine details, including his Titan markings, plus a different color choice, make this tattoo a bomb! Its placement fits perfectly for the whole concept. 
Joey's unique style with minimalist line art tattoos is definitely shown in this piece. You can check his designs now if you want to see more of his tattoo work.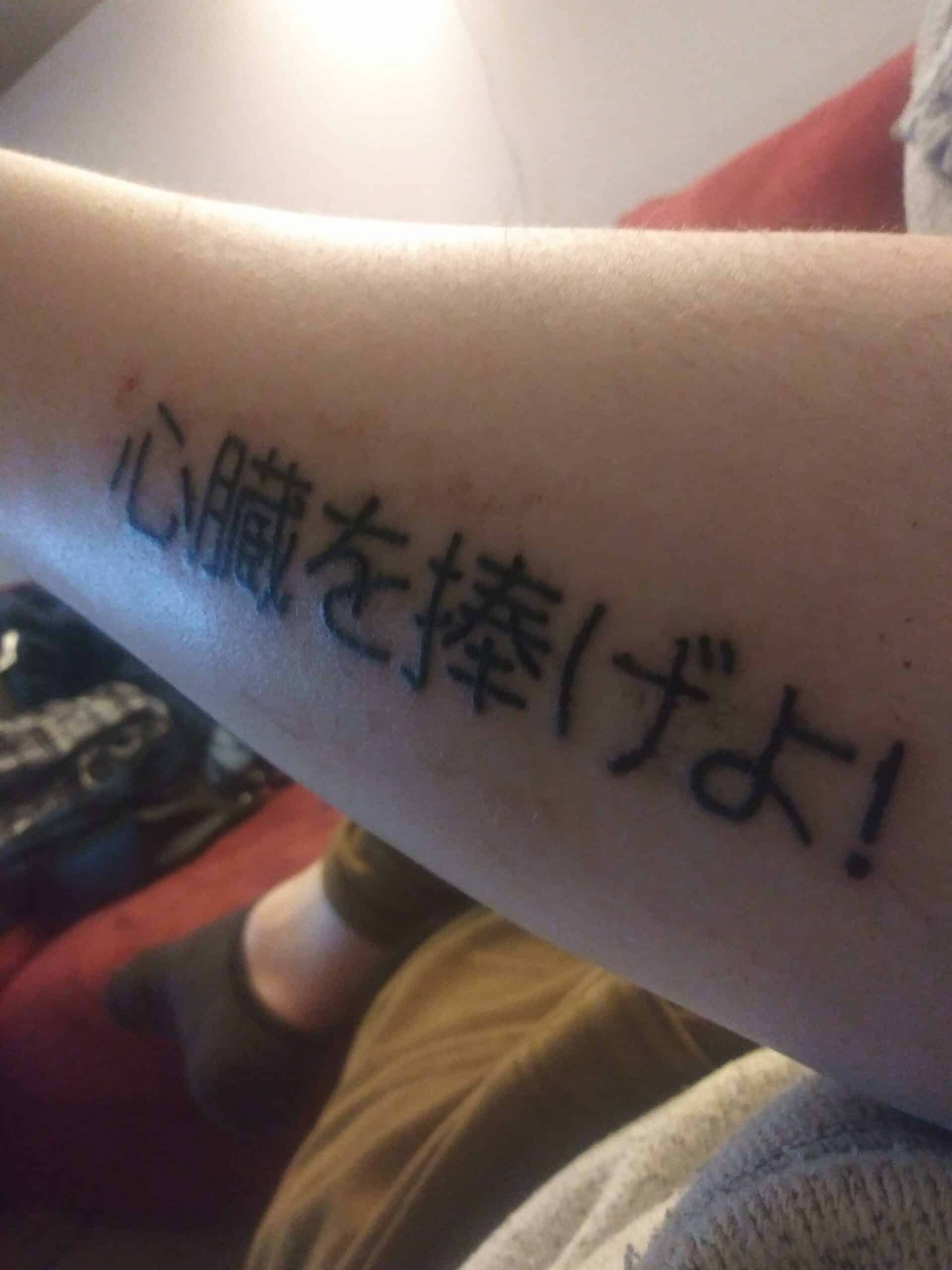 One of the most remarkable things about Attack on Titan is its opening song! Who wouldn't want to sing to the tune of Shinzo Wo Sasageyo? Well, every fan has probably hummed this song and screamed, "Shinzo Wo Sasageyo."
Its English translation is as beautiful as the song "Devote Your Hearts." That's why this tattoo made it to the last of my last. Hearing the intro song just pumps me up and sets my mood. If that's the effect of this song and lyric to me, seeing this tattooed on your body would certainly give you the same gusto and enthusiasm as hearing it! 
Bonus: Temporary AoT Tattoos
Are you still second-guessing yourself about getting a permanent tattoo? I completely understand your hesitation. However, this shouldn't stop you from trying an AoT-inspired temporary tattoo. With a temporary tattoo, you can test out the design, size, and placement you want—if in case you finally make up your mind and decide to get one. You can play around with it until you're ready to commit to the real ink! 
I've previously tried temporary tattoos, and unlike the popular misconception, they don't look bad! If you won't stare closely at the design, it actually looks like a permanent one. It's also a painless and more affordable option to experiment and check which designs suit you best.
I've included a couple of good shops that sell temporary AoT tattoos: 

Buying temporary tattoos isn't new to me, and this shop sells some of the best temporary tattoos. I love the simplistic design and line work on the AoT tattoos. They're also easy to apply on the skin. However, the platform only sells specifically to the Asian region. 

The shop can actually customize a temporary tattoo design for you! You can have your tattooist's stencil work and send them to OhMyTat so you can have a temporary tattoo on demand. This way, you can check how the tattoo looks and sets on your skin before it becomes permanent. The shop sells temporary tattoos and offers its service worldwide. 
FAQs
Question: Why is Attack on Titan so popular?
Answer: The show explores the best of everything! The story is set in a post-apocalyptic western world with a dystopian zombie-like theme. The concept looks equally foreign yet so familiar that it quickly piqued the interest of many viewers—even non-anime fans. Isayama, the creator, has also perfectly crafted a plot that intrigues the audience, probing into fan theories and online discussions. 
Question: Who is the most popular AoT character? 
Answer: Levi is the most popular character according to Ranker, a poll-based website where fans can place their votes. It's no surprise that Levi tops the spot; he is an excellent combatant with a calm and respectable demeanor. 
Question: Should I get temporary Attack on Titan tattoos? 
Question: Yes, especially if you're unsure or skeptical about getting a permanent tattoo! Temporary AoT tattoos offer the best of both worlds; they bridge the gap between those who are uninterested in getting permanent ink and those who are confused about their options. Interestingly, you'll find temporary tattoos that are so detailed and realistic. 
Question: How can I find a good tattooist who knows AoT? 
Answer: The best place to start is through recommendations! Ask your tattooed friends or relatives where they got themselves ink. This way, you trim down your search and find a good tattooist whom your loved ones trust. That's a win-win for you! 
A Collection of the Best AoT-Inspired Tattoos 
There are many creative ways to show your love for Attack on Titan, and getting AoT-inspired tats is one of them! Whether you want a medium-sized or a minimalist design, you'd easily find one from this curated collection. 
Before you hop on the tattoo chair, remember to find a reputable artist who knows and understands what you want. This is ultimately a big decision, so you want to be confident that you're getting a tattoo that you'll be proud of. You can just follow these tips, and you'll be good. 
Ready to get inked? Well, we're excited for you too.