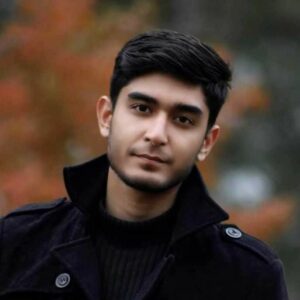 Latest posts by Asad Mehmood
(see all)
"There is nothing crueler than letting a dream end midway."
My Hero Academia is one of the most versatile and indulging manga I have come across. With scores of heroes and characters, every second of this manga is exciting. However, I should admit that so many stories coinciding are challenging to comprehend initially. Still, once you grasp its plot by reading a few chapters, it is to die for!
One of the most famed manga sequels among manga aficionados, it is a Japanese superhero series authored and illustrated by Kohei Horikoshi. This manga has been serialized in Shueisha's Weekly Shonen Jump since July 2014. Its chapters are collected additionally into thirty-three tankobon volumes as of February 2022.
Both manga and anime of My Hero Academia have made an excellent mark in the entertainment industry. It won the 2019 Harvey Award for the best manga. As of January 2022, My Hero Academia has over 65 million copies broadcasting worldwide.
Due to the popularity of this manga and anime series, its merchandise is highly demanded by fans worldwide. This product guide will specifically enlighten the top-notch My Hero Academia-themed Toys. This guide will also provide fruitful shopping and product tips. It will help you pick out the product best suited to your needs and solve some common problems you face shopping for products.
The Best My Hero Academia Toys: Bottom Line Up Front
My vote for the best My Hero Academia toy is with My Hero Academia Collectible Card Game Series 1. This is the best competitive head-to-head licensed collectible card game and is loaded with your favorite and incredible art of your most desired heroes. Use this deck as a building block in your training and take another step in becoming the ultimate MHA UniVersus fighter.
My Top 10 Best My Hero Academia Toys Picks At A Glance
An Expert's Tips To Buy The Finest Toys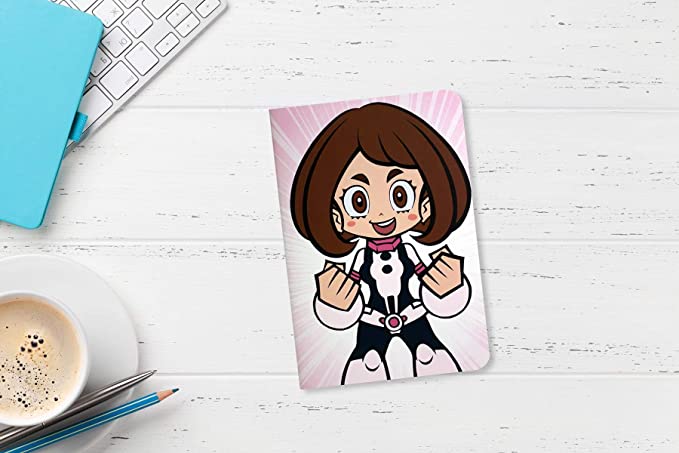 Do Your Research, Make up Your Mind about a Particular Toy
Before spending your money, you must be sure about the particular toy you want. With the variety available in the market today, it is pretty challenging to choose a specific product. My advice would be to narrow down your choices to the respective toys you aim for and need and then scout them down. Choose the toy's character according to your preference, and then look for it on the market.
Read Reviews about the Toys and Avoid New Sellers
With the advent of e-commerce and online shopping, many profit-seekers manipulate the market. With the help of fake reviews and fraudulent marketing, they can grab the attention of naive and un-experienced buyers.
It would be foolish to comprehend someone selling the same product at half the price. I would suggest ignoring all such sellers and going for the trustworthy ones with good ratings overall.
Pinpoint the Material of the Toy You are Looking for
In my experience, people initially ignore the material they are looking for and suffer afterward. For instance, metal toys cannot be given to infants and babies under three. Similarly, plastic toys are not suitable for hot and humid environments.
So to get a perfect toy, you must thoroughly look into its build quality and material and select the one best suited to your needs, conditions, and desire.
Common Problems And Their Solutions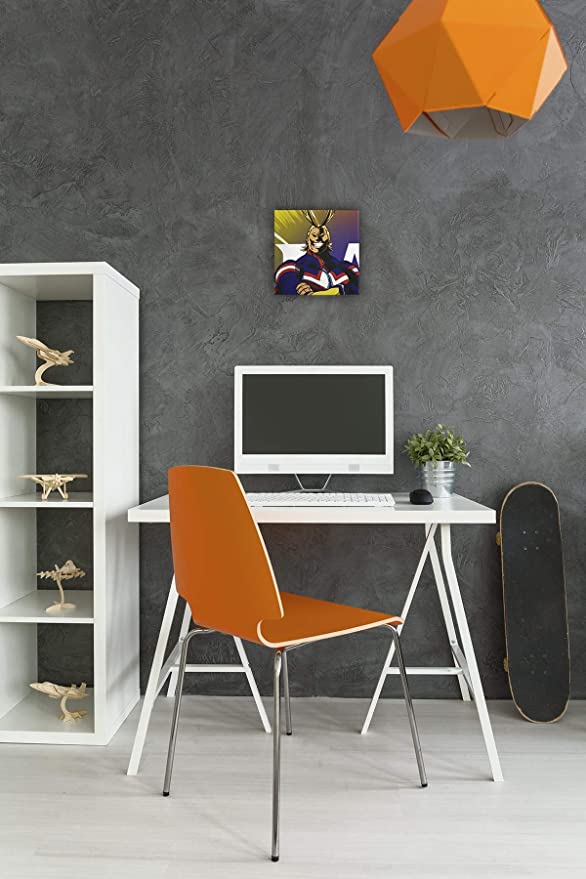 Build Quality of the Toys
The most common problem that fans and buyers face is the product's build quality. It can easily break if it is too fragile, and all our money will be gone to waste instantly. Similarly, if the build quality is poor, the design and colors of the toy will fade away in a short period.
Before buying your favorite My Hero Academia-themed toy, decide whether you will use it daily or will it be a collectible. If the toy is for daily use, go for the more durable and reliable material.
Age-appropriateness of the Toys
One thing that might be overlooked by a buyer when they are making their favorite purchase is the age-appropriateness of the toys. In my experience, the likeability of toys depends upon the mental level of the person the product is for.
For instance, if we buy a card game for a two-year-old kid, he will never be able to properly enjoy it. Similarly, a plushy toy for a ten-year-old would not be a that good idea for his age group and, most likely, his buddies would make fun of him.
Toys Made of Toxic materials that could Cause Poisoning.
Mass production and huge demand for toys make certain aspects go un-accounted for. Toys made of toxic plastic and epoxy must be disregarded and reported to the competent authorities. Children put toys in their mouths and rub them on their skins which can cause severe health problems.
Such manufacturers must be identified and instantly reported so that they can be stopped from ruining innocent lives. While buying toys, this must be kept in mind that the quality and material of the toy must be thoroughly observed and checked for approval from the competent authorities.
Why Did I Choose These Toys?
The recommendations that I have made in this My Hero Academia themed toys guide are based on the following elements:
The pragmatic price range of these toys.

My personal knowledge of these toys.

The popularity of these toys among My Hero Academia fans.

The availability of these toys in the market.

The build and quality of these toys.
My Top 10 Best My Hero Academia Toys Recommendations
#01 McFarlane Toys My Hero Academia Shoto Todoroki Size 5 Action Figure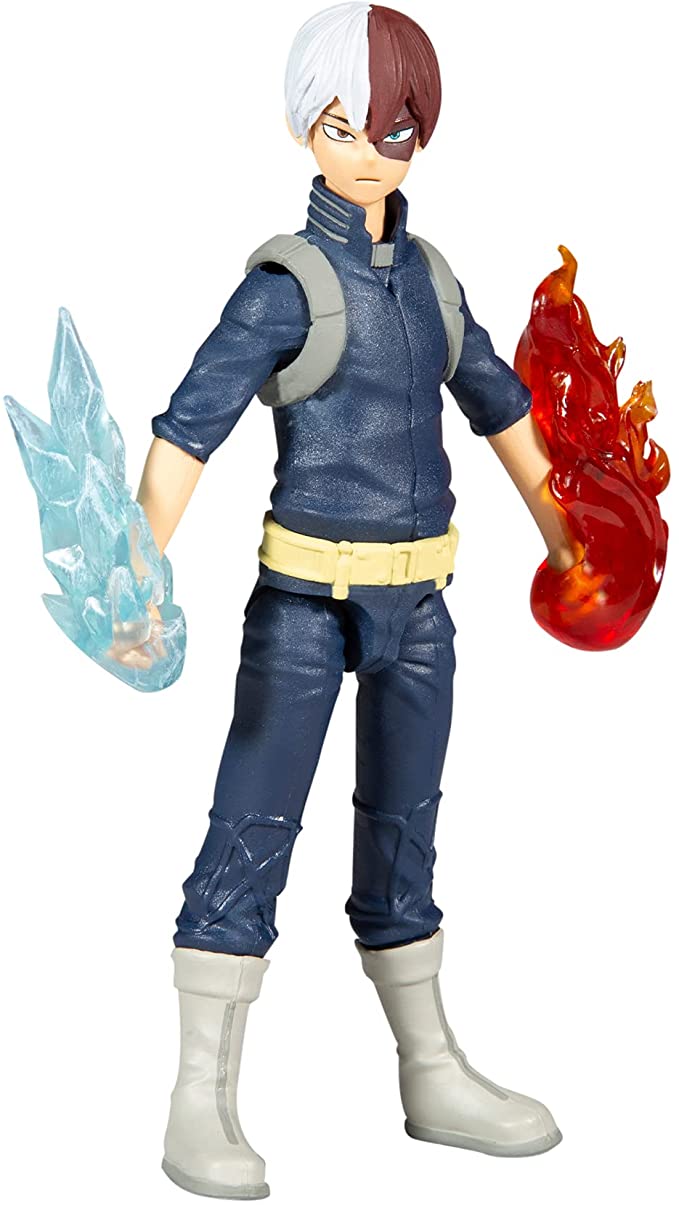 Description:
McFarlane has created some of the best My Hero Academia action figures. The look of this toy is very realistic, and the build quality is outstanding. Its size is perfect for all age groups. Both of Todoroki's fire and ice fists are flawlessly portrayed. Todoroki, the favorite of many My Hero Academia fans, would really enjoy this action figure as it perfectly depicts his personality.
Specifications:
Design: 

This 

action figure

 is designed with articulation for action figure movements which indulge the owner in a more practical experience. It portrays the dual nature of Todoroki by having both elements of fire and ice.

Material: 

Plastic

Size: 

2 x 1 x 5 inches

Price: 

$11.99

Age Group: 

6 plus
Pros:
The build is very detailed and sturdy.

Ideal for carrying it around with you.

Comes in an excellent and most affordable price range.
Cons:
The sharp edges can cause injury.
#02 Ichiban – My Hero Academia The Movie World Heroes' Mission – Izuku Midoriya, Bandai Ichibansho Figure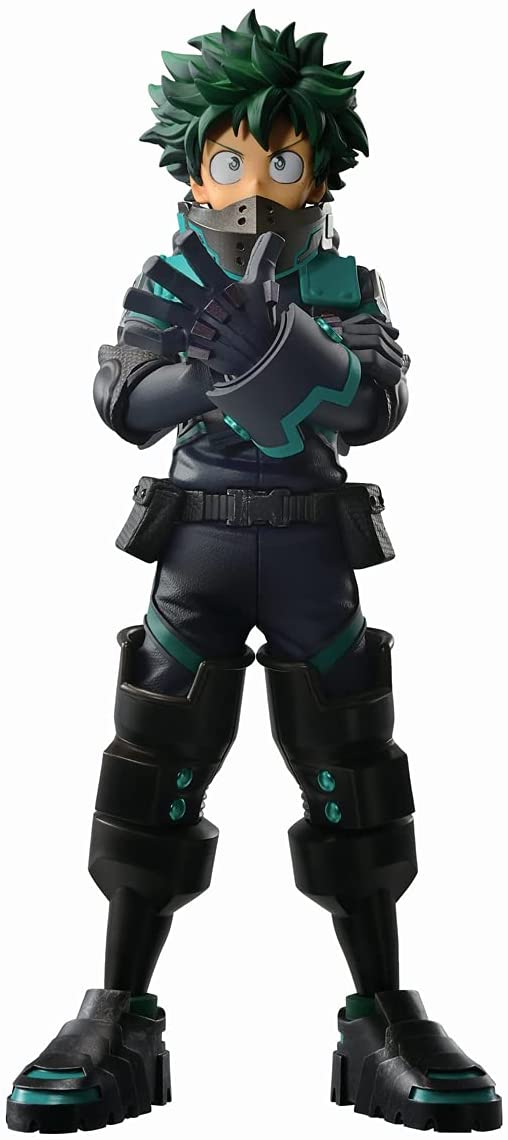 Description:
Izuku Midoriya has the most significant fanbase amongst this manga's lovers. This statue portrays Midoriya flawlessly from top to bottom. This action figure is skillfully crafted and meticulously sculpted to look precisely like Deku. He is the depiction of spirit and perseverance. Attention to detail is where this product truly shines.
Specification:
Design: 

This statue is the mirror image of Deku in the movie World Hero Mission. It is crafted via laser to be as precise as possible. It is one of the best action figures of Deku one can find in the market.

Material: 

Plastic

Dimensions: 

4×2.5×9.4 inches

Age Group: 

15 plus

Price: 

$44.99
Pros:
The build quality is flawless.

This item has a rating of 4.5 stars and is listed as Amazon's choice.

This product comes with a 30-day money-back guarantee. The seller provides an international warranty.
Cons:
Not suitable for kids under the age of three.

Due to its polished look, a kid can lose their grip.
#03 Funko 42935 POP. Vinyl: Animation: My Hero Academia-Yaoyorozu Collectible Figure, Multicolour, Standard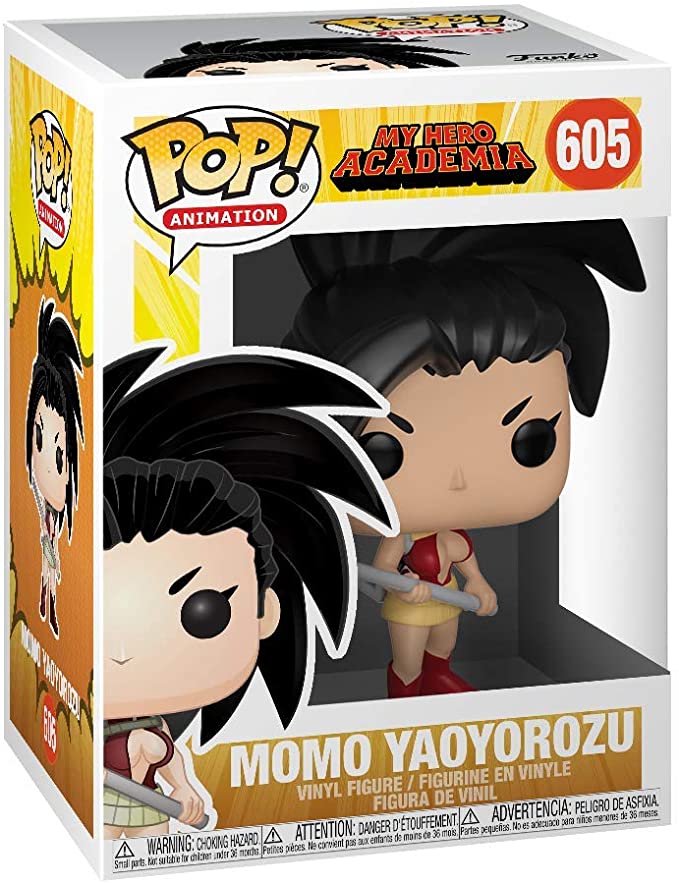 Description:
A Funko pop with perfect dimensions and design. It is one of the award-winning toys of 2018. Its laser-cut design is perfectly executed to look just like Yaoyoruzu. This product is more focused on the female My Hero Academia fans.
Specifications:
Design: 

It is designed and made from 100 percent cotton. 

This Funko

 pop's head and eyes are sculpted to perfection. It is stitched and laser cut to ideally look like Yaoyorozu.

Material: 

Cotton/Vinyl

Price: 

$10.99

Dimensions: 

3.5×4.5×6.25
Pros:
It comes with a stylized collectible stand.
Cons:
It has small parts and is not suitable for children under three.
#04 My Hero Academia Collectible Card Game Series 1 Unlimited 240-card 24-Pack Booster Display by Jasco Games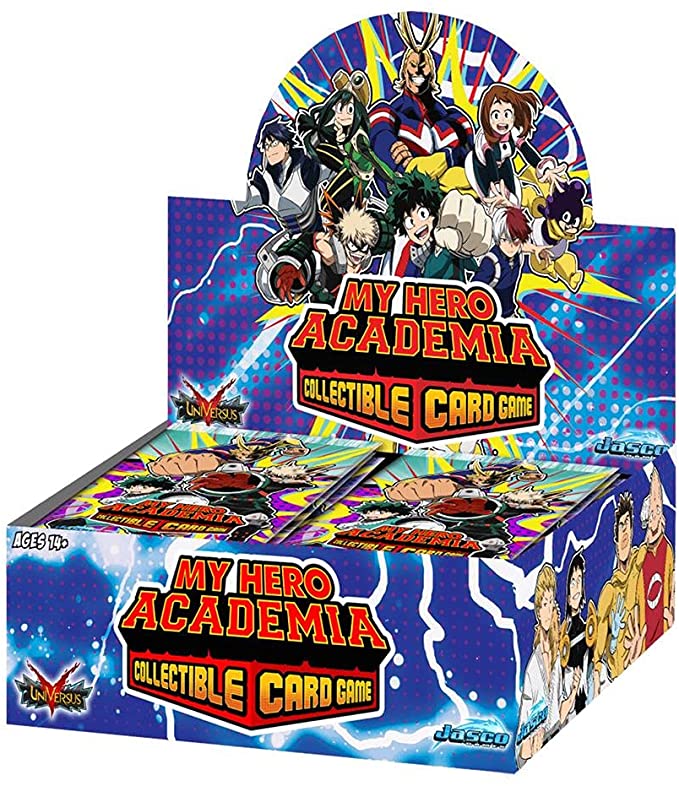 Description:
It is a collectible and competitive My Hero Academia card game where players come head to head and duel each other. By playing this game, fans can determine who is the true Hero in the real world. In this card game, you have to build up your deck and adapt the best strategy to ace others.
Specification:
Design: 

This product contains 24 booster packs. Each pack consists of 10 cards, amongst which one is rare/ultra-rare, six commons, and three uncommon cards. These booster packs can be used to join All Might and Izuku Midoriya of class 1-A for ultimate card battles amongst your card game fellas.

Material: 

Cardboard

Age Group: 

Fourteen and above

Brand: 

Jasco

Price: 

$84.53
Pros:
It is an officially licensed collectible card game.

It has 19 different cards.

It is loaded with the incredible art of your favorite heroes.

The company is offering it for a discounted price.
Cons:
This card game pack is costly for those on a tight budget.
#05 Great Eastern – Anime – My Hero Academia – Denki Kaminari Sitting Down Plush, 7-inches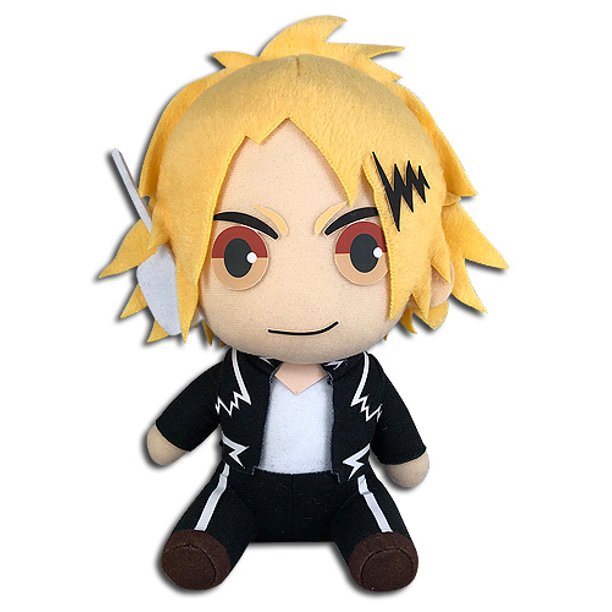 Description:
Denki is a social, energetic, and friendly chap. He likes making friends and hanging out with girls. His character is very charismatic and has a huge fanbase. He is also known as the Stun Gun Hero: Chargebolt and may often come off as reckless and blunt. 
Specifications:
Design: 

It is a highly detailed and collectible 

Denki Kaminari product

 in his hero costume. It is approximately seven inches tall, with string on top of its head.

Material: 

Faux Fur

Dimensions: 

7 inches

Age Group: 

2 and above

Price: 

$20.94
Pros:
It is an officially licensed product of the My Hero Academia series. Therefore, you don't have to worry about its quality.

The brand provides a free 90-day return.

This product is suitable for all age groups.
Cons:
It lacks vibrant colors from the series, and it might not feel eye-catching to the young fans.
#06 Funko Vynl: My Hero Academia – All Might & Deku 2 Pack Toy, Multicolor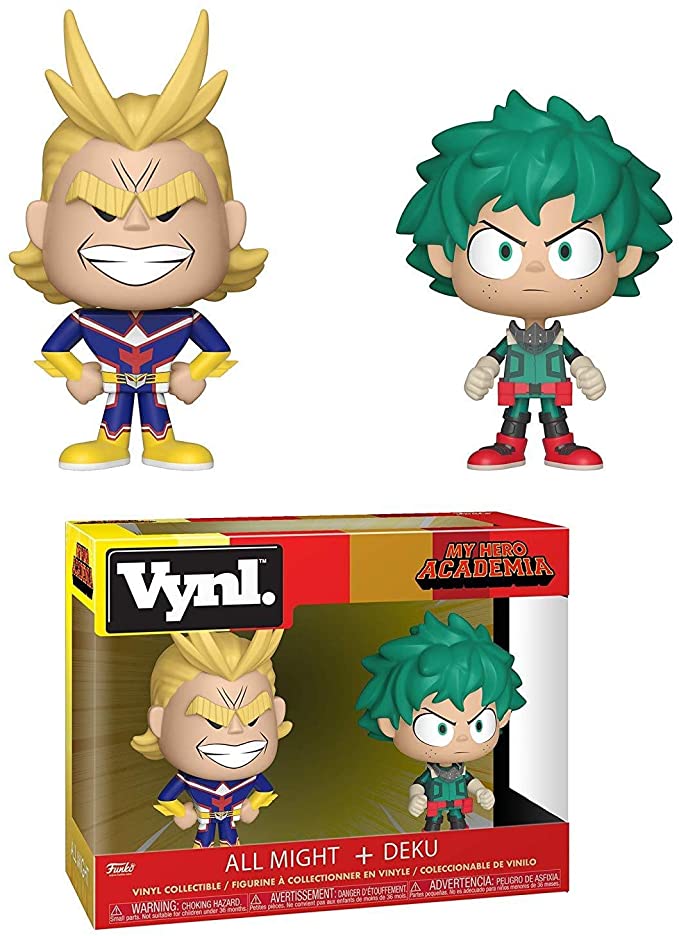 Description:
This product is a perfect gift for your loved ones who love My Hero Academia. This box contains the statutes of All Might and Izuku Midoriya, which are two of the main characters of My Hero Academia manga. They are perfectly sculpted to look exactly like them.
Specifications:
Design: 

The figures are designed as stylized vinyl, and a single box contains two action figures. This box is specifically designed to be a gift or a present. Also, they are packaged in a window display box.

Material: 

Plastic

Dimensions: 

2 x 2 x 4 inches

Price: 

$14.99

Age Group: 

3 and above
Pros:
A single pack contains two figures.

The transparent display of the toys through its cover makes it easy to assess what lies inside the box.
Cons:
Underage children can injure their selves because of the sharp edges.
#07 Anime Boku No Hero My Hero Academia Tamaki Amajiki Cosplay Costume Cloak Uniform Suit Halloween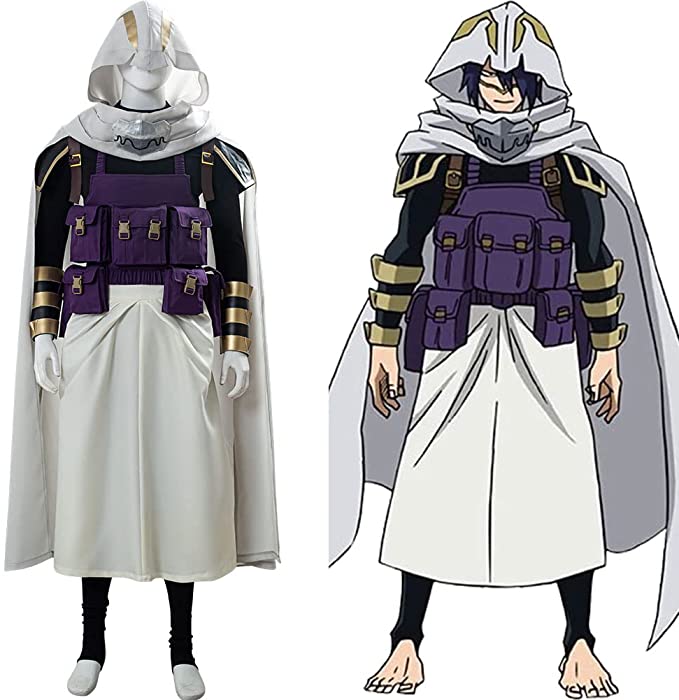 Description:
The perseverance and hard work of Tamaki attract many fans worldwide. This boutique clothing suits everyday wear on Halloween, theme parties, carnival, role-playing parties, stage, parties, special occasions, and other birthdays or festivals. It is stitched by professionals and looks precise like the Hero suit of Tamaki Amajiki.
Specifications:
Design: 

This

 suit

 is stitched from high-quality uniform material cotton. It includes all the accessories necessary to give this suit the exact hero costume look.

Material: 

Uniform cotton

Price: 

$179.99
Pros:
The material is of very high quality.

The size chart is exact.

The suite includes all of the accessories.
Cons:
It is pretty costly for an average My Hero Academia fan.
#08 My Hero Academia UA Academy School Captain Cosplay Hat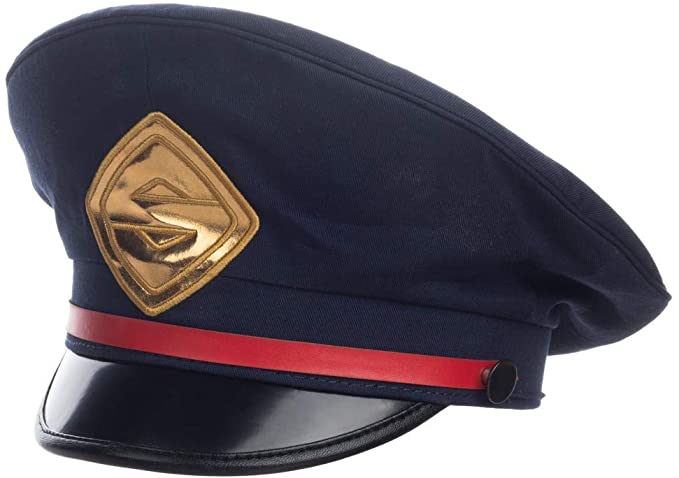 Description:
If you are one of My Hero Academia Fanatics and like hats, I have something right for you. It looks exactly like that of UA's students. The colors and design are perfectly matched to the original school's cap.
Specifications:
Design: 

The My Hero Academia School 

Captain Hat

 measures 58cm and can fit most sizes. The My Hero Academia UA Academy School Captain Fan Accessory is made of cotton material with fabric applique front art.

Material: 

100 percent cotton

Dimension: 

13.58 x 12.05 x 6.26 inches

Price: 

$29.99
Pros:
The product has lots of positive reviews.

Its material is quite hard.
Cons:
The size of this hat is a bit big for average head sizes.

The black material might wear off with time.
#09 Great Eastern Entertainment My Hero Academia Bakugo Plush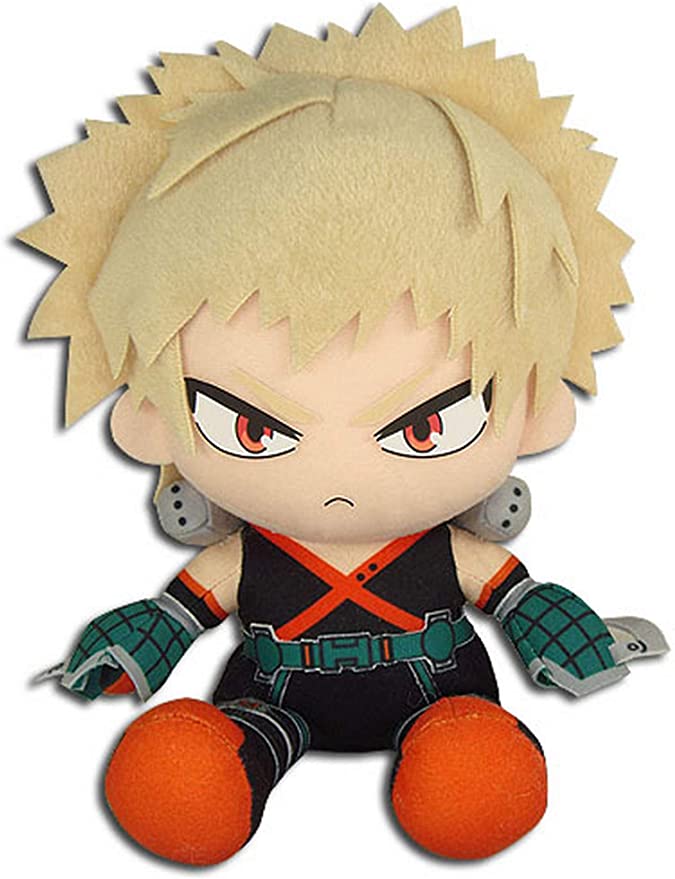 Description:
Bakugo, also known as Kacchan, is one of the main protagonists of this manga series. Like many of us, he wants to be the best and can go to any extreme to achieve his goals. Due to his characteristic, he is very famous among us fans. Great eastern entertainment has specifically made this toy for the little My Hero Academia lovers.
Specifications:
Design: 

Its design is cute and accurate. The costume and the overall toy are stitched meticulously. Bakugo, as usual, is shown to be furious.

Material: 

Faux Fur

Colour: 

Brown

Dimensions: 

3 x 3 x 7 inches

Price:

 $15.49
Pros:
It is a limited edition product.

It is an officially licensed product by GE animation.

It is eligible for return and replacement.
Cons:
Its upper cloth layer is prone to wear and tear, and its

 color might fade with time.
#10 My Hero Academia LookSee Mystery Gift Box, Includes 5 Official Boku No Hero Collectibles, Including Wall Art, Enamel Pin, & More, All Might Yellow Edition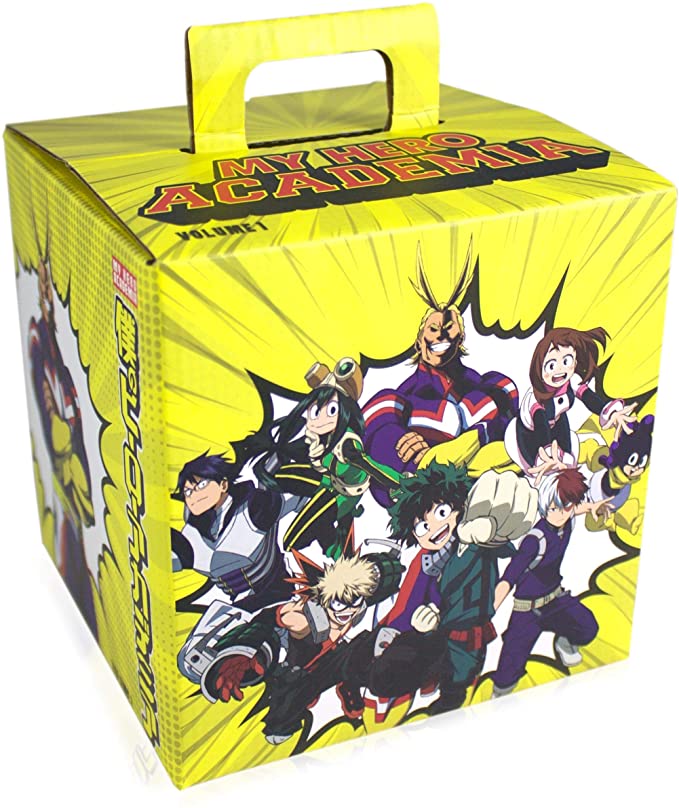 Description:
This mystery box is full of surprises. To get your My Hero Academia fan license, you must have this box. It is full of other surprises and collectibles, including a metal enamel Bakugo pin and Midoriya surprise items. The look-see box is a canvas art of All-Might, and you can create a unique canvas art of yourself by collecting all four boxes.
Specifications:
Design: 

The look-see chest is packaged in a 5-inch square decorative gift box. It is presented beautifully and has a built-in grab-on. The canvas itself is an art.

Material: 

Canvas

Dimensions: 

5.2 x 5.2 x 5.2 inches

Color: 

Yellow

Age Range: 

14 and above

Price: 

$34
Pros:
It comes at a reasonable price for a mystery box.

It has multi-purposes and quirks.

It is one of the most sought-after collectibles by MHA fans.
Cons:
It is not suitable for kids as it contains some sharp items.

If the box is damaged during delivery, the canvas art might also get affected.

You have to buy all four boxes to complete your canvas art.
FAQs
Question: Can you earn money by buying My Hero Academia toys and reselling them?
Answer: The answer is yes; you can make money by purchasing limited edition collectible toys. Like Pokemon cards, they can boost in price overnight. You can make money by buying the collectibles in a sale and then keeping them until the prices increase.
Question: Is it necessary for all the products to be licensed?
Answer: No, it is not essential for all the companies to be big corporate giants. All the acceptable items don't need to be wearing a big corporation's tag. Often many small-scale businesses make products that are more refined than licensed ones.
Question: Should you worry if you do not receive your product on time?
Answer: You should not worry because the overall supply and demand phenomenon has been deeply impacted by Covid-19. If you do not receive your product on time, you must wait patiently because sooner or later, your product will arrive. The delivery mechanism will also become stable as the restrictions lift up and the global system normalizes with time.
The Best My Hero Academia Toys Guide: Summing Up
My Hero Academia is the blend of superhero action, science fantasy, and school life shenanigans. Izuku, the main character born quirk-less in a world full of quirks and superpowers, struggles to become the best Hero known to mankind. This manga has won millions of hearts via its incredibly executed storyline. With the fantastic characters, excellent dialogues, and thrilling plots, it has a fanbase spread across the globe.
My favorite toy from the above list is My Hero Academia Collectible Card Game Series 1. It allows you to gather your heroes, test yourself against villains, and overcome your rivals. The best part about this game is that you can build the best deck and adapt your strategy as you play through the game.
I hope that this guide has provided helpful insight into My Hero Academia toy and product shopping. I believe that now you can make a swift decision and select the product that suits you best. Decide wisely! I wish you all the best.