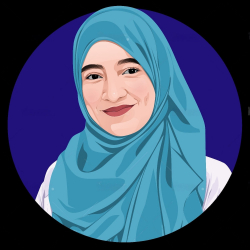 Latest posts by Ifrah Akbar
(see all)
Demon Slayer has slowly made its way to my list of favorite anime series. Undoubtedly, Koyoharu Gotouge has won many hearts with his spectacular portrayal of memorable characters and a mind-blowing storyline. Moreover, the element of fantasy is a cherry on top. Honestly, I didn't mind investing hours in this anime for these very reasons. 
Now that I'm a die-hard fan, getting its merchandise is kind of mandatory. I explored a bit and found the ultimate Demon Slayer body pillows! However, are body pillows worth your money? Are they only for show, or do they actually have some real-life benefits? Keep on reading to find out! 
Bottom Line Up Front 
For me, the best among all these is the Demon Slayer Body Pillow Zenitsu Agatsuma. I absolutely love Zenitsu! Sure, he is a big crybaby and troublesome for Tanjiro Kamado, but his adorable nature is to die for! As far as his powers are concerned, the moment he is knocked out, Zenitsu is downright amazing! Do you now see the connection between his abilities and sleep? All the more reason to buy a Zenitsu Agatsuma body pillowcase! 
A Little About Kimetsu No Yaiba 
Demon Slayer is a mix of action and fantasy. It introduces a young boy named Tanjiro Kamado, who works as a coal burner to support his mother and siblings. He appears to be a happy kid with a loving family. But it soon changes when his entire family is slaughtered by a demon. Only to add more to his misery, he finds out that his younger sister Nezuko is a demon now. 
Tanjiro then decides to avenge his dead family and turn his sister back into a human. To achieve his goals, he agrees to train under Sakonji Urokodaki and join the demon slayers. If you're curious to learn more, then check out the Demon Slayer Guide for a more detailed dive into this spectacular manga. 
What You Should Look for in Body Pillows  
Before adding a body pillow to your cart, it's essential to know its must-have qualities. If you buy the wrong one, it may produce opposite results, i.e., messing with your sleeping cycle or even inducing joint pain. To avoid that, it's better to have a thorough understanding of body pillows and the purpose they serve. Here are some of the most important factors to consider in a body pillow: 
Design
Since you're going for Demon Slayer body pillows – the picture on it is a pretty big deal. This domain is entirely up to you! However, the resolution should be good, ensuring that the pictures aren't blurry. It's also vital to see if the picture would just come off in one wash or actually hold up for some time.
Moreover, you can go for cute pictures of your favorite characters or lean a little towards provocative prints (which, in my opinion, isn't a bad idea either.) I mean, it's totally up to you – your pillow, your rules!
Firmness 
Firmness is how soft should your body pillow be. If you're only seeking comfort and a cuddling partner, go for a body pillow that isn't firm. It should allow your body to mold against it without difficulty comfortably. But when seeking some extra support, going for firmer body pillows should be a preference. At the end of the day, it's all about what you like. 
Price 
Regarding the price tag, I don't think that the expensive ones sell better stuff. Obviously, it's not like they are being pricey for no reason, but it's always better to look around and compare. Make sure to not fall for renowned brands just because they are popular and end up spending your hard-earned money where it isn't worth it. 
Size
Ideally, you should go for a body pillow closer to your height. Either of the extremes will only create more problems for you and nothing else. If you buy a small body pillow, i.e., small for your height and body size, it's as good as nothing.
You won't be able to enjoy all the benefits of better sleep, less snoring, and pressure relief. And vice versa for too big body pillows. Wider and longer body pillows do the trick for more cushioning. Small ones will be the best for those who want to hug a body pillow fully and don't want it to reach their ankles. 
Support 
Regarding support, knowing which area you want to target is essential. Is it the lumbar region or the neck region? Do you want more support on the side, or is the stomach that needs additional cushioning? All these questions need to be addressed before you purchase a body pillow. 
Weight 
Well, you wouldn't want to end up with a super heavy body pillow, would you? Therefore, it is essential to know the weight of the pillow you're interested in buying. This can be a hassle when ordering online. However, you can always contact the seller and confirm the details. A lightweight body pillow is more comfortable to hold and reposition, and heavier body pillows help you feel more secure. 
Fills 
Last but not the least, let's talk about fills. Fills actually define the feel of a body pillow. They are also responsible for support and breathability. Therefore, it's vital to choose the right fill for your taste. There are various types of fills. They range from memory foam, down, polyester, latex, microbeads, feathers, and more. Each of these has distinctive qualities that help them stand out. 
If you want your body to mold against the body pillows, I suggest the microbeads fill. However, if you're looking for a "softer" vibe, then down should be on top of your list. Polyester is your go-to fill because it can be cleaned easily and isn't high maintenance. Furthermore, feather stuffing is a good option if you want an incredibly lightweight pillow that provides superb comfort. 
Different Types of Body Pillows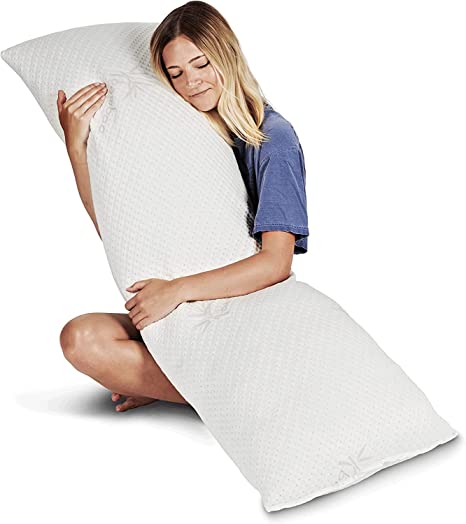 I'm sure that when we hear the term "body pillows," we instantly think of a long pillow. But that's not the case. There are different types of body pillows for different sleeping positions and requirements. Here is a broad categorization that will aid in your search for the best body pillow:
Rectangle 
Let's start with the most common of them all – a rectangle body pillow. This is technically the narrower and longer version of a normal body pillow. Usually, when we imagine a body pillow, it's the rectangle one that comes to mind. A rectangle body pillow is ideal for those who like to cuddle and want to improve the alignment of their backs. 
J Shape 
Are you an adamant side sleeper? And looking for something that can help support your side? Well then, look no further! J-shaped body pillows are incredibly popular in this regard. They help relieve pain and stiffness and ensure a proper goodnight's sleep. 
U Shape 
If you like sleeping surrounded everywhere by fluff, then a U-shaped body pillow will help you out for sure. This style is immensely popular amongst pregnant ladies. Mostly because they seek support for both sides of their body. Therefore no matter where they roll, there's always some extra scaffolding around. 
C Shape 
C-shaped body pillows are the curvier version of rectangle body pillows. They support the head, front of the body, and knees of the user, which is why they are preferred by pregnant women. Because they cannot lie on their back as they near the delivery date, they want more comfort if they are sleeping sideways. 
My Top Picks 
Once you've picked the perfect body pillow for yourself, it's time to customize it! I've narrowed down all Demon Slayer pillowcases that I'm sure you'll love. Click on your favorite character's link and get one for yourself.
DISCLAIMER: All of these are only body pillowcases and have no cushioning or stuffing inside them. 
Ultimate Demon Slayer Body Pillows
We gotta start with the main character, now don't we? Tanjiro Kamado, a kind-hearted young boy, is the prime protagonist of Kimetsu No Yaiba. After discovering that his family was brutally murdered by a demon and his younger sister was turned into one, Tanjiro decides to set things right. 
He has a smiling face, amazing determination, and pure conscience. Throughout the manga, we can see how he helped people around him and made life-long friends along the way, Zenitsu and Inosuke. 
If you're totally crazy for Tanjiro, and rightfully so, in that case, this body pillow case is a must-have! This pillow case has two versions, i.e., Tanjiro with a hat, where he looks quite handsome, and Tanjiro with flowers in his hands just for you!
Moreover, this pillow is available in various sizes. The website also provides a size chart to pick the one best fitted for your needs. As far as the material is concerned, the microfiber fabric is thin, lightweight, and guarantees sound sleep. 
Pros
Peachskin isn't harsh on your skin 

Available in different sizes 

Lightweight 
Cons 
High price range can be problematic 
"There are no shortcuts. Only hard work. Train hard and be patient. It will pay off." Don't we love a character who gives us a reality check? 
Inosuke Hashibira's first appearance isn't very nice since he hurt Zenitsu, who was protecting the box in which Nezuko was. As he is from the mountains, he isn't really well-mannered per se. Moreover, he thinks from his muscles and not his brain, which drives his friends crazy most of the time. 
For all these reasons, he wasn't a fan favorite initially. But as the story progressed, we discovered that Inosuke was a complete sweetheart! From uplifting his friends' spirits to protecting Tanjiro in Mugen Train Arc till the end – Inosuke's fan following has expanded. 
I can understand why you want to go for the Inosuke body pillow. You can either order the case with Inosuke's boar mask on or the one where he isn't wearing one. In the latter, you can see his beautiful face and sleep content with your arms wrapped around him. 
The pillow cover comprises peach skin which is incredibly soft and durable. It also displays colorfastness, ensuring that vibrant colors remain throughout and don't fade away easily. If Inosuke is the best fictional character you have ever seen, get this pillow case as soon as possible! 
Pros 
Available in multiple sizes 

Incredibly easy to set up 

3D printing makes the image look real 
Cons 
White background in the picture maybe a distraction at night 
Any Shinobu lovers out there? I hope there are numerous of them because she is an underrated character who deserves more recognition and appreciation. Shinobu Kocho, known as the Insect Hashira, actually looks like an angel. Her sweet voice and calm demeanor create a "safe" environment around her. 
We can see this from the scene where she comes to rescue Zenitsu, who is on the verge of death because the son spider demon poisoned him. Shinobu calmly approached him, assessed his situation, talked a little, and quickly took measures to help him. 
Since she isn't so competent in the "physical strength" area, Shinobu makes up for it with her intellect. She uses a special katana that injects Wisteria poison into the demons to finish them off. This shows that though she appears to be a softie, Shinobu is merciless when it comes to killing demons.
Her super agility and remarkable swordsmanship allow her to secure a place among the Hashiras. I think the perfect way to describe her would be a beauty with brains. Buy yourself a Shinobu body pillow if you're into someone like her. 
This body pillow case is available in 59 "*20" (150cm*50cm) in two patterns. My favorite one has to be the one where she gives a cute smile that gives off warmth and comfort. And in the other picture, she is striking a sort of "I'm the best" side pose. Moreover, the peach skin fabric ensures a plushy feeling, making your night extra comfortable. 
Unfortunately, this item is currently out of stock. Don't worry, stay on the lookout, and it will get restocked pretty soon.  
Pros 
Made up of premium quality materials

Great picture quality 
Cons 
Available in only one size 

Currently out of stock 
Who wouldn't want to go to bed every night with the Love Hashira? Mitsuri Kanroji is a gorgeous individual with pink hair and a killer figure. Her jolly nature and cute smile can easily light up a room. However, that doesn't mean that you take her lightly – she is a Hashira. 
Mitsuri has superhuman strength, which is quite contrary to her petite outlook. Her muscles can multiply eight times in composition, which makes the opponent's attacks quite useless to her. Also, she can move at an inhuman speed, and her flexibility is out of this world! Furthermore, the mark over the clavicle, which is two hearts with a pair of wings, confirms the fact that Kanjori is incredibly powerful. 
If she is your favorite, great choice! And if you're looking for the perfect merch for yourself, this body cover will be a great choice. It's made up of peach skin, a lightweight material that holds on to the vibrant colors of your pillowcase. Moreover, it's a breathable fabric that doesn't allow moisture build-up and gives a lavish feel. 
The Mitsuri Kanjori pillow case has two versions. The first one is with her pink hair and smiling cutely with her eyes tightly shut. And the other one is with black hair and a seductive pose. Pick your favorite and order it today! 
Pros 
Eco-friendly and non-toxic material 

Images are of amazing quality

Available in two variants 
Cons 
Pictures can be a little provocative 

Might be a bit expensive for fans 
If someone could put meaning into the word "kind," that would be Rengoku. From the introduction of this character until he was brutally murdered by Akaza, I could not dislike him even for a second. 
Rengoku was introduced in the Mugen Train Arc, where he fought against the lower-rank demon, Enmu. From the very beginning, he was an inspiration to Tanjiro and his friends. They looked up to him and wanted to become like him one day.
Kyujoro's ultimate goal was to help as many people as he could. His powerful yet soft voice touched the heart of every demon slayer fan out there. Because of this, his death came as a shock to everyone. I even cried during his last moments. 
Get a pillowcase with his picture if you're looking for a way to help get over his death. Made of peach skin, this pillowcase offers comfort, a constant reminder of your favorite character's persona. 
In the first picture, we have Rengoku in his demon slayer outfit consisting of tattsuke-hakama pants, a brown gakuran jacket, and a white belt around his waist. Since he is the Flame Hashira, his haori has a red-flame pattern along the edges. 
In the second picture, we can see how proudly he shows off his muscular body. Not that we are complaining or anything. Therefore, if you want to improve your sleep habits in the Flame Hashira style, this is your chance to do that! 
Pros
Not too costly 

Available in various sizes 

Free shipping 
Cons 
Can get dirty quickly because of white background 
Nezuko Chan!!! I am pretty sure all the fans fell in love with Tanjiro's sister, Nezuko, pretty soon in the manga. Even though she turns into a demon, she can still recognize her brother, which shows their sibling bond. Nezuko Kamado is a petite girl with dark, long hair that ends just above her waist, and that is when they turn pinkish-orange. Her big, round eyes are light pink in color that literally scream "innocence." 
My favorite scene would be when Nezuko saved Tanjiro against Rui using her blood demon art. It's the epitome of her love for her dear brother and that she could go to any limit to protect him. 
Composed of 15% spandex and 85% polyester fiber, the Nezuko Kamado body pillow might actually give you a feel of how it would be like to cuddle with her. Moreover, the peachskin and snagging-resistant properties make this body pillow a must-add to your Demon Slayer collection. In the pictures department, this body pillow comes in two variants. 
Variant number one features Nezuko in her typical pink-colored Kimono, which is covered with a dark-colored haori, and the bamboo muzzle Giyu secured in her mouth. However, in the second picture, Neuzko shows more skin as she only wears a crop top and white undies. 
Variant number two's first picture has Nezuko in her usual attire. In the other picture, she doesn't have her bamboo muzzle, and the haori is also missing. This picture shows her legs and the clavicle area a bit more prominently. Choose the variant that you want, and goodnight! 
Pros 
Snagging-resistant 

Multiple sizes available 

Colors don't fade away quickly 
Cons 
Our very own mystery man, Tomioka Giyu. And who doesn't fall for mysterious, quiet guys? When Giyu first appeared in all his glory and helped Tanjiro, I was instantly intrigued by his character. As we go deeper into the manga, we learn more about his sophisticated yet soft nature. With that, he quickly became one of my favorites. 
According to Shinobu, he doesn't like to talk much and is disliked by many. However, that doesn't faze him, nor does it change the fact that he enacts the immensely powerful Water Hashira. Like our young protagonist, Giyu trained under Urokodaki and possessed spectacular abilities. 
Made up of eco-friendly and non-toxic material, this body pillow ensures a peaceful sleep. It remains cool during summer and provides warmth during winter. The peach skin adds more to its comfort, making it an investment worth your money. 
In one of the pictures for the pillowcase, Tomioka is dressed in his usual attire. Giyu's demon slayer uniform is a dark cyan-tinted color. Moving down, we can see the white kyahan wrapped around both his legs and a pair of white zri. He completes his look with a haori divided down the center into two patterns: one solid red on the right and a geometric pattern on the left. 
In the second picture, the Water Hashira melts us with his hotness. The solid-colored part of the Haori is ripped in various places showing off a little skin, and the other side of the body is "mostly" uncovered. 
Pros 
The pillowcase has a luxurious feel

Various sizes available according to your requirements 

Price range is good 
Cons 
May not be suitable for individuals with dry skin as peachskin is hygroscopic 
Here comes my favorite character in Kimetsu No Yaiba – Zenitsu! I found him incredibly cute when he was introduced in the manga. I became a hardcore Zenitsu fangirl when he protected the box from Inosuke's attacks without knowing who or what was inside it. I legit had tears in my eyes! 
The Zenitsu body pillow case is everything that you need in one place. Just that you can't really hold him for reals, but you get the gist. Again, it is made up of premium peach skin, like all the prior pillowcases. This material is famous for its softness, comfort, and ability to keep the colors intact. So, you don't have to worry about the colors fading away after one wash or two.
Furthermore, there are two variations available. The first one offers two front and back pictures. One of them has Zenitsu in his demon slayer attire complemented with a yellow-orange haori. He is holding his sword very cutely, and a small bird (probably a hummingbird) sits on the top of his head.
In the second picture, we come across a hotter version of Zenitsu. The top of his shirt is unbuttoned, and his attire is messy. He also poses with his right hand tangled in his yellow-golden hair. In the second variant, we again have two pictures.
The hotter picture from variant one is the same (for obvious reasons). The second picture, i.e., the cute version from variant one, has him wearing a flower crown. It's available in three sizes: 100×34 cm, 120×40 cm and 150×50 cm. Confirm the dimensions that you want before placing an order. 
Pros 
Offers a variety of sizes 

Premium quality peachskin fabric 

Excellent print 
Cons 
You might be too distracted by Zenitsu's cuteness to sleep!
In my entire manga-reading & anime-watching career, I haven't seen a character as flamboyant as Uzui Tengen. He properly appeared at the end of the Mugen Train Arc when he tried to take the butterfly mansion girls for his mission. Honestly, I didn't like Uzui, and my respect for the young demon slayers, Zenitsu, Inosuke, and Tanjiro, grew when they exchanged positions with the girls. 
However, as the story progressed, it turned out that he was a caring man but in his own twisted way. His purpose in paying a visit to the Entertainment District was to find his wives, who had gone missing while they were undercover. Okay, cute.
While his personality is a bit problematic, there's no doubt about his exceptional abilities. He is one of the fastest Hashira's, and it's proven from the scene when he destroyed Daki's obi sashes in a matter of seconds. After doing so, he says, "Starting now, things are going to get really flashy!" This shows how much of a show-off he is. He likes to be the center of attention, whether it's because of his skills or good looks. 
The pillow cover has Uzui printed on both sides, so you never feel alone at night. Hug him, cuddle with him or sleep next to him – this is your chance to feel like one of Uzui's wives. Since it's made up of peach skin, this pillowcase is incredibly soft to the touch. I am pretty sure that is how Uzui's skin must feel. Both sides of the pillowcase have pictures of our Sound Hashira in super cool poses. 
In the first picture, he is striking quite a flamboyant pose, I suppose? His arms are crossed behind his head, showing off his biceps. Moreover, his unbuttoned shirt puts his well-defined, glistening abs on display. Uzui's white hair falls loosely on his shoulders as he gives us a very naughty look. 
As for the second picture, well, it's Uzui in his regular demon slayer attire. It's dark turquoise in color, with maroon wraps around his calves. His hair is in a ponytail, and he has these maroon makeup spots around his left eye. To further fuel his flamboyant personality, his headband is decorated with gemstone. Overall, his entire persona is flashy- just as Tengen likes it. 
Pros 
Feels very soft on your skin 

Free shipping 
Cons 
The white background will get dirty pretty quickly 
Lastly, we have the Muzan Kibutsuji Body Pillow Case. Anyone who likes this shape-shifting, manipulative villain? This is your chance to connect with him on a more personal level. Muzan is the main antagonist of Kimetsu No Yaiba. His strength is incredible, so he is superior to all the demons. Muzan's blood demon art includes manipulating his flesh into weapons and metamorphosis.
If your type is someone who is sadist, amazingly powerful, and mysterious, then you'd love Muzan Kibutsuji. If you're already a die-hard fan, you must get this body pillow case at all costs. It is available in three materials: peach skin, two-way tricot, and velvet. 
You must be familiar with velvet, so let's take a closer look at peach skin and two-way tricot. Both of them are incredibly comfortable and mushy in nature. However, the latter is more elastic and durable than peach skin. Therefore, make sure to understand the type of material and which one of them fits your needs before making a purchase. 
Next up, this pillowcase in three sizes; 50 cm x 150 cm, 50cm x 160 cm and 60 cm x 180 cm. I'd advise measuring your height before choosing a size from these three. Go for the one that is closest to your height. 
For the pictures on the front and back of the pillow cover, we have Muzan Kibutsuji in his regular outfit. His attire consists of a black, embroidered tuxedo with a black dress shirt, white tie, and white pants. He wears a white hat with a black strip running in the middle and black loafers.
In the first picture, he poses with his hat dipped a little low as it covers one of his eyes. And in the second one, he has his back on the front with his tuxedo resting halfway across his arm. Finally, the look is completed with Muzan's creepily creepy smile. 
Pros 
Available in three different materials 

30 days warranty

Great printing 
Cons 
Not really pocket friendly 
FAQs
Question: What Is The Best Size For A Body Pillow? 
Answer: Body pillows usually come in different sizes. It is so because different users have different demands, and there is no one-size-fits-all policy regarding body pillows. However, if this is your first time picking out a body pillow for yourself, you might want to go for the most popular size, i.e., 20×54 inches. However, you can also explore the market and choose the one that suits your needs and demands. 
Question: How Do I Clean Body Pillows?
 Answer: Considering my obsession with cleanliness, addressing this question was a must. You will be sleeping with your body pillow every night. Bacteria can grow on your pillow's surface and cause skin issues. The best way to wash your body pillows is in a bathtub.
It makes the process easier and doesn't require much effort. All you have to do is fill the bathtub with cold water and add some mild detergent. Now dip the body pillow completely and let it sit for 10-15 minutes. 
You can scrub it mildly or use your hands to clean it thoroughly. Once satisfied, take the pillow out and leave it to air dry. Another option is to tumble dry, but I wouldn't prefer it. Air-drying is a much better method, in my opinion. Lastly, don't forget to fluff your pillow as its lifespan increases. And voila, you're done! If this technique doesn't suit you, the option of machine wash is also available.
Question: How Much Should A Body Pillow Cost? 
 Answer: Ideally, it should cost around $15 to $100. As you move towards luxurious body pillows, they can cost more than $200 and under $1000. Multiple parameters such as fill, material, picture quality, and more are considered before deciding the final cost. So, it depends on what kind of body pillow you are settling for. 
Question: What Is The Best Material For A Body Pillow Case?
Answer: Polyester! It's the most optimal of all materials you come across for various reasons. For starters, it doesn't wrinkle or allow moisture-build up. You don't have to worry about ironing the pillowcase every time to make it look presentable or worry about sweating all over it. However, polyester isn't very breathable, which makes it unsuitable for hot weather. But regarding durability and outlook – there's no material better than polyester.