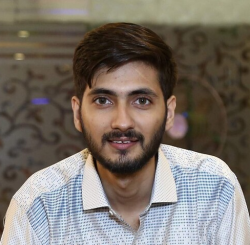 Latest posts by Vishwas Kochar
(see all)
Just go to your Instagram account and search for "animeearrings", and you'll see just how incredibly popular Demon Slayer Earrings are. And why wouldn't this be the case? Demon Slayer has been all the rage since the anime first launched in April 2019.
It is a simple story told with beautiful animation and melodious music. And the moment episode 19 of season 1 premiered on August 10, 2019, all hell broke loose! The episode has an IMDb rating of 9.8 with more than fourteen thousand ratings. It was this episode that made Demon Slayer into the show that it is today. And it was this episode that got me into the anime.
Clips of episode 19 were all over my feeds, with Tanjiro wearing his hanafuda earrings and swinging his blade with incredible animation and music. And the moment I saw those beautiful earrings dangling from his earrings, I knew they'd take over the anime earrings market. The fact that earrings in Demon slayer aren't just an accessory but also have deep meaning attached to the characters only increased their popularity.
So it is with great pleasure that I am writing this article about my favourite earrings. In this article, I am going to talk about various Demon Slayer Earrings that you can purchase or make on your own.
Significance of Earrings in Demon Slayer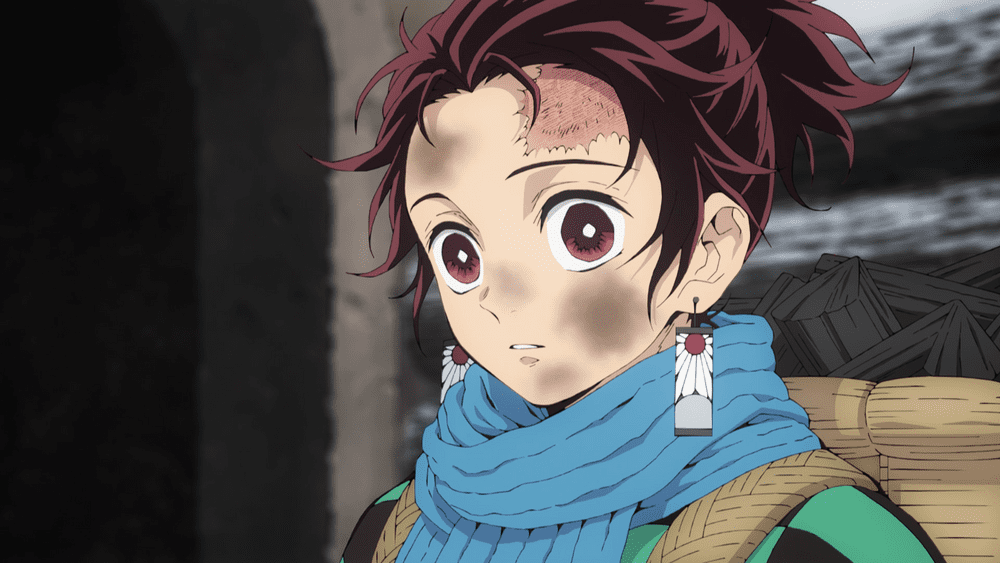 Well, both in the anime and the manga, we have seen the amount of focus given to the characters' earrings. We see it first in Tanjiro's unusual pair of hanafuda earrings. And later, we see it with Yoriichi Tsugikuni, the first practitioner of the Sun Breathing Style. 
In Tanjiro's case, the earrings were passed down to him by his father, who got hold of it from his immediate predecessor. But in Yoriichi's case, the earrings were given to him by his mother, who made them with love when he was presumed to be deaf.
So we see these earrings as a symbol that holds great value for the characters wearing them. To Yoriichi, this gifted pair of earrings from his mother gave him the strength to pull through every hardship in life. Till his last breath, he kept on wearing these earrings. In fact, his hanafuda earrings become a symbol of fear for Muzan. When the latter came across Tanjiro's earrings, he cowered in momentary fear and had a flashback of Yoriichi.
For Tanjiro, the earrings symbolized the spiritual strength he could harness within himself. Since the earrings were passed down to him, they conserved the energy of all the users of the Sun Breathing Style before him. Later on, his latent powers were released, and the earrings could be seen as a catalyst in his awakening of the new fighting style.
Hence, earrings are an essential part of the Demon Slayer series. Maybe this is one of the reasons why it appeals to the fans accessory-wise. And other than the hanafuda earring's beauty, the characters' engagement with it gives it a unique essence.
Bottom Line up Front: My Favorite
There are so many beautiful Demon Slayer earrings available on the market, but if I had to recommend you a must-have, it would be Tanjiro Earrings. It was a tough choice, but this piece is simply my favorite. Why these particular earrings? Well, because they have the classic Demon Slayer pattern. And who does not like the good ol' classic theme?
Although these are slightly different from the traditional ones since they are made of metal and not paper, this pair was my first set of anime earrings, so they will always remain my favorite.
Selection Criteria
I consider multiple factors while trying to buy any earrings. The first one is budget. Now, of all the Demon Slayer earrings I mentioned in this article, they fit within a budget of 30 USD. While I would not consider this economical, it is affordable if you are in the mood to splurge.
The second factor I keep in mind while selecting these earrings is imagining a visual picture of how I would look when I wear these earrings. This includes my present hair dye, hair length, face complexion, and face structure.
So if I decide to go with Demon Slayer: Kimetsu no Yaiba Glass Clip On Earrings Mitsuri Kanroji, my first thought would be to see whether it ticks off all the criteria boxes I have mentioned. Does the pink of the earrings go well with the blue dye of my hair and the beige shade of my skin?
Do oval-shaped earrings suit my rectangle-shaped face? Asking yourself such questions enables you to examine your individual aesthetic presentation critically.
Another factor is the design of the earrings – Are they unique? Do they retain the authenticity of the anime? Because if a fellow otaku standing next to me does not even understand that it is inspired by Demon Slayer anime, what is the point in even wearing them?
Apart from that, there are some earrings in this list that I have purchased in the past, and my good personal experiences with them further give me the motivation to write about them. Next would be reading the product description to see what kind of metal or material it is made up of. This information ensures that the product would not cause a harmful reaction on my skin.
This brings me to my next point – reviews. Reading reviews to get insight on various other factors is yet another primary point that I believe holds significant value in the selection criteria. I look into them, keeping in mind that it gives me ample information to consider before buying the product.
By combining all these factors, I deduce and come to a conclusion on the earrings that I wish to recommend to my readers.
Getting Down to Business: My Top 9 Favorite Demon Slayer Earrings
There is a reason why I desperately wanted to write this article. The varieties of Demon Slayer earrings available online have been a significant factor in why I am going broke every now and then. My collection is as diverse as these earring designs.
Without any further ado, let's get into my favorite selections of Demon Slayer earrings: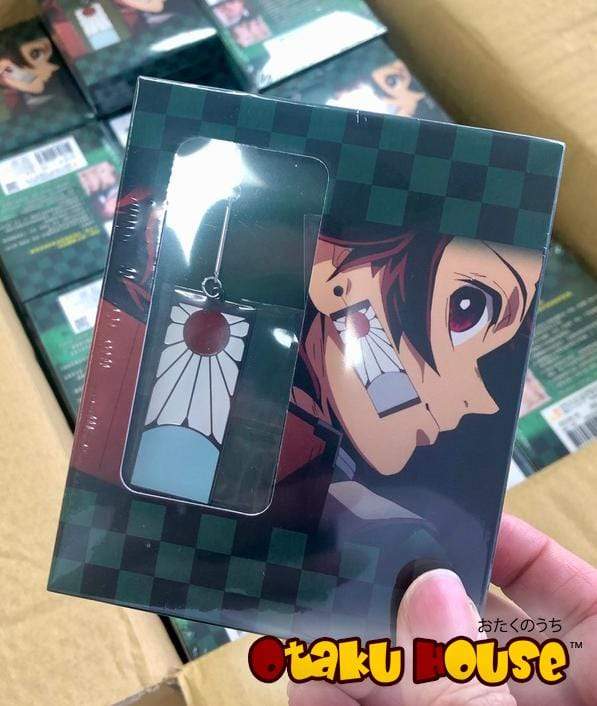 I fell for these earrings as these are the exact same pair of hanafuda earrings that are worn by Tanjiro Kamado, the series protagonist. They remind me of my favorite scene in the anime where Tanjiro uses "Hinokami Kagura" for the first time.
Available at $24SGD, Otaku House ships its products across the globe. Perfect kit for cosplaying Tanjiro and Yoriichi. Grab the pair and get your cosplay game on point.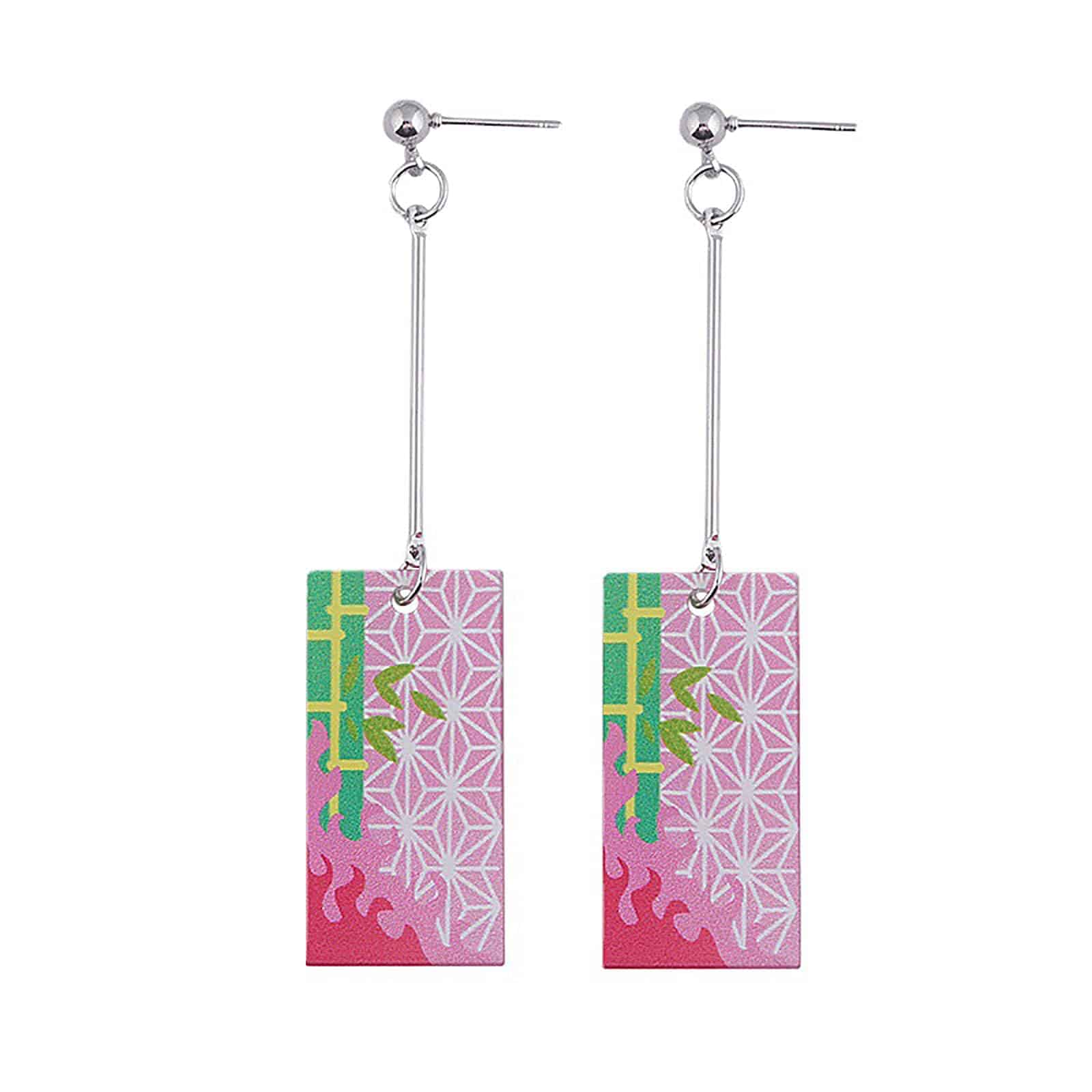 I love the soft pink background with a white Nezuko pattern on these earrings. And the bamboo and the flames add more character to them.
Perfect for a summer date. Pair them with white or pastels and see how well they transform your entire outfit. But while I mentioned they would go well with light colors, I also think they would look badass with your dark joggers and jackets.
I gave you the ideas, and now it is up to you to try and see which one you think looks best on you.
Or maybe you can come up with something quirky by adding cool colors to your outfit and pairing it with your Nezuko earrings.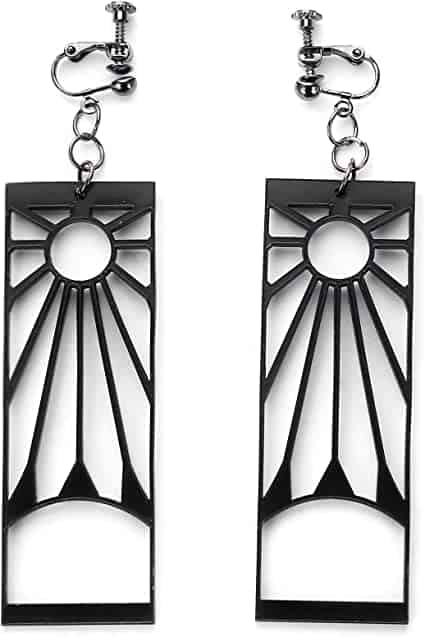 I love this pair just because it looks so classy. I mean, look at them – the monochromatic theme makes it even more stunning. While I am a sucker for the classic one, the lack of red and stark white brings out the beauty of the black even more against the transparent frame. It's a 'Definitely Recommended' product from my side. The rest is your call.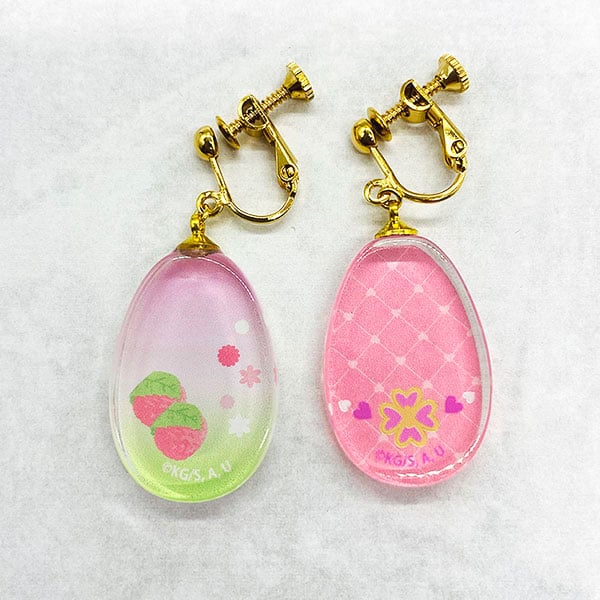 These earrings based on the Love Hashira Mitsuri Kanroji just ooze romance. The pink and green shades in the earrings take inspiration from Mitsuri's hair. And the fact that these are clip-on makes these earrings even better as people without piercings can wear them.
Various other options are available, but I like Mitsuri Kanroji, Muichiro Tokito, and Tenzen Uzui-themed earrings the best. AmiAmi ships worldwide, so no worries over there. And in case the "Orders Closed" pops up, pre-order your favorites by emailing the website, asking them to notify you when the merchandise is back in store.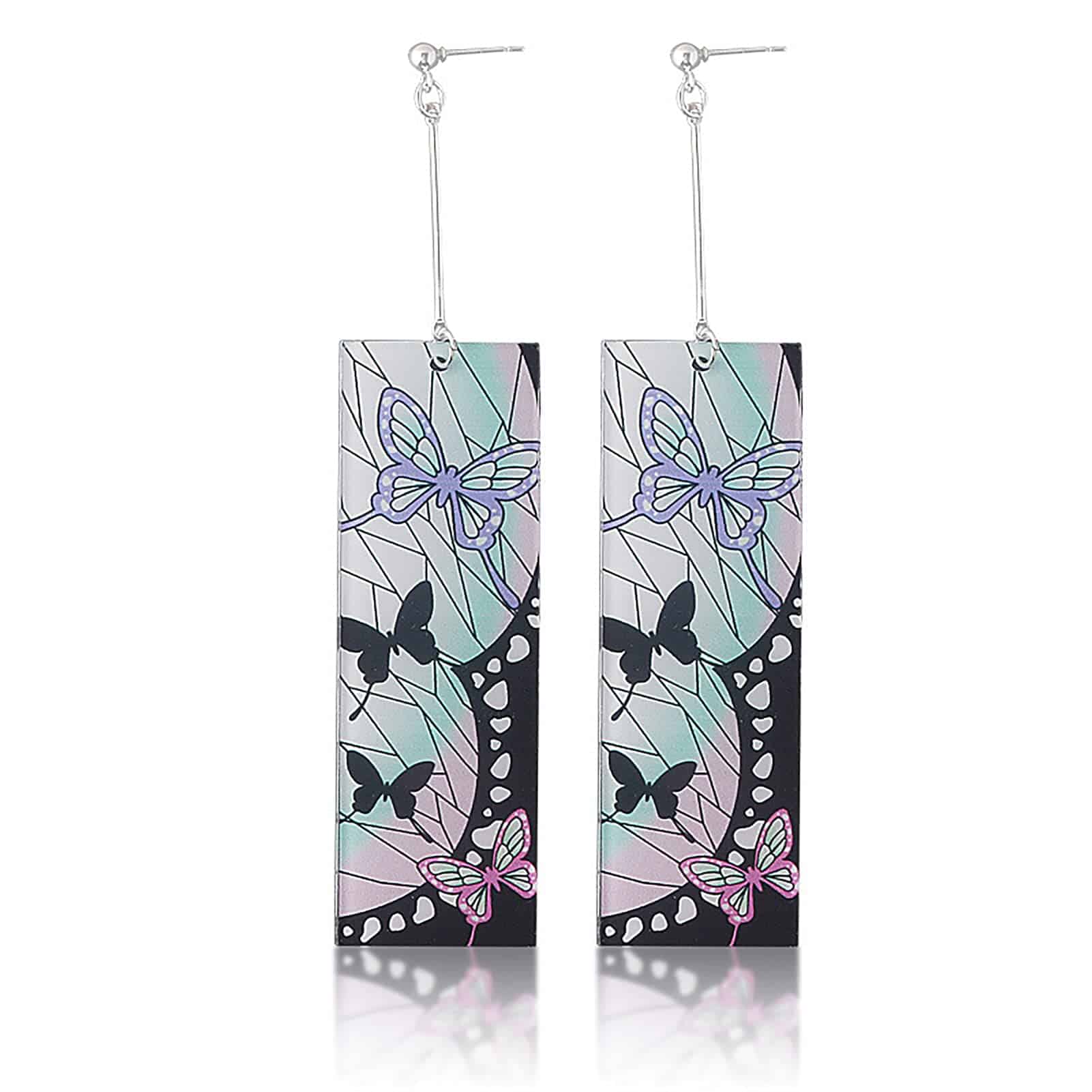 Based on Shinobu's haori, this earring pair is stunning. These earrings just scream Shinobu Kocho to me. From the soft and colorful background and pattern that matches her haori to the beautiful butterflies that personify her theme in the show, these earrings are as pretty as Shinobu.
They are so elegant that you can match them with a black dress or shirt and see how well it contrasts with your earrings – bringing out their vivacity. This is a recommended product since every time I wear them, I look into the mirror and admire myself (and the earrings) a little more.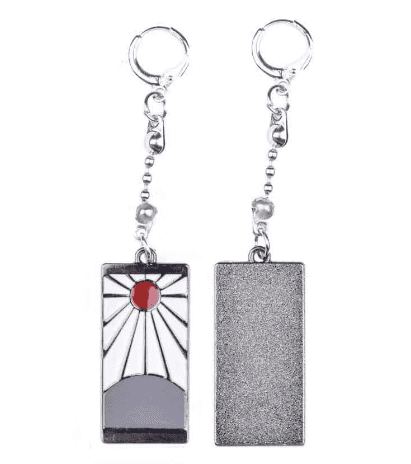 These are my personal favorite earrings on this list. While visually they are similar to the Tanjuro hanafuda earrings I mentioned earlier, these earrings are made of metal. And while they can be too heavy for some people, they are perfect for me.
These often go out of stock just because they are always in high demand. So, make sure to click on that "Mail me when available" button if such a scenario happens.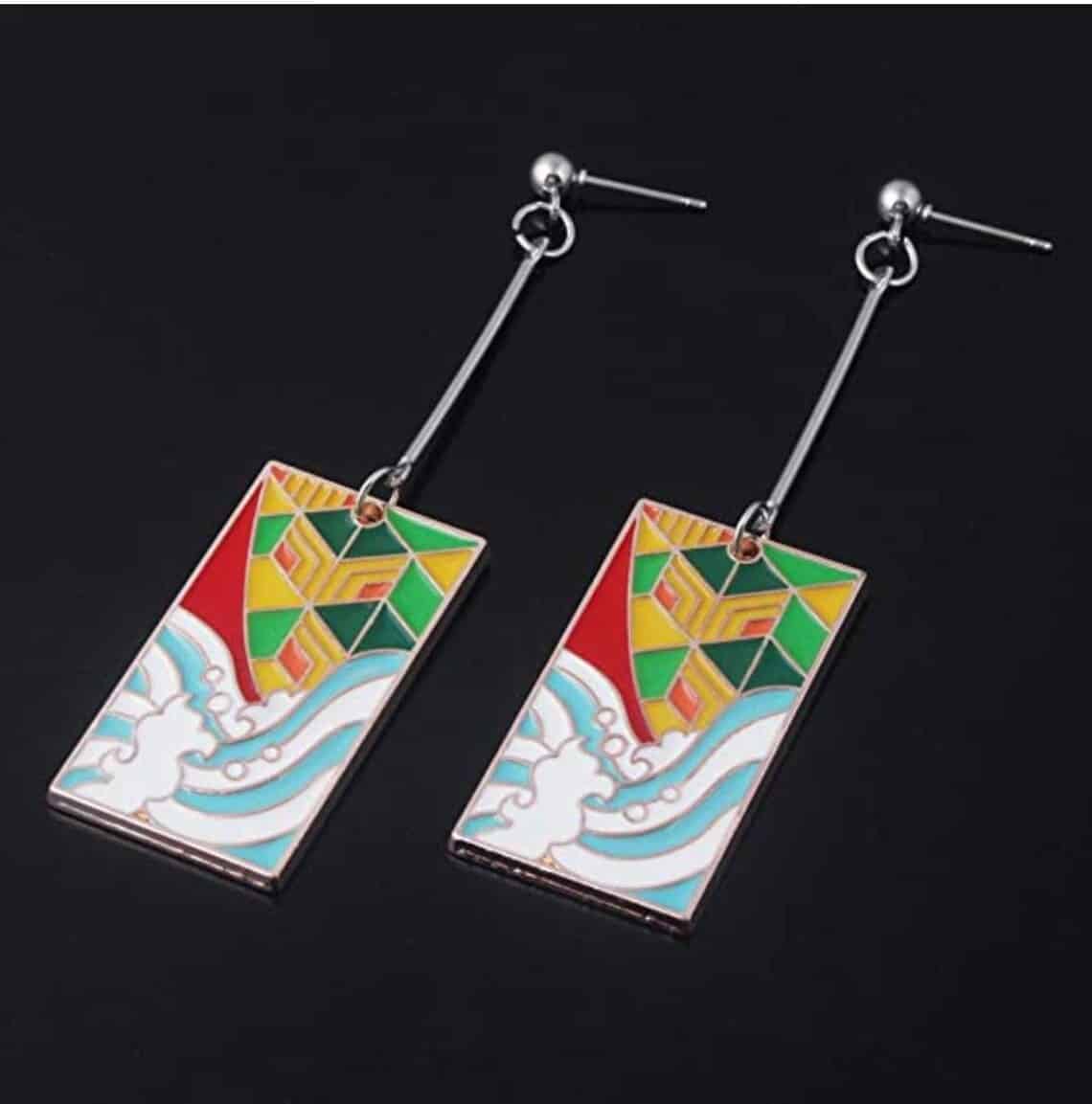 It is a given fact that we all love Giyu. We love his oblivious, cute self but also his serious Hashira side. Whatever side he chooses to show us, we love him anyway. So, you are a fan and don't own Giyu-inspired earrings? Now that's sus.
That is why I recommend you this pair of earrings which I feel represent his character vibe in a lot of ways. The half and half patterned haori, his water breathing style, and the cool metal (which I would like to interpret as a representation of his cool and calm demeanor). Now, isn't that meaningful? Perhaps you could buy this to understand his essence better.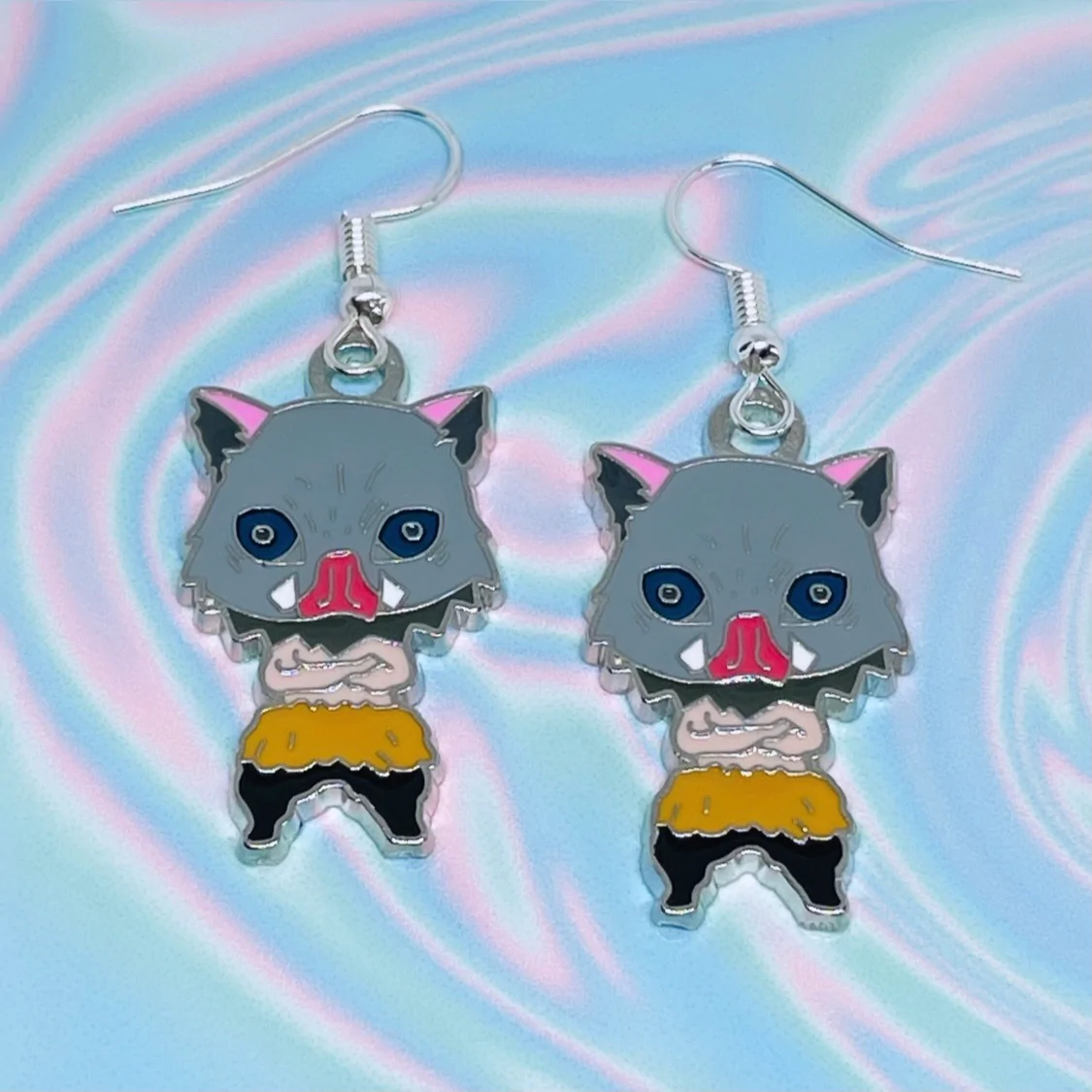 Hands down, these are the most adorable earrings of the lot. The chibi Inosuke looks so kawaii! Here we have these Inosuke-inspired earrings only for £5. That's not only just cheap but cute! Grab these pairs and wear them with your favorite casual tees and jeans because they scream (just like Inosuke) comfort!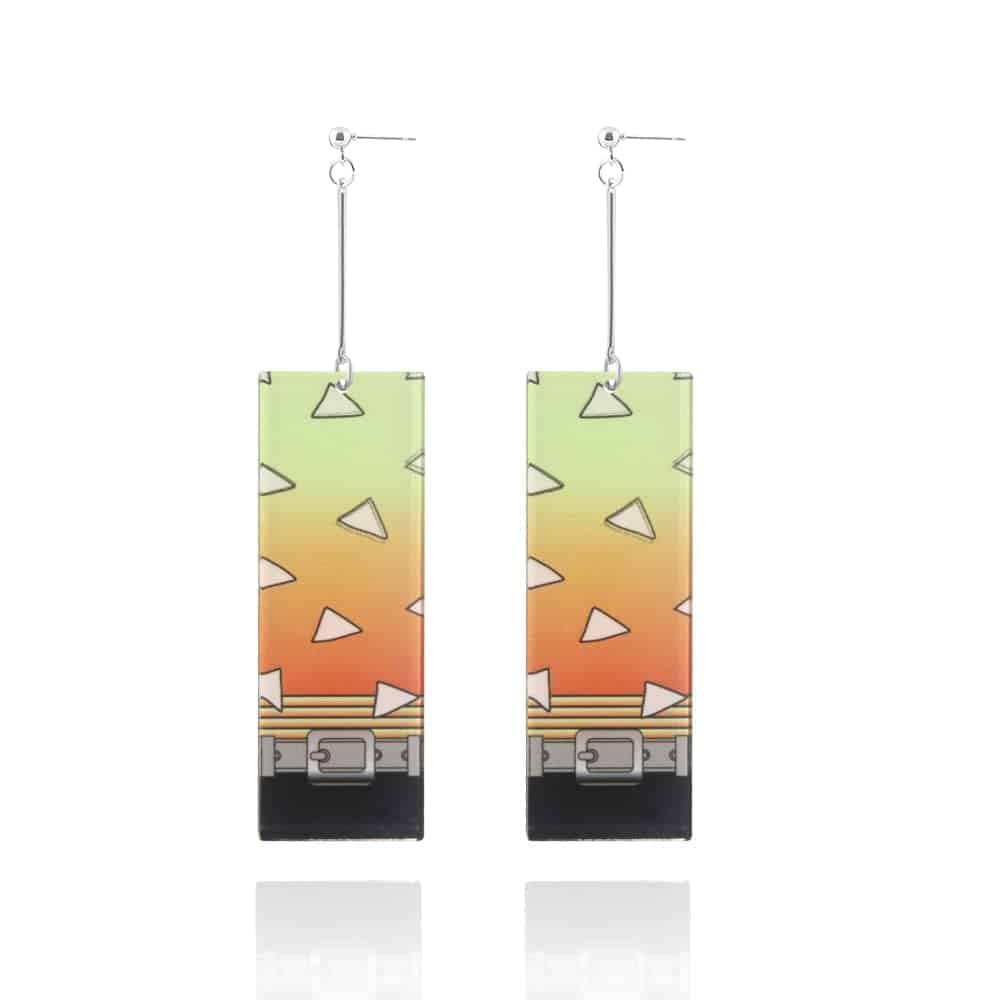 Sticking to the theme of Zenitsu Agatsuma's haori, these earrings are perfect for summer. Just look at all the color shades – honeydew, yellow, orange, white, and a bit of black – all of which make them suitable for a summer day out. If you are bored this summer and want to go to that pool party but don't know which accessory to go with, maybe you can breeze your way into the party wearing these?
Special Mentions Because You Can't Settle For One: Best Earring Set Combos That Are Hard To Resist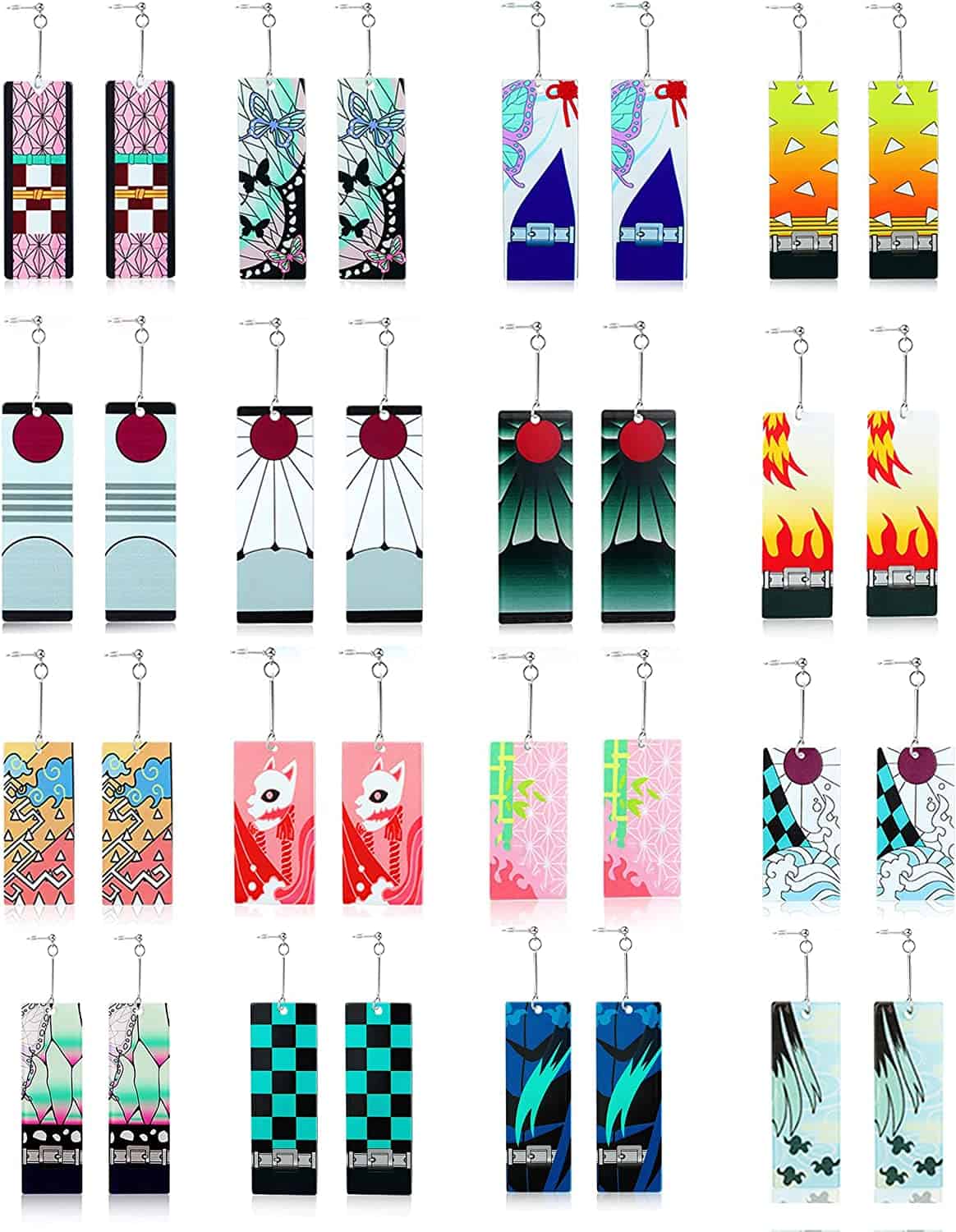 I wish I had known about them sooner; I wouldn't have gone for individual earrings and simply bought this set. This is quite an incredible offer for a set combo! These pair of 16 Demon Slayer earrings are inspired by the Demon Slayer corps and their Hashira outfits. Whatever might be the occasion, whatever might be the outfit, you got your Demon Slayer earrings to match!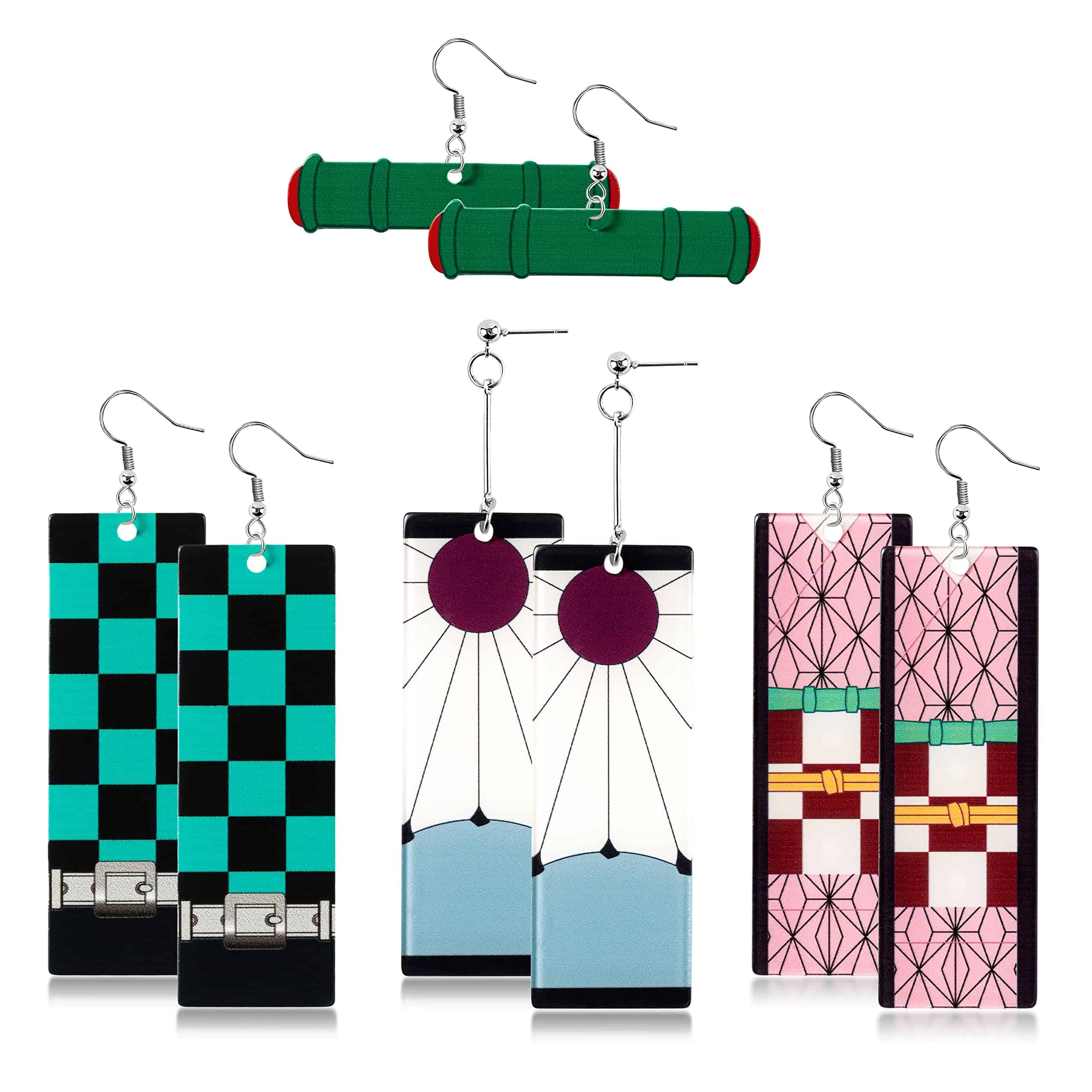 Based on the Kamado siblings, this combo offers four kinds of earrings – the iconic Tanjiro hanafuda earring, one pair based on Tanjiro's haori, one pair based on Nezuko's kimono pattern, and lastly Nezuko's cute bamboo muzzle earrings.
I've already talked about my love for the classic Tanjiro hanfuda earrings but what makes this set special is the endearing Nezuko muzzle earrings. These earrings are very unique in style and I'd buy the set just for them.
Another collection that I am enamored with. Again, this set of 8 ear studs bears the pattern of our beloved characters' outfits. My personal favorite of the lot is the Kyojuro Rengoku one. It is simple and not too hard on the eye, and the flames on the studs just set my heart ablaze!
These studs are the way to go when your brain says casual, but your heart says edgy. In entertaining such a dilemma, you listen to none and go with your studs!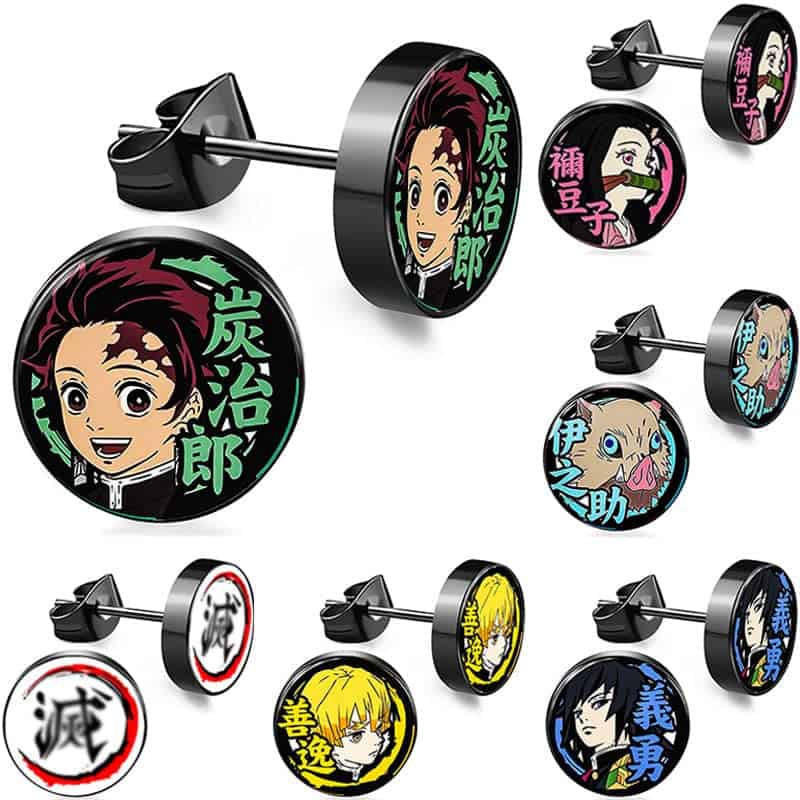 I love these studs as they are completely in your face! They are not just based on your favorite characters' patterns, but are embossed with their faces.
These 6-pair sets of studs are just so funky. If you don't want to overdress but still want to keep that razor-sharp teen edge in your ensemble, then this would probably be your choice. At least, it would be mine. Grab your set today and see which you like the best.
When Broke, You Go DIY
DIY projects usually serve multiple purposes. Of which stress reduction remains at the top. In addition to that, it saves a lot of money. It also acts as a new hobby for developing a new skill if you are doing such tasks. And by this, you are not just gaining a new item, but the process allows you to be creatively active. So here are my Top 3 DIY tutorial posts (in no particular order):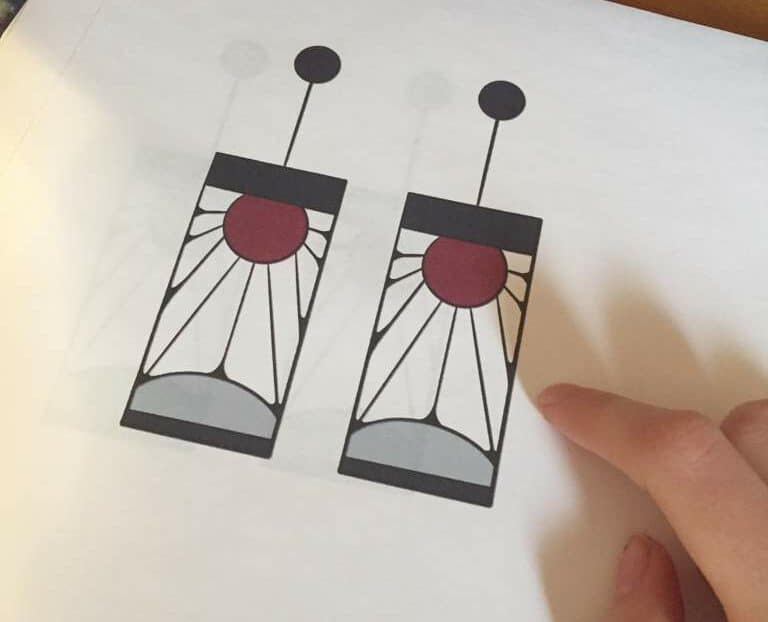 Amino user Kunil kunji posted a written tutorial on how to make Tanjiro Kamado's iconic hanafuda earrings. Best part? It is so accurate to the original that it might convince you even to forego online shopping in favor of this. Economical and artistic, I think this is a wonderful venture for those who are hesitant about buying earrings that might be a bit heavy on the pockets.
Youtuber Wicked Yume shows how to make Tanjiro's Hanfuda earrings. She made this video during the lockdown, so as the video implies, it might be an excellent way to channel your creativity for your own DIY cosplay look. 
The video is extremely helpful as she patiently explains the entire process to her viewers. So, if you are not in the mood to read, you can certainly watch this instructional video to get an idea about DIY Demon Slayer earrings.
I especially love this video just because I found it very convenient. Like Wicked Yume, Youtuber Made by Maisie also does this project during the pandemic. And since she had only three earring hooks with her at that point, she decided to go with something simple, i.e., Tanjiro earrings. Although she stresses more on coating, it might seem a bit time-consuming, the results will surely convince you to go for this method nevertheless.
Even though all three artists have gone for Tanjiro's hanafuda earrings model, the bottom line is that you can go for any of the patterns of the Demon Slayer characters. A simple tip: if you don't have the money to go for the earrings featured in this article, take inspiration from the DIY processes, making the pictures from the store your reference model.
I agree that Tanjiro's earrings are the easiest, which is probably why artists usually go for this first, but the complex level of the other patterns should not hinder your creative pursuit. The result will depend on your labor. The process is easier said than done, but I know you can do it!
By the way, here is a picture of Tanjiro Earrings that I made myself:

FAQs
Question: Is it okay to buy Demon Slayer earrings from small stores online, such as Instagram or Facebook stores?
Answer: Definitely. But before making a purchase, it is always best to enquire about the earrings, or any merch, directly from the buyer. The correspondence should not be just limited to asking the price and settling the deal. It would be best to ask additional questions such as the product's material, other pictures, delivery duration, return, refund policy, etc. Making such inquiries is essential and must be done to ensure you are being delivered a good product.
Question: On purchase, is it necessary to leave a review of the bought products on the site?
Answer: It is not mandatory, of course. But writing a review on the online site is like doing community service. Suppose you buy any Demon Slayer earrings from any of these sites; customers often purchase with trepidation. Writing a review about your experience with the product(s), even if it is good or bad, attests to the fact that you are making your fellow customers aware of your experience with the earrings. Following this, it is up to them to decide to purchase. But doing such a task often leaves a good impression on the purchasers.
Question: Is there any Demon Slayer official store from where I can buy the earrings?
Answer: While there is an official online store opened by Ufotable (the production company responsible for the anime adaptation of the series) called ufotableWEBSHOP-Global, they have not launched any official earrings as of now. But you can still go through the website's various merch categories in case you are interested.
Demon Slayer Earrings Ideas: Final Thoughts
We love our Demon Slayer characters, whether good or bad. Morally grey demons or potential heroes turned evil. Whatever might be the case, we love them regardless. Now, what usually happens is that such love often gets translated into making material purchases. But buying does not just entail getting closer to the show/characters, but rather self-satisfaction.
Often materialistic pursuits are viewed negatively, but I ask you – where is the harm in self-indulgence every now and then? 
Hence, buy whatever you like, whenever you want. Because apart from the occasional financial constraints, what else is stopping you? Buy those earrings, wear your favorite outfits, and flaunt your look as if you own the entire world.
Recommended Reads: