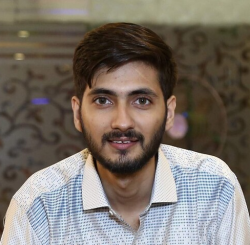 Latest posts by Vishwas Kochar
(see all)
During my high school years, I wasn't particularly interested in anime. While I had watched some well-known shows such as Dragon Ball Z and Death Note, I still found myself more drawn toward western TV shows. However, my perception changed after a friend suggested I give Naruto a chance.
Initially, I hesitated to dive into a long-running anime with hundreds of episodes, but my friend assured me it was worth it. I started watching Naruto during my free time, and before I knew it, I was utterly hooked.
The story of a young ninja named Naruto and his quest to become the Hokage was unlike anything I had ever seen. The characters were multi-dimensional and intriguing, the action scenes were intense, and the emotional moments resonated with me.
It was a huge time commitment, but I didn't mind. I was engrossed in the narrative and characters and eagerly looked forward to Naruto's eventual rise to the position of Hokage. As I delved deeper into the Naruto world, I wanted to showcase my love for the series. And that's when I discovered the perfect way to do so – through Naruto hoodies!
Something about wrapping myself up in a cozy, comfortable hoodie featuring my favorite characters makes me feel like I'm part of their world.
Looking back, Naruto was the first long anime series I ever watched, and it opened the door for me to explore other shows in the genre, like One Piece.
It also sparked a love for anime that has stayed with me to this day. Whenever I re-watch an episode or wear my Naruto hoodie, I am reminded of that time in high school when I discovered a new world of storytelling that still holds a special place in my heart.
So come along with me as we dive into the beautiful world of Naruto hoodies and find the perfect hoodie to show off our love for this fantastic series! This is the Best Naruto Hoodies Guide.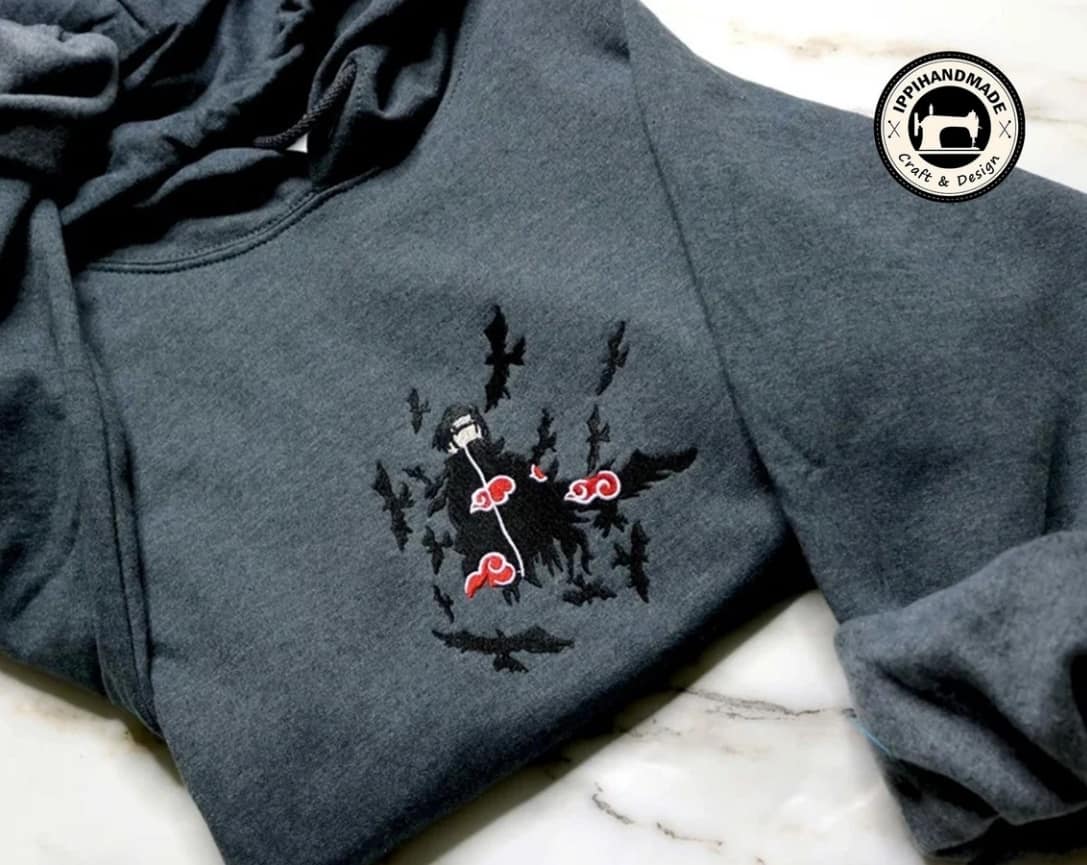 Bottom Line Up Front
There are so many awesome Naruto hoodies available on the market, but if I had to recommend you a must-have, it would be Naruto Shadow Clone Cast Dye Hoodie. Its vibrant tie-dye pattern showcases Naruto's most iconic jutsu — the Shadow Clone Jutsu.
This premium quality hoodie is officially licensed merchandise from the Crunchyroll store, so you can rest assured about its authenticity and quality.
Buying Tips
Before you start clicking the links to some of my favorite Naruto hoodies, make sure to keep the following things in mind while shopping:
Read the product description: Before making your purchase, make sure to read the product descriptions thoroughly. This way, you can check if the materials, sizing, and other important details are to your liking.
Check the size chart: It is essential to compare the size chart with your measurements when buying a Naruto hoodie (or any clothing item, for that matter) to ensure that you get the right fit. Sizing can vary between different brands and even between different things from the same brand, so it's not always safe to assume that you will be the same size in every hoodie.
Check the shipping information: Check the shipping and handling information before making a purchase. Ensure that the seller ships to your location and that the shipping fees are reasonable. Also, check the delivery time and make sure it suits your needs.
Compare: Check the prices of the same or similar products from different sellers. Compare the products' price, quality, and features to ensure that you're getting the best value for your money.
Selection Criteria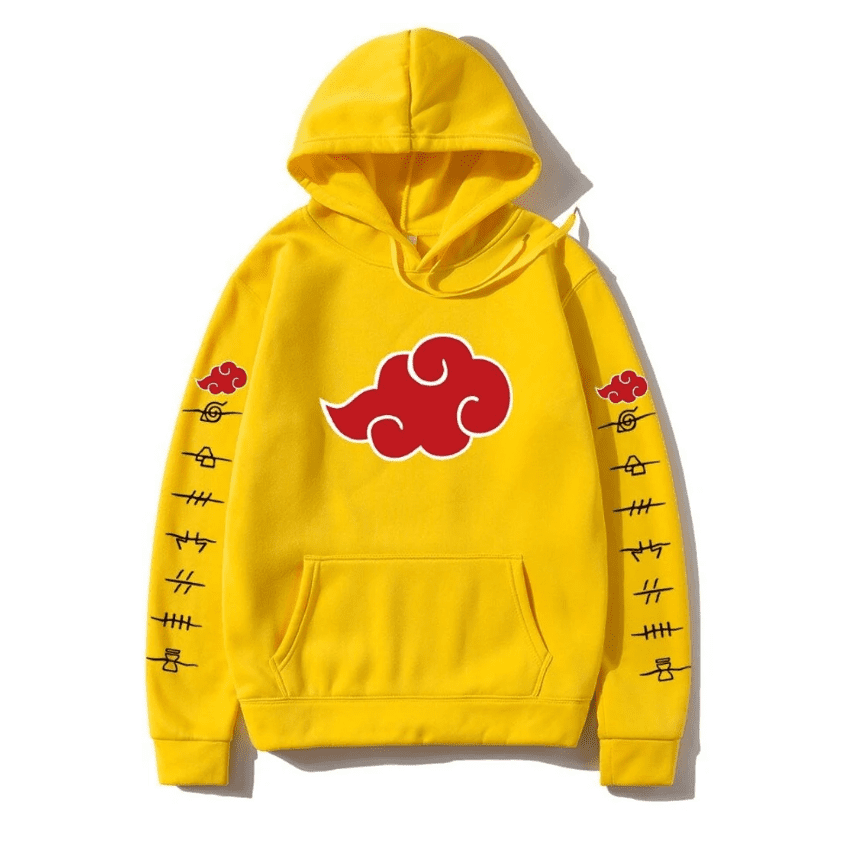 After surfing the internet for two days straight, I've come up with this list of hoddies that I find the best. Here are the selection criteria that I used to make this list:
Worldwide shipping: First and foremost, to cater to an international audience, I've ensured that every single hoodie mentioned in this list is shipped worldwide.
Scream Naruto: I want to make sure that any Naruto fan will be able to recognize your hoodie from a mile away. So all the hoodies that I've selected just ooze that naruto rizz.
Personal bias: You will not find any Sakura hoodies in this list because I simply hate her, and I hope you do too!
Quality: I've only selected hoodies made from high-quality materials that will be comfortable to wear and hold up well over time.
Price: I've chosen hoodies at different price points to suit different budgets while still ensuring that they offer good value for money in terms of quality and design.
Best Naruto Hoodies List
Let's now jump right into the list of the best Naruto hoodies that you absolutely need to know about. It wasn't easy to narrow down, but I've handpicked the ones that are a must-have for your wardrobe. Please note that there's no particular order to this list, so there are no rankings or anything like that.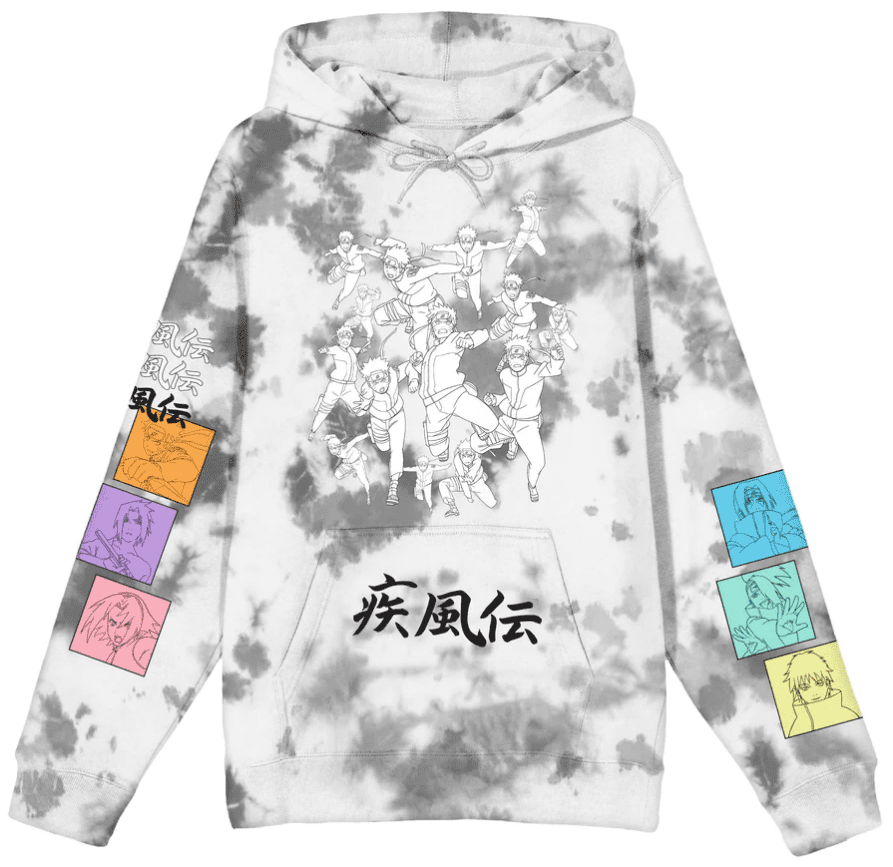 To kick off the list of the best Naruto hoodies, my personal favorite is the Naruto Shadow Clone Cast Dye Hoodie. This hoodie boasts a unique and captivating design with a vibrant tie-dye pattern that showcases Naruto's most iconic jutsu — the Shadow Clone Jutsu. Additionally, I'm a fan of Japanese writing on clothing, and this hoodie features "Shippuden" written on the front and the right sleeve.
This hoodie is a Crunchyroll Exclusive which means that it is only available on the Crunchyroll Store.
Pros
Officially licensed merchandise from the Crunchyroll store
Features the most iconic Naruto jutsu
Crunchyroll also sells matching Naruto Shippuden Cast Squares Dye Sweatpants that you can purchase to make it a complete set.
Its premium quality is apparent from the display image alone.

Cons
Grey may not be everyone's preferred color choice.
It may be a bit pricey compared to other Naruto hoodies on the market, as it is an officially licensed product.
The design is only featured on the front of the hoodie, which may disappoint those who prefer all-over designs.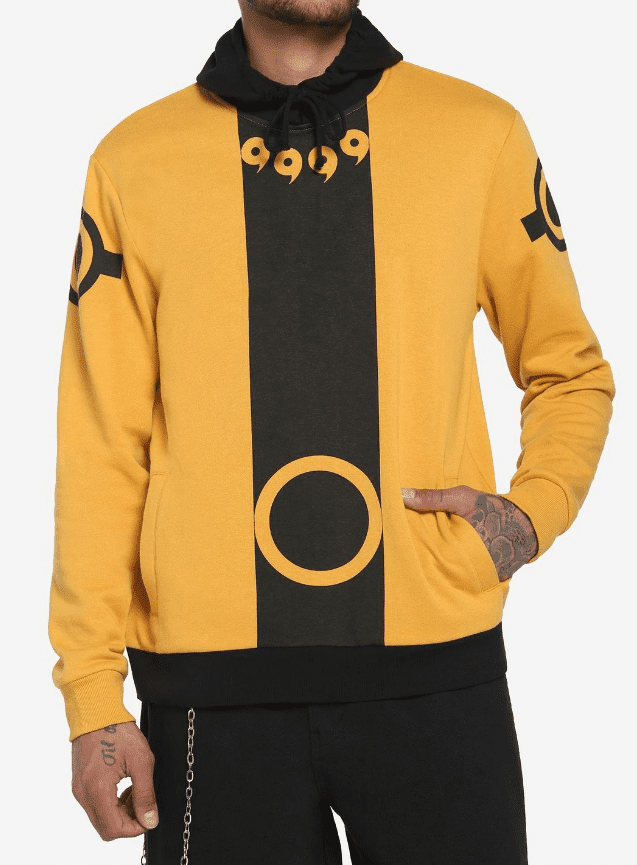 Channel the powers of Hagoromo Otsutsuki and awaken your Six Paths Sage Mode by wearing this awesome Naruto Shippuden Six Paths Sage Mode Cosplay Hoodie from Hot Topic. From the color to the patterns, the hoodie accurately depicts Naruto's Rikudō Sennin Mōdo. So get your hoodie now to always be prepared for the next Great Ninja War.
Pros
Detailed and accurate design that is true to the anime
Can be used for everyday use or as part of a cosplay outfit
Cons
The design and color may not be for everyone, particularly those who prefer more modest or minimalist clothing.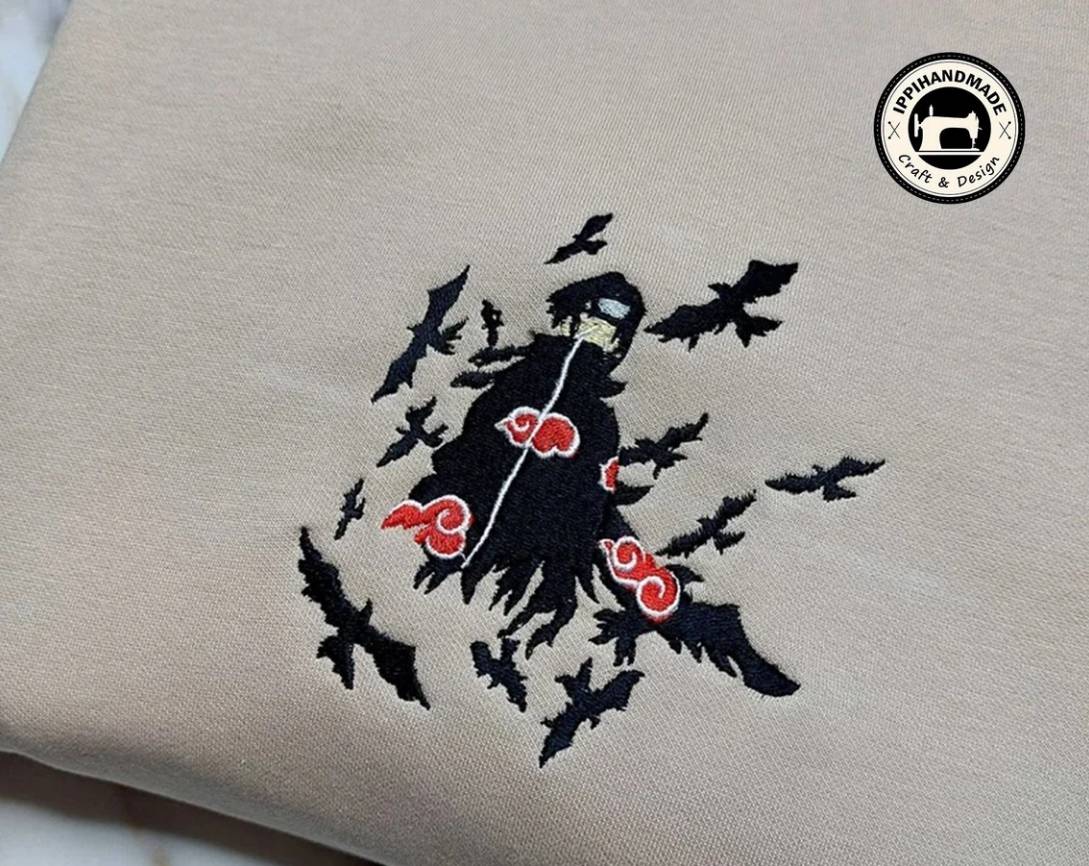 Itachi is my favorite character in Naruto, so you'll find multiple Itachi hoodies in this list. I love this embroidered Naruto hoodie with my favorite character doing his iconic move of turning into crows. Itachi is not just my favorite character; it was ranked 2nd worldwide in the latest Naruto popularity poll. So I know a lot of you will love this hoodie.
Pros
The embroidery adds a level of depth and texture to the design, making it stand out from printed hoodies.
It's handmade, so you can rest assured that each hoodie is crafted with attention to detail and quality.
Many color options are available, and you can also choose a sweatshirt version.
Cons
This hoodie may be more expensive than other Naruto hoodies on the market due to its handmade nature and intricate design.
Since the hoodie is handmade, it may take longer to ship and arrive compared to mass-produced items.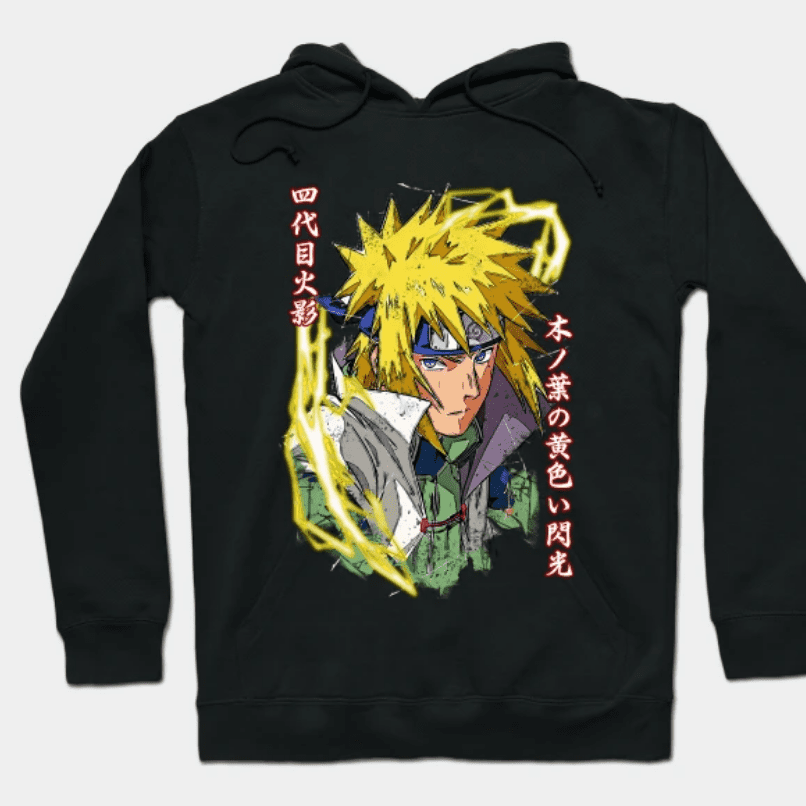 From the second most famous character, let's move on to the first. The Yellow Flash of Konoha — Minato Namikaze. The hoodie displays Minato in his classic Ninja attire, ready to get into action. It also has "Fourth Hokage" and "Yellow Flash of Konoha" printed on the front.
So get yourself this awesome hoodie and practice The Flying Thunder God technique.
Pros
Features the most popular Naruto character
The hoodie is available in various colors and styles to suit your preferences.
Compared to some other hoodies on this list, this one is relatively affordable, making it an excellent option for fans on a budget.
Cons
The bright colors and the bold graphic may be too much if you are looking for a subtle hoodie.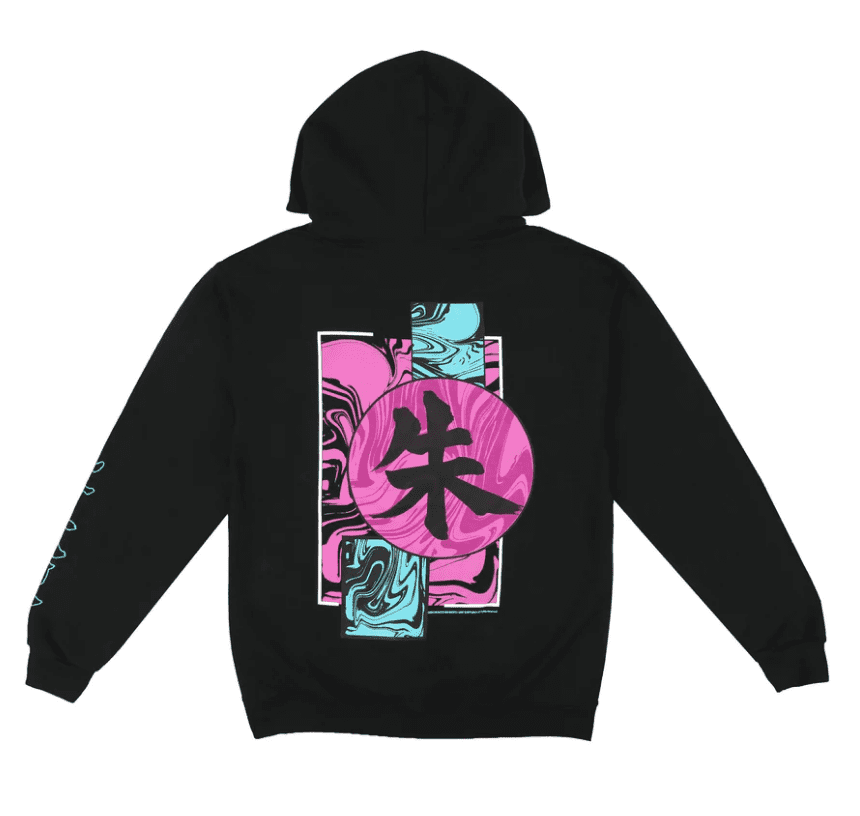 Get ready to fall into Itachi's Genjutsu with this Sharingan swirl hoodie. The swirl pattern is reminiscent of the Genjutsu swirls in the anime when Itachi uses his Sharingan.
Pros
Officially licensed merchandise from the Crunchyroll store
The hoodie is pre-shrunk to ensure it maintains its size and shape after washing.
Cons
It may not be suitable for warmer weather due to its heavy fleece material.
The multiple prints on the front, back, and sleeves may be too much for some individuals who prefer a more understated style.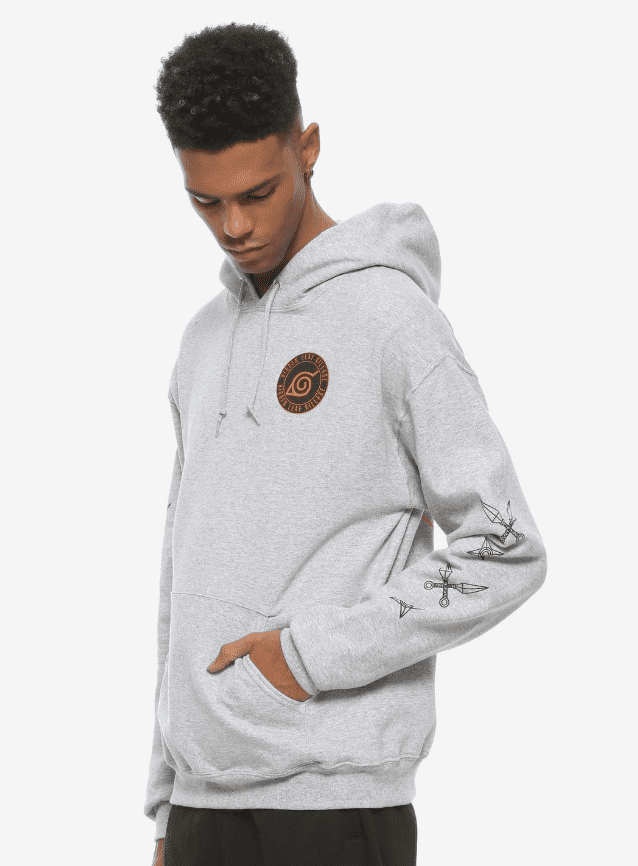 This Naruto Shippuden Hidden Leaf Village Hoodie is a pullover-style hoodie featuring a bold and eye-catching graphic print on the front that showcases the iconic Hidden Leaf Village symbol on the left chest. It also depicts Naruto in action on the back. Crossing Kunai blades and small Shuriken are printed along both sleeves.
This hoodie is just what I like, with a relatively plain front but a more intricate design overall.
Pros
Bold and eye-catching graphic print of the Hidden Leaf Village symbol
The Shuriken and Kunai blades on the sleeves look very stylish.
Cons
The multiple prints on the front, back, and sleeves may be too much for some individuals who prefer a more understated style.
Grey may not be everyone's preferred color choice.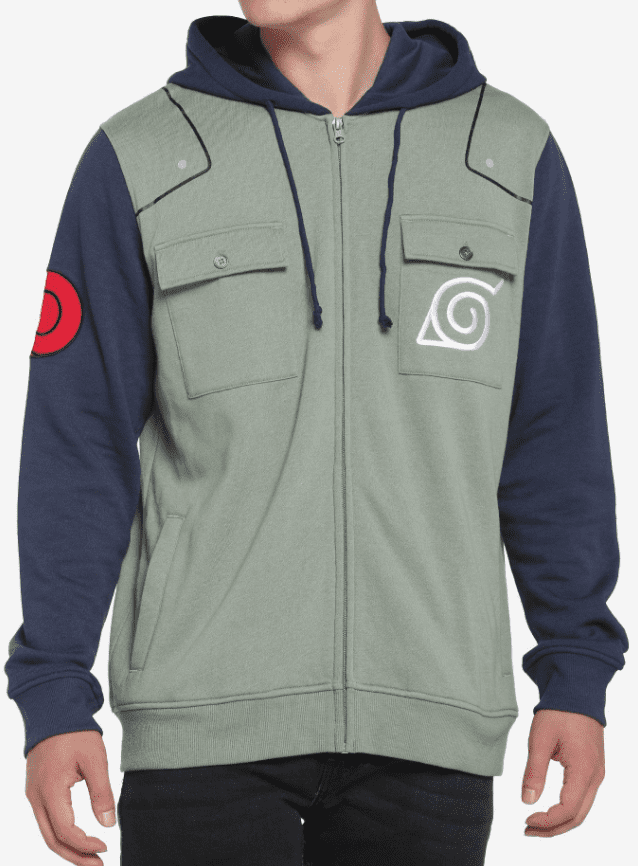 Kakashi Hatake is undoubtedly a fan favorite, especially for fangirls. From his cool demeanor, mysterious personality, and exceptional ninja skills, what's not to love? Kakashi is not only a skilled and powerful ninja but also a heartthrob, leaving fans swooning over him. So who wouldn't want to cosplay as him?
Get this Naruto Shippuden Kakashi Cosplay Hoodie to copy The Copy Ninja!
Pros
Features an accurate and detailed cosplay design of Kakashi Hatake's outfit
Suitable for both cosplay and casual wear
Chest pockets provide extra functionality and storage.
Cons
The hidden leaf symbol on the chest pocket and the Uzumaki symbol on the sleeve is on the same side, unlike shown in the pictures. Read the comments on that website for more details.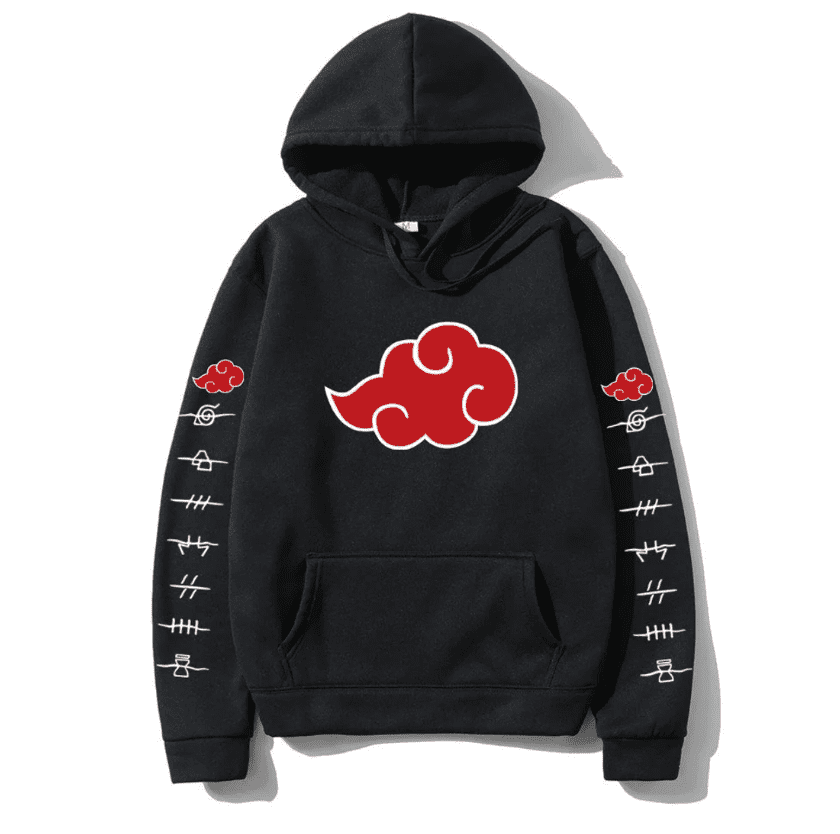 This hoodie design comes in various versions, but my personal favorite is the black one with the red Akatsuki symbol on the front and the crossed-out Naruto headband symbols on the sleeves. However, this hoodie has plenty of color options, and it's available on many websites. So, if you plan to buy it, it's recommended that you conduct some more research before making a decision to get the best deal.
Pros
The hoodie's design is popular among Naruto fans, making it an excellent choice for those looking to show off their love for the series.
The hoodie is very affordable, making it an excellent option for those on a budget or those who don't want to spend a lot on merchandise.
There are a lot of color options available.
Cons
Quality may not be as high as more expensive hoodies.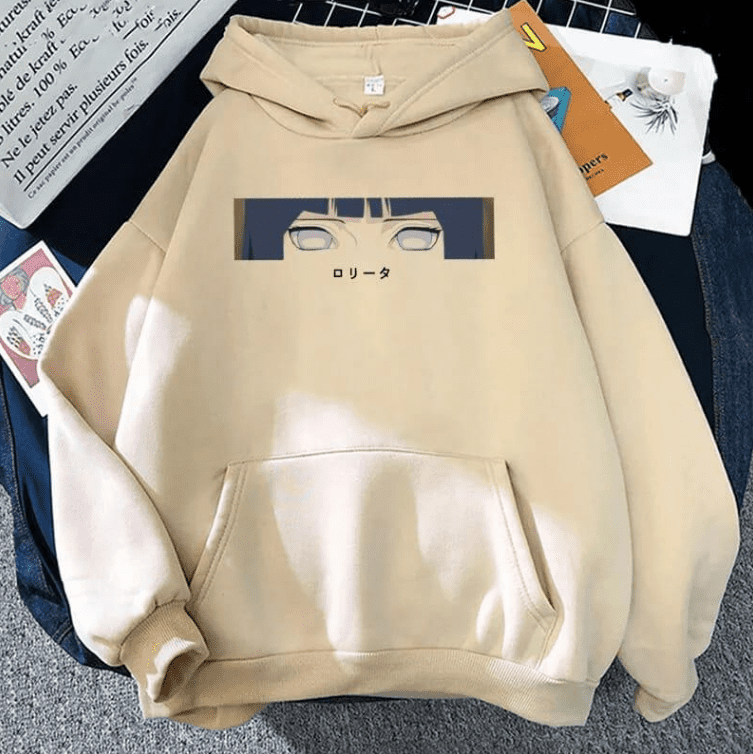 It's time for the best girl in the series, Sakura! JK, it's obviously Hinata. Buy this hoodie and get lost in Hinata's beautiful Byakugan eyes. I prefer the Beige color, but you have seven color options to choose from.
Pros
Hinata is the best waifu.
There are a lot of color options available.
Cons
Only available for purchase on Kuumiko's website, which may not be as well-known or trusted as other retailers.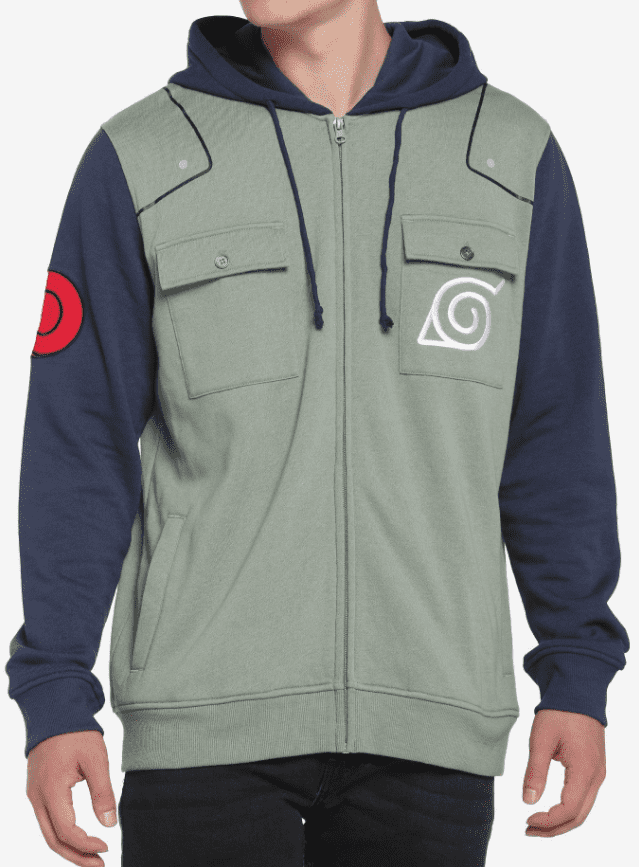 The final hoodie on this list is also an Itachi hoodie. One of the major conflicts in the series was between the two surviving Uchiha brothers — Itachi and Sasuke. And this hoodie shows the two brothers on the front with Itachi and Sasuke's names on each sleeve.
Pros
The split dye effect gives the hoodie a distinctive look.
Cons
The split dye effect may not be everyone's cup of tea. I personally don't like how the hoodie looks from the back.
Thank you for joining me as we explored the world of Naruto hoodies. Whether you're a longtime fan like me or just starting to get into the series, a Naruto hoodie is a fantastic way to show off your love for the characters and the story. From bold and colorful designs to cozy and comfortable options, there's a Naruto hoodie out there for every fan. I hope this article has helped you discover some great opportunities to add to your collection.
Remember, a Naruto hoodie isn't just a piece of clothing — it's a statement about your passion for this fantastic series. So go ahead, pick out your favorite design, and wear it with pride.
Best Naruto Hoodies: FAQs
Question: What are some of the most popular designs for Naruto hoodies?
Answer: Some of the most popular designs for Naruto hoodies include the iconic symbol of the Konoha village, the Sharingan, which is the distinctive red eye of the Uchiha clan, and images of Naruto and his friends in various poses and outfits. Other popular designs may feature quotes or catchphrases from the series, such as "Believe it!" or "Dattebayo!"
Question: How do I know if a Naruto hoodie is authentic and not a knockoff?
Answer: To ensure that you are purchasing an authentic Naruto hoodie and not a knockoff, here are a few tips to keep in mind:
• Buy from authorized retailers: Purchase from authorized retailers licensed to sell Naruto merchandise.
• Check the quality: Look for high-quality materials and detailed designs. Authentic Naruto hoodies are often made with high-quality materials and feature intricate designs that are true to the series.
• Check the tags: Authentic Naruto hoodies typically have tags or labels that include the Naruto logo, licensing information, and care instructions.
• Beware of low prices: If a Naruto hoodie is being sold at an unusually low price, it may be a knockoff. Be wary of deals that seem too good to be true.
• Read reviews: Check reviews from other buyers to see if they have had any issues with authenticity or quality.
Question: Are Naruto hoodies only for anime fans, or can anyone wear them?
Answer: While Naruto hoodies are designed for fans of anime, anyone can wear them if they like the design and style. Naruto hoodies come in various designs, some of which feature subtle references to the show, while others have more overt designs with bold graphics and images of the characters. Ultimately, whether you are a fan of Naruto or not, you can wear a Naruto hoodie if it matches your personal style and preferences.
Read More: Best Naruto Stickers Guide