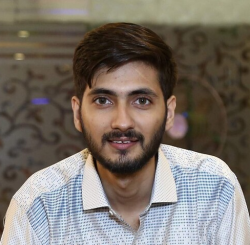 Latest posts by Vishwas Kochar
(see all)
Jewelry has been a part of human life for thousands of years. Men and women from all over the world have appreciated jewelry and used it to embellish their natural beauty. My purpose in wearing jewelry is not just to showcase my social status but to enhance my style and personality. Jewelry gives me the freedom to express myself creatively.
I vividly remember when I was around ten years old and my sister was 6, our aunt gifted my little sister a jewelry-making kit. The kit had hundreds if not thousands of colorful little beads, clasps, hooks, and beading wire. We both used to play for hours making necklaces and bracelets. 
My favorite piece of jewelry that I made from that kit was a necklace with a yellow crescent moon pendant. I had only watched four or five anime at that time, and the anime that inspired me to make this piece was Sailor Moon. I tried finding a picture of me wearing that necklace, but I couldn't.
Anyways, let's look at some of the best Sailor Moon jewelry ideas the internet has to offer.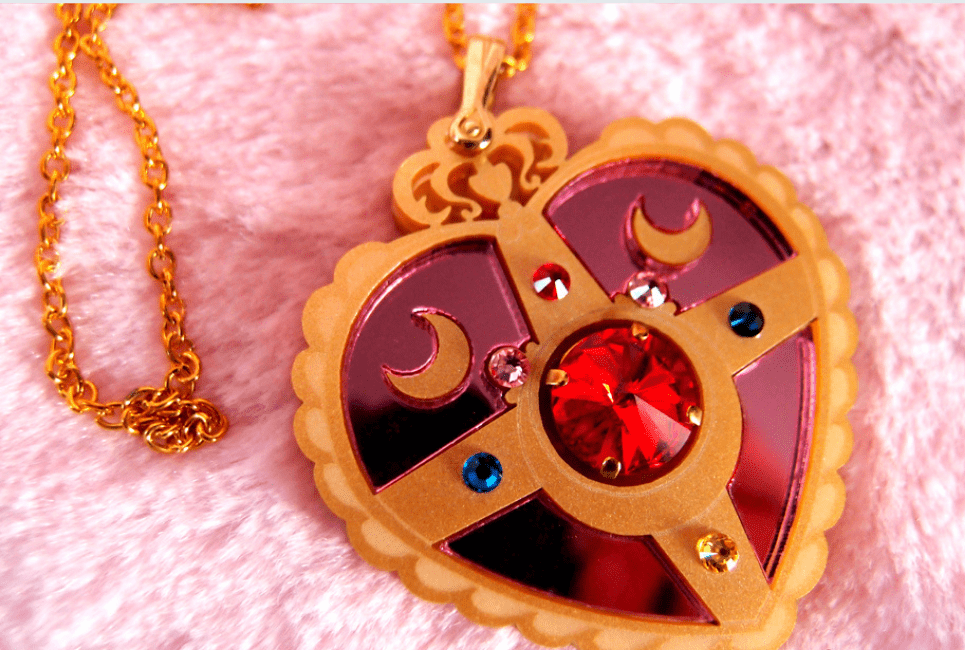 Bottom Line up Front: My personal Favourite(s)
Although I have moved towards more minimalist jewelry, I still get excited when I see a shiny piece of accessories from one of my favorite anime shows.
Of all the jewelry I have mentioned in this article, my favorite has to be the Movie version "Bishoujo Senshi Sailor Moon Eternal" Moon Kaleidoscope Half Eternity Ring Platinum. I love it primarily because it is so chic. Although expensive, this is something that I would love to purchase someday.
But, this ring almost took the second spot because of the NerdyDesigner "Sailor Moon Circlet," which I found very hip. I personally do not have the confidence to pull it off as a circlet is mostly worn by women. But it is certainly a piece you can wear someday and strut around like a peacock just because it is so fancy.
Selection Criteria
Writing about the selection criteria in a jewelry article is like writing Literature Review in an academic paper. Of all the things to write about, the disclosure of the procedure not only gives clarity but a glimpse into the person's thought process.
Multiple factors go into this selection process – price, product description, imagining how it would look on me, etc. Suffice to say, it is not an easy procedure because a lot is going on here. But the first thing that I consider is how good a piece of jewelry looks on its own. An accessory that looks good on its own is more likely to look good on everybody.
I have an oval face with a beige skin shade, but looking into my personal information does not account for the diverse range of people looking to buy the same product. So I look for those pieces that, in my opinion, would look good on everyone.
From there, I move on to the amount I am willing to splurge on jewelry. Save for Sailor Moon Necklace/Keychain Set and the Platinum Ring by U-Treasure; every other piece of jewelry on this list should be under 25-30 USD. After all, these are jewelry, in addition to being Sailor Moon-themed, so naturally, they would be expensive.
If you buy something overtly cheap, you are most likely getting a bad-quality product. But that also does not mean the higher the expense, the better the product. You must always be cautious about these things.
Following this, I look into the product description, especially the material it is made up of. This knowledge ensures that on purchase, I am spared from the hassle of facing an allergic reaction on the skin. An additional issue you might encounter is the question of size, which can be easily gathered from the seller or the customer reviews to get information regarding the products.
And lastly, availability. If the product is unavailable or the seller does not ship worldwide, it would not make sense to look into them. I have selected all the products from websites that ship worldwide so that you can take a breather there.
Before formulating a list of specific jewelry I'd recommend, these are the points I look into. While I indulge in online retail therapy, budget is always a significant factor. But I did not make a list based on what I think I should be cautious of. The stress is more on design and how accurate it is to the original design, and if not that, then how closely they reflect the essence of Sailor Moon.
Why Sailor Moon Jewelry?
Well, why not Sailor Moon jewelry? 
You can take a look at any piece of jewelry inspired by Sailor Moon, and you'd realize that you don't have to be a sailor moon fan to don it. While I would recommend everyone to watch the show, it is not necessary. You can buy any of the pieces mentioned in this article without knowing a thing about Sailor Moon, and you'll still love it.
Sailor Moon was a trendsetter when it came to merchandise, especially jewelry. No other anime has ever produced such a craze among its fans.
In fact, in Episode 1 of Sailor Moon, most of the episode centers around the jewelry shop that Naru Osaka's family owned. Even some of the Sailor's attacks are based on jewelry such as "Moon Tiara Action" or "Venus Love-Me Chain."
When both Usagi and Naru squeal over the amount of jewelry they come across at the shop, it not only shows the consumer culture but also highlights how this is gendered. But then again, the anime is directed towards young females, so naturally, a materialistic side of it would be explored.
Nevertheless, the topic is not on consumership but on Sailor Moon jewelry, which is available to us in real life (thankfully!). 
The hype is real and aptly so. Have you ever seen loads of Sailor Moon jewelry pieces on eCommerce sites? It is insane. And so, so, so kawaii! They usually come in metallic shades, crusted with colorful gems, and the brilliant shine makes you wonder how pretty an article of jewelry can be?
Therefore, in writing this article, I would be talking about the various Sailor Moon jewelry, which I found obnoxiously pretty and would 100% recommend.
Where to Buy Them?
There are several websites to choose from, but what I do is search them frantically on Amazon, Etsy, Ubuy, eBay, or Sailor Moon Store until I can see what I am looking for. These sites offer various accessories, of which the jewelry section remains the most popular.
Although there are many other sites to choose from, all of these websites are legit and trusted. Thus, I stick by them.
Drumrolls Because Here Comes the 'Top 11 Sailor Moon Jewelry to Buy'
As the title suggests, and without further ado, let's select your favorites through my 'Top 11 Sailor Moon Jewelry to Buy'.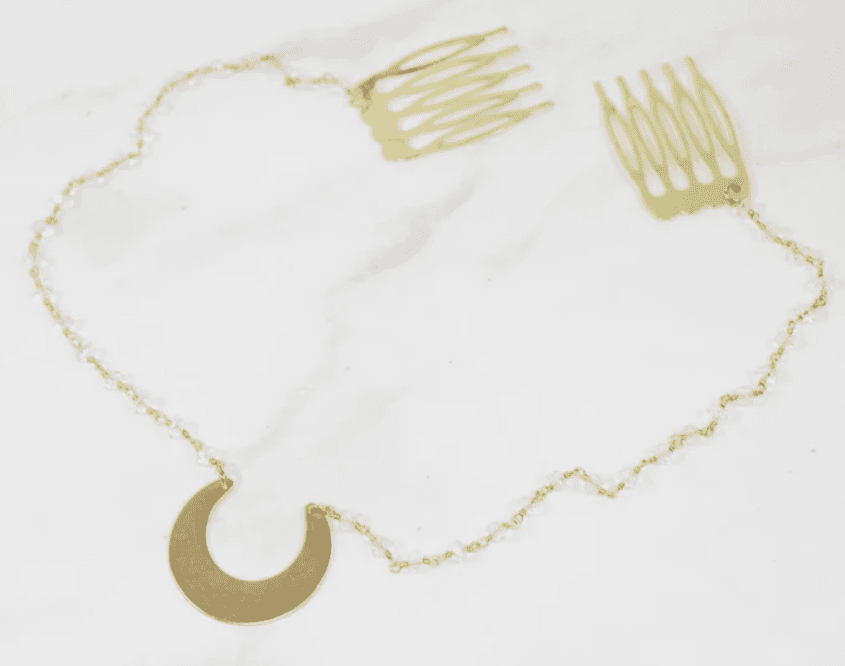 Circlets are a necessity! Even our favorite Senshis would agree to that. But the best part about this circlet is that it is not just relevant with Sailor Moon makeup. It can be worn anytime and anywhere! Do you have a party in mind? Wear this classic piece of jewelry and baffle your admirers with this metallic gold circlet with a crescent moon.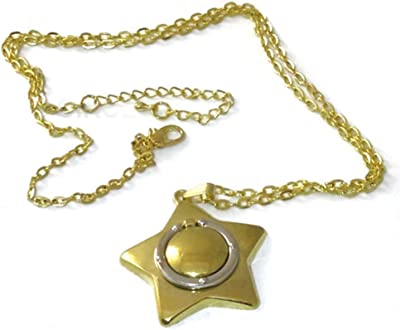 This is one of the best products available on the internet. An exact replica of the Star Locket from Sailor Moon, this product is not here to disappoint. Although it does not open as the original one, it is still passable as a necklace. A great purchase if you are willing to show off the Star Locket to your friends.

If we were talking about the Sailors, then it somehow feels wrong not to include the fandom's favorite cat, Luna. This necklace, available on Amazon, is so cute and accurate to its character design. Made of metal, this adorable pendant necklace is sure to make Sailor Moon fans jealous. It even has an Artemis counterpart, which is the white cat. So if you're not satisfied with Luna (highly doubtable!), you can always opt for the other option available.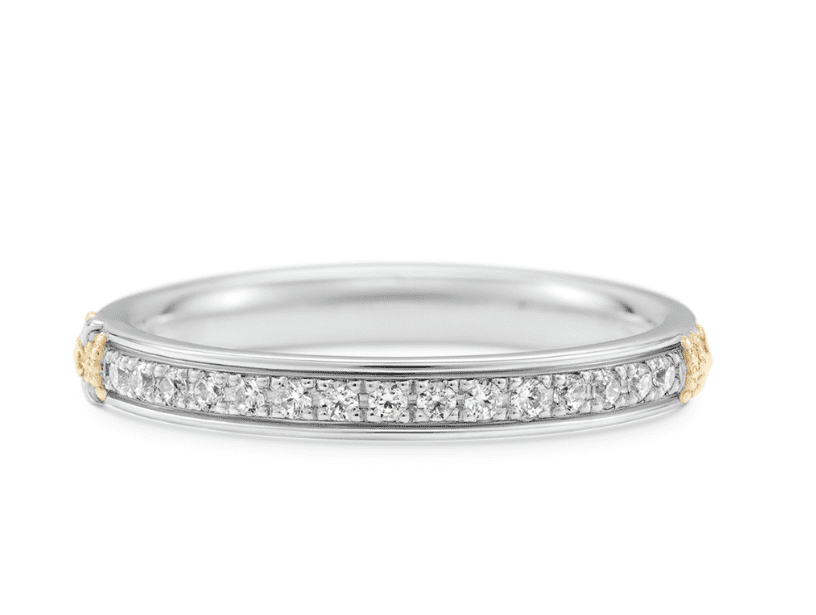 Inspired by the Sailor Moon Eternal: The Movie, U-Treasure had released several wedding and engagement rings and earrings. Of these, Moon Kaleidoscope Half Eternity Ring is worth giving a thought to just because of its extraordinarily simple design. Made from platinum, it is studded with diamonds. If you are in the mood to splurge, perhaps you could consider this.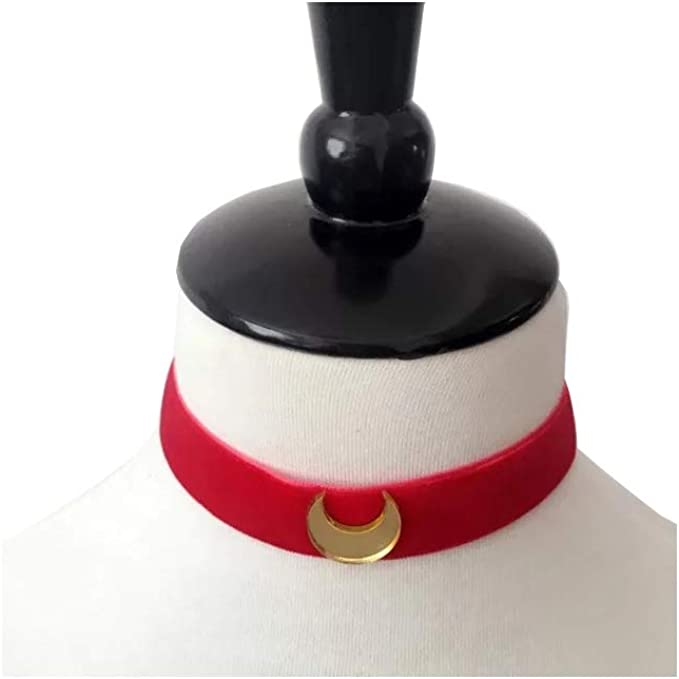 It is blasphemy to discuss jewelry but not to cite Usagi's infamous red choker with a crescent moon. One of the canon-compliant products, this choker is sure to turn heads. You can wear it under casual circumstances, such as a trip to the mall or hanging out with your friends. Maybe pair it with a black or white tee and denim and see it work its magic on you?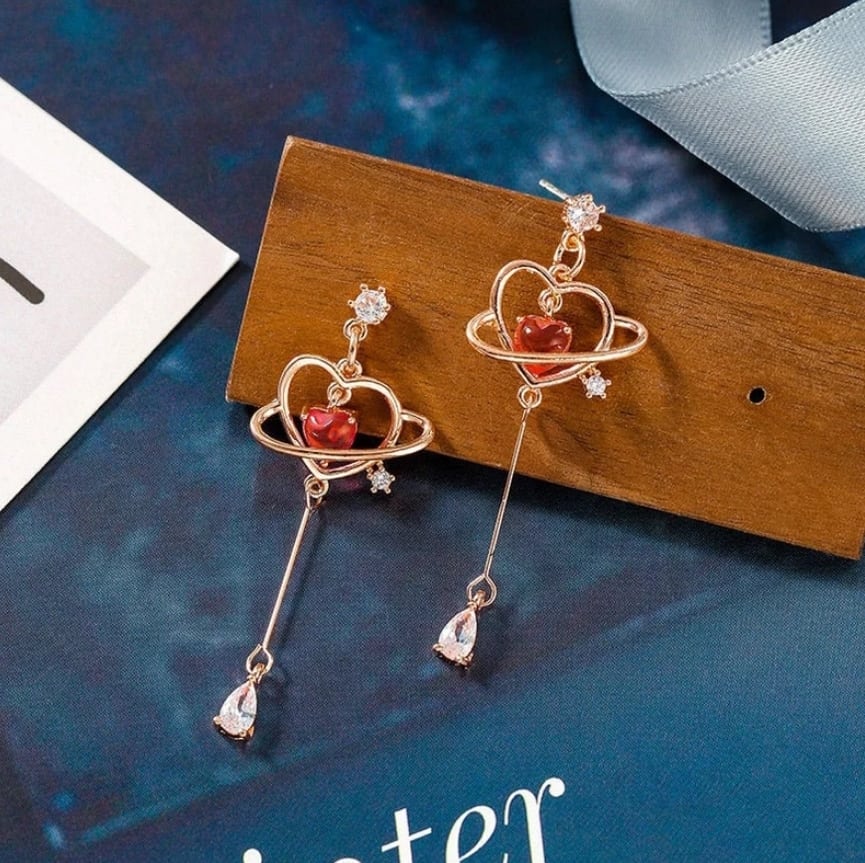 These Sailor Moon inspired red heart drop earrings are just so reminiscent of the anime's aesthetics. If you are looking for something non-flashy and minimalist with a touch of anime, this is your go-to product. It is fit for all occasions. Although I feel it would be more apt for a date where you dress up in a more feminine manner, that is, pink skirts or pants and a white blouse, or a pastel dress and makeup. Pairing it with such soft-shaded outfits will do wonders.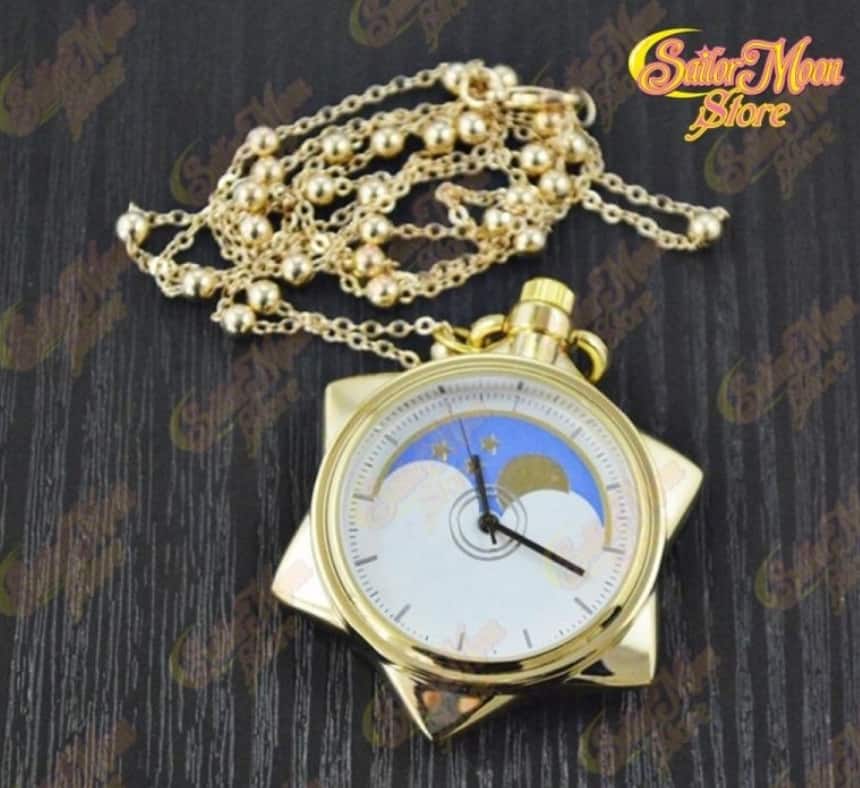 It is so cool that you can use it to check the time like some wealthy medieval count in the Romanian countryside, or maybe use it as a pendant and flaunt it to your peers. This necklace was released as part of the 20th anniversary celebration of the anime. This gives more strength to the fact that you need to buy this official merch as soon as possible and show it off like there is no tomorrow.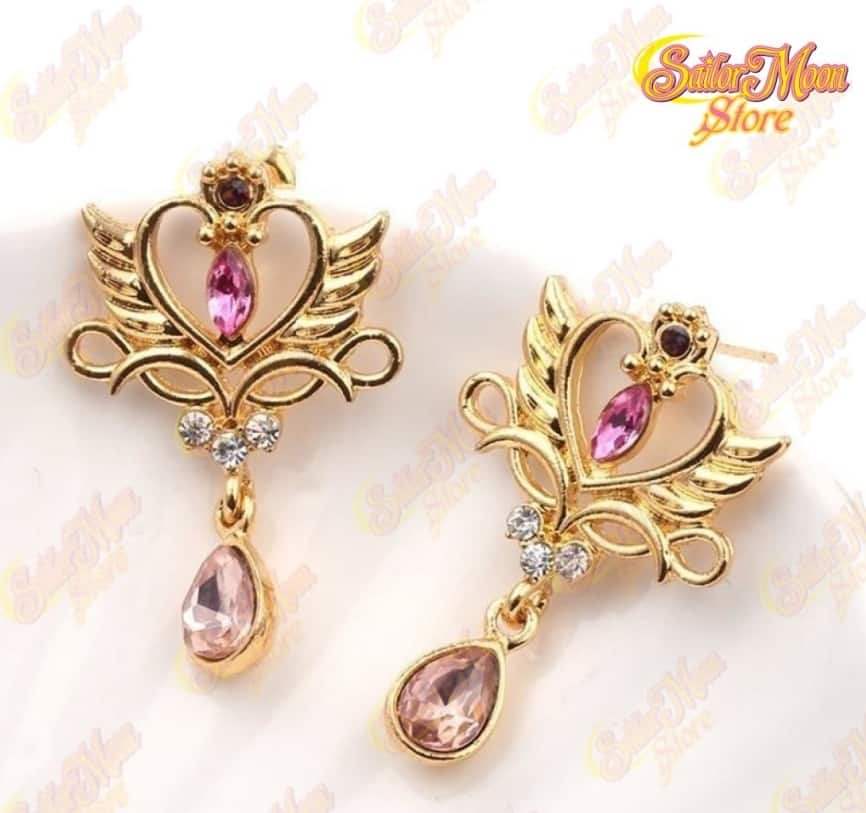 These are the prettiest set of earrings that I have come across. Just look at them! So adorable and so much like Usagi's elegance. These metallic earrings with pink and white gemstones can be worn to any high-class occasion. Pair it with a black or rose pink dress and see how well it transforms your entire outfit.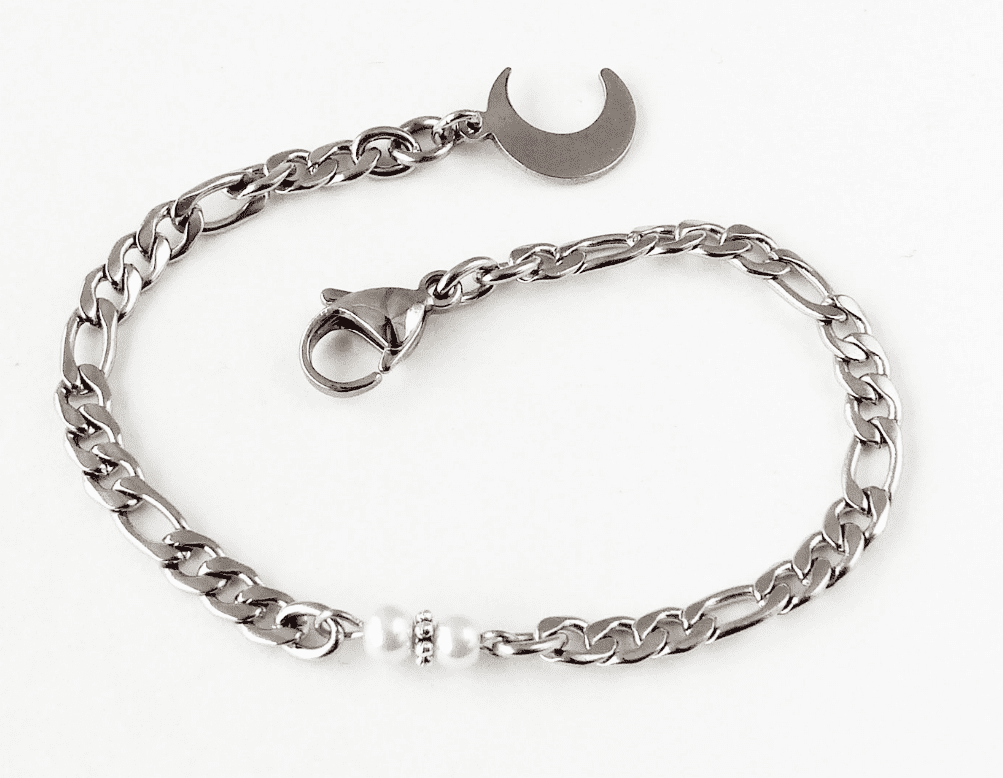 Minimalist and affordable. This bracelet consists of a silver crescent moon on one end and a hook on the other. It is made up of chains with two pearl stones in the middle. This is a very graceful piece of jewelry but can also be worn with casual clothes.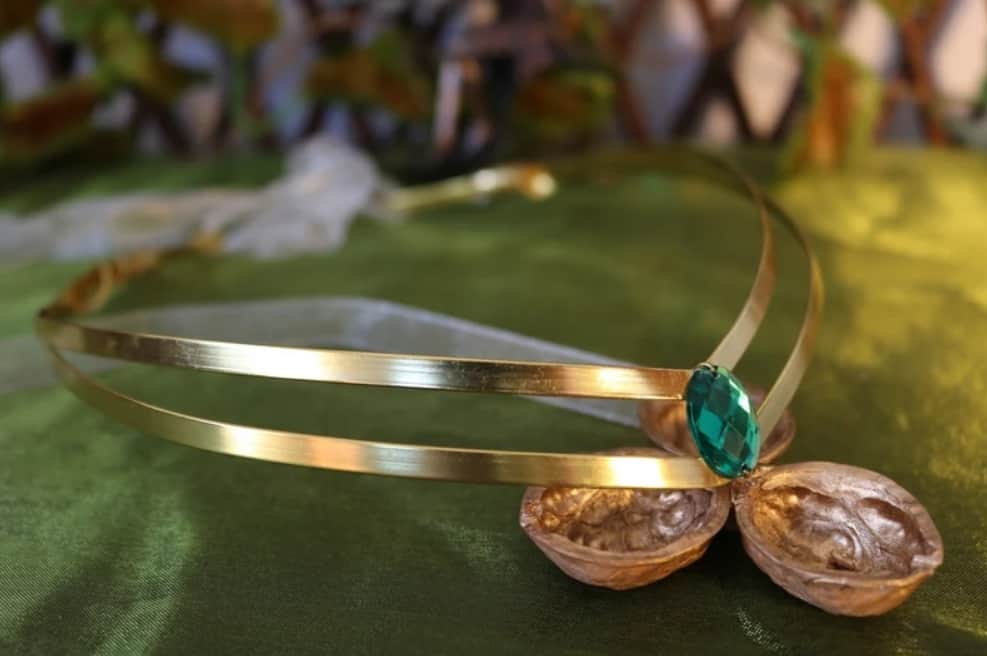 Please, if there is one thing that you need to buy immediately, then it is this classic tiara. Who doesn't love a gem-adorned tiara? This is the perfect addition to your next Halloween Senshi outfit. Moreover, there are a variety of tiaras to choose from.
Whether you need the tiara of Sailor Mars, Sailor Jupiter, or even Sailor Mercury, you just have to click on your desired selection to make your purchase.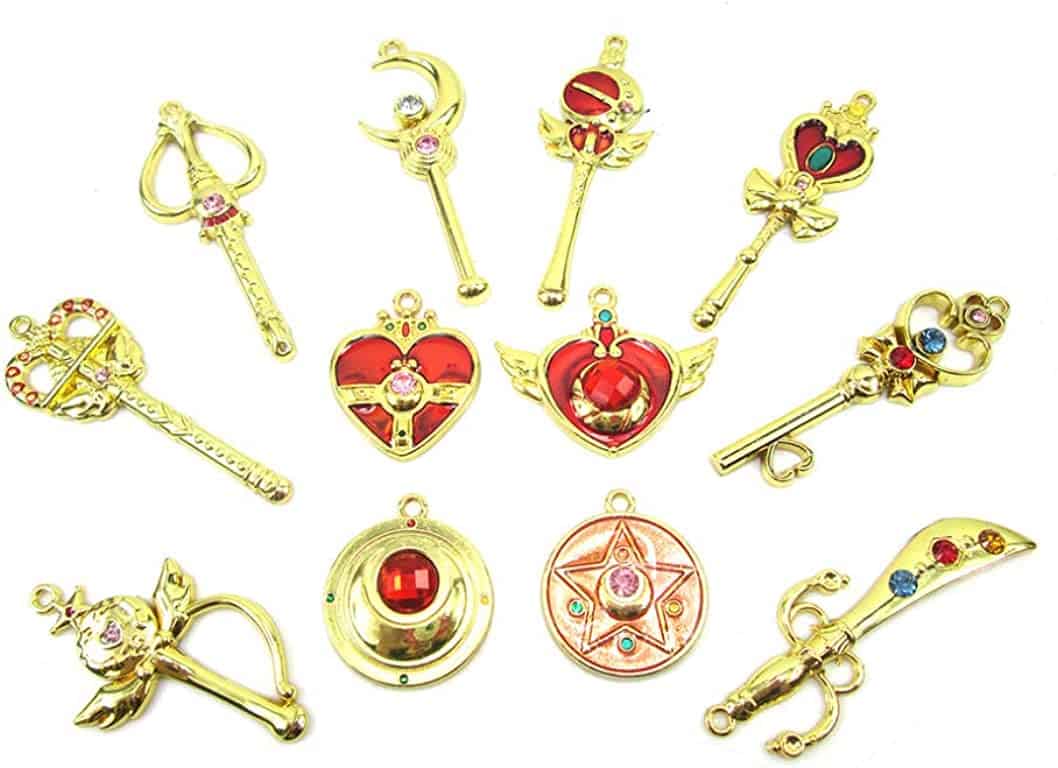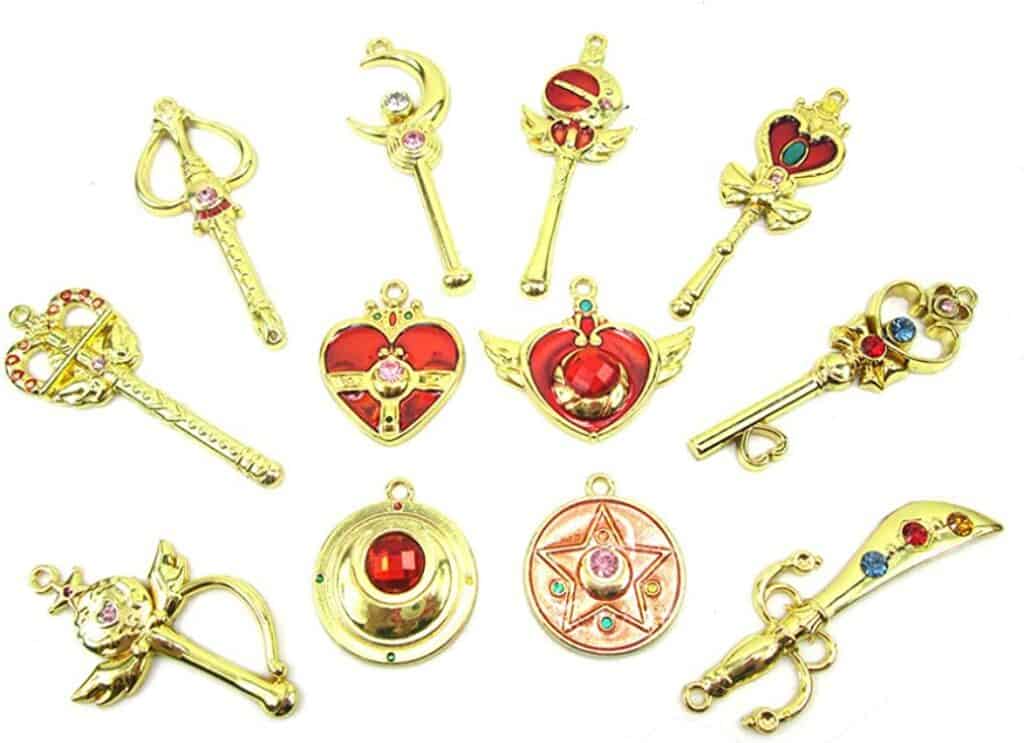 For several decades now, keychains have served the purpose of being a piece of jewelry. But the specialty of this 12-piece keychain/ pendant set is that it can be used both as a keychain as well as a necklace. The 12 options give you the variety to use them alternatively.
Break free from the monotonous routine of carrying or wearing only one kind of pendant. Use your favorites whenever you want, and however you want!
Take It from a Veteran Shopaholic: Word of Advice
It must be noted that several sites sell Sailor Moon products, but the quality might be average or not good. Some might even be prone to damage as they might be made from low-quality metal. Thus, it is advisable to often see the popularity of the products and read the reviews beforehand. Choosing to do so would enable you to get an insight into the veracity of the products.
Another thing that you must consider during/after making these purchases is that the metal should not cause any reactions to your skin.
Although there is no way of testing this beforehand, you should always read the reviews carefully to understand more about the products. Based on that, you can follow up by returning the products and applying for a refund. But make sure to also review the products, which helps other customers avoid such situations.
This brings me to my next point. Before making a purchase, you should always check the website's Return & Refund Policy section. This policy enables you to return the products that you purchased from the eCommerce store and thereby apply for a refund request. You should be wary of whatever products you buy and the source you are getting them from. It is better to be safe than sorry about such purchases.
FAQs
Question: Can Sailor Moon Jewelry be worn for formal occasions?
Answer: Yes, definitely. Sailor Moon jewelry is so classy that it can be worn for any formal occasion. Take, for example, the earrings that were discussed under the 'Top 11 Jewelry to Buy' sections. You can wear them with any elegant dress or outfit. Sure, they are no diamonds or platinum, but if you come across Sailor Moon fans, they will surely notice your jewelry and might even end up squealing over how cute they look on you.
Question: What if the Sailor Moon Jewelry I want to purchase is already out of stock?
Answer: In that case, you can select options such as "Notify Me" or email the online store regarding the next stock or availability. By doing so, you can keep track of when the next product will be in store and make your purchase accordingly.
Question: Why is Sailor Moon Jewelry so popular?
Answer: The simple way to answer is that the show itself expounds on promoting consumership. The main characters and their friends indulge in making materialistic purchases, often jewelry (as seen in Episode 1). On top of that, their jewelry is aesthetically pleasing to the point that it compels real-life fans to make such purchases.
The idea is not just to admire your favorite character but to be like them. If you cannot use powers like "Moon Gorgeous Meditation" or "Crescent Beam," then at least try to present yourself like them.
Often, cosplaying seems too much work, so the easy way is to incorporate such jewelry and pair it with your regular outfit. In that way, you are choosing to stick to Sailor Moon aesthetics while remaining comfortable in your skin by wearing casual clothing. The best part of this jewelry is that it can be worn with anything. Therefore, the versatility of this jewelry makes them so popular.
Best Sailor Moon Jewelry Ideas: Final Thoughts
Some people entertain the misconception that fandom merchandise is only apposite for cosplaying. But that is not the case. As discussed in this article, these jewelry pieces are fit for all events. Whether you want to pair it with a fancy dress for your prom or go to a cafe for a study session with a friend, such jewelry adds a bit more glamour to your daily life.
Although I agree the Sailor Moon Tiara might be a bit too much for your casual hangouts. But there is no harm in trying it out, is there? After all, otakus are known for their quirkiness. Maybe you'll end up being complimented after all.
Ultimately, it is all about confidence and the way you carry yourself. It would reflect in your natural gait as you walk along the road, and people would notice the difference in you. So, make sure to dab yourself with lots of confidence before attending a formal or informal event. After all, confidence is the key to success.