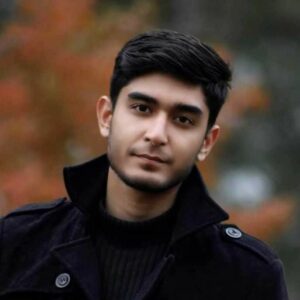 Latest posts by Asad Mehmood
(see all)
Bring the topic of magical girls in front of any '90s anime fan, and the first name they will come up with would be Sailor Moon. Sailor Moon indeed left a mark in the world of anime. Arguably, it gave rise to the magical genre in the first place.
When I first read the manga, I had this impression of mystery and magic. But it was much more; it is a story mixed with love, friendship, unity, and lots of adventure. Being the youngest in the house, I always romped around.
When Sailor Moon came out, I related to Sailor Moon's main character Usagi the most chaotic and adventurous. When I started watching the Sailor Moon series, it was all I talked about. In school, I was even called the "Sailor Moon girl," but I have to say, I wasn't annoyed as an ordinary boy would be.
All that talking brought my friends and siblings to watch the Sailor Moon series. I thought of gifting some of my favorite dolls to them, and I started my hunt. In my opinion, dolls and figure are more than just a piece of decoration or a play, especially when you have a deeper connection with the character.
You might relate to their dressing sense, have the same accent or jewelry, or sometimes associate yourself with some events like getting accepted into your favorite college. Here are some recommendations below for you to relate to as well. 
The Best Sailor Moon Dolls Guide: Bottom Line Upfront
If you are one die heart fan of Sailor Moon, you would love to have Sailor Saturn Pretty Guardian Sailor Moon Bandai Spirits S.H.Figuarts in your collection. It beautifully defines the gleaming aspect of your personality. Easily affordable with the price of about half a Benny.
My Top 10 Best Sailor Moon Dolls At A Glance
An Expert's Buying Guide: Best Tips, Tricks, and Advice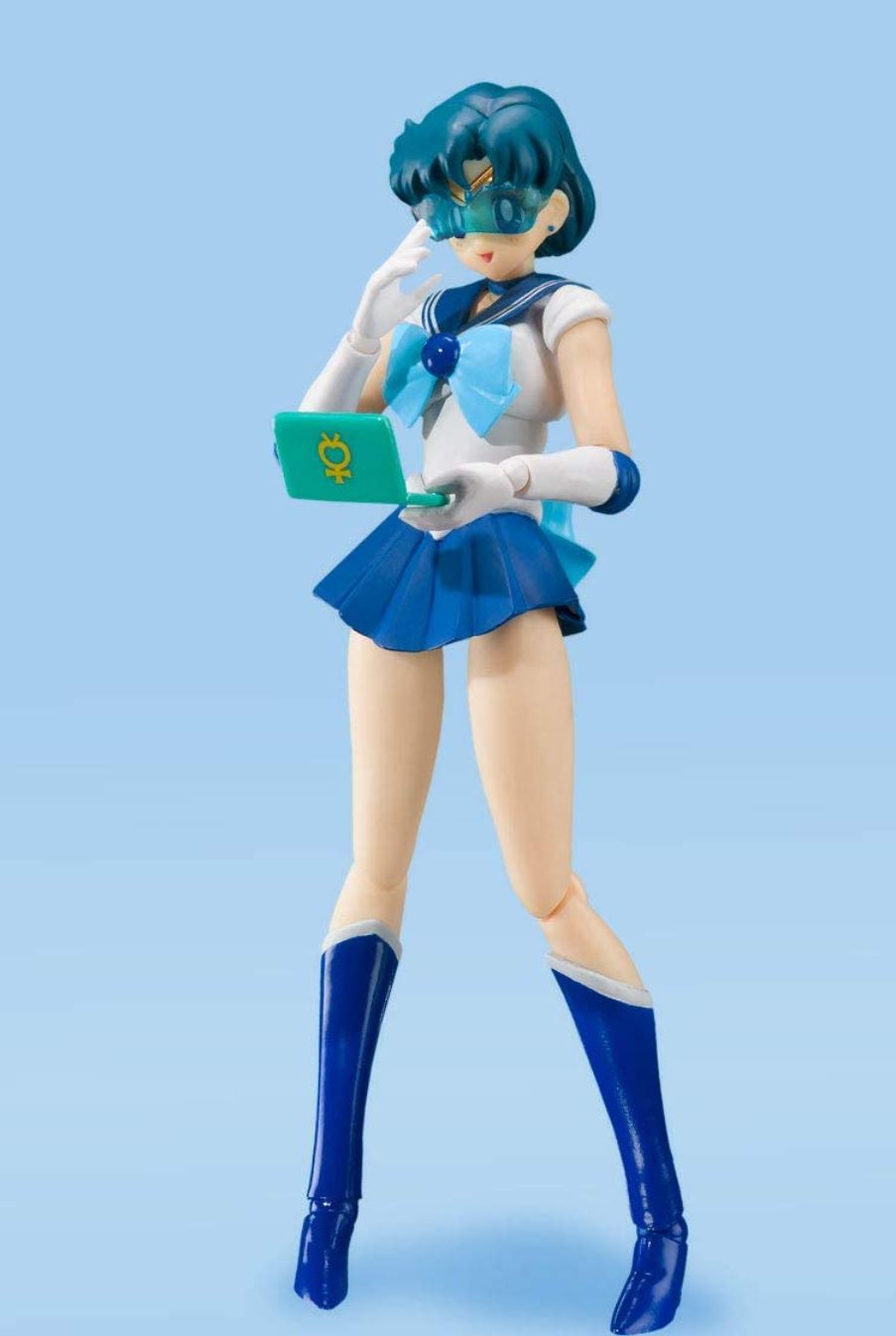 Online shopping can be hectic at times; you may get confused with options or flashy prices. No worries; I have gathered some best tips you might need when buying Sailor Moon dolls.
Buy From Reputable Retailers
When you start a quest to find your favorite Sailor Moon dolls, you will discover many websites and stores. All these websites promise to provide good quality products, but few try fulfilling the promises. My suggestion is to buy from the websites recommended by most customers.
Some websites have a well-known reputation for selling products, like Amazon or Walmart. Try to buy from such sites or the sites you are familiar with.
Offers That Seem Too Good To Be True
The wide-spreading business in e-commerce has landed many people into it, but fewer are willing to make a fair trade. Many retailers use fake reviews and catchy prices to attract customers. But you should not be credulous to believe such information.
To avoid being scammed, do not fall for snappy statements and low prices that do not match the description or the quality of the product.
Plan Your Purchase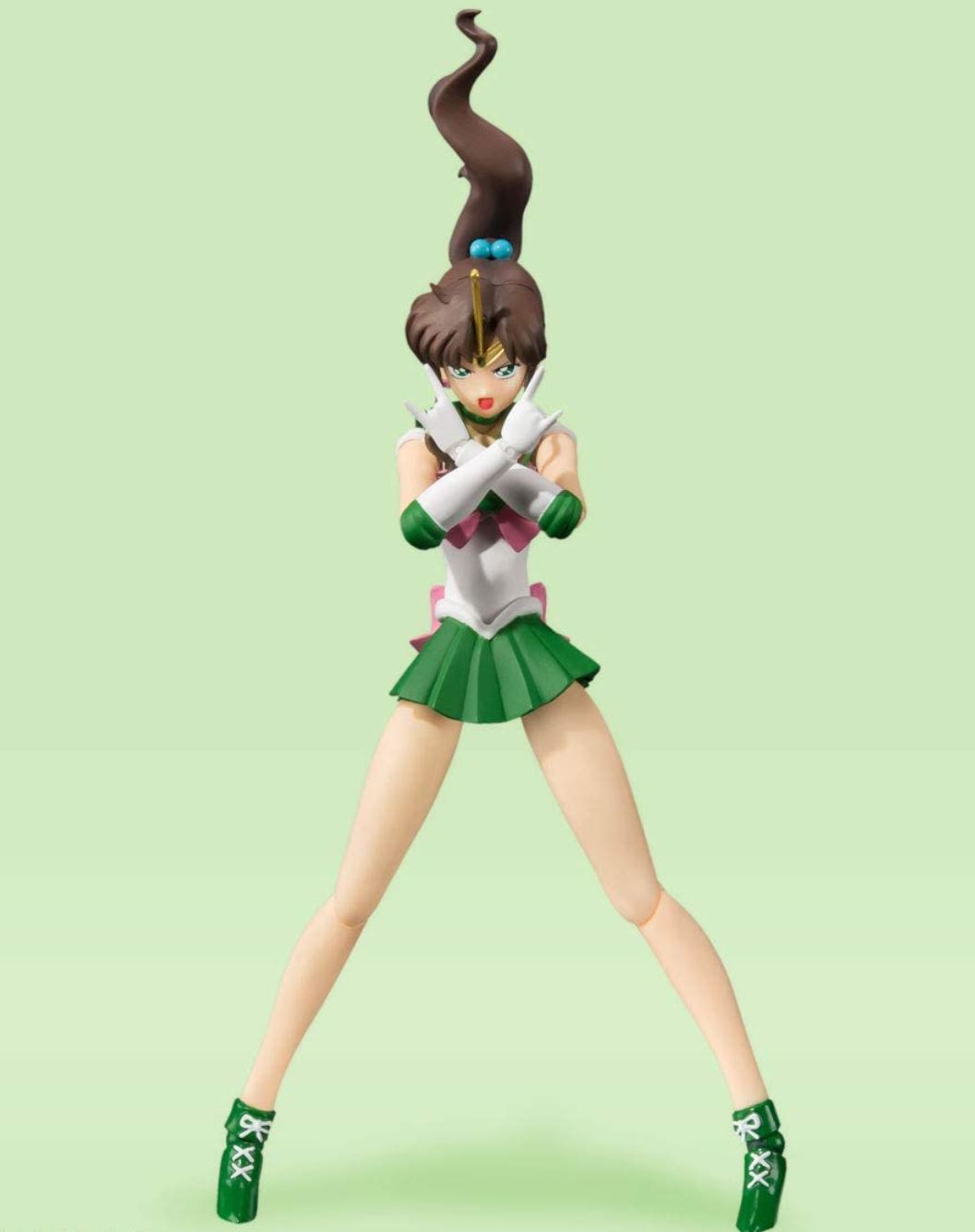 Planning your purchase includes many aspects, including the type of product you are buying, the quantity of the product, and the theme you like. My suggestion would be that you boil down your search to a specific Sailor Moon doll you want to buy, as it would be impossible to buy all of the Sailor Moon dolls.
Also, sometimes, one might want to buy more than one Sailor Moon doll. Ordering one by one will cost you more in shipping charges, so I suggest looking for dolls from the same site for one-time shipping.
Purpose Of Your Purchase
One question that pops into every Sailor Moon doll buyer's mind is why I should buy this specific product. A definite purpose for purchasing a Sailor Moon doll will narrow your search criteria and help you make a solid choice from among the wide variety available.
If it's just another addition to your collection, you already know what is missing. Birthday gifts can be translated as favorite character dolls. If it's a Christmas gift for your young kid, the deal choice would be a plush.
My Sailor Moon Dolls Top Picks Selection Criteria
The recommendations I am providing in this Sailor Moon doll guide are based on the following factors:
Their popularity among Sailor Moon fans.

My personal experience and liking of Sailor Moon dolls.

Their uniqueness and rarity as a collectible.

Their availability in the market.
My Top 10 Best Sailor Moon Dolls Picks
Sailor Moon dolls are available in different forms and materials, such as Action figures, Plushies, etc. Below are my top 9 picks
#01 Banpresto Sailor Moon Girls Memory Series 6.5-Inch Sailor Moon Figure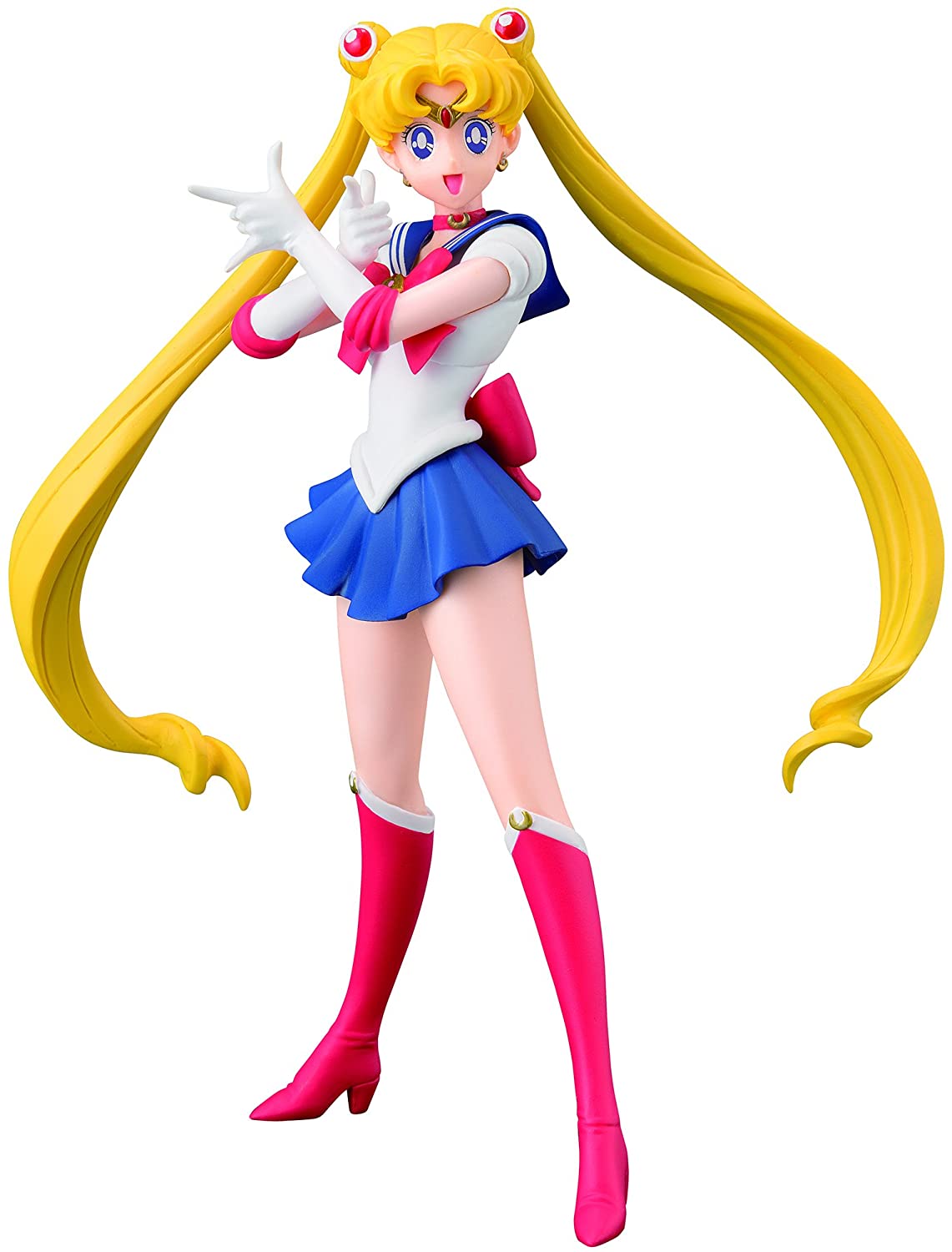 Description
Let's begin with the most popular character in the anime series, Sailor Moon. This one is a must-have for every Sailor Moon fan. This figure is part of the figure series named memory series, released on the 20th-anniversary of Sailor Moon.
I fell for this doll because of her cheerful and confident look. I love that she expresses the original character's design and personality; folding on her shoe and gloves makes it look even more realistic. 
The size is 6.5 inches tall and comes with a carrying base making her easy to carry, and you can put it on a shelf or wherever you like. Honestly speaking, it's a good catch for this quality and the size it offers for such an affordable price. 
Pros
It is a nice collectible. 

It is easy to assemble with only 3 parts.

It's the 2015 anniversary edition.
Cons
Choking hazard for children under age 3.
#02 Sailor Saturn Pretty Guardian Sailor Moon Bandai Spirits S.H.Figuarts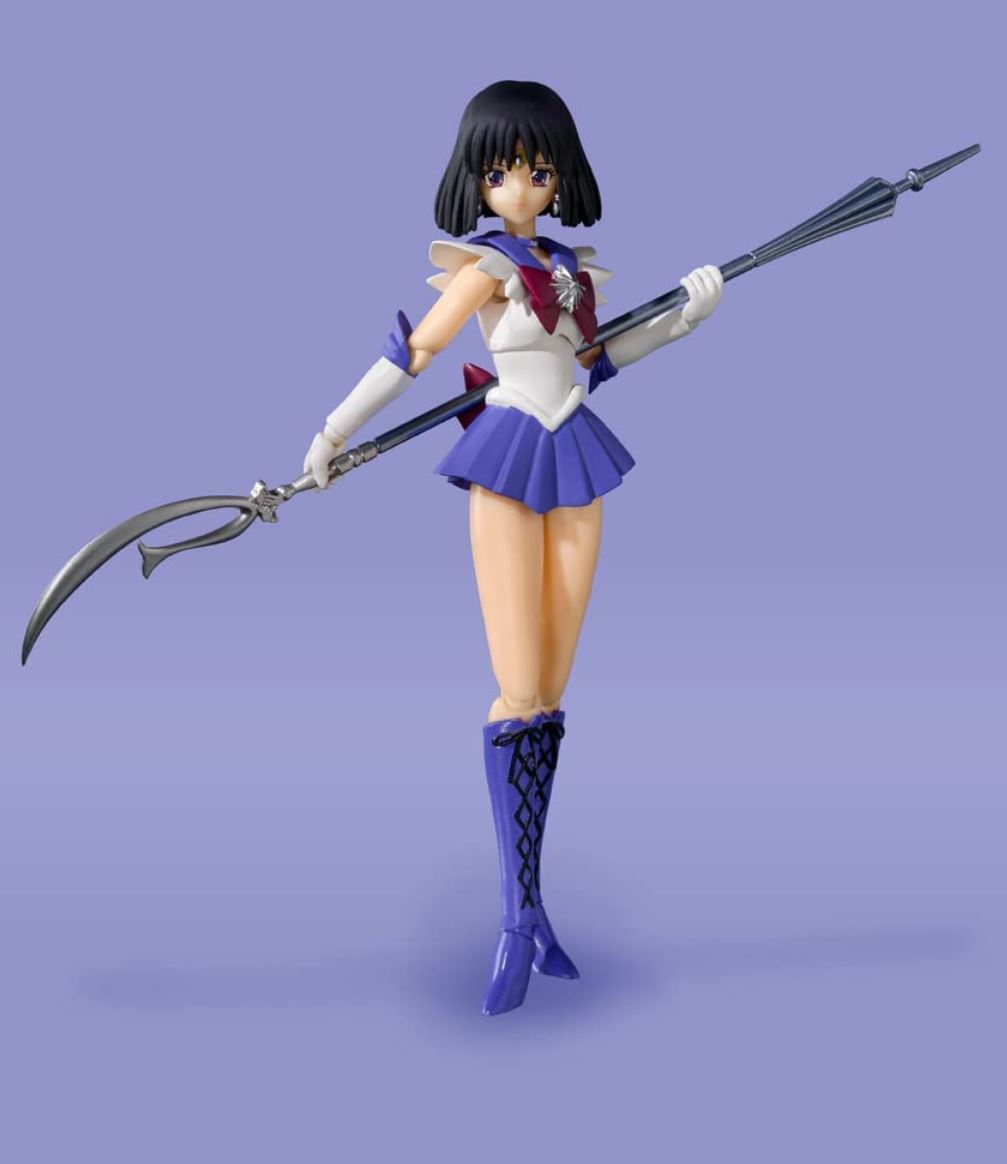 Descriptions
This Sailor Saturn figure is inspired by the vibrant looks of the '90s Sailor Moon S series. If you have been following the Sailor Moon for quite some time like me, this is a perfect purchase for you. Sailor Saturn is one of my favorite characters from the Sailor Moon series after Usagi.
I always wanted a Sailor Saturn doll, and this doll made it happen for me. I really like this doll because it's very mobile and many poses and expressions can be created. It comes with plenty of accessories like her Silence Glaive and expression heads. She has pretty impressive details in just 5.5 inches. 
Pros
This doll allows you to be creative by providing additional hands and expression heads to create different looks and motions with Silence Glaive.

Tested product for customer safety regulations.
Cons
They are not durable for children's play and are prone to easy damage.

Small attachments are not suitable for underage kids.
#03 TAMASHII NATIONS Sailor Venus – Animation Color Edition – Pretty Guardian Sailor Moon, Bandai Shii Nations S.H. Figuarts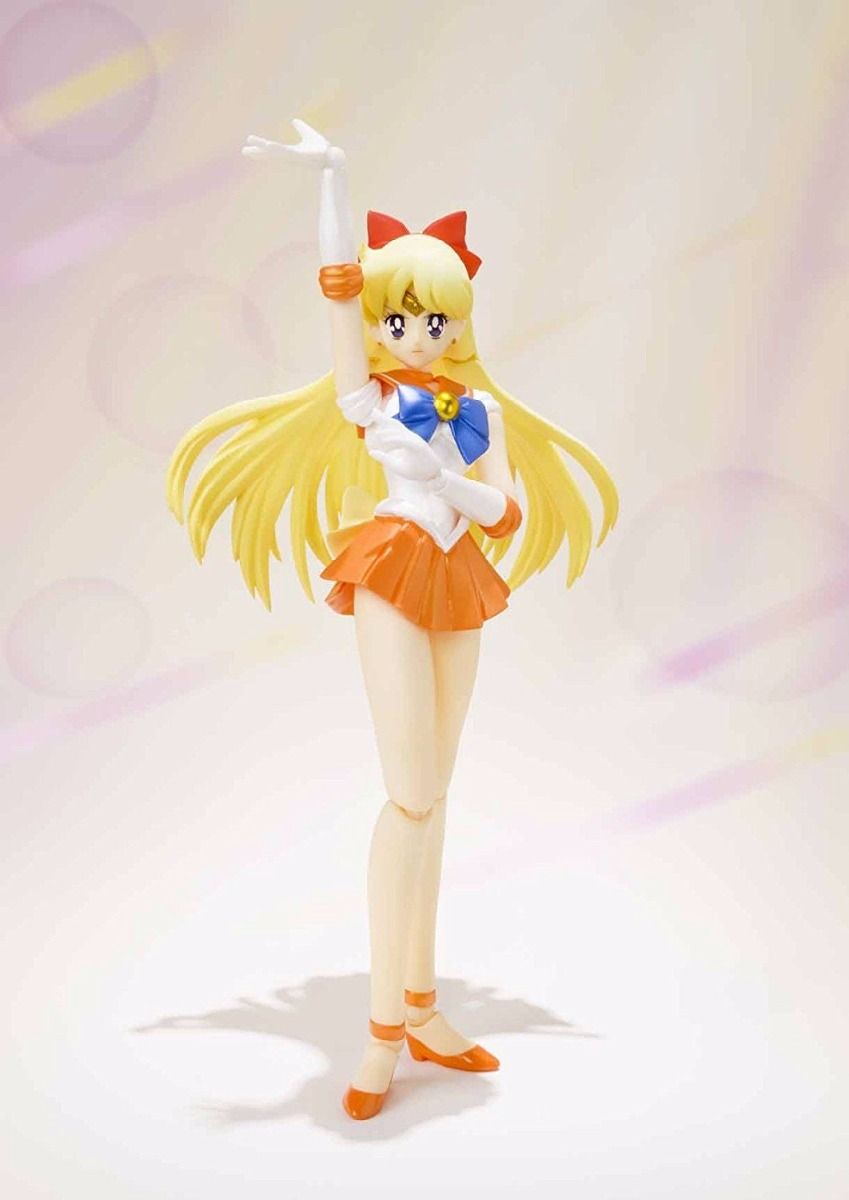 Description
As a Sailor Moon fan, you must have a spot for Sailor Venus in your heart and collection. Sailor Venus has a very dedicated persona, and this doll perfectly portrays that. I especially love the volume and length of her hair; they are made up of PVC but are moveable and flowy, making her look pretty and realistic. 
My aunt is a big fan of the Sailor Moon, and she likes to keep her work desk full of her doll collection. And gifting her this fantastic doll allowed me to have Chocolate chips every time she makes tea for me. The best bargain I have had so far! 
The material of the doll makes it easy to clean up, so she is a perfect pick for front desk decorations. The dimensions are 1 x 4 x 5.5 inches, suitable for shelf displays, with an affordable price range of around 50 USD.
Pros
This doll also includes optional expressions, heads, and hand gestures.

This doll offers a separate hand with glasses.

An additional Artemis is also provided with it.
Cons
I have to mention that the original product may vary from the picture.
#04 TAMASHII NATIONS Sailor Uranus-Animation Color Edition Pretty Guardian Sailor Moon, Bandai Spirits S.H.Figuarts
Description
Sailor Uranus left her mark on every admirer of Sailor Guardians. However, this left fans confused about the conspiracy about her gender identity. I am still figuring it out, but that is a topic for another guide. 
Sailor Uranus depicts two different personalities, and this doll represents a hint of both. The doll's size is very manageable. My friend has a special love for Sailor Uranus because of her tomboy look, and I have already gifted her this doll as a Christmas gift. It cost me something around 60 bucks.
Pros
Optional features such as a cross arm and a space sword are also available with this Sailor Uranus doll.

You don't have to keep your eyes on the clock. Prime shipping is offered by the retailer.
Cons
The optional expressions are sold separately and will cost you some extra bucks.

This price tag might be heavy on small pockets.
#05 Great Eastern Entertainment Sailor Moon- Luna Plush 7″ H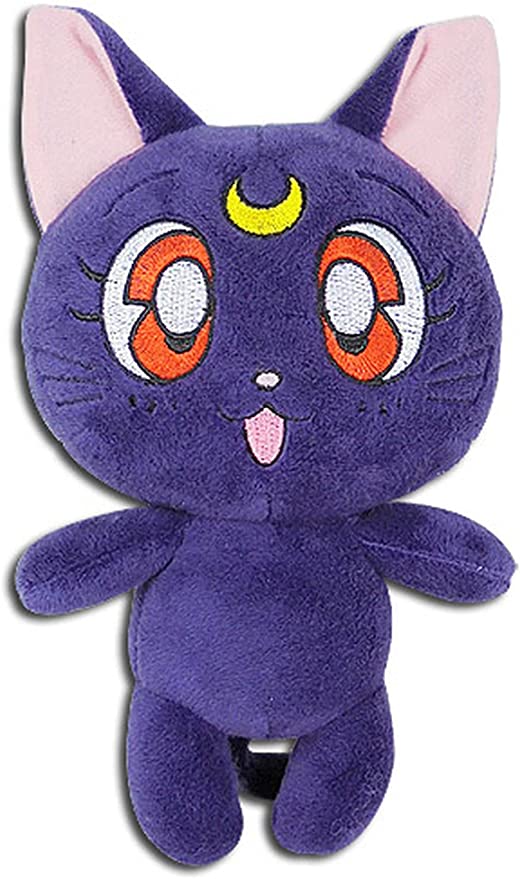 Description
Being a Sailor Moon fan, you know the supremacy of Luna is in the Sailor Moon series. From using technologies to solving mysteries, Luna always had her hands full. It's a perfect choice if you love stuffed dolls, and best if you want to give it to your kid who might be underage to play with dolls made of other stuff.
The size is 7 inches, it's cuddle-able, and you can place it on the couch or even attach it to the crib. The stuffed doll is a model you can use to introduce kids to animals. I still remember my niece wexing my sister to buy her a cat since she saw this Luna plush in my house.
You can't imagine what a story I had to come up with to convince my niece not to have a real cat, as her father doesn't allow it. Anyway, it comes with a pretty affordable price tag of 15 USD. Yes, you heard me right. The only problem with this doll is that it's furry and catches dust very quickly. 
Pros
It is a pretty safe option for the kids to play.

Its price tag is something that makes it a must-have.

Two best things that a plushie can offer: Lightweight and Cushy.
Cons
Dust-catching material gets dirty quickly.

It may cause dust or fur allergies.
#06 Great Eastern Entertainment GE Animation Sailor Moon R Black Lady Stuffed Plush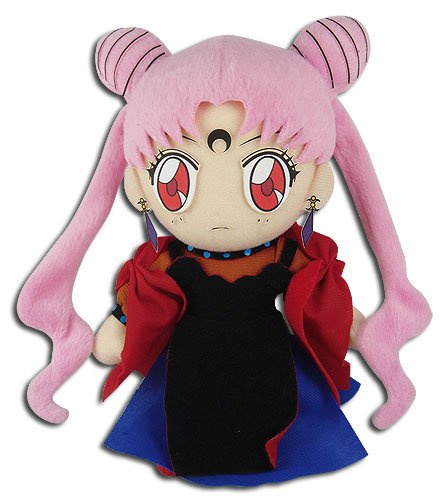 Description
We all remember the scenes from Death Busters Season 2 of Sailor Moon, where Chibiusa was converted to the Black lady. Many fans admired the beautiful and confident character she became as a Black lady. This Black Lady stuffed doll is another option for you if you like a stuffed doll. Overall this doll has impressive details; her expressions are straight, her eyes are shiny and realistic, and she has some very vibrant colors.
But, I don't like how flat her hair is without any flow and volume. It is a good 8 inches doll with pretty dashing earrings and a necklace on a fancy dress.
Pros
An affordable price for such high-quality plush

The soft material can withhold any pressure. 
Cons
Its material can cause allergic reactions to sensitive skin.
#07 Sailor Moon Anime Figurine Tsukino Wedding Dress Collectible Model Toys Sailor Moon PVC Action Figurine Gifts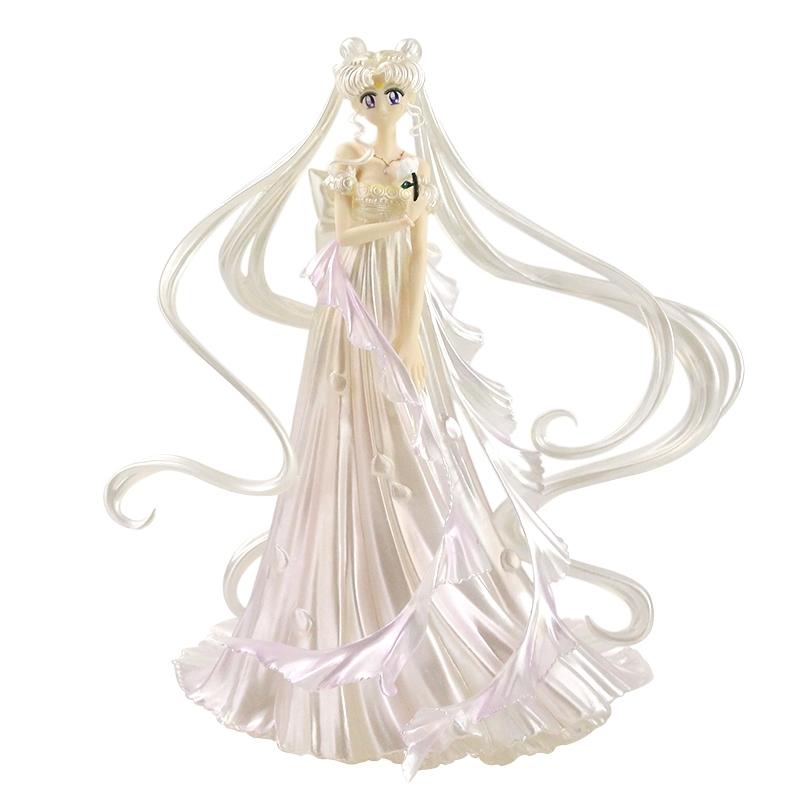 Description
Sailor Moon in her wedding dress was one of my favorite scenes in the Sailor Moon series, and when I looked at this doll, I fell in love with it right away. The long white dress is a supremacy dress with the shine and flow of a silk dress with the hint of pink tint, but the fact that the dress is made up of PVC is quite impressive.
I really like its hair which has a lot of volume and flow. Also, the facial expressions are spot on, with eyes having that bright luster in them and a face with a pretty smile spread across it. The size of the doll is about inches, the ideal size for bookshelves or desks. With a price range of about $40, I think the beauty and accuracy are worth it.
Pros
The doll is made up of PVC; therefore, it can withhold pressure and does not break easily.
Cons
There are curves and edges in her dress that might be difficult to clean.

The color of the actual doll might be different from what you see online.
#08 Sailor Moon Venus (1995) Bandai 11.5 Inch Poseable Deluxe Adventure Doll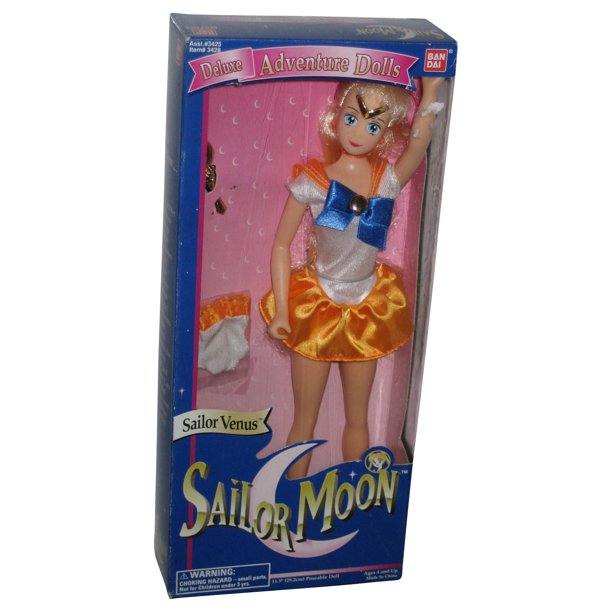 Description
Sailor Venus definitely has a very prominent and pop personality. Her leadership abilities and charms made many fans fall for her. This doll is a superb choice for Sailor Venus fans. I really like how vibrant the color of her dress is, but I am not satisfied with the quality of the dress.
My niece actually loves brushing and hairstyling her dolls. The doll is perfect for her as it is one foot tall and has brushable nylon yarn hair. Also, she loves the extra dress that comes with the package.
However, let me tell you that this doll is not any ordinary doll; well, it could have been if it were the nineties. This vintage doll is based on the Sailor Moon series from the nineties. Though it might seem something a granny would gift, it has a special place in the forever Sailor Moon fans.
Pros
Free shipping is offered by the retailer,

The doll can stand without support or stand.
Cons
The hair is rough and might get tangled easily.

This vintage doll is heavy on pockets.
#09 Sailor Moon Tuxedo 6″ Plush Doll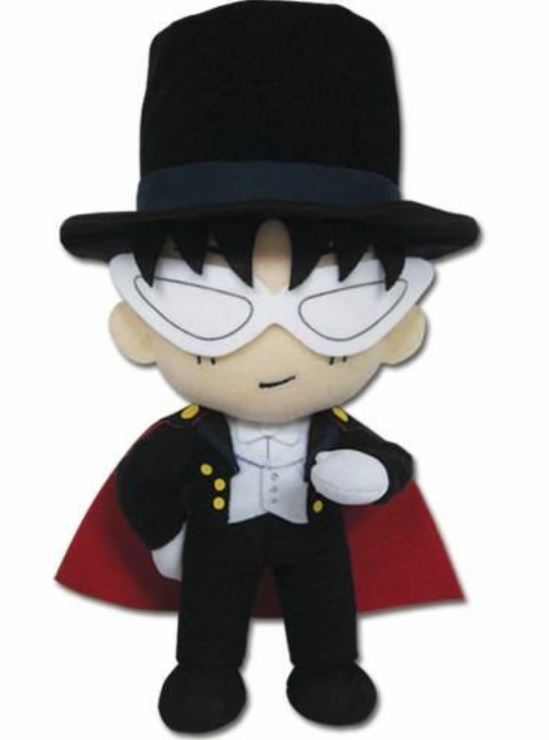 Description
Tuxedo Mask is one of the most popular characters in the Sailor Moon series. I really admired the way he carried himself in the series. 
This doll depicts the looks and personality of the Tuxedo Mask with perfection. His Tuxedo suit is spot on with a cape behind his back. The cape also has a red inner giving it a realistic vibe. The expression on his face gives out a bright guy look. 
If you have a friend who claims to be a "meme lord," this plushie is a perfect test for him. With the reverence Tuxedo Mask enjoys in the meme community, the mere sight of him spreads a smile across the face of a true memer. This plush doll is 9 inches tall and big enough to cuddle with. You can keep it in the corner of your child's bassinet or crib and trust this handsome guy watching your baby. 
Pros
The doll is washable, and the colors won't fade. And this is something I really appreciate.
Cons
The material used in the doll is not dustproof. So, this plushy might give you a sneezing attack.
#10 Great Eastern Entertainment Sailor Moon Sailor V Plush Toy, 8-Inch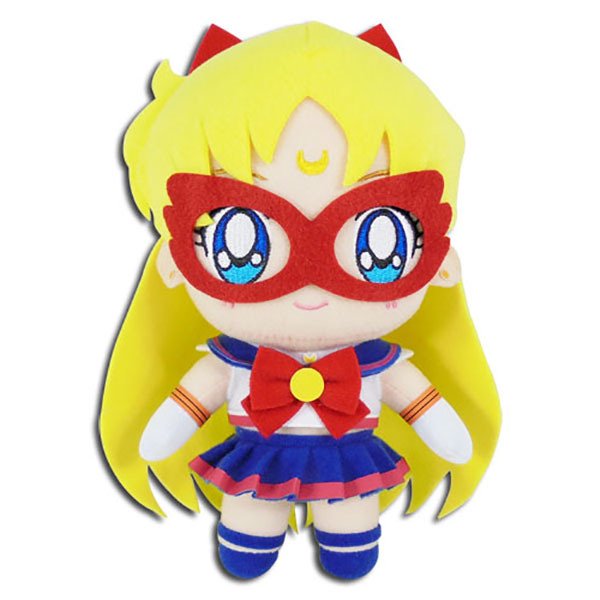 Description
This Sailor V Plush is the most cuddly plushy I have ever seen. I love that it's pretty tall at 8 inches. However, I do wish I could have a larger version as well. I mean, like a body-sized version! But alas! I scoured the internet but couldn't find one.
Besides that, this is an officially licensed doll, which makes it one of the best ways to keep supporting our favorite series. Furthermore, the highly detailed and good build makes it a good collectible. But I must admit, I'm too much of a plush cuddler to let it stay in the box.
This is undoubtedly one of the best gifts you can give to a Sailor Moon doll and plushie lover like me. I just love the red mask on her bright eyes; it makes her look just that much more mysterious and pretty. It's also a decent purchase at less than 20 USD, and I would urge you to get one at that price; it's certainly a gem among the rocks.
Pros
Extremely Cuddly!
Officially licensed Merch, Support the original series.
Free Shipping!
Free 30 days return policy!
Cons
I only regret that I can't find a bigger version of this same doll.
FAQs
Question: Are all the characters from Sailor Moon available as dolls?
Answer: Most characters from the Sailor Moon series are available in the market. If you want one of the main characters: Sailor guardians, Tuxedo Mask, or Chibiusa, you will easily find a variety of dolls and action figures based on them. However, some antagonists or other side characters from the series can be rare to find.
Question: Are Sailor Moon dolls available in large sizes?
Answer: Sailor Moon dolls are produced in many sizes; you can order them in any size you want. Although most retailers provide them in smaller sizes to make them affordable and handy, some offer them in large sizes. Still, to be honest, I do not have any first-hand experience with these big dolls.
Question: Are Sailor Moon plushies safe for children?
Answer: Yes, the Sailor Moon plushies are safe for children to play with, and all you need to be cautious of is them getting dirty. However, if your child suffers from dust or fur allergies, avoid putting them in their room.
The Best Sailor Moon Dolls Guide: Wrapping Up
One of the best-selling manga, Sailor Moon, is indeed one of its kind. The story of Sailor Moon is the perfect mixture of glamour and magic; the addition of the aspects of love and friendship brings more attractiveness to the story.
The unique bonding of the characters enhanced the story further and increased the fame of the series. With increased popularity comes a demand for merchandise. Different types of merchandise are released with time, and dolls are one popular demand of most Sailor Moon fans. Who does not want these adorable characters after all?
My favorite of all the Sailor Moon dolls is Sailor Saturn Pretty Guardian Sailor Moon Bandai Spirits S.H.Figuarts. I admire her attentive and thoughtful attitude toward life and people the most. Above all, she is the best at what she does. I am confident this product guide will provide you with the information you are looking for to boil down your favorite doll choices. Lucky-break!