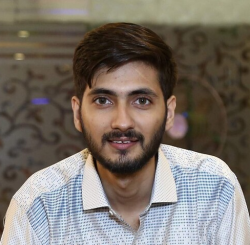 Latest posts by Vishwas Kochar
(see all)
Makeup is considered an art form as it involves a lot of creative labor. Why does one do makeup anyway? Well, apart from the obvious answer that it increases self-confidence, one can treat it as a creative hobby. The hobby in question usually emanates from a need to dress up or present oneself like their favorite celebrities or fictional characters — probing deeper into the history of makeup should attest to the fact.
Moreover, with the age of online globalization and the emerging TikTok culture, which focuses mainly on the interests of the Millennials and Gen Z, it becomes imperative to see the recent rise in makeup tutorials on Tiktok, Instagram, Facebook, and Youtube. And one of the most popular makeup trends is Sailor Moon makeup.
Bottom Line Up Front: A Glance Into Personal Favorites
Sailor Moon has deeply influenced the makeup industry. People come up with so many creative makeup ideas inspired by the anime that limiting this guide to a few of them was a challenge. Although picking favorites is not something I excel at, more so when it's makeup ideas, I have come to a decision after much rumination.
After much consideration, it dawned upon me that I am an aficionado of eye makeup. Therefore, I chose the makeup by mappysg (on Reddit), especially their The Senshi's Glowing Eyes, a name I have decided to go with. This was in close contention with their The Sailor's Eyes Knows No Bounds. Both of them are exquisite and so colorful, and choosing one over the other put me in quite a dilemma.
How Did Sailor Moon Influence The 'Makeup Goals' Culture?
A brief search of #90sanimeaesthetic on Instagram would show how popular Sailor Moon has been since its inception. Most posts there are either taken from the show or inspired by it. The aesthetics primarily consist of a range of experimentation with pastels, pink blush, glitters, sparkles, celestial stickers, etc. 
While recreating the fashion ensembles is a significant part of the aesthetic culture, the innovative makeup tutorials are either a direct recreation of the original look or inspired by it. 
If you're one of those fans who are invested in pop culture, you might have noticed the trend of celebrities talking about Sailor Moon. Sometimes in one-liners, sometimes at length. Stars like Megan Fox, Michelle Phan, Janet Mock, and Halsey have shown active interest in it.
Naturally, Sailor Moon is a classic, and the pretty aesthetics are bound to influence people into pursuing a creative channel, which often comes in the form of makeup.  The most common characteristic of Sailor Moon makeup is the crescent moon sticker or art drawn on the forehead. It's like a signature symbol that signifies the obvious influence of the show.
Twin buns with long pigtails often accompany this. There is a heavy concentration on eye makeup — a brilliant celestial aesthetics marker — and, of course, glossy lips and blushes of varied shades of pink, red, or orange. These form the characteristics of the ideal 'Sailor Moon' inspired makeup looks.
Collabs and Boom in Cosmetic Sales 
An average person during the 90s and 00s would have thought their obsession with Sailor Moon was so unique. Sadly enough, that was pretty much the case. Sailor Moon was famous.
But outside of Japan, only a tiny percentage of people followed the show, given the general lack of interest in anime among western consumers. This unpopularity was a significant factor that hindered any collaboration between the show and famous brands.
But with the change in Internet culture and the booming popularity of Sailor Moon, which surfaced online, many brands have come forward to extend their tribute to the classic show by launching new products. Of these, the most recent and popular is the Sailor Moon collection by ColourPop.
With a host of products like blushes, glosses, body highlighter, and eye shadow palettes, one is left with the option of exploration. Some of their famous products are:
Then there are brands like Maybelline, Creer Beaute, and Shiseido that have collaborated with the show and released makeup products in Japan. Many local brands released Pretty Guardian Sailor Moon products to boost their sales.
As days pass, varieties will pop up, and so will capitalism's newer and innovative product-selling techniques. Sailor Moon will thrive because it caters to the passion of a big group of people. Therefore, more capitalistic ventures would come up as long as the influence of the series pervades.
"Moon Prism Power: Makeup!": My Top 8 Sailor Moon Inspired Makeup Ideas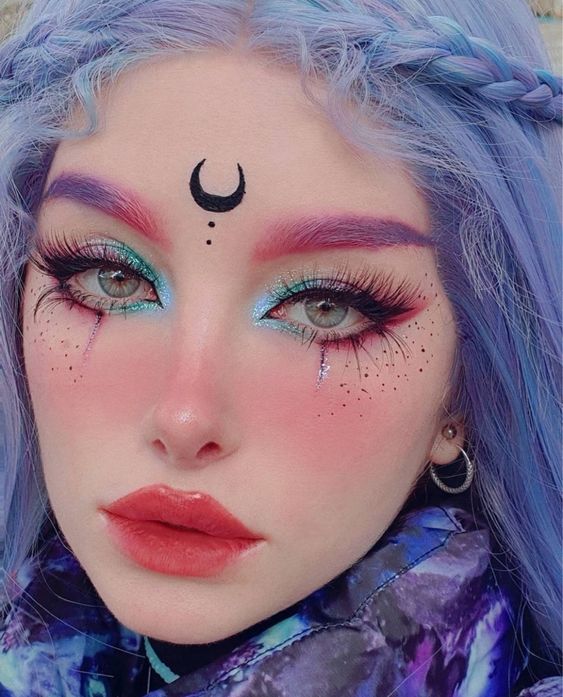 As evident from the crescent moon symbol on the forehead, it is pretty evident that the series inspires the person. But there's a catch – Sailor Moon does not entirely inspire her makeup. Lavender hair, and colored eyebrows, with striking shades used for eye makeup, give off a vibe of her being an ethereal being.
Moreover, her black crescent moon makes her look like she might not be fighting for the good side after all. Her candy-stained red lipgloss further enhances her beautiful features and brings out the vibrancy of eye makeup.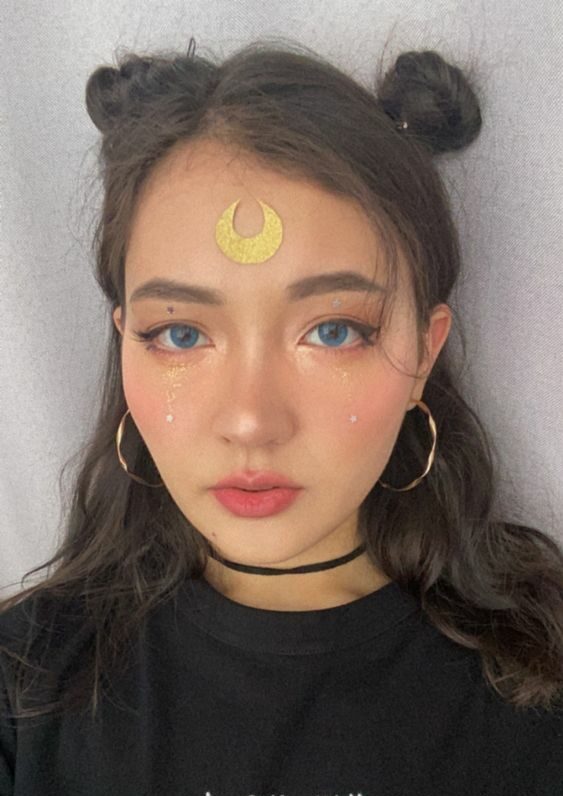 This is a relatively toned-down version of the heavy aesthetics that is generic to Sailor Moon makeup inspirations. The person has given it a touch of ordinary alongside keeping her allegiance to the aesthetics.
Twin buns and pigtails just like Usagi, the golden crescent moon sticker on her forehead, blue contact lenses, simple graphic eyeliner, the lightest shade of baby pink blush, golden highlighter to suggest the sparkly tears, and the pastel reddish lips are appropriate for anyone to don this look even to school. Moreover, the touch of gold hoops and black choker further enhances the 'punk x pretty Senshi' look.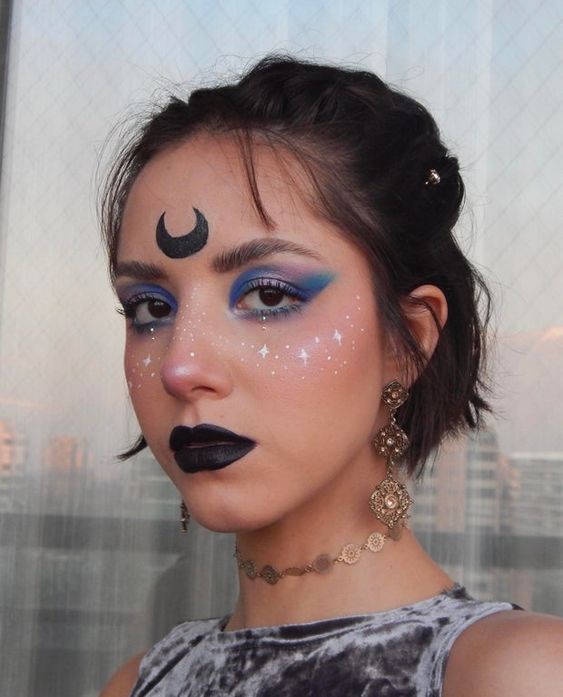 This is the most daring one out of the lot. Like the Ethereal Senshi, the black crescent moon oozes every bit of darkness that this person might be aiming for. This is coupled with an eye-makeup that is heavily reliant on blues and purples.
The light blush, which extends from one cheekbone to another, is cluttered with white sparkly stickers symbolizing an array of stars in the galaxy. But the highlight of this makeup lies in its use of black lipstick, which goes against the aesthetic of Sailor Moon, which focuses on pinks, reds, yellows, and oranges. Moreover, the use of bronze jewelry gives off a mystic vibe that would seem appropriate if one were cosplaying, say, modern-day Queen Nehelenia?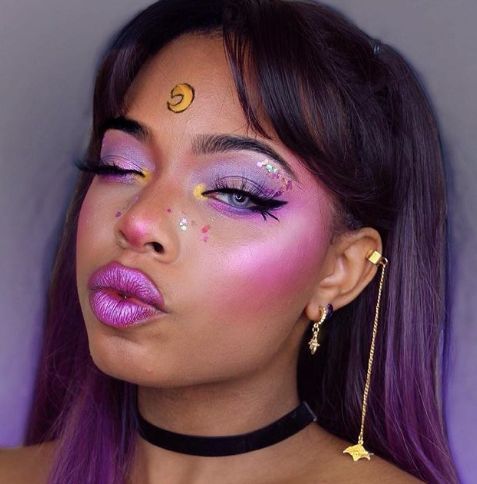 Purple! Purple! Purple! This is a makeup fit for all who are suckers for the color purple. With bold lips smeared with a metallic purple tint and purple shades scattered all over the face, this is perhaps one of the best Sailor Moon makeups to get inspired from.
For the eyes, the person has used light shades of purple and lavender and has added glitter on the eyebrow bone. The cheekbones have a pink-purplish tint with an accentuation on the tip of the nose. 
Last but not least, the crescent moon that the person had done is slightly different but sticks to the aesthetic anyway. In addition, the gold earrings and ear cuff add to the girl-power aesthetic, combined with a more contemporary Gen Z feels. This person has dark purplish dyed hair, so one might even consider sticking to that if they feel experimental enough.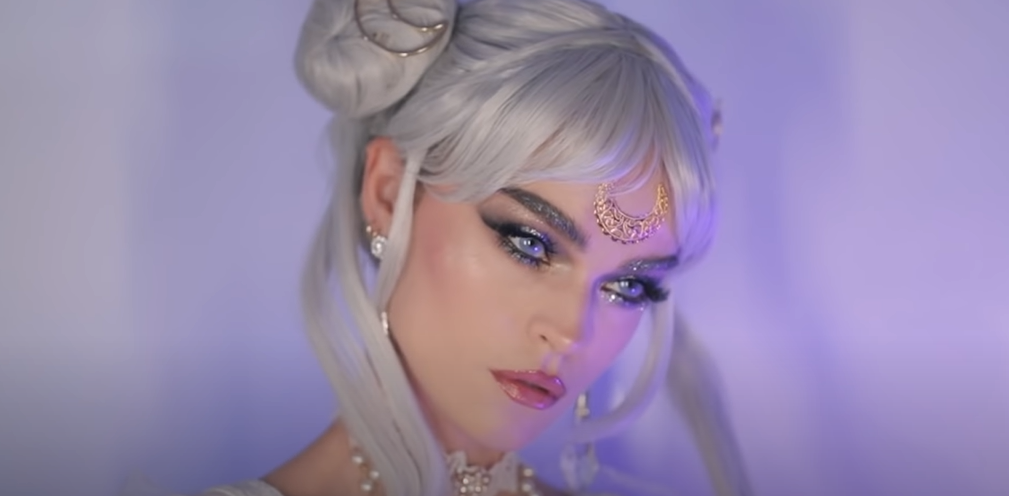 This is the most appropriate of all the makeup ideas that I have cited. A bit tough, but this inspired makeup look is so accurate to the Sailor Moon aesthetics. This YouTuber, who calls herself, PICTURRESQUE| Regina, even lists the range of products she uses.
Her character-inspired hairstyle, for which she had used a platinum blonde wig and white jewelry, made her look exactly like the character Queen Serenity. Make sure to check out all the products she had used in her video description for more information.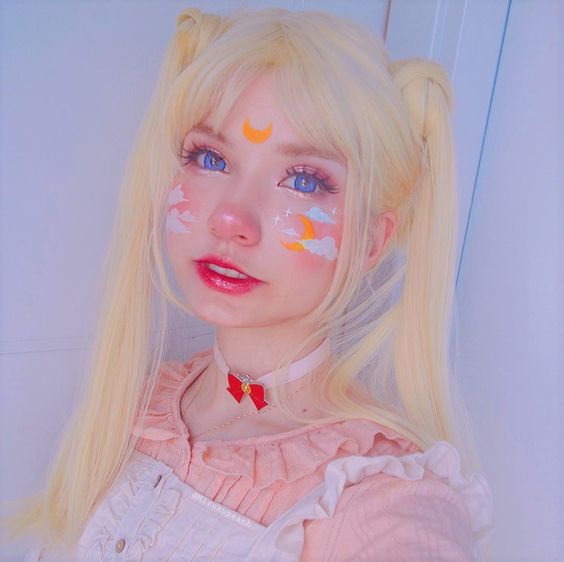 So Kawaii, that it will melt your heart. It is evident to anyone with eyes that Usagi's aesthetics heavily inspired this person. Blonde wig just like our main protagonists, sea-blue eyes, crescent moon forehead pink blushes, frilled blouse – but that is not what is exquisite about this makeup look.
It is face paint! The person has used white paint to draw fluffy clouds on her cheeks, alongside stars and yellow paint to draw a crescent moon on a pink base. This is so reminiscent of a pink evening. But the creativity of this look further shows how adventurous one can be with their makeup.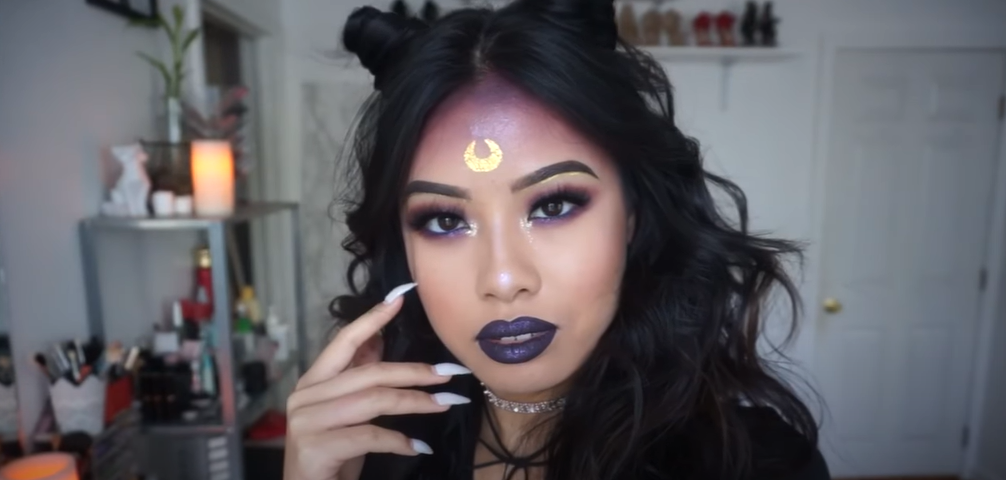 As the name suggests, this makeup tutorial video guides the enthusiasts on getting an occultist and otherworldly look. Majorly focusing on the dark colors such as black, gold, gray, and purple, Youtuber We Gurls makes it easier to go with a more accessible version of the Sailor Moon inspired look. The procedure is relatively easy, and one can use it even for day-to-day looks.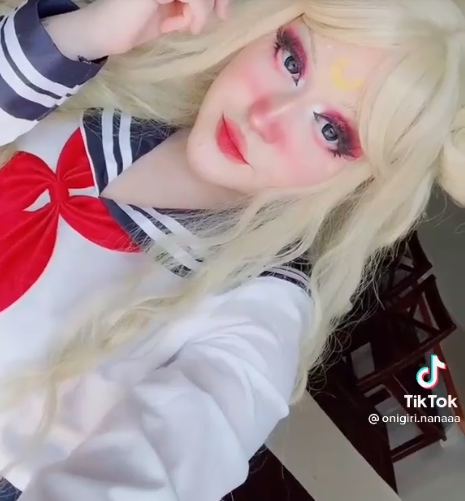 In this short clip, Tiktok user onigiri.nanaaa does a dare to do a Sailor Moon inspired look. But it turns out that it looks better than she had even intended. A high school uniform adorns her makeup style, and her palette expounds in pastel reds and pinks, which she makes good use of to get the desired look.
"Eyes are the Windows to the Soul": The Brilliance of Celestial Eye-Makeup
Makeup cannot be considered complete without eye-makeup, and that is why I have selected Top 3 Sailor Moon inspired eye-makeups that make it mandatory for avid fans to try them.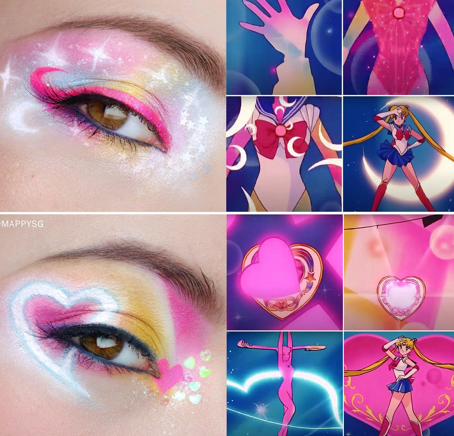 In this picture, the Reddit user, mappysg, shows four styles inspired by the anime series based on vibrant aesthetics. All of this glowy eye makeup is done using pastels and fluorescents. The primary focus is on colors such as pinks, yellows, and baby blue, but there are others where there is a twinge of green and lavenders as well.
This eye makeup is appropriate for any informal gathering. It indulges in sparkles, shiny hearts, rhinestones, and white wings. It is undoubtedly one of the best collections, and if one is looking for something for their eyes, this is the one.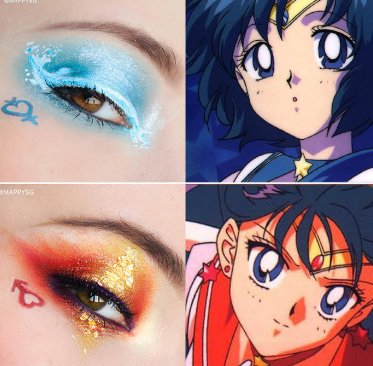 Yet another post by mappysg, but this time the aesthetics are more in compliance with the Sailors' outfits and their colors. She had done her eye makeup based on Sailor Mercury, Sailor Mars, Sailor Jupiter, and Sailor Venus. Each of them retains its authenticity to the characters' colors, and the accompanying reference pictures help as a guide for the fans to try it on.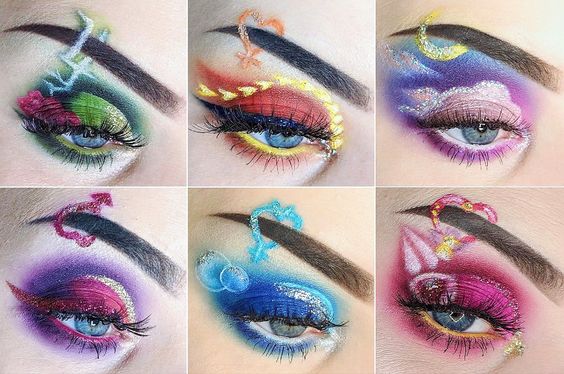 This is rather tough, but its complexity makes it even more enticing. A collage of six images, this series explores the various aesthetics suitable for the Sailor fans. Maybe when you feel daring enough on a specific Sunday, you can explore your eye shadow palettes and showcase your brilliance.
Cosplayers Run The World
Instagrammer Christa (@christavaznis) 's Halloween look based on Usagi is, without a doubt, one of the best that the internet has seen. With Usagi's iconic hair-do, she has used a host of makeup products to give the iconic cosplay a touch of her individuality.
This is marked by the use of silver eyeshadow, graphic eyeliners giving a pointed look, and thick eyelashes for the Asian big eye effect. If you are into cosplay, you can take inspiration from her and try it on yourself.
If one thinks of their body and face as a canvas, and if they are running low on money, then perhaps this is the perfect way to don the look. What Instagrammer @wolvareenz does is she took inspiration from Sailor Uranus and painted her entire getup on her face and body.
In addition to that, her makeup is on point, giving the Sailor look a more sharp edge with a sharp jawline, high cheekbones, pointed eyebrows, glossed lips, and tip of the nose. This is one of the economic makeup inspirations that one can consider taking up.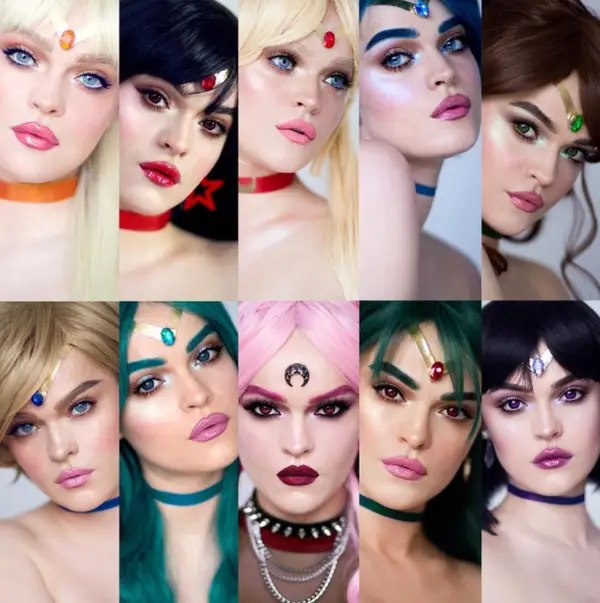 Although Regina's Instagram remains missing, Buzzfeed has two articles entirely dedicated to her genius. One can clearly see the range in the variety of her makeup skills. On top of that, the makeup artist had chosen to remain faithful to the original character designs and do her makeup in a way that remains characteristic of every Sailor.
Simple, exquisite, and with a compact full of  Moon Prism Power, she achieved perfection through her creativity. If one is confused about where to begin their makeup skills, they may look at these images as an inspiration to get started.
Sailor Moon Makeup Ideas: Wrapping it up
Perhaps, it is in the nature of every makeup enthusiast to dress up like the Sailors on Halloween or Comic-Con events. Still, whatever might be the reason, I am content with the wide variety of Sailor Moon ideas on the internet. Whether or not you like Sailor Moon, you cannot deny the fashion culture that the show had started.
Their aesthetics, character designs, and outfits are something that would never go out of style. One can, without the shadow of a doubt, go back to it again and again. There is no reason to complain because Moon Prism Power is always there to guide you!
Jokes apart, even outside the realm of Sailor Moon, what remains essential at the end of the day is the appreciation of art. By doing makeup, one is not only celebrating themselves but giving others the opportunity to appreciate creative art.
It not only enhances self-confidence but gives strength to an artist.  Haters will hate. People with no sense of appreciation of art will continue to undermine the artistic value of makeup in favor of "naturalism," but that won't stop future generations from indulging in what they like. It will stay, and I am glad that it will have a lasting influence on whoever chooses to seek its value.
FAQs
Question: Does the Sailor Moon makeup have to be girly and cute?
Answer: There is no strict rule as such, but girly and cute is what defines the Sailors' aesthetics in the series. One can always choose to opt out of it and experiment with providing an adult version of Sailor Moon makeup by toning down on the warm colors and sparkles. Moreover, they can go for cooler or darker palettes to give it an otherworldly vibe that does not have to be age-appropriate.
Question: Why are female fans so obsessed with Sailor Moon inspired makeup ideas?
Answer: That's because Sailor Moon was modeled in such a way. This shoujo anime targets female audiences, not in the strictest sense, but the gendered demographics state so. And as the gender stereotype states, females are more drawn toward their aesthetic presentation than their male counterparts. Evidently, the craze is massive because Sailor Moon caters to such popular demands through their girl characters. The aspiration to be like the characters is what guides the female populace into pursuing such aesthetic endeavors.
Question: Why do Sailor Moon makeup ideas stress so much on glitter and sparkles?
Answer: The show's central theme revolves around fighting evil using cute weapons and methods. But since a celestial aesthetic is involved in the fight sequences, the focus falls on glitters and sparkles to represent the stars and planets. Therefore, the Sailor Moon makeup tutorials often use such products to highlight the glittery or sparkly effect to stick to the anime's aesthetic.