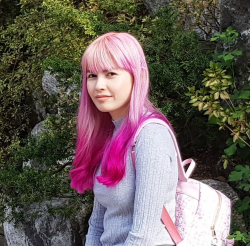 Latest posts by Charissa Fuentes
(see all)
Sailor Moon was a significant part of my childhood as a girl growing up in the 90s. From desperately wishing to be Usagi-chan's friend at 9 years old to want to own Sailor Moon Shirts and merchandise at 13, I couldn't get enough of anything related to the phenomenal anime TV series.
Yet since I was just a little kid back then, all I could do was watch the anime series and sulk internally. I naturally didn't have any means at that age to buy any Sailor Moon stuff of my own.
Things are different now that I'm a certified adult and earning my own money. I'm finally able to decorate myself with as much Sailor Moon merch as my heart desires. And since I'm so excited over this fact, I want to share the best Sailor Moon shirts that I plan to have in my closet. Cause if you're a moonie or Sailor Moon fan, you'll likely want to get a couple of them for yourself.
Bottom Line Up Front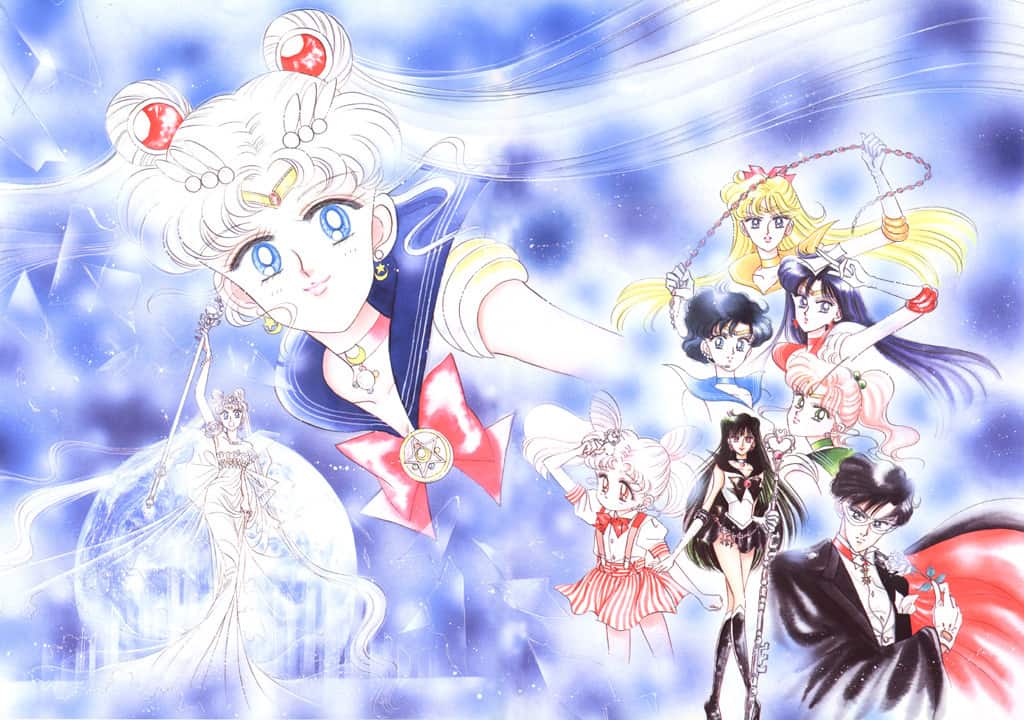 Being a fan of Sailor Moon, I honestly think every shirt I talk about in this guide is worth getting. I carefully handpicked them out of hundreds of designs, after all.
Then again, if I could only wear a single Sailor Moon shirt for the rest of my life, I'd have to go with Pretty Guardian Super Moon Essential T-Shirt. Cause while I'm in awe of the entire world that Takeuchi Naoko, the creator of Sailor Moon, crafted, I'm primarily drawn to Sailor Moon's character design. To be precise, I'm at the mercy of the female lead's exquisite illustrations from the manga.
And you know what? I'm not the only one who's a sucker for Takeuchi Naoko's magnificent art style. For this reason, I think this guide on the best Sailor Moon shirts should make a lot of moonies happy.
My Top Picks at a Glance
Here's the list of the best Sailor Moon shirts that you can purchase online from tried and tested stores:
Why Are These The Best Sailor Moon Shirts?
Just because I'm crazy about Sailor Moon doesn't mean that just any old shirt will do it for me. I had to make sure the shirts met the following standards to determine which designs would make it to the list:
Generally attractive image: Whenever I shop for clothes, I notice that the styles that were usually leftover had tacky patterns or confusing graphic prints and designs. Therefore I stayed away from messy designs and chose shirts with clean and solid images that most moonies will enjoy.
Reliable seller: Stores like Hot Topic and Box Lunch are legit stores, so you don't have to worry much when you're buying something from them. But for online marketplace sites, you'll have to make sure that the seller is credible, so you'll undoubtedly receive the item you ordered. In this regard, Red Bubble is a good company that always delivers.
Positive reviews about the shirt: The quality of the shirt matters just as much as the design. I can't recommend something if I don't want to wear it myself, right? On that note, the Sailor Moon shirts in this guide only come from stores that I trust cause they have positive feedback.
Given how each item has passed the requirements I talked about, you shouldn't experience any difficulty getting any of the shirts for yourself.
 The Best Sailor Moon Shirts
Pretty Guardian Super Moon Essential T-Shirt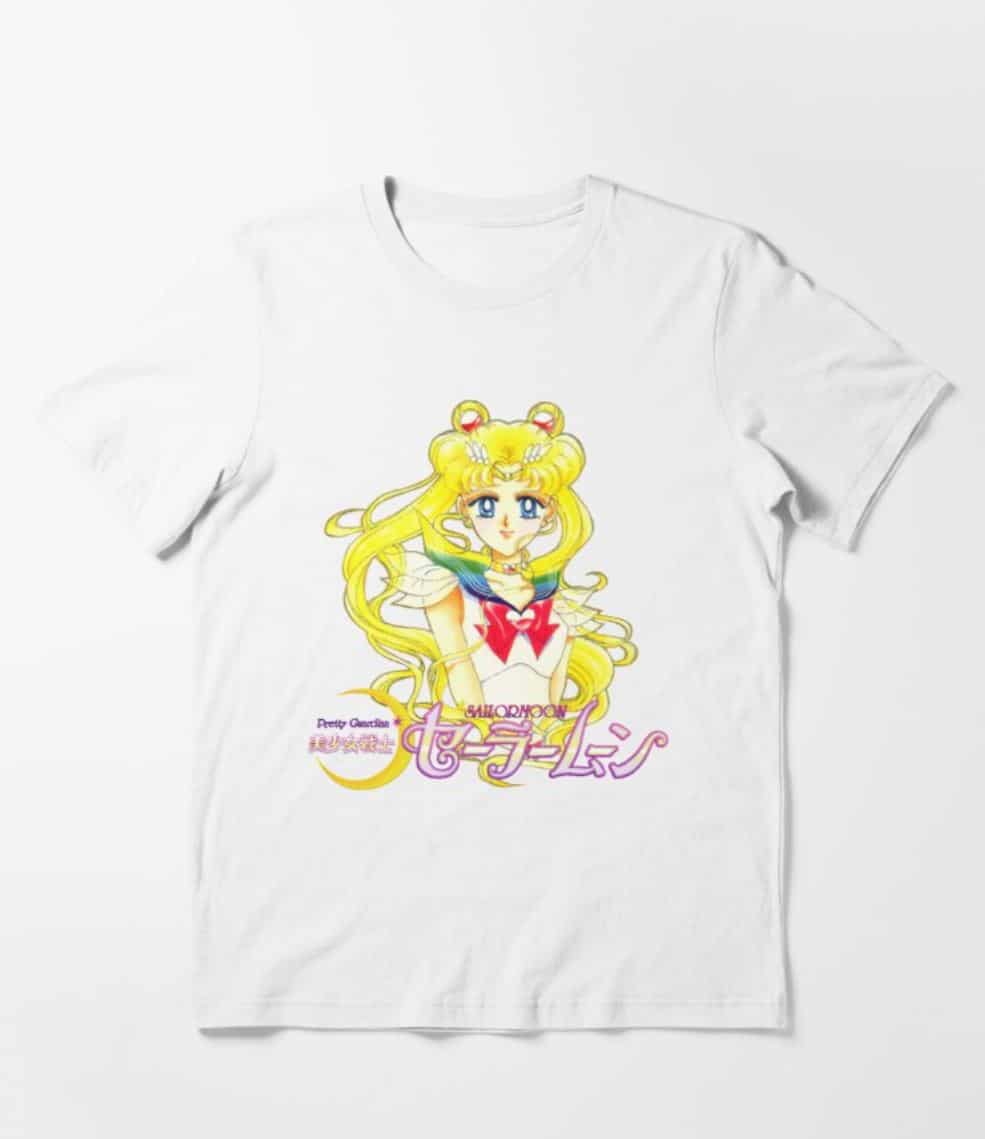 Sizes available: S, M, L, XL, 2XL, 3XL
Price: 20.8$
Made by: Puffy Boobles on Redbubble
Made out of 100% cotton
The lovely original illustration of Super Sailor Moon by Takeuchi Naoko adorns the front of this shirt in vivid colors. It has a dreamy ambiance that fans won't be able to tear their eyes away from.
Aside from the OG art style, you also have the Japanese and English titles in the dainty original font of the manga. In short, this shirt gets a 5-star rating from me cause everything about it is stunning, and it's a top that every moonie would want to own. You can also order this shirt in different colors and T-shirt designs.
Sailor Moon Japanese Usagi Boyfriend Fit Girls T-Shirt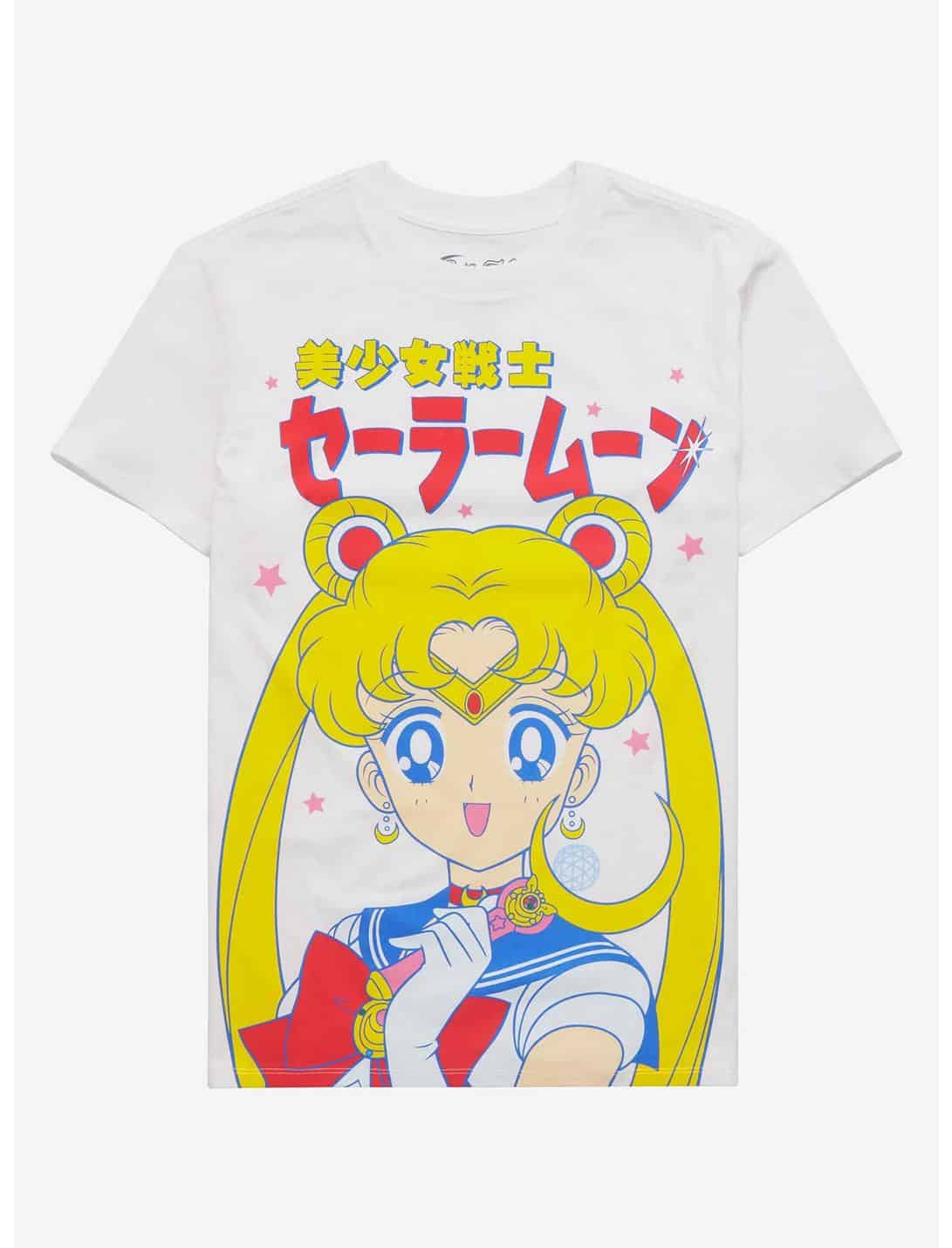 Sizes available: XS, S, M, L, XL, XXL, 3XL
Price: 21.52 – 28.90$
Made by: Hot Topic
Made out of 100% cotton
This oversized white shirt features a large and bright image of the 90s version of Sailor Moon holding the Moon Stick with a crystal. Just above her head is the Japanese title of Sailor Moon, which gives this design a very oriental vibe. I especially like the text since it makes this piece stand out from the usual Sailor Moon shirts.
In addition, since this is a boyfriend-style shirt, you'll have to go a size smaller than your regular if you prefer close-fitting tops.
Sailor Moon Logo Girls Baby T-Shirt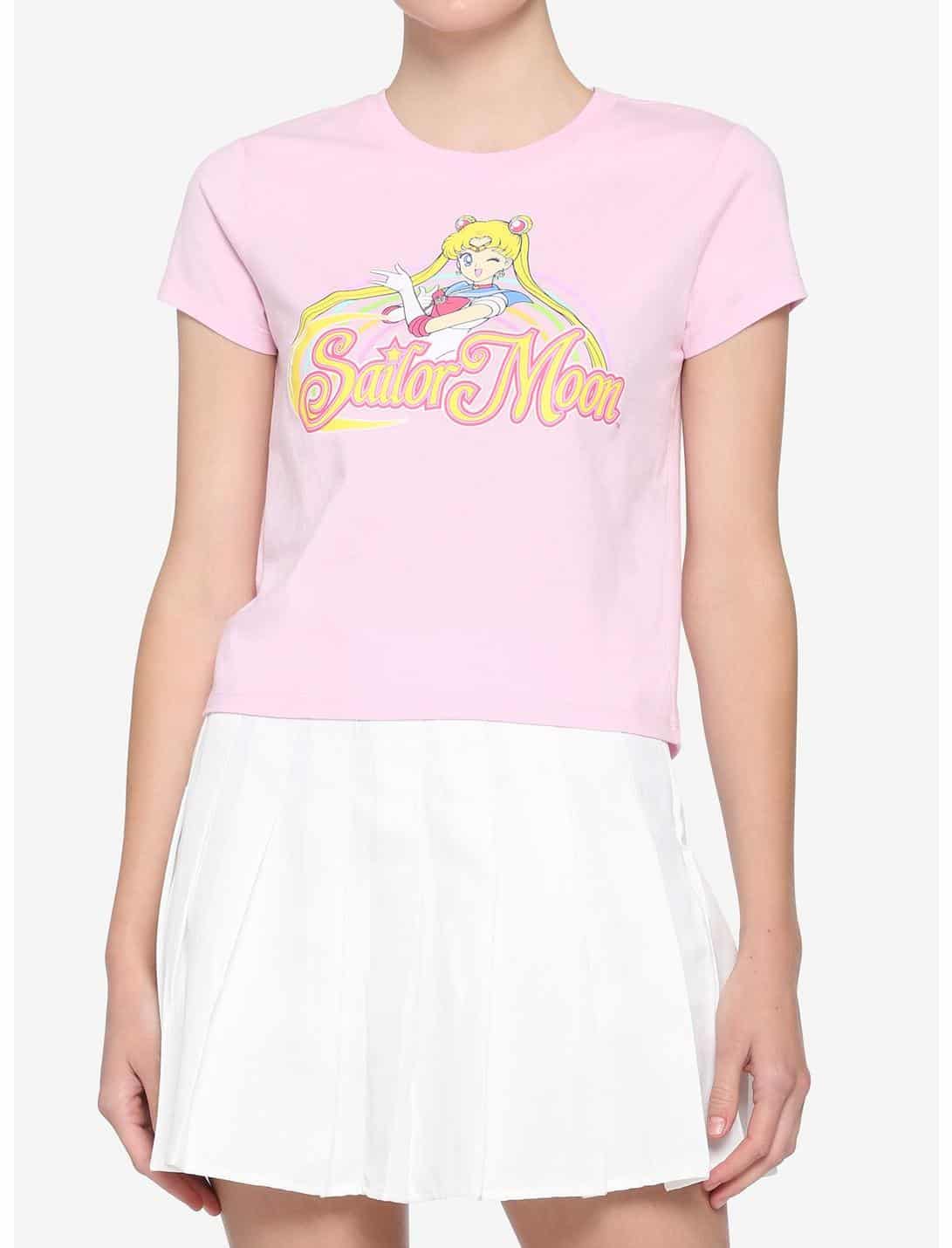 Sizes available: XS, S, M, L, XL, XXL, 3XL
Price: 10.76 – 26.90$
Made by: Hot Topic
Made out of 100% cotton
You'll get a bubbly and modern tone from this delicately styled pink tee. It has a playful image of a winking Sailor Moon right in the center doing her word famous pose 'in the name of the moon, I will punish you.'
Behind her, you can spot a dazzling mini rainbow that nicely accentuates the design's color scheme. And to top it off, the new English logo nicely suits the overall sweet look of the shirt at the bottom part of the image.
Sailor Moon Portrait Poster T-Shirt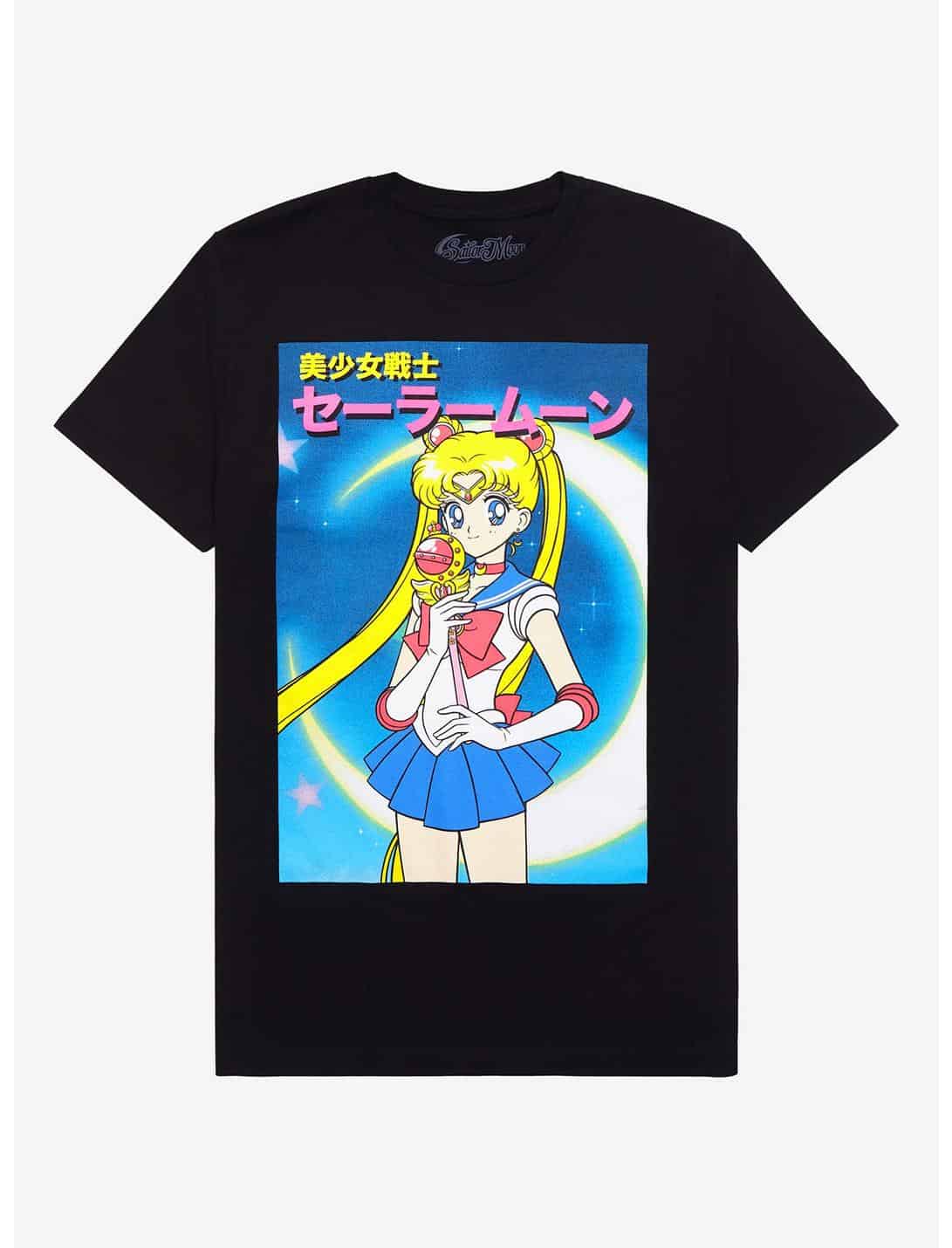 Sizes available: XS, S, M, L, XL, XXL, 3XL
Price: 18.32 – 22.90$
Made by: Hot Topic
Made out of 100% cotton
With this poster print shirt, you can proudly show off your love for the moon princess wherever you go. The black shirt concretely highlights the vintage-style illustration of the 90s Sailor Moon with her Cutie Moon Rod and a large crescent moon in the background.
Similar to the second design on this list, only the Japanese title is present, making this shirt extra appealing when you're a hardcore otaku or weab.
Sailor Moon Sailor Guardians Group Boyfriend Fit Girls T-Shirt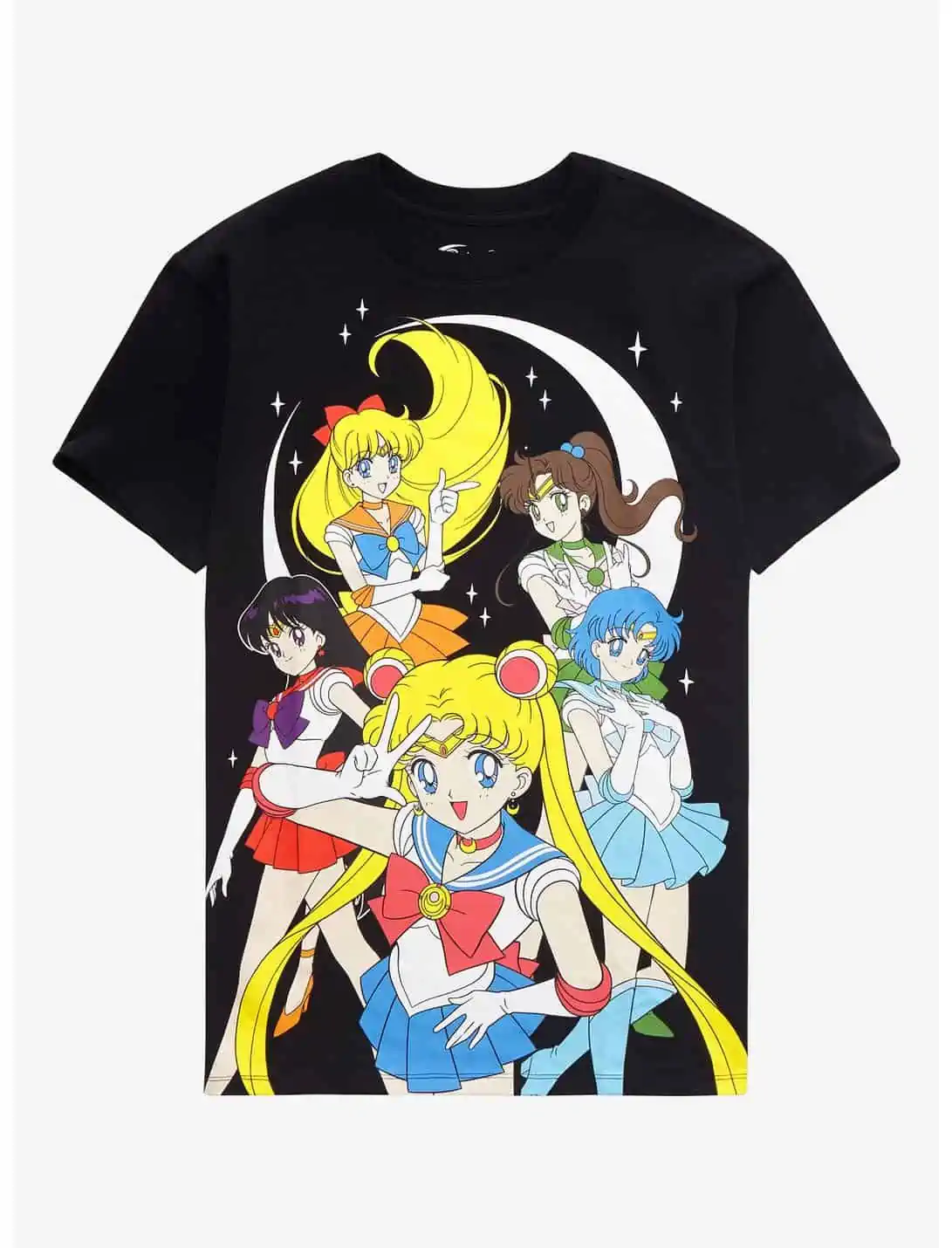 Sizes available: XS, S, M, L, XL, XXL, 3XL
Price: 21.52 – 26.90$
Made by: Hot Topic
Made out of 100% cotton
This shirt's a must-have when you love Sailor Moon's main besties just as much as her. The design has all the primary Sailor Senshi, Sailor Mars, Sailor Mercury, Sailor Jupiter, Sailor Venus, and Sailor Moon in a lively group illustration. Moreover, since the image's background is mostly black, it makes the colorful Sailor Scouts shine even more.
Moon Warrior Essential T-Shirt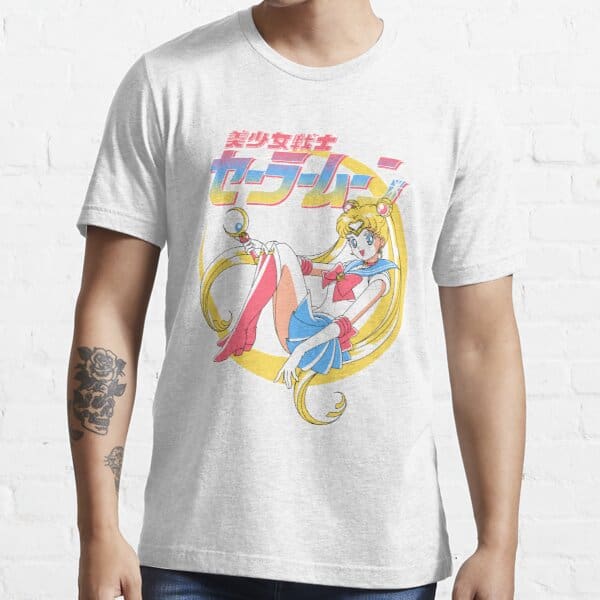 Sizes available: XS, S, M, L, XL, XXL, 3XL
Price: 20.59$
Made by: Coolkid83 on Redbubble
Made out of 100% cotton
Sailor Moon and her Moon Stick are always in demand, be it in illustrations or other types of merchandise. As a result, this specific design has been consistently popular for a long time amongst fans.
You have here a full-body shot of Sailor Moon gripping her trusty wand as she sits against a gain crescent moon. The image itself is already cute enough, but the pastel hues add an extra oomph to the perkiness of the design.
Anime Sailor Moon Style T-Shirt Cosplay Costume (Blue)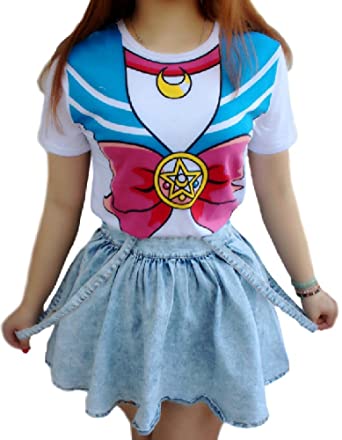 Sizes available: S, M, L, XL
Price: 18.99$
Made by: GK-O
Made out of cotton
Every Sailor Moon fan has dreamt of being a Sailor Scout at one point or another in their lives. I certainly did, and you probably did too. By wearing this shirt, you can finally live out this long-time dream without having to put on any cosplay gear.
Printed carefully on the shirt is Sailor Moon's blue sailor collar, which extends to the back, a reddish-pink ribbon with the Crystal Star compact in the middle, and her choker moon necklace. What's more, the shirt's comfortable and looks as good as what's shown in the photos.
Existing Is Exhausting Classic T-Shirt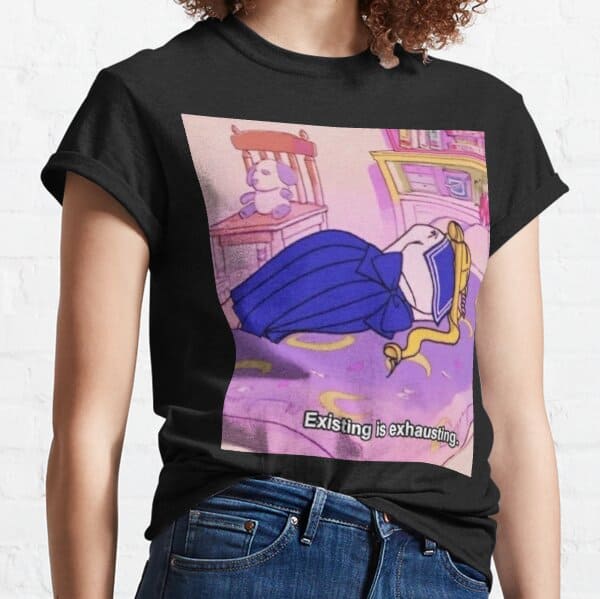 Sizes available: S, M, L, XL, 2XL, 3XL, 4XL, 5XL
Price: 20.81$
Made by: knrowan on Redbubble
Made out of 100% cotton
Although Sailor Moon is known for being a fluffy and wholesome magical girl anime, it still has some edgy scenes that are relatable for many people. This particular design is one of them, as it's a cute top with quite a heavy statement.
Printed on a black shirt is a screenshot of a scene from the 90s version. From the image, you can see Sailor Moon's civilian persona, Tsukino Usagi, in her room as she's lying down on her bed with the caption, "Existing is exhausting" underneath.
Moon Crystal Power Classic T-Shirt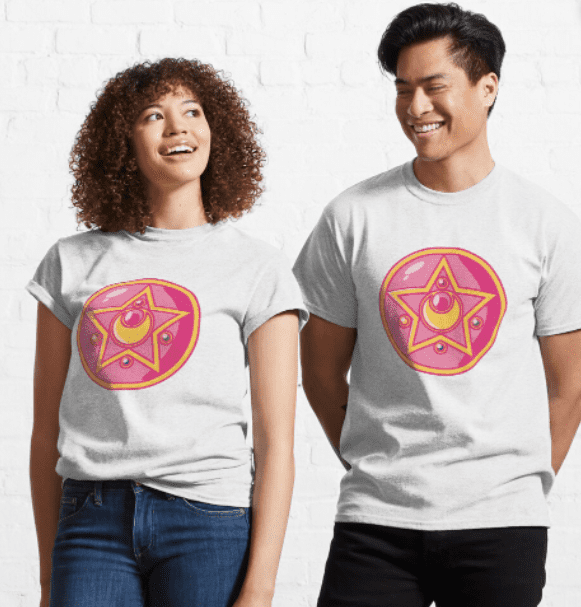 Sizes available: S, M, L, XL, 2XL, 3XL, 4XL, 5XL
Price: 20.81$
Made by: meatballhead on Redbubble
Made out of 100% cotton
I bet you're like me and have wished to have your own Crystal Star Compact at least once. If you want the prop, you can choose from two versions of it to take home.
But if you prefer to wear it proudly on your adventures instead, I highly suggest that you buy this simple yet adorable shirt. It's got a clean and cute design of the Crystal Star Compact in a bubble gum pink color that will perfectly go well with any moonie.
Manga Senshi Essential T-Shirt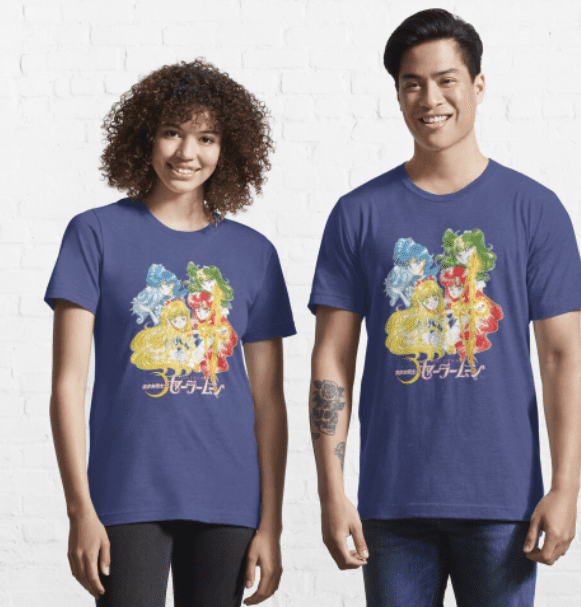 Sizes available: S, M, L, XL, 2XL, 3XL
Price: 20.81$
Made by: Puffy Boobles on Redbubble
Made out of 100% cotton
Though there's little doubt that fans of the Sailor Moon series tend to favor the moon princess the most, there are still plenty of people that prefer the Inner Sailor Senshi or the Guardian Senshi on their own. Should you be one of them and have more interest in parading the Sailor Scouts around, you should wear this shirt.
You have Takeuchi Naoko's original drawing of the 4 inner Sailor Senshi in their attack poses. They all look enchanting in the original art style. Sailor Venus happily holds her 'Love Me Chain,' Sailor Mars is poised to strike with her 'Mars Arrow,' Sailor Mercury has her 'Mercury Aqua Rhapsody' in position, and Sailor Jupiter is ready to summon her ' Jupiter Thunderbolt.'
Moonlove Classic T-Shirt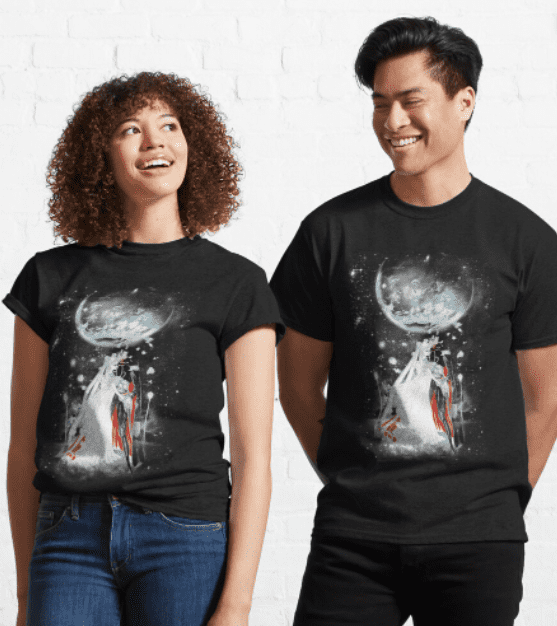 Sizes available: S, M, L, XL, 2XL, 3XL, 4XL, 5XL
Price: 20.99$
Made by: Pesccapin on Redbubble
Made out of 100% cotton
Besides the amazing art style and endearing storyline, Sailor Moon is also known for its undying romantic story. So if this aspect of the series is your favorite part, you'll want to cop this shirt as soon as possible.
Set against a black shirt as the background, this ethereal image of Princess Serenity and Prince Endymion holding hands while in a sweet embrace is breathtaking. The seriousness of their seemingly secret meeting is further emphasized by the glowing planet earth behind them. Who wouldn't like this Romeo and Juliet-esque print?
Princess Serenity Classic T-Shirt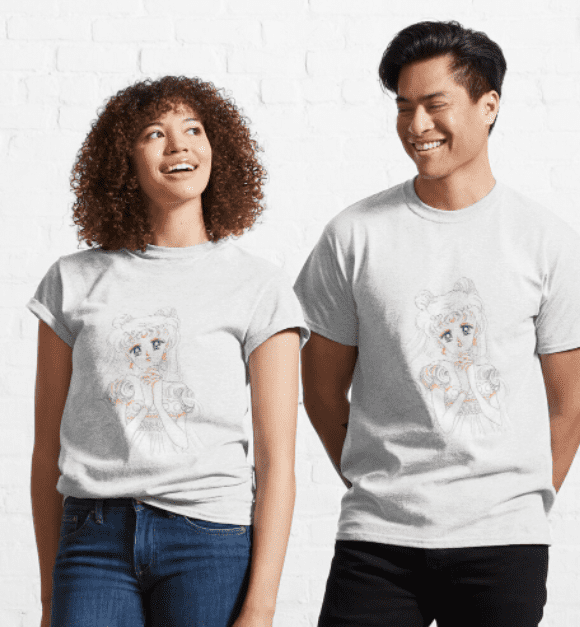 Sizes available: S, M, L, XL, 2XL, 3XL, 4XL, 5XL
Price: 23.17$
Made by: Onyria Art on Redbubble
Made out of 100% cotton
If I were you, I would not want to miss out on this amazing design of Princess Serenity clasping her hands together in prayer. It's a simple yet elegant shirt that moonies will love no matter their age.
Cause despite Sailor Moon or Usagi being the main heroine of the series, I honestly think that Princess Serenity, her past life, has the most alluring character design. Odds are high that loads of Sailor Moon fans share the same opinion, as the products with Princess Serenity's image and motif usually get sold out quickly.
Star Crossed Pantone Classic T-Shirt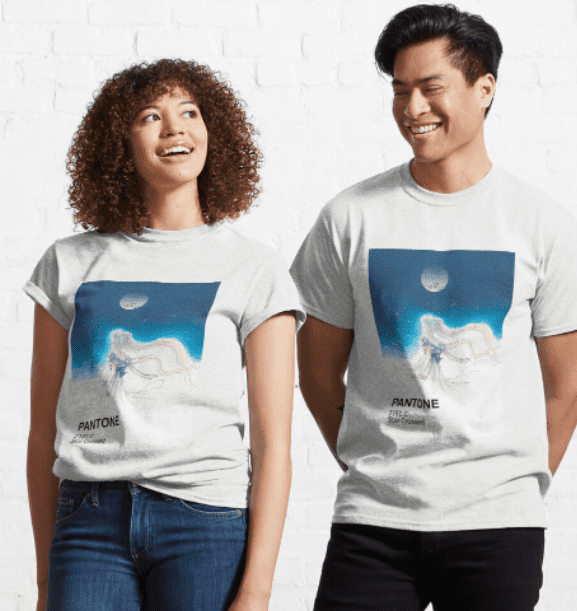 Sizes available: S, M, L, XL, 2XL, 3XL, 4XL, 5XL
Price: 20.59$
Made by: roartoner on Redbubble
Made out of 100% cotton
Are you searching for a timeless Sailor Moon shirt that doesn't scream 'weab' or 'otaku' all over it? If yes, then this is the design you've been looking for. It's got a dreamy atmosphere that's more like a painting than a scene from a manga.
From a distance, it appears like any artsy landscape print that people regularly wear. Up close, though, the illustration consists of Tsukino Usagi's back in a purple off-shoulder top and a long white flowing skirt as she stares at the full moon in the sky. Below her is a caption of Pantone and the Pantone number for the shade of the sky, along with the shirt's name.
Moon Knight Rises Classic T-Shirt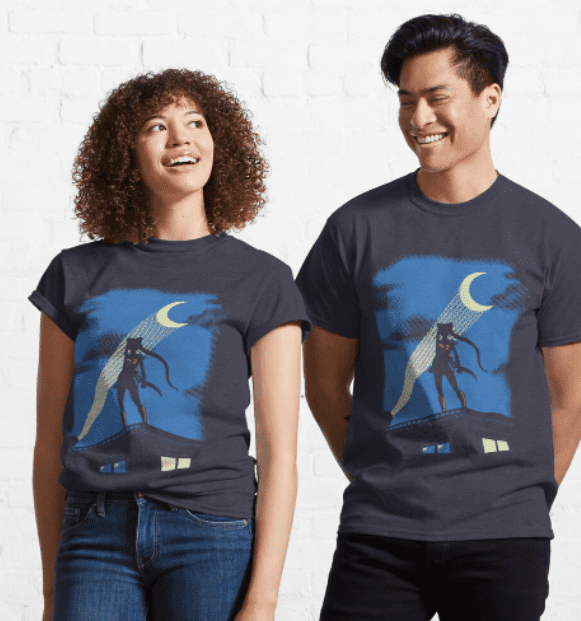 Sizes available: S, M, L, XL, 2XL, 3XL, 4XL, 5X
Price: 20.59$
Made by: angicita on Redbubble
Made out of 100% cotton
In case you're into superheroes, this Sailor Moon design with a modern twist should get your interest. Cause in place of Batman's figure, and bat signal, you have Sailor Moon's silhouette on top of a building and a crescent moon signal in the night sky. It's a fun reimagining of what Sailor Moon would be like as Batman.
Conclusion
As I've stated early on in this guide, the top Sailor Moon shirt for me is the Pretty Guardian Super Moon Essential T-Shirt. It includes all the details that I like about the series. It has the mesmerizing original art of the fabulous heroine in her attack suit and the English and Japanese fonts that I'm fond of.
Of course, the other shirts I listed down are great, too, as they each have their charms that you will enjoy as well. But what's most important here is that you'll be able to pick the design that fits you best with this guide.
FAQs
Question: Who's The Most Liked Character in Sailor Moon?
Answer: According to the anime cataloging website, MyAnimelist, the number 1 spot for international fans belongs to none other than the titular character Sailor Moon.
Meanwhile, the primary heroine of the series is only second-best when it comes to Japanese fans. In Sailor Moon's home turf, Sailor Uranus is at the top spot, as revealed by NHK's poll results in 2020.
Question: Where Can I Buy Official Sailor Moon Merchandise In My Area?
Answer: Being very popular worldwide, tons of stores with international branches have collaborated with Sailor Moon to release licensed products, like apparel, shoes, and the like.
In 2019, Uniqlo released a Sailor Moon T-Shirt line that was available in Asia, Europe, and the Americas. Skechers followed suit the following year, in 2020, and sold Sailor Moon-themed shoes and clothes as well.
With this in mind, you should look at the stores in your area to see if any of them have an ongoing collaboration or are carrying Sailor Moon items.
For example, if you live in the USA, you should visit well-known specialty stores Hot Topic and Box Lunch since they carry all sorts of anime products, such as Sailor Moon Clothes, bags, and accessories.
Question: How Do I Order Licensed Sailor Moon Products From Japan?
Answer: If the licensed Sailor Moon product you're eyeing is from a Japanese store that ships internationally, like Amiami, Hobby Link Japan, and Solaris Japan, you can simply place your order directly on the site. Depending on the shipping method you choose, you'll receive your items within a week or 1 to 3 months.
On the other hand, when the store only delivers within Japan, you'll have to use a proxy shipping service. They will serve as the middleman and place the order for the Sailor Moon item you want, then send it to your address when they've obtained it.
Here are a couple of proxy shipping services that I recommend since they're secure and trustworthy:
• ZenMarket
• From Japan
• Tenso
• Buyee
• Neokyo