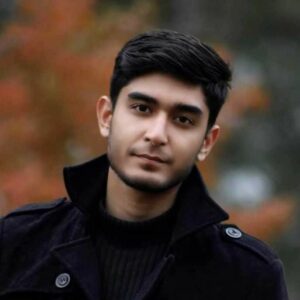 Latest posts by Asad Mehmood
(see all)
'No matter how many people you may lose, you have no choice but to go on living – no matter how devastating the blows, may be.'
Demon Slayer! If something I feel can make honest men cry is this series. Before I started its manga, I was skeptical about its storyline and plot. As its title portrays, I believed this show would be based merely on violence. But let me confess, I was wrong, and there are very few times when I am wrong.
Demon Slayer is undoubtedly one of the most famous manga series among manga fans. It initially goes by the name Kimetsu no Yaiba, literally meaning 'Blade of Demon Destruction' (鬼滅の刃 in Japanese). This manga series was serialized from February 2016 to March 2021 in Weekly Shonen Jump, with its whopping 150 million copies circulating worldwide.
This series is collected into twenty-three volumes. Its anime adaptation maintains its legacy of being one of the most beautiful arts ever created. Hitherto, two seasons have been released, with the third under development. 
Being an otaku of this series, I cannot keep myself from inking countless pages on Demon Slayer. However, I will refrain from delving much into the series for this product guide. The story revolves around Tanjiro Kamado, a good-hearted and industrious chap who lost his family to the unanticipated attack of the demons. With his only sister surviving, he pledges to bring her back to human form, who fell victim to becoming a demon during the attack.
Because of its popularity, the Demon Slayer merchandise is quite popular among manga and anime fans. This product guide is dedicated to introducing the best possible Demon Slayer-themed backpacks options that I have come across. Also, this guide will not leave you behind in your shopping experience by sharing some of the best tips and solutions to some common problems. All aboard the Mugen train (but we are going for backpacks this time)!
The Best Demon Slayer Backpacks: Bottom Line Up Front
If you are a die-hard fan of Demon Slayer, you do not want to miss Nitoen Demon Slayer Little Kids Travel Backpack. Its durability, ample space, and vintage design allow it to be used for multipurpose. Also, its affordable price tag makes it a must-have item.
List Of My Top 10 Picks For The Best Demon Slayer Themed Backpacks
My Experience With Demon Slayer Themed Backpacks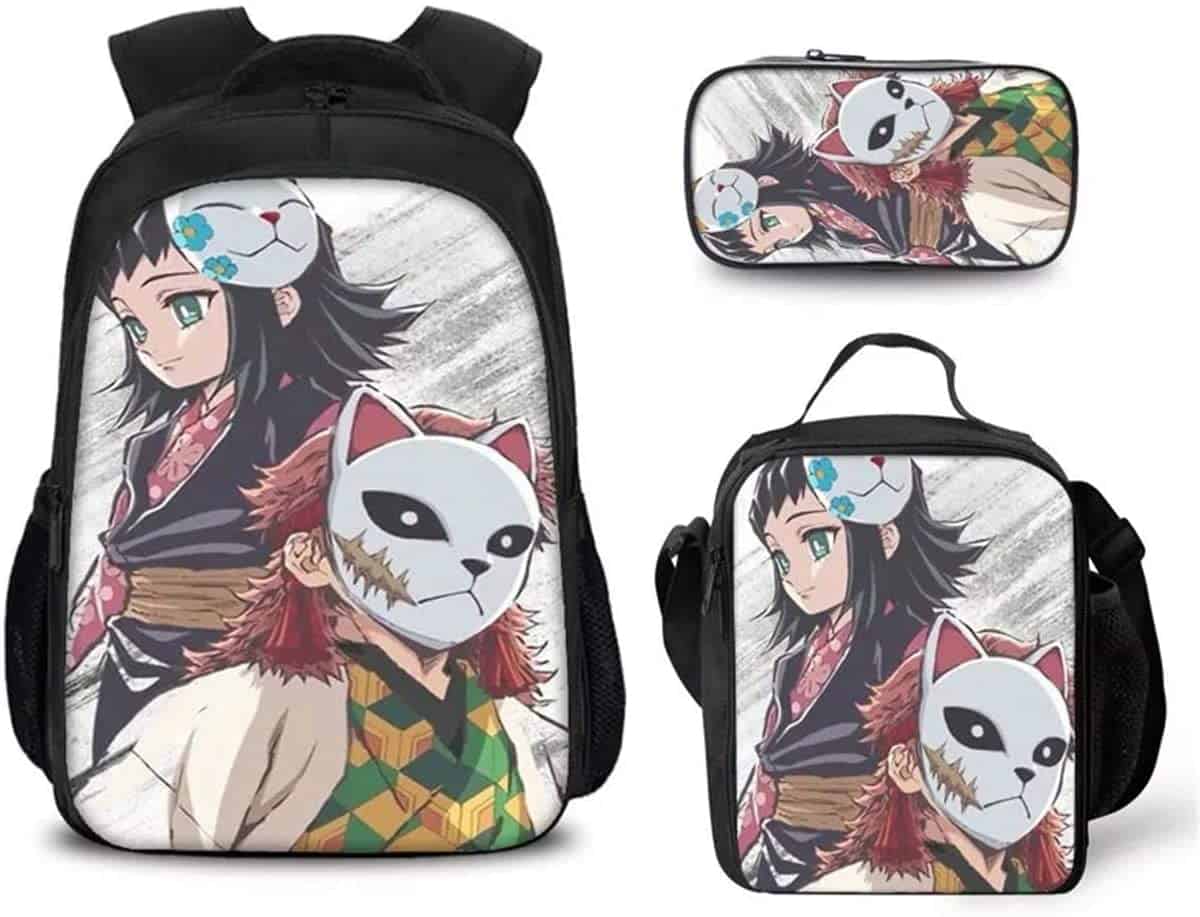 When I was a child, I always thought there would be someday when I would not have to carry a bag. Even after entering my twenties, I am still waiting for that day.
In my view, backpacks are something you cannot take out of your life. Backpacks never seem to leave us, whether it is school, college, night outs, swimming lessons, hiking, fishing trips, or outstation traveling. Being an adventure-seeking guy, I have a variety of backpacks in my wardrobe. But how weird it may sound, most of them are themed on Demon Slayer.    
What Makes Demon Slayer Backpacks Different Than The Rest?
If you are a Demon Slayer lover like me, you will agree that not a day goes by when we do not want to get closer to Tanjiro. The pure form of love between a brother and a sister, putting each other before themselves, made us fans stick to the series. The display of courage, selflessness, sacrifice, and resoluteness is evident in the series. 
Demon Slayer-themed backpacks are the proponents of such characteristics and emotions. Having them on your back instills these traits into your personality. Also, who would not want to showcase their affiliation with some of the strongest manga characters ever created?    
An Expert's Buying Tips, Tricks, and Advice
Make Up Your Mind About The Theme You Want To Go With!
One thing is for sure, with the variety of backpacks offered by the Demon Slayers series, it would be impossible to collect every Demon Slayer-themed backpack. My suggestion would be to narrow down your choices to your favorite characters, be they Hashiras or 12 moon demons. Once you are sure which characters you prefer, simply scout for the backpacks that are themed on those characters. 
Read Reviews About The Backpack And Avoid New Sellers
Unfortunately, with the spread of e-commerce, many profit-seekers exploit the market. Their common vile tactics include fake reviews, fake pictures, inaccurate descriptions, attractive sale prices, etc. It would be naïve to construe that somebody offers the same quality at half the price. I suggest avoiding such tempting selling tactics and going for the sellers with good ratings.
Take A Tape Measure And See How Big Do You Actually Need The Backpack
In my experience, most backpack shoppers end up with either bigger or smaller backpacks than they actually need. The reason is that even if the backpack's measurement is there in the description, they are actually unable to understand how big they will be in real life. The best way to avoid such a situation would be to take a tape measure and see how big your backpack will be.
Typical Problems Associated With Buying Demon Slayer Themed Backpack And Their Solutions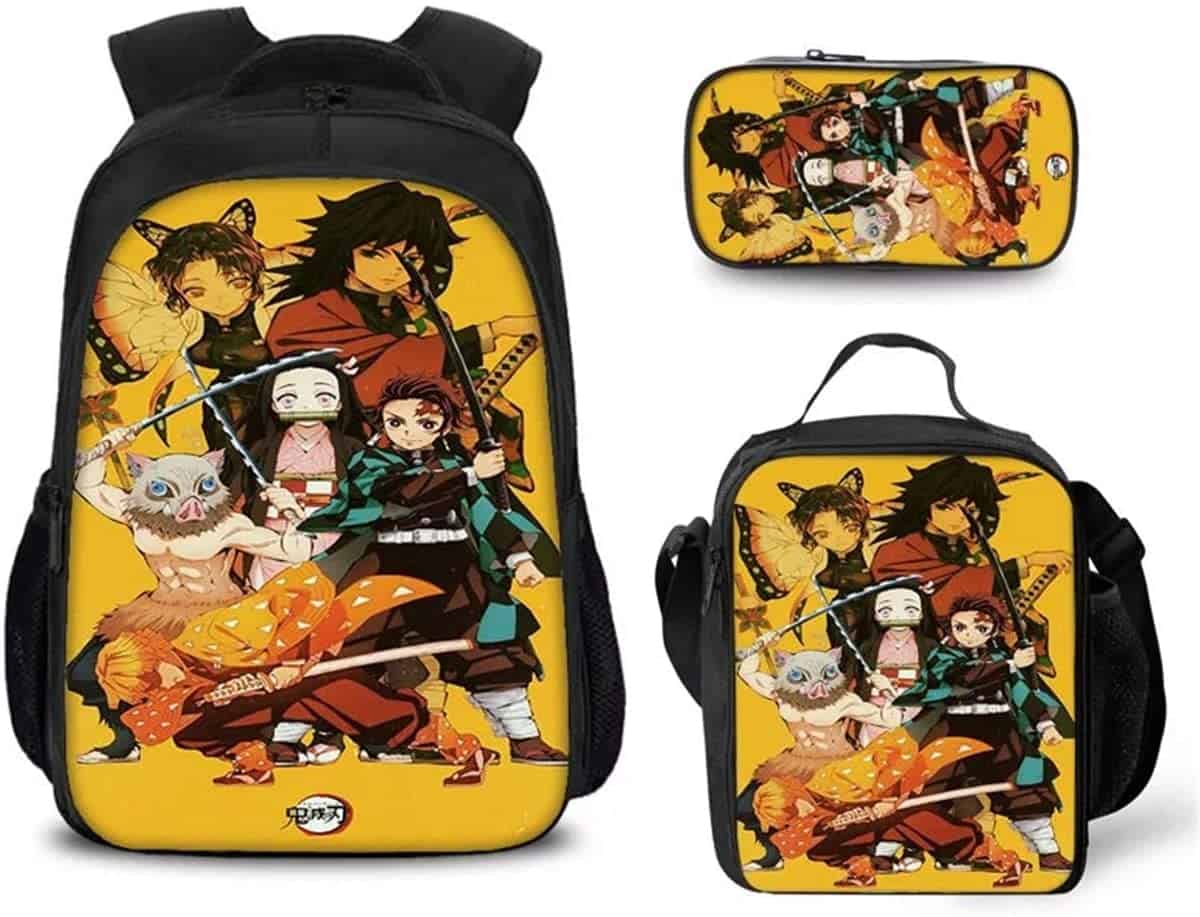 Print Quality Of The Backpacks
Well, the most common problem that a backpack shopper might face would be weathering of his favorite backpack. Over time, exposed harsh weather conditions wear off the print quality of the bags. That is why some packs are made explicitly for these weather conditions. 
Before buying your favorite Demon Slayer-themed backpack, decide whether you will use it indoors or outdoors. If you want to spend more time with your favorite bag outside, go for outdoor bags that are more durable and have good quality print.
Stitching Of The Backpacks
One thing that might be overlooked by the shopper when they are making their favorite purchase is the stitching of their backpack. In my experience, the backpack's durability has the most to do with its stitching. 
When making an offline purchase, you can know its stitching by pulling hard on the backpack's seams. However, if you are shopping online, do not forget to text the seller and ask about its stitching quality to be sure.
Material Of The Backpacks
As backpacks have an extended range of uses, it is always recommended to buy bags made of good quality material. However, assessing the backpack's material when making an online purchase becomes nearly impossible.
If you want to save yourself the trouble of ending up with a low-quality backpack, always research the material of your bag. You just have to simply note the backpack's material as mentioned in the advertisement. Then, you can browse that material and see if the material offered by your favorite Demon Slayer backpack serves your purpose.
Why Did I Choose These Backpacks: My Selection Criteria
The suggestions that I have made in this Demon Slayer themed backpack guide are based on the following factors:
My personal experience with these backpacks.

The popularity of bags among Demon Slayer fans.

A realistic price range for packs.

The availability of these bags in the market.

Utility of these backpacks. 
My Top 10 Picks For The Best Demon Slayer Themed Backpacks
#01 Demon Slayer Backpack, Double Sides Printed Bookbag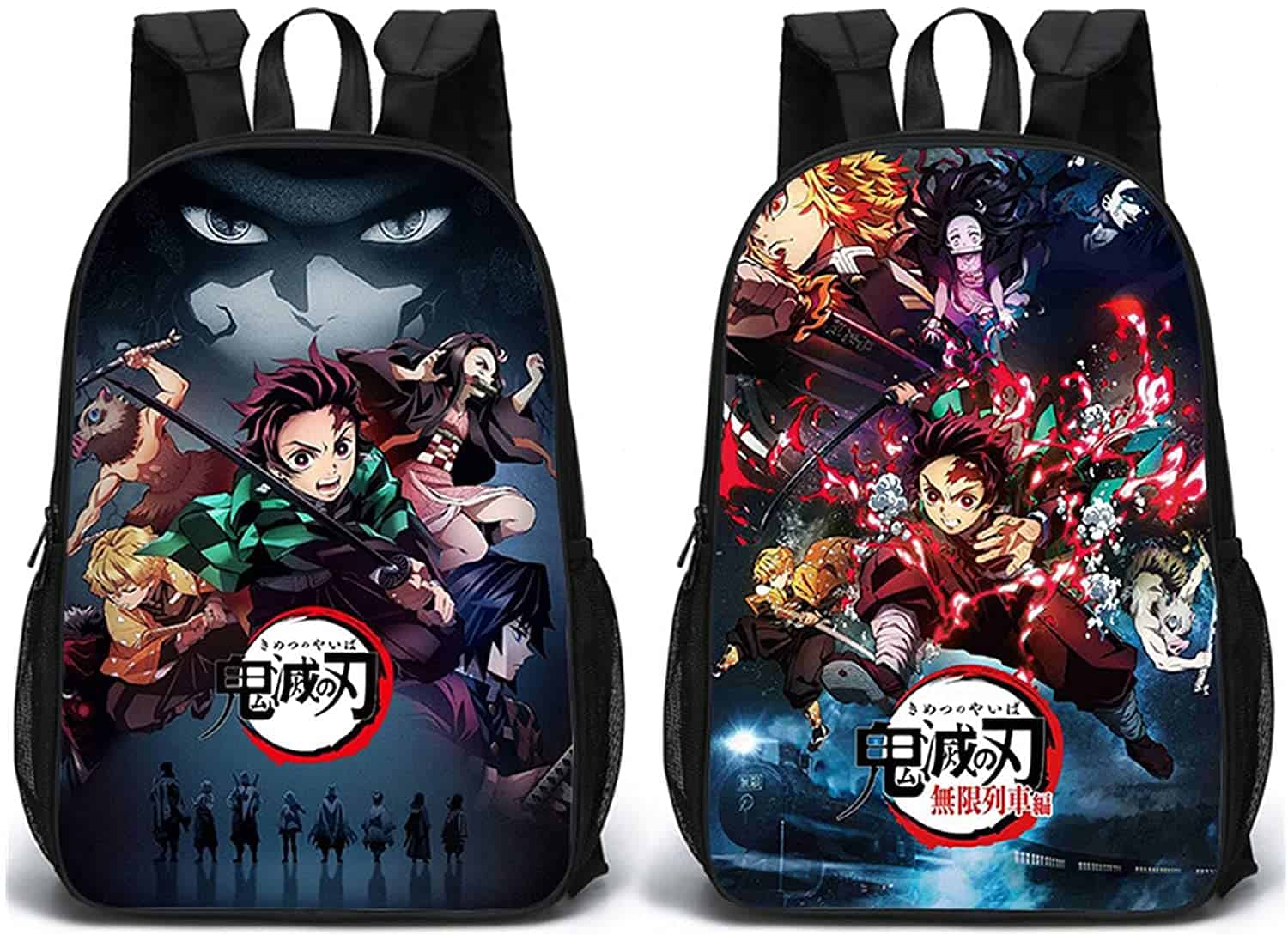 Let me begin with one of the most eye-catching backpacks offered by the Demon Slayer merchandise. The mere look of this backpack is enough to make a fan go for it. You can see almost all of your favorite characters in this backpack. Tanjiro, Nezuko, Inosuke, Zenitsu, and Giyu are all portrayed in very heroic positions.
The evil eyes of Kibutsuji can be seen in the backdrop of these heroes. If you further look down at the bottom of this backpack, you will be amazed to see the lineup of all the strongest slayers, i.e., Hashiras. You can also see the action of the Tanjiro squad under the supervision of Rengoku, fighting Azaka on the other side of the backpack. The visual of the Mugen train at the bottom brings many emotional flashbacks to the fans. 
Specifications:
Design:

This unique backpack is printed on both sides. It also has flipping straps that can be moved forward, so the backside of the bag becomes the front side.

Material

: Polyester

Size:

43 cm x 15 cm x 30 cm

Price

: 19.89 USD
Pros:
You will feel that you have two backpacks, as the shoulder straps can be flipped to reveal the back print.

The print is very detailed and sharp.

Ideal for carrying small books.

Comes in an excellent price range.
Cons:
The more worn side will get worn off due to sweating. 

The size of the backpack is only suitable for holding very few books.
#02 Zenitsu Manga Backpack Kimetsu No Yaiba Merch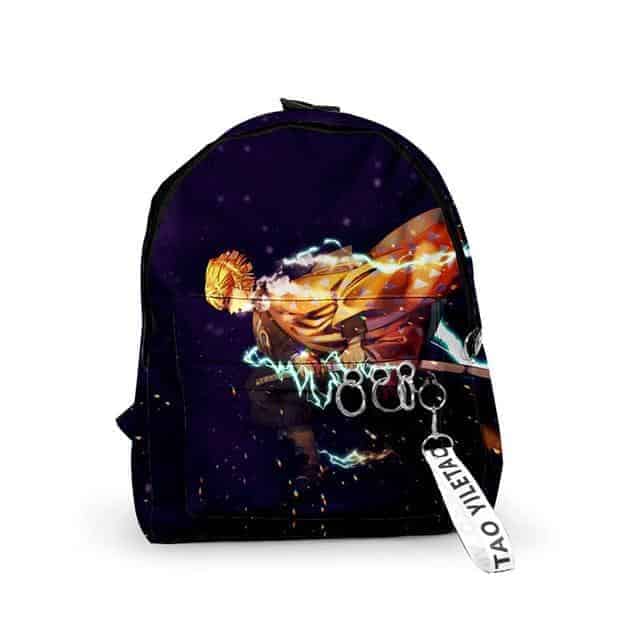 One scene that always has the Demon Slayer fans in awe is the Zenitsu sword-wielding. Zenitsu, after being struck by lightning while training, developed this extraordinary ability to perform thunder breathing techniques. What makes his attack fascinating is that he is unconscious during the attack. This backpack displays the unsheathing of his blade in a very captivating way.
Specifications:
Design:

This backpack comes with small pockets at the front. These pockets have rings that allow keychains to be attached to them. The gear comes with a high-end print that is UV resistant.

Material:

Polyester 

Price:

39.99 USD
Pros:
This backpack comes with free shipping.

The waterproof material makes it perfect for rainy days.

The UV-resistant prints will make your bag look new for an extended period.

This backpack comes with a 14-day money-back guarantee.

The seller also provides an international warranty based on the country of usage.
Cons:
The backpack's material is vulnerable to wear and tear under intense sunlight.
#03 Demon Slayer Tanjiro Checkered Backpack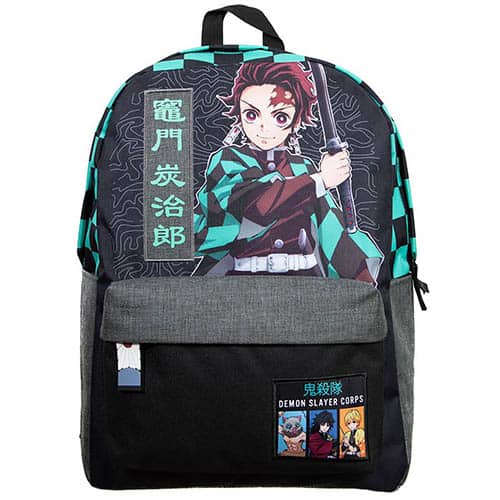 Tanjiro, the proponent of love and justice, is undoubtedly the apple of every Demon Slayer fan's eye. The story of Tanjiro is what keeps this series going. His selflessness is something that is not quite common among other characters. This Tanjiro themed backpack offers a central print of Tanjiro in his Demon Slayer Corps uniform, with a hopeful smile across his face.
The bottom of the front of the backpack can also be seen with the prints of the most trusted people of Tanjiro, i.e., Inosuke, Zenitsu, and Giyu. 
Specifications:
Design:

The backpack comes in two color patterns, i.e., green checkered kimono and gray bottom. One of the best things about this backpack is that it also offers the famous Hanafuda earrings worn by Tanjiro throughout the series. 

Pockets:

This backpack has two side pockets for water bottles and an inside slide pocket for a laptop. This pocket can easily fit up to a 15″ laptop.

Material:

This backpack is made up of polyester and webbing materials. 

Size:

17″ X 12.5″ X 6.5″

Price

: 50 USD
Pros:
A padded pocket for the laptop to keep it safe.

This backpack can easily be cleaned with a damp wipe.

The polyester and webbing material mesh makes it more durable than ordinary backpacks.
Cons:
This backpack is a bit costly for those who are tight on budget.
#04 Kids Demon Slayer Casual School Backpack + Lunch Bag + Pencil Case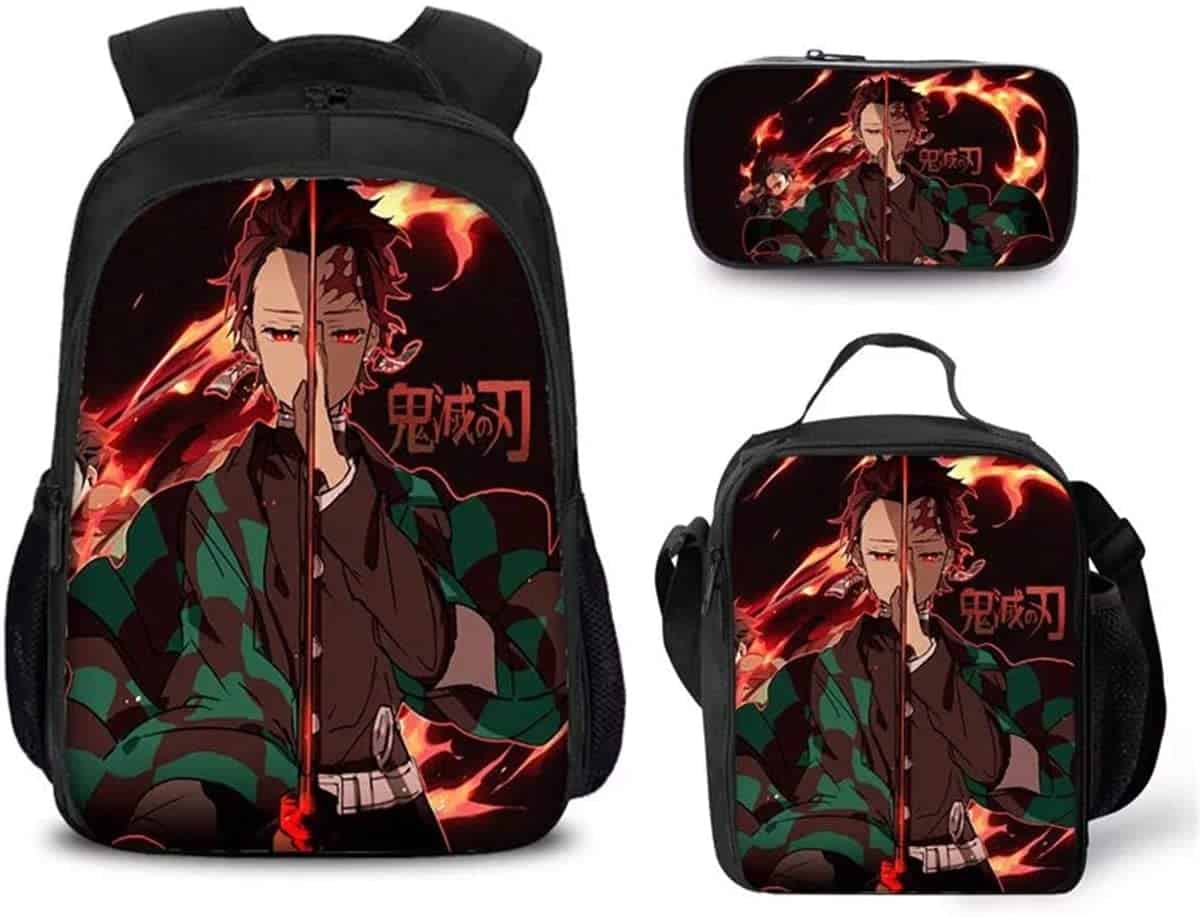 Ok, Tanjiro fans, I have something else for you. And I am pretty sure you are going to love it, as it's a three-in-one offer which includes a backpack, lunch bag, and pencil case. Our path with Tanjiro can never be parted. The bond between him and us solidifies more when we see his character developing and becoming more assertive.
This backpack offers a magnificent sight of Tanjiro performing the fire breathing technique. Tanjiro, being a trainee in the water breathing technique, had us taken aback when he first used a polar-different technique, i.e., fire breathing. The details of him performing this beautiful art is something that makes this backpack, along with the lunch bag and pencil case, among the must-have products for a Demon Slayer fan. 
Specifications:
Design:

The simple design of this backpack provides ample space for print. The print's size is considerable, and the image's texture is also smooth throughout.

Pockets:

The backpack comes with two side pockets for bottles. It also has a zipper pocket inside and a few compartments to keep a laptop, umbrella, books, etc. 

Size:

16.93" x 11.02" x 7.87"

Price:

This beautiful three-in-one product comes at around 45 USD. 
Pros:
This backpack is lightweight, weighing around 15.8 ounces.

The stitching quality offered by the bag is commendable.

It also has a working headphone jack.

This backpack can be used for diverse purposes, e.g., traveling, shopping, school, cycling, gym, etc.
Cons:
The allover print at its front is susceptible to scratches.

One has to be careful to expose it to sunlight for a long time to save it from wearing off.
#05 Anime Peripherals Backpack Drawstring School Backpack (Agatsuma Zenitsu)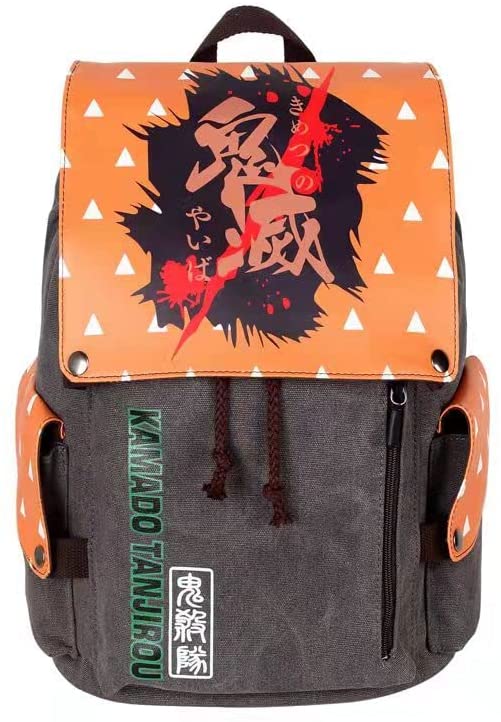 If you are an adult, you might not want to be flashy when showcasing your love for your favorite character. Don't worry; I might have something that will catch your eye. This backpack is based on the Agatsuma Zenitsu's kimono. The orange base with small white triangles inside is a head turner if you are a Zenitsu fan. So, you don't have to worry about finding mature and adult Zenitsu fans.
Specifications:
Design:

This backpack follows a unique style. It has a big pocket in front of it. The main compartment and the front pocket are covered with the Zenitsu's kimono-based flap. The backpack's main section does not have a conventional zipper and can be closed by pulling the string, like a kimono.

Pockets:

The backpack has two side pockets covered with orange flaps. A big padded compartment can also be found in the bag to fit a laptop up to 14 inches.

Material:

Canvas

Size:

10.6" x 16.5" x 4.7"

Price:

34.99 USD
Pros:
Made of Canvas, this backpack is highly durable. So, you don't have to worry about exposing it to harsh weather conditions. 

This backpack can be used for multipurpose, e.g., for school, traveling, outdoor trips, etc. 

With its sticker-designed sealing method, this backpack can provide more space, and you can stuff it more than other backpacks of its size.
Cons:
In my view, children might not like this backpack as it lacks a robust color scheme or any other modish prints to catch their eye.

With its string sealing method, the small objects can easily fall out of the backpack if you turn them upside down.
#06 Anime Demon Backpack Slayer for Girls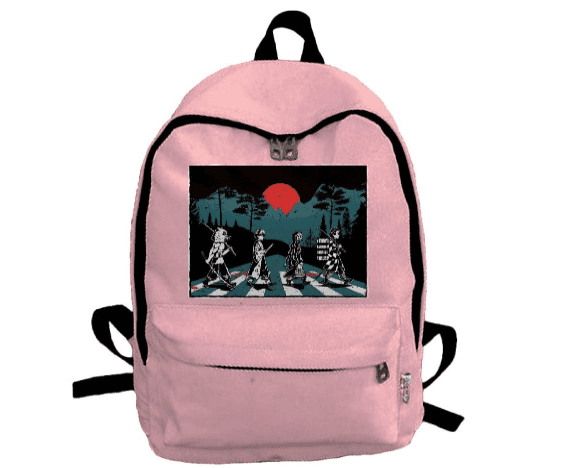 Ok, I know many girl fans would be waiting for some backpack that explicitly addresses their liking. You don't have to wait anymore as this suggestion might intrigue you. This backpack follows a simple look with a print of the Tanjiro squad, i.e., Tanjiro, Nezuko, Zenitsu, and Inosuke, crossing the road with the sun setting on their back. This backpack comes in pink to make it more appealing for girl fans. 
Specifications:
Design:

The backpack features a simple design. Its main compartment is enclosed by a zipper, and its front has a small pocket.  

Pockets:

It only has one pocket inside its main compartment. There are two patch pockets on the lateral sides of the backpack that can easily hold small thermoses or bottles or sippy cups.  

Material:

Twill

Price:

27.99 USD
Pros:
The best part about this backpack is its material. With high-density twill fabric, this backpack is tear-resistant.

It can be used in a rough atmosphere without worrying about its wear and tear.

It can be used for multiple purposes, e.g., traveling, going to college, hiking, etc. 
Cons:
This backpack offers only three other color options, i.e., sky blue, navy blue, and white. These colors are the least popular among fans.
#07 Kocho Shinobu Backpack Pattern Kimetsu No Yaiba Merch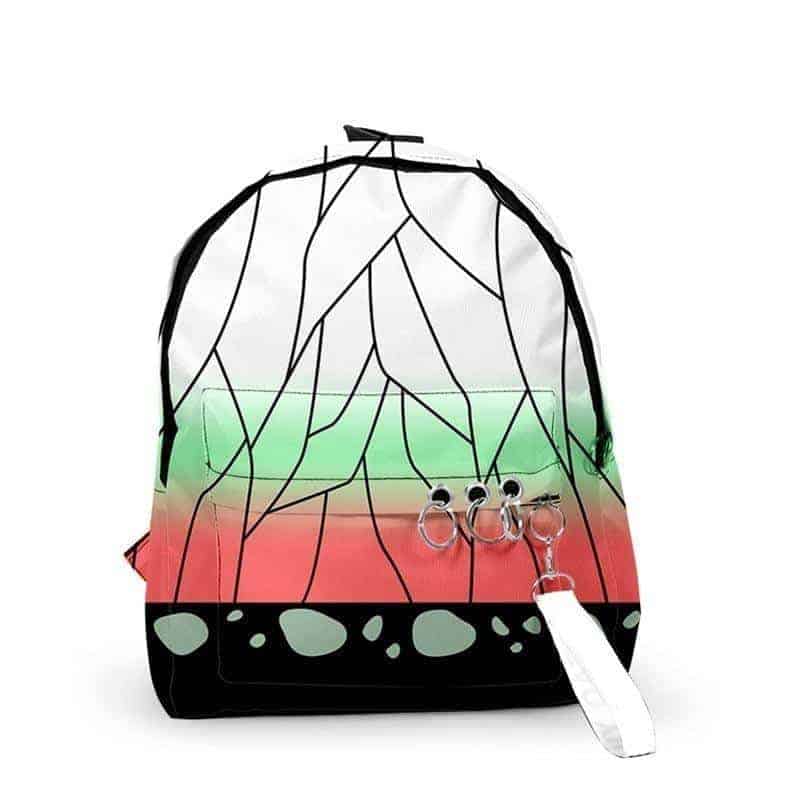 So girls, if you think the previous product was a bit too simple for you, don't worry; I got your back. This Kocho Shinobu backpack might be a perfect match for you. Being one of the finest Hashiras, Shinobu is also famous among boys, and her smile is no less than a killer. 
This backpack is based on her kimono. It offers a colorful display just like an insect and is pretty elegant. Having this backpack on your back will grant you the graceful personality of Ms. Shinobu. The bright print of this backpack is appealing to both kids and adult fans alike.
Specifications:
Design:

This backpack offers a delicacy. It has a pocket at its front with keychain rings attached to them. These rings look as if Shinobu is wearing them as earrings. 

Material:

Poly-cotton

Size:

29cm x 12cm x 40cm

Price:

42.99 USD
Pros:
The seller of this backpack offers a 14-day money-back guarantee.

This backpack also has an international warranty.

It is waterproof.

The air deflector back allows a constant airflow and does not make the back wet due to sweating.
Cons:
It does not have many compartments and, therefore, would not easily manage small things inside it.
#08 Anime Cosplay Shoulder Bag, Hashibira Inosuke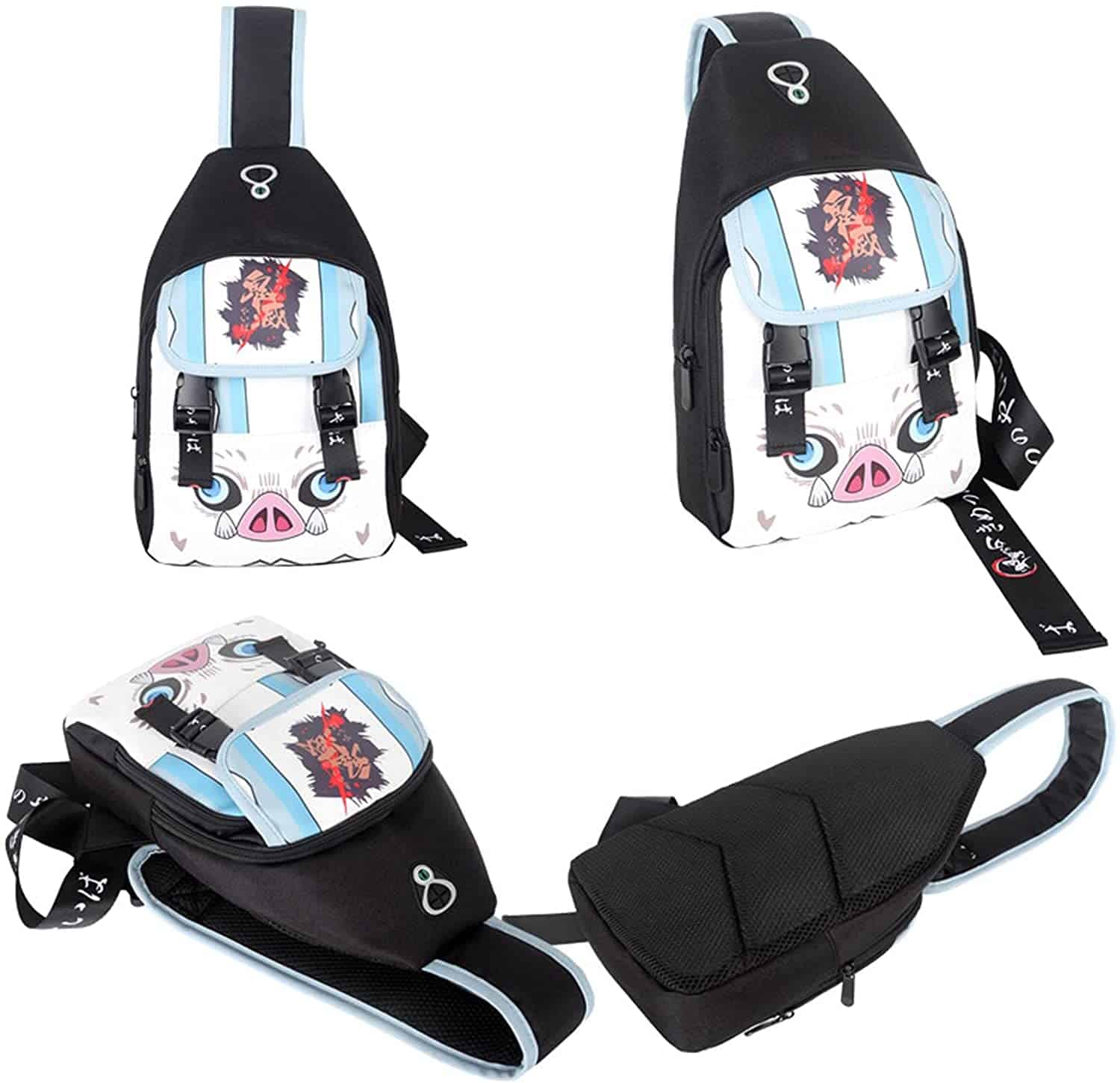 You might wonder if I have missed any reference to the most giant knucklehead slayer from the Tanjiro squad. Well, I have not. And how can I? Dear Demon Slayer fans, let me introduce you to the memorabilia of boar-head demon slayer: Hahibara Inosuke Shoulder bag. 
This backpack is based on the boar head that Inosuke is seen wearing most of the time. With this backpack on your back, I am pretty sure nobody would want to mess with the raging boar.    
Specifications:
Design:

What makes this backpack different from all the products I have mentioned is its single shoulder strap. The main compartment and the front pocket have casual zippers, and an oversized flap covers them with the help of clips. The back of the backpack is well-padded and has air deflectors, and it also comes with the inlet for a headphone cable.

Material:

Polyester

Size:

31.5 cm x 5 cm x 17.5 cm

Price:

16.99 USD
Pros:
It is one of the most affordable options among backpacks.

The air deflectors at the back of the bag keep it dry.

The flap over the main compartment and front pocket saves the zipper from wear and tear.
Cons:
It is only suitable for carrying a few items like a few books, laptops, or a few clothes, etc.

It does not offer side pockets for holding water bottles.
#09 Rengoku Kyojuro Backpack Pattern Kimetsu No Yaiba Merch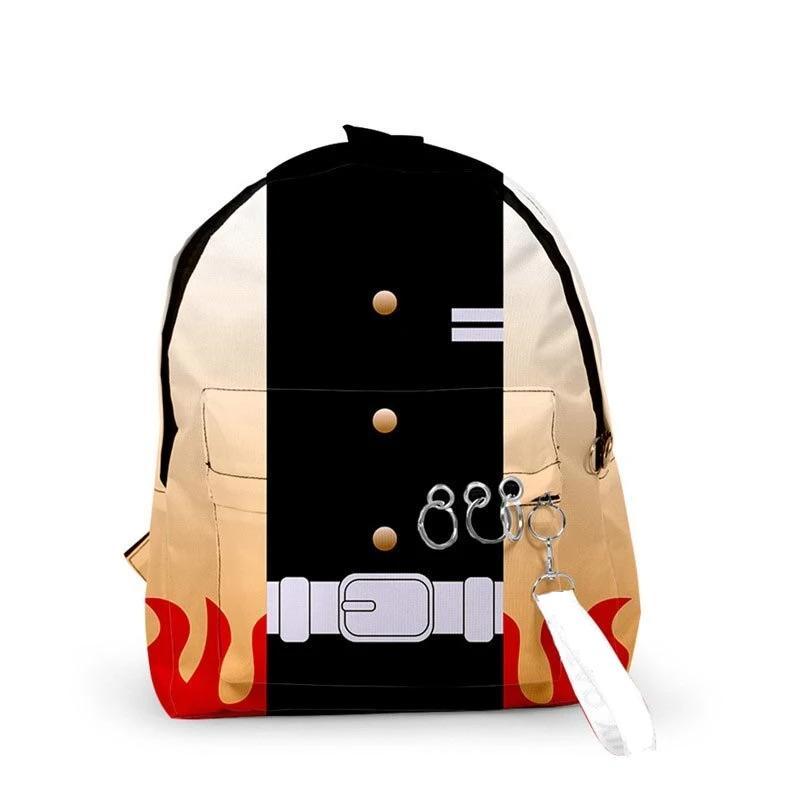 This guide will be incomplete if due regard is not given to the most lively and resolute Hashira, Rengoku Kyojuro. This backpack is dedicated to all those charismatic fans of Rengoku who lost their part with his demise. This backpack is printed with Rengoku's uniform. Therefore, apart from using it as a backpack, it can be kept as a homage to Rengoku.
Specifications:
Design:

This backpack comes with a front pocket and an internal compartment for holding a laptop.

Material:

Poly-cotton

Size:

29cm x 12cm x 40cm

Price:

44.99 USD
Pros:
It is waterproof and comes with an international warranty.

The breathable padding at its back allows it to remain dry when wearing. 
Cons:
The price is set higher for such a simple design. 
#10 Nitoen Demon Slayer Little Kids Travel Backpack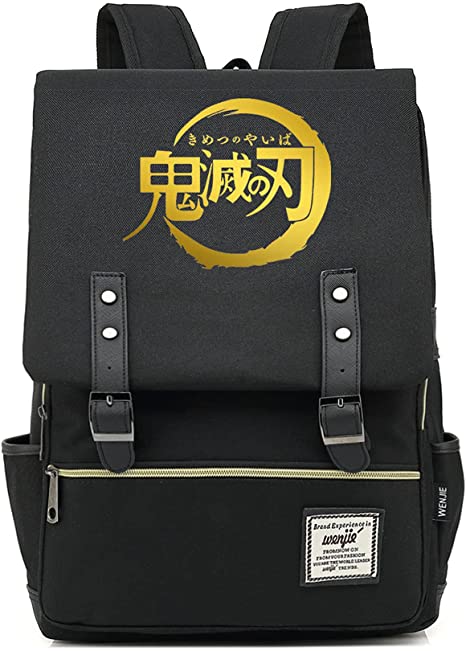 I have something for you if you like all these suggested backpacks and cannot narrow it down to a single option that falls within budget. This Demon Slayer-themed backpack offered by Nitoen is black in color and has a vintage look that goes well with the uniform of the Demon Slayer Corps. You would feel like a Demon Slayer when you carry this backpack on your back.
Specifications:
Design:

This backpack offers pockets at its front. The main compartment and the most prominent front pocket are covered with a flap attached to the bottom of the bag with magnetic snap buttons. The back of the backpack is padded to provide extra safety to intricate objects.

Pockets:

It has two side pockets as well as two front pockets. There is also a separate compartment for holding a laptop inside it.

Material:

It is made up of solid fibers similar to rucksacks.

Size:

11.8″ x 5.1″ x 16.5″

Price:

38.99 USD
Pros:
The rigid material of the backpack makes it waterproof and tear-resistant.

It provides ample space to carry your essentials for short trips.

This design is also available in a variety of colors to choose from. 
Cons:
It lacks vibrant prints of any scenes from the series, making it not quite popular among kids.
FAQs
Question: Are all the backpacks suggested above officially licensed?
Answer: No, not all of them are officially licensed. The officially licensed products are minimal and, therefore, are priced at a higher rate, e.g., Rengoku Kyojuro Backpack. If the backpack offers good quality, you need not to worried if it's officially licensed or not.
Question: Can these backpacks be used for multipurpose?
Answer: Well, it depends on what multipurpose you have in your mind. If the backpack is made of pure polyester, it cannot withstand scorching heat. Therefore, such bags are not suggested to be used in harsh weather conditions.
Question: How would I know if a backpack is a perfect fit for me?
Answer: It all depends on your liking, budget, and use. If you are a lover of some specific character, narrow down your backpack choices to that character. After that, assort these backpacks that fall in line with your budget. Then you may select a bag that fulfills your purpose, e.g., for school or traveling, etc. 
Question: Can I gift these backpacks to people who are not Demon Slayer fans?
Answer: Why not! Although Demon Slayer has a strong fanbase, it does not mean other people hate it. Even if someone does not identify as a Demon Slayer fan, you can confidently gift them these backpacks. They are not mere memorabilia; they are used as everyday backpacks.
Question: How long do these backpacks take to arrive if I order them online?
Answer: Well, there is no straightforward answer to this question. The shipping of these backpacks depends on many factors, for example, shipping companies, manufacturing countries, different custom policies, etc. However, international shipping usually takes one to three weeks. It would be better to ask your seller about the delivery date and keep track of your shipment.
The Best Demon Slayers Themed Backpacks Guide: Wrapping Up
Being the 9th best-selling manga series of all time, Demon Slayers need no introduction. The series developed a big fanbase as soon as it was launched. The unique emotions of siblings' love, sacrifice, resoluteness, and belief extended its popularity worldwide. This popularity led to its becoming one of the highest-grossing media franchises by generating a revenue of 8.75 billion USD in 2020.
This guide provides essential details if you are looking for a Demon Slayer-themed backpack. Before you go for a bag, try not to forget to look at the reviews in its advertisement. You may also want to measure the backpack's dimensions that you are about to order. Furthermore, ask the seller about the print quality and the bag's stitching before adding it to the cart. 
My favorite backpack of all the suggestions is Nitoen Demon Slayer Little Kids Travel Backpack. Its price tag, multipurpose usage, durability, and classic style attract me the most. It also goes well with my every outfit. I genuinely believe that my above-detailed suggestions have offered you a deep insight into these backpacks. I hope you can now make an easy decision that suits you the best. Ganbatte!
Read More: