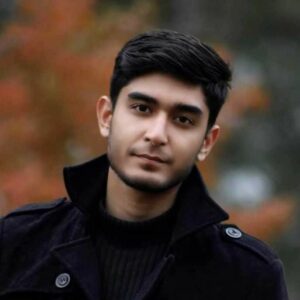 Latest posts by Asad Mehmood
(see all)
My connection with Demon Slayer started when the series was first published way back in 2016. On reading the first few volumes, I would be lying if I said it wasn't intriguing. With that, it quickly became one of my favorite Japanese series of all time.
And while this iconic Shonen may have ended in mid of 2020, the flame it has ignited inside me goes on strong to date. You might as well call me the next Flame Hashira! Ok, just kidding. It would be nice, though. 
Its unique story-telling and character design further enticed me. And seeing how each character features a well-defined backstory almost made me feel like I was also a part of the story. This love for the series went on to become life-changing.
As soon as the franchise started releasing merch, I was hooked, and I began to buy massive piles of Demon Slayer toys, Funko-Pops, dolls, etc. But the absolute banger came in the form of toy swords. And due to their significance in the series, they were like nothing I had seen before. 
It is scarce for a piece of toy to bring so much meaning and excitement to the table. This leads me to buy almost every famous Demon Slayer toy sword out there. It wasn't easy; I made many mistakes along the way.
But you are in luck because, in this Demon Slayer toy sword guide, I will not only be mentioning the best ways to buy these toy swords. But also give you my insight into finding and picking the best this genre offers. So, put on your Demon Slayer uniform because this will be one scary ride!
Best Demon Slayer Toy Swords: Bottom Line Upfront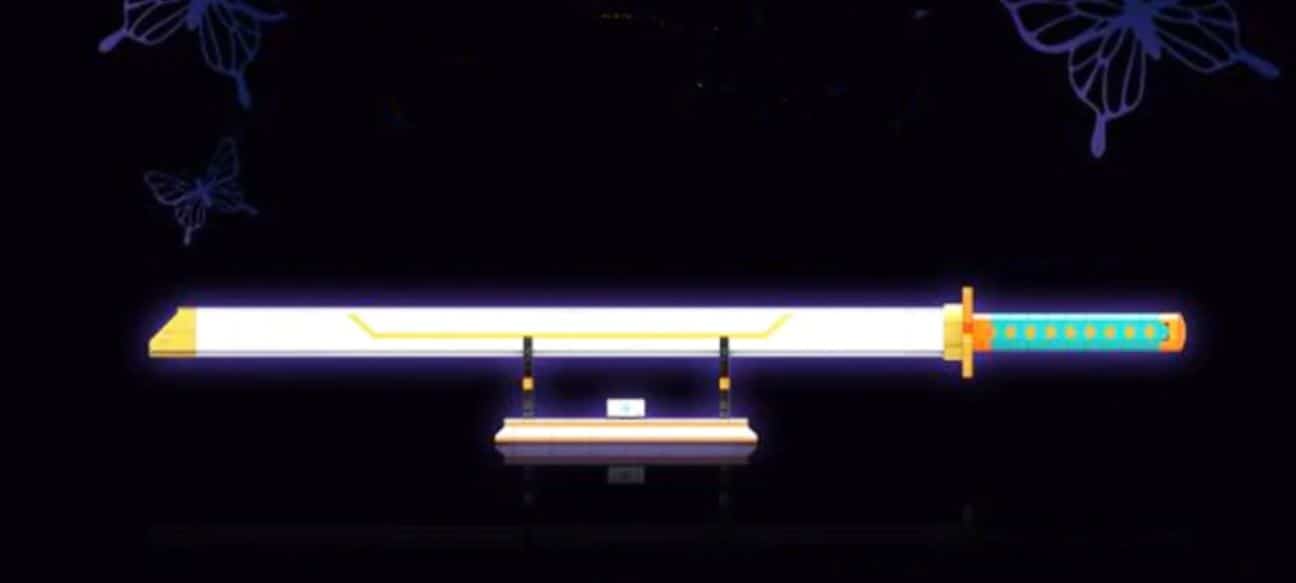 Like the mysterious and gloomy environment depicted in the series, these toy swords share the same underlying persona. And while most define the dark and blood-stained path followed by the Demon Slayer corpse. Many of these toy swords also possess the unique personalities these wielders offer. 
And this has forced me to choose Bandai Tanjiro DX Nichirin Sword as my favorite toy sword in my collection. The main reason for picking this particular sword is the personality it ultimately represents.
While the lights and sound effects hint toward Tanjiro's clumsy side, the broken, burning blade option reminds me of his resolve and determination to save his little sister. Following are some more of my toy sword picks that will surely put a smile on your face.
List Of My Top 10 Best Demon Slayer Toy Swords Picks At A Glance
Things To Consider While Buying Demon Slayer Toy Swords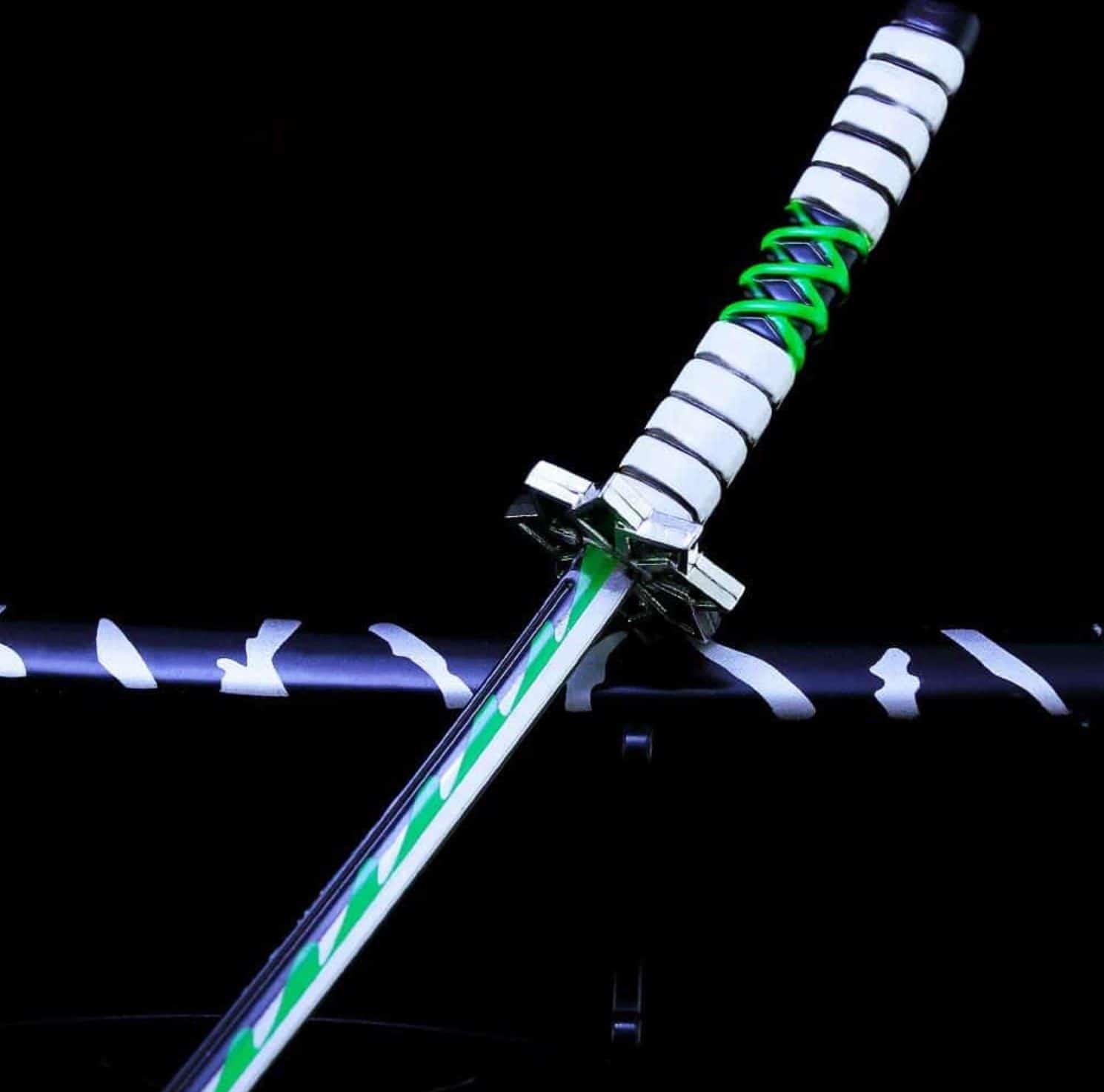 While you are shopping for a Demon Slayer toy sword for yourself or your little one, there are some things you have to consider. This can help you pick a better toy, as well as make sure you don't waste money on an unwanted sword:
Age And Suitability
Whether you're buying the toy sword for yourself or as a gift, checking for compatibility and age limit would be in your best interest.
A foam or plastic sword is preferred for smaller kids due to the lightweight and safety they offer over metal swords. But if you're a more hardcore fan of Demon Slayer and plan to use it for cosplay, I recommend you go for more robust options like bamboo or steel. 
Picking A Sword
Before browsing for a Demon Slayer toy sword, I recommend picking the sword design first. Whether you want Rengoku's flame sword design or you wish to wield doubles like Inosuke and Tengen. Managing your options and picking the right style of toy sword goes a long way in choosing the proper blade for you. 
Price Point
Whether you are buying it for yourself or a loved one, one thing to always consider is the price. As most of us are not being paid by the Demon Slayer Corps, we are on a tight budget. I recommend you check out multiple listings, as most will offer varying price points. And can help you save significant money in the long run.
My Top 10 Best Demon Slayer Toy Swords Picks
#01 Demon Slayer Sword Upper Moon 1 Kokushibo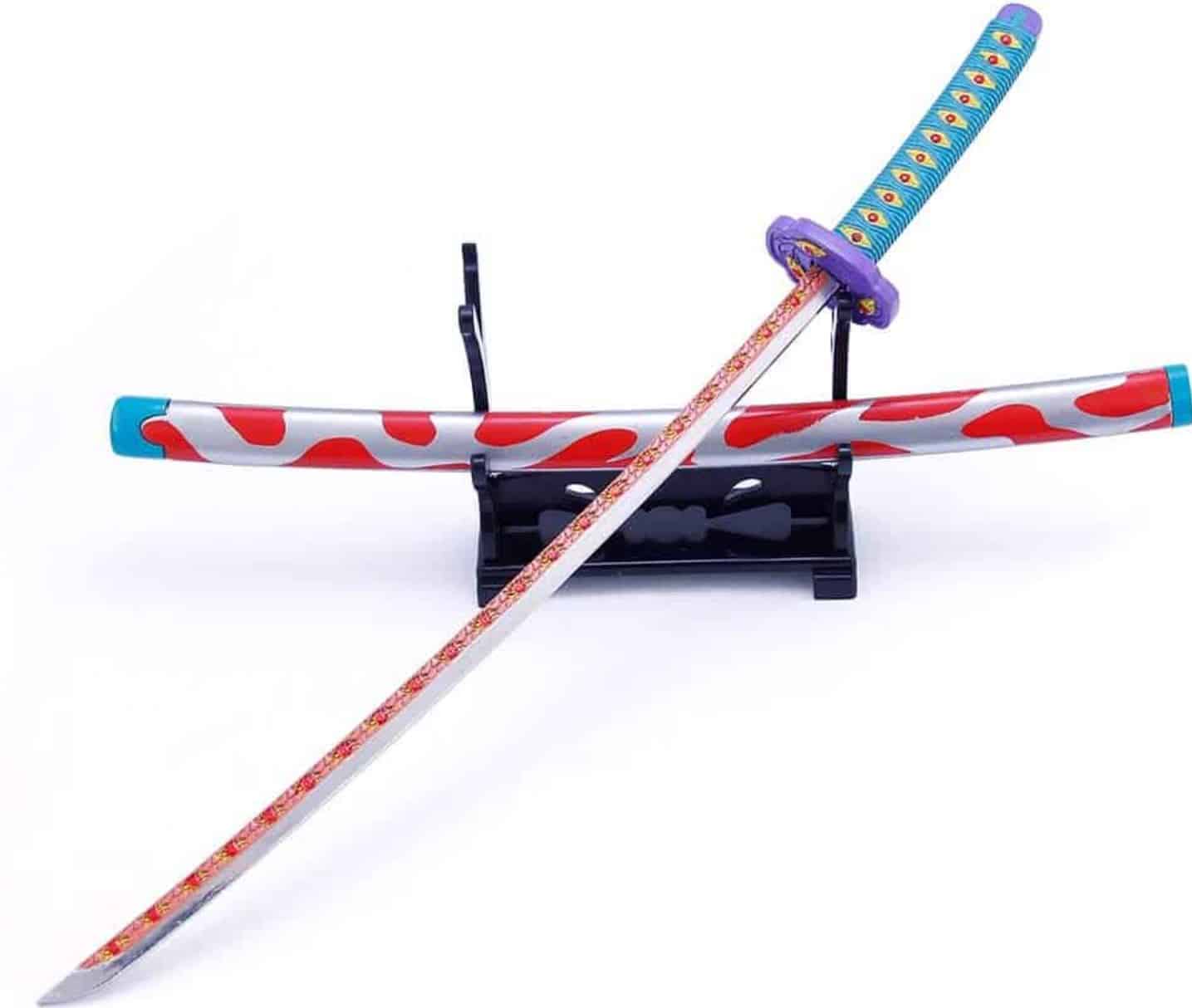 Description:
While swords are primarily seen in the hands of Demon Slayer, Kokushibo was an exception, which makes this Kokushibo toy sword all the more unique. Alongside being one of the strongest demons in this series. Kokushibo also shares a dark and resentful past. And this is perfectly depicted through this toy sword's expert craftsmanship and design.
When I first saw the sword, I was memorized by its blade, lined with red eyes like the one Kokushibo displays on his head.
And with this, the sheath also doesn't miss any chance to uplift its master's glory. The handle has a threaded texture, which gave me something to grab while swinging, allowing for a firm grip. And its mixture of plastic and metal gave it some weight, which allowed for an impressive impact behind each blow.  
And despite being just a toy, the dark presence inside the blade is undeniable. It reminds me of Kokushibo's composed and grim personality. And having this otherworldly piece in my room allowed for some very intriguing conversations.
It also comes in at a very affordable price, and the included sword stand further adds to the value. But the piece does feature pointy edges, which, while faithful to the series, can also be a 'poking' hazard for small kids.
Pros:
Impressive design, quite realistic to the series.

Low price point, not too heavy on the pocket.

Included plastic Stand.
Cons:
The pointed corners can place a poking hazard.
#02 Demon Slayer Giyu Tomioka AR Nichirin Sword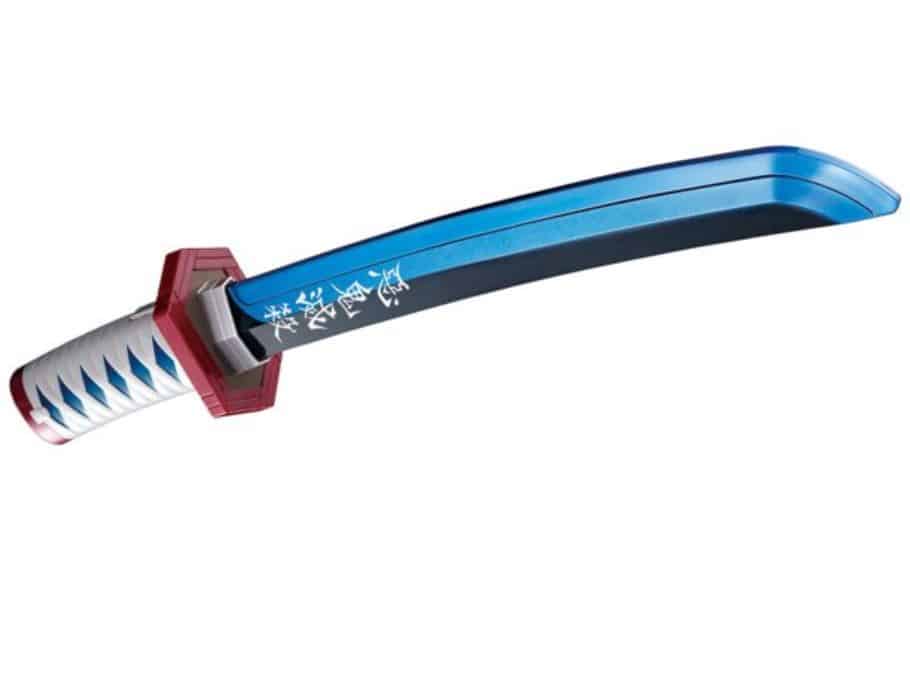 Description:
While mentioning some of the best toy swords Demon Slayer has to offer, how can I forget to mention the sword possessed by Giyu Tomioka.
Although Giyu has a rather reserved and stoic personality, this toy sword brings out the fun and excitement inside him. The toy sword's bright and vibrant patterns further elevate his unique attire. Allowing it to be a perfect gift for any Demon Slayer fan.
The included light and sounds give the toy sword a certain flare, allowing me to have several hours of fun. Its AR mode is also nothing to frown upon. The sensors inside it can detect its location and make several different sounds depending on my movement.
I also found a code on the back of the box, which allowed me to bring Giyu into the AR world and play with him in real time. Allowing for a very immersive virtual reality experience.
Overall, the sword is very light and easy to swing. And with its included six different dialogs, becoming Giyu was never easier. It does come in at a very high price, usually around $70. Still, it is well worth it, especially looking at all the features it packs and its impressive build quality. 
Pros:
Sturdy and stiff, it doesn't warp while swinging.

Light and small perfect for kids.
Cons:
High prices can be difficult for fans on a tight budget.
#03 Demon Slayer Sword Uzui Tengen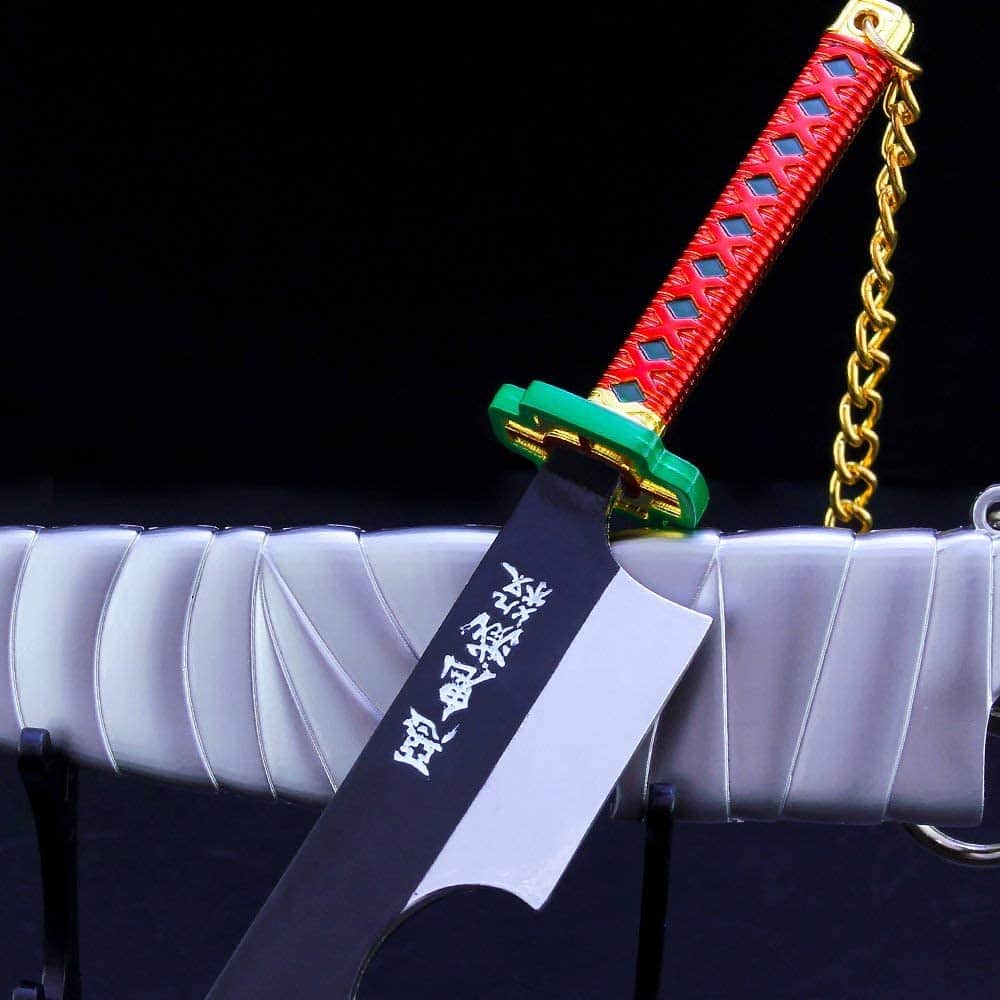 Description:
Like his flamboyant personality, this Uzui sword gives more than just demons a run for their money. Uzui Tengen has a unique and amusing mind. And his desire to have everything flashy certainly stretches to this toy sword.
And together with his willingness to party, it also contains his will to fight. The impressive craftsmanship of this sword is also nothing to be ignored. And it definitely, holds its own in my already vast collection.
I found it to be a perfect summertime toy, as due to its shiny finish, you can slay enemies with just the reflection of its blade. The blade's handle linked with a particular chain allowed me to stick it to my bag and draw it for quick maneuver.
Another thing I like about this sword is the attention to detail it can capture, especially the size and writing on the blade, just like the one owned by Uzui. It also features a heavy weight that helps give it some momentum while swinging around. But due to its short handle, its grip isn't substantial and can easily slip out of your hand.
So, I recommend keeping it away from unsupervised kids for the same reason. Overall, for newcomers to cosplay, the Uzui sword is the perfect toy to start. And due to its relatively affordable price, it's not going to break the bank. 
Pros:
Authentic design perfect for cosplay.

Has some weight, further proving its quality.
Cons:
Not suitable for kids.

Short handle, can feel uncomfortable after a while.
#04 Tokitou Muichirou Yu Qin Bamboo Cosplay Sword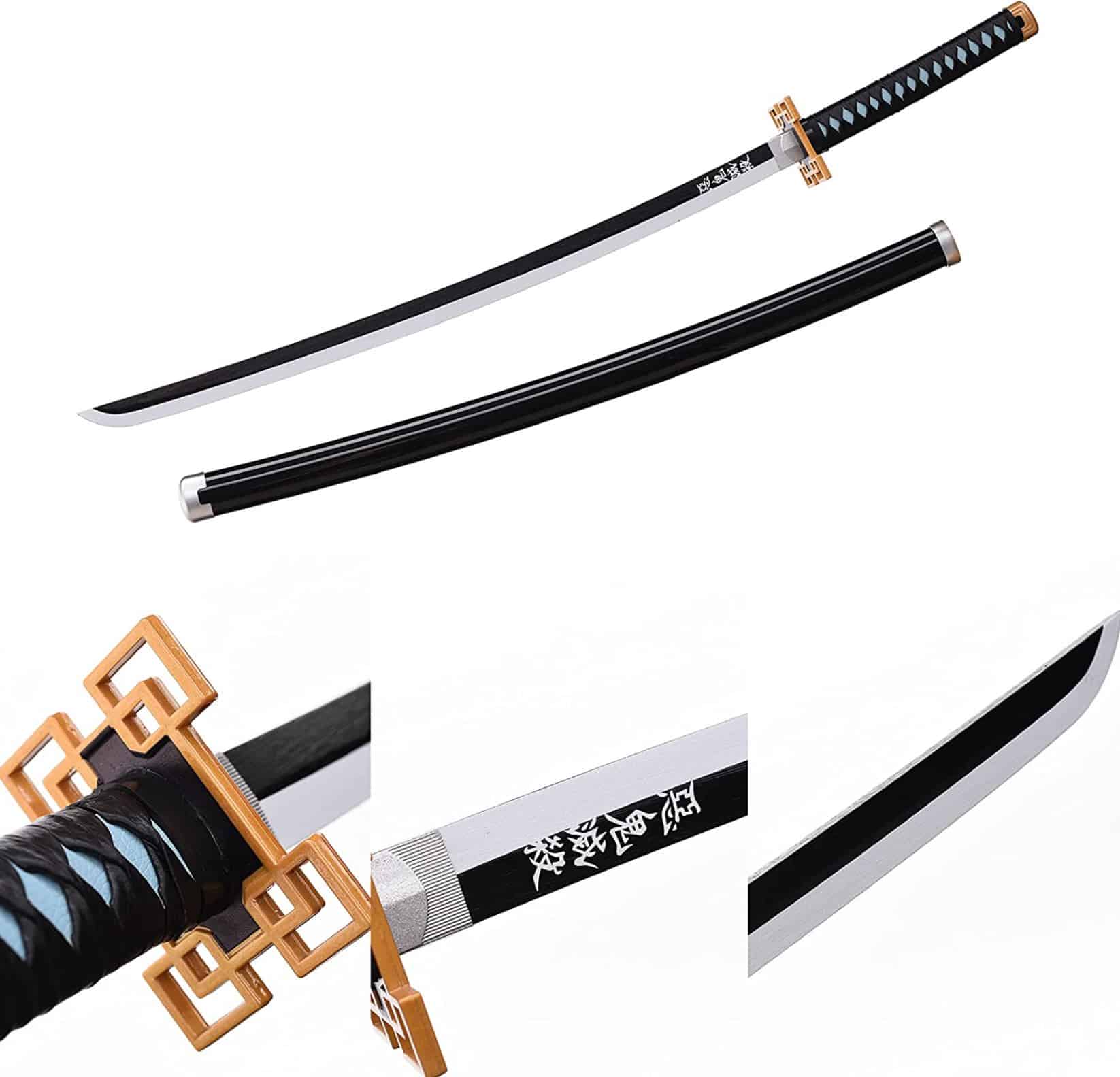 Description:
Tokitou's real skill comes through his expert swordsmen ship, which earned him the title of the Mist Hashira. And this impressive speed and sword skill are perfectly grasped by this bamboo cosplay sword. It shares the same 41-inch black and silver blade as displayed in the series.
And the addition of the words Demon Destroyer engraved in Japanese gives this cosplay sword a hint of Tokitou's true desires. The blade also comes with a black sheath that Tokitou is seen carrying through his mission.
The hollowed rectangular hilt is also a perfect match to the one seen in the series. And proves itself an ideal reminder of Tokitou's hollow but vast personality. Seeing the sword reminds me of his fight with Gyokko, as he used this sword to slash the demon into pieces. While also containing an underlying reminder of his heartfelt death at the hands of Kokushibo. 
Its light and compact build made for a perfect cosplay sword and allowed me to swing it around with great speed and agility. The bamboo structure is relatively stiff, which keeps it from flexing. But the same bamboo build makes the blade weak.
I have broken several Tokitou swords along my adventures, but its core design and low price always urge me to buy the same one. If you plan to keep your Tokitou sword safe, I recommend not hitting it with stuff that your mind says be careful with and keeping it out of kids' hands.
Pros:
Free Delivery 

A 41-inch-long blade, the same in the series.

Made of robust, smooth bamboo making it impervious to flex and bend.
Cons:
A relatively weak blade breaks under pressure.
#05 Foam Blade Demon Slayer Rengoku Kyoujurou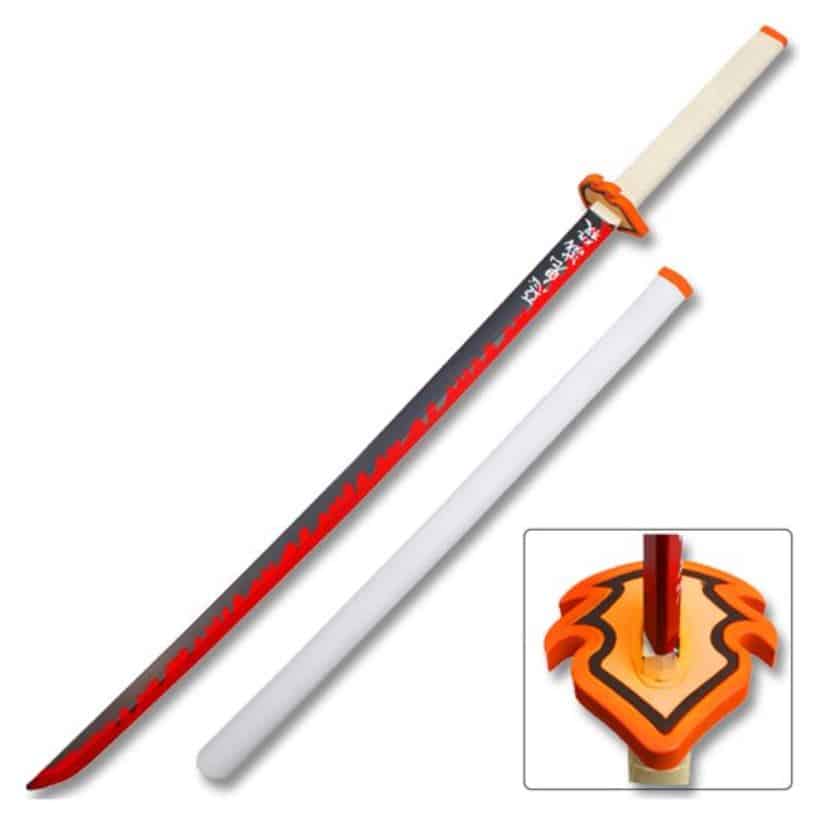 Description:
Being a born fan of the Japanese culture and its use of swords, it was no surprise that the concept of Demon Slayer toy swords just clicked. And this foam sword, which reflects Rengoku's fun and charismatic character, makes that connection stronger.
Its foam blade reminds me of Rengoku's generous and loving personality. At the same time, the red gagged line displays his full glory like a flame Hashira. Seeing Rengoku risking his own life while trying to save everyone and, in the end, succumbing to his injuries was like an eye-opener. And this foam sword was the closest thing I got to that.
His jovial expressions are also perfectly captured by this foam sword and allow me to remember the jokes he cracked in his final moments. With a foam sword, I was able to do the same, running around my neighborhood, swinging it in hopes of slaying my first demon. 
The soft blade makes it light and perfect for small kids, and its white sheath also provides another element to play around with. The times I would take it out of its sheath and boost to friends was unbelievable.
Overall, considering its relatively high price could make it a hard buy. But the amount of detail it carries and the hero it represents make it worthwhile. Its 40.5-inch blade is also something to look up to, especially if you want to try Rengoku's flame breathing.
Pros:
Lightweight, comfortable for small kids.

Attention to detail.
Cons:
Relatively high price.

The foam blade can break with constant use.
#06 Cosplay Sword Shinazugawa Sanemi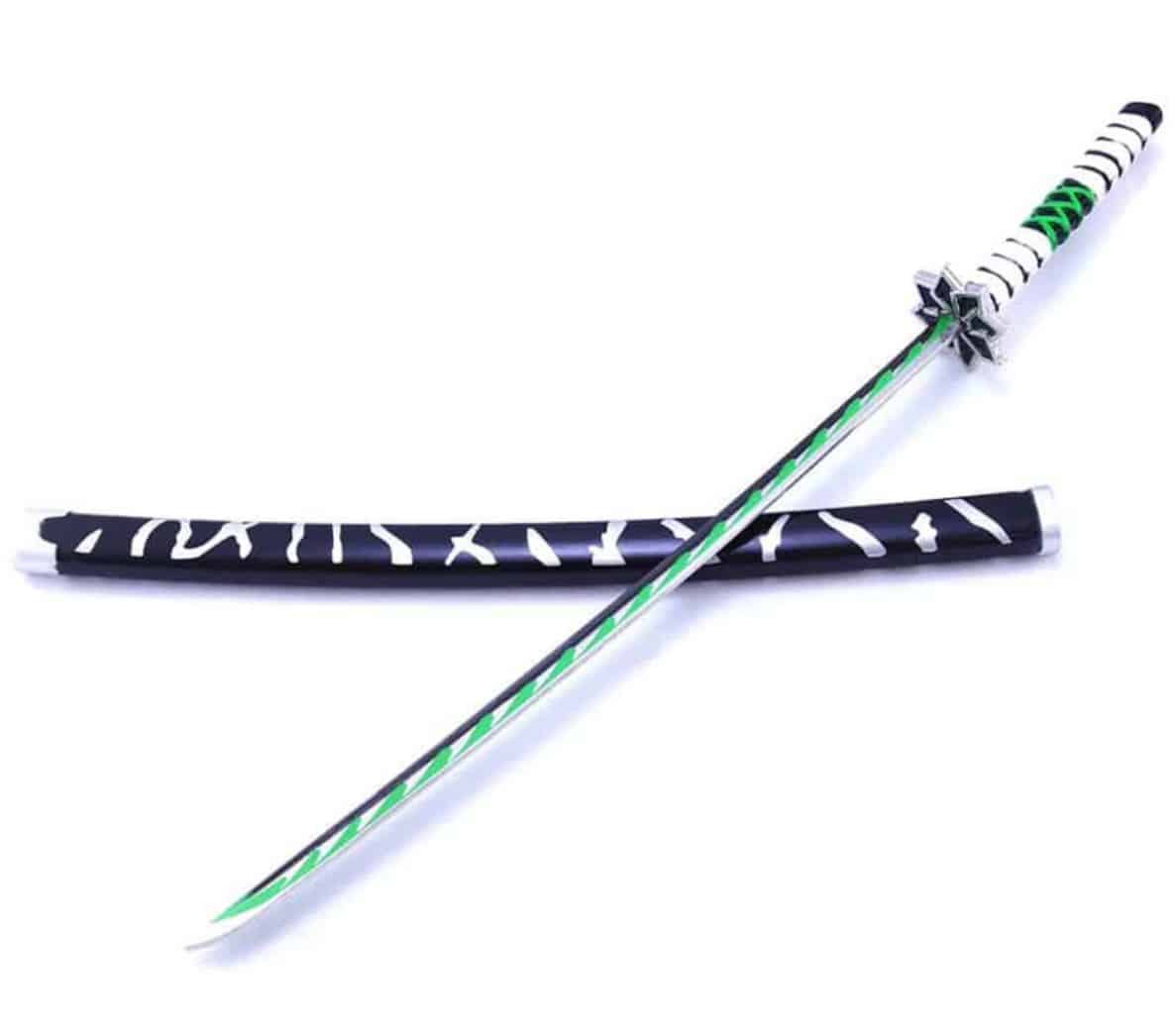 Description:
Although it's not popular amongst many fans, it is still one of my star collectibles due to how good it defines Sanemi's character. Like his Wind Hashira title, Sanemi is a swift but hot-blooded fella. And so, I was pretty surprised when I saw his sword manufactured in a toy form.
Some may think it would be lacking detail and character, but I am glad to say it shares the same rough and pushy vibe as seen in the series. 
The blade is lined with green marks, reminding me of Sanemi's scars that he proudly displays through his unbuttoned shirt. While its unpolished guard hints toward his crude personality. And its metal builds remind me of his unbreaking loyalty to Kagaya. The handle of the toy sword also doesn't miss any detail, with its white and green lines, further enforcing his unique vibe.  
It also comes with a jaguar spotted sheath, which helps me store it in style. The sword's blade is also lined with an anti-rust coating that helps preserve its details. This sword is pretty heavy, so I wouldn't recommend giving it to small kids. But in my experience, it's excellent for cosplaying and as a display prop.
Pros:
Fantastic attention to detail.

Robust and heavy build quality.
Cons:
Comes in at a relatively high price.
#07 Handmade Double Sword Hashibira Inosuke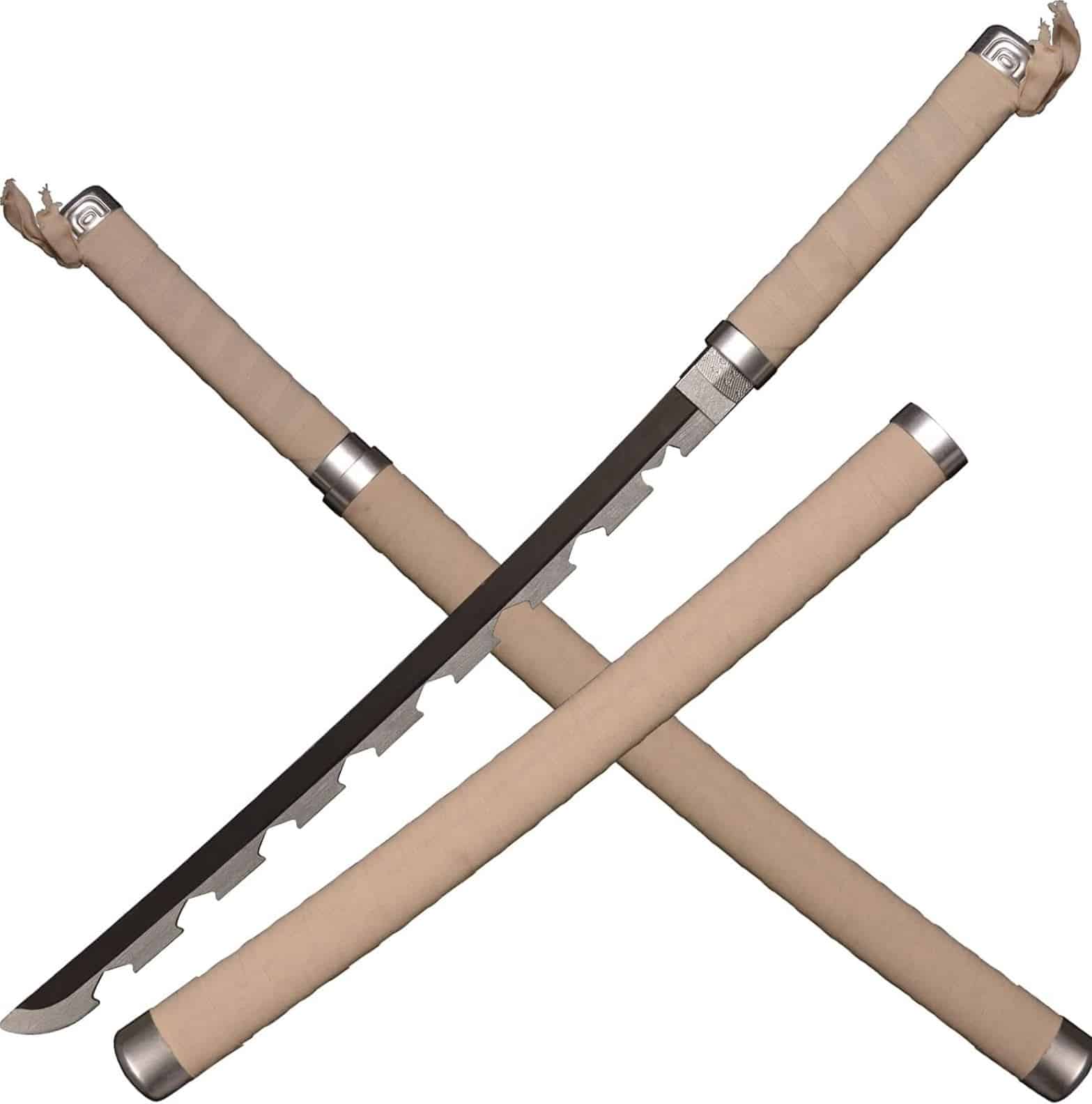 Description:
This duel set of saw-like swords will definitely lead you to the path of great success. Seeing it on sale, I just had to buy one for myself. As soon as I took it out of its packaging, I was surprised at how good of a job it does in replicating the real one.
Its broken bits reminded me of the scene when Isonuka got his new-made sword, and as soon as he received it, he just started smashing it with a rock. Of course, that is just Inosuke.
Although I didn't go alone in the forest searching for food with the sword. I did go on around my neighborhood, troubling the people and fighting demons hidden in the trees.
And, of course, I did that while shouting "Chototsu moshin." Another thing this toy sword was great for was scaring cats out of my yard. Its shape edges are pretty intimidating.
Overall, this toy is infused with Inosuke's personality seeing that he shaped it according to his liking. And it's relatively lightweight, allowing for speedy and swift swings, not visible to the naked eye. Its cloth-covered handle also makes it very comfortable to hold and features a firm grip. 
Pros:
Long and highly detailed blade, a replica of the original.

Light and easy to swing.
Cons:
Plastic build, easily bendable.
#08 Demon Slayer Mitsuri Kanroji Nichirin Blade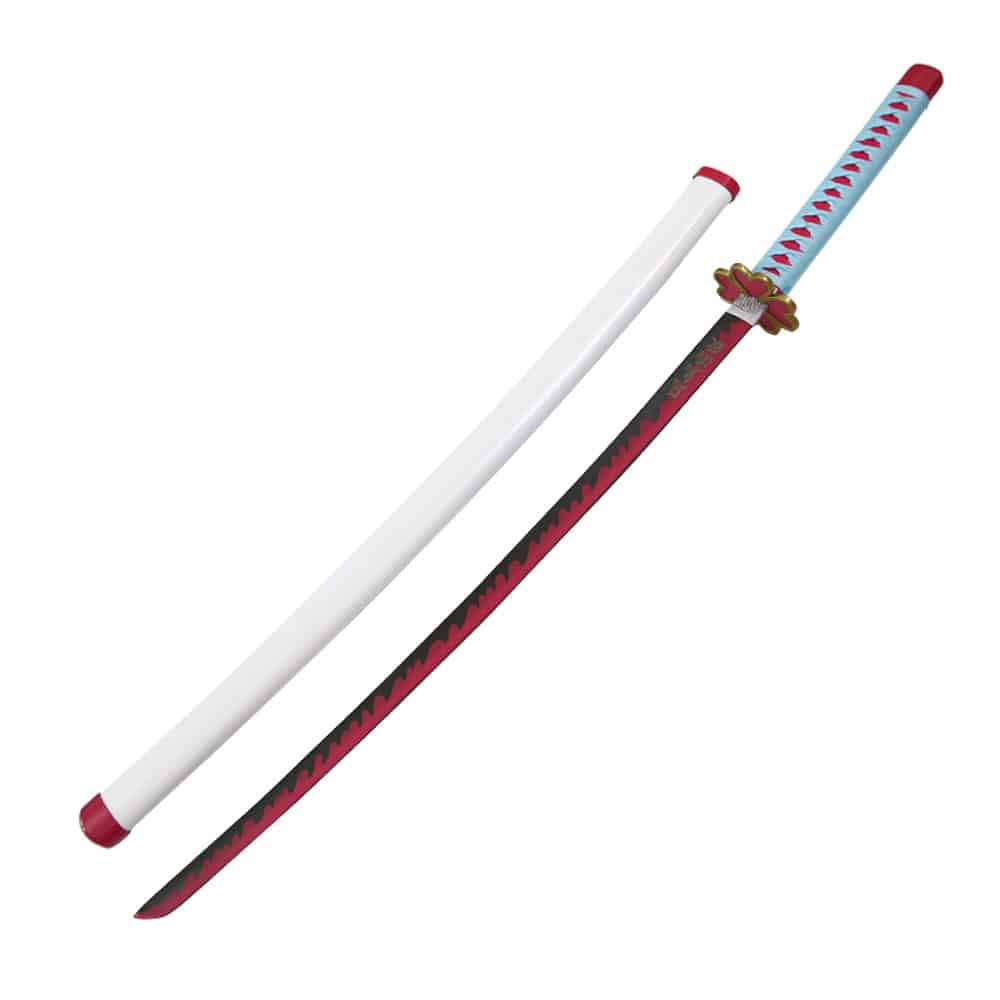 Description:
Although it has a short blade, the character it represents goes beyond words. This Mitsuri Nichirin toy sword broke many hearts, and then it was my turn. When I took it out of its sheath, my heart just melted seeing the thought that went after making this piece so perfect.
The sword's guard features a flower-like cut, while the blade has a pink and black outline. This reminds me of Mitsuri loving and caring personality, which many like. And this level of attention is what makes this blade all the more unique.
My experience with the sword wasn't too flashy, as I was constantly worried about damaging its perfect finish. Overall, the blade is relatively light and durable due to its plastic build. And would definitely go with a young fan. It also comes with free shipping, which helps chip away some costs.
Pros:
Vibrant and colorful design.

Light and durable, easy to carry.

Free Shipping.
Cons:
The high price can be heavy on the pocket.
#09 Shinobu Kocho Lego Sword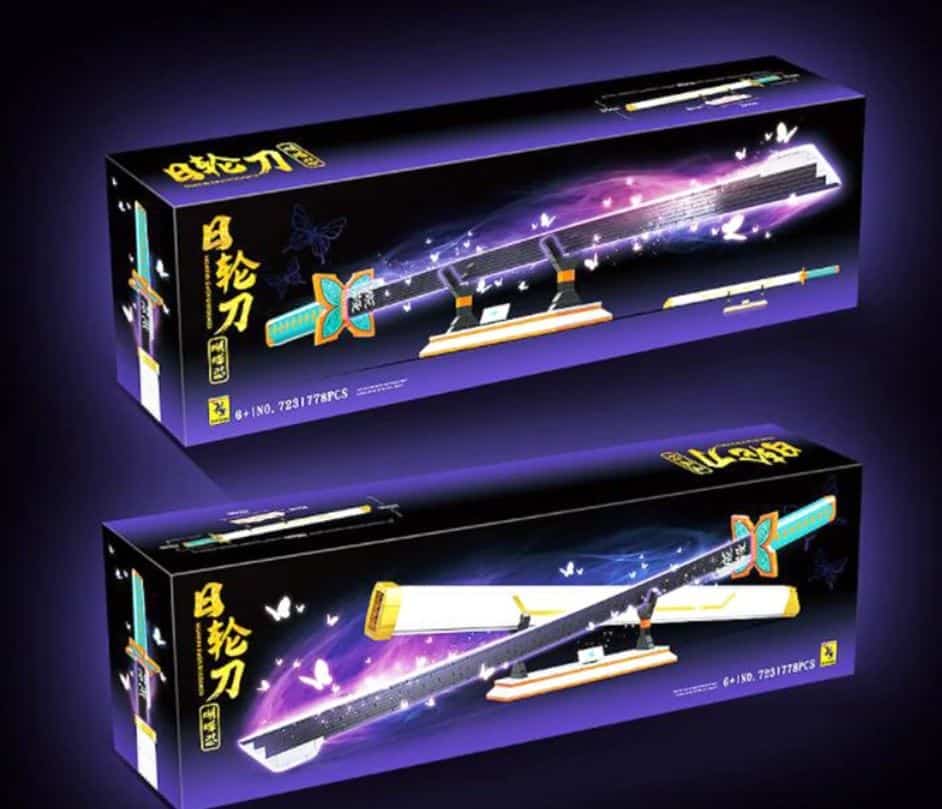 Description:
Are you bored of standard flimsy plastic swords or want to add something other worldly to your toy sword collection? I may just have the perfect thing for you. This Lego sword offers Shinobo's iconic sword to a whole different level. The sword's design matches just like in the series from its butterfly-shaped guard and even the rainbow-style blade. 
I bought this around the summer break, and I was glad I did because it allowed for several hours of fun and enjoyment. It is also perfect with family and friends, and almost all my peers tried building it. Still, I proved my skills by finishing it under ten minutes.
Another thing I like about the Lego sword is that it perfectly captures a sweet but snarky mindset, which always reminds me of her rather rude comments towards Giyu.
 This Lego sword also offers a wide variety of options with 778 pieces. And suppose I was ever bored of making the sword. In that case, I could just make something up, another factor that plays well with Shinobu's versatile personality.
And although it is recommended for ages 6 and up, I found it still is a choking hazard for kids under 8. And its high quality and included Lego stand makes for its relatively high price.
Pros:
Multiple building options.

Amazing packaging.

Included Lego stand.
Cons:
#10 Bandai Tanjiro DX Nichirin Sword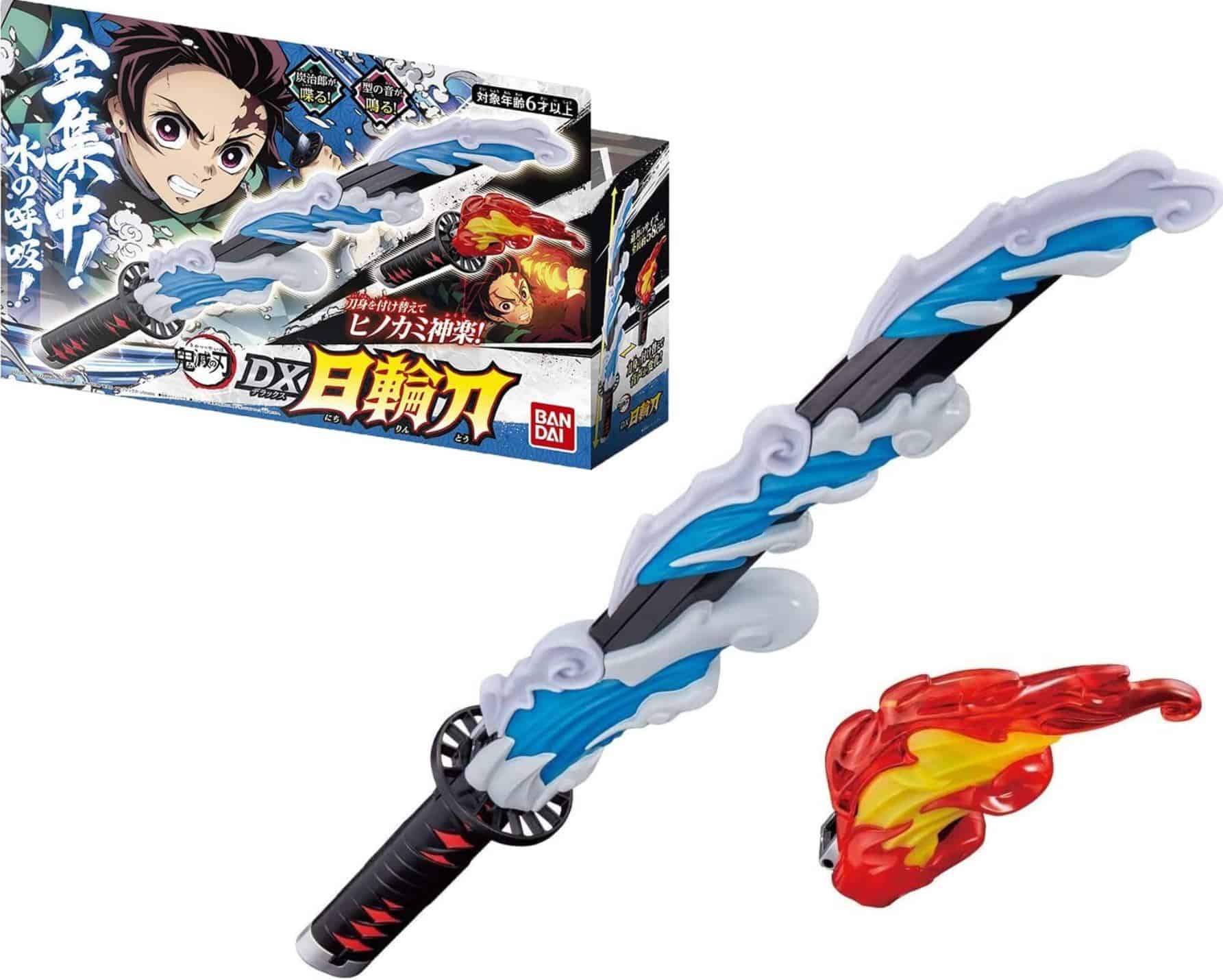 Description:
Finally, it's my turn to talk about my favorite toy sword on this list. And just being Tanjiro's swords didn't earn it this spot. What makes it my most prized collection is the incredible visuals it captures. It perfectly replicates Tanjiro's water breathing, and with its added fire-style blade, I couldn't be happier.
The water-style blade reminds me of his fight with Rui, while this broken fire blade captures his undying will as he almost slashes Rui's neck. I haven't even shared the best part. It includes sound effects ranging from the series's theme song to many of Tanjiro's famous quotes. All this is packed into just a tiny blade of around 16-inches.
It made for some very amusing fun-filled hours and even cosplay, as I would like Tanjiro, and through his dialogs, no one had the gut to question me. The packaging on the sword was also very robust and kept it from scratches or damage.
Mentioning all this, it is no surprise that it comes at an eye-opening price of around $50. But keeping in mind all its options, I recommend you start saving to add this sword to your collection.
Pros:
Excellent build quality.

Fantastic sound and visual cues.
Cons:
FAQs
Question: What are Demon Slayer toy swords made of?
Answer: These are designed for kids and for use as cosplay in most cases. Due to this, they have to be light and easy to carry, so making them out of foam and plastic is the most common practice. But it's also not rare to see Demon Slayer swords made of metal, but these are mainly used for collections rather than as toys.
Questions: Are Demon Slayer toy swords expensive?
Answer: Compared to typical toys, these toy swords can be pretty expensive for a general audience. But you have to consider that these also possess a more superb quality than your average toy. Another reason behind their high price is the attention to detail they carry, which is expensive to produce.
Questions: What makes Demon Slayer toy swords so unique?
Answer: The most prominent thing that makes Demon Slayer toy swords so unique is the meaning they carry. As swords and demons mixed well in the series, these toy swords take the same sense of responsibility and action. This is thrilling for many fans and represents itself as a unique way to become a part of its excellent culture.
The Best Demon Slayer Toy Swords Guide: Summing Up
Demon Slayer is a mixture of many concepts and emotions. And the way it brings together the whole plot is utterly genius. Since its release, it has spread like wildfire. Impacting many Shonin lovers, lighting a fire in the heart of many that may never calm down. 
Its success was almost unprecedented, considering how many manga series followed the same concept before it. The success of this action fiction series mainly lies in its fantastic story-telling.
It pulls you in and wraps around you, introducing you to each character individually while enriching the whole experience. Not to mention, the release of its merchandise was another step in the right direction. It provided a path for fans to delve into its rich plot.
If you plan to buy your own Demon Slayer toy swords, I recommend considering your use of the blade. And make sure it fits your need. Checking out different sites for fair price comparison is also a great way to save some bucks. And always try to pick which character sword you want beforehand.
While I have an extensive Demon Slayer toy swords collection, the Bandai Tanjiro DX Nichirin Sword is my favorite. Its design may not be entirely faithful to the plot. But what makes this sword so unique is the options and effects it packs.
It shares the loving and caring personality of Tanjiro. It reminds me of his oath to turn Nazuko back into a human. It does come at a relatively high cost, but I have also referenced many other cheaper options in this guide if you're on a tight budget. So, go venture out on your own journey and conquer your demons. Sayonara!
Recommended Reads: