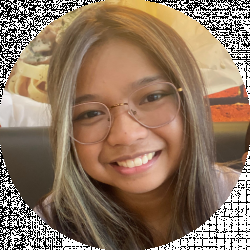 Latest posts by Elitz Caballero
(see all)
No matter how much we strive to improve ourselves, there are still other naturally better people than us. We sometimes tie our value as a person by comparing ourselves to other people's accomplishments. Envy and jealousy will fester once we see others become better than us because our self-worth is at risk. It poisons your perception of that person and puts your relationship in jeopardy.
This is true for Indra Otsutsuki, who is the older brother of Asura Otsutsuki and the eldest son of the Sage of the Six Paths. Indra Otsutsuki is a genius who mastered everything his father taught, unlike his brother, who barely learned a thing.
It was shocking for me that his father chose the weaker brother as his heir. Indra resented his father's decision and vowed that he would fight for his vision even in his next life.
If you notice that Indra's story has a familiar ring to it, that is because his life mirrors that of Sasuke. There is more to that connection; Indra is actually the progenitor of the Uchiha clan and is Sasuke's ancestor. If you want to know more about him, this blog is right for you.
I will discuss everything I know about Indra, his personality, history, and other fun facts about him. If you haven't read or finished the series, then be warned of spoilers.
Bottom Line Up Front
Indra Otsutsuki is the first son of the Sage of Six Paths and the older brother of Asura Otsutsuki. Indra is a gifted prodigy who mastered everything his father taught him. He and many others expected that he should be the obvious choice to fulfill his father's dream because of his talent. Sadly, Indra did not share the same vision as his father, so his father chose Asura instead to fulfill his vision of peace.
Indra's resentment over his father's decision erupted into hatred. He fought his brother over his 'stolen' birthright. Indra vowed to his dying father that he and his family should continue their fight for his vision of peace.
Who is Indra Otsutsuki?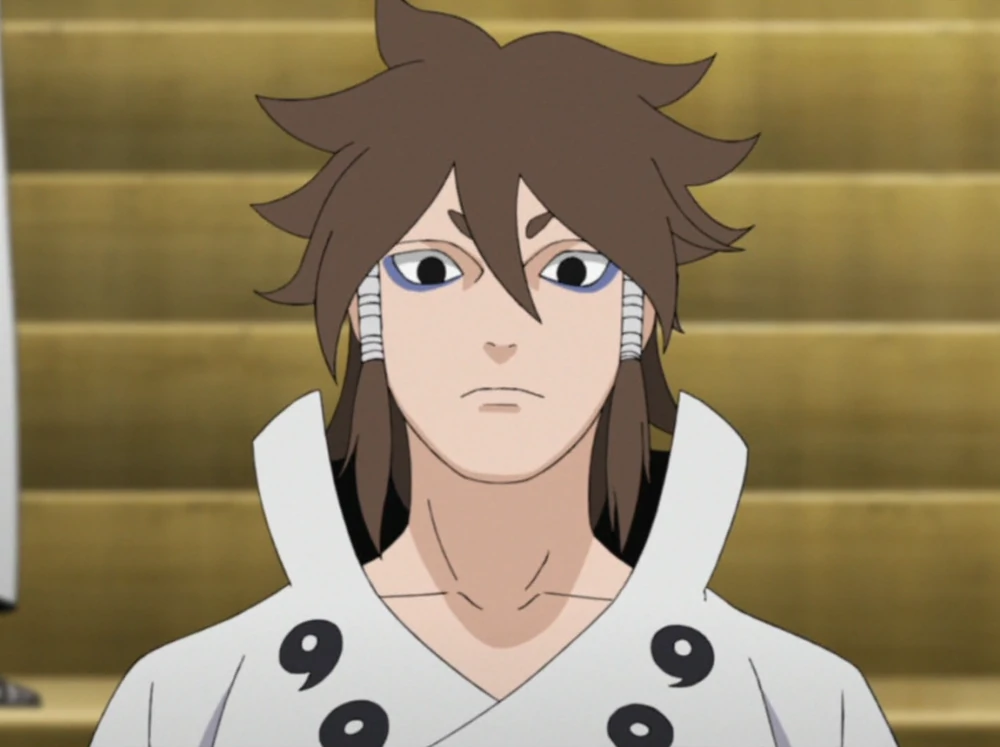 Indra Otsutsuki lived centuries before the start of the series. He is the older brother of Asura and the first son of Hagoromo Otsutsuki, the Sage of Six Paths. Indra is a prodigy; it should not be surprising that he expected to be the one to fulfill Hagoromo's vision of peace because of his immense power. His father did not choose him because they did not share the same vision of peace.
Naturally, Indra disagreed with his father's decision and fought Asura numerous times. Indra vowed that he and his clan continue their fight for his vision. Indra and Asura's hostility became the foundation of the Uchiha's feud with Asura's descendants, the Senju Clan. The feud lasted for centuries and has been the cause of many losses for both clans.
The fight between the two brothers did not end with their deaths. Indra and Asura's reincarnations fought each other for centuries. Madara Uchiha and Sasuke Uchiha are both reincarnations of Indra and fought against Asura's reincarnations. Indra and Asura's rivalry only ended when Sasuke finally conceded defeat to Naruto and returned to Konoha.
Indra: Appearance, Personality, Quotes, and More
Appearance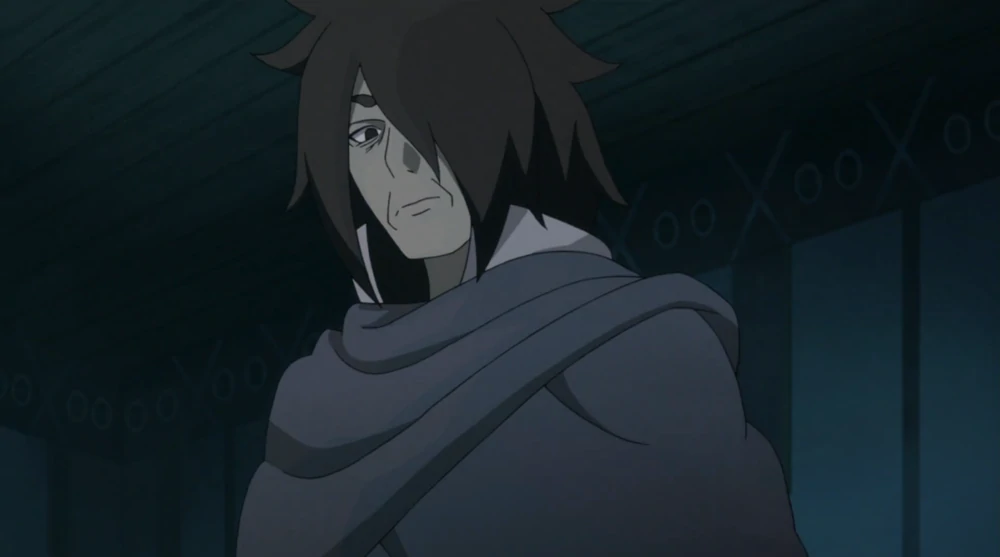 As the progenitor of the Uchiha Clan, Indra possessed most of his clan's characteristics. He has long brown hair and onyx eyes. His eyebrows are short, which is a tradition of nobility in both Naruto and Japanese history. Two locks of hair are wrapped in bandages framing both sides of his head. 
When he became a young adult, Indra had purple markings under his eyes and tied his long hair into a ponytail. He wore a white kimono adorned with magatama, and his waist was wrapped around with a black sash. Like the rest of the Uchihas, Indra's kimono is also high-collared.
From my perspective, I could see a glimpse of Sasuke from Indra's bitter and hateful expression when he fought his brother for the first time. 
In his later years, Indra let his hair fall freely, which covers his left eye. He also has wrinkles beneath his eyes. He wore a black cloak that covered much of his attire. His appearance as a middle-aged man reminded me of Madara Uchiha, one of his future reincarnations. 
Personality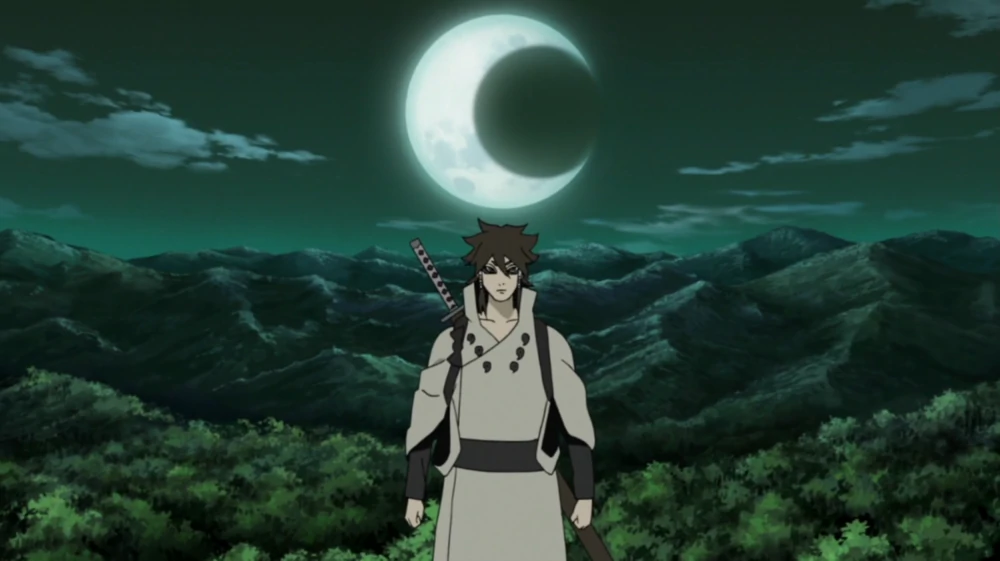 As a child, Indra is a kind-hearted individual who takes his studies and training seriously, unlike his brother Asura, who is stubborn and impatient. Despite their differences, Indra and Asura are very close, as seen when they are helping each other with fishing. It is painful seeing them enjoying each other's company, considering what we know in the future.
As a teenager, his secret creepy uncle, Black Zetsu, is manipulating Indra by feeding his ego with praises and flattery. Indra became much more arrogant, believing that he could accomplish his goals with power and force alone.
Indra fell off the deep end after his father did not choose him to be his successor. His resentment over his father and brother festered into unbound hatred. Indra's desire to be stronger becomes uncontrollable, to the point that he kills his friends to unlock the Mangekyou Sharingan.
The 'Curse of Hatred' is a reflection of Indra's corrupted ninja way. This curse made the Uchiha seek power for their self-interest, even at the cost of their loved ones. The curse proved to be detrimental in the long run as it almost drove the clan to extinction after Obito Uchiha massacred them after succumbing to it. 
I believe that Hagoromo is right in choosing Asura as his successor in fulfilling his vision of peace. Indra's way of accomplishing peace through sheer power and absolute obedience is tyrannical. For me, peace through slavery is no true peace.
Quotes
Here are some quotes from Indra that I picked so that you can get a sense of who Indra is and what he believes. 
"When a crime is committed proper punishment must be carried out."
"Ashura, you don't have the Sharingan so you won't understand. Power is what rules the world… In time I will take over Ninshu and fulfill my dreams."
"Love? There is no love! During my journey, like Ashura, I searched for the villager's pain. But ultimately, the villagers ended up relying on my power."
"But I'm different! I don't need the help of the weak. I can use my power and I can establish total order!"
"Your selfish misconception will mar the future of Ninshu with wars and calamities. I have no intention of ever stopping my fight until I accomplish this, my soul will reincarnate and fight, however long it takes!"
Indra's vision may be flawed, but there are parts that I actually agree with him. An effective leader must be firm in his authority so that people will respect their will. I also agree with Indra about the importance of law and order for society. After all, why would we follow it if no one is enforcing it? Indra pointed it out after Asura attempted to let a thief escape.
Abilities
Ninjutsu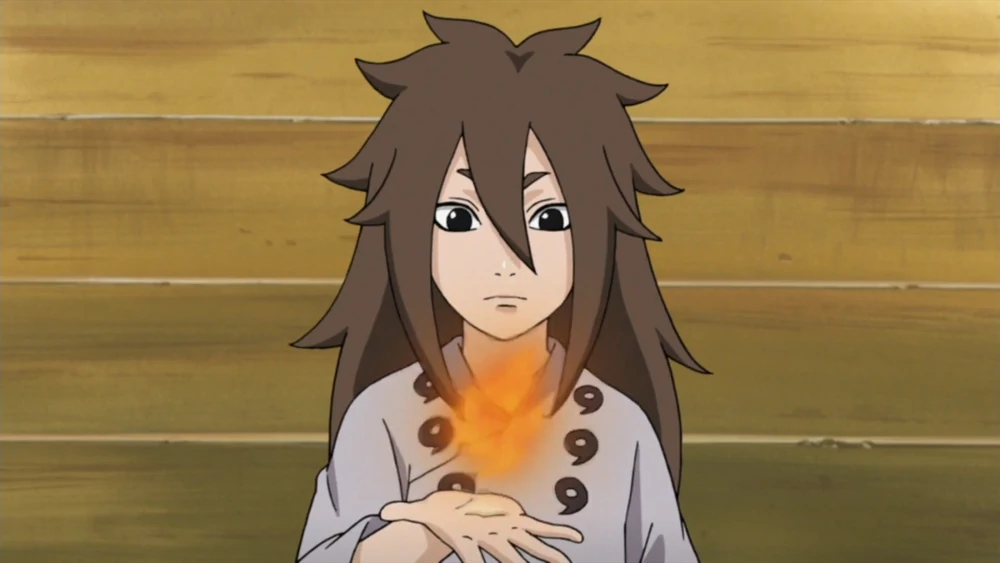 Indra excelled in Ninshu, the art of controlling chakra to understand one another. Indra manages to weaponize the control of chakra through the use of hand seals, thus inventing Ninjutsu. Through this invention, Indra made some techniques that would become a staple within the Naruto world, such as the Clone Jutsu and Body Replacement Jutsu.
Mangekyou Sharingan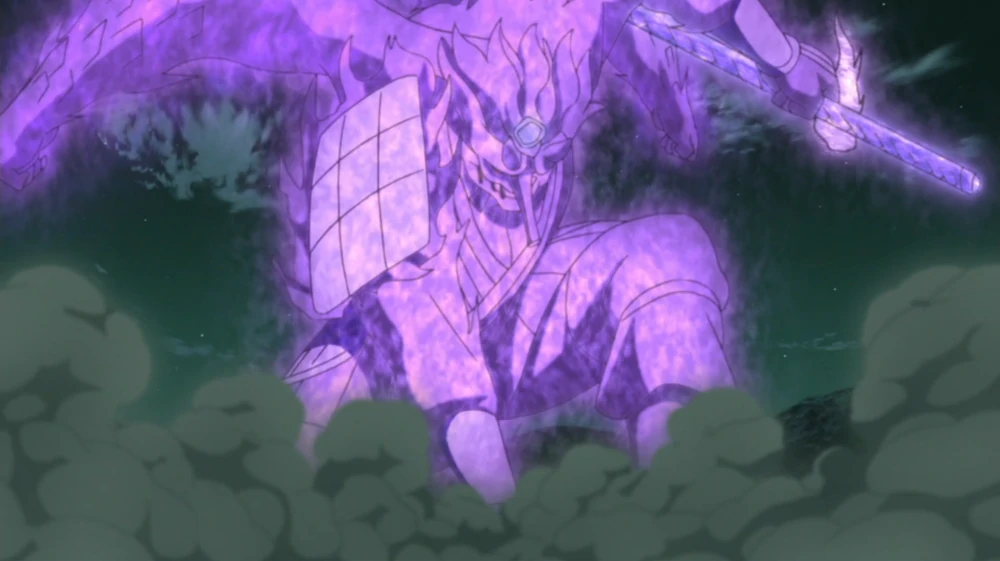 Indra inherited his father's eyes. The Sharingan allowed Indra to predict his opponent's next moves, see the flow of chakra, and paralyze his enemies with his gaze. Following his father's decision to make Asura his heir instead of him, Indra became obsessed with obtaining more power. Black Zetsu told him the secrets of the Sharingan, which pushed him to kill his friends.
Indra gained the Mangekyou Sharingan, which allowed him to summon his Susanoo. His Susanoo is complete and can fight against Asura's avatar. Indra also gained the ability to summon black flames that cannot be extinguished. Note that both his Mangekyou Sharingan and his Susanoo are the same as Sasuke's. That is because Sasuke is Indra's reincarnation.
Relationships
Asura Otsutsuki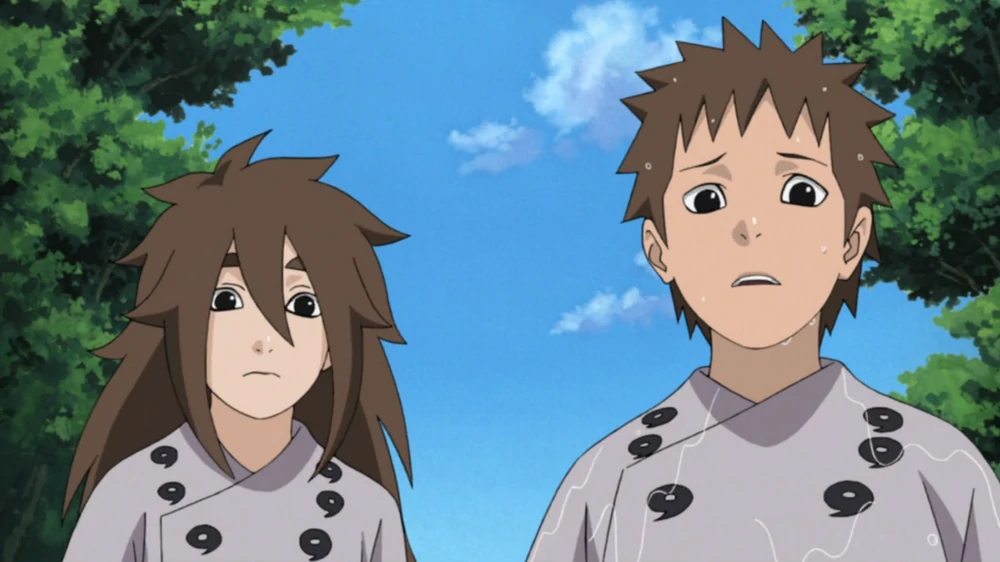 Asura and Indra lived, studied, and trained together under a single roof. The two brothers are very close with one another. Indra was even protective over his younger brother when they were children. Asura continued to look up to Indra even though the former felt insecure over his lack of skills.
Their relationship changed after their father selected Asura as his heir. Initially, Indra repressed his resentment over the decision, but because of Black Zetsu's manipulation, this resentment became hatred. Indra succumbed to his hatred and killed his friends just so that he could defeat Asura and their father.
I felt that Indra's strong belief in himself is the cause of the rift. Indra lived his entire life being praised for his power which is why his sense of self-worth was tied up to it.
Hence why it was all the more painful for Indra because not being chosen was the first time he felt rejected and the first time that his powers failed him. For most of his life, he relied on himself, and so instead of talking about his feelings to others, he came to conclude that more power is needed to overcome his failure.
If Asura was not chosen, I am pretty sure that their relationship would not change because Asura was already ready to accept the decision. Since Asura does not have enough power to rely on himself, he needs the help of others in order to complete the task. Indra's path would not have taken a dark turn if he had accepted the decision and realized that not everything could be accomplished through power alone.
Hagoromo Otsutsuki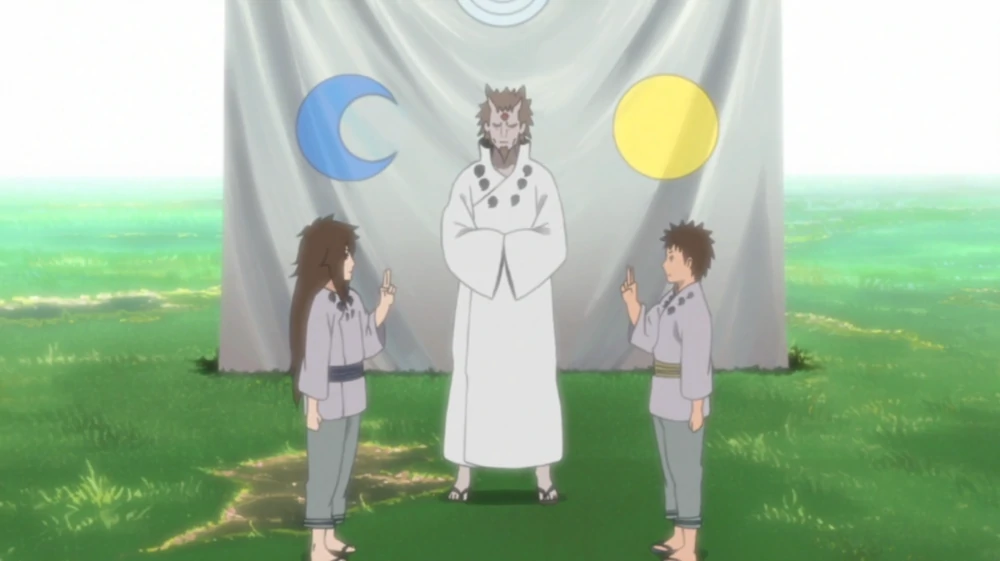 The Sage of Six Paths was Indra's father. Hagoromo Otsutsuki was amazed by his sons' mastery over Ninshu at such a young age. Indra greatly respected Hagoromo, which is why he was serious about his studies and training. Because Hagoromo was amazed by his skill, Indra expected that he would be the obvious choice as heir.
When Hagoromo chooses Asura as his heir, this upsets Indra, who then demands an answer. Unsatisfied with his father's answer, Indra began to seek guidance from Black Zetsu about the secrets of the Sharingan.
Upon learning that Indra murdered his own friends in order to obtain the Mangekyou Sharingan, Hagoromo was disappointed that his son stooped so low. Hagoromo compared Indra to his grandmother, Princess Kaguya. Hagoromo sealed his own mother because she used her own power to enslave humankind and was saddened that Indra possessed the same eyes as her.
In his dying days, Hagoromo lamented that he was unable to mend the broken bond between the two brothers. He hoped that the current reincarnations of his sons, Sasuke and Naruto finally find the true solution for peace.
Black Zetsu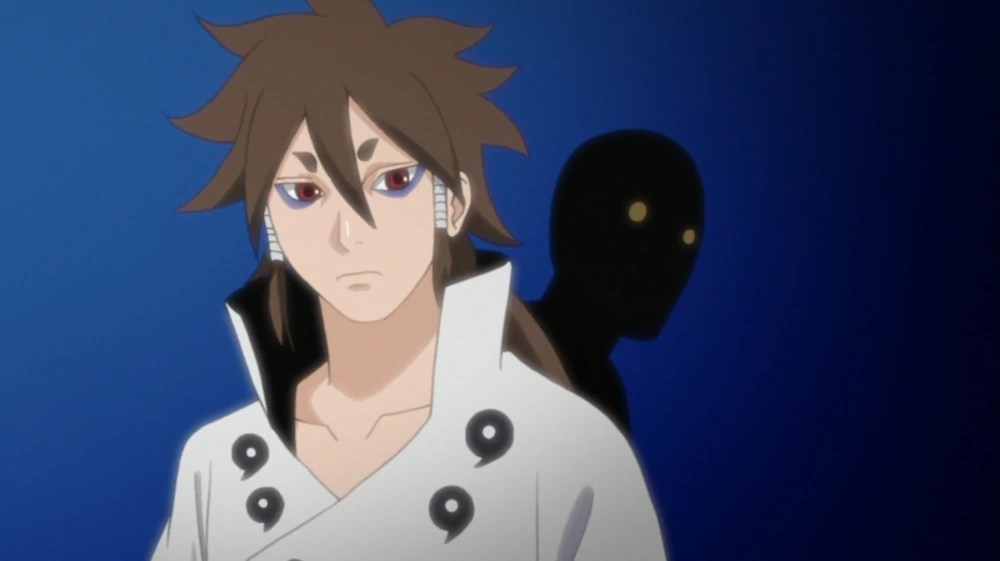 Black Zetsu occasionally appears to Indra. He will flatter Indra with praises and tell him about Indra's true potential. Indra is wary of Black Zetsu and tells the latter that he does not trust him. Things changed after the Sage of Six Paths made the decision. Indra was more than willing to listen to Black Zetsu in order to know more about his secrets. Black Zetsu was also the one who suggested to Indra to attack Asura and reclaim his birthright.
Black Zetsu would continually manipulate Indra's descendants and reincarnations in order to pit them against Asura's descendants and reincarnations. Black Zetsu aspired that at least one of them will obtain the rinnegan and free Kaguya from her imprisonment.
Interesting Trivia Facts about Indra
Sasuke Uchiha is Indra's recent reincarnation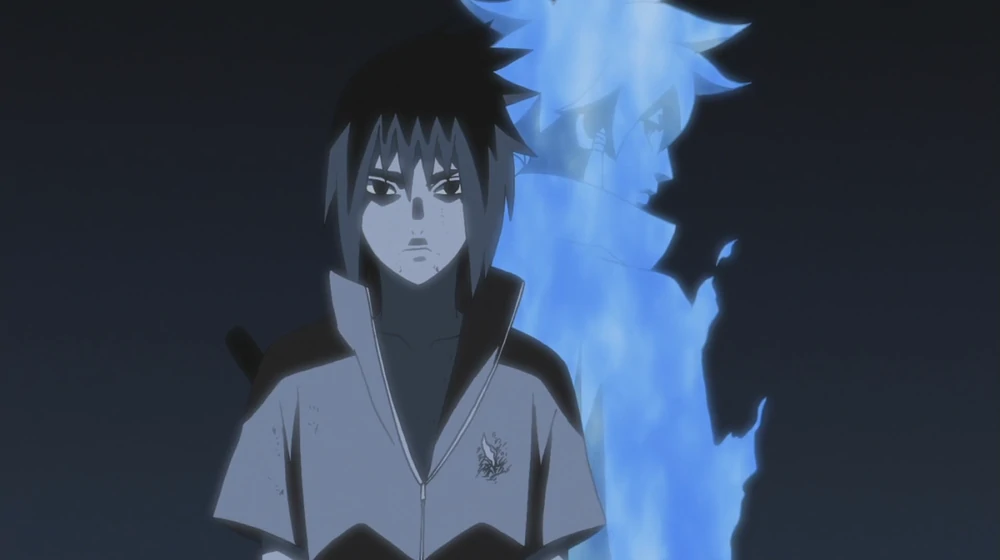 Right before the Sage of the Six Paths died, a middle-aged Indra came to visit in the night. Indra told his dying father that he would continue to fight for his vision of peace. Indra vows that he will not stop and that his soul will keep reincarnating until his goal is complete.
Asura's soul also reincarnates numerous times, and the two continue to fight for centuries. His current reincarnation is Sasuke Uchiha. The reveal would make Naruto and Sasuke's next fight all the more meaningful because the outcome determines the fate of Konoha and the fate of the centuries-long feud.
If Sasuke wins, he will kill all the Kages and force the world to unite against him, thus, fulfilling Indra's vision of peace. Naruto must win in order to win back his friend as well as prove that Asura's peace is the right choice.
Black Zetsu is related to Indra
Kaguya manifested her will into Black Zetsu before she was sealed. Black Zetsu refers to Kaguya as his mother, making him a brother to Hagoromo and Hamura, as well as the uncle of Indra and Asura. Many fans joked that he is the Otsutsuki clan's weird uncle that nobody talks about, and I wholeheartedly agree. The only reason why the World of Naruto is full of bloodshed and hatred is because of their fateful meeting.
FAQs
Question: Who are the descendants of Indra?
Answer: Indra's descendants would become known as the Uchiha Clan. The members of the Uchiha Clan inherited the Sharingan and the 'Curse of Hatred' from Indra. The Sharingan is a powerful Kekkai Genkai that grants the users many abilities unique to the Uchihas.
There are plenty of Uchihas who made a name for themselves throughout history. Notable members include Madara Uchiha, who founded Konoha along with Hashirama, Itachi Uchiha, who murdered his entire clan, and Obito Uchiha, the hero of Kannabi Bridge and later the true leader of Akatsuki.
Question: Who is Indra's father?
Answer: Hagoromo Otsutsuki is Indra's father. He is the older son of the Rabbit Goddess, Princess Kaguya Otsutsuki. He and his brother, Hamura, rebelled against their mother and sealed her on the moon. He split her chakra into the Nine Bijuus.
Hagoromo founded the school of Ninshu in hopes of using it to connect and obtain true peace. He chose Asura as his successor, which caused a rift between his sons. Hagoromo hoped that someday, his sons reconcile so that they could achieve the peace that he envisioned.
Question: Why was Indra not chosen by Hagoromo to be his heir?
Answer: It was no brainer that Indra should be the heir of Hagoromo. Indra mastered Ninshu, took his training and studies seriously, and is dedicated to fulfilling his father's dreams of peace. He tasked his sons to aid villages as a test of character. Indra's village relied on his power, while Asura's village cooperated with him in order to build a water well.
Hagoromo looked at the result of their endeavors and decided that he would choose Asura. Indra demanded an explanation. Hagoromo revealed that while Indra did complete his task, the village he helped destroyed itself because they fought over water rights. Meanwhile, Asura's village is prosperous because they cooperated and shared their water.
Indra Naruto Guide: Conclusion
The lesson that I drew upon watching the relationship of Indra and Asura is all about good leadership. Both siblings have two conflicting approaches to leadership. Indra believes that he can achieve peace through force and total obedience, while Asura is through cooperation and love. In short, Indra rules with fear while Asura leads with love.
To be feared or to be loved? Many leaders throughout history must answer that question if they want to retain their power and maintain peace. Hagoromo chose Asura because he believed that Asura could achieve peace through cooperation. He did not choose Indra because he saw another tyrant who used their power to subjugate the world. He wished that the world shall not see another Kaguya emerge.
Personally, Indra is not entirely wrong. I still believe in enforcing the laws and that leaders must be firm on their decision and authority to be effective. I find Asura's leadership too naïve for my liking because being good does not always translate to a competent leader. Without Black Zetsu's influence, Indra could have been a good leader.
Machiavelli said that a ruler must not choose to be feared or loved but rather be both. For me, a leader must be firm but fair, just, and kind. He must be the enforcer of laws and brother to his men. Naruto and Sasuke are the reincarnations of Asura and Indra; their friendship symbolizes that the two brothers are better together than against each other. Sasuke's return to the village means that Indra's ideals are also needed to achieve true peace.