Latest posts by Cody Perez
(see all)
There is no greater comfort in life than lying down on the couch or in bed, cozying up with your favorite soft blanket, chowing down on some excellent food, and binging on your favorite anime or manga series.
This is the type of situation that I want to enjoy, something like Demon Slayer: Kimetsu no Yaiba in. But what if I told you that you could elevate this scenario even further? That is precisely what you can do with the best Demon Slayer blankets.
I aim to show you the best Demon Slayer blankets that exist on the internet that you can buy right now. These are the ten that you need to know about and consider for your own home. They have the best designs, focus on the characters, and have the possibility for comfort.
But there is a lot that goes into choosing the best blanket for you, which is why I hope to simplify it some with the blankets you need to know about.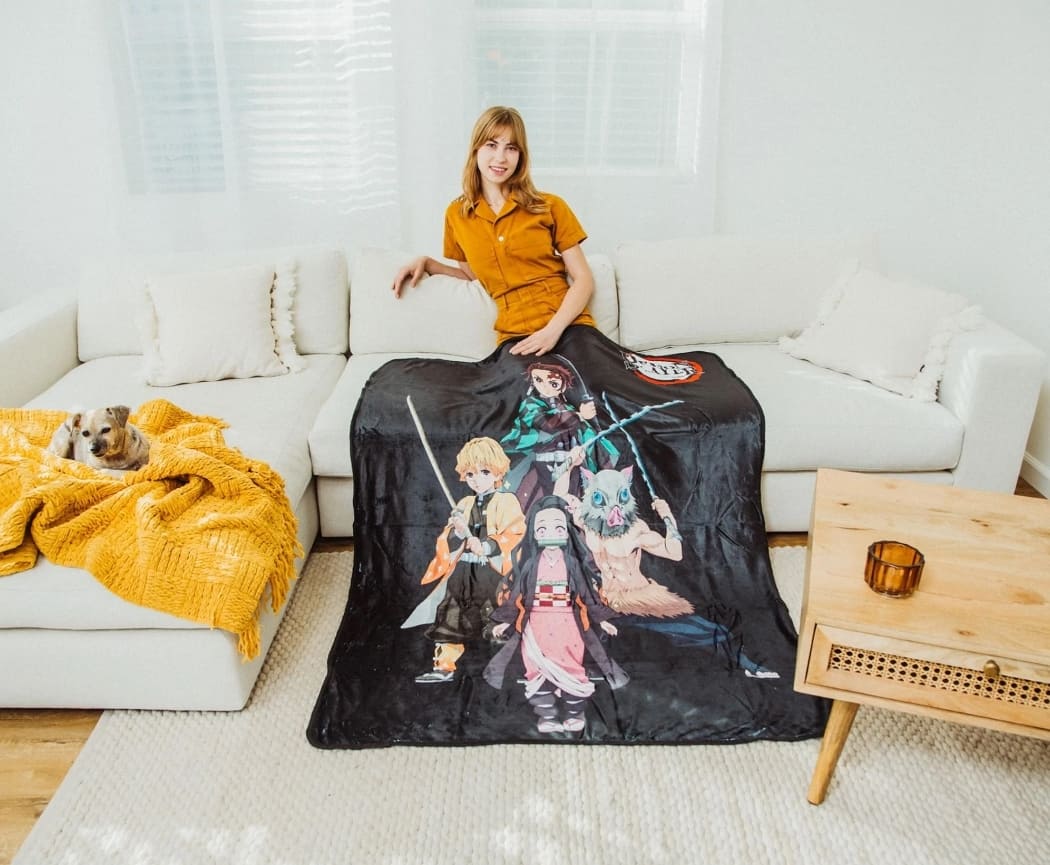 Bottom Line Up Front
These are the ten best Demon Slayer blankets you will ever find on the internet. Picking the top ten in this category involved making sure that the art is accurate to the manga and anime series while also looking fantastic. In addition, the art had to fit the blanket well, and not look strange or unorganized.
Furthermore, the size comes into play, too. This is why the watercolor core Demon Slayer group blanket has to be the best. While small, it is priced accordingly with a fleece texture and brilliant design, sure to be a solid supplemental blanket for your home.
My Top Picks at a Glance
I'm aware that many of you are in a hurry to get shopping and find the right blanket for your needs. If that happens to be you, you are in the right place, as I have the best of the best below. Out of the top ten blankets I picked, these are the four blankets that rise above the rest to be the cream of the crop. If you only have money and time for a few blankets, these are the ones you have to check out:
Buying Tips
Before you hop online, click on these links, and start adding blankets to your cart; there are some tips I have for you. I have bought quite a few character blankets over the years, and it can be a little bit tricky to buy them online. There are a lot of factors that come into play that can be frustrating and annoying. Here's what you need to know to get the most out of your shopping sprees:
Above all else, look as much as you possibly can into the quality and material of the blankets. Each reputable site that sells Demon Slayer blankets will list out what material the product is. Keep this in mind for a couple of reasons.
You want to know the materials for the apparent reason of avoiding any allergic reactions. At the same time, though, you also have to be careful of blankets that sound nice but are rough in reality.
In the same vein, look at as many reviews as you possibly can before purchasing. You want to know if others were satisfied with the quality of the blanket and the feel of it. After all, these blankets should be used and not just there to look at.
This tip goes for any Demon Slayer merch I recommend to you but see if you can find the same blanket on another site. There are sales occasionally on places and different pricing that can lead to you saving a few bucks.
Find the size that fits your needs. The medium size throw blankets are the bare minimum you should look for. Any smaller, and it's literally a waste. If you want a full-size blanket you can sleep with, you'll want at least a large blanket.
Research the refund and return policy of the site you're buying from. Blankets are finicky merch items with a high chance of you not liking them compared to others.
Last but not least, ensure that you are satisfied with the design before you buy the blanket. If you aren't sold on it in pictures, you sure as heck aren't going to love it in person.

Selection Criteria
When coming up with the best Demon Slayer blankets, there were a few areas that each of these blankets had to excel in to make this list. Here's what I use to determine the blankets that I would want to buy on this list, and hopefully, it will help you figure out what's best for you, too.
Art: The art design on the top of the blanket is the most crucial part, at least when first examining a blanket. If the visual appearance doesn't immediately catch your eye, you already know it's time to move on and find something else. For these blankets, though, they have to be the very best art designs around.
Quality: The quality of the art and blanket have to be on point as well. This is a stricter part of figuring out without testing out the blankets themselves, which is where the refund policy I noted comes into play.
Uniqueness: Some of these blankets use official art, while others are fan art-based. Regardless, they have to have some unique edge to them that caught my attention.
Value: Money isn't everything, but it plays an essential factor for some people. I made sure to include only blankets that I think are worth their prices.
Options: Customization isn't always a factor or available, but the ability to customize your blanket like its size matters a lot.
Best Demon Slayer Blankets List
Without further ado, here are the ten blankets you need to know about when it comes to the Demon Slayer property. These are the best of the best that are worth your time and possibly even money. I'll be sure to explain what it looks like, how to get it, and why I picked it for this list below.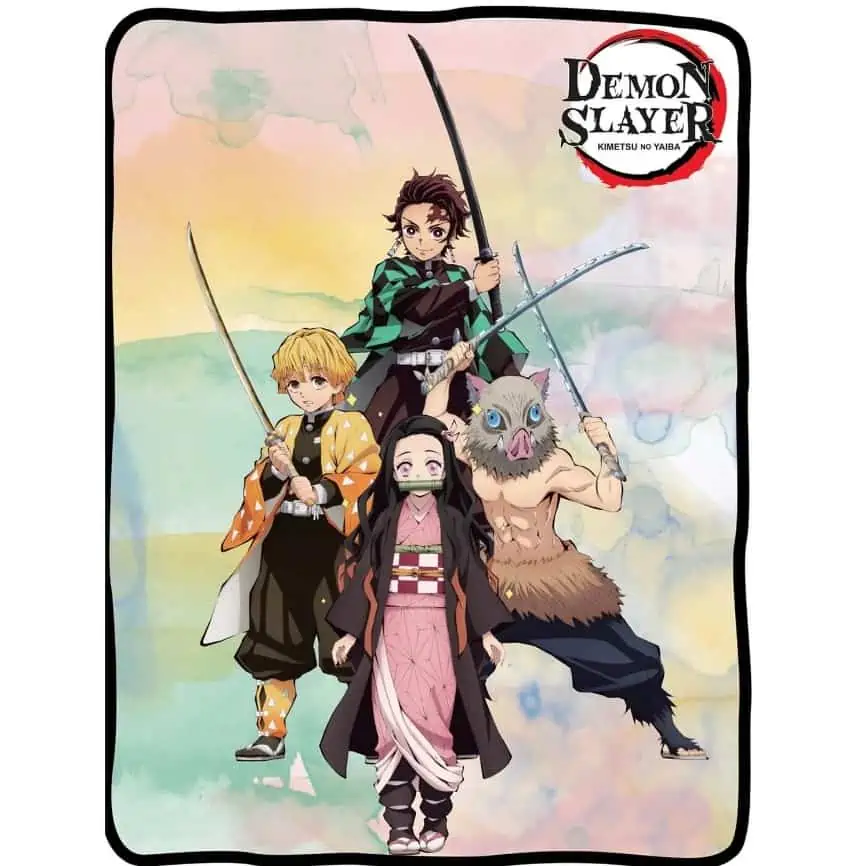 When it comes to the quintessential blanket for the Demon Slayer series, look no further than the first entry on this list. This blanket is the perfect balance between the official character designs for the main cast and the uniqueness that can come from someone else's eyes.
In this case, we have the four main characters, Tanjiro, Inosuke, Nezuko, and Zenitsu, who are in their fundamental battle poses. Except for, of course, Nezuko, who is just chilling and looking cute as always.
The real draw from this comes from the organized manner the characters are, plus the beautiful watercolor background. It's absolutely stunning with vibrant colors that are a nice contrast to the darker nature of the series. Above all else, it nails the look of what a comfy and warm blanket should look like. Sure, I may not have the chance to try it out myself (yet) but it certainly looks like the type of blanket I'd like to cozy up with.
Pros
The watercolor background is absolutely gorgeous
Best-looking blanket on this list
The core characters look fantastic
Silk fleece blanket so likely to be quite soft to the touch
Cons
The size of the fleece blanket is medium, with no way to make it larger
This blanket could seem too busy with too much color for some (perfect for me, though)
It wouldn't be able to work as your main blanket, sadly.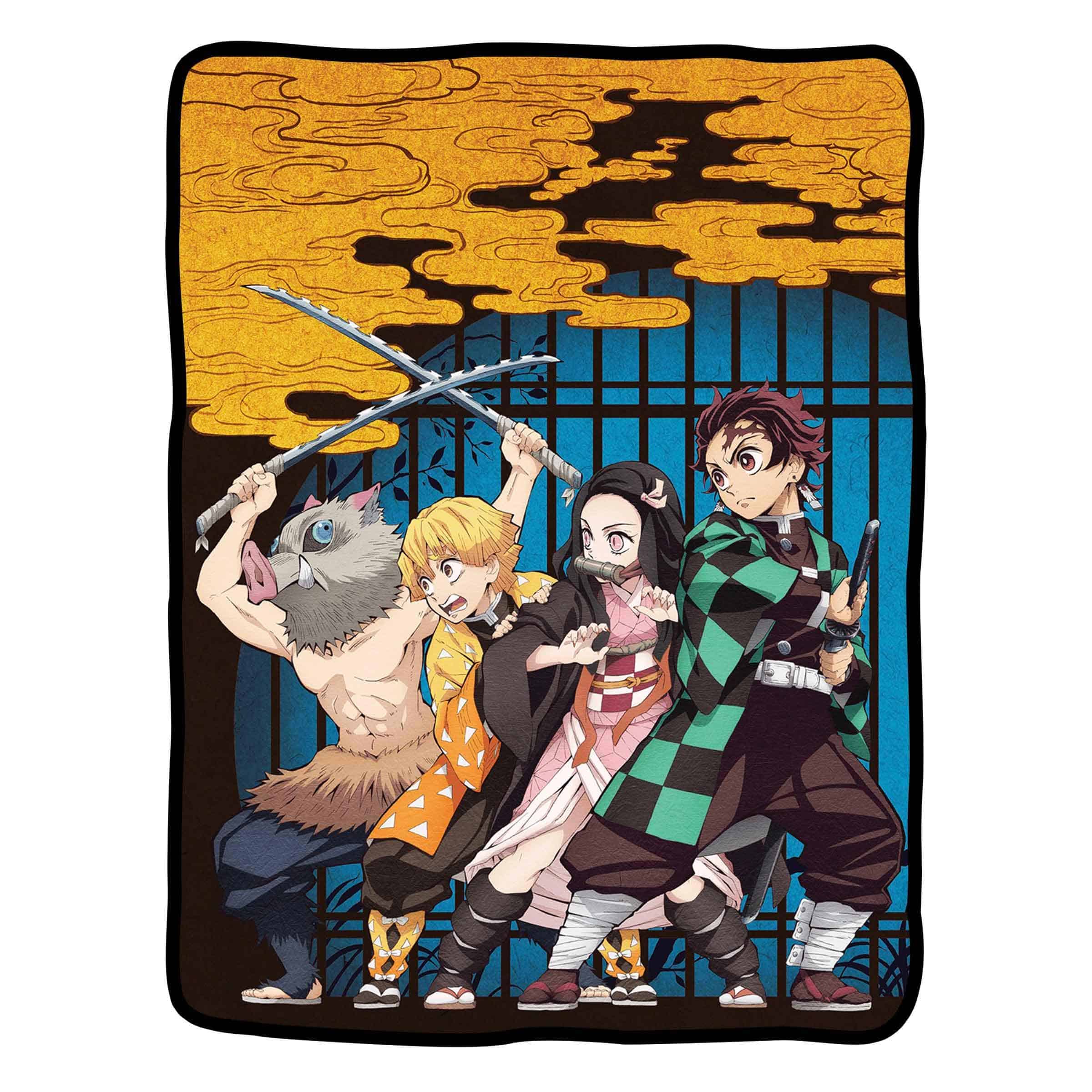 In the same vein as the last blanket, this Demon Slayer Group Throw Blanket is a prime example of how to take official art all around and convert it into a blanket form. The beauty of this art is in the characters' battle-ready stances, with the dark, moody fence behind and the creepy orange skies above.
This key art would be fantastic for a poster, but it arguably works better in blanket form than anything else since it has the space to spread out and let every character shine. This is my second-favorite blanket on this list and the other one that I would gladly consider adding to my collection.
Pros
The four main characters look detailed and have room to shine
The background is a masterpiece, featuring the dark fence border and the orange skies above
The price is relatively reasonable, even without a sale
The material looks warm and cozy
Cons
The size of the throw blanket could be too small for some
The art might be a little too grim and moody for those who want to regularly use this blanket.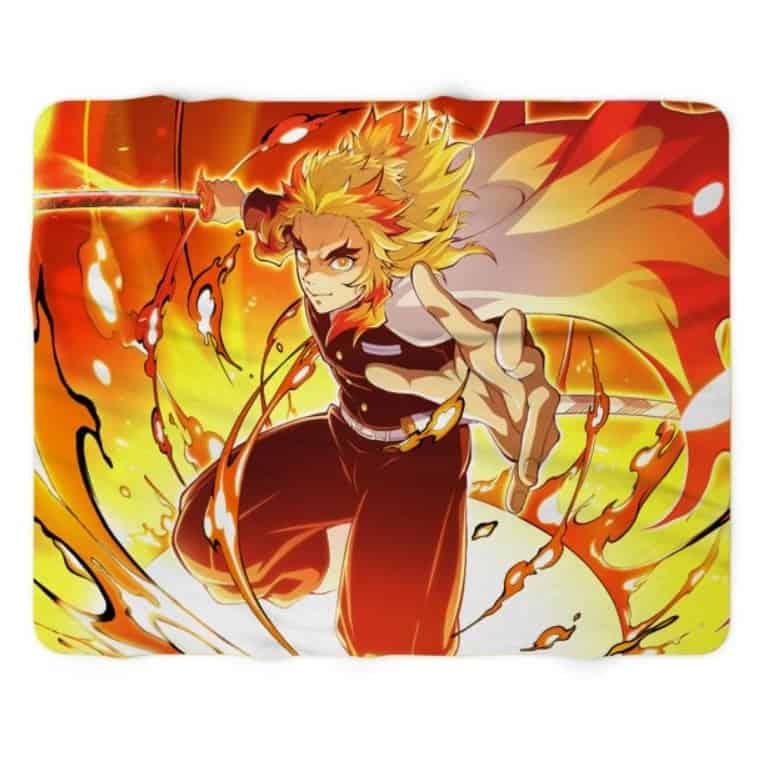 When it comes to the best, most popular characters in Demon Slayer, Rengoku is among the greatest as the Flame Hashira. As one of the strongest fighters in the entire Demon Slayer series, with a fiery appearance and attack style, this throw blanket doesn't hold back in showing his full strength.
The entirety of the blanket is in your face with the flames, covered with one of the most striking designs on this list. The intense flames cover the entire thing, making it quite bright. Though it might be off-putting for some, there is no denying that the anime has the best animation in anime, resulting in this tremendously detailed look at one of the best characters.
Pros
Rengoku has never looked better
The most detailed flames and designs you'll find on this list
Shows off the best in class animation
One of the cheapest blankets you'll find online
It's warm in both its materials and design
Cons
This blanket might be a little bit too overwhelming for some fans.
There is arguably too many bright colors and harsh details that are throughout the design.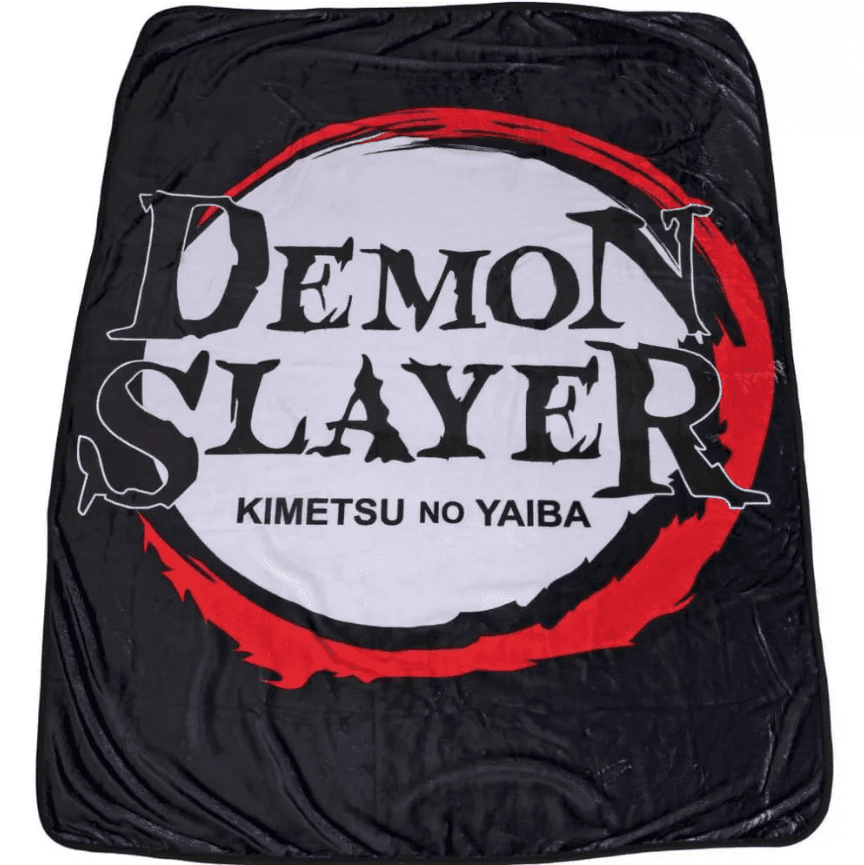 By far, the simplest blanket on this list is this one. All it is is a medium-sized throw blanket made of fleece with the Demon Slayer logo, and that's it. To be clear, this is one of the few officially licensed fleece blankets on this list, and it takes full advantage of that.
What I appreciate is that the logo for the Kimetsu no Yaiba series is already quite good and unforgettable. Still, it avoided the issues that some licensed merch have by making the logo fill the entire blanket. This is better than just being the small insignificant logo thrown on there as an attempt to be licensed after the series.
Pros
The Demon Slayer logo is always a nice look
The logo is massive, covering almost the entirety of the blanket
This is one of the few officially licensed blankets on this list
The fleece materials should make this one of the softest and most welcoming blankets on this list
Cons
This is another fleece throw blanket, so it is relatively small
Honestly, this is too plain for my tastes and likely some other fans.
If you want a more extravagant and character-themed blanket, look elsewhere.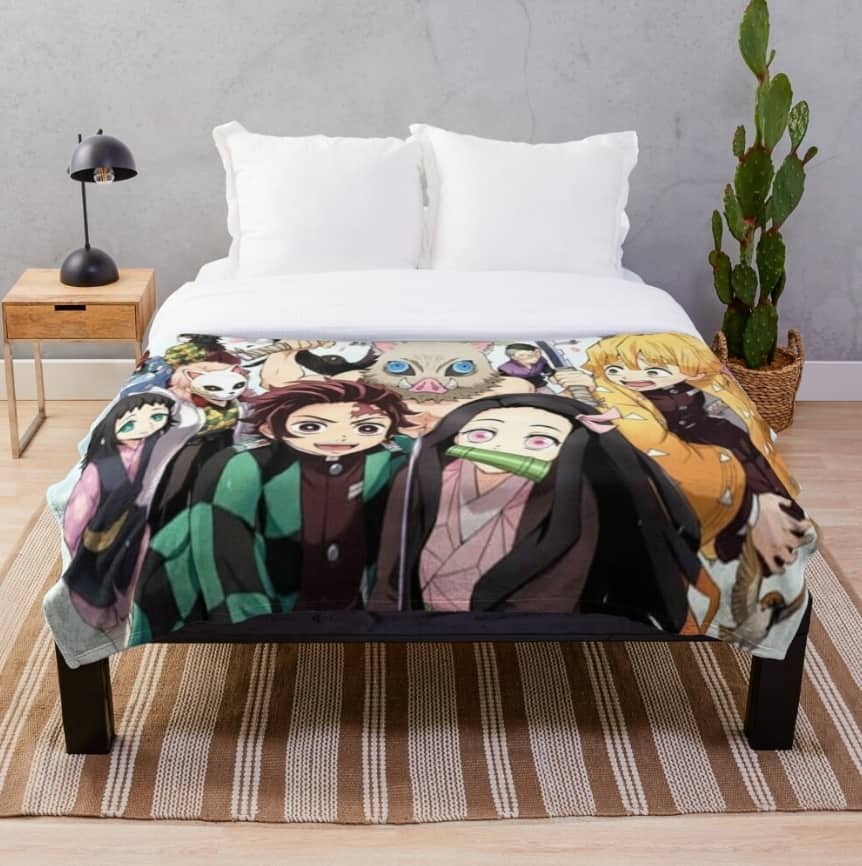 There is the possibility of taking almost any art you want and turning it into a blanket. Such is the case with this next entry which features a wonderful poster key art that has been transferred onto a blanket. It works surprisingly well, covering the entire top of the blanket from left to right.
The art looks quite good, featuring the core four characters and some extras, too. This is where this blanket gets my attention. It includes Urokodaki, the man who mentored Tanjiro early in the series, plus his two failed apprentices, who Tanjiro helped to pass onto the other side. They weren't too prominent, but their beautifully tragic storyline is one of my favorite parts of the series.
Pros
This poster key art works well in blanket form
You can customize it well in terms of size
It includes two of the best side characters in the series
Cons
This blanket can get quite pricey, especially if you increase the size of it
The materials look a bit iffy in pictures, so just keep that in mind. It might not be the softest blanket on this list.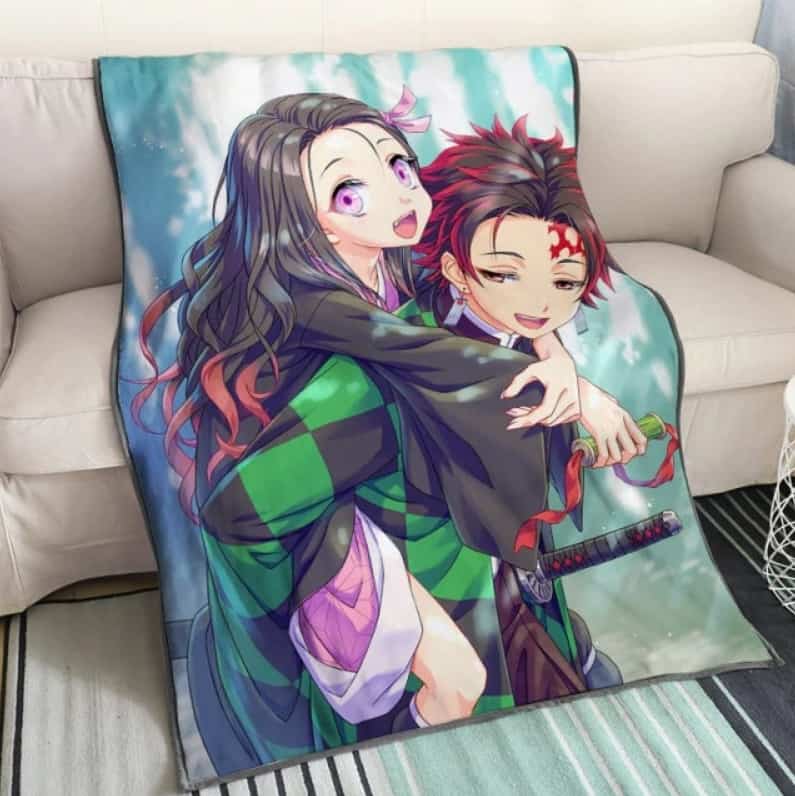 One of the most adorable blankets on this list is this Nezuko and Tanjiro blanket that tugs on my heartstrings. The relationship between these two siblings is the entire heart of the Demon Slayer series, so having a blanket that hones in on that relationship has my attention.
This appears to be fan art, taking a cutesy anime style that is far away from the mature art that Ufotable usually goes for. Tanjiro is giving his sister a piggyback ride in the forest, and you can see hear demon hair highlights shining in the background.
The art is quite detailed and fun, except for the strange look that Tanjiro has on his face, which I would change if I could.
Pros
Nezuko and her brother Tanjiro are always a positive focal point for any merch item.
The fan art style is fantastic
This is adorable and full of cheer
The snowy atmosphere makes this blanket perfect for cold wintery nights
Cons
The look on Tanjiro's face is bizarre and kind of off-putting
The shape of the blanket is narrow from the images, making it seem like this might be an odd one to use at times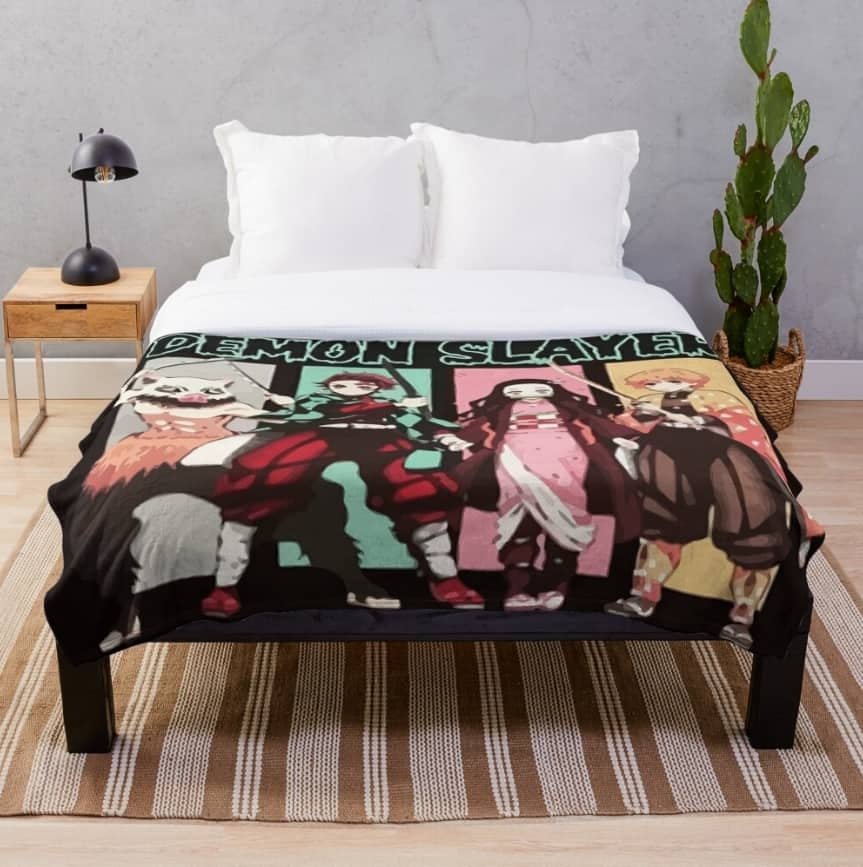 This blanket is a prime example of what happens when you hand over the art to someone else to make their own. It starts with the Demon Slayer logo, which is a graffiti style that is dripping with personality, almost similar to the Goosebumps logo, which could be hit or miss for some.
This is an intriguing mix of the characters in their standard poses, each with its own frame and fascinating color choices.
Pros
The Demon Slayer logo and characters feature their own unique art
It's dripping with personality for those who appreciate it
Cons
The style may not appeal to everyone
This blanket looks extremely thin in the images. Hopefully, that isn't the case, but beware as it could be quite disappointing in its materials.
The Demon Slayer logo style looks somewhat amateurish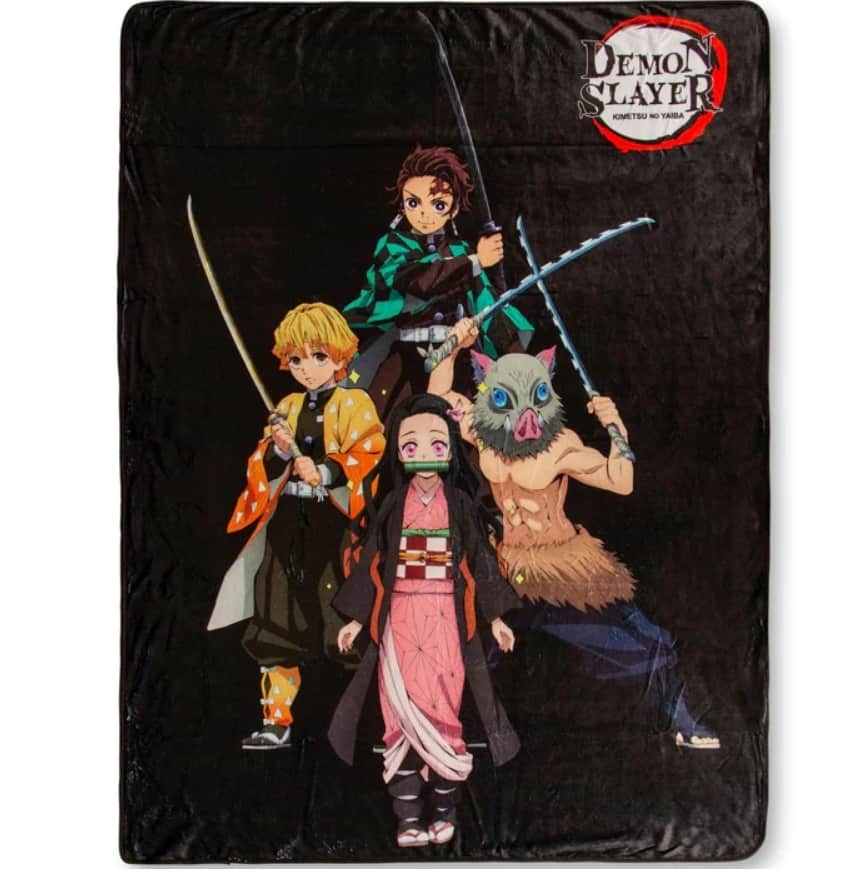 If you were to look at this blanket and feel like it is pretty familiar to you, that's for a reason. The same character poses and logo were seen in the first entry on this list; my favorite. The difference here is the background, which changes up to now be a plain black background.
This puts it below the stunning background of the previous one but doesn't take away from the still awesome art. If the bright and cheery nature of the other one puts you off, this might be better for you. It would have been slightly better if there were some customization background options.
Pros
These character poses, and art is always great
The background might be more appealing to some fans
The polyester fleece materials make it shimmer in the images
Cons
This feels primed for a customizable nature, but that isn't the case here
I'm not sold on the polyester as the main material. It might not be as soft as it appears.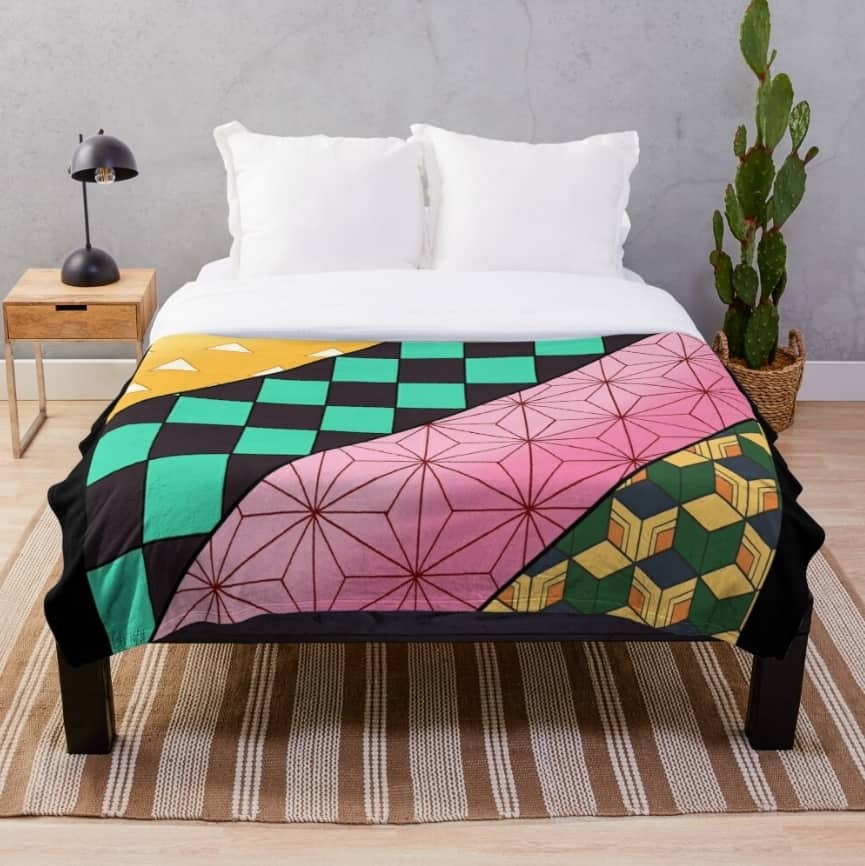 There is so something so fabulous about this next blanket that takes a reserved approach to highlight the main characters from Demon Slayer. Instead of being in your face, it shows off the four core members in a pattern representing each of them.
Most of the patterns are based on the outfits the main characters wear, with Tanjiro, Nezuko, Inosuke, and Zenitsu all getting some love here. This is a brilliant way to handle this particular blanket's art in an intelligent way that isn't too flashy or in your face. All the while looking gorgeous.
Pros
The reserved look of the patterns representing the four characters is brilliant.
It's both colorful and varied.
You can customize this one, so feel free to get a huge blanket if you want
Cons
This is one of the most expensive blankets here, for a good reason
This is another Redbubble blanket that looks a little too thin for my liking. Be careful as it might not keep you warm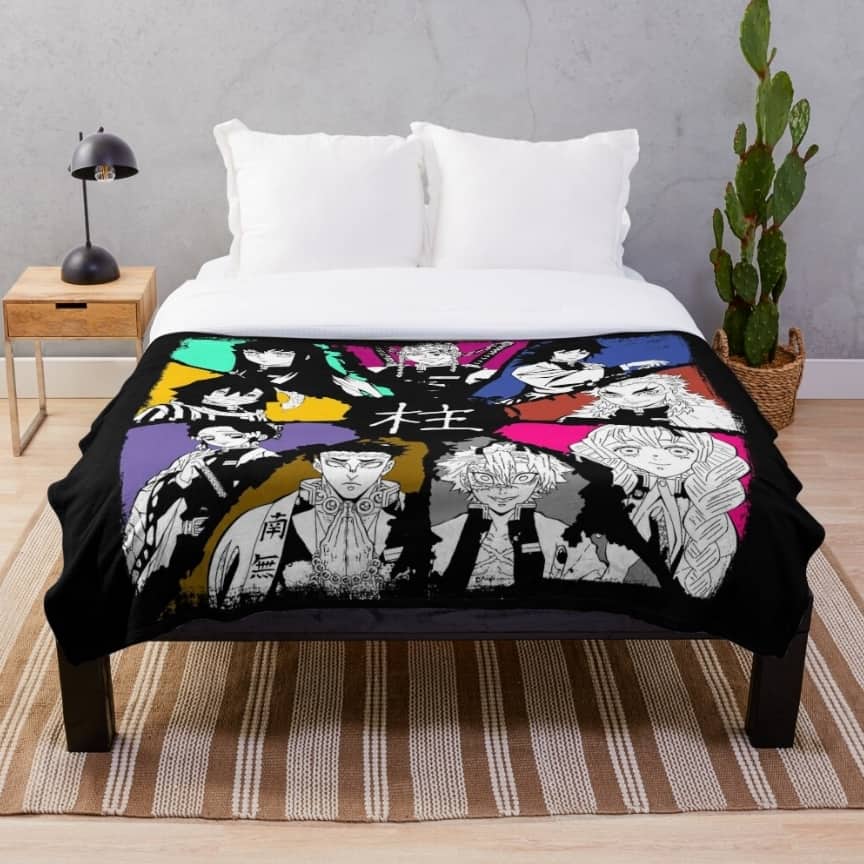 Finishing off this list, we have one of the busiest blankets in terms of what's going on with its design. However, it works nicely as all of the Hashira, or Pillars, from the Demon Slayers universe, are in full force. They each have a literal slice of the blanket, with different colors for each of them.
I find the choice of choosing different colors for their backgrounds but keeping the Hashira themselves black and white is a bold but surprisingly well-done choice. This is the perfect blanket for someone who loves all of the Hashira, like Rengoku and Tomioka, and wants them all together.
Pros
Excellent handling of bringing all of the Hashira together
The black and white characters go together perfectly with the colorful individual backgrounds
Another customizable blanket
Cons
Some fans may want character-focused blankets instead
This blanket could be seen as doing too much with its art for some fans out there
Redbubble does a fantastic job with its designs but the material of these blankets looks thin and brittle. I worry about how warm it'll keep you
There is also no guarantee that it will be soft based on the images
FAQs
Question: What is the best Demon Slayer blanket?
Answer: I've said it before, and I'll repeat it: there is no contest between the Demon Slayer Watercolor Group blanket and any other. It is the best Demon Slayer blanket you can find right now. Even with the smaller throw size, it dominates with the brilliantly dazzling art that is such a nice counter to the dark and gloomy series.
Question: Is there a Demon Slayer Rengoku blanket?
Answer: Yes, there is a Demon Slayer Rengoku blanket. Actually, there are quite a few. But there is one on this list that I included that focuses on a fiery attack from the Flame Hashira that you should consider as it is one of the best on this list.
Question: Is there a Demon Slayer Nezuko blanket?
Answer: Yes, there are a ton of Demon Slayer Nezuko blankets in existence. Most of them pair her with someone else, like Tanjiro, but there is more than a Nezuko-themed blanket on this list. Including some with just her featured on them.
What Demon Slayer Merch You Need Next
At the end of the day, you likely only have enough room in your budget to buy one blanket for now. And even if you have enough for more than one blanket, I highly recommend just buying one and sticking to that for now. See how it goes before you commit to buying more on this list.
In that case, if you only have the chance to buy a single blanket for your home, the one that I have to recommend the most is the Watercolor Group Demon Slayer blanket. I've raved about it already a few times now, but it just represents everything that I love about the series and this particular blanket.
The four main characters look fantastic on their own already, but then you add in the fact that the watercolors look so amazing in the background. But if you want to buy something other than this blanket, might I suggest a body pillow? While certainly not for everyone, some fans would appreciate a new large Demon Slayer-themed pillow to go along with their blanket.