Latest posts by Cody Perez
(see all)
There comes a time when even the most prolific and talented slayers in the world must lie down and go to sleep. Such is even the case for the Demon Slayer fans out there who need to rest so that they can wake up and slay the next day.
Of course, who said that your sleep has to be boring and uninteresting? What you can do is mix things up with the best Demon Slayer pajamas.
These are the ten best Demon Slayer pajamas you can find on the internet. I should note that there were some solid pajamas that I found initially that you would probably see quickly if you looked into it yourself, but the site or listings seem to be down at this time.
That is unfortunate, but I made do with what I found. As such, these are the ten best onesies, sleep robes, pajamas, and other sleepwear that you'll find based on Demon Slayer.
Bottom Line Up Front
Demon Slayer: Kimetsu no Yaiba might not be the first manga or anime series you think of when you think of sleepwear. However, you may be surprised to find that the massively popular series has plenty of pajamas, robes, and more based around it.
The best Demon Slayer pajamas are the ones that are flashy and clearly based on the series while also being quite comfortable to wear. The best option on this entire list has to be the Nezuko sleepwear set that comes with pajama shorts and a top. It is customizable to allow you to pick other characters, but there is no contest with this one.
My Top Picks at a Glance
For those of you who are in a hurry to get into bed with your Demon Slayer gear on, you are in the right place. Though I provided the ten best sleepwear based on the series further down below, I also have my top four picks in this section.
This is for those who want the best of the best without having to waste any more time looking anywhere else.
Buying Tips
Buying a pajama set is one of the trickier parts of your wardrobe. You can almost make anything look stylish in your outfit if you work hard enough, but pajamas aren't just about style. They're about comfort and ensuring they fit you right so you can sleep well at night.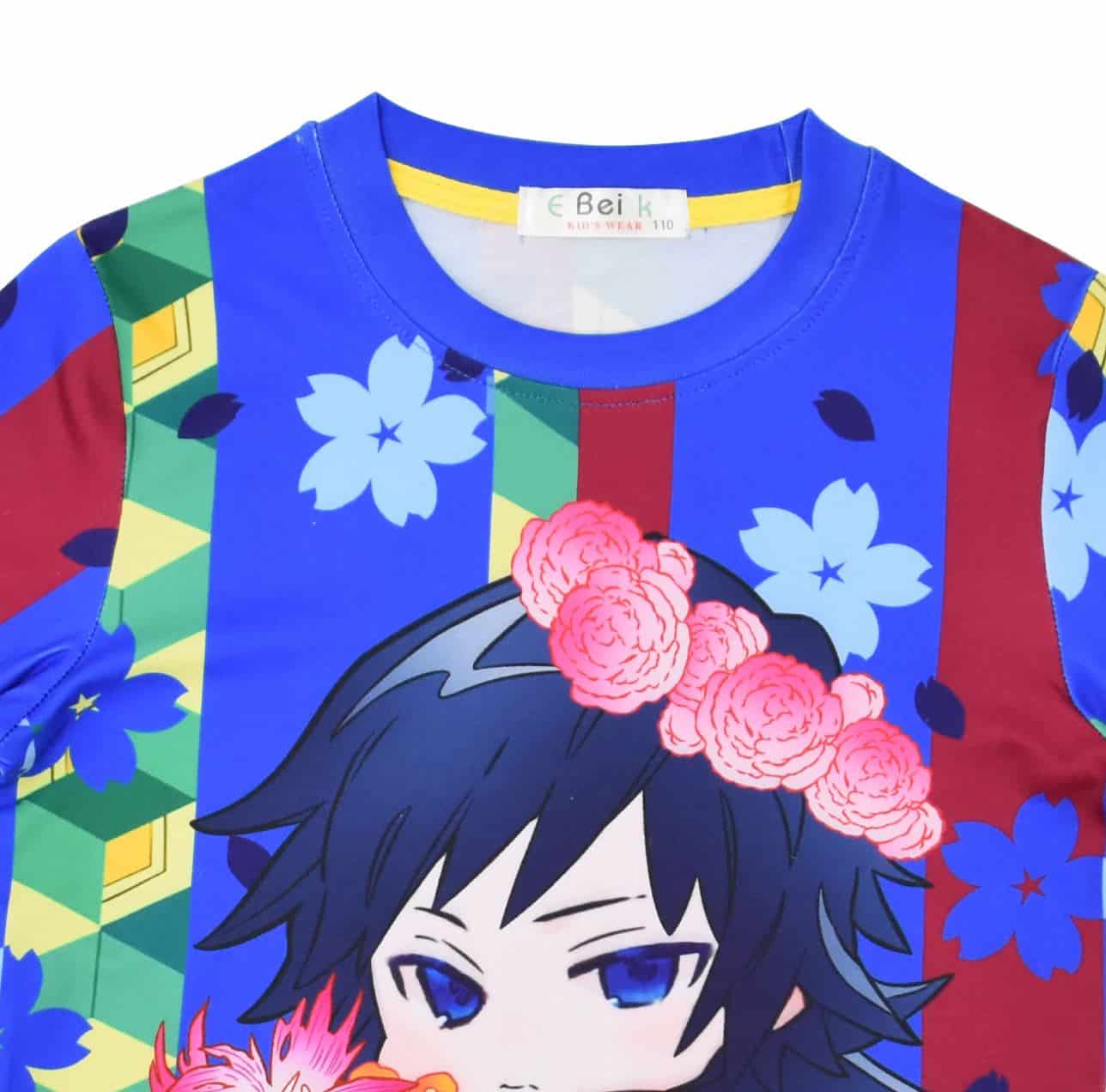 As such, I am going to be a lot pickier when it comes to my sleepwear. Here are some of the buying tips I have for you that I use myself when it comes to pajamas, onesies, and so on:
Know your refund and return policy. Buying sleepwear online is a risky maneuver as it is even risky in person. We are finicky people who may not end up liking something as much as we thought we would. Research the return and refund policy for the site you buy from before you purchase, so you can quickly fix any issues.
Pick your sleepwear type ahead of time. Some people are comfortable snuggled up in their onesies. Others like the comfort of a top and some pajama pants. Still, more are like me and prefer shorts to sleep in. Figure out what type you like to make the decision easier.
Find a character you love and focus on them. Lots of the options below that I selected are customizable, letting you pick between versions based on the four main characters and Hashira. If you already have someone you love aesthetically in mind, you're in the right place.
Design is key. Even if you like the character but hate the design or quality, pass it up. Don't force yourself to buy something just because you like the character. You'll end up regretting it at the end, which is never fun.
Don't stick to a single site. While many of these pajama sets are unique to one particular site, look around and research your options. Chances are, there may be a similar clothing item elsewhere and it could be cheaper or have lighter shipping costs.
Selection Criteria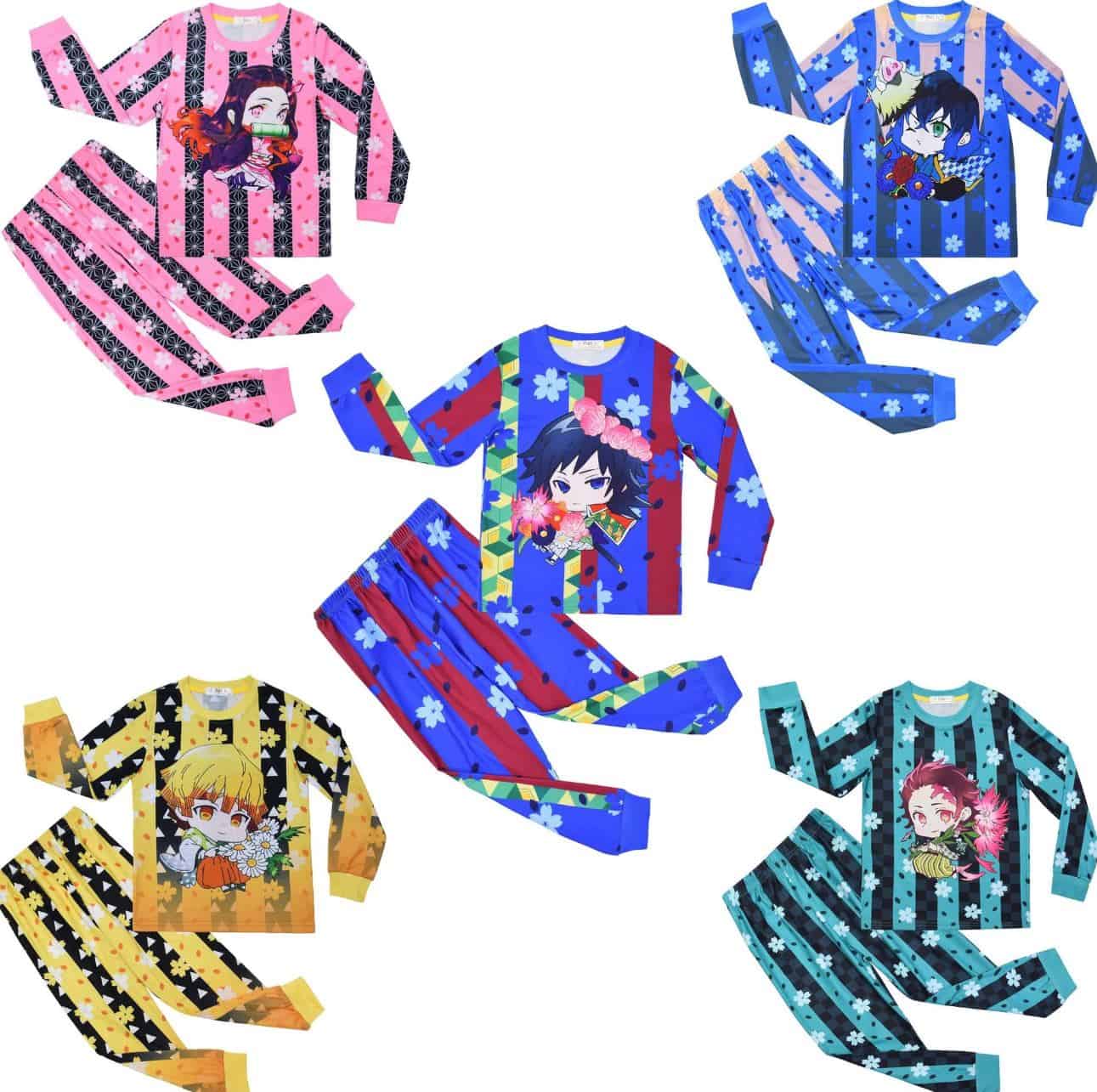 Coming up with the ten best Demon Slayer pajamas wasn't an easy task. There are many options out there, and I had to narrow down even some of the more customizable ones. That said, I came up with the ten that you'll find below using this set of selection criteria:
Art: The art and design of the pajamas are of the utmost importance. Well, I guess besides being classified as sleepwear. If I wasn't impressed or interested in the design of the clothing item, it didn't make this list.
Accuracy: This is a Demon Slayer pajamas list, so there has to be some love for the massively popular manga and anime series. If the Demon Slayer inspiration wasn't clear from a single quick glance, it doesn't deserve to be on this list.
Quality: This is the part that's hard to know without wearing the pajamas themselves. But, using the power of others' reviews and the images that we can see, the quality at least has to look somewhat decent.
Value: Money is not everything, but it makes a huge difference. I tried to include a range of cheaper pajamas, which isn't too hard, thankfully, plus some higher-end ones. Hopefully, this allows for options for everyone, regardless of your current budget.
Best Demon Slayer Pajamas List
Without further ado, let's dive into the best Demon Slayer pajamas you could find online. I came up with ten, as mentioned, but more are out there. I should note that some of these entries have multiple options or customization, so they can be more than meets the eye. Let's take a look!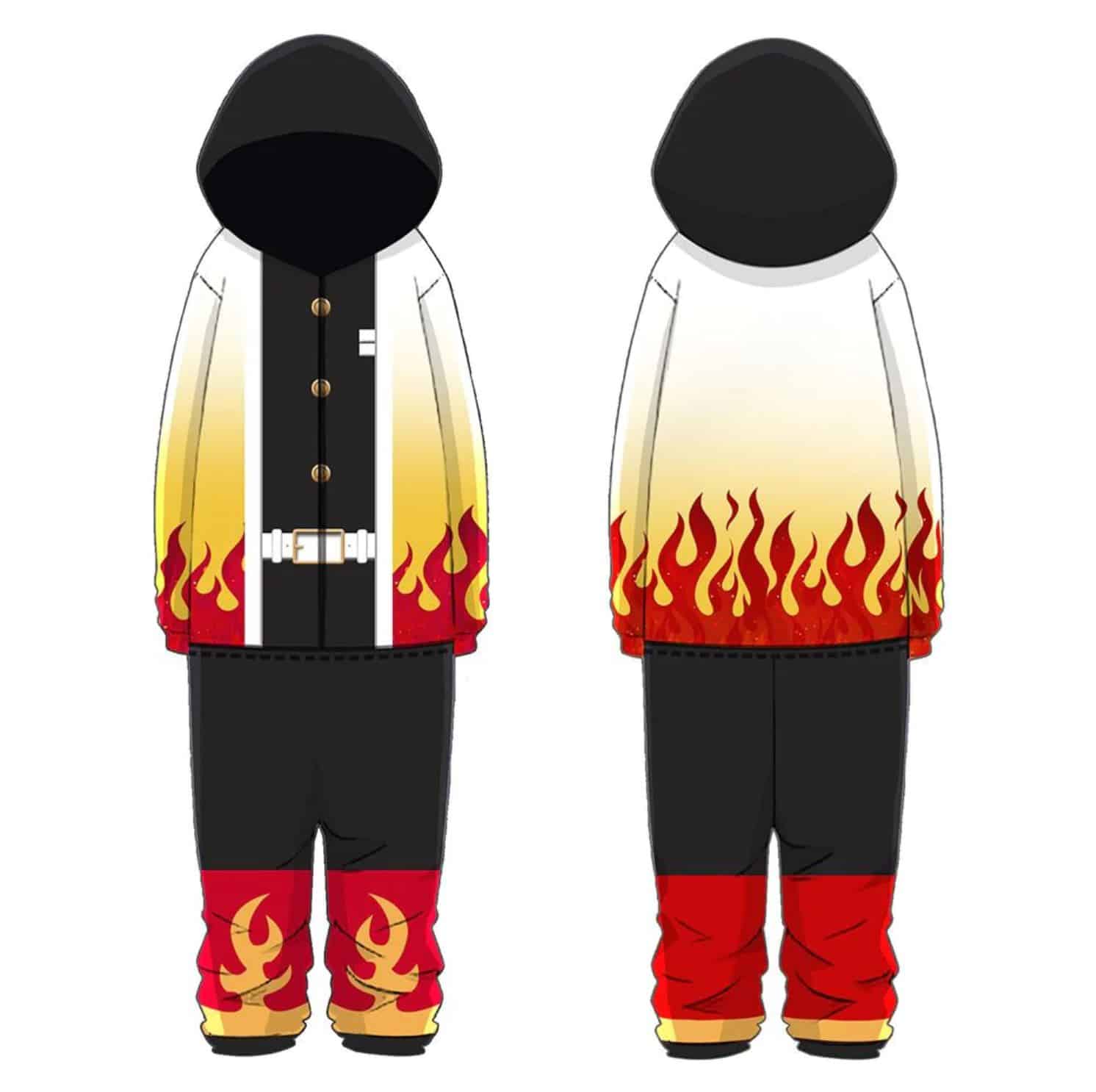 For my onesie fans out there, this one is for you. There is something to be said about an entire onesie outfit that makes you look like you're wearing something else entirely, and this is one of the best in that regard. If you are a fan of the Flame Hashira, Rengoku, from the Mugen Train film and manga arc, you are in the right place.
This takes his entire Hashira outfit, including the flame-filled jacket, and combines them together into a single onesie uniform. It is pretty wild what the creators of this sleepwear were able to do, as it looks like multiple pieces of the same set, but, in fact, it's a single onesie you wear.
It even comes with a little hoodie you can have on your head if you want to have that extra layer of secrecy. The detail on this onesie is solid, but I should note that this isn't your standard cosplay outfit. Don't expect that level of quality in this situation, as you are meant to be sleeping in this.
Pros:
Look and sleep the part as Rengoku with this onesie
This shows the possibilities of what you can do with a onesie
This is as good as it gets in terms of recreating Rengoku's outfit in pajama form
Cons:
It's not cheap in the slightest
As a onesie, it doesn't have the quality of a proper cosplay outfit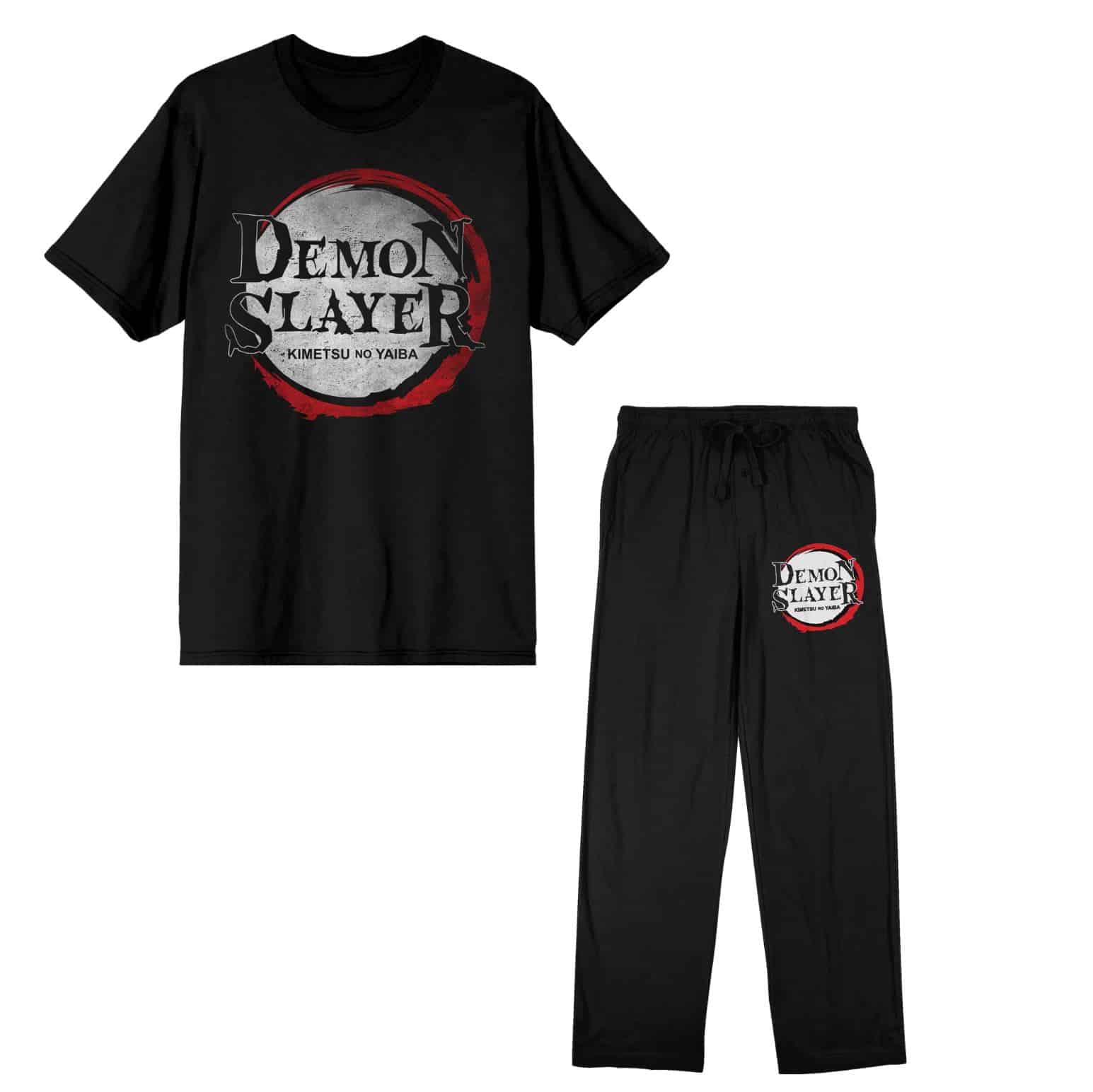 These are the most basic pajamas you'll find on this list. But there is something to be said about the simplicity and default nature of these that can appeal to anyone and everyone of all ages. If you don't like the flashy nature of the other sets, this one can be welcoming and comfortable.
Plus, if you don't know the favorite characters of someone you're buying from, these are the go-to pajamas you can't go wrong with. The Demon Slayer logo is on both the shirt and the pants. I appreciate that you have the smaller logo on the pants but a massive one that covers most of the shirt. Plus, you could arguably wear that shirt on its own outside of bed sometimes.
Pros:
The default Demon Slayer pajamas that will work for just about everyone
Perfect for those whose favorite character you don't happen to know
Simplicity is sometimes the best option
Plenty of size options for all sorts of fans
Cons:
This may be a little boring or too standard for some fans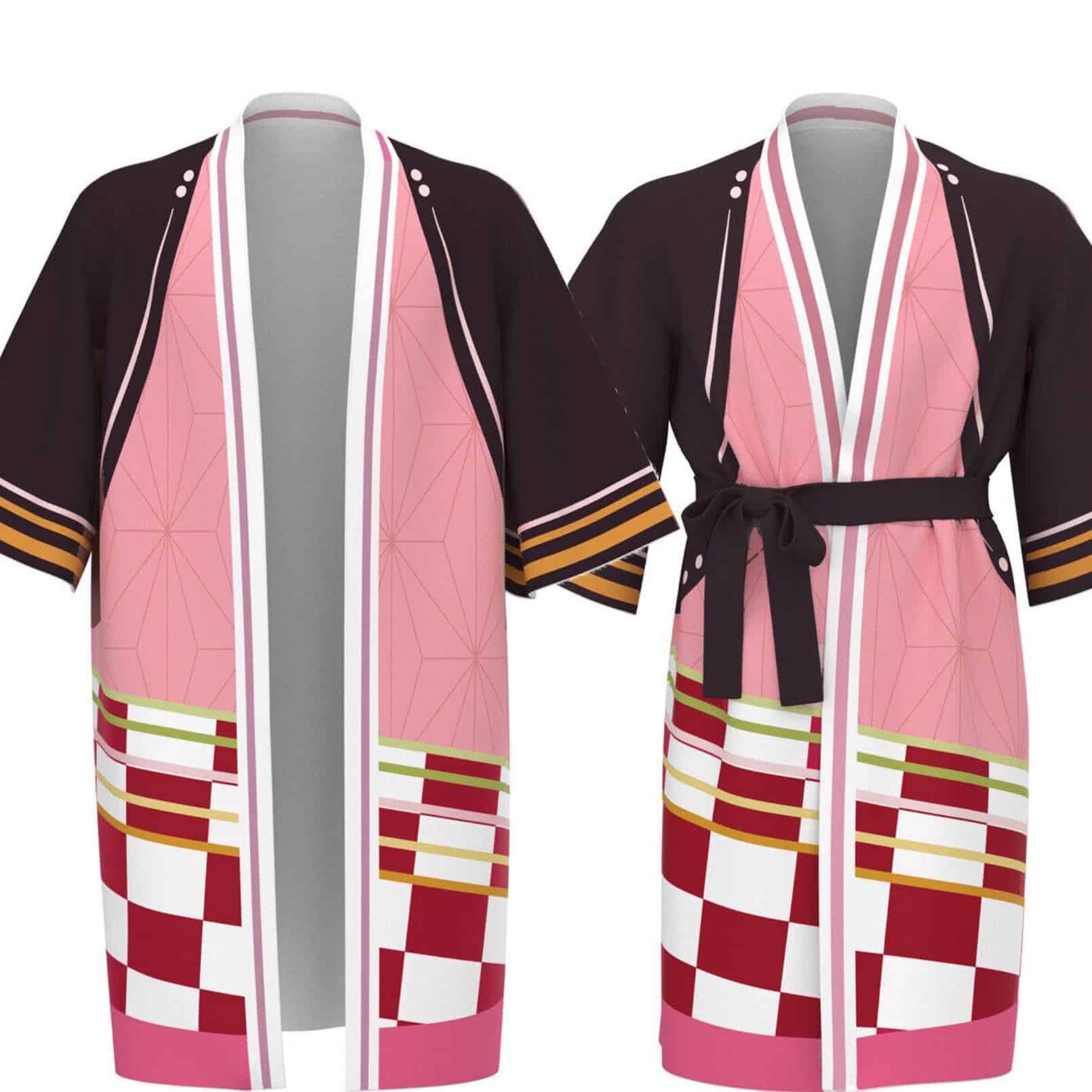 While this is, technically, considered a bathrobe, I know plenty of people who use their bathrobes to either sleep in or lounge around in before bed. That is why I included it on this list to give a little bit of that option for those who prefer to have a nice long robe on before they go to sleep after taking a bath.
In this case, we have a bathrobe that is smartly based on Nezuko's outfit from the series. Since it is a robe, rather than basic pajamas, it can do a solid job of recreating the actual robe that Nezuko wears but in real life. In this way, it could arguably be a piece of clothing for cosplaying Nezuko if you wanted to go that route.
Pros:
The versatility of this bathrobe makes it great for sleeping, lounging around, and even possibly cosplaying.
It accurately recreates the Nezuko robe from Demon Slayer
For my friends out there who prefer to sleep in robes
Cons:
This version is for kids, so adults may not be able to wear it
Hard to find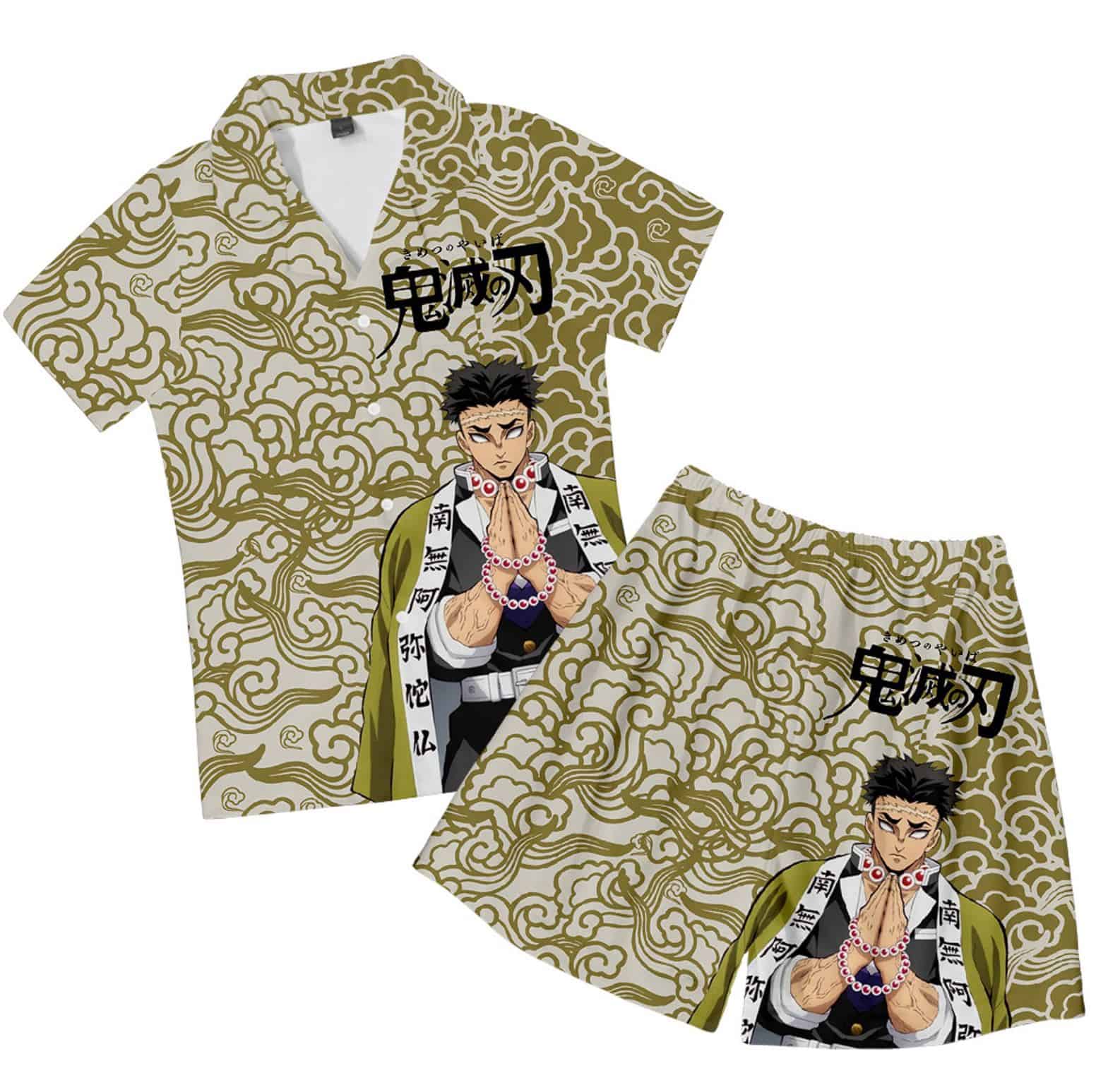 There is a particular Hashira member who gets next to love or attention in the series, and that is Gyomei Himejima. While the others get a lot of intriguing moments and scenes, it feels like the Stone Hashira has the short end of the stick when it comes to the community.
However, that isn't the focus here, but rather, how excellent he looks in pajama form. These pajamas speak to me as they have a light shirt and shorts that make for a comfy outfit that would be welcome in the middle of summer.
Gyomei looks excellent on both the shirt and shorts and the lighter pattern color helps it to feel cheerier than others. Bonus for these particular Walmart pajamas offering multiple character options for those who don't like Gyomei.
Pros:
Gyomei is underrated and looks fantastic in these pajamas
The color scheme is unique and bright
Options for Mitsuru and Rengoku if you don't like this one
Cons:
The price is a steep one, considering how light these pajamas are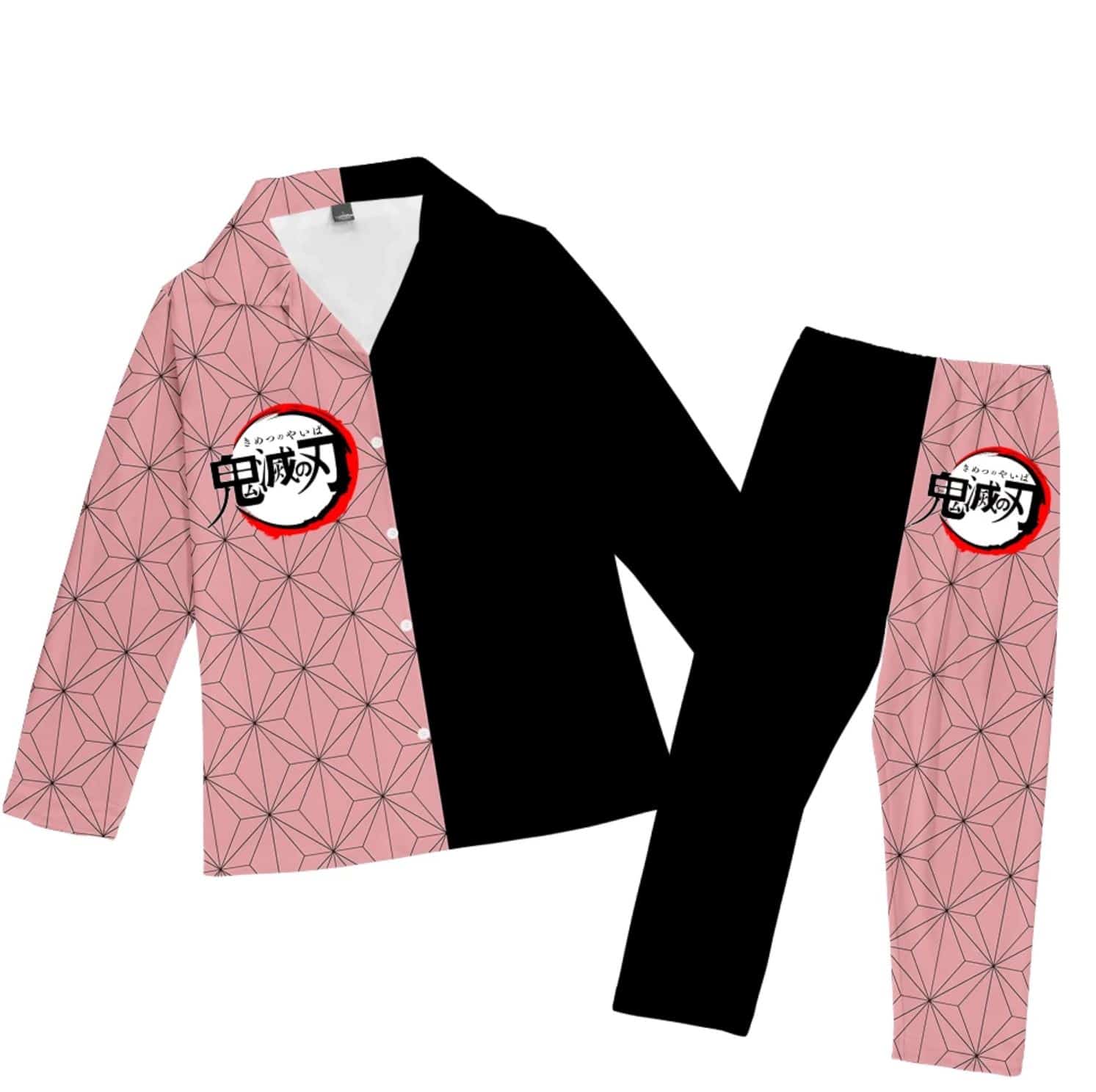 There is something to be said about a pair of pajamas that aren't too flashy or in your face with the clear inspiration that it has. Such is the case with these pajamas. I appreciate both the options and the understated nature of their designs.
There are six possible options, each based on some of the Hashira and main characters. My favorite is the blue and black ones that may be based around Giyu Tomioka or perhaps the Mist Hashira. That is how relaxed these are as you mainly just pick the two-toned set that you prefer.
The pink and black ones look fantastic, the blue and black ones are my favorite, and there are more. I also like that it uses the Japanese Kimetsu no Yaiba logo rather than the standard English one.
Pros:
Customizable pajamas with several two-toned options
Some of the best pajamas for those who don't want something too flashy
Plenty of size options for kids and adults alike
Cons:
The patterns aren't super clear about which characters they're representing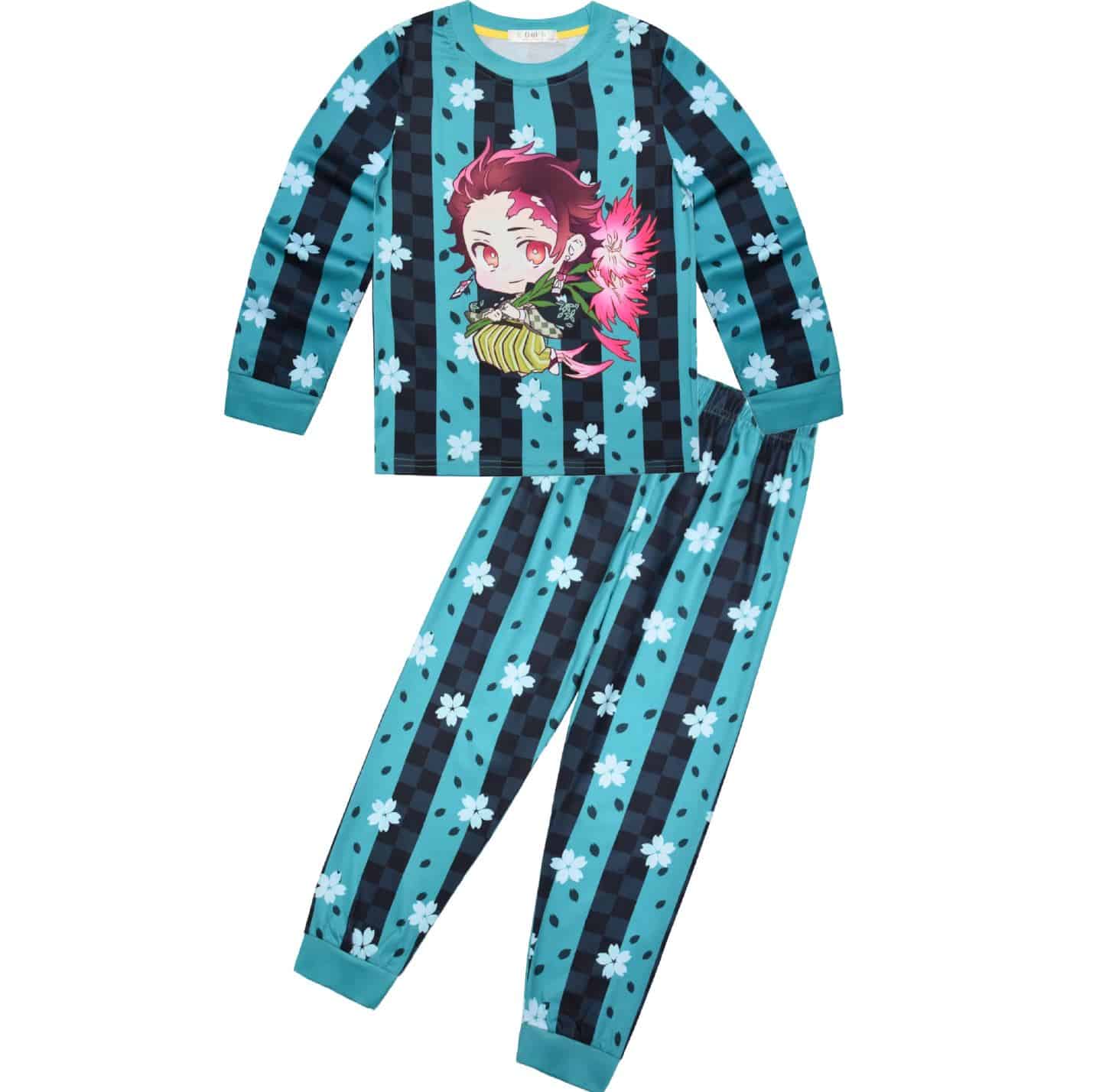 You don't see this too often when it comes to something like pajamas, but I always appreciate it when merch items based on a series go in their own unique direction. Thankfully, such is the case with these chibi Tanjiro Kamado pajama sets. Instead of featuring a classic pose for the character, it takes some liberties with him.
We get this tiny version of Tanjiro that is so adorable, complete with a cutesy flower he's holding. But that isn't even the end of the originality, as the color pattern features light blue and dark blue stripes with some flower petals sprinkled throughout. It is gorgeous, and that's before, including the fact it has options for other characters.
Here are some of the chibi characters that it features as options (though the Tanjiro one is the best):
Nezuko
Zenitsu
Inosuke (boar head-less version)
Giyu Tomioka
Pros:
This is one of the best, most original looks for Tanjiro
The chibi art is phenomenal
The striped pattern with flowers is a solid touch
There are options out there for several of the main characters
Cons:
These are some of the cheapest pajamas around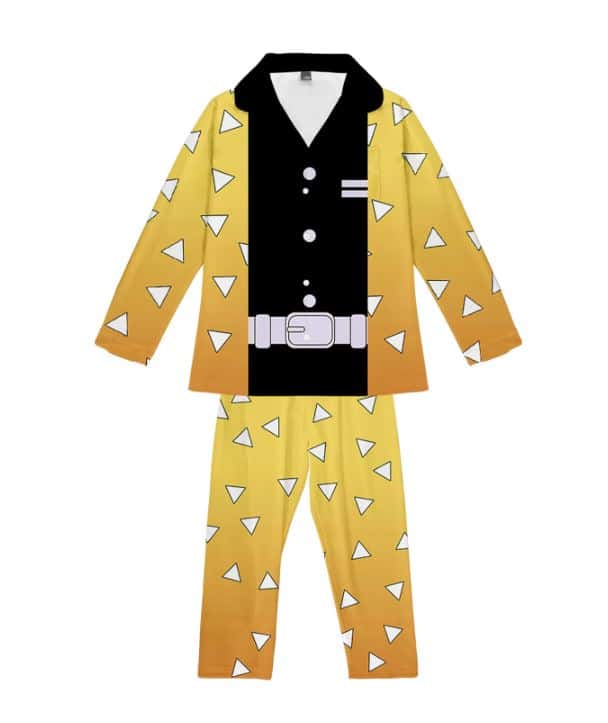 There is something to be said about the impressive quality of taking the classic uniforms that the characters in Demon Slayer wear and turning them directly into pajamas. This is exactly what this set does, turning six of the characters' outfits into full-on pajamas for you to wear.
There is no real standout here, so I just want to focus on the versatility of this set for including six of the most popular characters, including some surprises. Here are the six that are represented here:
It's an intriguing mix, especially giving some love to characters like Shinobu, who aren't often featured on this list. The outfit recreations are pretty accurate, too, almost bordering on cosplay items.
Pros:
These pajamas adequately recreate the Demon Slayer uniforms
Shows some love to several characters, including Shinobu
Pricing that makes sense
Cons:
Shipping could take a while
The selected characters seem a little random (where are Inosuke and Tengen?)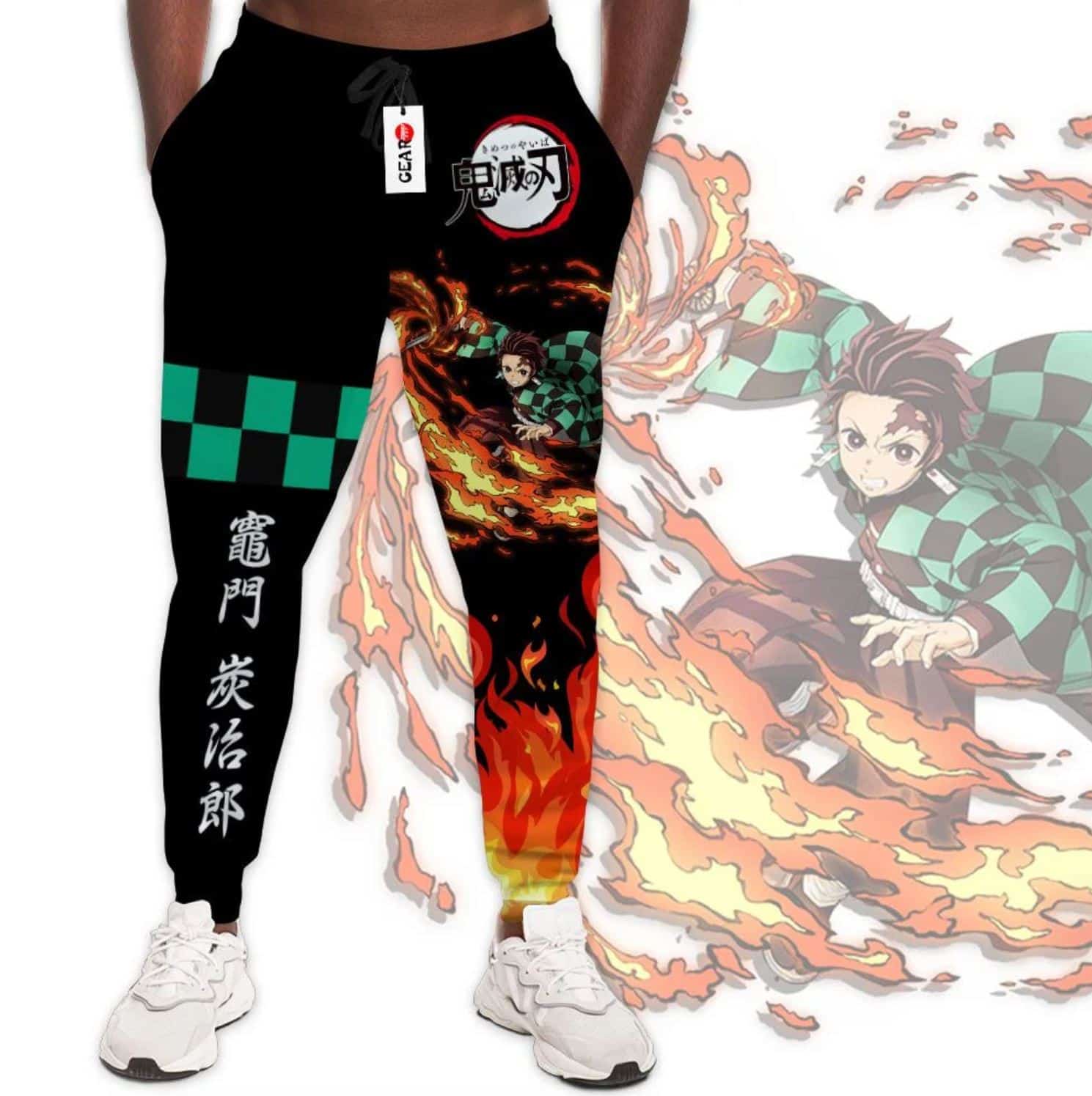 This is going to go into some light spoilery sections right here, so I hope you've finished the first season of the anime or are caught up to the Mugen Train arc in the manga. You see, these pajama pants are specifically designed around the flame-breathing technique that Tanjiro learns later in the series.
These pants are terrific, with a high level of quality and material that are seemingly used here. You have the Tanjiro art in the middle of a flame sword attack on one side with some kanji and his pattern on the other side. The significant part about these pajama pants is that they are, technically, sweatpants, too, so you could go out in these just as well as sleep in them.
Pros:
Versatile pajamas/sweatpants useful for sleeping and everyday use
The Tanjiro art is so detailed and phenomenal
Cons:
Pants only; no shirt here
Super expensive considering that you only get pants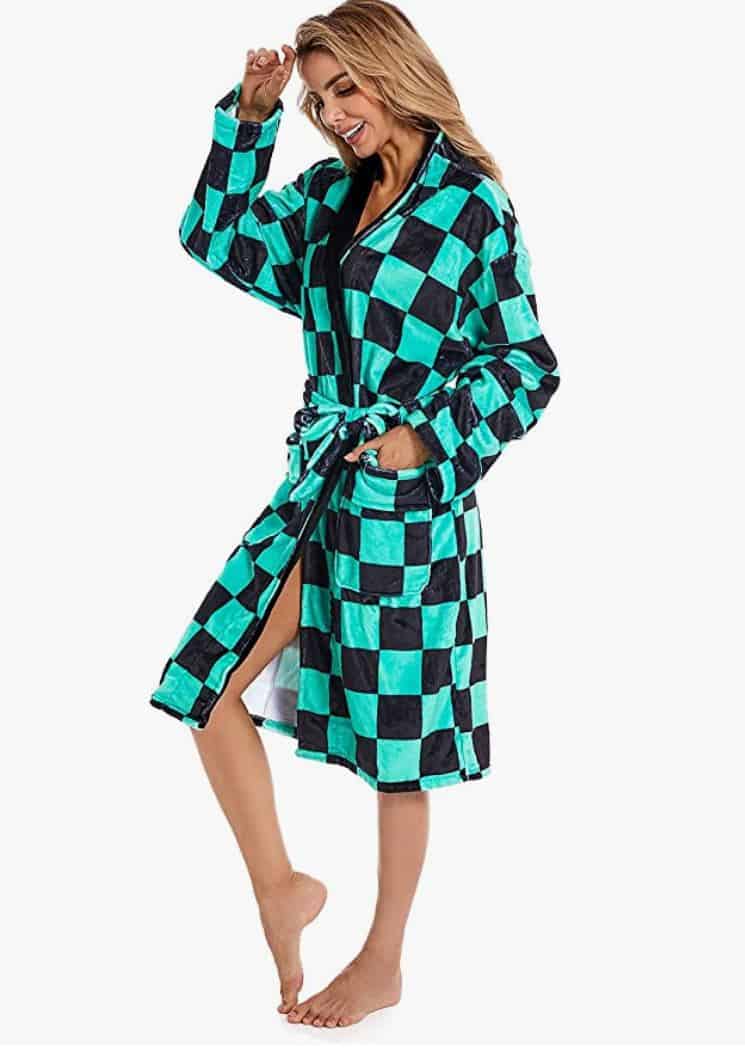 In the same vein as the previous bathrobe, this one features Tanjiro as the focus here. You don't see any super clear art about him, nor are there any logos to give away the Demon Slayer inspiration. This is solely based on the coat that he wears and the classic green and black checkered pattern on it.
The material looks exceptionally well-done, so you will likely get a robe that will be useful for relaxing at home or sleeping in bed.
Pros:
It recreates the Tanjiro checked pattern well
The bathrobe can be used for several comfortable scenarios
Cons: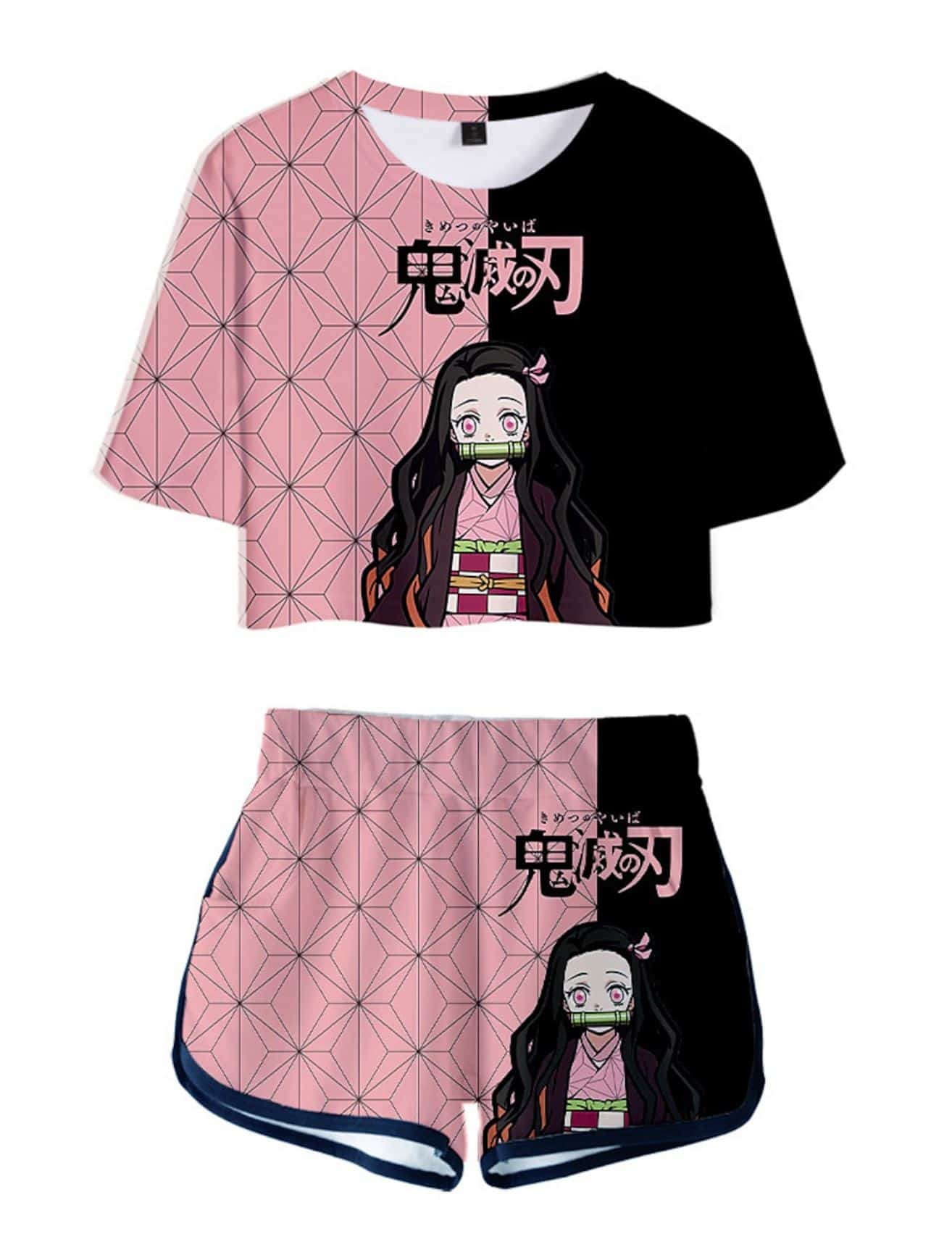 These are by far my favorite out of this entire list. You can't go wrong with the mix of comfort and flexibility with these pajama shorts rather than pants. It also comes with a cute shirt, which is themed around Nezuko in one of the best ways possible.
Both the shirt and pants feature a two-toned nature, where it is black on one side and pink with the classic Nezuko pattern on the other. You also get an image of the adorable Nezuko on both, along with the Japanese logo for the series in an underrated black and pink style.
But that's not all, either. There are options for other characters, too, in this same style. I just happen to think that the Nezuko one is the best of the bunch. Here are the others:
Pros:
The Nezuko pajama shorts set is both comfy and light
The best-designed pajama set from Demon Slayer
Tons of excellent options
Cons:
They are pretty expensive when not on sale (currently on sale at the time of writing this, though)
FAQs
Question: What are the best Demon Slayer pajamas?
Answer: The best Demon Slayer pajamas have to be the Nezuko light sleepwear set I have raved about repeatedly on this list. The design is perfect, the comfort level seems high, and it doesn't look too heavy like some pajamas. Plus, if you want a set based on someone other than Nezuko, that is an option, too.
Question: Are there Tanjiro Demon Slayer pajamas?
Answer: Yes, there are several Tanjiro-themed Demon Slayer pajamas. Some of them were on this list, including the customizable ones that always had a version for the main character of the series.
Question: Are there Zenitsu Demon Slayer pajamas?
Answer: Yes, there are some Zenitsu Demon Slayer pajamas, even if they weren't necessarily featured, specifically, on this list. Nearly all of the customizable options on this list include a Zenitsu version for those who love that character.
Best Demon Slayer Pajamas: Final Thoughts
You sleep for a vast portion of your life. If you're getting the eight hours that are recommended for adults (heh, heh, good luck on that one), you're spending a third of your life (possibly longer for some) in the dreamy realm. So, why not look fashionable and comfortable at the same time during that third of your life?
If I had to pick a single pajama set from this list to purchase, it would be the Nezuko sleepwear that includes the shorts and top. The beautiful dual nature of the set, with its split pattern and the ability to customize it to include other characters is phenomenal.
However, this is only sleepwear for a third of your life. What about the other two-thirds of your life when you're going to school, work, and traveling around? Thankfully, you can undoubtedly represent Demon Slayer during that time, too, if you'd like. Be sure to check out the best Demon Slayer hoodies for some more clothing items to fuel your Kimetsu no Yaiba obsession.