Latest posts by Cody Perez
(see all)
Jujutsu Kaisen is understandably one of the best newer manga and anime series out right now. The ongoing dark fantasy series is quite unlike its inspiration and similar shows, focusing on subverting expectations with its unique cast of characters.
The intense action and fantastic cast members all come together to make for some fire merch, such as posters. If you've always wanted to know what the best Jujutsu Kaisen posters are, you are in the right place.
I don't have the option to decorate my room these days (the somewhat unfortunate case of the soon-to-be-married life), but if I was still young and single, I can assure you Jujutsu Kaisen would be the go-to series I would want to buy a couple of posters from.
Now that I am living vicariously through you and your decorations, I've come up with the 15 best Jujutsu Kaisen posters worth your money that I would gladly want to see in my room or yours.
Bottom Line Up Front
The best Jujutsu Kaisen posters are the ones that emphasize its art first and foremost. Whether taking advantage of official key art or fan art that someone else made, the visual quality of the poster is the most essential part of creating an excellent poster.
When it comes to the ten best posters below, there is one that reigns supreme as the king of them all. That poster is none other than the Sukuna dark poster.
This particular one shows how impressive a Jujutsu Kaisen poster can be when someone takes the time to create detailed art that pays proper homage to the villainous Sukuna while also being extraordinarily cheap, even for the large one.
My Top Picks at a Glance
For my friends out there who happen to be in a hurry to get you a poster and start decorating your room, I've got your backs. Below, you'll find the top five posters out of the 15 best ones out there.
These are the ones that I am itching to see someone hang up in their rooms. They are the best of the best, being the must-buy posters that you absolutely need in your decor.
Buying Tips
Posters are some of the trickier merch items to buy. They aren't as easy as something like a figure since they don't arguably appear in person the way they do in images online.
Furthermore, they vary considerably in price, from the cheaper posters on the lower end to the premium ones on the higher end. Here are some buying tips I've learned from my time buying plenty of posters in the past:
Self-control is key. Posters are one of the most challenging merch items because there is so much incentive and temptation to keep purchasing more. But this isn't conducive to your wallet, and you only have so much room for decorations in your room.
Check as many locations as possible. Compare all of the posters you're into, get some second opinions, and sleep on any that you're interested in. Come back in a few days, look again, and then make your decision with a clear mind.
Don't be afraid to wait for sales, especially around the holidays. This is one of the best ways to stock up on the posters you've been wanting.
Keep a close eye on the refund and return policies from the place you're buying from before making your poster purchase. Know ahead of time what your options are in case the poster arrives damaged or whatever happens. You need to be careful since they are delicate items.
Selection Criteria
Coming up with the best Jujutsu Kaisen poster was not an easy task whatsoever. There are so many different posters out there that nail the idea of this property and how it could look when hanging on someone's wall. This is due to the amazing characters and the fantastic art that exists. As such, I had to be extra careful in picking the right posters. Here are the selection criteria I used:
Art quality: When it comes to a poster, the art's quality is number one. If the art doesn't match my expectations, it wasn't even in consideration for making this list.
Uniqueness: The stand-out factor is also crucial to making this list. There are so many different Jujutsu Kaisen posters out there, and likely only more to be released in the coming months and years. There has to be something special, like a unique artstyle or appearance, to catch my attention.
Material: To a lesser extent, the material and what the poster is made of can make a difference. A metal piece can be resilient and last much longer than some of the paper-thin posters out there.
Value: Though not everything, value is notable for some Jujutsu Kaisen fans out there. Your room and wallet deserve only the best, so I did try to keep an excellent range of the most expensive, extraordinary pieces but also the best of the less costly posters at the same time.
Best Jujutsu Kaisen Posters List
Without further ado, I finally narrowed down all of the Jujutsu Kaisen posters out there to only the top 15 that you need to know about. Here are all of them in no particular order whatsoever, as this is not necessarily a ranking of each of the posters. They are all worth your time, money, and consideration.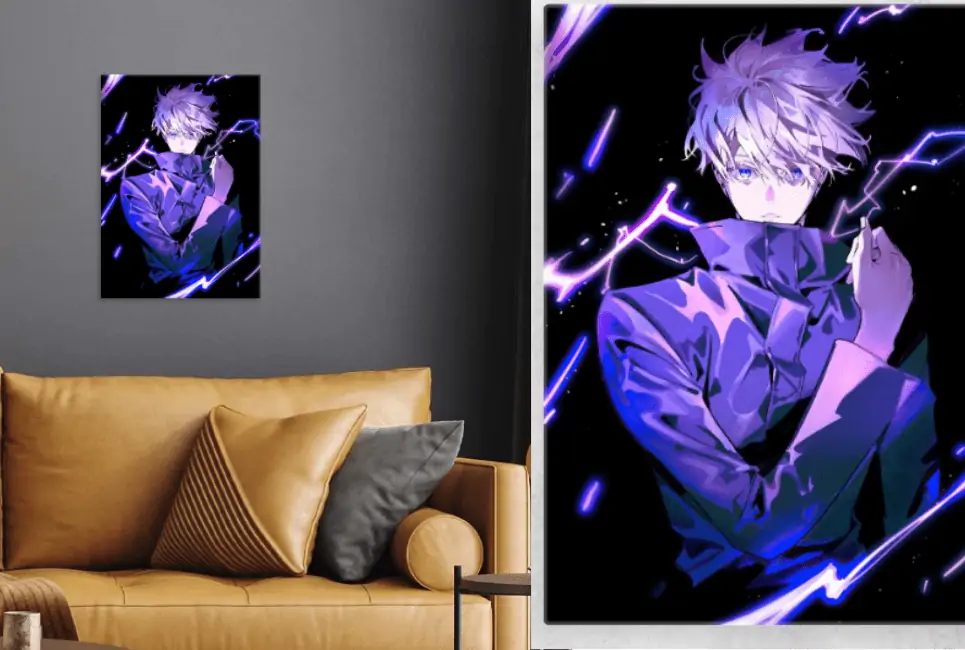 Some of the most remarkable trends in wall art lately have come in the form of luxury posters that you can customize to your liking. Such is the case with the metal poster industry, which includes this gorgeous Satoru Gojo lightning poster.
The art is honestly quite simple, featuring Gojo-sensei with swirls of purple energy circling around him. However, the addition of him with his unmasked eyes is a nice touch, making for a highly detailed metal poster that is well worth your time. Plus, you benefit from all of the possible options too.
Pros
Satoru Gojo looks like a beautiful purple model
The detail is fantastic
The amount of options is welcome
Cons
This is a metal poster, so it's not for everyone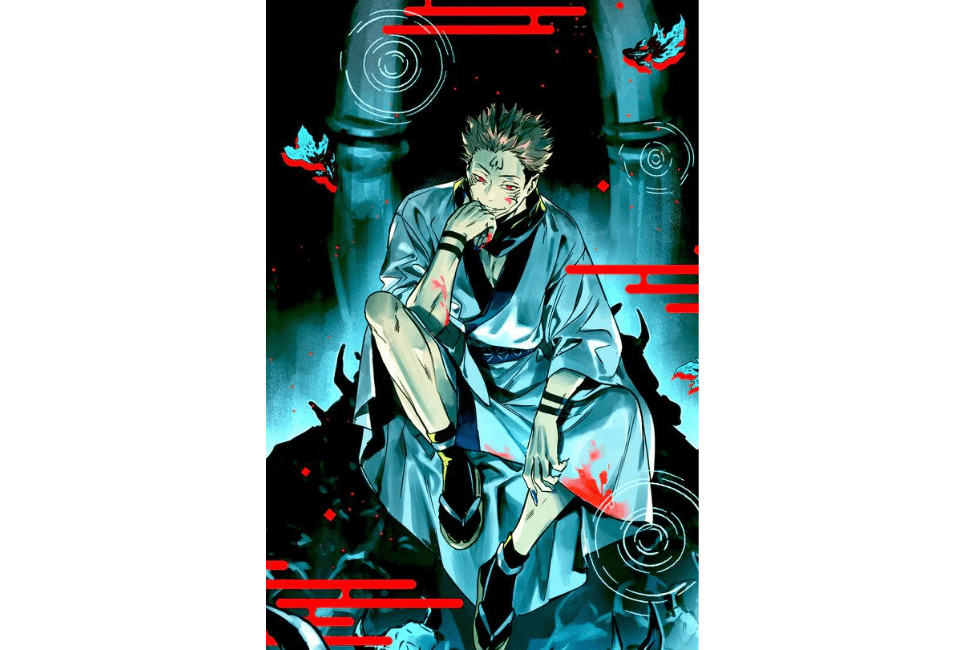 A common thread you'll find on this list is Sukuna and Gojo, two of the best characters from Jujutsu Kaisen, who also get the best posters. Such is the case with my favorite poster on this entire list: this one featuring the original art of Sukuna posing for the camera while sitting.
The intensity of the coloration in this poster is the true star, as the blend of rich blue, striking red, and deep black make for some fascinating scenarios here. There is no denying how talented the artist who made this is, and the best part about all of it is that this is an extraordinarily cheap poster. And that's even if you get the largest size possible.
Pros
The best art on this entire list
The color scheme is unique and wonderful
There are size options, all of which are impressively cheap
Cons
Canvas lovers should expect to pay a pretty penny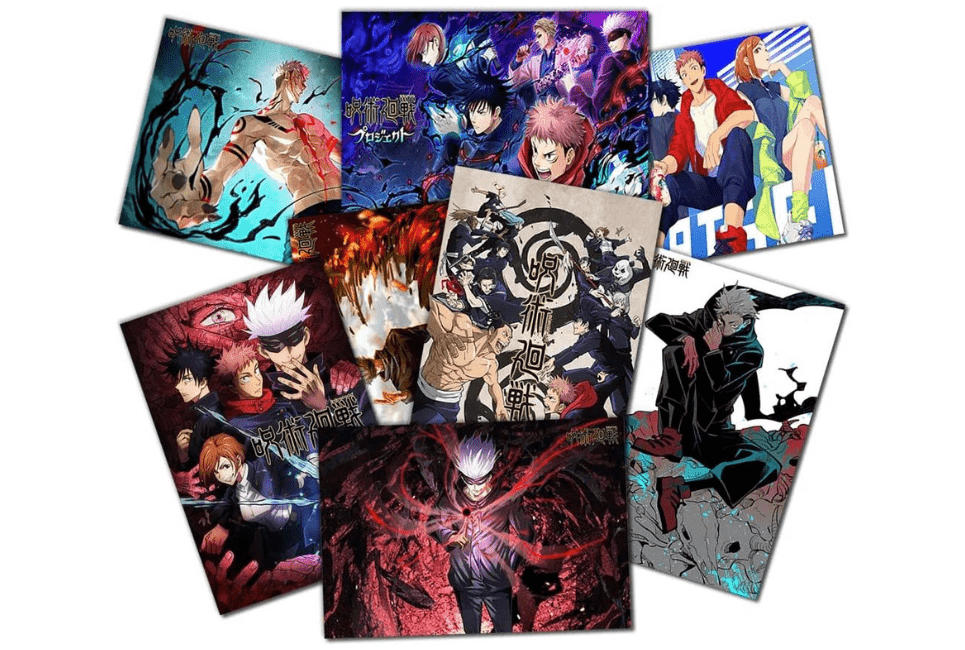 There is value, and then there is getting posters for a couple of dollars value. If you're in the market for more than one poster and can't make up your mind, this is the place to look. Amazon has a set of eight quality posters that you'll find for a total of only $15 (plus maybe tax and shipping).
The posters themselves are solid, primarily based on standard poster designs and critical art. However, there are some original fan art designs here, too, and they look solid as well. The one element of note is that the posters are pretty small, but this leaves room for you to hang up as many as you want.
Pros
The best value you'll find on this entire list
Most of the posters are worthy of your money
A solid mix of official key art and original fan art
Cons
The poster sizes are pretty small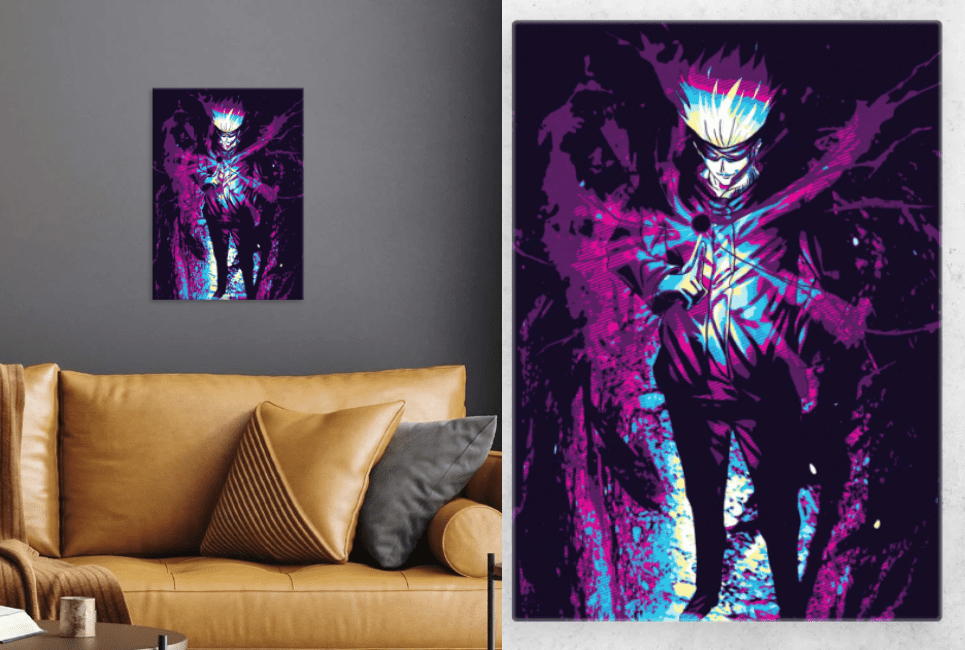 This is one of the most reflective and intriguing metal posters on this list. It takes Gojo and puts him in a strange thoughtful mood as dark energy and powers swarm around him. There is a lot happening here, especially in the colors department, which can be quite appealing to some fans.
This is a moody piece with a lot happening here, which is the point of art. We truly see this artist's idea of Gojo in a mad but brilliant manner. Of course, this is a metal poster, so the quality will be top-tier, especially given the price you pay. But you have plenty of options, too.
Pros
One of the most unique types of art for a poster
The colors are so vibrant and moody
The quality is some of the best you'll find
Cons
The colors and style could be off-putting to some (but I love it)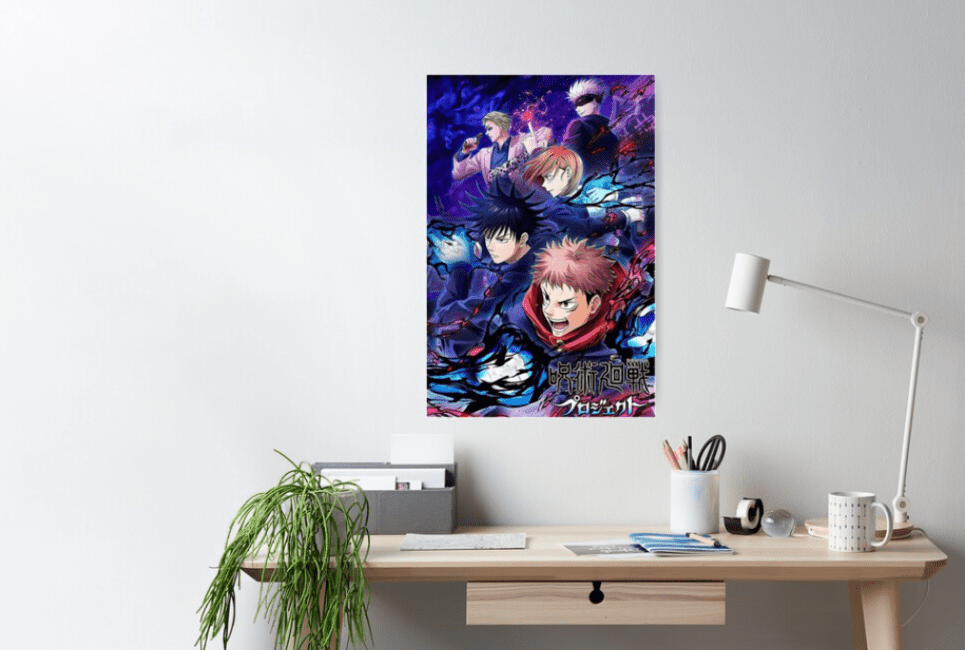 This is a classic example of a standard poster. It takes some official Jujutsu Kaisen artwork from the series and turns it into a decorative wall art you can hang up. In this case, it is the dark purple, blue, and red team-up poster that features the three first years from Tokyo Jujutsu High, plus a couple of other main characters.
The art itself is a prime example of some of the best official art out there, so you really can't go wrong with this one if you aren't sure what to get for a Jujutsu Kaisen fan in your life. Just remember that it is relatively small, especially for the price.
Pros
The team-up poster art is solid
You get several of the best characters in battle-ready poses
I enjoy the color scheme
Cons
It is a relatively small poster for the price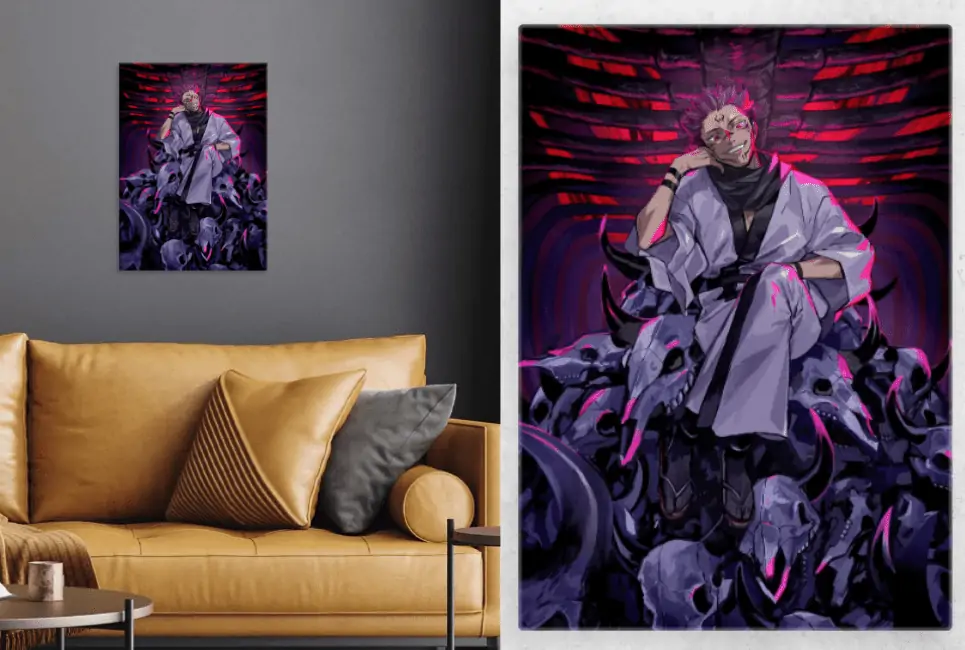 Displate is such an intriguing luxury poster site for those who are metal poster fans. They knocked it out of the park again with this Sukuna poster, this time focusing on him on his supernatural throne. The imagery is haunting, featuring the bones of his foes under him and his creepy smile.
The art is full of dark and fearsome colors, making for one of the scarier designs out there, which will appeal to those who like that style. The ability to customize everything about the poster to your liking, though, is where it stands out. You can choose the size of the metal poster, its finish, and even the frame, which I always recommend, if possible.
Pros
This Sukuna art is fitting for the character
The colors and style are so grim but in a beautiful way
The customization options are welcome
Cons
It might be a little too gruesome and dark for some fans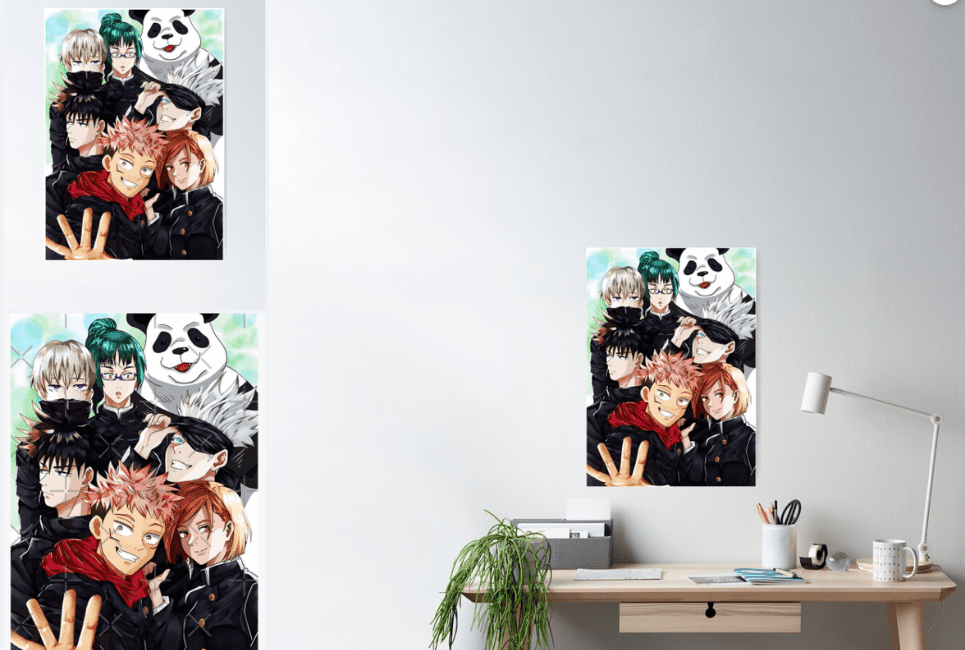 This poster is like the laidback equivalent of hanging out with your friends after school and taking selfies together. The art is clearly handmade with an almost vintage touch to how the characters are designed. I like some of the bolder shadings, especially on characters like Nobara.
For this poster, you get all of the currently revealed students from Tokyo Jujutsu High (minus second-year Yuta) from across its first and second-year classes. Plus, you also get their teacher, Gojo, so it is like a nice yearbook photo of the entire school with a lot of personality and style.
Pros
This artist has so much personality and talent, as seen in the individualized characters.
You get (almost) everyone from Tokyo Jujutsu High
Relatively inexpensive
Cons
Some of the characters, like Panda and Maki, look a little lackluster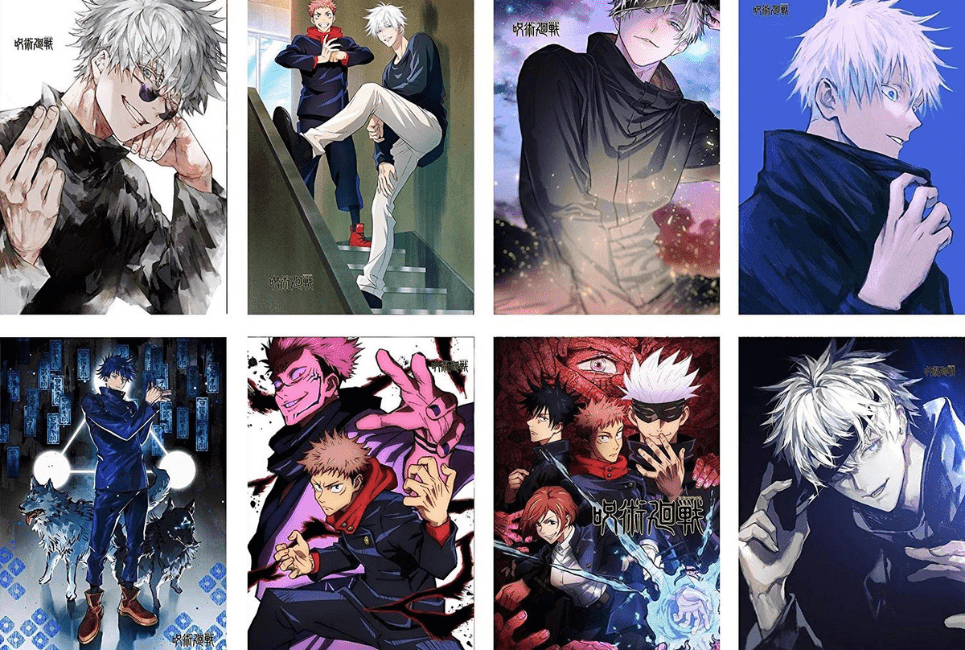 This is another value pack for my friends out there who want to fill up their walls and home with nothing but Jujutsu Kaisen wall art. With this one and the previous eight-pack, you don't even need paint or other decorations, as this will act as your literal wallpaper.
This particular eight-pack is slightly lesser than the first one, in my opinion, due to the slightly higher cost and the fewer number of favorites. Even still, you're getting some solid posters for so cheap that you should absolutely consider this if you're on a tight budget. Especially since at least half of them are well worth $12-15 on their own.
Pros
This is one of the most budget-friendly poster collections
At least half of them are well worth the price of admission on their own
Lots of love for Gojo and Yuji, as it should be
Cons
The overall quality is a bit lesser and too samey compared to the other eight-pack on Amazon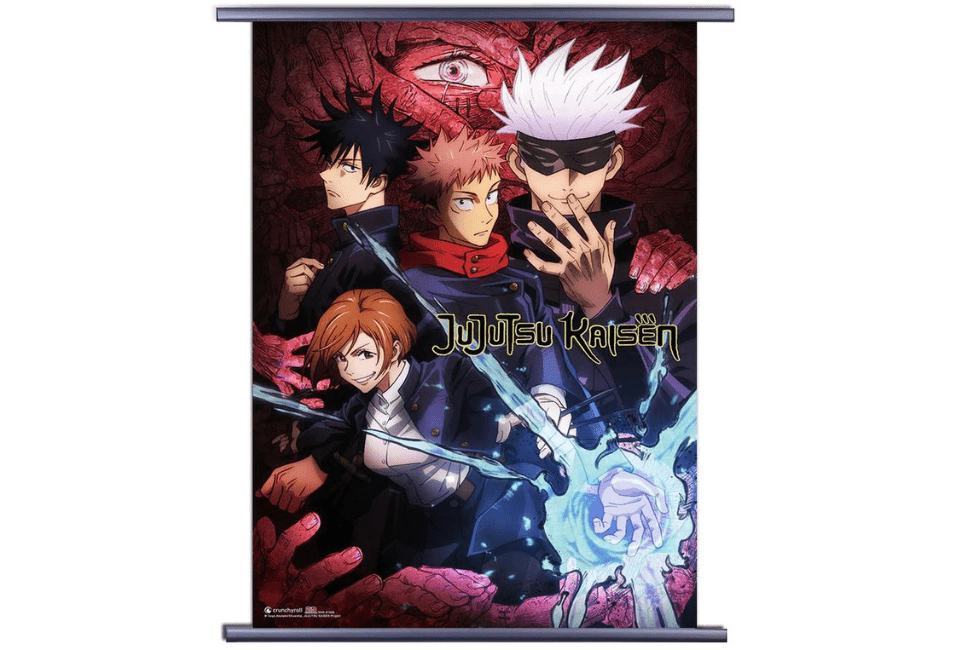 Wall scrolls are some of the favorites for anime poster fans out there, so I would be remiss not to include one on this list. This is about as basic as it gets, with the initial key art for the Jujutsu Kaisen series turned into a fancy little wall scroll.
This is officially licensed and sold by Crunchyroll, immediately giving you that seal of approval. Plus, it's a wall scroll, so there is the option for it to fair out better anyways compared to the usual paper posters. While the price is a bit higher than some of the posters on this list, you get that quality guarantee (or an easy return) and a considerable size at 45 inches long.
Pros
Walls scrolls are preferable for some fans
The initial Jujutsu Kaisen key art is always an excellent choice
The size is much larger than most standard posters on here at almost four feet long
Cons
Not for those who want an easy hang-up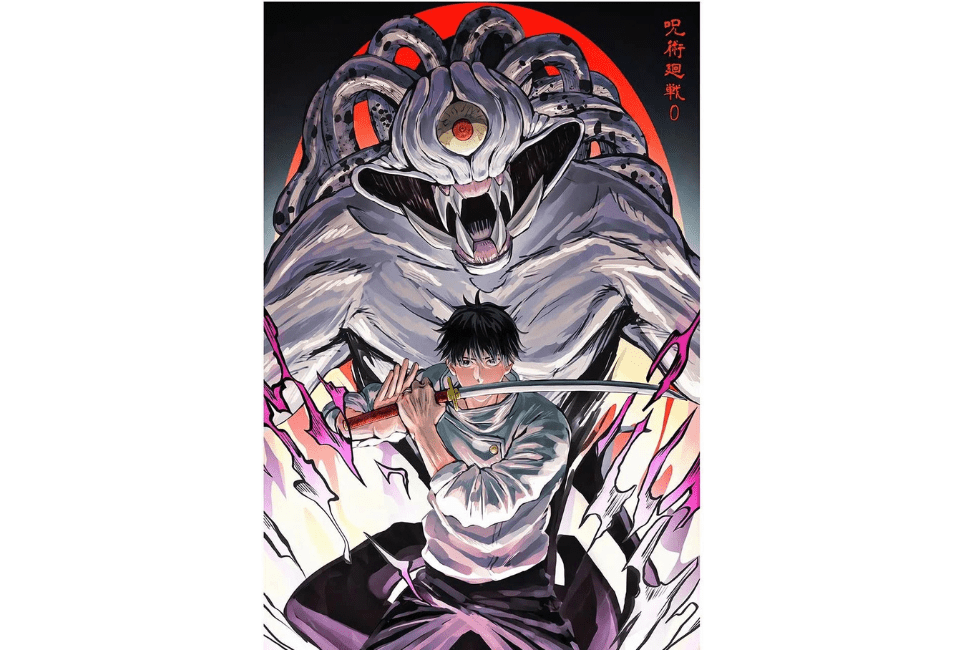 I enjoy it when artists take a character or idea from something like Jujutsu Kaisen and make it their own. This is one of the wildest examples of this, as this artist took the Jujutsu Kaisen 0 star, Yuta Okkotsu, and his cursed spirit companion and turned them into an alarming picture.
Yuta looks much older here, with a handsome appearance and a serious battle stance. But the real star is the horrifying spoilery companion in the background who is wildly different from their appearance in the manga and anime. This is the stuff of nightmares, honestly, which is such an intriguing approach to the character.
Pros
This is personality and an artist's personal style in its purest form
Yuta looks mature and better than ever
His cursed spirit companion is the stuff of nightmares
Cons
His cursed spirit companion is the stuff of nightmares (might not be for everyone)
The art is a bit rough around the edges, which is the point but might not appeal to all fans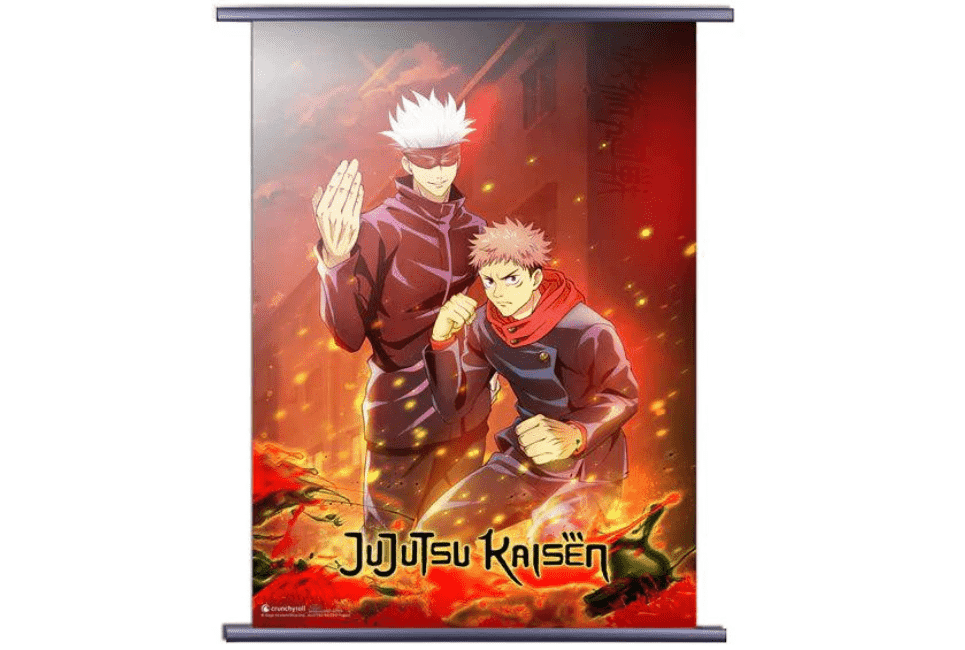 Hopping back over to the Crunchyroll official store for another licensed wall scroll, we have this one that features protagonist Yuji Itadori and his off-the-wall teacher, Gojo. This dual-hero approach is a nice one, letting fans of either character (or both) appreciate it.
There is a sharp style to the coloration and design of the characters, with the fiery details swirling around them. This is another more giant wall scroll that comes with everything you need — hanging rods, hooks — to get you going. I think I even prefer this one over the other one since it has a more unique design.
Pros
Slightly better than the other official wall scroll
Gojo and Yuji is the perfect pairing
The fiery background adds to the professionalism
Cons
Not for those who want easy posters to set up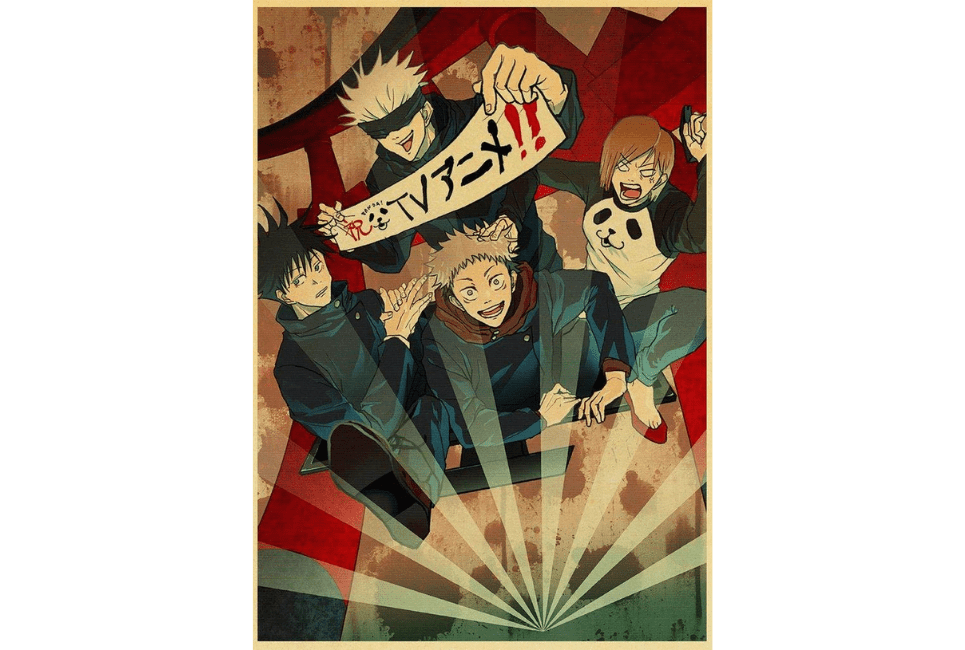 This poster doesn't have a name I like, so I made one up for it. No, the poster doesn't actually show them at a circus, but the weird spotlight across the poster and the red background gives off this circus vibe. In reality, what the poster shows off are the four main characters — the three first years and their teacher — celebrating together.
What exactly are they celebrating? Well, none other than the TV anime announcement or release (not sure which) for Jujutsu Kaisen. The art itself is so goofy and fun, but the scroll that Gojo is holding up is a bit weird. It seems odd to have "TV anime" there in Japanese, of all things.
Pros
Relatively cheap
There are other variants if you don't like this one (but I prefer this poster)
The characters look so happy, unlike their grim counterparts
Cons
The TV anime saying on the scroll is odd
Relatively small for a poster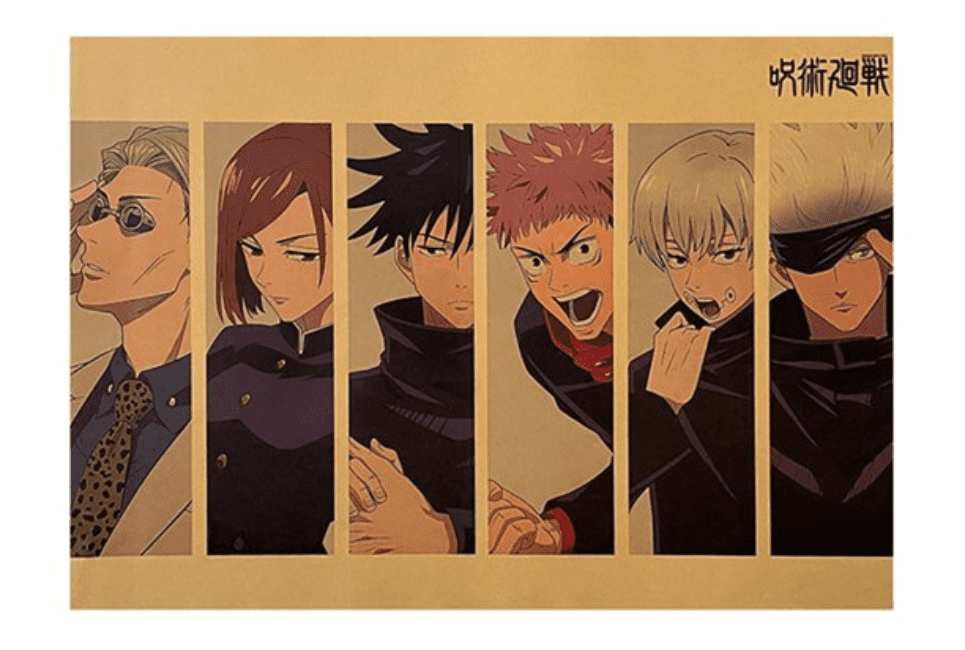 I had to show some love to the fans out there who like landscape-style posters rather than portrait ones. They aren't too common but they exist, and this is the best that I've found for Jujutsu Kaisen. It takes some of the main characters from the series, with random choices like including Toge, and puts them together in a line.
They each have their own individual frames showcasing their personalities, with some screaming, others ready for battle, and others brooding over their unfortunate circumstances. All things considered, it is pretty cheap, given that this has a rarer type of poster style going on rather than the regular portrait versions on this list.
Pros
The landscape shape is fantastic for those who prefer or need this type
The framed lineup of characters is a fun design choice
I like the muted filter over the poster
Cons
I might have switched out some of the characters, like Toge, with someone like Yuta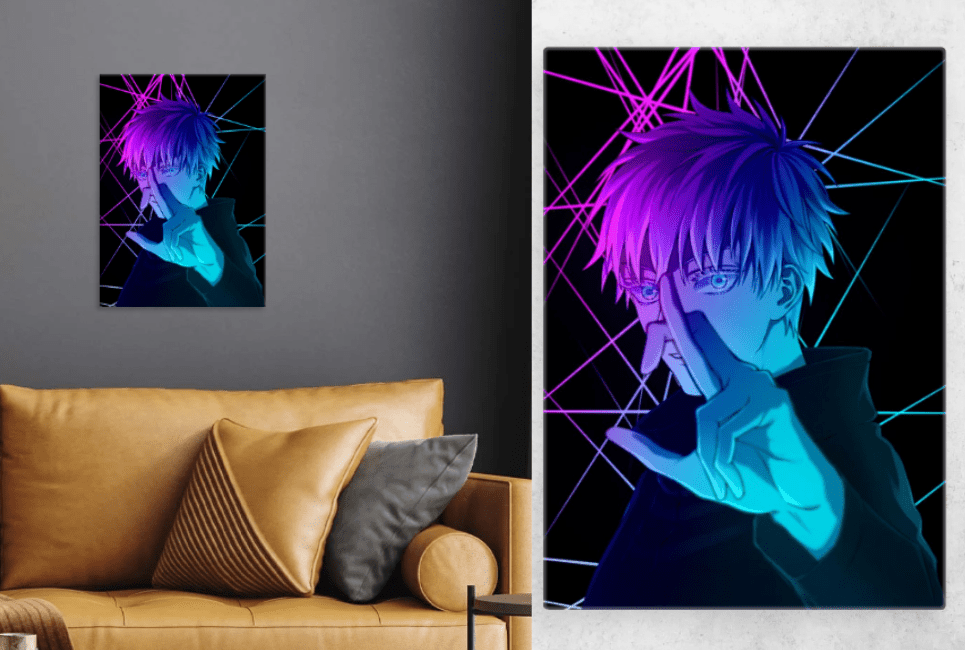 We return one final time to see Gojo-sensei in a brand new light. This metal poster from Displate takes my boy Gojo and turns the 1980s neon style to the max. Most of the poster is shrouded in darkness, but the few noticeable parts, like his face, hair, and hand, are covered in blues, purples, and pinks.
This neon aesthetic is stellar, adding such style and personality to what would otherwise be one of the plainest posters on this list. After all, it's just the face of Gojo doing a sign with his hand, and that's it. For someone who has a darker atmosphere going on in their room, this is a perfect fit. It's also great for those fans who want something that is flashy but in a more reserved manner.
Pros
Gojo's neon 1980s look almost makes me want a new style for Jujutsu Kaisen
The mix of colors is unique and helps to turn this into something exceptional
For the fashionable fans who want something stylish, fancy, and flashy without being too much
Cons
Some may argue that there isn't enough happening here for the price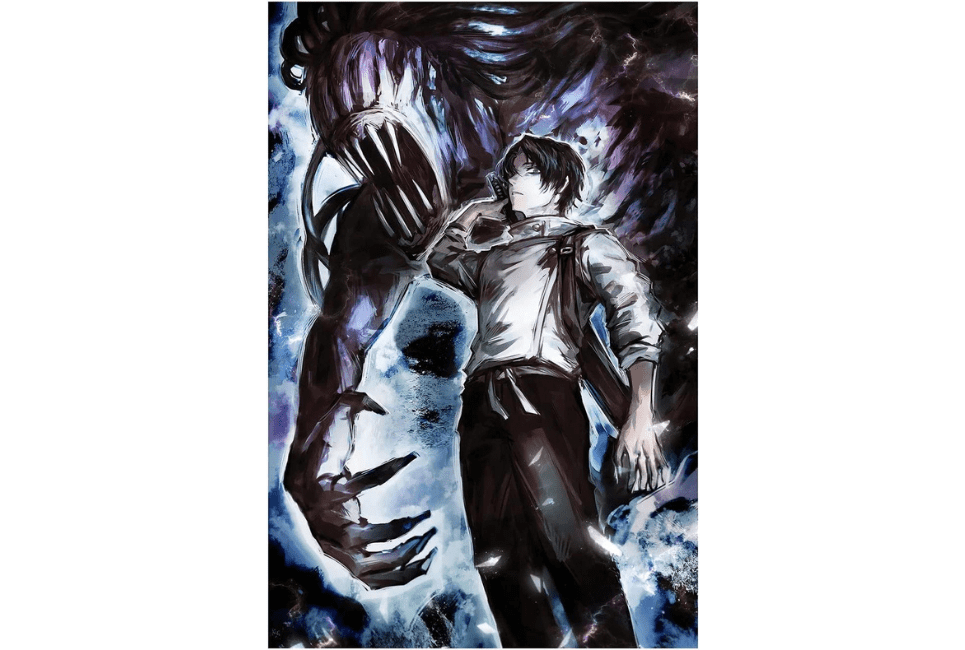 There are impressionist pieces, and then there are posters like this one for Yuta Okkotsu. When it comes to an artist going all the way into the wild territory with their own take on a character and art, there is absolutely nothing on this list as out there as this Yuta Okkotsu poster.
There is, first and foremost, Yuta himself, who is almost unrecognizable at this point, looking like a totally new person. His serious expression, personality, and style are so unlike the actual person, which I don't dislike. This matches so nicely with the gruesome, extremely dark, and bold coloration used here.
But the true star of this poster isn't Yuta but his certain cursed spirit friend. The cursed spirit is unlike how they usually look, going straight in horror in this poster. The massive jagged teeth and unreal face, claws, and everything would make someone who doesn't know think Jujutsu Kaisen is the scariest horror anime of all time.
While it might be too much for some fans, horror lovers and Yuta fans will likely adore this one-of-a-kind piece of art.
Pros
Yuta Okkotsu is giving off the most serious heroic protagonist vibes ever
The coloration is unique, bold, and outrageously sinister
Yuta's cursed spirit pal just walked right out of the scariest film of the year, changing the entire vibe of this poster
It's unbelievably cheap for the amount of quality and effort put into this art
Cons
The straight-up horror nature of this poster will be adored by some and hated by others
FAQs
Question: What is the best Jujutsu Kaisen poster? 
Answer: I've said it before, and I'll repeat it: the poster of Sukuna sitting down is the best Jujutsu Kaisen poster I've ever seen. The art style is unique enough, the talent of the artist shines through, and its quality far outshines the meager price for it. It's the poster I would purchase in a heartbeat.
Question: Are there Jujutsu Kaisen Gojo posters? 
Answer: Yes, there are many, many Jujutsu Kaisen Gojo posters in existence. I mean, just look at this list and count all of the Gojo-sensei posters that I included, both by himself and on his own. I would argue that he has the most high-quality posters out of any character from the series.
Question: Where to get official Jujutsu Kaisen posters? 
Answer: The only place I recommend to get official Jujutsu Kaisen posters is through the Crunchyroll store. There are possibly other places, but I don't know of them. Most of the sites you see on here include posters that are unofficial, usually using fan art that was created just for that poster to avoid issues. I don't even think Amazon has official ones.
What Jujutsu Kaisen Merch You Need Next
If you need a final recommendation, pick up the inexpensive Sukuna sitting poster. That is the best that you will find regarding the quality of the art and the standout nature of its visual appearance. It is what I would, personally, pick up if I had the room and ability to at this point, especially given how cheap and customizable it is.
Now, if your wallet is still full after checking out these ten unique posters from Jujutsu Kaisen, there is more merch for you to check out. We previously covered the best Jujutsu Kaisen Nendoroid figures that you can get based on the fantastic characters in the beloved series. If you want to beef out your collection, even more, that list will help you do that.