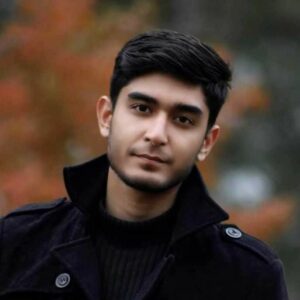 Latest posts by Asad Mehmood
(see all)
Western media is oriented to make it difficult to experiment with creativity in terms of myth and culture. But the Japanese entertainment industry is different. It is not afraid to take chances with elements it deems to be exciting. Death Note was such an example, and it took the world by storm. 
Death Note is one of the most popular manga franchises in history. Tsugumi Ohba, who penned the story, and Takeshi Obata, the illustrator, collaborated to create it. The manga was serialized in the illustrious weekly manga magazine, Weekly Shonen Jump, from December 1, 2003, to May 15, 2006. To date, Death Note has 30 million of its copies in circulation. 
But if you are here reading this article, you are already aware of the greatness of the series. The main focus of the article is on Death Note's product line. Specifically, it will be posters. Posters adorn the abode or workplace of an individual, and they say a lot about the personality of their owner. So without any further ado, let us see how one can express themselves through the best Death Note posters.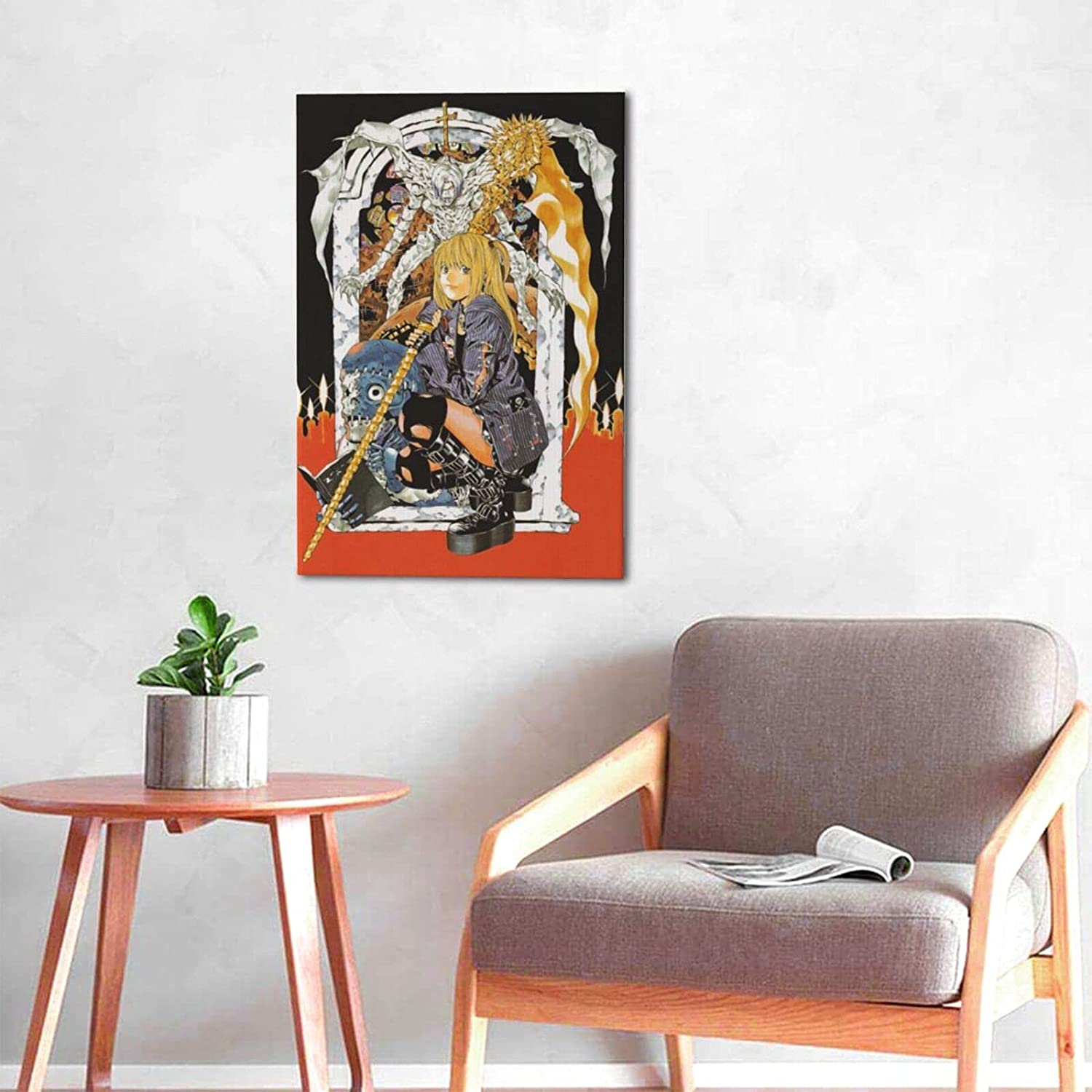 Best Death Note Posters Guide: Bottom Line Up Front
Most people are nervous about sticking anime posters in their rooms. Even though it has become relatively popular now, Anime culture is still considered childish by many, and many Otakus tend to be introverts. That is why they usually resort to minimalist posters. But suppose you are not afraid to express yourself freely. In that case, you should definitely have the Misa Amane Wall Art for your collection. 
My Top Picks At A Glance
My Experience with Posters as an Avid Collector
Mangas have changed my outlook on life, and I have learned so much. Now to adequately express me, I buy the series merchandise. And one of my favorite products of merchandise is posters. Since Death Note is one of my favorite manga of all time, my room is adorned with Death Note posters. 
Death Note posters are honestly the best. This is because, unlike other shonen manga, they have a gothic touch. Death Note posters are ideal for those who don't want to appear too childish in front of their friends or relatives. I have learned to develop a thick skin over time, but this may not be the case for others.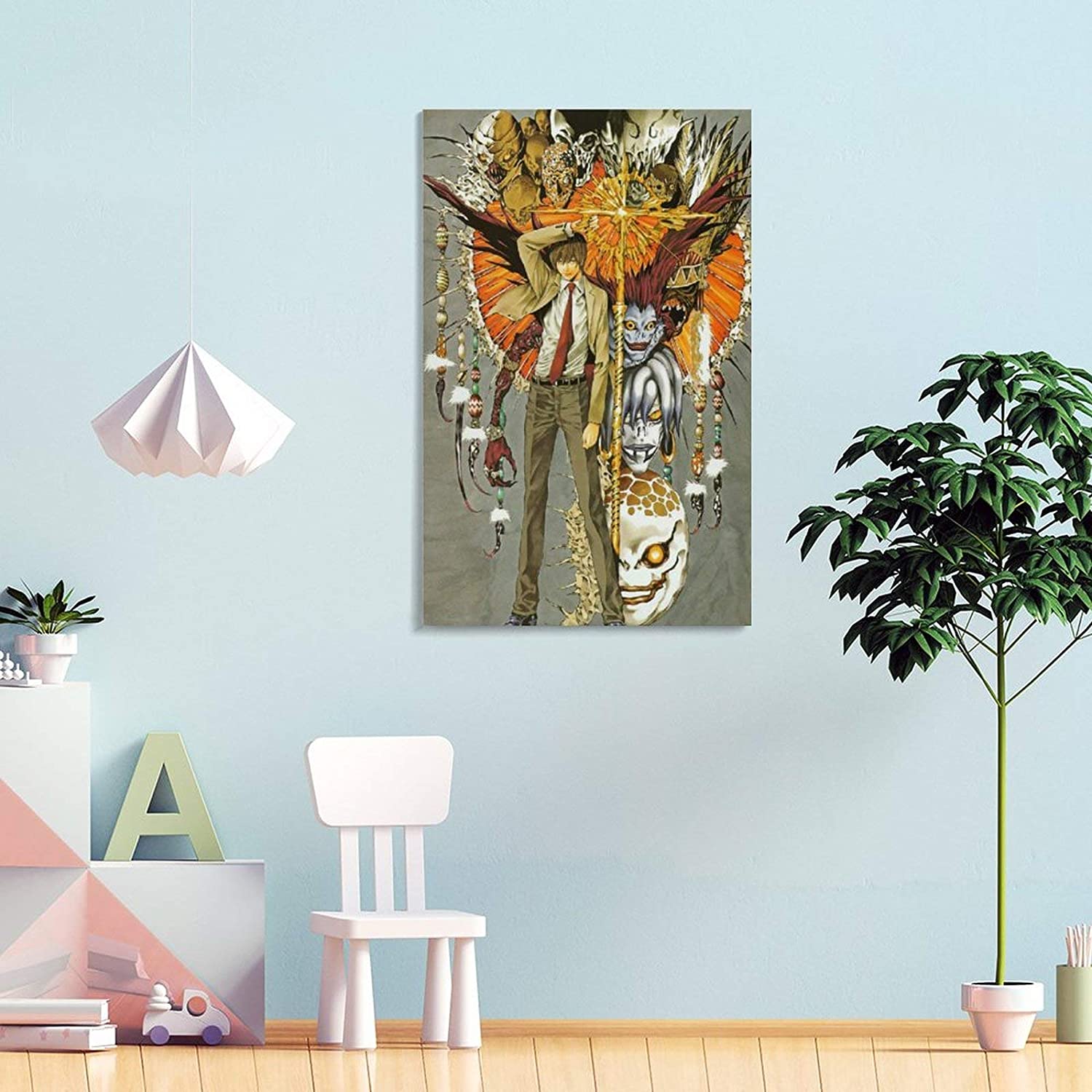 Things to Look Out for when Buying Death Note Posters
There are important considerations to make before entering the market. The following tips can be helpful for a newcomer as well as a merchandise veteran.
The Conditions
I see this element often neglected by buyers when looking for new posters. There are several kinds of them drawn in multiple ways, and some might be made from oil paint, while others might be 3D printed on a canvas. If one decides to buy an oil painting, one should be mindful that the environment is not humid. 
Often, the seller indicates the limitations of merchandise in the item's description. But in the case where the necessary description is not available, one can search for the suitability of the poster online.
The Space
Posters come in several shapes and sizes, and some might be very large, while others might not take a lot of space. A prudent precaution would be to find out the wall's measurements or the area where you want your desired poster to be attached.
Often, many people do not buy large posters. Either because they do not have enough space or they stand out too much. But even with relatively small ones, having an idea of what you want, where you want is beneficial.
The Attachment Style
Posters may come with adhesives or require a nail or hook to hang on the wall. If one is allergic to certain gums or glue, one should take precautions when affixing the poster. 
For hooks or nails, it is different. They have to be strong enough to hold the poster's weight, as some frames are pretty heavy. But there have been rare complaints that sometimes the nail bends due to the cheap plaster of the walls. An aspect of being mindful of.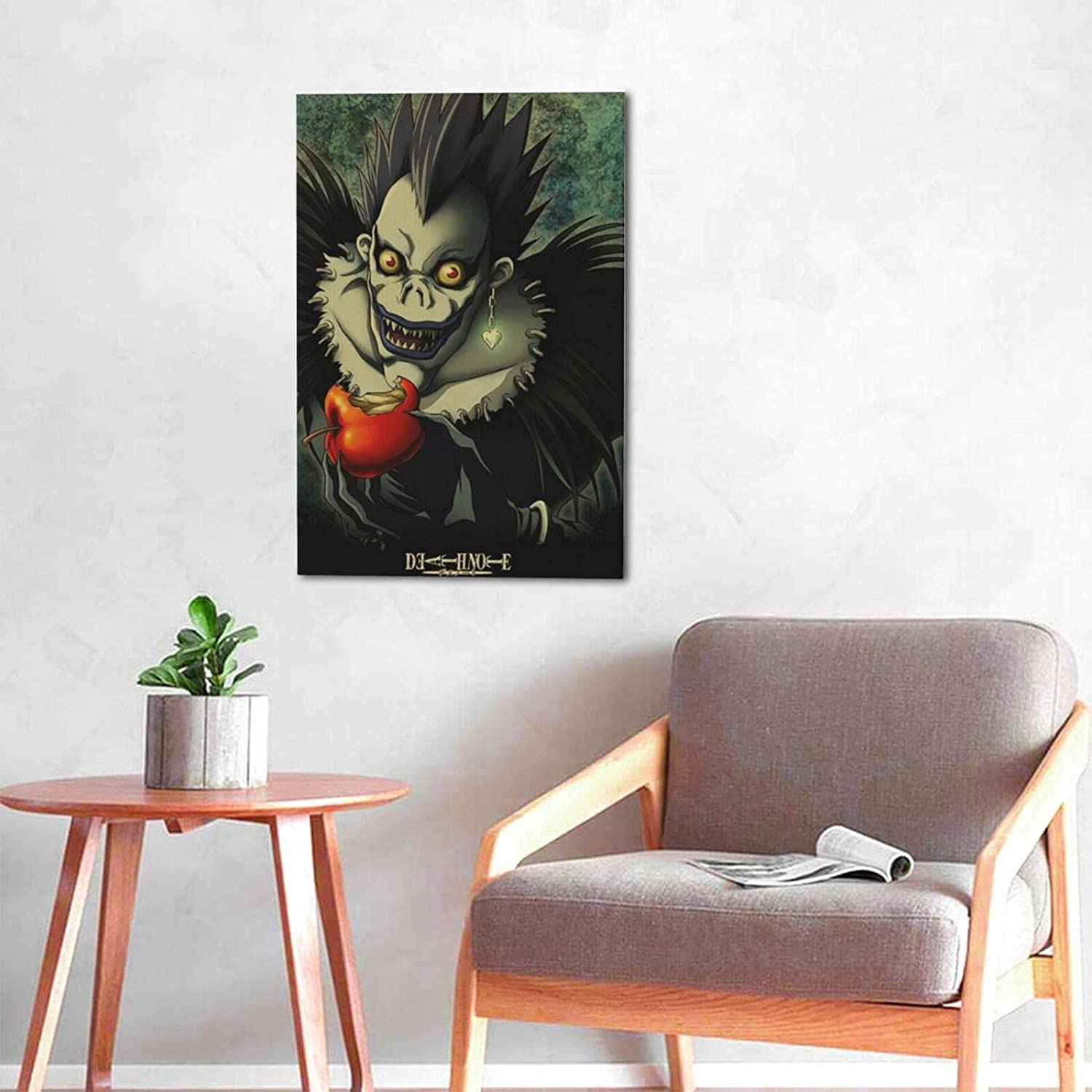 What Are the Best Things I Look For in Death Note Posters
Unlike other shonen manga, Death Note is relatively briefer. But the quality of the merchandise is not hindered significantly by this aspect. Death Note has its own visual style, combining the gothic tone with realism. To get your hands on the best posters, here is a brief criterion that I take into account:
Good Aesthetics
While Death Note itself has fascinating designs, posters have artists' creative efforts. They put countless hours into delivering something that will be eye-catching. These posters also add a great ambiance to your room or house. The only problem with aesthetic ones is that they are limited, so make sure you keep an eye out for these ones and buy it when you get the opportunity.
Excellent Paper Quality
A lot of posters are printed on paper. Due to the growth in paper's price, low-quality ones in excess are now used to create posters. When shopping physically, one can easily avoid this issue. But when buying online, it becomes difficult to ascertain. One thing you can do is to look at the poster's rating, and a good review indicates excellent quality.
Complementary
As much as posters beautify the walls, the walls do the same. The best ones will blend in with the design and style of the walls to which they are affixed. Each is different, so the best posters will vary depending on the wall.
The Best 10 Death Note Posters That You Should Have
#1 Light Yagami Art Poster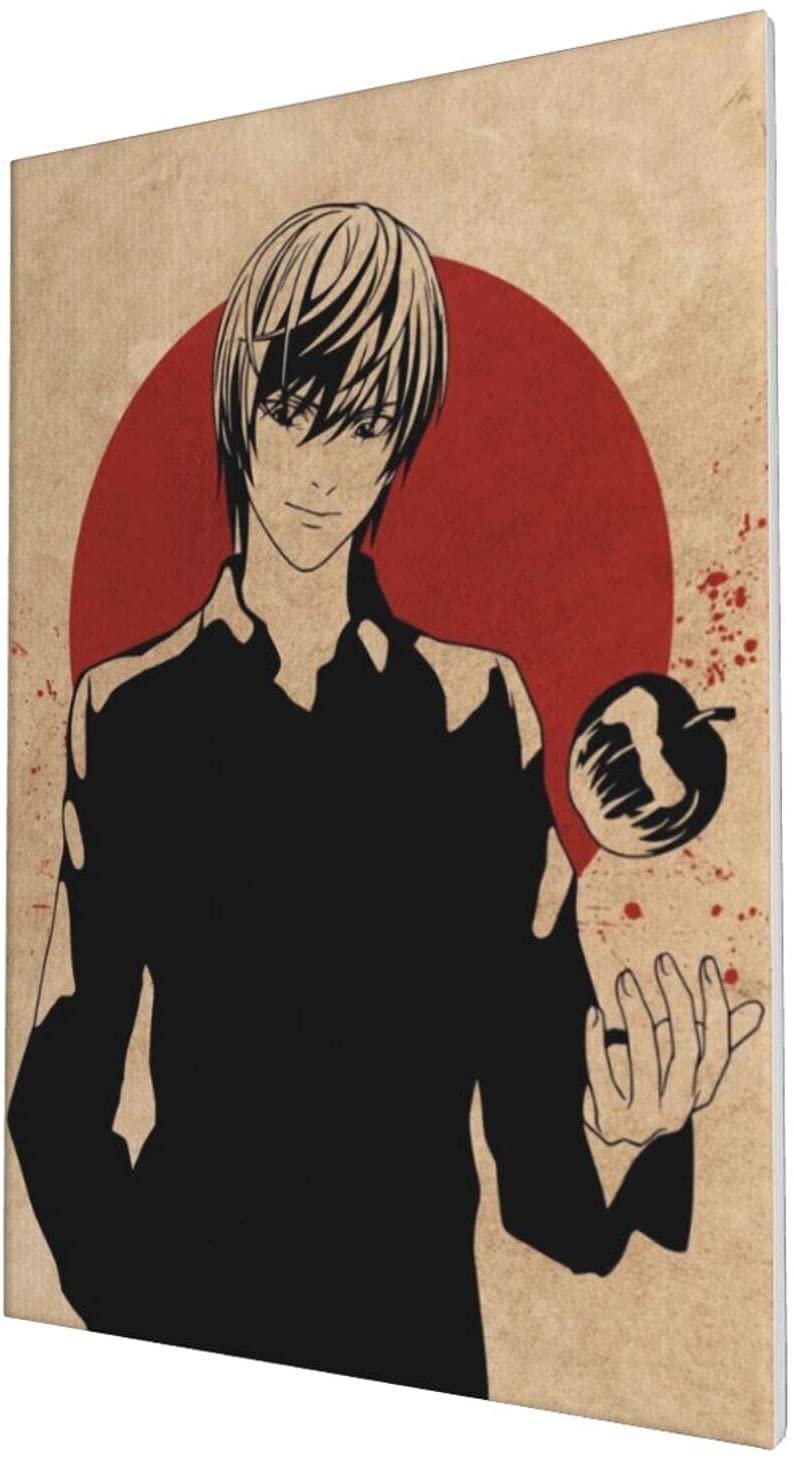 Light Yagami is the main character of Death Note. A seventeen-year-old genius that is disgusted with how rotten the world is. Fortunately, he stumbles upon a notebook. Knowing that he is already better than everyone else, his pride is boosted by the power of killing people.
The Art Poster perfectly conveys Light's smug attitude. The apple is being thrown up, which symbolizes the Death Note. It is also the favorite fruit of the Shinigami, Ryuk, who initiated the events of Death Note.
Specifications
Design: 

The character is drawn with blank ink over a brown background with a giant red circle. 

Material: 

Canvas

Size: 

There are many sizes available for this poster. These are 8×12, 12×18, 16×24, 20×30, and 24×36 inches sized.

Price: 

The price of the poster is dependent upon the size. According to the above mentioned sizes, the prices are $23.99, $31.99, $51.99, $81.99, and $92.99.
Pros:
It is a high-quality canvas poster that is eco-friendly.

The colors used in the canvas do not employ harmful substances.

It can look good anywhere.
Cons:
It is too simple for my taste but still quite popular in the community. I believe it does not bring out the show's thrill entirely.

It is expensive as compared to other posters. Especially the ones larger in size.
#2 L And Kira Painting Poster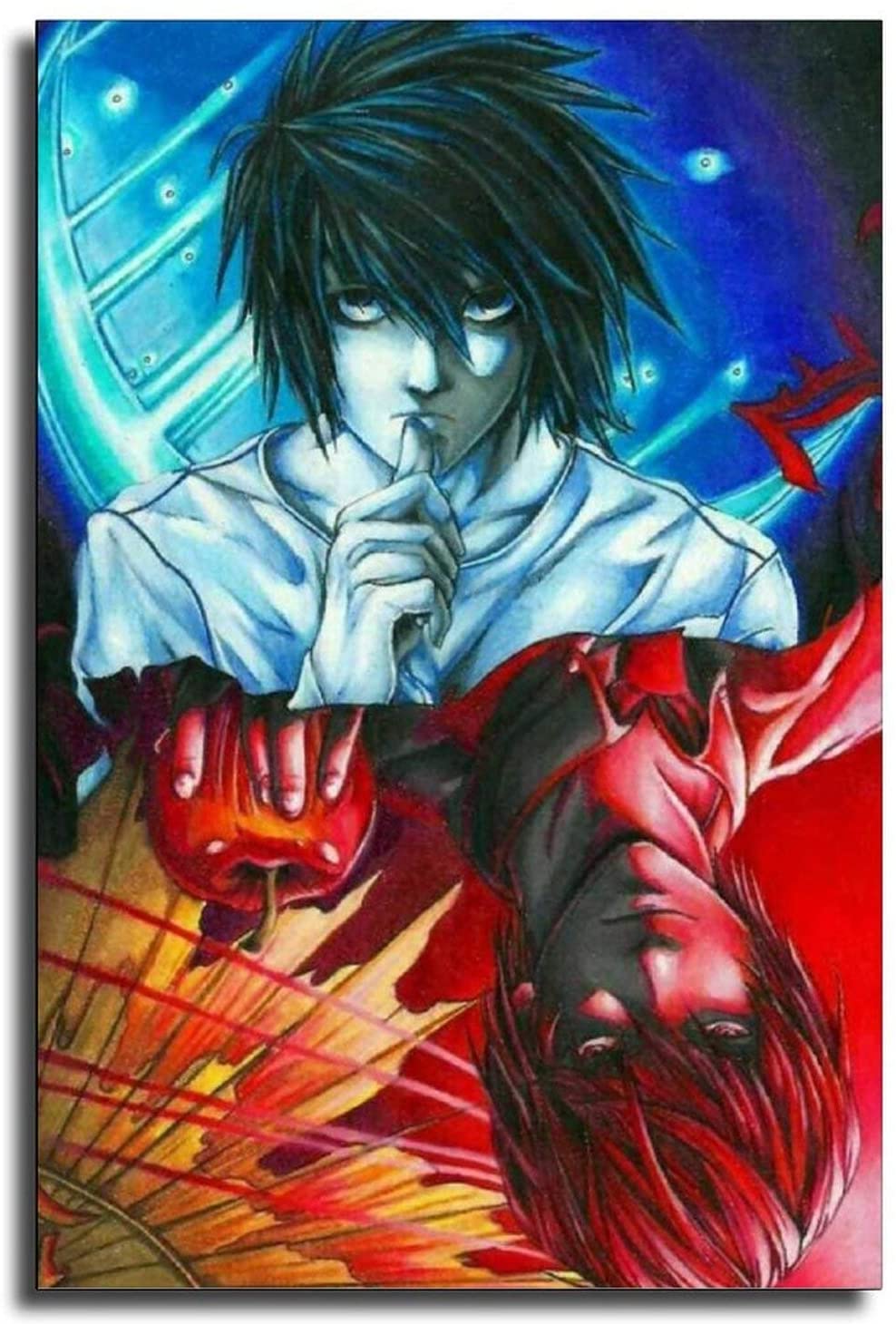 The main attraction of the series is the cat and mouse game between L and Kira. They are similar in the sense of how their minds approach things. But their ideologies about the world are in direct contrast. This poster displays how the two are in opposition. 
L is painted in a blue hue, looking pensively forward, attempting to figure out Kira's identity. While right below him, Light is drawn in red and is seen smirking. It seems that the painting has depicted blue heaven and red hell.
Specifications
Design: 

The product is designed shortly after confirming a purchase. It's done this way to ensure the painting's color quality. The poster is made with high-quality eye-catching colors. It may also come with or without frames.

Brand: 

HUI

Material: 

Canvas

Sizes: 

The painting comes in a single measure of 16×24 inches.

Price: 

The painting poster is worth $42.
Pros:
The flashy colors stick out and attract attention.

It adds a special touch to your wall and room. 

The art is exchangeable in case of problems.
Cons:
The painting might wear out with time.

It has to be kept in a suitable condition.

Relatively more expensive than other posters.
#03 "L Symbol" Poster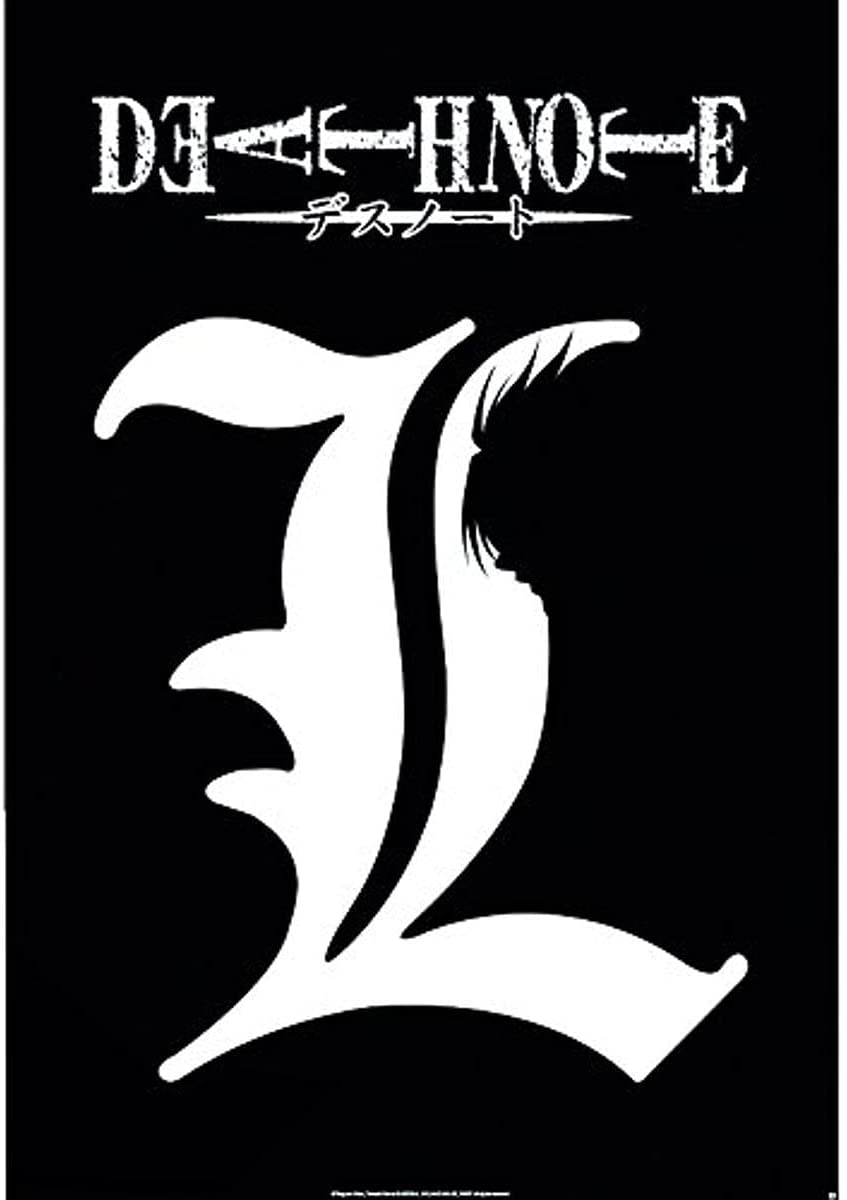 L is the world-renowned detective whose identity is shrouded for his own safety. The international police organization always resorts to L when they are stuck on a case. This means that L is a genius among geniuses.
The symbol he uses to represent himself is an L in a diploma font. The poster uses its white-colored version over a black background. Over the right side, the black silhouette of his head can be seen. The top has the Death Note title in white.
Specifications
Design: 

It is a laminated paper with a thickness of 170 g/m2, which is more than the norm. The printing has been done with an offset process.

Material: 

Paper

Brand: 

ABYstyle

Size: 

The size of the poster is 14.96×3.15.0.39 inches.

Price: 

The price of the poster is $30.10.
Pros:
The poster is simple but appealing.

It has a minimalistic design for minimalistic fans.

The poster's paper is of excellent quality.
Cons:
The poster might get worn down with time. 

It might be too simple for some.

It is a choking hazard for children under 3 years.
#04 Ryuk Poster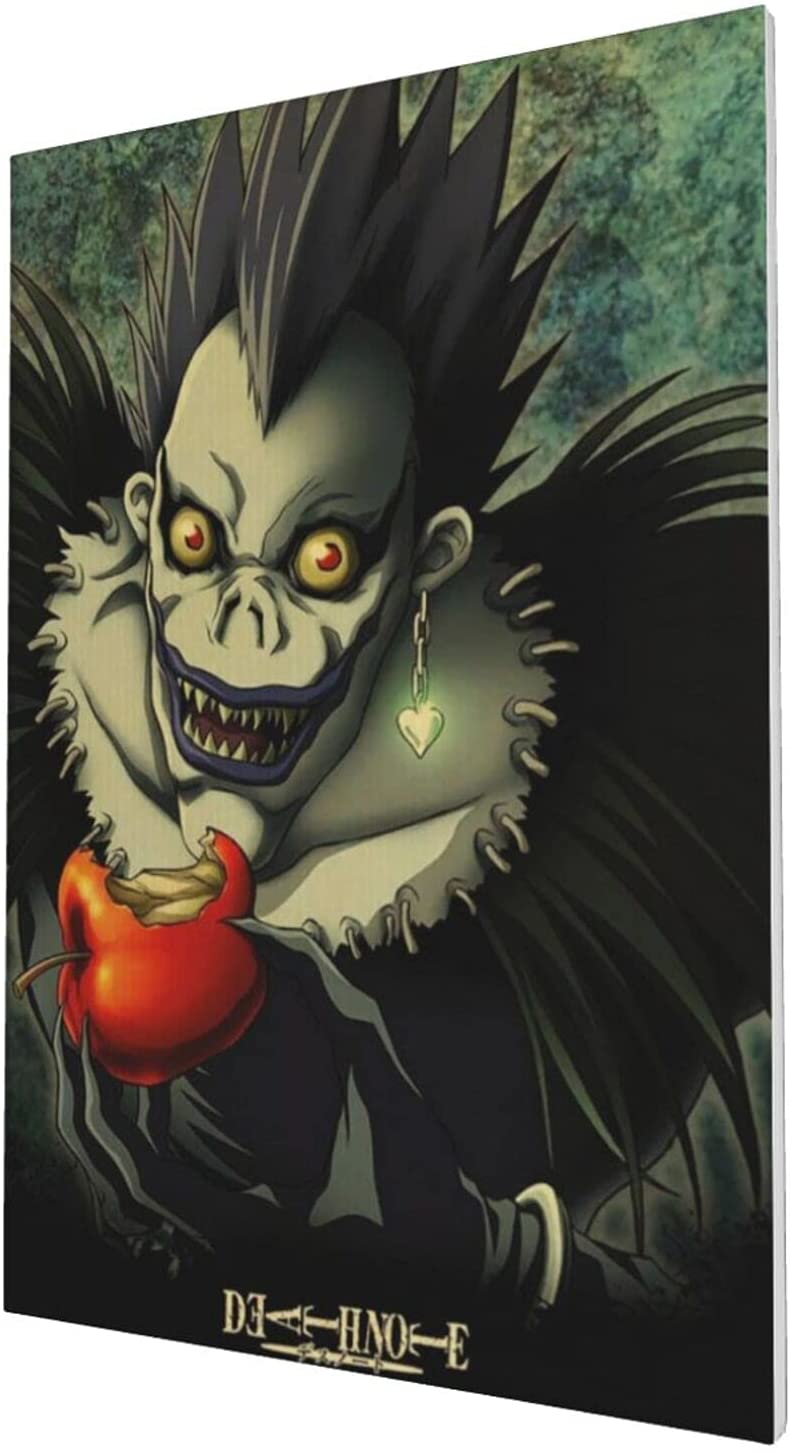 One of the most loveable characters in the series is Ryuk. He is a Shinigami that is bored with banalities. But humans are intriguing to him. Even in humans, the ones who interest him the most are Light and L. So he becomes an observer to see how their battle unfolds.
The Ryuk poster is a painting of him eating his favorite fruit, the apple. He is creepily staring into your eyes, implying that the Shinigami element has been brilliantly imbued. At the bottom of the poster is the Death Note title.
Specifications:
Design: 

It is a high-quality canvas poster and comes with frames and without frames. Non-toxic paint colors have been used to make it.

Material: 

Canvas

Size: 

The poster comes in many sizes. In ascending order; 8×12, 12×18, 16×24, 20×30, and 24×36 inches.

Price: 

The price depends on the size of the poster. The 8×12 inches Is $13.99, the 12×18 inches $18.99, the 16×24 inches is $23.99, the 20×30 inches is $27.99, and the 24x36inches is $40.99.
Pros:
The poster is excellent for an edgy look.

The colors have an attractive air to them.
Cons:
Because of the paints, it has to be kept in suitable conditions.

It might be scary for a child.
#05 The Death Note Noir Poster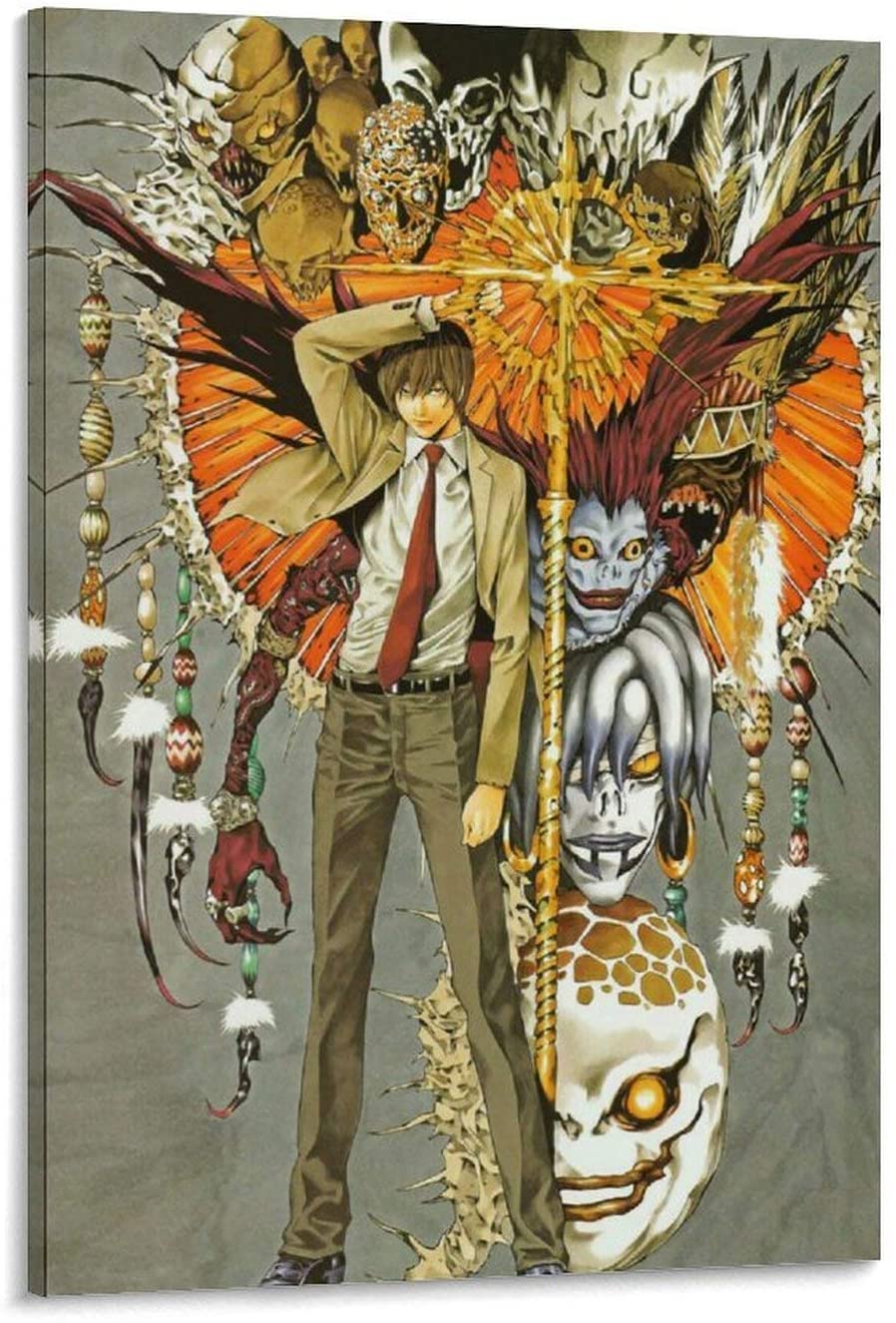 This is one of the most epic posters around. If one is looking for aesthetics, one should definitely keep an eye out for this. In the painting, Light can be seen holding a cross. We can also see the three main Shinigami in the series. At their backdrop, we can see an orange sun with different Shinigami on top. The cross represents Light's need to become God. It is a painting packed with symbolism. A must-have if you like to ask thoughtful questions in life.
Specifications:
Design: 

The poster is a high-definition oil painting on a canvas. It has intricate designs and a light color scheme.

Material: 

Paper.

Brand: 

ASFGV

Size:

 The poster comes in three sizes, 12×18 inches, 16×24 inches, and 24×36 inches.

Price:

 The respective prices for the posters according to their size are $29, $49, and $99.
Pros:
One of the most thought-provoking posters.

The aesthetics are marvelous.
Cons:
The colors might get worn out with time.

It can be unappealing to many.
#06 Ryuk Shadow Print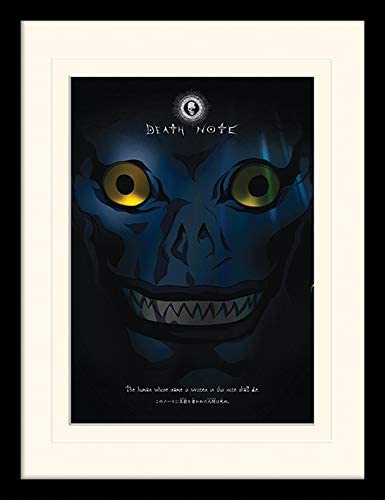 Another Ryuk poster. It is a framed print where Ryuk is smirking with golden yellow eyes, and Ryuk's is coming out of a shadow. On the top of the poster, the Death Note title is written. While at the bottom of the poster, a rule from the Death Note has been printed.
Specifications:
Design:

 It comes in a frame that is ready to be hanged.

Material: 

Frame type.

Size:  

The size of the framed print is 11.8×15.7 inches.

Price: 

The price is around $54.
Pros:
It is hard to find.

The frame allows the poster to be more long-lasting.

It is officially licensed.
Cons:
It is too costly.

Ryuk's face might scare children.

It is challenging to complement it with the rest of the room.
#07 Misa Amane Poster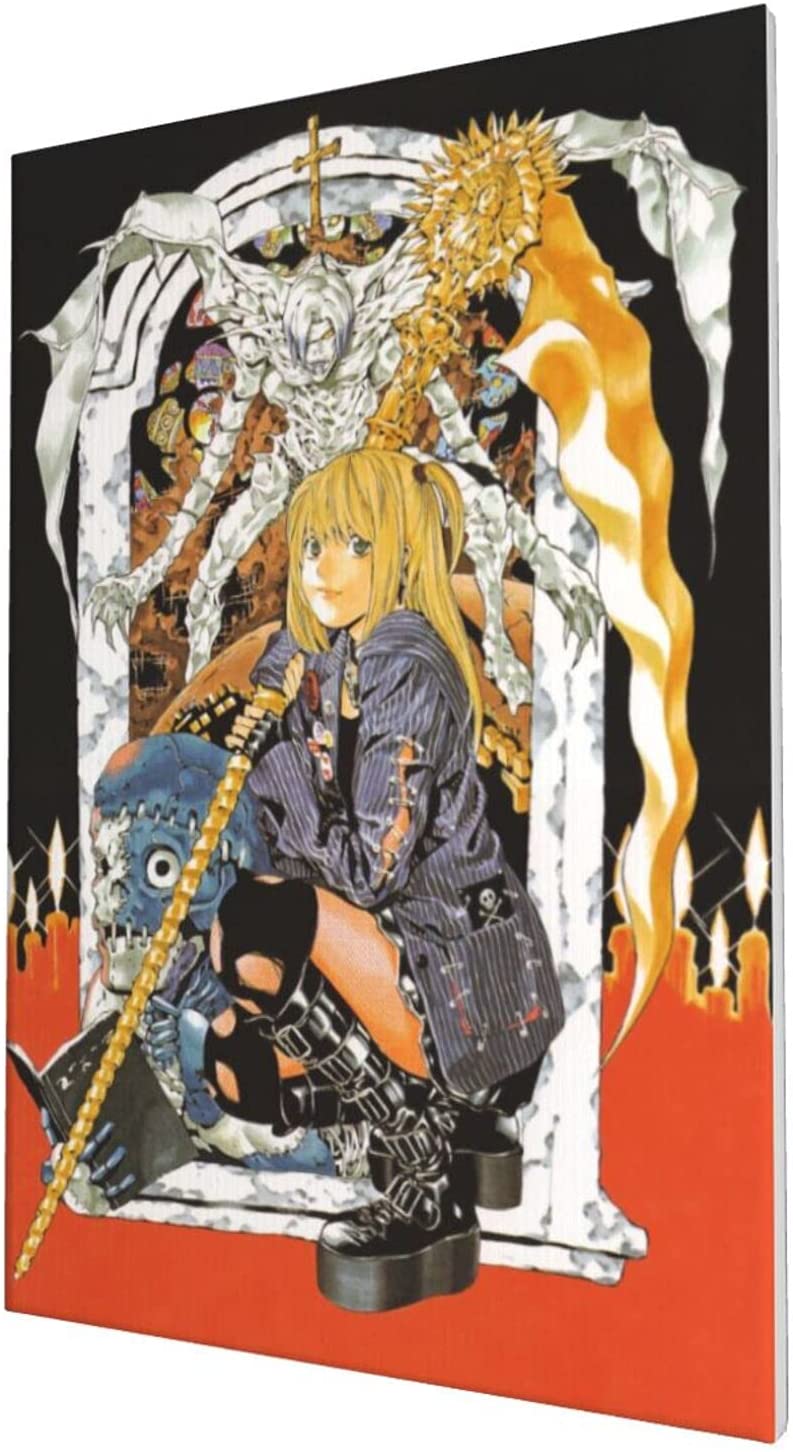 Misa Amane is another one of those people manipulated into helping Light. She is a young model that found meaning with Kira. Although she pretends to be dumb, Misa actually is brighter than she lets on.
The poster has her squatting down in fashionable clothes with a golden scythe in her hands. Behind Misa, there is a gate. Gelus writes in his notebook from the inside while Rem looks at Misa. On top of Rem, there is a cross. The lower background of the painting has orange candles joining together to give an orange hue.
Specifications:
Design: 

It has a high-quality image made with eco-friendly colors and paper, and it comes with or without frames.

Material: 

Canvas.

Size: 

The poster has five sizes; 8×12, 12×18, 16×24, 20×30, and 24×36 inches.

Prices: 

The prices of the poster depend upon the size. From smaller to greater, the prices are $23.99, $31.99, $51.99, $81.99, and $92.99.
Pros:
The poster is excellently made.

It has an aesthetic element to it.

The design is unique, which will display individuality.
Cons:
The pose of Misa might seem indecent to some people.

It is too attention-taking.

The poster is expensive.
#08 Death Note Scribble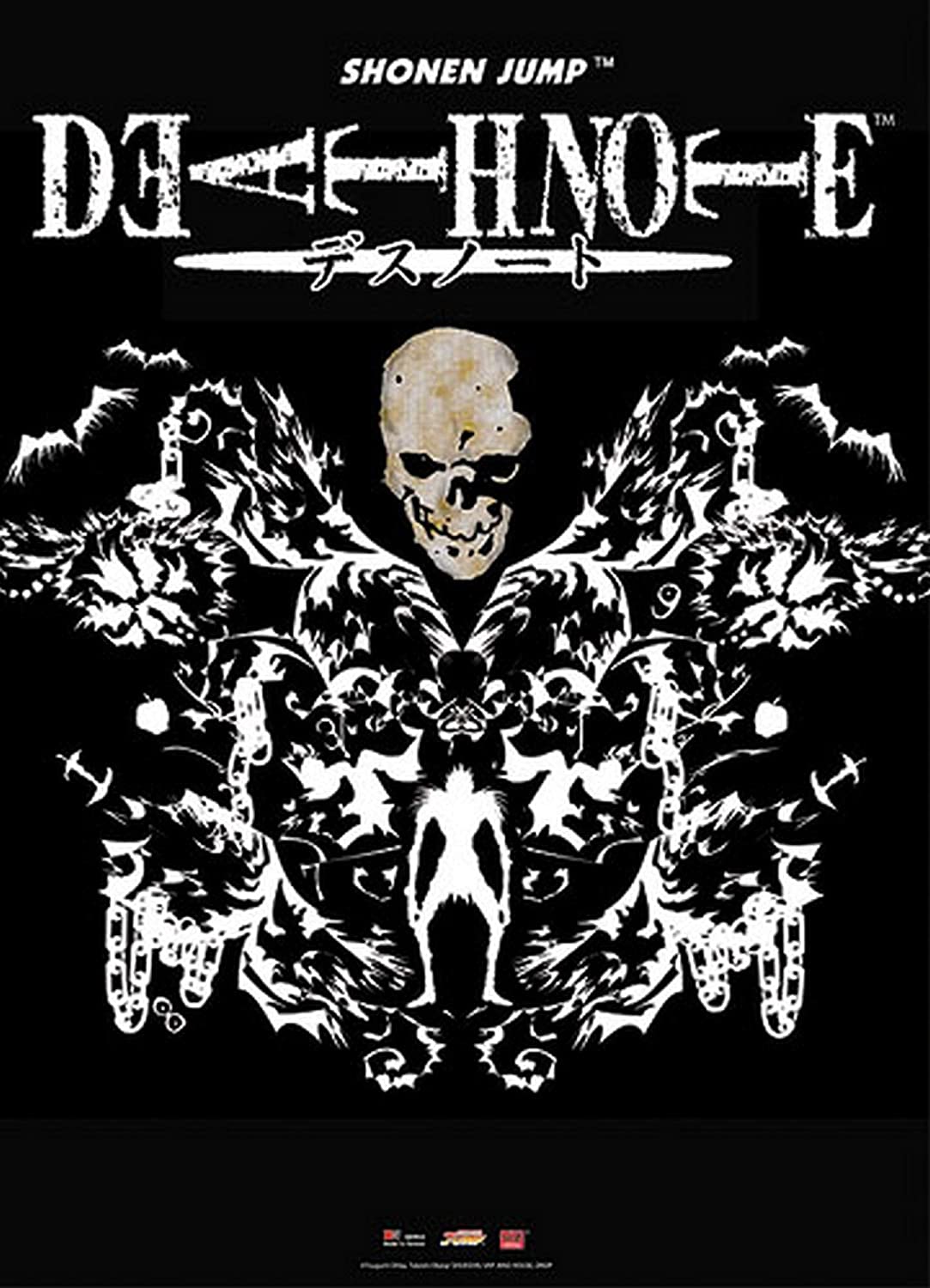 This is a simplistic poster that captures the eeriness of the anime. With a black background, it has white scribbles. At the top of the scribbling is a skull with The Death Note title. The simplistic setting of the poster makes it easy to attach almost anywhere.
Specifications:
Design: 

The 

poster

 has a high-quality print, and the scribbles are randomly designed. It also comes with rods, and it works as a scroll that can easily be rolled.

Brand: 

Great Eastern Entertainment

Material: 

Plastic

Size: 

The size of the poser is 33×0.1×44 inches. 

Price:

 The price of the poster is around $21.
Pros:
The poster is officially licensed merchandise.

It is printed on good quality material.

The style is minimalistic.

It is relatively inexpensive.
Cons:
If the handles are broken, they are difficult to replace.

The scroll does not express much about the show.
#09 Death Note Mini Poster Pack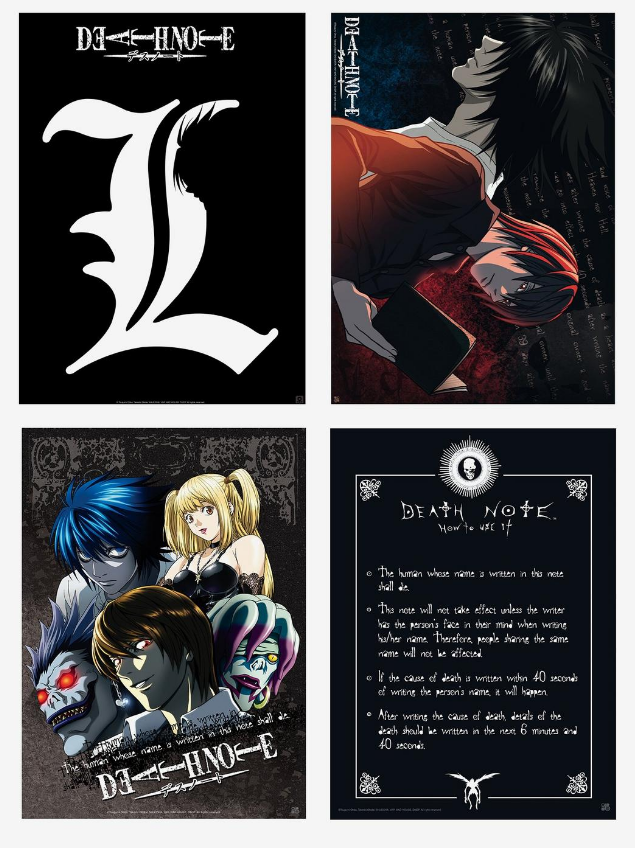 The poster mini-pack consists of four different posters. Each poster offers something: One piece consists of the Death Note rules, and another has an L mark. There is also a poster that has L and Light facing opposite directions. Finally, the last portrait showcases Light, L, Misa, Rem, and Ryuk over the Death Note title.
Specifications:
Design: 

Each poster consists of a different format. The Death Note rules one has a similar font and background as the first page of the Death Note. The L poster is identical to the one above except for the title. The Light and L poster uses different colors schemes with the Death Note rules scribbled on the back. Finally, the last one consists of multiple characters printed with several color schemes.

Material: 

Photo Paper

Size: 

The size of every poster is 15×20.5 inches.

Price: 

The price of four posters is relatively low-priced, and you can get all four at about $25.
Pros:
You can get four posters.

The posters are reasonably priced and sized.

They are officially licensed. 

The prints are protected from the environmental effects. 
Cons:
Sizes are not customizable. 

Glossy paper wears out quickly.

You get unrequired posters.
#10 L Ice Cream Framed Print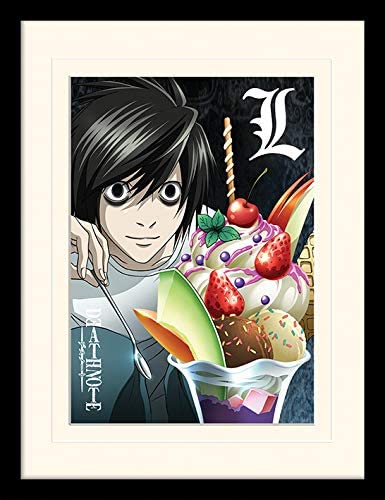 It is no secret that L was a glutton for sweets. He said that to make his brain work faster, he ate sweets. It is disputed whether L said this because he believed it or did not want to be questioned. The frame has a squatted L looking at his ice cream with a large grin. At the top right corner is his emblem. At the bottom left corner, the Death Note title is written vertically. 
Specifications:
Design: 

The framed print consists of the poster printed on paper. The colors are vibrant, which shows the quality. It is protected under a frame, ready to be hung.

Brand: 

Pyramid International.

Material: 

Frame type.

Size: 

 The size of the framed print is 11.8×15.7 inches.

Price: 

The price of the frame is around $54.
Pros:
The framed print is officially licensed.

The smiling L has a cute aura about it.

The frame would protect the image for a longer time. 
Cons:
The frame is expensive.

It is only available in the frame prints
FAQs
Question: Are Death Note posters still in style?
Answer: Although it has been more than a decade since the last chapter of Death Note was published, it is still very beloved. It is not mainstream, but it is now categorized as classic. For a newbie, Death Note posters would give you an artsy touch.
Question: How long does a single poster last?
Answer: It depends on the kind of poster. The paintings are wonderfully made. But at the same, their colors fade quickly, and it becomes more apparent in exacerbating conditions. The paper ones also lose their adhesivity with time. Still, a decent poster should last you for years unless it's torn, misused, or lost.
Question: How can I preserve my Death Note poster?
Answer: There are quite a few things you can do to preserve your favorite poster collection. To put them in a list, you should know that:
• Tape is Evil – Tape residue can damage your posters, and you may use a tacking iron or a crepe eraser to get rid of it.
Clean the Surface – Posters are often left neglected on the walls, and usually, no one cleans them. Giving your posters a gentle dusting can keep them looking fresh, lovely, and new.
• Repair Tears – Tears are a normal part of a poster's life, and however, to a fan, this can be heartbreaking. You can use archival-quality tape or premium archival quality backing such as acid-free archival linen or buffered backing board to preserve your old pals.
• Storing in Plastic Sleeves – Lastly, you can look into keeping your poster in a plastic sleeve. This will protect it from UV lights, dust, and unwanted exposure to harmful substances.
The Best Death Notes Poster Guide: Wrapping Up
Death Note is a classic manga series, and it was released before the trending era. If Death Note was released today, every chapter and every episode would break the internet by storm. I might be exaggerating because it was one of my earliest manga series. But good writing is a testament to itself.
If you are a fan like me, you would want the feelings Death Note gifted you in your room too. Posters are a perfect answer to that need. For me, my favorite poster, as well as character, is Misa Amane. In a dark world where everyone is after something, Misa gambles on her love. But she is heartbroken in the end. Regardless, the guide shall inform you of fascinating posters even if you are not a Misa fan.