Latest posts by Cody Perez
(see all)
When you watch or read the Demon Slayer: Kimetsu no Yaiba series, you might notice something quite fashionable in the series. Besides the excellent individual swords that each slayer uses, there are unique coats that every person wears as part of their character design.
These jackets define many characters who would otherwise be wearing the same uniform. These coats inspire many items in this best Demon Slayer jackets guide.
There are many characters that I look at in Demon Slayer, like Nezuko and Giyu Tomioka, and I think to myself, "I'd like to wear that coat." But at the same time, I don't necessarily want to feel like I have to cosplay as them. Well, that is where this best Demon Slayer jackets guide comes into play.
It just so happens that many jackets exist in the real world based on the coats the main characters use. Plus, there are others that represent the series as a whole, and all of these and more will be covered down below.
Bottom Line Up Front
The best Demon Slayer jackets are the ones that pick a particular route and excel at it. For instance, they might choose to be like a recreation of the coats that the main characters use. Or they may want to offer something unique based on the manga and anime series. Regardless, they have to impress with whatever path they take.
Such is the case with the Demon Slayer logo denim jacket, the best possible jacket you can find. It takes an already impressive denim jacket and adds the subtle touch of the gorgeous Japanese Demon Slayer logo to make the best jacket possible.
My Top Picks at a Glance
You might find yourself on this guide in a hurry to look stylish and represent the Demon Slayer series all at the same time. If that happens to be you, I understand.
In that case, I've come up with the top four of the ten best Demon Slayer jackets you need to know about. These four are the best of the entire list that you'll find below.
Buying Tips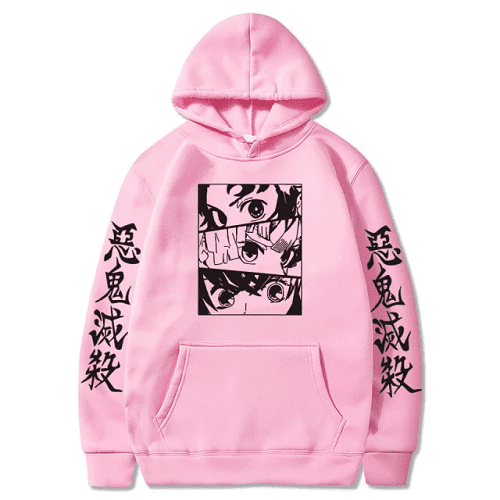 Before you hop online and start buying up all of the jackets that you'll find in the list below, there are some tips and even warnings that I should give you. Jackets are not cheap and require some of the greatest care compared to some of the other merch items that exist out there. Here's what I've learned over the years:
Research, research, research. I provided the ten best jackets below, but some may be available on other sites. Sales often happen, and it is possible you could find one of these jackets on another site for cheaper.
Carefully consider the return and refund policy of the site you're buying from. Make a note of any restrictions and use that as a motivating factor in which jacket you buy. There is a chance that it won't look as impressive in person as it does in images or that its quality isn't as compelling. You'll want to be able to have an easy return plan if that is the case.
Make sure it's a style that matches well with your current outfits. You want to make sure that you can get some decent use out of the jacket, or else it'll end up being a possible waste of money. While some of the more extravagant jackets are nice to look at, they may not be suitable for everyday use.
Selection Criteria
Here are the selection criteria that I used to come up with the best Demon Slayer jackets below. These are the categories that are the most important to me that a jacket must meet to make this list.
Quality: Above all else, the quality has to be there. Even for some of the cheaper entries on this list, it needs to be apparent that some level of care and talent was put into the jacket. Otherwise, it isn't worth anyone's time and money, and indeed not being part of your wardrobe.
Demon Slayer Appeal: Of course, being that this is a Demon Slayer post, the jackets need to represent the series well. Even if it is a logo, there needs to be something that makes it clear what this jacket is inspired by.
Value: Jackets are some of the most expensive clothing items you can get based on a manga and anime series. That said, the item has to be worth the price. If it's expensive, it sure as heck better be worth it. On the other hand, if it's cheap, it can't make too many concessions.
Best Demon Slayer Jackets List
Without further ado, let's finally dive into this list of the ten best Demon Slayer jackets you need to know about. These ten were hard to narrow down, but I finally came up with the ones that are must-haves for your wardrobe. Note that they are in no particular order, so no rankings or any of that.
Giyu Tomioka Uniform Jacket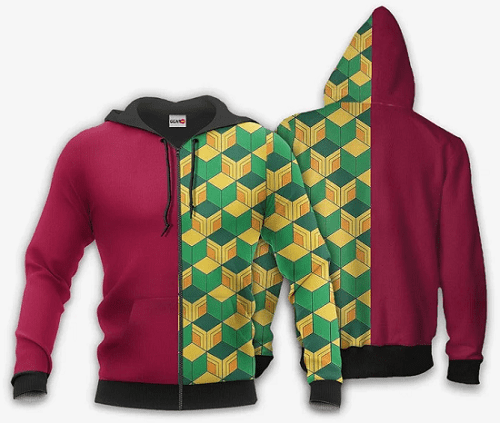 The Water Hashira, Giyu Tomioka, is one of the most popular characters in the entire Demon Slayer manga and anime series. His outfit is also one of the most unique, being (slight spoiler alert) a patched-up coat of the leftover clothing items from two of his loved ones.
With this personal touch in mind, it should come as no surprise that this first jacket on the list is one of the best around. The pattern is strange, with green and yellow chevron-style emblems on the right side and a solid red pattern on the left side. It might look odd, but it works in this iconic way that any Demon Slayer fan will instantly recognize.
Pros
A near-perfect recreation of Giyu's coat in a zipped-up jacket form
The dual-sided pattern is still odd to me, but it somehow works well
One of the best ways to catch the attention of fellow Demon Slayer fans
You can get it in several different forms, like a bomber jacket, sweaters, and hoodies
Cons
This jacket is a little bit pricier than I would want it, but it's still fairly reasonable.
Demon Slayer Tanjiro Fox Mask Hoodie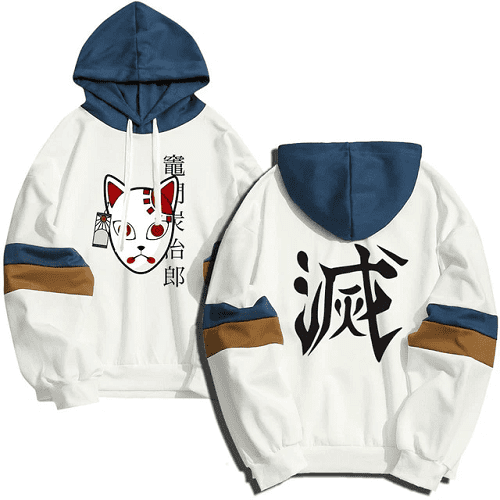 Hoodies sort of fall into the jacket category, right? Even if not, this design would work quite well for a jacket version. The versatility of this pattern features the fox mask associated with the Demon Slayer main character, Tanjiro.
The mask is on the front of the hoodie, while the back features a kanji letter. The name of Tanjiro is also on the front of the hoodie in kanji for those who happen to know what it says. The hoodie itself is an intriguing color, white but having stripes on the sleeves and a blue hood. Not my favorite choice of colors, but it somehow works.
Pros
One of the more reasonably priced jackets on this list
The fox mask looks quite nice
The cheerful coloration may appeal to some fans
Cons
I don't particularly like the color scheme myself, so I imagine some other fans may be divided on it
Demon Slayer Sakura Logo Jacket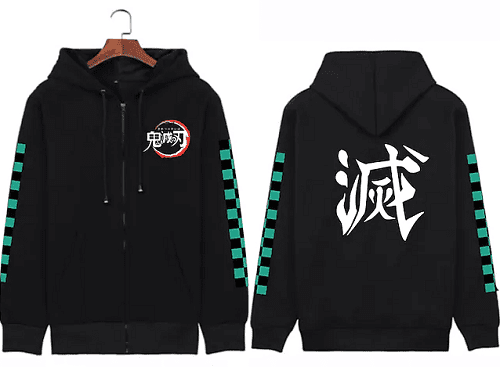 By far, this is one of the most fundamentally primary forms of what a Demon Slayer jacket can be. And, yet, even still, the artist(s) behind it were able to come up with something that is still just unique enough to catch my attention. You have a plain black zip-up jacket with the Demon Slayer logo on the front and back.
What I like about this is that the logo is the slightly superior (in my opinion) Japanese version that goes so well with the red and white circle behind it. There are also neat little touches here and there, like the Kimetsu no Yaiba name in kanji on the sleeves.
But what really sets this apart from the fundamental nature of what it could have been is the addition of the sakura leaves on the Demon Slayer logo. This adds a cute accent that makes this much more attractive.
Pros
The Japanese Demon Slayer logo is great
The sakura leaves on the logo help this to stand out a lot more
Cons
Its base price is a little bit more than I would want to pay for it (but currently on sale at the time of writing)
Demon Slayer Eyes Hoodie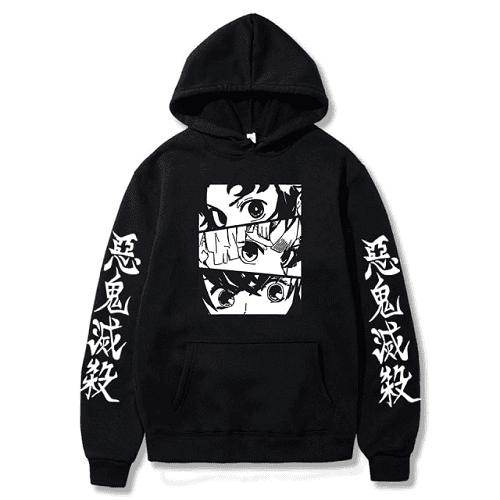 This hoodie feels a lot like the last jacket on this list in that it is rather plain in the overall design. You have some words on the sleeves in kanji for an added touch, but the bulk of the design for this hoodie comes from the images in the middle.
On the front of the hoodie, you can see the eyes of the three main characters in the series: Tanjiro, Zenitsu, and a spoilery version of Inosuke without the boar head on his face (yes, he is not a humanoid boar thing).
The eyes are black and white, giving off a manga panel vibe, which I enjoy. The best part is that you don't have to settle for just the plain black hoodie, either, as there are several color options. I like the black and maroon hoodies, in particular.
Pros
There are plenty of hoodie color options to choose from
The main character's eyes look like they were ripped right from the manga
Cons
These hoodies run smaller than your typical size, which is unusual and odd, so be careful with the size you pick
Demon Slayer Tanjiro Coat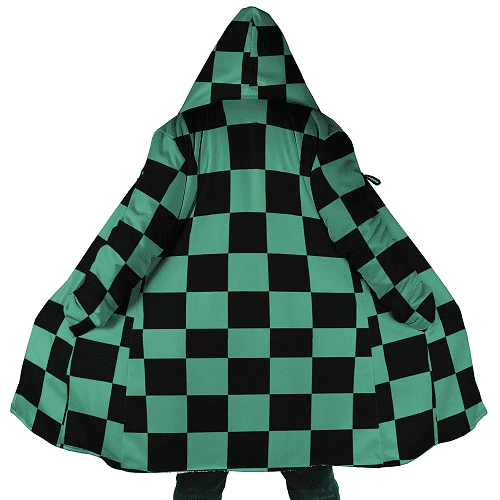 There are jackets that resemble the outfits of the Demon Slayer characters, and then there is this coat/jacket. It straight-up takes the coat that Tanjiro wears in the Demon Slayer series and lets you buy it. It is a jacket since it seemingly has pockets and a hoodie, but it has the feel of a coat at the same time.
The quality and dedication put into this Tanjiro coat are so high that you could literally use this in cosplay for Tanjiro if you wanted to. In fact, this would save you a bunch of time on arguably one of the more challenging parts of his otherwise plain outfit. Just note that you will pay a pretty penny for this easy way out.
Pros
Tanjiro's coat is perfectly recreated in jacket form
It appears to have two deep pockets for you to store stuff in
The material and quality look to be extraordinarily high
You could even use this for cosplay if you wanted to
Cons
You're going to pay quite a lot for this, arguably more than you would for a similar Tanjiro-style jacket
Shinobu Purple Hoodie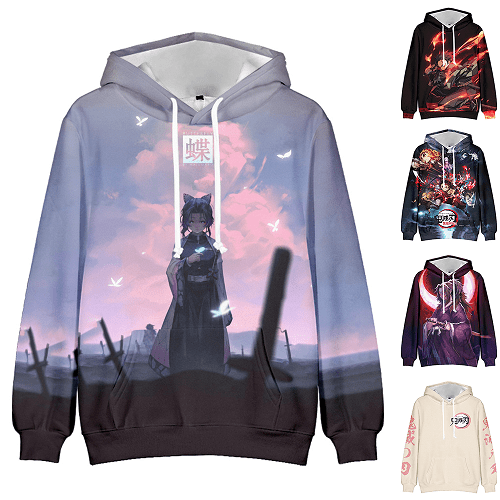 This hoodie wins for the fact alone that it takes the fabled Insect Hashira, Shinobu, and puts her entire aesthetic into hoodie form. This clothing item is the stuff of beauty, featuring a nearly all-purple and pink hoodie that has gorgeous muted colors that help to keep it somewhat cheery.
This is a nice contrast with Shinobu herself in the middle of the hoodie, who looks quite depressed and disheartened in the middle of a battlefield of fallen companions.
This is a highly cheap hoodie, too, letting you get it for a reasonable price. And if you don't love this one, the same hoodie listing has options for other styles like Nezuko and the key art for the entire series.
Pros
One of the most value-packed jackets on this list
Shinobu's aesthetic is mastered in this hoodie
There are other cheap hoodie options if you don't like this one
Cons
Be wary of the low price and have an eye on the return policy as it almost seems too cheap to be true
Akaza Custom Bomber Jacket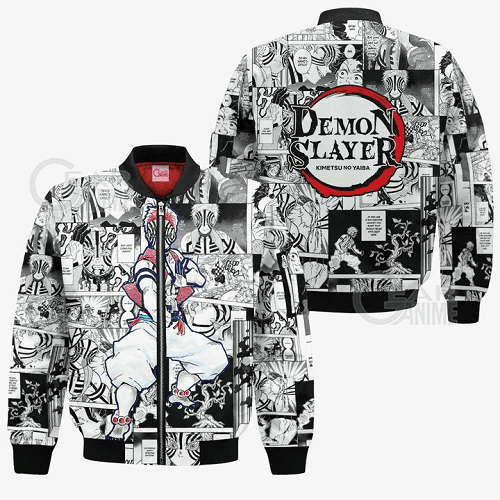 One of the oddest picks for a Demon Slayer character to get a jacket dedicated solely to him is Akaza. Yet, somehow, it works out tremendously with one of the best on this entire list. This is a custom jacket that an artist designed, and it screams style and substance throughout it.
If you want something more subtle, look away, as this is the peak of showing off your love for the Demon Slayer series. The easiest part is Akaza in full color on the front of the jacket, while the logo for the series is on the back of it.
However, those aren't the real stars here, as there is something else that will likely catch your eye first. The entire background of the jacket is nothing but frames from the manga itself pasted on there of various scenes and moments with the demon villain, Akaza. It is a whole lot, for sure, but it looks so sleek at the same time.
Pros
This is one of the best examples of originality when it comes to a Demon Slayer jacket.
The manga panels on the background are a fantastic choice
It took a risk and nailed it
Cons
Those who want something subtler in the jacket department should look elsewhere
Demon Slayer Logo Denim Jacket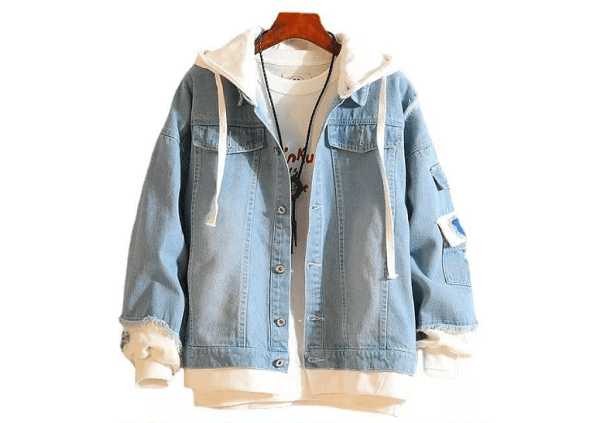 There is something to be said about the way that this Demon Slayer logo denim jacket masterfully skirts the edges of subtlety and style. It takes a more reserved approach to its Demon Slayer branding, simply showing off the Japanese version of the logo on the back of the jacket.
This alone would make it seem rather simplistic but where it stands out is in the high-quality denim jacket that it uses as its base. This jacket alone would get me to buy it, let alone the fact that you get to rep Demon Slayer at the same time.
This is the most fashion-forward jacket on this list, letting you show off your love for a series in a powerful way while also adhering to the fashion culture that exists today.
Pros
This is the jacket I want and even plan to buy on this list
There is nothing like this denim jacket's mastery of style and still showing off love for the series
Reasonably priced, especially when on sale (which it is at the time of writing)
Cons
If you don't like denim jackets, this might be a miss for you
Demon Slayer Nezuko Cloak Jacket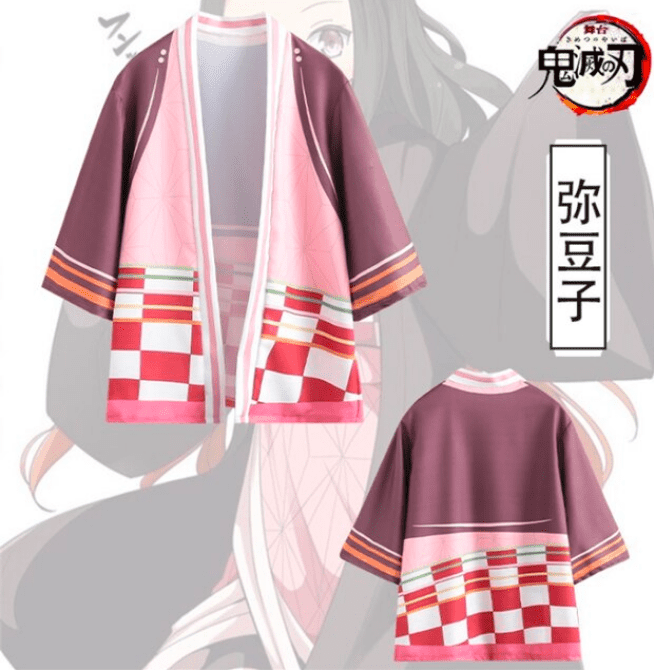 This is the other cosplay item on this list, but this one is geared toward kids. These smaller jackets are based off of the cloaks that many of the main characters in the series wear. There are lots of options to choose from, including Shinobu and Zenitsu, but the real star here is the Nezuko jacket.
Hers is by far the best of the bunch and this is due to its uncanny resemblance to the real deal from the series. You could easily use this as a fashionable jacket in the colder times of the year, but it could also be part of your kid's cosplay set if you wanted to create a cost-effective outfit for them.
Pros
Lots of brilliant options for well-done recreations of the main characters' cloaks
It can be used for everyday use or as part of a cosplay outfit
The cheapest items you'll find on this list
Cons
Sadly, these are only meant for kids, hence the low prices
Demon Slayer Nezuko Bomber Jacket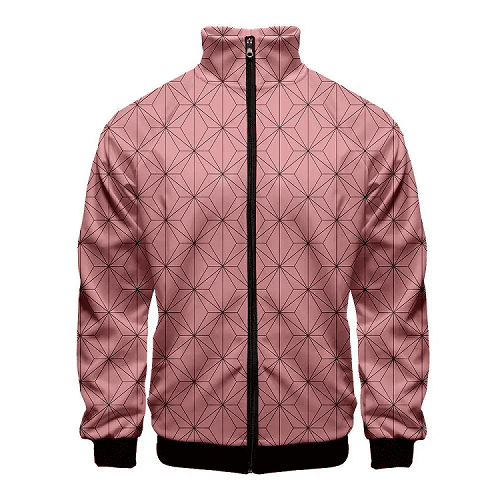 This Demon Slayer Nezuko bomber jacket is the epitome of blending together style and anime representation. On the one hand, you have the immense quality of the design and material that is clear in this jacket, even from the images and especially from the price.
But, on the other hand, you have the Nezuko design that is primarily based around the signature pattern used to represent the fellow protagonist of the series. You have a pastel pink background with a somewhat light star-shaped pattern that goes all throughout it.
Some people would look at this jacket and not even realize that it's based on Demon Slayer, which could be positive or negative for you. No matter what, though, it's one of the best you'll find on this list.
Pros
The Nezuko design is so stylish and beautiful
The high-quality nature of this jacket is apparent even from the images alone
This is there for the people who want to represent Demon Slayer but not be too obvious
Cons
This will cost you an intense amount of money, but you arguably get what you pay for, to be fair.
FAQs
Question: What Jackets do they Wear in Demon Slayer?
Answer: The characters in Demon Slayer wear haori jackets, which are basically coats that go over their standard battle uniforms. It appears that the Demon Slayer Corps are pretty lax in their rules, allowing most soldiers like Tanjiro and the gang to wear whatever jacket or coat they want.
Question: What is the Jacket that Tanjiro Wears Called?
Answer: The jacket that Tanjiro wears is called a haori in Japanese. But all you really need to know is that it is essentially just a coat that the main character of the Demon Slayer wears. There is nothing too special about it, as he just picked it out as his fellow soldiers did.
Question: What do the Hashira Wear?
Answer: The Hashira are seemingly able to create whatever uniform they want for their demon-slaying missions. Most of them use the same basic black Demon Slayer Corps uniform, but they mix it up with their own coats, pants, and the like.
What Demon Slayer Gear You'll Need Next
I get it; you only have so much money to spend on a jacket based around Demon Slayer. As one of the most expensive lists I have ever made on our site, I totally understand that there is likely only around one jacket on here that you can get. If I had to pick one, then I would go for the Demon Slayer logo denim jacket.
When it comes to this absolute work of art, it shows the true meaning of less is more. Only having the logo for the series on the back of the jacket is a wise choice, given that the quality of the denim jacket speaks for itself. This is one clothing item I'm heavily considering buying, so my wallet will regret making this list.
However, if you want to spend some more money on Demon Slayer merch, I recommend checking out the best Demon Slayer shoes. These will be an excellent complement to the star power that is your new jacket.