Latest posts by Cody Perez
(see all)
The joy of falling in love with a new manga or anime series, like Jujutsu Kaisen, is letting your passion shine beyond just binging some chapters or episodes.
There is so much merch for you to buy and collect, such as t-shirts. Shirts are some of the most favorable merch items since they are both beautiful and functional. As such, I've come up with the most iconic Jujutsu Kaisen shirts to help you out.
These most iconic Jujutsu Kaisen shirts are the standout picks you can find across the internet. They are the best shirts, both officially licensed and otherwise, that you can buy and wear. If you want to make new friends by wearing this shirt or just show off your love for the series, you're in the right place.
Here are the top 15 best t-shirts that you need to know about so you can rep your favorites like Yuji Itadori, Megumi Fushiguro, and Gojo-sensei.
Bottom Line Up Front
The best Jujutsu Kaisen shirts are the ones that take characters and ideas from the series and translate it well into a wearable form. The art is the most essential part of the Jujutsu Kaisen, so it needs to be on point, detailed, flashy, and eye-catching.
Whether it's official art from the series itself or fan art that someone made, it needs to draw you in. One such example of this done the best is the most iconic shirt of them all: the Ryomen Sukuna cosplay shirt. There is nothing like this tremendous shirt that balances the extravagance of the cursed spirit king and the elegant pattern it has going on.
My Top Picks at a Glance
For those of you who are in a hurry to buy some t-shirts from Jujutsu Kaisen and show them off everywhere you go, here are the top four that you need to know about. These are the cream of the crop, better than even the rest of the already fantastic list of shirts here. You honestly can't go wrong with buying any of these:
Buying Tips
Before we go any further with this list of the best Jujutsu Kaisen shirts for you to buy, I should note some tips I have for you. If you're new to buying merch and shirts based on your favorite properties, there are some key tips I can give you that I've learned over the years of doing this.
And even if you've been around the block before, there are some key pointers related to Jujutsu Kaisen, specifically:
Never settle for the first shirt you find on the market that you like. There are loads of great shirts out there, even more than covered on this list, but there is always a chance you'll find something else you like even more. Be sure to thoroughly search before buying.
In the same vein as the last one, don't buy from the first site you find. If it's an official shirt or typical design, chances are that it's available elsewhere. It could even possibly be cheaper somewhere else.
If you're buying for someone else, start by finding out their favorite Jujutsu Kaisen character. This will narrow down your search considerably.
Conventions are great places to buy shirts like these but beware of scammers and low-quality designs. Even official shirts can lose their art after only a few times of wearing, but you have better chances this way.
Lastly, don't be afraid to make your own custom Jujutsu Kaisen t-shirt. If you have a favorite image or piece of art from the series, contact a custom shirt company or site, and they can turn it into a unique shirt just for you.
Selection Criteria
When coming up with the most iconic Jujutsu Kaisen shirts, there were a lot of factors that I kept in mind. I'll be the first to admit that this massively popular series has a lot of excellent t-shirts to find online. But not all of them can be the very best, so here's what sets the most iconic apart from the just great shirts:
Art: As previously mentioned, art is what defines the shirt. The most iconic shirts don't just have fantastic art but are the very best you'll find anywhere.
Quality: While it is impossible to tell from just seeing an image online, the quality of the art and shirt needs to be noticeable. Preferably, this is a shirt that will last a good while, too.
Value: These are the best shirts, so they aren't all going to be cheap. That said, a more expensive Jujutsu Kaisen shirt has to warrant that price.
Uniqueness: There has to be some sort of hook with the shirt that helps it stand out. This could be unique, original fan art that is mind-blowingly awesome or a fun take on a character(s) from the series.
Best Jujutsu Kaisen Shirts List
There are 15 of the best Jujutsu Kaisen shirts below. These are the most iconic shirts based around the beloved dark fantasy manga and anime series. If you are a Jujutsu Kaisen fan, these are the shirts you want to get and show off to others wherever you go. You can't go wrong with any of the 15 shirts below.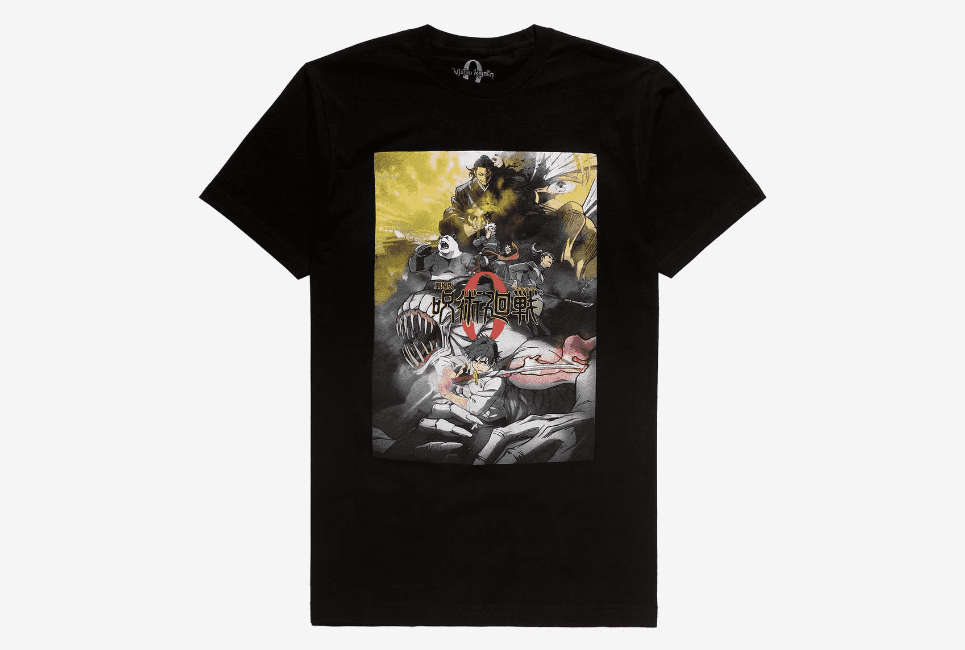 Those of you who are staunch Jujutsu Kaisen fans will likely know the 0 prequel movie and manga series quite well. This is one of the most substantial parts of the entire universe, telling the prequel storyline of Yuta Okkotsu and his tragic backstory a year before the start of the main series.
The Jujutsu Kaisen 0 movie poster is fantastic, featuring the cast of the story alongside some of the villains that are there, too. It's an intriguing mix of most of the characters featured in the story and even the powers that Yuta uses in the film and manga series.
This poster is an instant classic, and the wise decision to turn it into a t-shirt design was a great one. For fans of Jujutsu Kaisen and especially the prequel, this shirt is a no-brainer. You can't go wrong with the busy but tremendous design that it has going on.
Pros
The Jujutsu Kaisen 0 movie poster design is fantastic
It shows most of the characters from the movie and manga
Cons
I wish there were more color options for this shirt
The design might be a little too busy and messy for some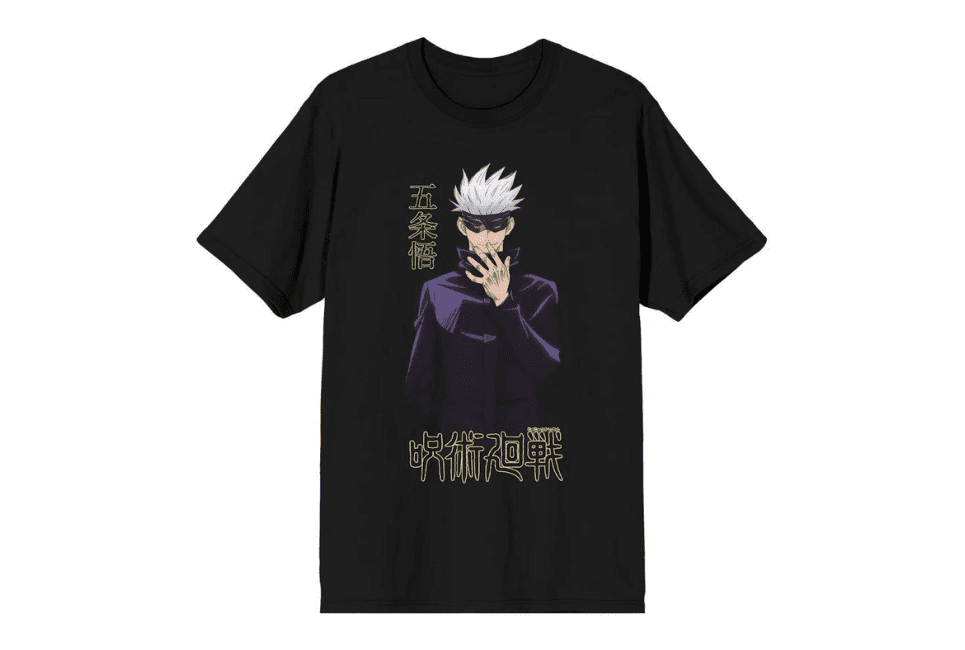 One of the few officially licensed shirts on this list is the Gojo blindfold shirt from Crunchyroll's official store. This takes the classic design of the Tokyo Jujutsu High School teacher and translates it into a t-shirt form. This is about as standard as it gets when it comes to a shirt based on the renowned manga and anime series.
Gojo-sensei looks poised for battle with his classic eye mask around his face that covers his beautiful blue eyes and his white hair flowing in the wind. It almost seems like this shot was taken from the scene in which he takes off his eye mask and reveals what he fully looks like.
The shirt is relatively simple, being a nice counter to the last shirt on this list. The only other notable touch here are the kanji words on the left side of Gojo and the bottom of his design. The left side simply says his name in kanji, while the bottom notes the title of the series.
Pros
A straightforward look at one of the best Gojo designs
Some extra kanji words for an added touch
Officially licensed
Cons
The price is a bit much due to the licensed nature
It might be too simple for some fans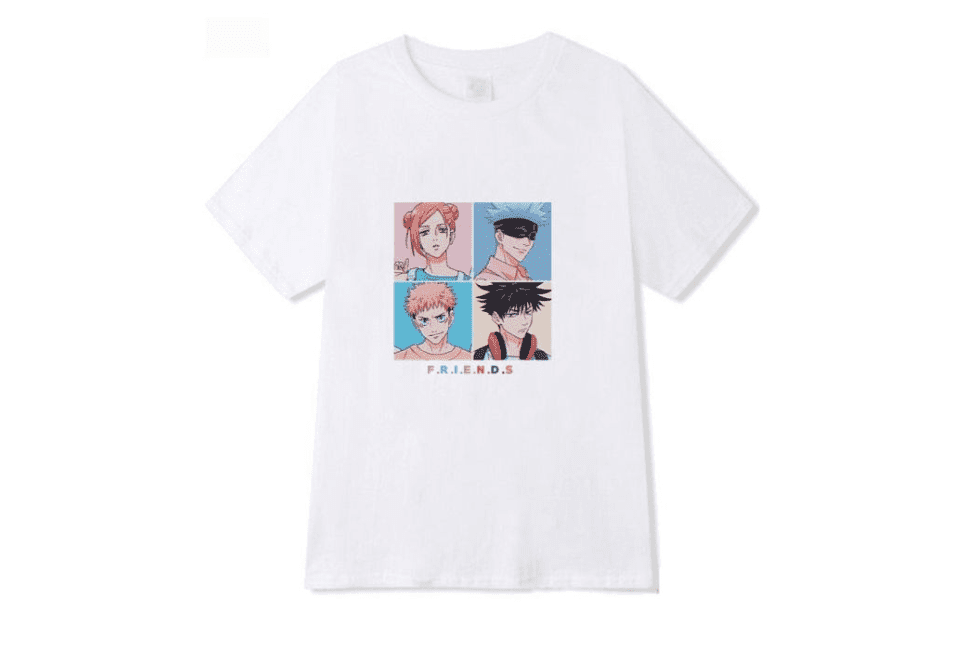 So far, we have seen primarily official designs for the characters that we already know and love. But what I appreciate the most is when a fan artist goes out of their way to make something unique for the characters. Such is the case with this particular Jujutsu Kaisen City Pop shirt.
At least that's the name I've given it as it takes the four main characters of the series — Yuji Itadori, Megumi Fushiguro, Nobara Kugisaki, and Satoru Gojo — to make a white shirt with four frames of the characters. The uniqueness here is the actual designs for the four primary characters.
Each of them is colorful and bright, looking like they walked straight out of the 1980s. The animation style is so vastly different from what we see in the actual series, giving a vibrant look to the otherwise dark characters and tone. This helps this shirt to stand out.
For those who might not love how broodingly dark the main series is but still want to show their love for Jujutsu Kaisen, this is likely the shirt for you. You can proudly walk around showing off these fantastic characters without having to wear such darker colors.
Pros
An exciting contrast of these darker characters in a more colorful light
The old-school animation style is terrific
One of the best examples of how fan artists can make something their own
Cons
This shirt might be a little too bright and cheery for some fans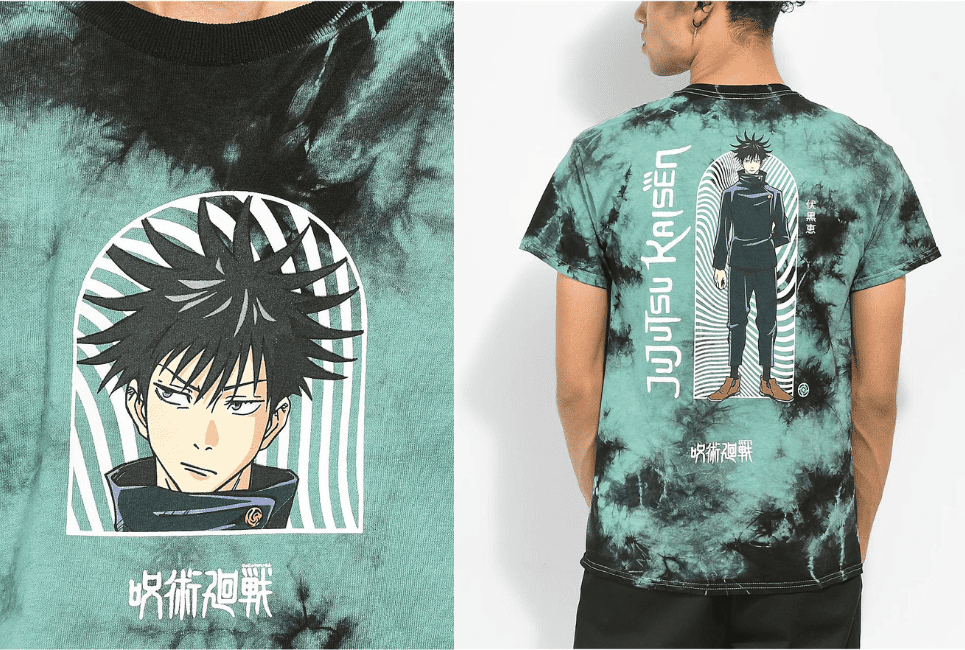 Taking a darker turn once more, we have a shirt focused solely on my favorite character in the series, Megumi Fushiguro. The secondary protagonist of the series gets his spotlight here with this green tie-dye shirt that is quite different from what we usually see.
There are splashes of this strange slime-green color with black throughout the shirt, giving it this messy but homemade-style look. It doesn't look too bad, honestly, giving it a vibe that is unique to all of the other shirts on this list. But the real star isn't just the color of the shirt itself.
The actual point of this shirt is the Megumi design, which is excellent. This is a pretty standard look at his character from top to bottom, with a swirly gate happening behind him. There are some words around, like Jujutsu Kaisen in English and Japanese and his name in Japanese.
Pros
The green tie-dye shirt is unlike anything else on this list
Megumi Fushiguro is always an excellent choice
Cons
This shirt might be a little bit too much for some fans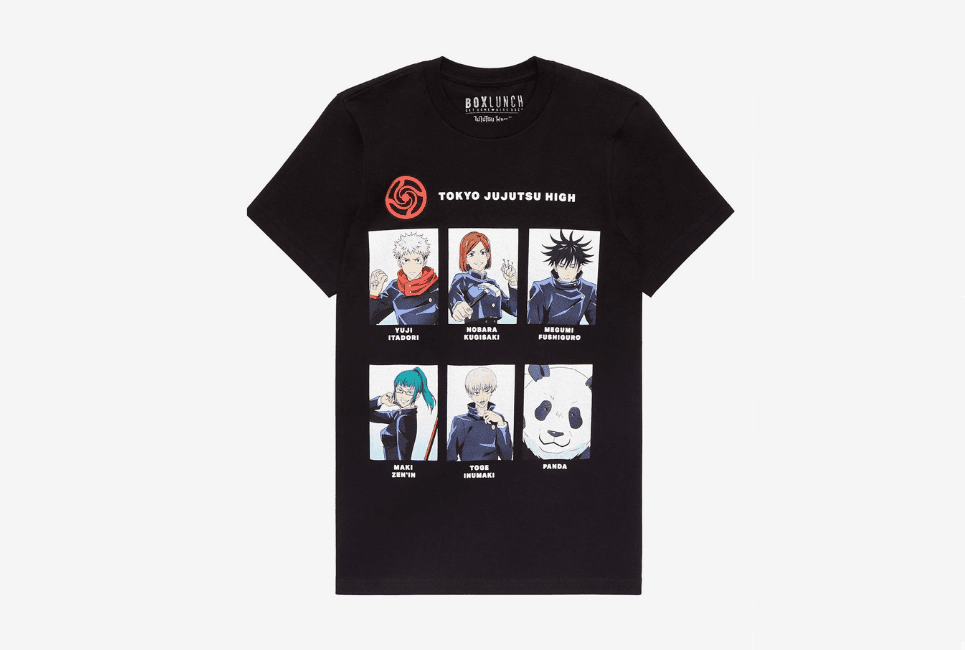 This next shirt takes the horrors of high school yearbook photos and turns them into something to celebrate. The six students at Tokyo Jujutsu High School (minus a few notable absences) have lined up and taken their headshots for this school year.
The best part is you can wear them around on a shirt. The headshots are rather hilarious, too, featuring each of them doing their own unique poses and signs that show off their personality well. My favorite has to be Panda, who just straight up is in your face for no reason at all.
Now, it should be mentioned that these are only the three first-year students and three of the four second-year students. None of the third-year students are included in this shirt, nor is Yuta Okkotsu, for those who may be disappointed by that fact.
Pros
Yearbook photos worth bragging about
You get both the first and second-year students
Each of the poses is goofy and unique
Cons
This doesn't include the third-year students or Yuta Okkotsu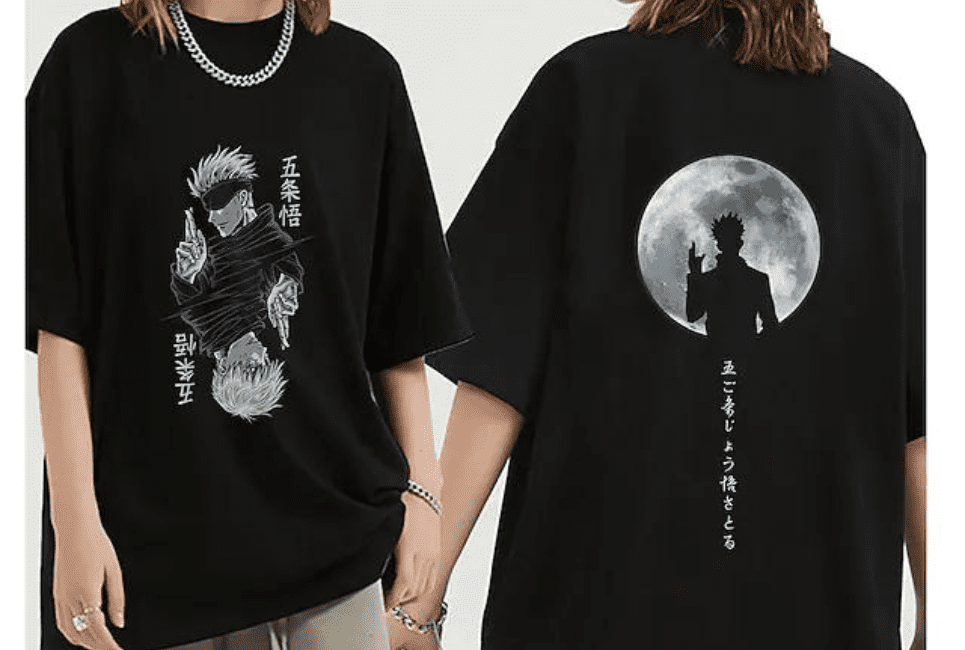 Sorry for all of the Gojo-sensei shirts on this list, but I can't help it. He is up there with Megumi as one of my favorite characters from the series. And it seems that I'm not the only one in this situation as there are a lot of shirts based around him, including the very best that exist.
Enter this next shirt that features Satoru Gojo under the brilliant moonlight. This, mixed with the best shirt on this list, is one piece of Jujutsu Kaisen merch that I am strongly considering buying right now. The simplicity of the colors and pattern of this shirt stand out.
You just have the front where Gojo is there, including both the version where he wears his eye mask and his spoilery version without it. The stand-out part here is the back, though, where Gojo is under the moonlight with a few words in Japanese. When it comes to the saying "less is more," there is no better example than this shirt.
Pros
Simplicity is key here with this black and white shirt
Gojo looks better than ever before
The moon over him on the back is a nice bonus
Cons
I could see some people preferring the back design on the front instead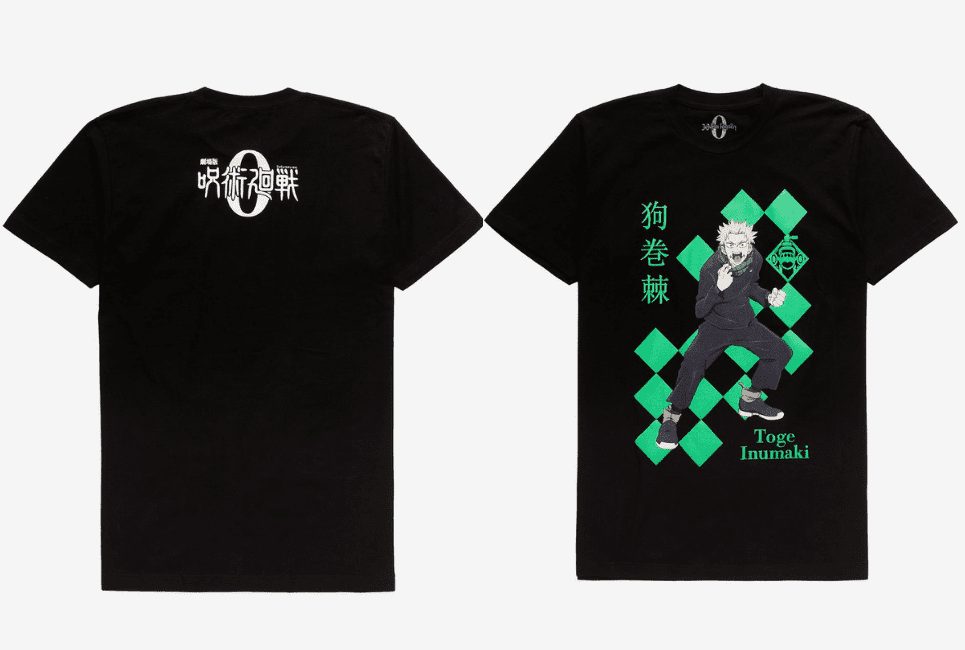 One of the most popular second-year students at Tokyo Jujutsu High is Toge Inumaki, one of the stranger members of the cast. Unlike the others with a lot of personality and speaking lines, Toge doesn't get to say much in the series.
This is due to the vow regarding his cursed energy powers where he has to cover his mouth and only speaks in onigiri (rice ball) ingredients when not using his abilities. However, this shirt takes it in another direction and shows a rare moment of Toge using his abilities with his mask down and everything.
This screaming version of Toge is quite unique, and it matches well with the green text and checkered pattern that is over the otherwise plain black shirt. You get some flavor text on the side, too, including his name in both Japanese characters and the alphabet version.
Pros
A solid choice for Toge Inumaki fans out there
The green and black colors look fantastic together
Cons
Some Toge fans might prefer the non-screaming variant of him.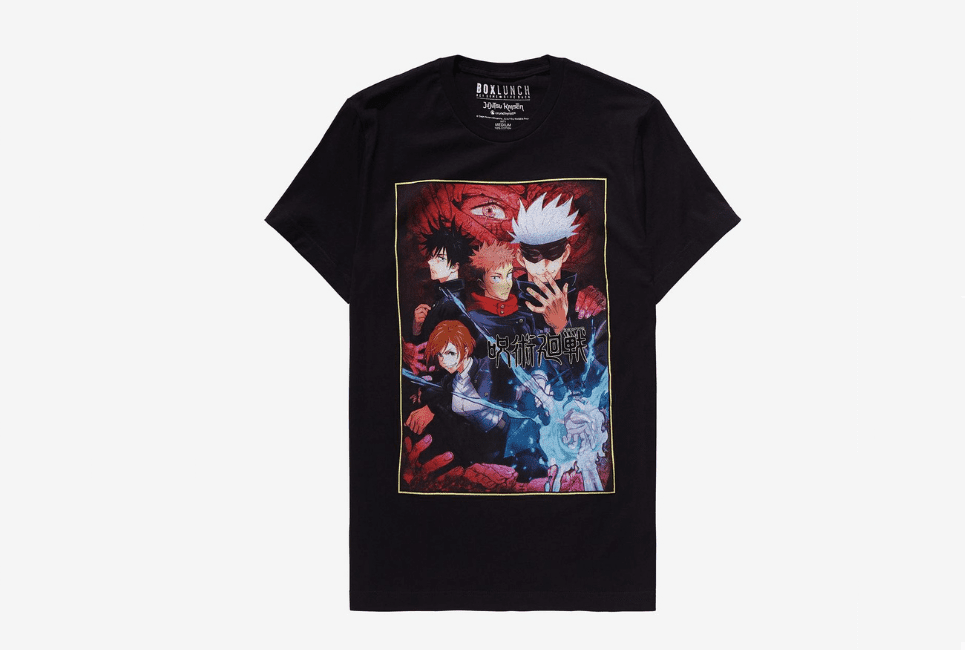 This is a shirt that is broadly similar to the previous Jujutsu Kaisen 0 one. Instead of being about that movie, though, it is about the main manga and anime series. It takes the key art from the anime adaptation and turns it into a poster-style t-shirt that you can pick up.
This was initially meant to be a poster design, so a lot is going on here. You have the core four main characters of Yuji, Nobara, Megumi, and their teacher, plus Sukuna looming around in the background. There are also a lot of creepy hands that border the entirety of the design.
Like many of these basic poster-style shirts, the image is in the middle of the shirt and doesn't cover the entire thing. The rest of the shirt is just a standard black shirt, and that's it. But for those who love the critical art and main characters, this is a solid choice.
Pros
It converts the solid poster key art into a t-shirt form
You get all of the main characters in one picture
Cons
It might be a little too busy for some fans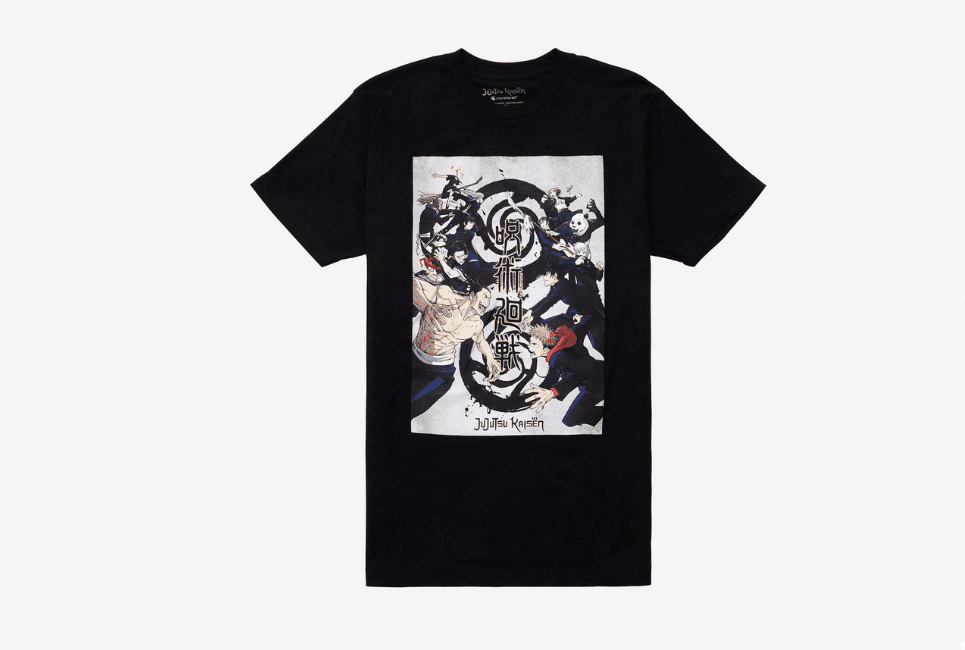 Let's keep the poster love up with this next one that has to do with the Jujutsu Kaisen Versus poster-style shirt. This is an intriguing set of crucial art that seems to come from the Kyoto High Exchange Arc when Tokyo and Kyoto went to bat against one another.
This exchange arc was wilder than it could and should have been, leading to some crazy matchups and fights. This poster-style shirt hints at that, showing some of the matches like Yuji and his bro (not actual brother, though), Todo, and many more. The art is clean, organized, and pleasant compared to some of the other poster styles.
Pros
The poster-style art is clean and organized
It shows off a lot of the characters from the two high schools
Cons
The art isn't as flashy as some of the other poster styles.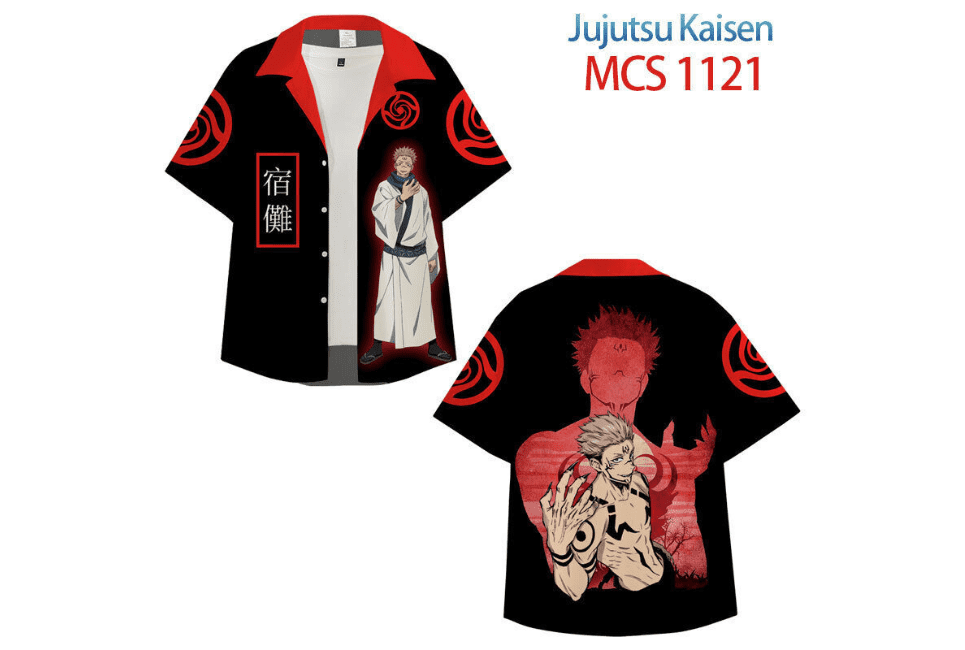 There are merch shirts out there, but then there are cosplay tees like this one featuring Ryomen Sukuna. The ultimate villain and necessary evil in the series, there is a lot to love about the devilish cursed spirit king. The handsome menace is all over this shirt, from front to back.
The gorgeous pattern of this button-up black shirt with a red border and symbols throughout is already something truly special. But then you have the back where Sukuna reminds everyone just how terrifying he can genuinely be. There is nothing like this extravagant piece of merch that is unlike anything else out there.
Pros
Stunning from start to finish, back to front, with its red and black color scheme and patterns
The button-up shirt combo makes for a top that you should be proud to wear
This is one of the best looks for the villainous Ryomen Sukuna
The back is so highly detailed and exceptional
Cons
It is pretty hard to find this shirt these days, but it's worth it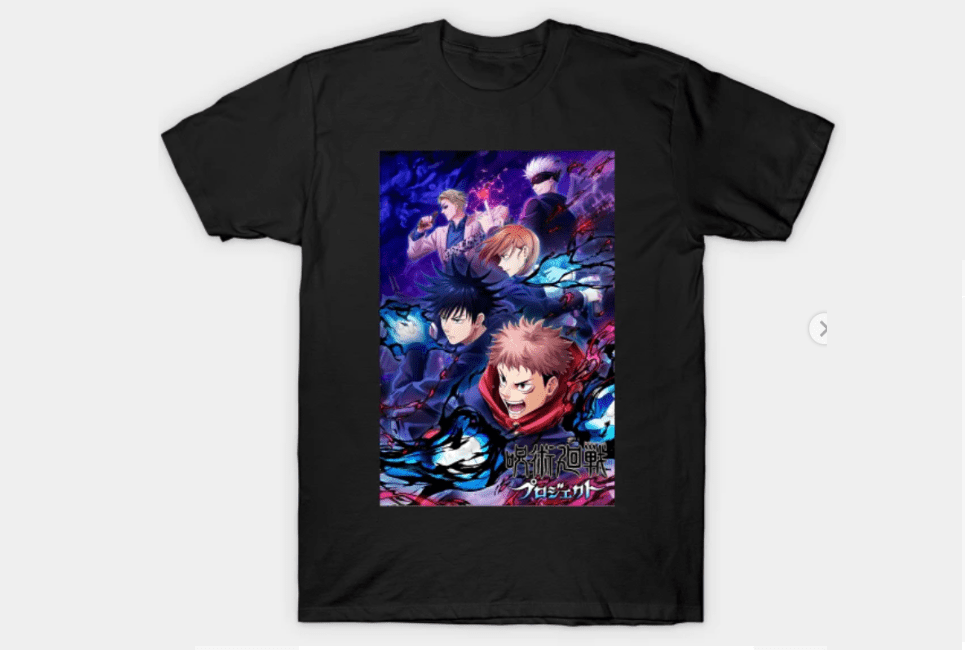 There are poster designs, and then there is this particular one from TeePublic. There is no other poster design on this list that is as sleek and stylish as this one. It oozes style and substance, showing off five of the main characters in the series to date.
This is already rather intriguing on its own since you get one more person over the other team shirts out there. The team is one in this image, using their powers together with some of the most colorful imagery on this list. The usage of purple, black, blue, and red is stellar and unlike anything else out there.
Pros
This team poster-style art is the best on this list
You get the core characters all unified in their attacks
There are extra color options for the shirts to pick from
Cons
It can be pricey when not on sale (currently on sale at the time of writing this)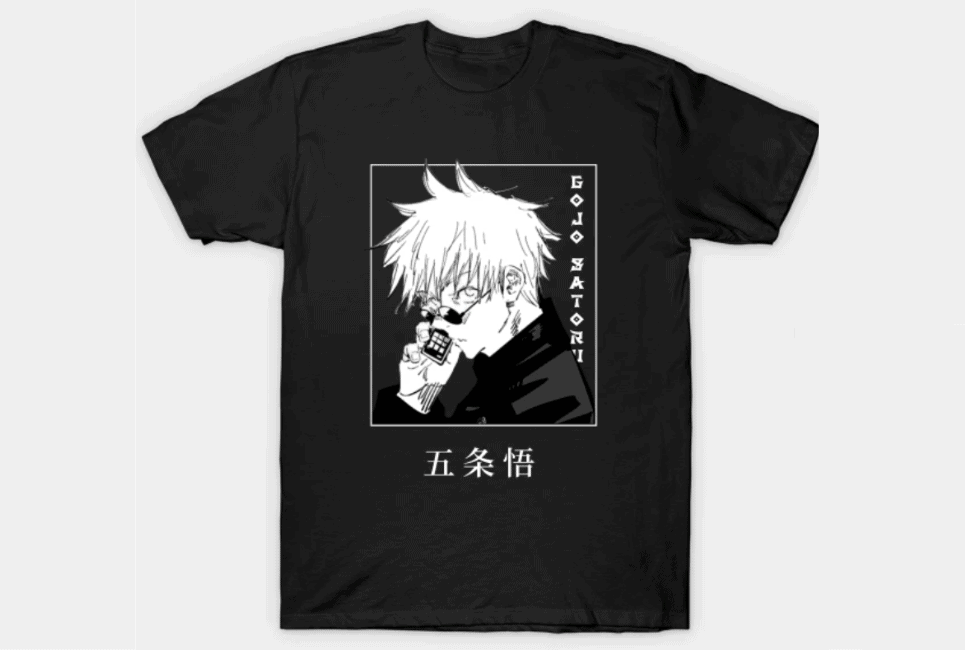 Sorry for all of the Satoru Gojo love, but it seems that the fan artists out there just love him as much as I do. This particular shirt goes for a simple and clean look. It is all black in its default form, featuring a headshot of Satoru Gojo, that looks like he's posing for a Gucci commercial.
The tighter art is quite lovely, giving a fashionable look here. And for those of you who don't want the traditional shirt, TeePublic has the great option of offering multiple shirt color options. However, the original black tee is the best one here by far.
Pros
Satoru Gojo might have a new career in the fashion industry
Simple and clean
The extra shirt color options are pretty nice
Cons
It could be a little bit too plain for some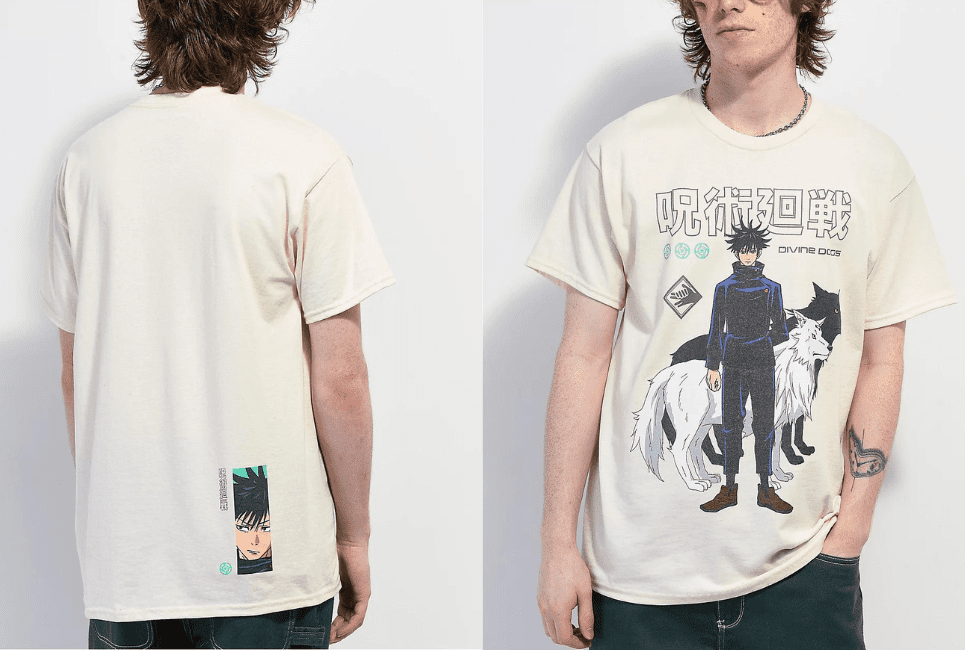 If you want the best possible look for my man Megumi Fushiguro, look no further. There is something to be said about a classic tee like this that is brighter than some of the darker ones on here without losing the seriousness at the same time.
The cream color shirt matches nicely with Megumi, who is front and center, looking as ticked off as ever. In the background, you have his two Divine Dog companions who he regularly summons in battle as part of his repertoire.
Pros
Stylish and the best look for Megumi
The puppies are also here
The lighter shirt color works
Cons
It would be nice to see some other summons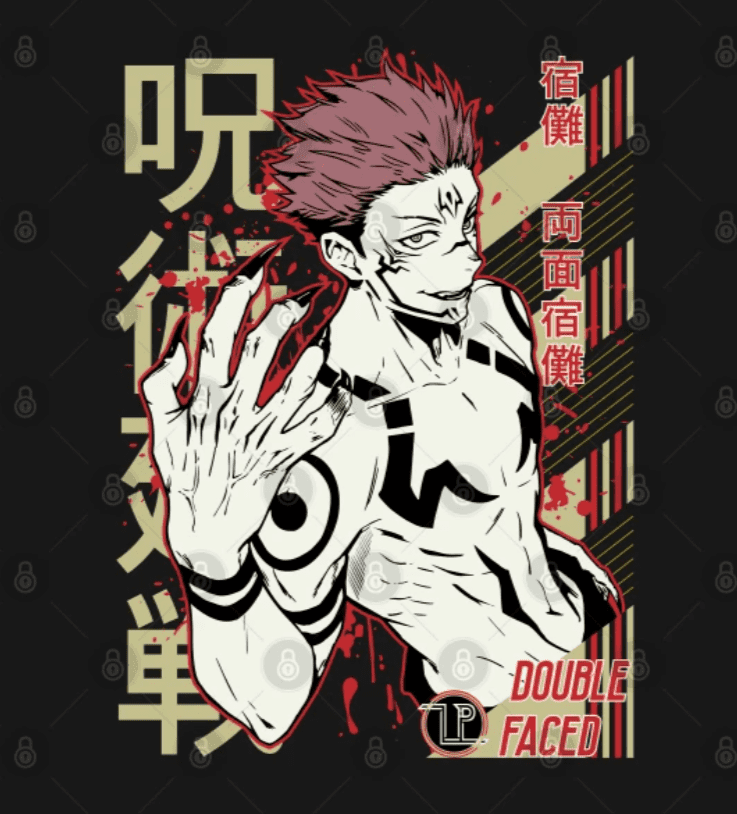 This shirt features another poster-style key art on a plain shirt. This time around, it is Sukuna showing off his abs and strength, trying to strike some fear into the hearts of anyone who sees this. A lot is happening with the kanji letters and various patterns, but it somehow works for the villain.
Pros
Fantastic art featuring the terrifying villain Sukuna
One way to handle lots of action in a single piece of art and make it somehow work
Cons
The background and Sukuna's art style somewhat clash with one another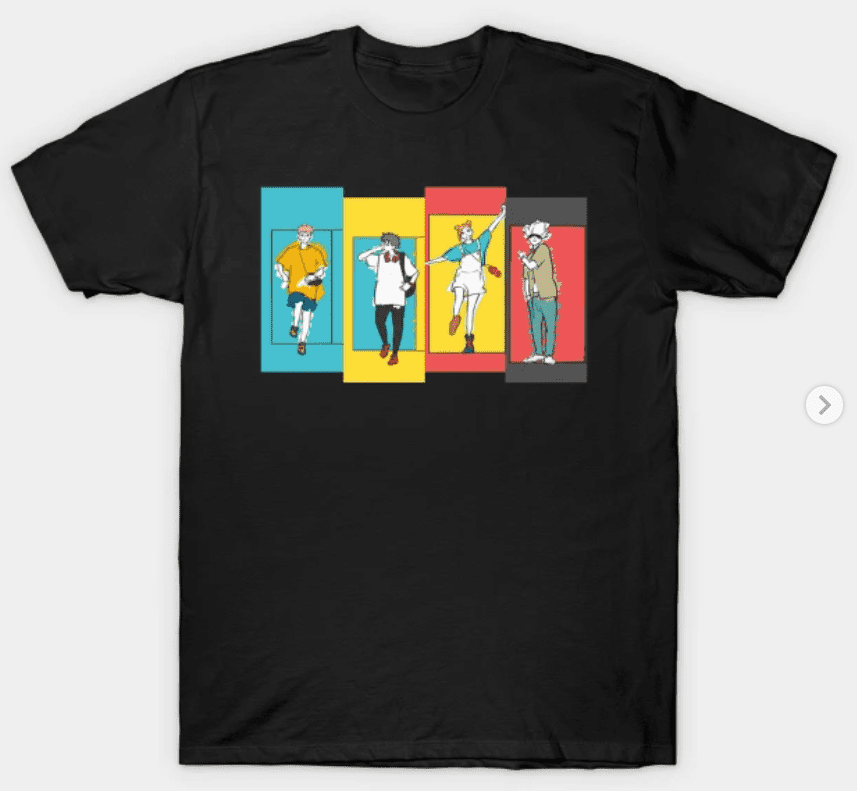 This shirt wins just for ingenuity alone. They took the colorful and bright ending theme from the anime series and turned it into a shirt. With four vibrant frames featuring the main characters in their ending song hand drawn style is utterly fantastic and necessarily lighthearted. One of the best and most unique designs you'll find for a tee.
Pros
The choice of showing off the ending style of the main characters was smart
The different tee color options elevate this shirt
Cons
I wish the art were a little bit larger on this shirt
FAQs
Question: Is Jujutsu Kaisen Good for Adults?
Answer: Yes, Jujutsu Kaisen is one of the best "shounen" series for adults. While I wouldn't necessarily consider it a shounen myself, it is largely regarded as an action series that could be for kids. The darker, gorier, and creepier sides to Jujutsu Kaisen make it quite suitable for adults who want something more serious than something like Dragon Ball.
Question: Does Jujutsu Kaisen Have Merch?
Answer: I assume that you are asking if Jujutsu Kaisen has official merch. Basically any series ever has merchandise, but when it comes to officially licensed merch, that isn't always the case. But the reality is that Jujutsu Kaisen does indeed have official merch through places like Crunchyroll, and you saw some of that on this list.
Question: Why is Jujutsu Kaisen so Cool?
Answer: This is going to be subjective to each person, but Jujutsu Kaisen is so cool to me because of how it subverts expectations. It isn't the most surprising series I've ever seen, but it tries hard to differentiate itself from its inspiring predecessors like Tokyo Ghoul and Attack on Titan. The unique characters who break typical trends and gory enemies help it to stand out nicely.
You Look Like You Need Some Nendoroids
The best Jujutsu Kaisen shirt on this list has to be the Ryomen Sukuna cosplay shirt. This particular shirt impressed me the most when it came to its visual art, and the overall quality of the shirt is unlike anything else you'll find. Personally, if I had to pick a shirt to purchase myself as a Jujutsu Kaisen fan and wear, this is the one I would get. I feel like it is the best example of what I love about the series when it comes to the color scheme and pattern.
But what about merch outside of t-shirts? While I certainly enjoy showing off my love for a series through what I'm wearing, there are other ways to do this. Figures and toys are some of the best ways to show your love for specific characters, but they aren't cheap. If shirts aren't enough for you and you're ready to take the plunge deeper into Jujutsu Kaisen Nendoroids, you're in the right place.