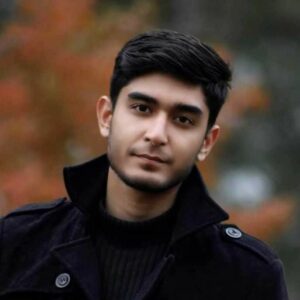 Latest posts by Asad Mehmood
(see all)
"There are Two things that Collectors Always Want. The First is an Item of Extreme Rarity. The Second is Colleagues to whom they Can Brag about their Collection." – Kurapika
It is a genuine description of us, fans and collectors, from none other than our beloved Kurapika. As a veteran fan myself, I also wanted a piece of the pie.
So, once I finished the series, I devoted myself to buying every piece of Hunter x Hunter merchandise I could get my hands on. Soon, I became a proud owner of the massive collection consisting of Kurapika-shaped figures to Chrollo-themed shoes.
Amongst the vast collection of Hunter x Hunter goodies, figures became one of my favorite pieces of Hunter merch. It's because they bring something very unique to the table. They possess a funky aura that never failed to bring out the child within me. The Gon and Killua figures made me want to play with them all day. They allowed me an escape way from my otherwise responsibility-filled life.
This Hunter x Hunter Figure guide will inform you about some of the category's best options. I had a bumpy ride when I was looking for these figures.
To make your experience more fun, easy, and smooth, I have made sure to fill this guide with as much personal experience and helpful buying tips as possible. So, hold onto your Gon notebooks and Killua pencils because this will be an informative ride!
The Best Hunter x Hunter Figures Guide: Bottom Line Upfront
Whether you're a die-hard fan or a newcomer, Hunter x Hunter figures are the perfect way to express your love for the series and satisfy your inner Otaku. Gon Freecss Jajaken Funko Pop! is my personal favorite amongst these figures, which played a significant role in reeling me in the story.
It brings back the Summer memories of my first time watching the show and sets itself as a reminder of how much someone can grow following his dreams and passion. Following are some of my more personal picks, which should definitely be on your bucket list of figures: 
My Top Hunter x Hunter Figures Picks at a Glance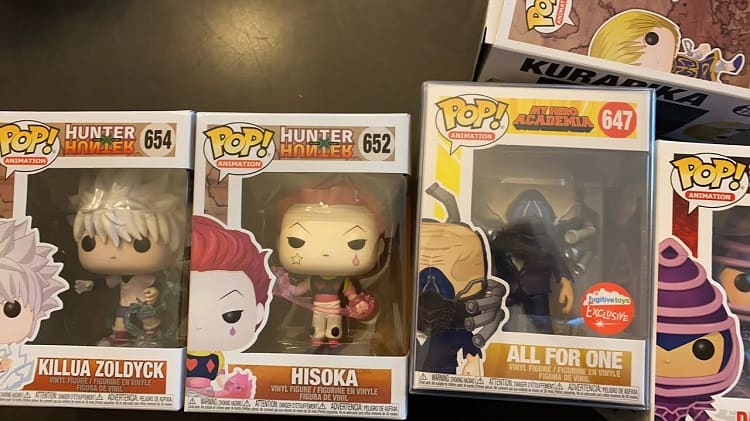 Buying Tips: Stuff to Keep An Eye Out for
Here I will be discussing some of the things you should keep in mind while buying Hunter x Hunter figures.
Try to Buy Hunter x Hunter Figures Made in Japan
As these may still be better than nothing if you have the option and budget, you should always buy figures made in Japan. These figures offer better build quality and greater attention to detail than their Western counterparts. 
Look Out for Reviews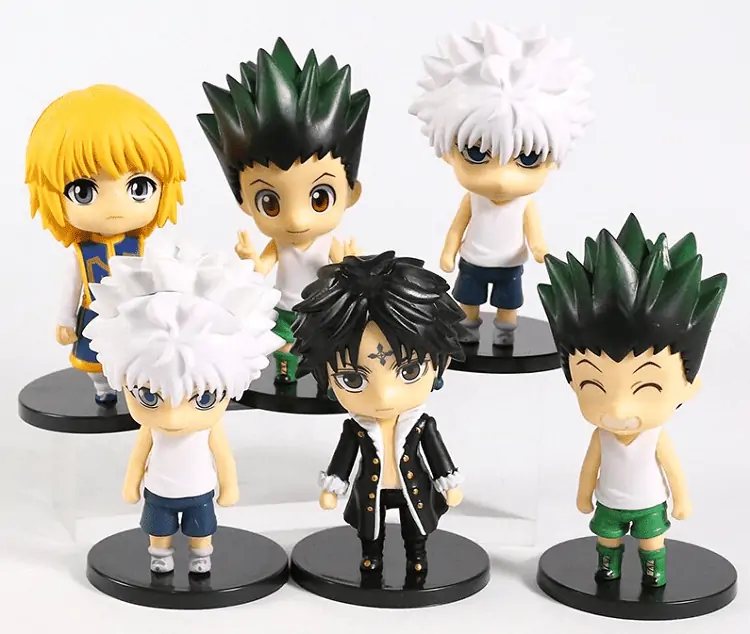 Many online marketplaces allow their customers to post their personal experiences on the product listings.  Always look for people's responses to a particular figurine, whether it's a Gon Freecss figure or a Killua Funko Pop, and decide whether you want to buy that specific figure. And don't make your decision until you are satisfied with the reviews. 
Decide Which Character You Want to Buy as a Figure
With the variety of Hunter x Hunter figures, it is almost impossible to buy every one of them in one sitting. If you are on a tight budget, strategize which figures you want first. 
Please list your favorite characters from the series, whether Meruem, Netero, Kurapika, or Hisoka. Having a clear objective help in making your shopping experience more streamlined and saves you the disappointment of choosing the wrong figure.
Measure the Space You Have for Your Figures
You should always measure the space available and the height of your other Hunter x Hunter figures. Not doing so may lead you to buy mismatching figures which may not even fit the space on your desk. 
My Selection Criteria: Why I Chose these Figures?
Some factors which lead me to select these items are:
High quality and vibrant finishes of the figures.

Popularity amongst Hunter x Hunter fans.

Reasonable price range.

Availability in the online and offline markets.
My Top 10 Best Hunter x Hutner Figures Picks
#01 Chrollo Lucifer Figure Toy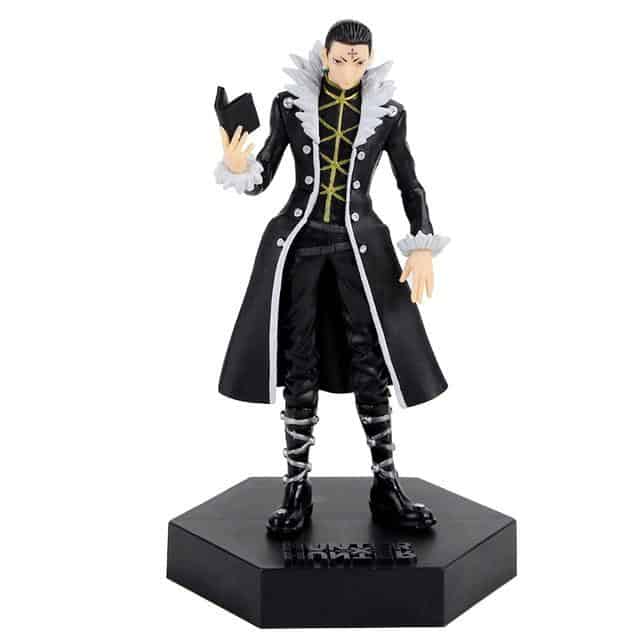 Description
Since the debut of the infamous leader of the Phantom Troupe, there has never been a more iconic and mysterious character to live.
This figure displays the dark leader in his full attire, showing his glory. Looking at the face of the figure, I could feel the presence of his emotionless soul, together with the attention to detail that makes the figure all the more life-like. 
The figure also features Chrollo's orb earrings and the cross-shaped tattoo on its forehead. These small details give the sculpture a dense aura quickly felt after taking it out of the packaging. Together with the figure, I was also happy to see the inclusion of his iconic conjured book. 
It is made of high-quality PVC. But this is only logical, seeing its rather hefty price point. It also features a glossy finish, giving it a realistic look. In my view, overall, the figure perfectly depicts Chrollo's personality and sinister intentions, which I could quickly feel from the corner of my room. 
Pros
Lightweight, allowing for easy moving and repositioning.

Comes with an official Hunter x Hunter stand.
Cons
A bit high price tag for fans on a tight budget.

Soft pegs that may get broken in shipping.
#02 Killua Zoldyck Funko Pop!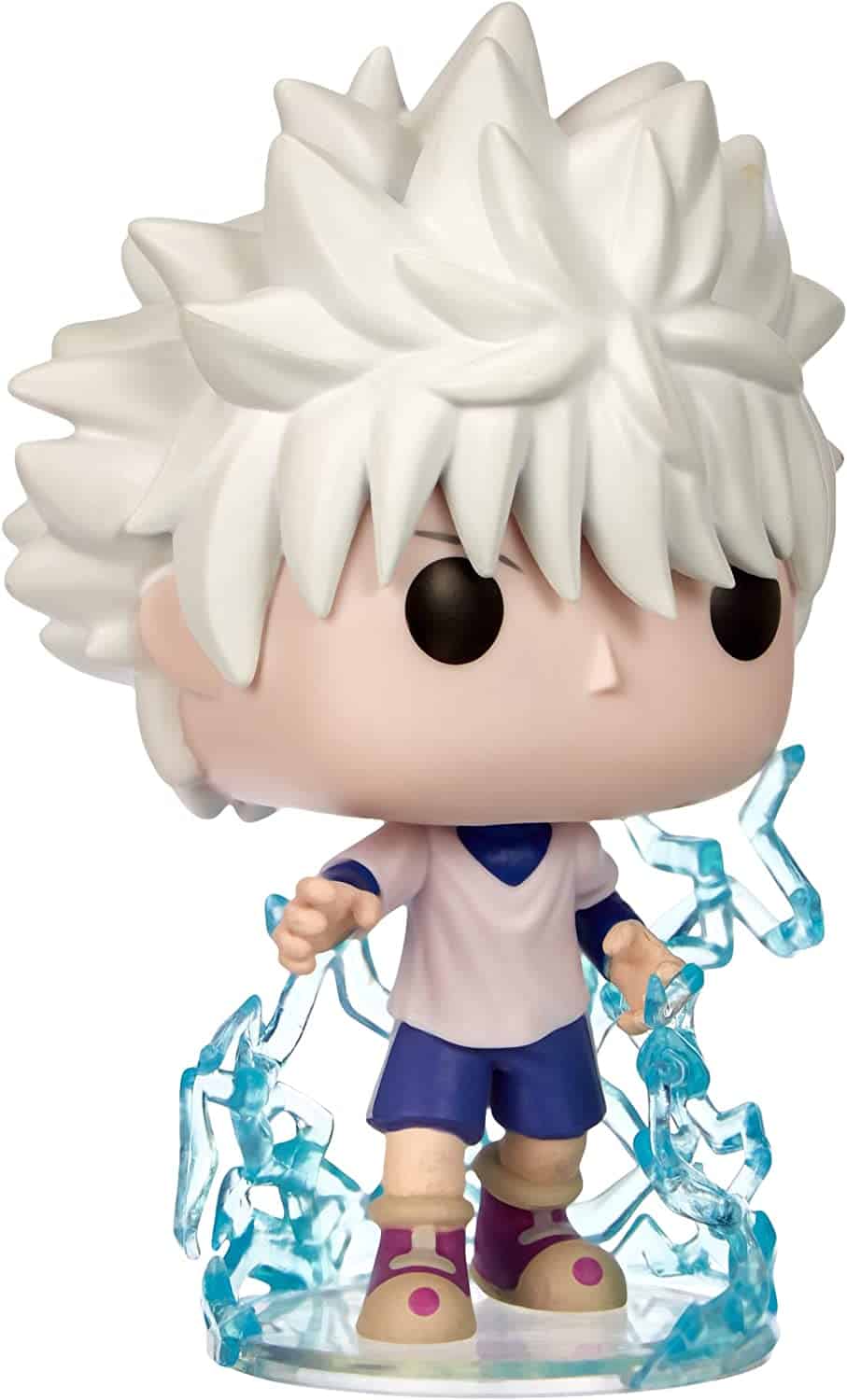 Description
The Killua Zoldyck Funko Pop! was the first Funko Pop figure I bought, and since then, I have never looked back. Since I started the series, Killua has been one of my favorite characters from Hunter x Hunter. The Killua Funko Pop figure perfectly replicates his fun and loving side, making the figure stand out amongst others. And reminds me why I love Killua so much. 
The figure is relatively short and light, proving a perfect decoration for my study table. However, The figure does lose Killua's iconic death stare because of Funko Pop's lack of detail.
For fairness, the figure features Killua's usual outfit, including his purple boots, shorts, and white shirt. This figure also showcases Killua's Lightning Nen ability and iconic spiky hair, which often reminds me of his fight with Youpi. 
The figure is made of a high-quality Vinyl, giving it a soft and matte finish, saving it from tarnishing over time. And can easily be found on many Amazon listings and even your near Walmart outlet at a relatively low price. But I was disappointed by its poor packaging when I ordered online from Amazon, so try buying from a seller you are familiar with.
Pros
Small compact design 

High-quality finish 

Affordable price tag, easy for anyone to add it to their collection on a limited budget
Cons
Lousy packaging, which usually gets damaged while shipping.
#03 Hisoka Morow The Action Figure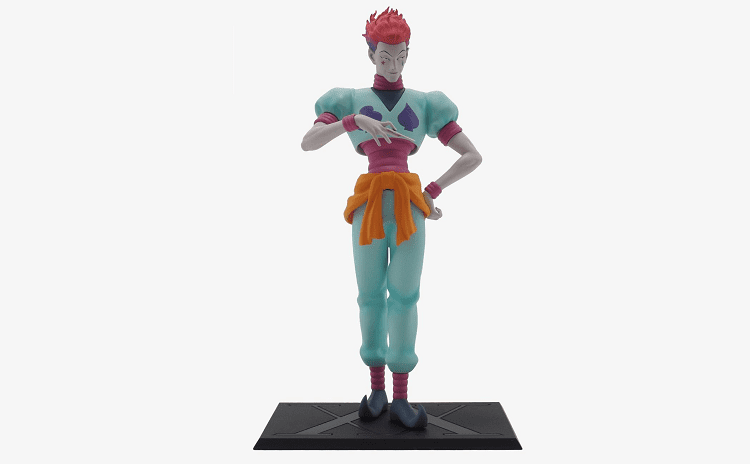 Description
While remembering Hunter x Hunter, how can I forget this troublesome personality! Hisoka is an anxious individual. A lustful behavior towards Gon and his constant desire to fight Chrollo are some of the points that make his character stand out in the bunch. This personality is perfectly summed up in this figure.
The figure features Hisoka's full attire, including his card-themed suit and Aladdin-style boots. A yellow torn scarf can also be seen wrapped around the figure's waist, reminding me about his thorn-up demeanor. The figure is standing in Hisoka's iconic pose with his finger twisted to fit his personality. The eyes are filled with a lustful look giving it the personification that it will choke you in your sleep, or maybe that's just me. 
The figure also features movable arms, which allowed me to change it into several poses. Its vibrant red hair was also an eye-catcher but didn't stay long due to its poor paint job. The paint quickly fades with exposure to the sun, so I recommend keeping it in its sealed box.
Pros
Hunter x Hunter official Stand included.

Vibrant colors give the figure a sure pop, among others.
Cons
No free shipping and shipping may take some time. 
#04 Hunter x Hunter Kurapika 1/6 Scale Limited Edition Statue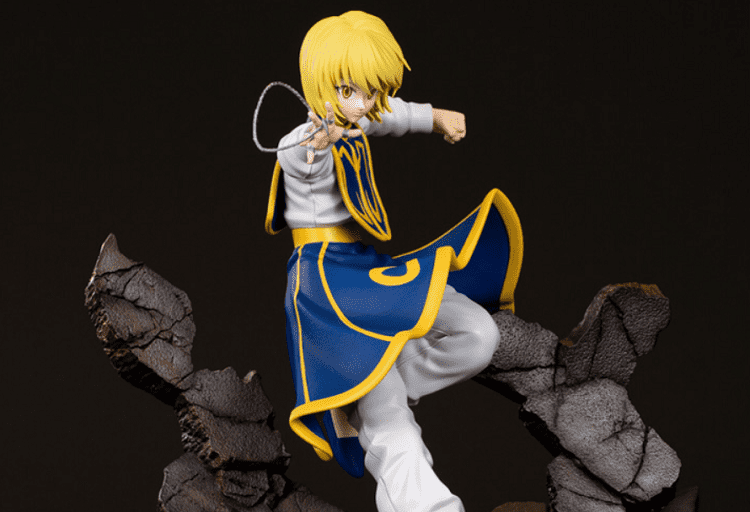 Description
Kurapika, the last survivor of the Kurta clan, went through several hardships and pledged to avenge his clan's death. This level of dedication and devotion is well resonated in the figure and makes the figure all the more likable.
I love this solid figure featuring Kurapika in his assassin mode. Everything looks terrific with his beautiful blond hair, cultural attire, and prized scarlet eyes! The Scarlet eyes of the constitution make up an unnatural aura and give off a sinister devotion to avenging his clan.
The figure perfectly depicts Kurapika's gloomy mood and his serious personality. The death stare in his eyes almost made me bow down before it. The attention to detail in his attire is also unmistakable and makes the figure a passage into the makeshift world.
I could stare at it for hours without end and still be amazed about the story it represents. I have to say, the conjured chains are another important factor of Kurapika's figure, showing his Nen abilities as a conjuror. 
Considering its high price, it may not be suitable for fans on a tight budget but keeping in mind its use of sturdy PVC and high-quality paints, it's well worth it. It also comes with a Hunter x Hunter labeled stand, further adding value in my view.
Pros
Soft-touch finish.

Highly durable, perfect for many figurines collections.

The box includes a Hunter x Hunter-themed stand.
Cons
Lengthy and expensive shipping
#05 Hunter x Hunter Acrylic Stand Figure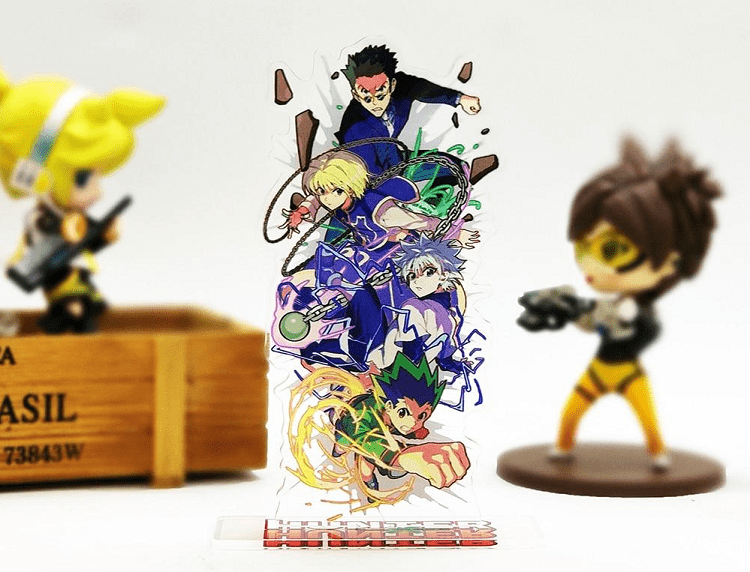 Description
What better Hunter x Hunter figure than the one featuring the whole squad. This acrylic has a special place in my heart as it displays all the four main protagonists from the series. Gon, Killua, Kurapika, and Leorio, are shown together, bringing a sense of friendship and compassion for each other.
Seeing the figure also makes me want to set out on an adventure with friends like this along the way. The colorful figure features the whole gang performing their signature nen abilities. In this design, Gon is charging his Jajaken, Killua looks sharp with his lightning, Kurapika has his chains out, and Leorio showcases his Lion-like strength.
The figure perfectly portrays the emotion around the scene. It reminds me of the time when these four were together battling the challenges of the Hunter exam. The best thing about the figure, in my view, is that it comes at a meager price, and its compact design further makes a must-have for any hardcore fan of the series.
The figure also comes with an acrylic stand. But like other acrylic figures, this also has the same durability issue. I do not recommend it for kids under 12. 
Pros
Light and compact.

The Affordable price tag for fans on a budget.

A transparent acrylic stand is included to keep it upright.
Cons
High shipping cost for something this light.

The paint scrapes off with frequent use.
#06 Hunter x Hunter Hisoka Acrylic Action Figure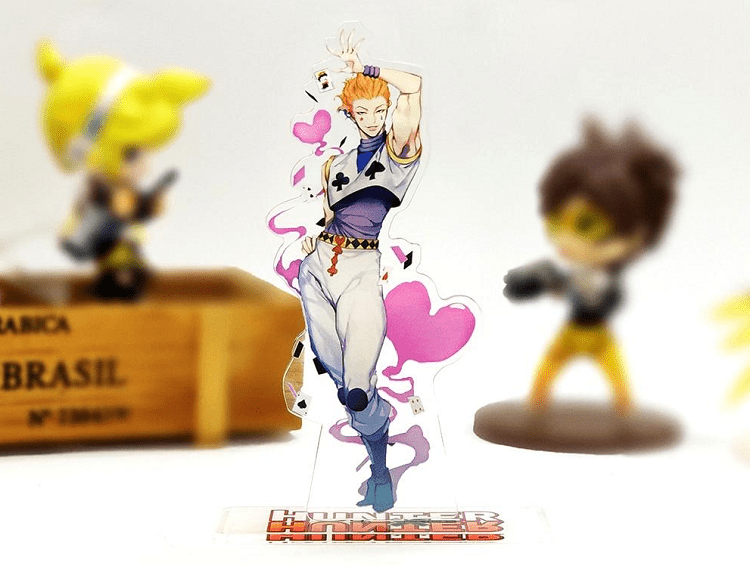 Description
Whenever I talk about Hunter x Hunter figures, Hisoka Acrylic Figure has a special place in my heart. It comes up with a unique form of figure style that perfectly blends in with Hisoka's personality.  I stumbled on the piece when I looked for a relatively small and affordable Hunter x Hunter figure. It caught my eye due to its vibrant colors and original art style. 
The figure features a handmade drawing of Hisoka Morow in his magician suit and face paint. It also displays his unique pose surrounded by pink hearts and playing cards—a nod to his playful but mysterious personality. The acrylic stand also captures his essence as an antagonist. His creepy-looking face gestures and soul-stirring eyes almost scared me to the core. 
It is made up of a thin acrylic sheet and painted with a thin layer of ink. But it is rather flimsy and weak, and I had it broken after testing its durability. The ink colors are another miss for the figure, as I could easily remove them with just my nails. If you plan to play with it, I recommend using a primer layer.
Pros
The cheap price tag makes it affordable for many fans.

Unique art scheme and vibrant colors.
Cons
Brittle under pressure and can easily break.

A 2D design that isn't appealing to a larger audience.
#07 Hunter x Hunter Gon Freecss Jajaken Funko Pop!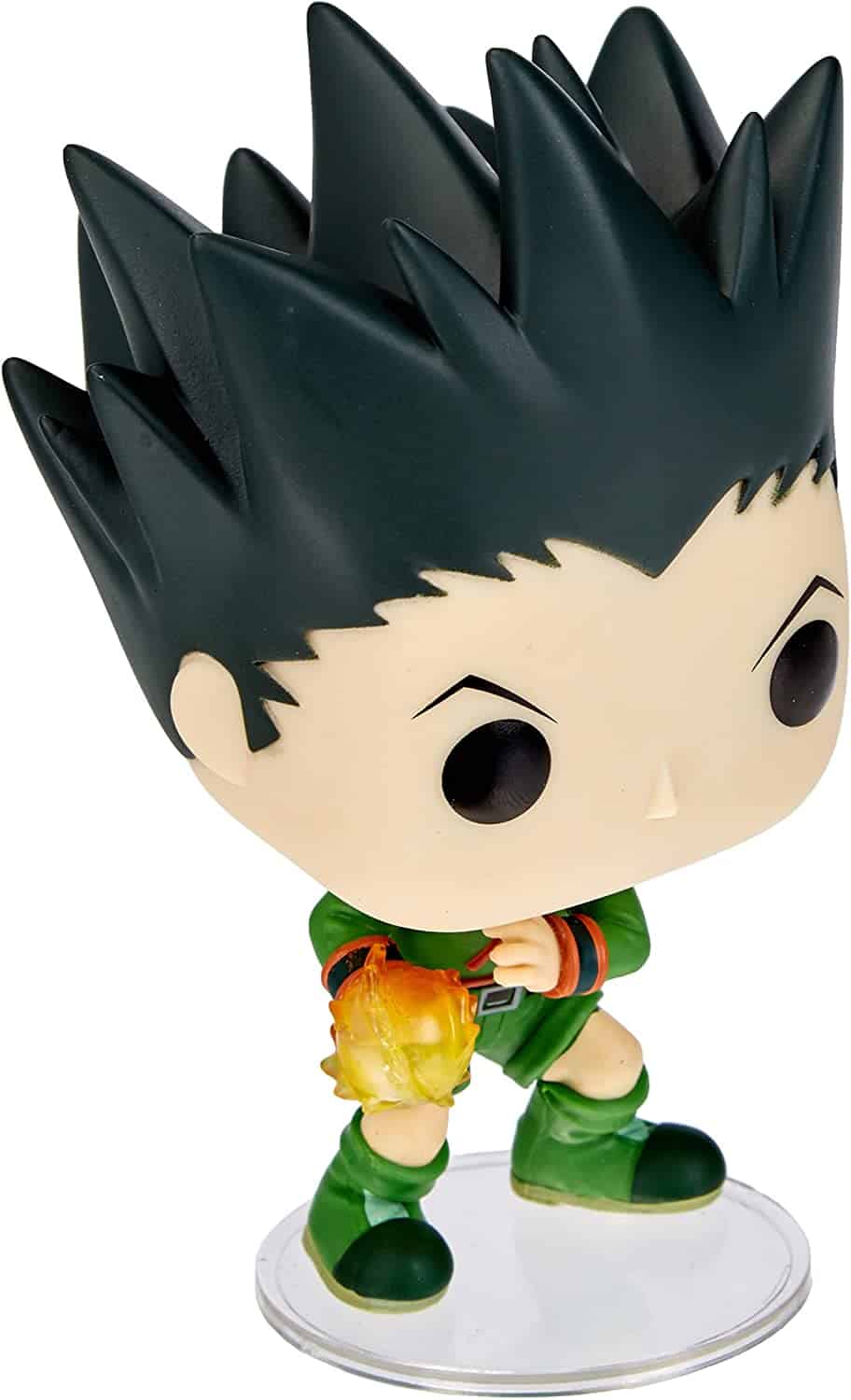 Description
Amongst the wide variety of Hunter x Hunter figures, this is another must-have for any fan. It may not be the first figurine I bought, but it was always one of my favorites. It may only look like the cute version of Gon Freecss from Hunter x Hunter, but it is so much more.
It contains Gon's loving and playful personality; its smile showed me the meaning of genuine happiness. It reminds me of when I used to sit in front of my old CRT waiting for the next episode to air. It brings back the memories of following Gon in his adventures, wanting to set on a quest like that myself. The figure features Gon in his full attire, green overalls, and iconic Nen ability named the Jajaken.
These small details make the figure well-liked by fans, giving a specific personality to the figure. Watching the figure never failed to make me smile, and its cute charm made it impossible to ignore.  
The figure is around 2.5 inches tall, perfect for small stands or bookshelves. It is also relatively cheap and can easily be found online for less than 20 dollars. The figure has a special place in my heart, bringing the essence of the whole series into a singular character. 
Pros
Small and elegant design perfect for any collection.

Very affordable, making it an easy grab for many fans.

Lightweight makes it easy to carry and move around.
Cons
#08 Hunter x Hunter Gon Freecss Figure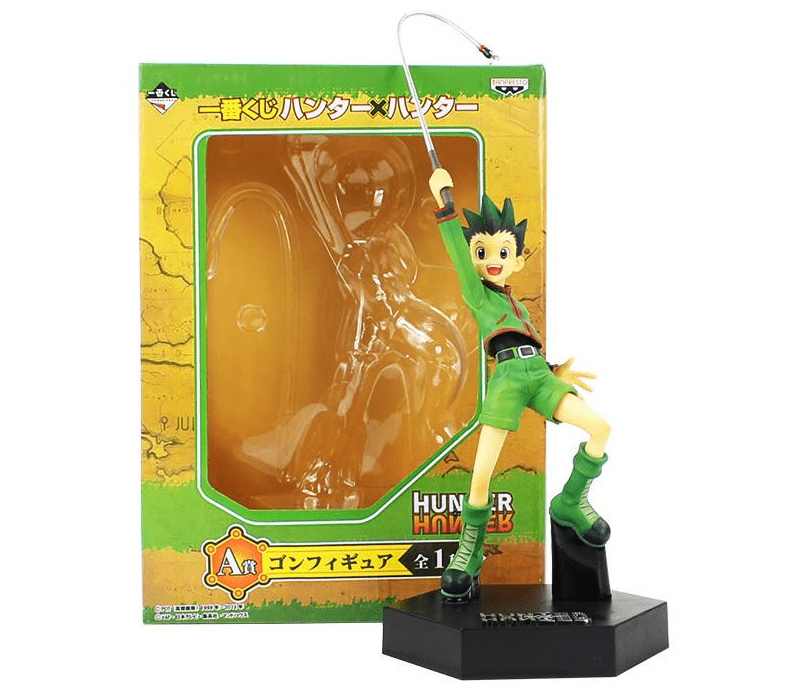 Description
If you are not a fan of Funko Pops, I also have a detailed figure of Gon Freecss that might tempt you. Gon Freecss, the series' main protagonist is an athletic, rustic and friendly boy; this is perfectly portrayed in the figure.
The figure further describes Gon's personality through its over-the-top pose and bright smile. That smile of his made me want to continue the series, and molding it into a physical form may be the best idea someone had. It was rather expensive, but it didn't matter as it would be an essential part of my Hunter collection. The figurine features Gon in his usual bright green overalls, with a jacket, shorts, and black-green boots.
The figure often helps me remind myself of Gon's personality through its exciting pose. And his spiky black hair also represents the attention to detail given to the constitution. It comes in around 10 inches tall and is made of high-quality PVC. Despite all this, I have to say that the finish on the figure was relatively cheap. The hand-paint on the figure also got flaky with time and was peeling off. 
Pros
Soft finish with no sharp edges.

Lightweight and durable.

Total refund in case of poor finish or broken figure.
Cons
Lower quality painting; paint may flake off with time.

The lack of primer coating makes it vulnerable to the environment and sunlight.
#09 Chrollo Lucifer Nendoroid Figure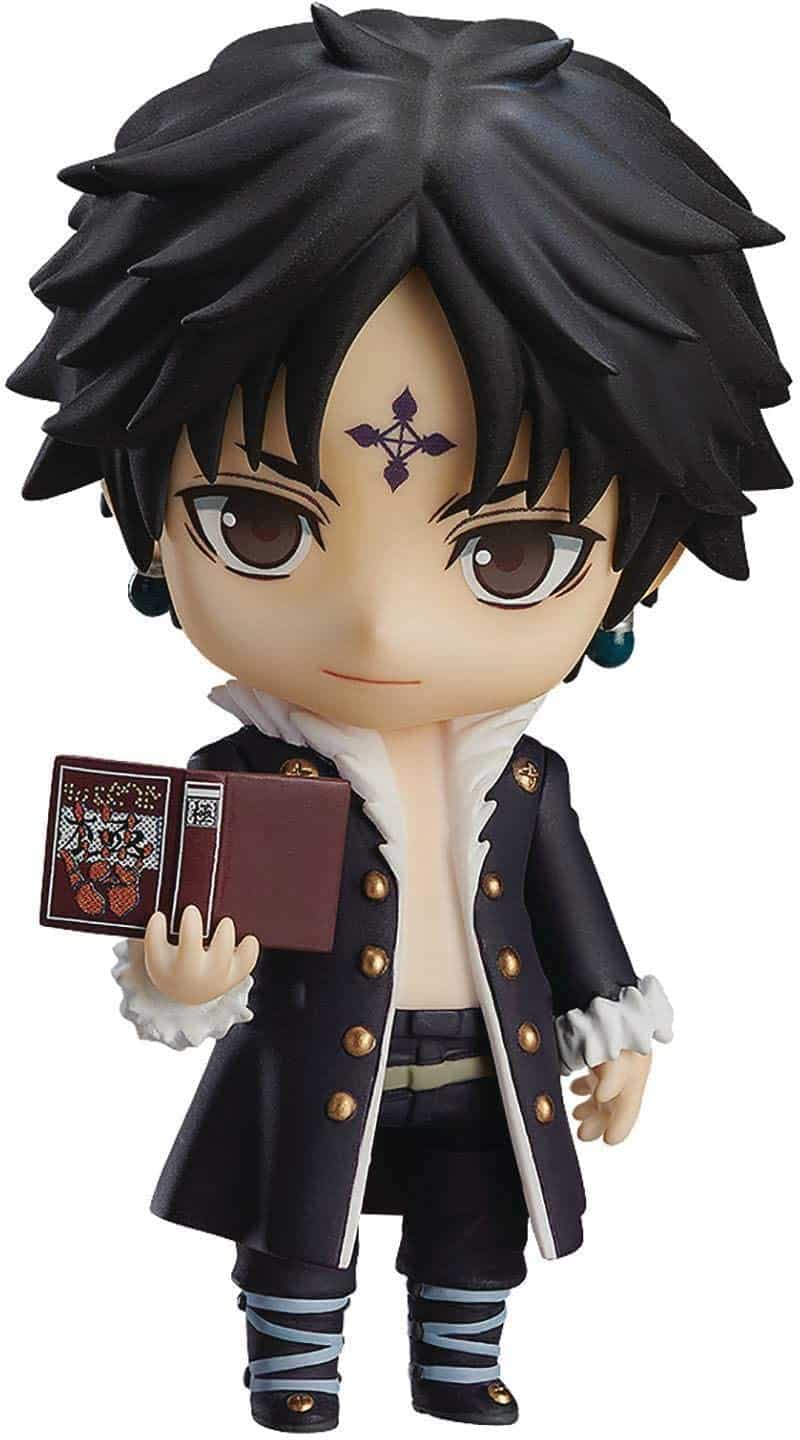 Description
You may have seen Chrollo as a severe and meticulously planned individual, but what if you wanted to see him as a crawler? Wait no more; I have one for you. This figure may not be able to fight Hisoka, but it definitely knocked me out.
The cute Nendoroid is seen standing upright with his iconic book and clothes. The figure also came with several faces; some were cute, while others looked angry. Ok, I am just kidding. All of them are cute. The cute Nendoroid features a rich color pallet and soft-touch PVC. The figure is wearing Chrollo's iconic jacket, white fur on the sleeves and collar, and boots.
Attention to detail doesn't end there, as it also has Chrollo's cross logo on the forehead. Since I saw the figure in my local Walmart, I wanted to get my hands on it, but that proved easier said than done due to its relatively high price.
It has a tiny footprint and can easily be part of any small table or desk. And would add a flare to your collection. 
Pros
Soft-touch finish. 

Interchangeable faces for different expressions.
Cons
Extremely high prices make it very difficult to buy for fans on a budget.
#10 Killua Zoldyck Figure Toy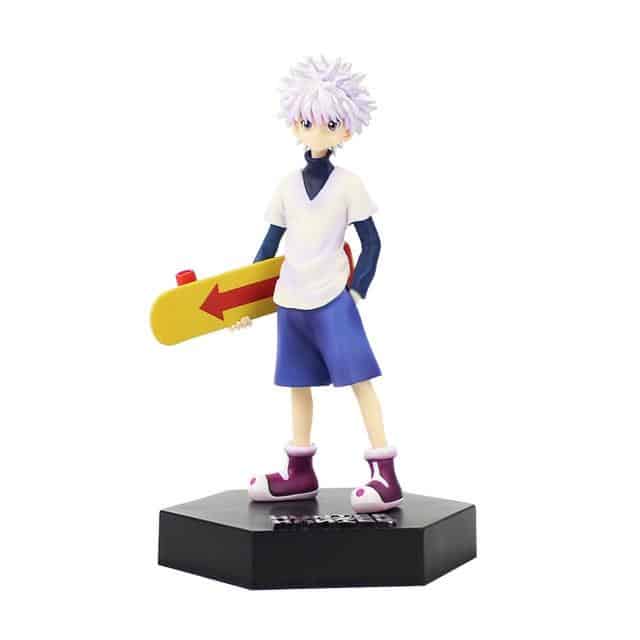 Description
In the vast cast of unforgettable characters, Killua plays his role in the story; his action figure perfectly catches his essence and personality.
Being one of my favorite characters from the series, I would be wrong not to include his realistic figure in the list. The Killua action figure stands tall in his iconic style, one hand in his pocket and the other holding to his skateboard. 
The Joyful figure also reminds me of Killua's family and how he was trained as an assassin. The figurine's attire perfectly matches Killua's, from his white T-shirt over his blue turtleneck to his cute rounded boot.
Being some of the features that helped me remind you that Killua has turned into a new leaf and how having your vision can significantly suppress your upbringing. The figure does come in a high price bracket, but it is still one of my favorite Hunter x Hunter merch pieces.
Pros
It comes with an anti-fingerprint coating, something that I have always liked.

The seller offers quick shipping.
Cons
The price tag is hard to fit into a tight budget.
FAQs
Question: Are Hunter x Hunter Figures Suitable for Kids?
Answer: There have been conflicting arguments about this. Some Hunter x Hunter figures feature moving and detachable parts, which can be a choking hazard for small kids. Usually, these are not suitable for kids as they are labeled as collectibles rather than toys.
In my view, some Hunter x Hunter figures suitable for kids are Killua and Gon Funko Pop. They feature large and nondetachable parts, making them less of a choking hazard. Still, kids should be kept under supervision while playing with these figures.
Question: Are Hunter x Hunter Figures Also Made of Metal?
Answer: Yes, Hunter x Hunter figures are also metal-based, but the most sold ones are PVC, a polymer that helps keep the figures light and cheap.
Hunter x Hunter metal figures are still quite famous amongst hardcore fans, as these feature amazing visuals and a shiny finish. But due to their high price tag, they are not so common amongst everyday fans. 
Question: How are Hunter x Hunter Figures Different from Others?
Answer: Hunter x Hunter figures are unique due to the stories and memories they represent. Most of these figures have a remarkable resemblance to the series' characters.
Owning one of these figures instilled a form of euphoria and excitement and further encouraged fans to dive deep into the series.
The Best Hunter x Hunter Figures Guide: Final Thoughts
Having 79 million copies in circulation and placing 52nd in "My Anime List," Hunter x Hunter needs no introduction. The long and self-building story kept the series engaging and, with time, became one of the best series this category had to offer. 
This guide provides extensive background and details about everything to know about Hunter x Hunter figurines. Before buying any Hunter x Hunter figure, don't forget to look at the reviews and ratings. Make a tier list of your favorite characters from the series and decide which figures you want to buy in advance. And there is always the option to buy from retail shops.
Most of them are collectibles, not toys, so I don't recommend giving them to kids under 1 as there may be a choking hazard. My favorite is the Gon Freecss Jajaken Funko Pop! of all the figures listed above.
Its low price, fantastic visuals, and classic touch make it more attractive. It also plays a part in telling the story and describing many scenes from the series. With the ability in Gon's hand, it stays true to the series and gives it a particular aspect that is hard to describe.
It's one of the designs that should be on everyone's bucket list. I hope you can now quickly go for your favorite Hunter x Hunter figure. Good luck.