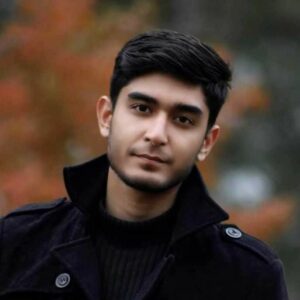 Latest posts by Asad Mehmood
(see all)
Hi, people of the culture. Are you a die-hard Attack on Titan fan like me? Or are you here, looking for the best and most efficient way to spend your money to buy a gift for one? If so, then stop looking as I have got your back!
In this article, I'll share my experience of going through hundreds of official and fan-made Attack on Titan toys and collectibles, which will hopefully help you choose the best gift. To save you the trouble of searching the net and scrolling through thousands of listings, I have gone and done all that myself and compiled a list of everything related to that's on the market.
Attack on Titans is a really famous franchise with a massive fan base. To no one's surprise, I was able to find a vast variety of toys related to the show. I understand that the fan base includes a vast variety of people with different tastes for toys and collectibles. For that reason, I have kept my selection criteria flexible in terms of the types of toys.
I have included everything from Plushies, Funko Pops, and Figures to Collectible Playing Cards to the list as I know that there are some megafans and admirers out there, who would love to get their hands on all types of available toys and collectibles.
However, my list features the toys that are the most popular among the collectors' community, are highly sought after by the fans, are accessible to everyone around the world, has a mix of official and fan-made merch for both flavors, and are built around what I would like to get as a gift.
A Quick List for Those Who Don't Have Time for Details
(Bottom Line Up Front)
Here is a quick list for those who are running late and are looking for a quick read!
Attack on Titan Action Figures – Official AoT Action Figures are among the most collected toys from the franchise. They are sturdy, well defined, and often depict a memorable scene from the show.
AOT Nendoroids Figures / Chibi Figures – The official AoT Chibi Figures offers a cute take on the cool action figures from the series. These figures are miniature, highly detailed, posable, and fun to play with.
Official Attack on Titan Funko Pops – The official AoT Funko Pops! were launched in 3 unique waves. If you are a toy collector then these are a must-have. These collectibles have a unique design and are limited in number.
Attack On Titan Acrylic Stands Figures – The official AoT Acrylic Figures are part of the highly sought AoT collectibles collection. These are relatively fragile, less expensive, and feature a 2D print of a character on the acrylic cutout.
AOT Mini Figures and Characters Keychains – The official AoT Mini Figures are small, well-defined, and rigid figurines. This mini figures collection includes some of the most popular characters and titans from the show. These can also be used as cool key chains.
AOT Lucky Gift Bag / Mystery Box Collections – The official AoT Mystery Box is a fun gift full of surprises for a devoted fan. The mystery box includes unique merchandise and toys from the franchise and is customizable to a certain extent.
Attack on Titan: The Last Stand – Attack in Titan: The Last Stand is an official AoT board game. The players get the chance to play as members of the scouts' corps or titans. A fun buy to spend some off-screen time with family and friends while interacting with your favorite characters.
Attack on Titan: Deck-Building Game – The Attack on Titan: Deck-Building Game is the official AoT Trading Card Game. The game features our favorite characters from the show and has customizable sets of rules that bring flexibility to the game. A no-brainer pick for an Attack on Titan and TCG fan.
Plushies Collections – The official AoT Plushies collection includes well-made, soft, cute, and cozy plushies of popular AoT characters like Levi, Eren, Mikasa, and others.
AOT Characters Table Lamps – Part of the official AoT merchandise, the AoT Characters Table Lamps are a cool addition to your desk and shelves. These are energy-friendly LED lamps that can glow your room up with slick designs of your favorite characters
Fan-Made Custom Figures – The fan-made custom figures are customizable action figures from our favorite show. From among all the fan-made merch, these are the most creative, crafty, and fun figures to play with.
Fan-Made Characters Plushies and Pillows – The fan-made plushies and pillows are a fun alternative if you can't find your favorite character in the official merch. The pillows feature quality prints of characters in different art styles.
Now, let's move on with the main article. Attack on Titans Toys come from two main sources. As part of the official merchandise or as part of fan-made collections. First of all, let's check out what does the official merch has to offer.
Attack on Titan Official Merchandise Toys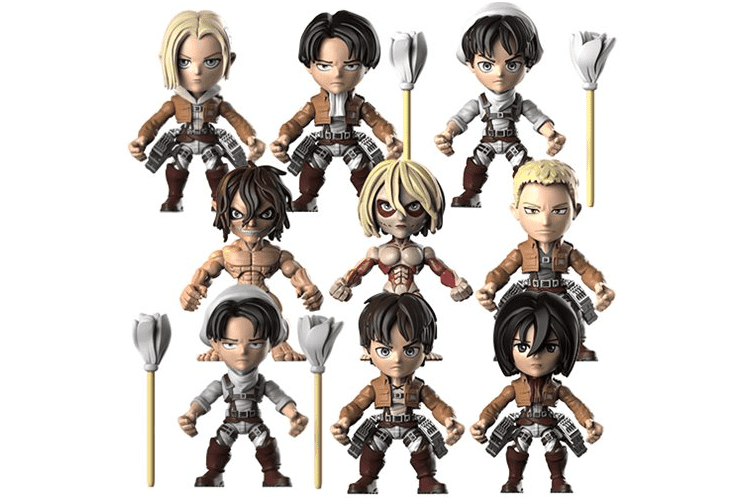 Attack on titan official merchandise provides its fan with a variety of options to get things with their favorite characters on it. The collection includes everything from clothes and toys to cool accessories, and even some limited-edition collectibles.
The officially licensed merch. is often available in stock from reputable anime merchandise stores. These stores usually offer worldwide shipping with guaranteed quality products. Just so you do not get overwhelmed by all those options, I have gone through and selected the 4 best official toy collections for you guys. Go on, catch a glimpse, and see if anything excites you.
Attack on Titan Toy Figure Collections
Honestly, I am obsessed with all kinds of toy figures and figurines. Even today, collecting those makes me feel like a child once again. But that's not the only reason why you might want to get your hands on one of those. 
Today, these figures can also be seen as a terrific financial investment, as many limited edition figures reach values of hundreds of dollars on the collectible market, where die-hard fans are willing to hand over their savings just to make these limited figures a part of their collection.
Attack on Titan Action Figures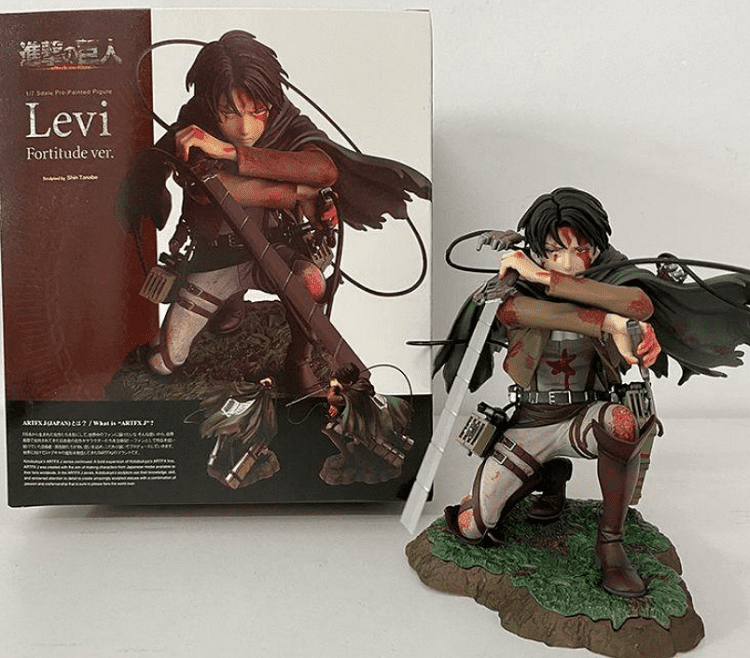 You might be an action freak like me, who gets stunt by looking at the great powers, transformations, moves, and special abilities of my favorite Titans and characters, or maybe you are a collector, who just likes collecting official merch. In either case, you would love to be the owner of official Attack on Titans action figures.
Unsurprisingly, they are a very popular merch item and as such, you can grab your beloved character with all those remarkable, astonishing, realistic details.
I mean just look at this slick Levi figure, reminds you of when he was about to go hunt and cut the beast titan for the first time.
AOT Nendoroids Figures / Chibi Figures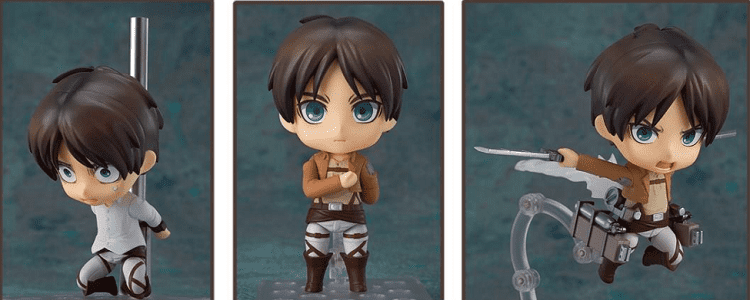 I don't know about you but I cannot deal with the cuteness of these chibi-style figures. The official merch includes chibi figures of all the main characters, from which my favorite one is Nendoroid-Eren Yeager (April 2014). This one is just so clean and detailed! 
These eensy-weensy nendoroids let you pose your favorite character in every phase of their adventures with interchangeable faces, body parts, attire, etc. Guess what? You can even attach the cool vertical maneuvering equipment with them!
Official Attack on Titan Funko Pops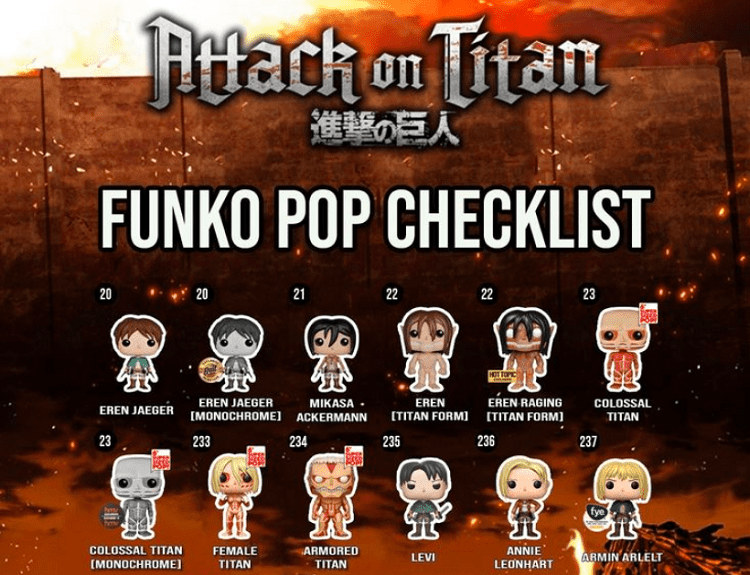 Once the character gets popular among the audience, the Funko company releases its figure which is why you are most likely to get your cherished character pop version figure. The Attack on Titan figures series of Funko pop consists of 3 waves.
These pop figures are very popular and once Funko. Inc decides to not restock the pops when they are sold out, their value will increase a lot. 
If you are a collector, then Attack on Titans Funko Pop figures can be a really great investment as these can fetch good prices later on. Due to their rarity and huge demand, some limited edition Funko Pops are valued in thousands and some even tens of thousands of dollars today.
Attack on Titan Acrylic Stands Figures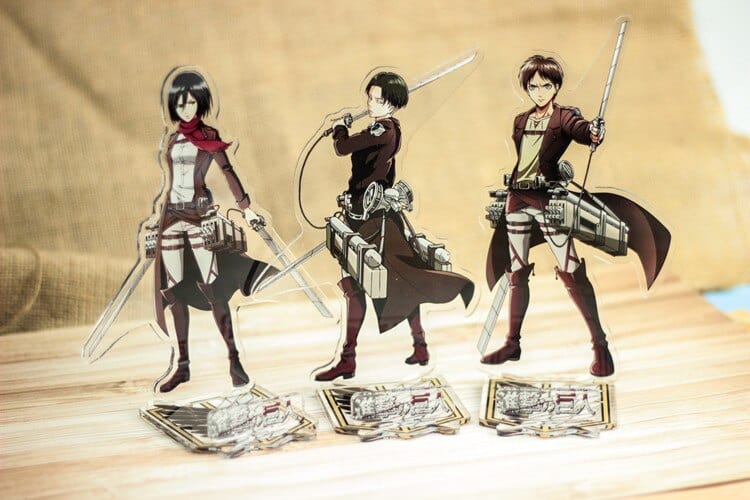 Acrylic Stand figures are quite different from other 3D figures on this list. But despite their 2D nature, they are still quite popular. For me, these are pretty simple, and I like them as a neat piece for my shelves and showcases.
I have shared some features as well as differences between acrylic and action figures down below. I hope it helps you make your choice easier.
Some Features of Acrylic Figures
Most of them come with removable parts so they take less space when carrying or sorting.

The texture of the picture is very close to that of anime

Risk of discoloration if it gets wet with water
Difference between Action and Acrylic Figures
| | |
| --- | --- |
| Action Figures | Acrylic Figures |
| More Expensive. | Less Expensive. |
| Realistic Feel: You can enjoy the visuals of the 3D model from different angles. | Simple and flat with a 2D picture on one side. (Some stand figures have pictures on both sides) |
| Strong and sturdy build. | Quite delicate compared to action figures. Needs to be handled with more care. |
AOT Mini Figures and Characters Keychains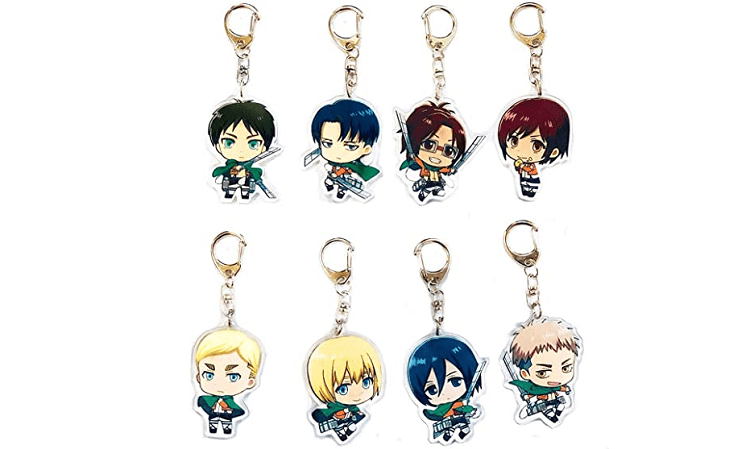 Besides featuring your beloved character, these figurines are pretty handy as well. These are small, lightweight, and quite cheaper than other figures and beautifully made.
Furthermore, some of them can even be used as key chains.
AOT Lucky Gift Bag / Mystery Box Collections

I adore gifts and surprises and I bet you do too. So here is a nice way to treat yourself through one of these official mystery boxes and lucky gift bags. The official merchandise offers these mystery boxes as an option to fans who love the idea of surprises.
These mystery boxes come in several sizes from small to jumbo, with multiple surprises within.
Some mystery boxes are random, packed with all kinds of different merch items. While others are specific. For example, if you get a figurine mystery box of a certain wave, it will have one mysterious figure of that certain wave.
AOT Deck and Board Games Collection
Are you getting tired of sitting in front of the screen all the time? Do you wish to have some terrific time spent offline with your friends, while having an experience with your cherished characters out of the screen? 
Well, then you don't need to dwell on it further, as Attack on Titan's official merch includes some exciting board games that are popular among Attack on Titan fanatics.
Attack on Titan: The Last Stand

Playing Attack on Titan: The Last Stand with my friends and cousins was one of the best things whenever we used to have a get-together at anyone's home. The game lets you get into the role of either a titan or a member of the Scouts. Players roll the dice, collect different resources, and use them in a variety of ways that impacts their game.
Even if you are not interested in playing the board game, you can still keep it as a neat collectible. It is well made, has an eye-pleasing design, and looks pretty novel as compared to traditional board games. It can be a good chat-maker in gatherings.
Attack on Titan: Deck-Building Game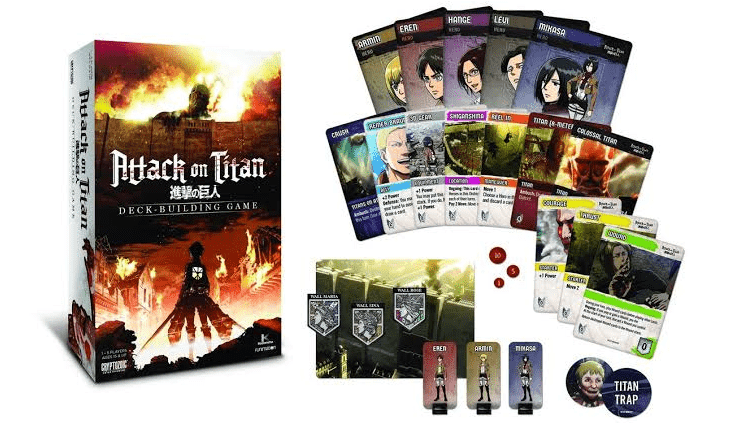 I'm a big fan of trading card games. I love to collect and play card games. The AOT: Deck Building Game is a pretty unique TCG yet really easy and fun to play. It can be a good way to spend some off-screen time with fellow fans and friends. 
Features
If you are new to deck-building games but intrigued to try then it is an easy pick for you. It is an extremely easy game to learn.

You can adjust the difficulty of the game as there are multiple variants in the rulebook.

It's Time-Consuming: The games can drag on for quite a while, which is a good thing if you like it…
Plushies Collections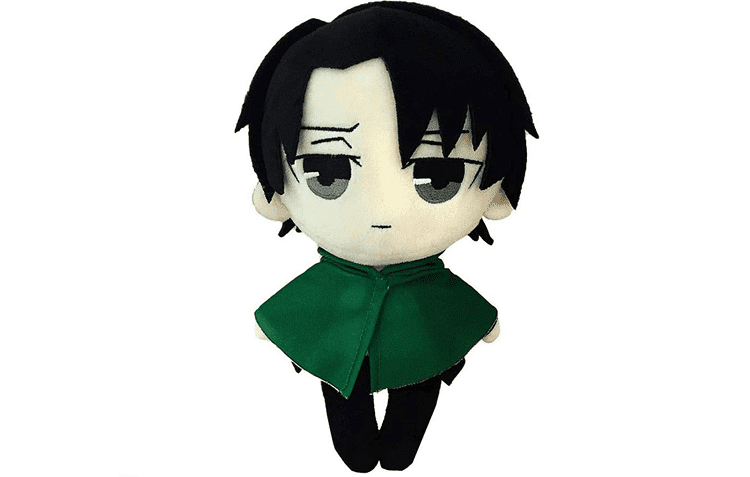 I can never have enough hugging and cuddling with these squishy buddies. Not only do they make me feel cozy they also help reduce my buildup stress and make me feel happy. Imagine squeezing your beloved character whenever you want. Now you can make that dream a reality.
Plushies Blind Boxes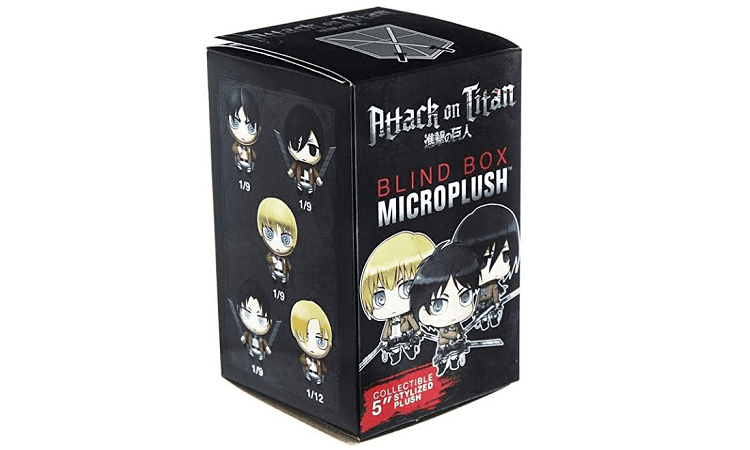 By incorporating the two of my favorite things on this list, this next merch item has completely stolen my heart. These plushies blind boxes come with a mystery plushy inside them of the famous Attack on Titan characters.
These boxes got these micro plushies that take less space than the normal ones but still got the magic to please your heart with their cozy cuteness and cool expressions.
Honorable Mentions
AOT Characters Table Lamps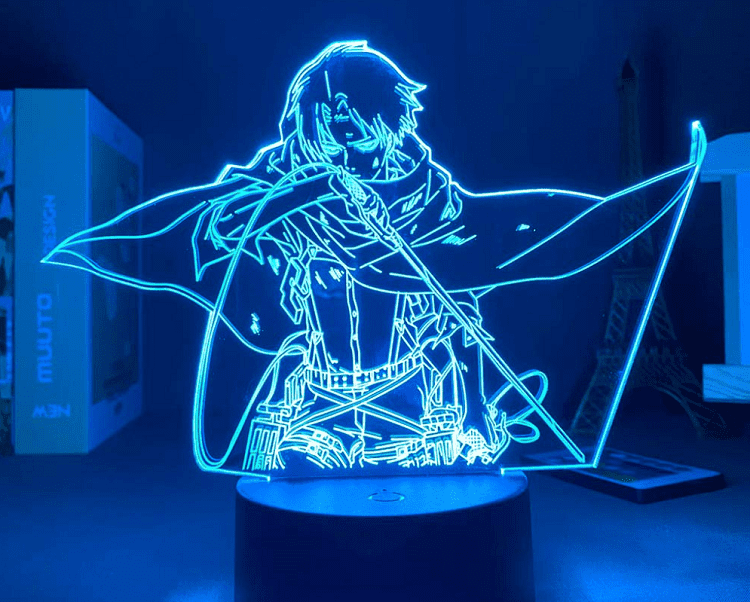 I know this is a list of Attack on Titans toys, but I just couldn't stop myself from mentioning these awesome acrylic character table lamps. These lamps are highly well defined and can glow your room up, gracing it with the presence of your favorite character or titan! 
I love how these lamps give my room that extra bit of mood lighting at night. These come in many unique designs and different LED lights. These are also energy efficient and consume less power than your regular table lamp.
Attack on Titan Fan-Made Merchandise Toys
Let us begin our adventure in the sacred realm of fan-made merchandise which is spread worldwide where you can fetch any item that you want.
If you cannot find anything of your liking in the official merch then Fan-made merchandise is the treasure cave for you my friend where you can hunt for anything. You can always rely on crafty fans of the Scout corps.
As a die-hard fan, I know how much it means to us to support the author in every possible way that we can, and buying from official merch is one of the best options to fulfill our desire but sometimes if you are getting what you truly like from a fan-made merch then it is totally fine and nothing to feel bad about.
Just to save you from the trouble of scrolling through thousands of options and confusing your mind from making the best decisions, I have mentioned some of the best picks down below.
Custom Figures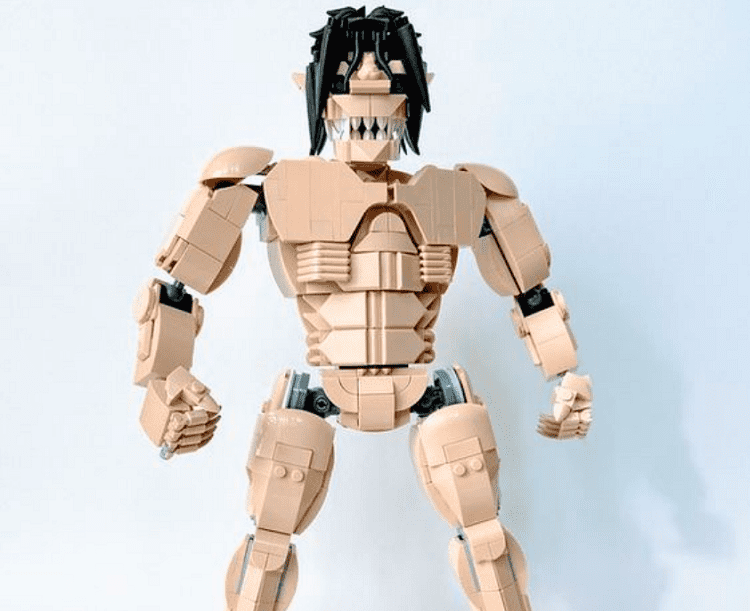 Fan-made Merch not only has a variety of action figures but also lets its customers customize the figure of their cherished characters.
It has a wide range from mini-figures to acrylic stand figures with some great attention to detail. Not only are some of them very good quality but also very affordable and budget-friendly.
Characters Plushies and Pillows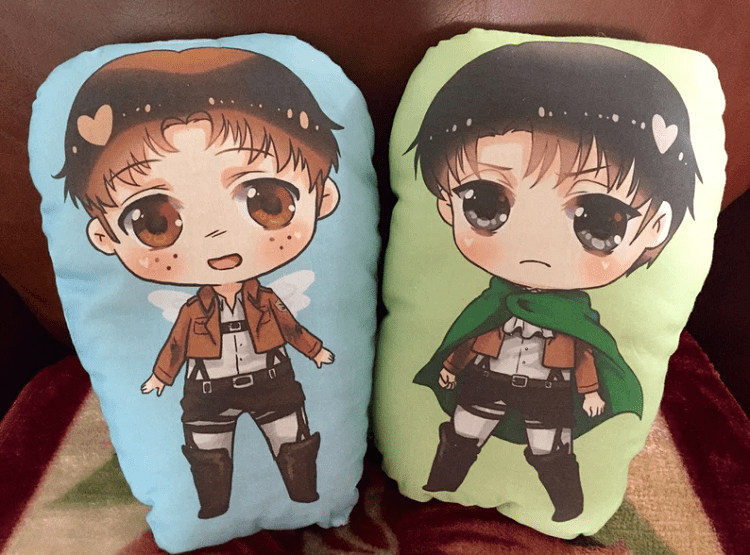 No need to worry about not having enough plushies in the official merch collection as fan-made merchandise has come to our rescue. From the fan-made merchandise, you can get any kind of plushy in every size that you want.
They even got the Attack on titan characters plushie giant pillows that I love to cuddle with during nap. They have a wide variety of affordable options which you can choose from.
FAQs
Question: Why are Attack on Titan figures So Expensive?
Answer: Not only the materials that are used to make these figures are expensive but due to their relatively small production of some of the limited stock their prices touch the sky. Attack on Titan is one of the most popular anime series with millions of fans spread across the world who want to get their hands on as many collectibles as they can.
The official merchandise makes the limited edition stuff in a small amount which leads towards the empty shelves in just a couple of hours of the launch hence their demand increases which leads to high prices. As for me, I believe that 30-60 dollars are a good price for a mid-high quality figure of your favorite character.
Question: What Does Vaulted Mean? Which Attack on Titan Funko Pops are Vaulted?
Answer: In the world of Funko Pops Collectibles, vaulted refers to the discontinuation of a specific model. It means that the company has officially stopped producing more of that kind of Funko Pop.
This usually makes the price of vaulted Funko pops skyrocket due to high demand and limited supply. In the Attack on Titans series, the Attack on Titan – Eren Jaeger Funko Pop is vaulted.
Question: Who is the Most Famous Attack on Titans Character?
Answer: With so many interesting characters in the series, this is a really hard question to answer. However, I can share the top 5 most popular characters from the series in no specific order.
• Eren Jaeger
• Levi Ackerman
• Armin Arlert
• Erwin Smith
• Mikasa Ackerman
Best Attack on Titan Toys: Final Thoughts
As it has been pointed out that there is no inadequacy of the Attack on Titan toys collection whether it be from official merch or fan-made merchandise. I have confidence in the above-mentioned items that they are some of the best products available on the market.
It's not a surprise for me that you would want to make some of these items a part of your life as to us fans, Attack on Titan has so much meaning and depth.
I hope that this article has been helpful for you to get some inspiration and it helps you make up your decision on getting those titan teeth on the best toy for you or your loved one. Till we meet again, have a great time!